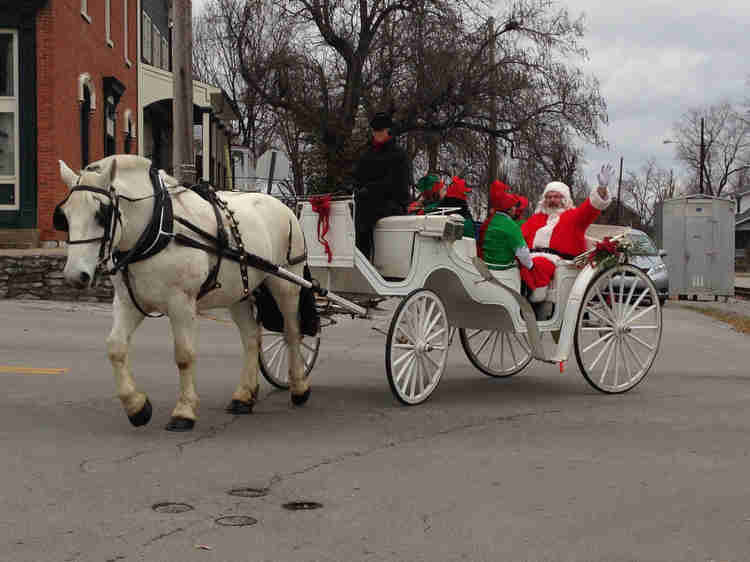 Santa Clause is Coming- Midway, KY
by Marie

Posted on

November 17, 2017
Located just outside of Lexington, Kentucky, historic Midway is nestled between the bucolic, rolling hills of the world famous thoroughbred horse farms of the Bluegrass.
Centuries old structures featuring charming boutiques and award-winning restaurants are stacked along either side of the railroad track running through the middle of downtown. The RJ Corman line chugs into Midway regularly; a throwback to small-town USA.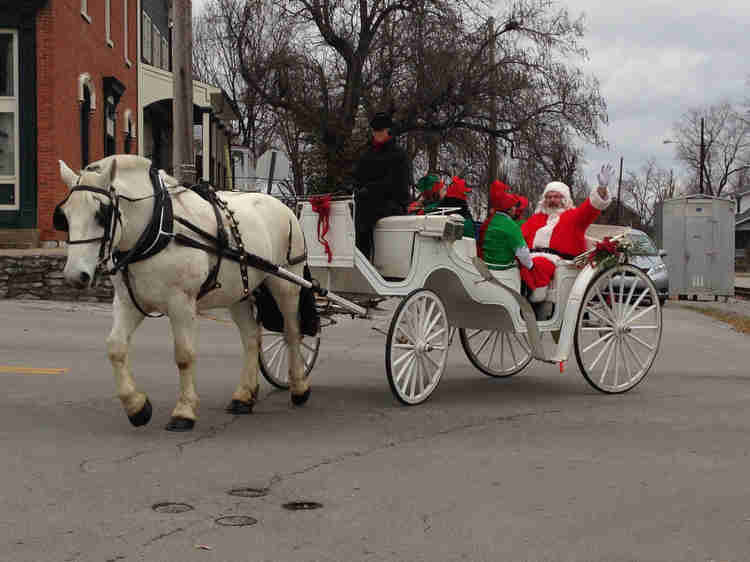 Santa arrives by train at 11 a.m. on Saturday, November 25th!
At Christmastime the train delivers an especially notable celebrity, the venerable Santa Claus! Old St. Nick and his elves disembark and board a horse-drawn carriage and parade around the block. They arrive at Santa's Workshop to greet a throng of eager children.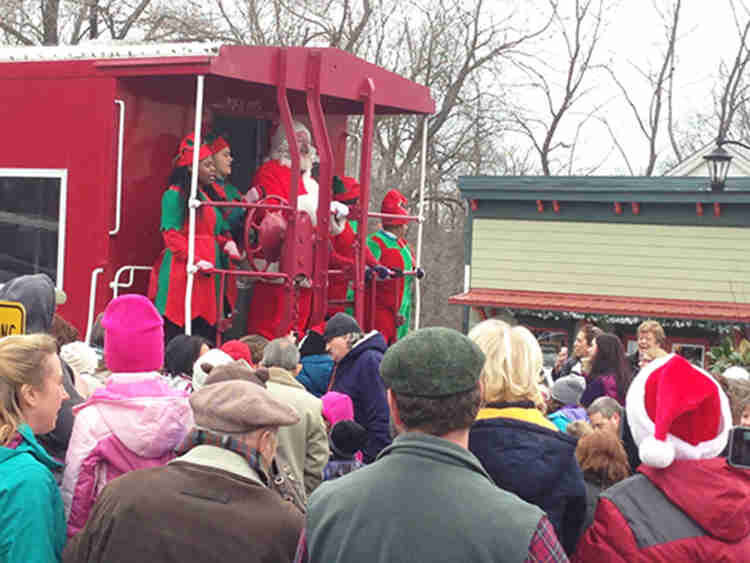 A note from the Editor:
Debbie Graviss is a pastel and mixed media artist who specializes in capturing the personality of animals as well as painting exquisite floral and landscapes. Debbie has been recognized in well-known artists' magazines including International Artist and American Art Collector magazines, as well as locally featured in the Chevy Chaser, Kentucky Home & Garden, Southsider. Click here for –> Creative Lexington interview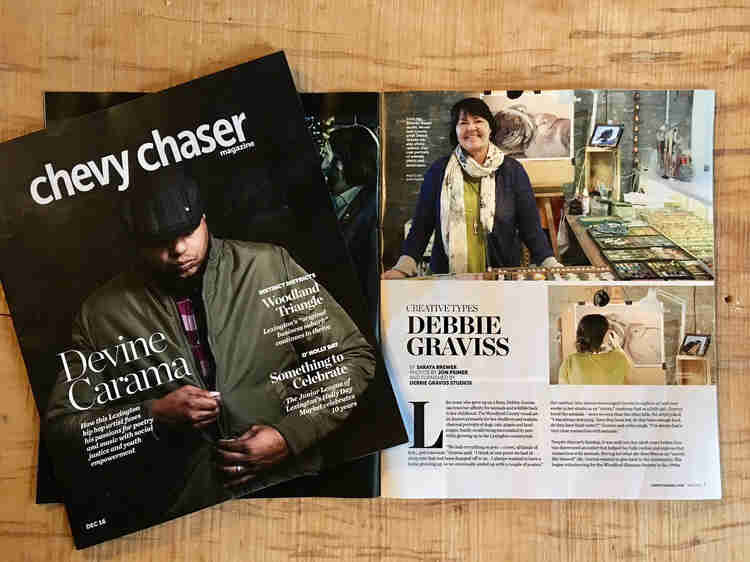 Photo by Marie Pullen Photography
While in Midway, Kentucky to visit Santa, include a jolly visit to Debbie's fascinating studio. Located on the second floor above the Midway Boutique on the corner of Main and Winter Streets, the artist and author will be in studio from 10 a.m. until 4 p.m. on Saturday, November 25, 2017.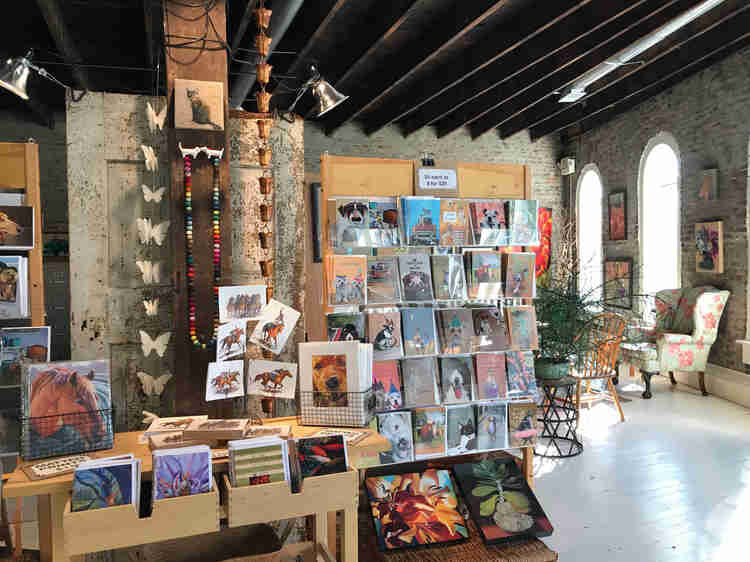 Visitors will have the opportunity to meet Debbie in person and shop for unique, locally-crafted Christmas gifts and artwork in her studio. Her heart warming images can be found on handmade wooden art boards, fine art prints, totes, greeting cards and canvas. Debbie will personalize and sign her beautifully illustrated coffee-table-style art book and show you around her charming studio. Patrons may sign up for informational newsletters and inspiring art classes. Join her for a delightful Christmas event! Can't make it? Shop on-line! Orders placed by Dec 1st online will arrive by Christmas!!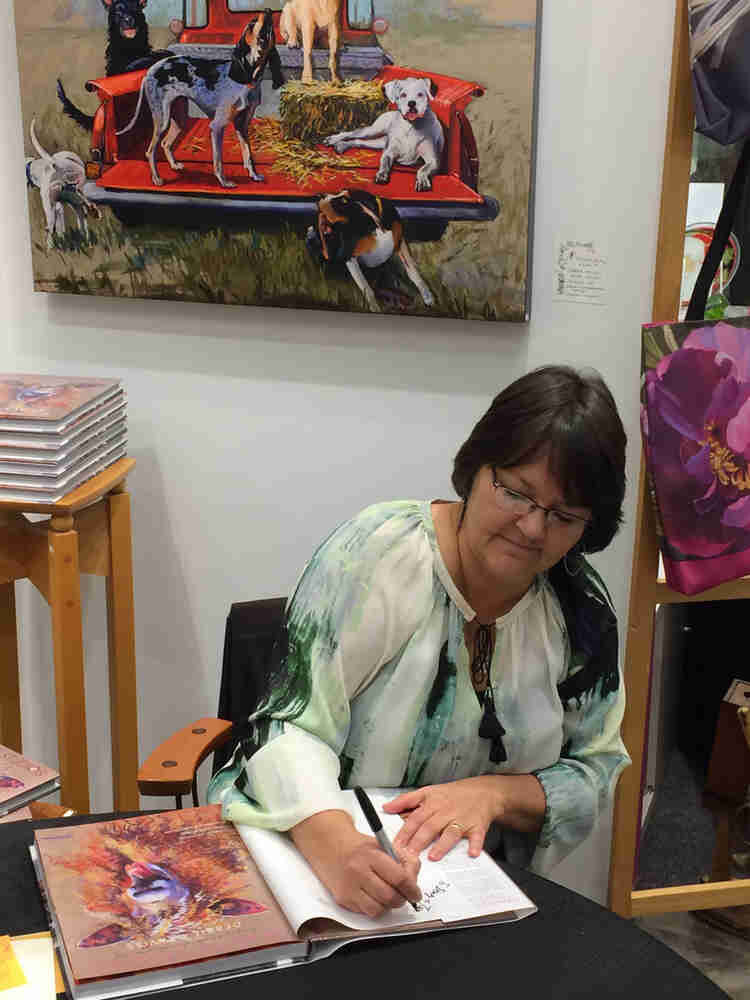 Artist Debbie Graviss signing her coffee-table-style book filled with hundreds of her painted images, inspiration, back stories and insights. In the background her most well recognized piece; "Tailgate Party" is available as a card, tote bag, large print, hand-made wooden art board and wrapped canvas.
#Travelky #Explorekentucky #scenicbyway #backroads #art #fun #Shopsmallbusiness #buylocal #family #santa #holiday #christmas
Located just outside of Lexington, Kentucky, historic Midway is nestled between the bucolic, rolling hills of the world famous thoroughbred horse farms of the Bluegrass. Centuries old structures featuring charming boutiques and award-winning restaurants are stacked along either side of the railroad track running through the middle of downtown. The RJ Corman line chugs into…