* Family Friendly
The John Holder Trail begins right next to the Hall's on the River restaurant off of Athens Boonesborough Road near Winchester, KY. The trail is usually well suited for children, so you may want to bring the kiddos (8+) along. It is almost 3 miles round trip.
This a lovely trail that crosses over the Kentucky River. But note, you will be getting your feet wet. And at that point you will need to be cautious as to the level of the water flow. A swift current could sweep you off your feet! If you have children, I suggest visiting when the water is low.
Be sure to grab a brochure on your way in, but don't forget to drop it back off on departure. The pamphlet provides a back story on about nine items/areas of interest to spot along the way, like a little scavenger hunt including remnants of old ice houses and a cemetery with the grave of Colonel John Holder from 1798.
This waterfall is visible just past after crossing over the river on the right. It is on private property but still visible from the trail.
Crossing over the rocks at the Kentucky River provides such a gorgeous view of the waterway, I highly recommend it! And depending on the rainfall, near the start, just to the right off the path you'll discover a small waterfall.
On your way out, take the opportunity to stop by Hall's on the River for my favorite drink, the Kentucky Squirrel! It is akin to the Kentucky Mule but with orange accents rather than lime. Very tasty indeed. They also make a fine Bloody Mary with the Bud Lite side car! Be sure to enjoy a serving of their famous beer cheese & the delicious fried banana peppers are not to be missed.
The John Holder Trail is not too long, fairly easy and very enjoyable.
With any hiking trip I recommend a walking stick, sunscreen, hat, bug repellant, poison ivy block and plenty of water.
Check out the sights to see on the trail!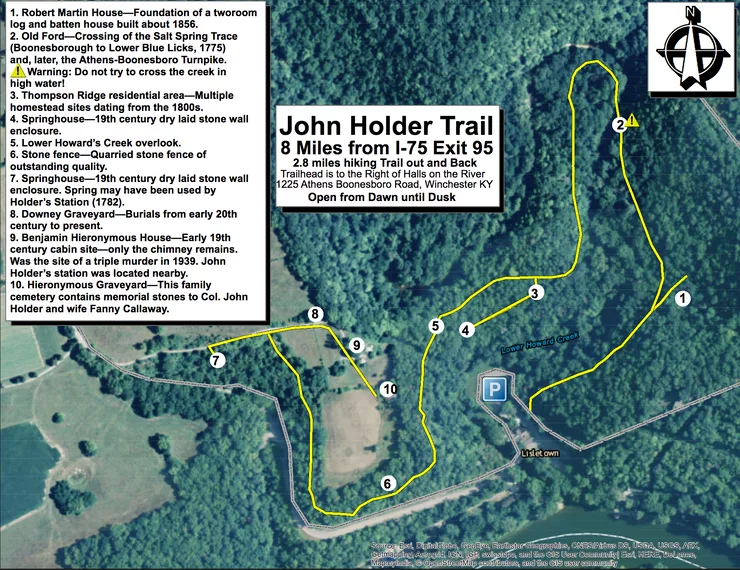 #forest #hike #kentuckyriver #hallsontheriver #outdoors #getoutdoors #explorekentucky #waterfalls #water #river #hiking #trails #freshair #winchester #kentucky #travelky