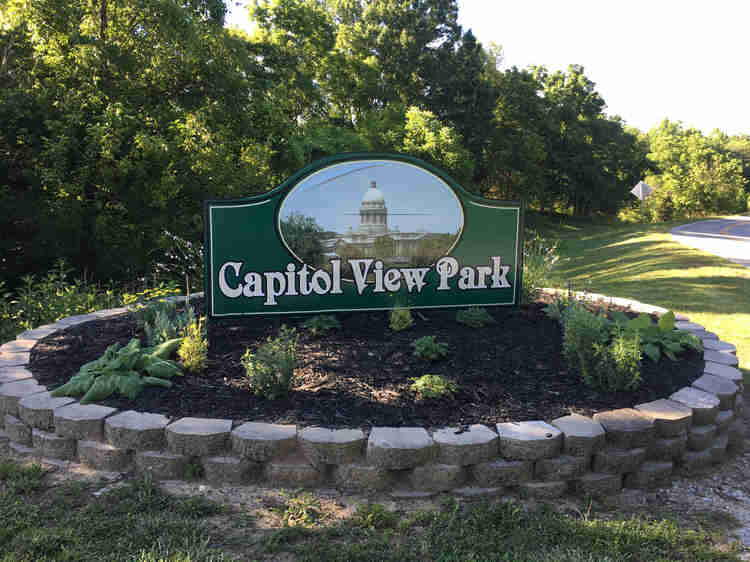 Capital Park Mountain Bike & Hiking Trail
by Marie

Posted on

July 21, 2018
*Family Friendly *No pets
When searching for fun hiking trails close by, consider those tucked away in the Frankfort, Kentucky area. Capitol View Park, aptly named for the view you will enjoy of the state capitol, is an excellent choice . This trail is also designated for mountain biking, so you will need to keep an eye and ear out for fast-moving cyclists. I would rate this walk as relatively mild with fairly level terrain. The park offers 150 acres that providesa scenic view of the Kentucky River.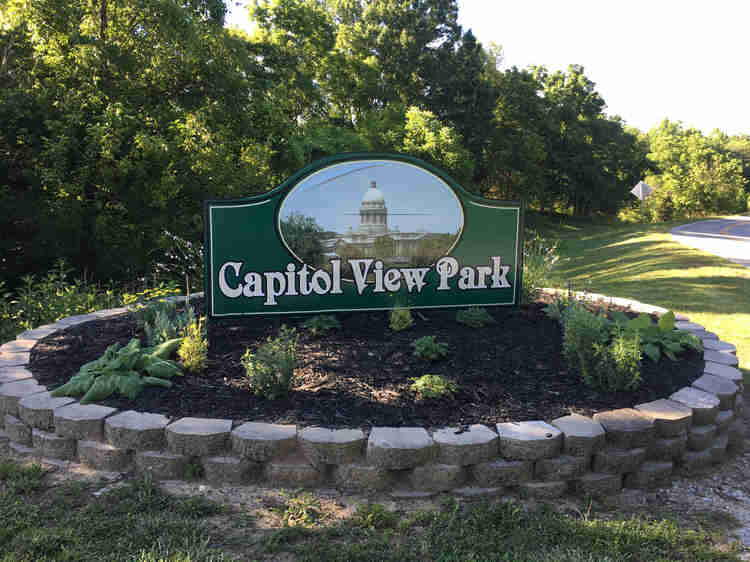 Capitol View Park is on the corner of State Highway 676 and Glenns Creek Road. Enter and when the sign appears, go left and park along the end of the drive. Head toward the bridge where you will spy colorful artwork. You'll have your choice of pointing to the left or right… and you're off!!
The head of the trail is decorated with local artwork that can serve as a vibrant backdrop for photographs. This winding footpath is an interesting diversion through alovely, wooded area.It is a good place to spot native deer and birds. When delving into the cool canopy I love to inhale the incredibly fresh air, cleansed by nature's beautifully designed filtration system.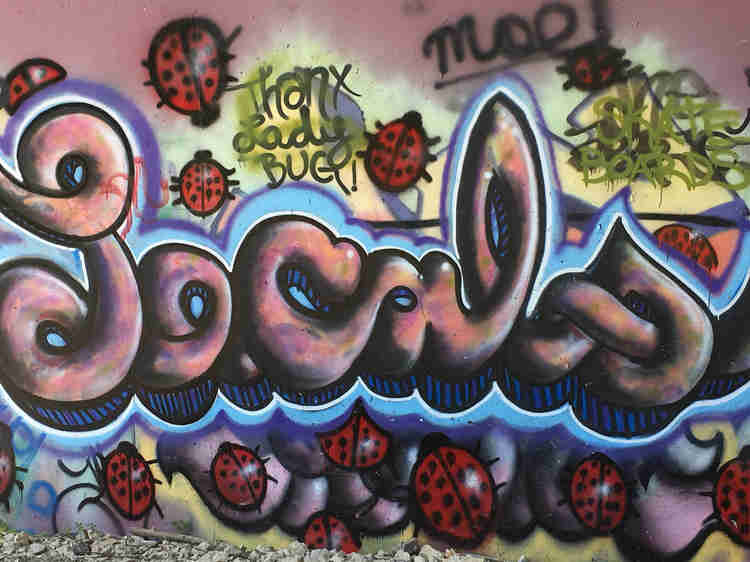 Veer just a bit off the trail to observe the Kentucky Vietnam Veterans Memorial (
see map
). A large sundial has been erected which allows sunlight and shadow to stream across the names of fallen soldiers on the date we lost them, in their courageous service to our country.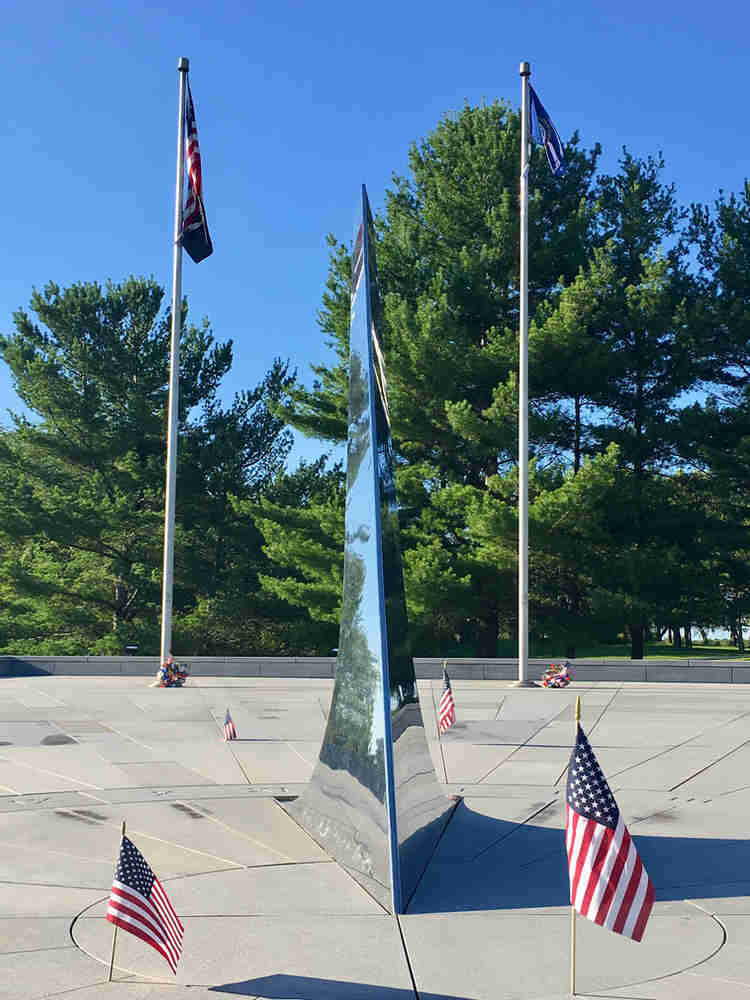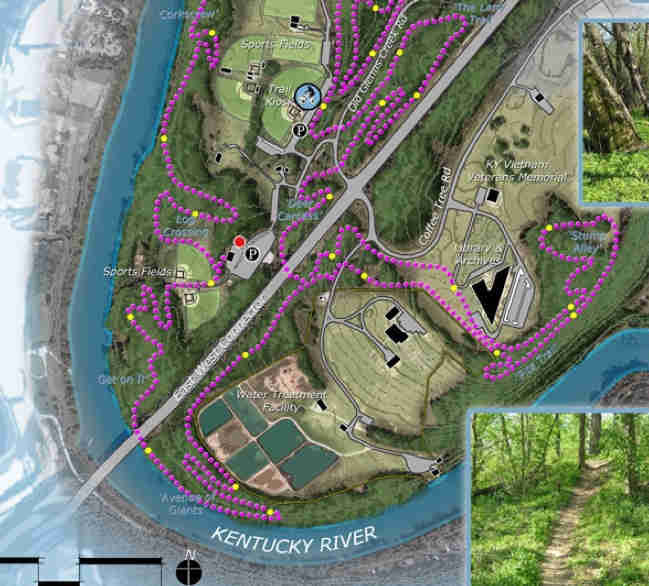 Depending on which direction you take, you may actually need to turn and look back to capture the majestic view of the capitol. If it is behind you, the opportunity will come soon after you leave the cover of the forest and follow the trail into the open.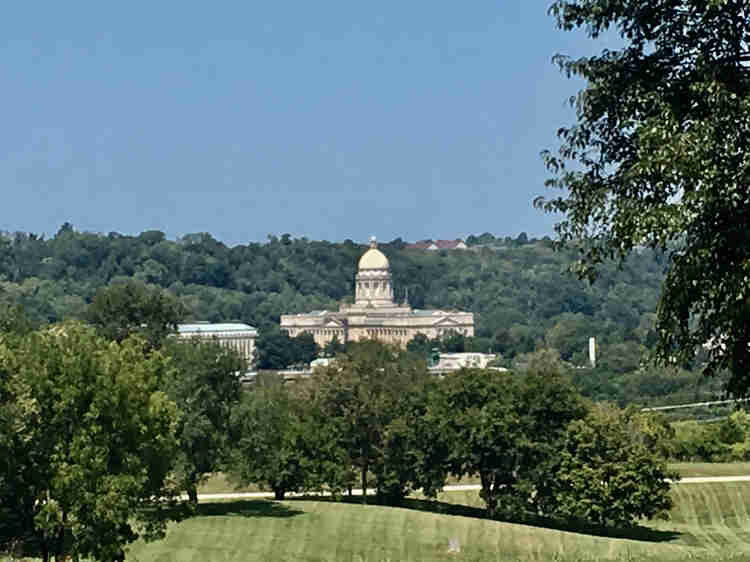 I am especially fond of Capitol View Park, a small, hidden forest in the middle of Frankfort, Kentucky's thriving capital city. The route is 3-5+ miles long, depending on your chosen pathways. I know you will relish this little hike, a definite favorite!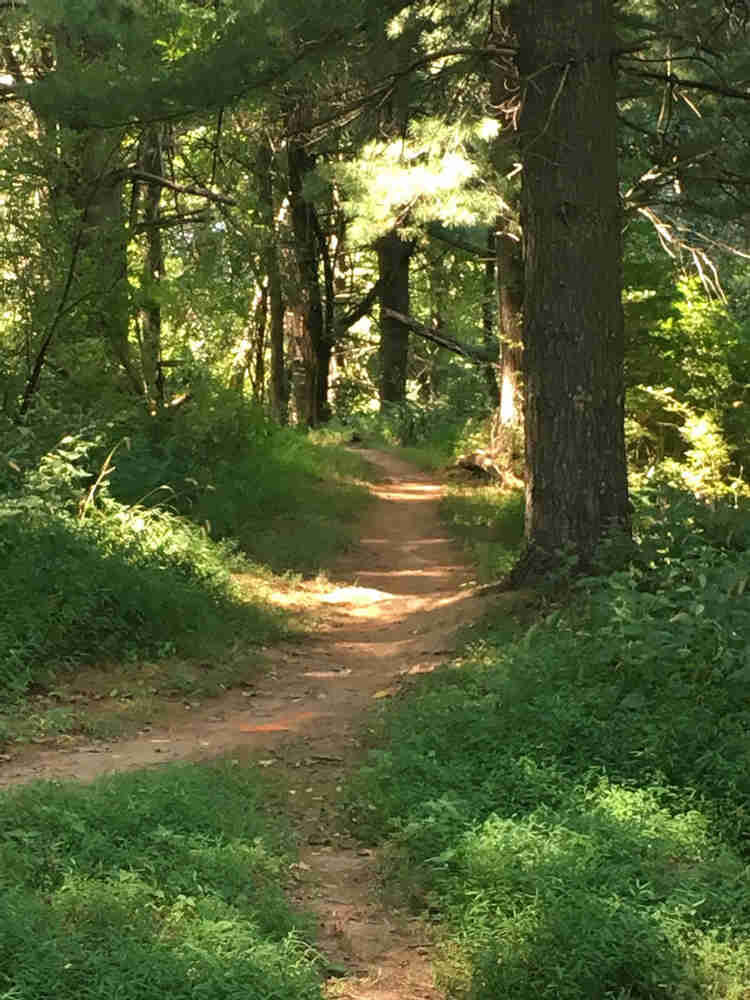 I often come prepared with a change of clothes/shoes for added exploration. While you're in Frankfort, grab some post-hike grub and drink at a variety of locally owned establishments. Locate
Capital Cellars
Wine & Spirits Cafe Market or
Bourbon on Main
where you can dine outdoors overlooking the Kentucky River
. Downtown Frankfort provides a beautiful strolling area with well-maintained streets and captivating historic buildings. You will discover fun shops including
Completely Kentucky
which sells items exclusively created in our Commonwealth.
The self-guided tour of the Kentucky Historical Society is a wonderful chance to learn extensively about Kentucky. It is well worth the price of the tickets; just $8 for adults and $6 for children. The presentation journeys you through time, dating back before pioneering and settlement days. It traces Kentucky's amazing legacy through the roaring 20s into the 50s, 60s and on to modern day.
Cove Springs is also in the vicinity (blog in link) which boasts terrific hiking destinations with plenty of different paths, along with a nice overview of Frankfort. Or you might try Leslie Morris Park open Monday-Saturday11 a.m. – 5 p.m. For a trek deeper into the woodland, I suggest the trails at Salato Wildlife Education Center all located in Frankfort, KY.
And don't forget to hug a tree while you're there!
#hiking #hike #frankfortky #mountainbiking #explore #Explorekentucky #getouthere #getoutdoors #nature #naturelover #treehugger
*Family Friendly *No pets When searching for fun hiking trails close by, consider those tucked away in the Frankfort, Kentucky area. Capitol View Park, aptly named for the view you will enjoy of the state capitol, is an excellent choice . This trail is also designated for mountain biking, so you will need to keep…