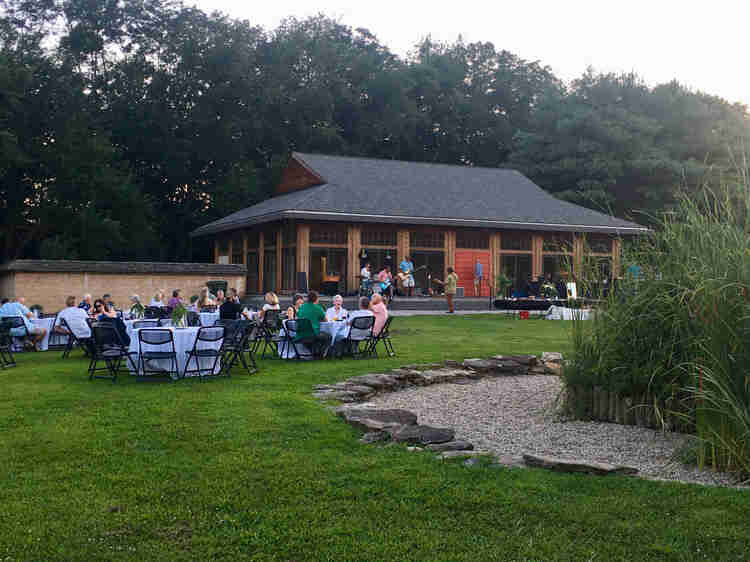 Seed to Feed at Yuko-En, Georgetown, KY
by Marie

Posted on

August 9, 2018
A mid-summer night's dream arrived in late July on the evening of the Seed to Feed. This unique event is hosted at Yuko-En on the Elkhorn in Georgetown, Kentucky, the official Kentucky-Japan Friendship Garden. One could not have wished for a more delightful evening to spend outdoors, enjoying delicious edibles and meeting new friends.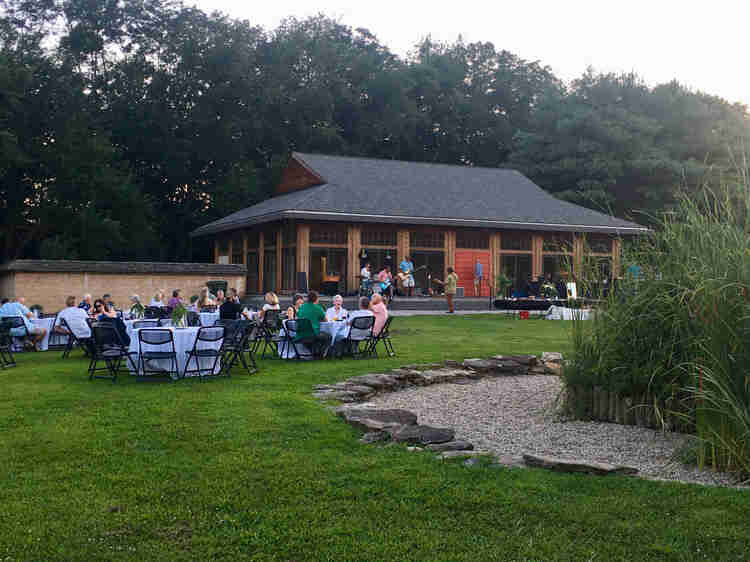 A wonderful evening outdoors at Yoko-En on the Elkhorn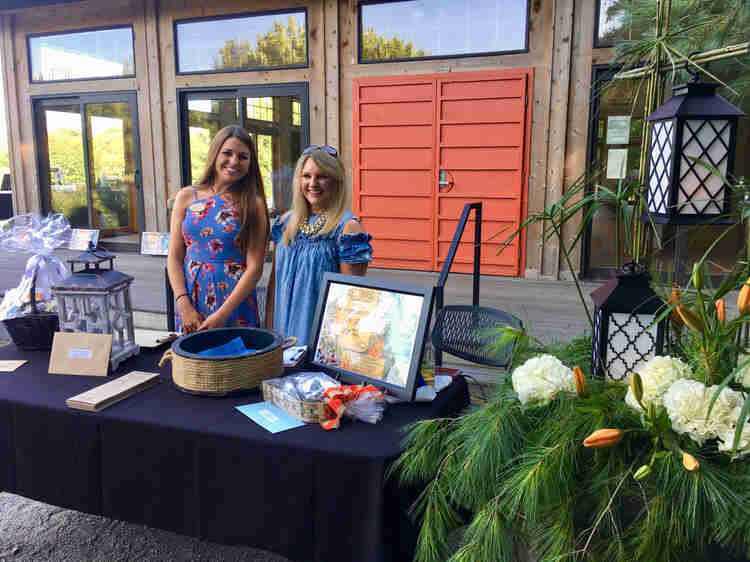 The lovely ladies of Georgetown/Scott County Tourism greeted us upon our arrival.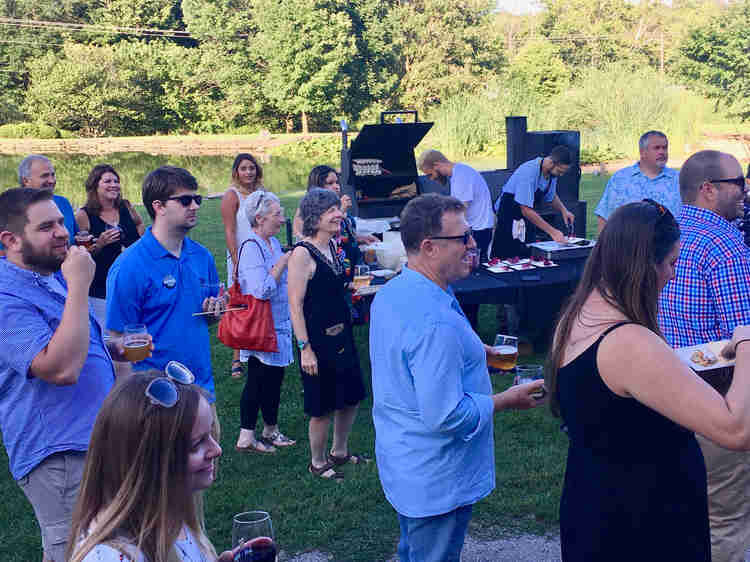 Eating..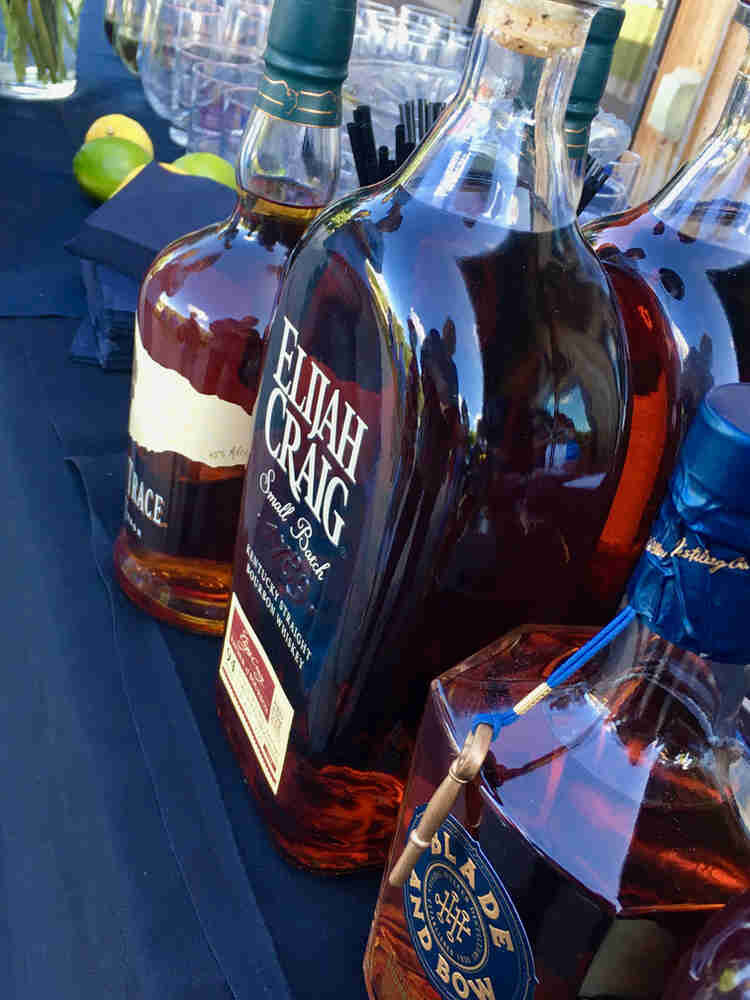 Drinking….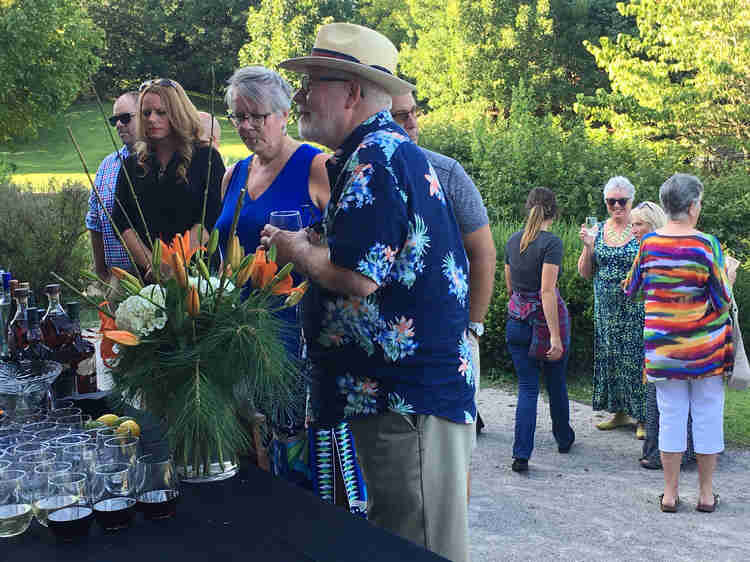 And being merry!
The tranquil space with walking paths, koi pond, luscious greenery and fragrant blossoms was formed in partnership with Georgetown's sister city, Tahara, Japan. We learned that the residents of Tahara contributed $75,000 to the citizens of Georgetown for the pleasure of this beautifully cultivated oasis. Open to the public, Yuko-En consists of a 5 1/2 acre, botanical display featuring bluegrass landscaping, framed in a Japanese style, strolling garden. Visitors can walk along the winding pathways to discover the many elements unique to the area.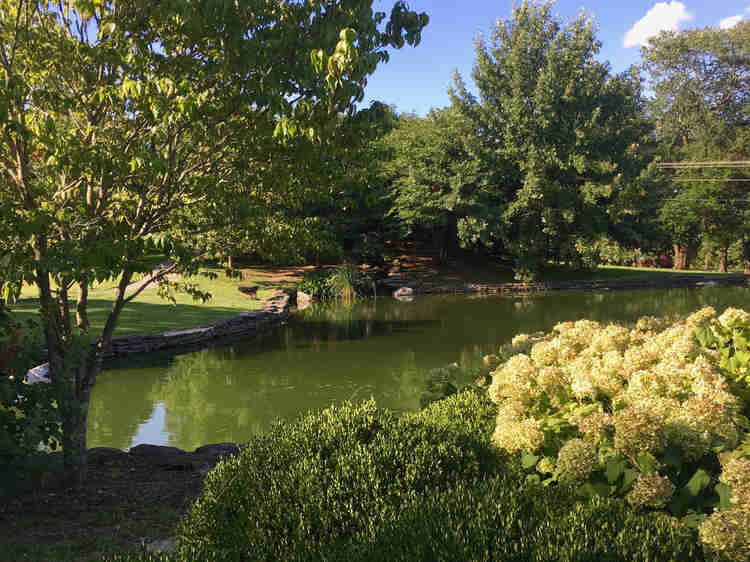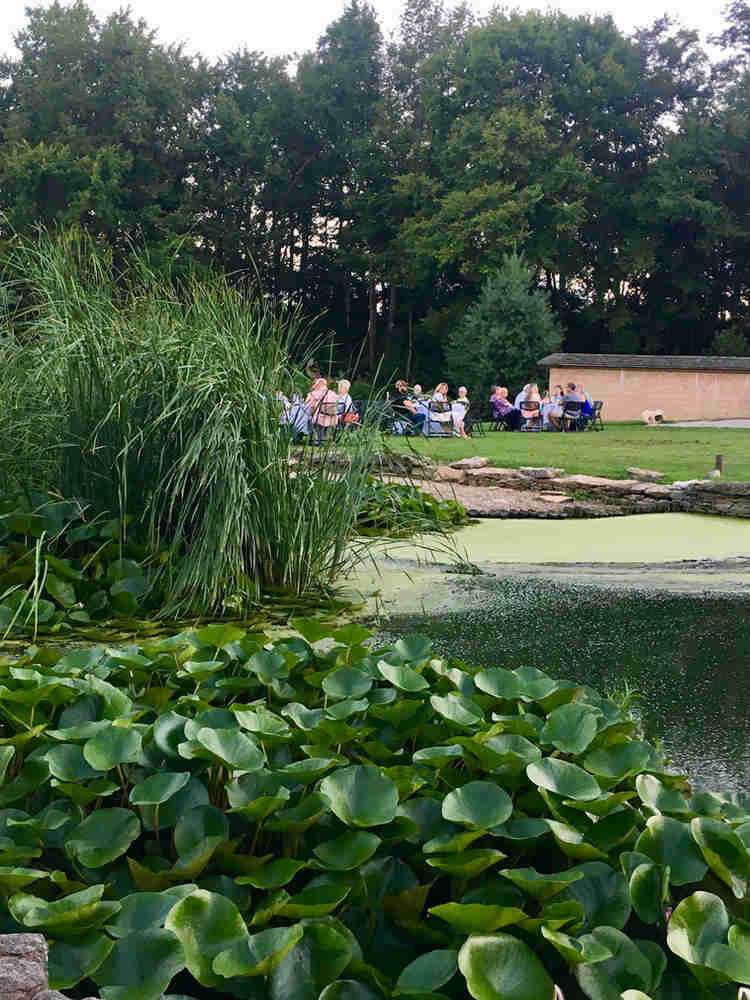 Admittedly I arrived with high expectations for my dining experience because I knew that the chefs and owners of Local Feed in Georgetown on Water Street would be on hand, preparing the appetizing fare. I have blogged about Local Feed in the past and you can read more here. Justin Thompson and Julian Stone take great care and pride in creating thoughtful dishes with ingredients that truly dance on the palate!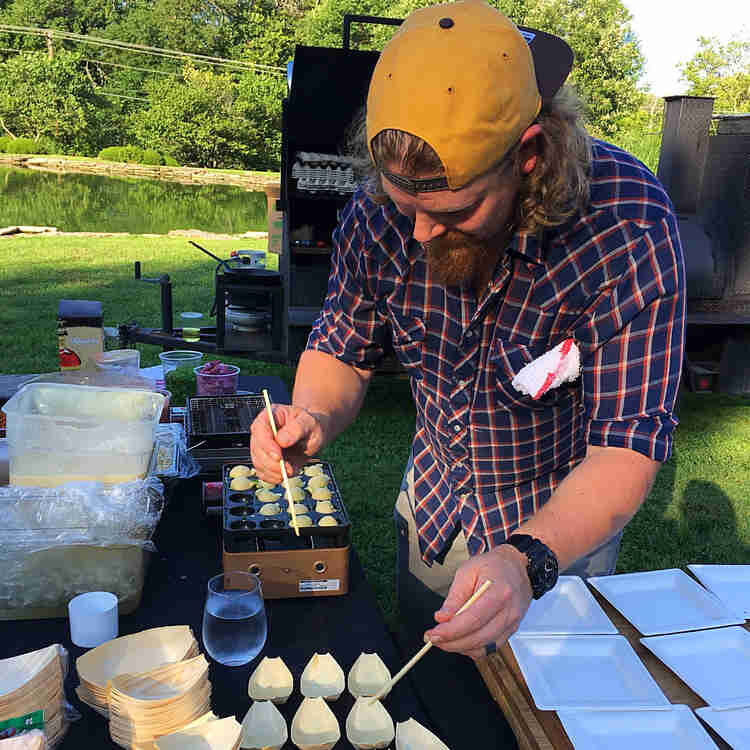 Chef Justin creates the Smoked Trout Okonomiyaki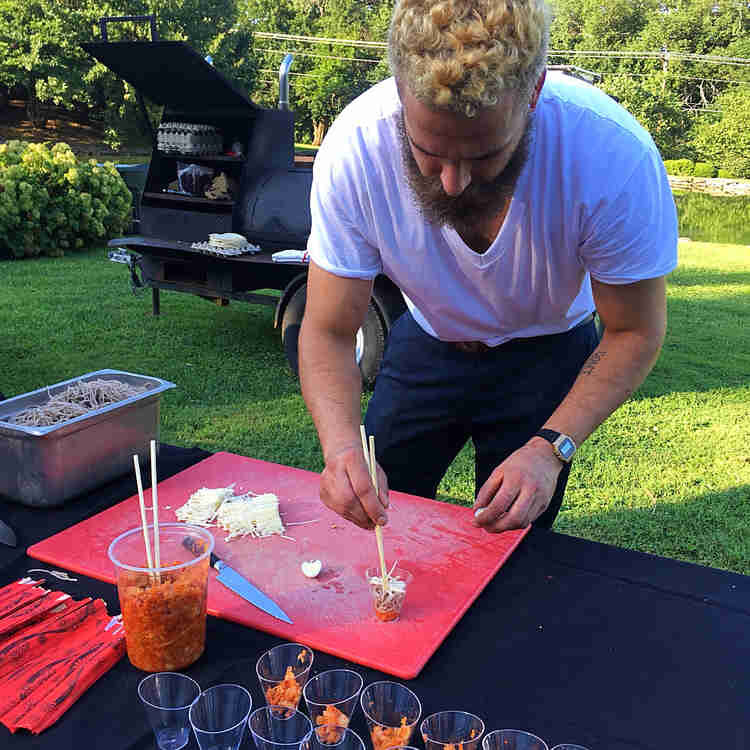 Chef Julian prepares somen noodles, enoki mushrooms with kimchi and quail egg.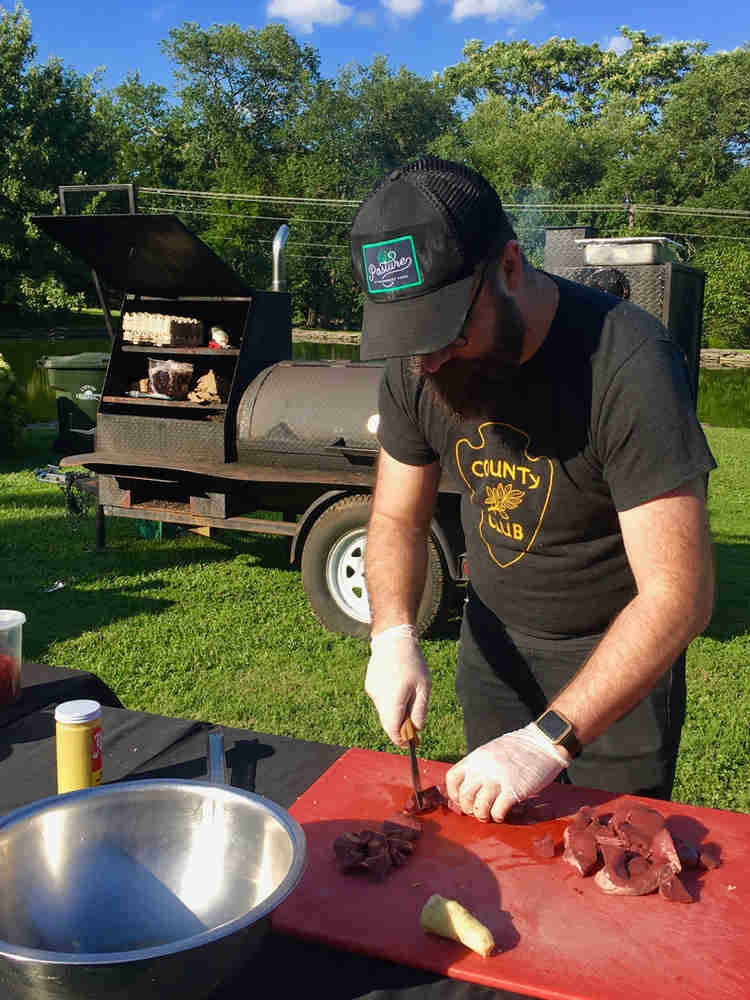 Preparation of the beef heart tartare.
The evening's dinner was a combination of delectable bites passed through the crowd, such as oysters with cucumber, fish sauce and chili oil, Wagyu beef heart tartare, unbelievably good Soy-Pickled Deviled Eggs and Rabbit Pâté Banh Mi. The term Banh Mi refers to a single serving baguette.
Participants were also welcome to tastings at the chef stations. The offerings included the most deliciously moist Smoked Duck Moo Shu Wrap, and spicy, ice-cold beef broth with Sōmen noodles, enoki mushrooms, Korean-inspired kimchi and quail eggs. The Smoked Trout Okonomiyaki with ginger, scallion and katsuobushi freshly prepared at the chef table and topped with spicy mayo. The name Okonomiyaki is derived from the word okonomi, meaning "how you like" or "what you like", and yaki meaning "grill". The chefs also compiled a wonderful Red Braised Pork Bo Ssam with candied carrots and cashew granola. Lastly a plump dumpling called Yachea Mandoo with a surprisingly savory soy braised cherry and chili oil.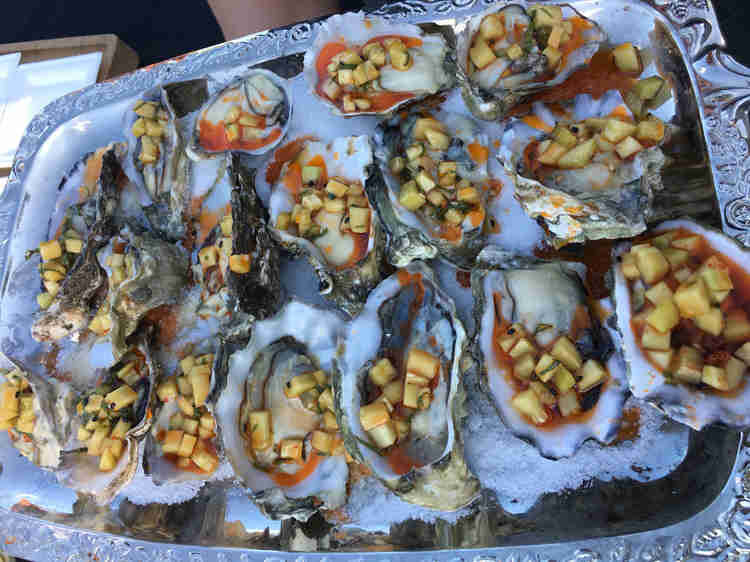 Oysters with cucumber, fish sauce and chili oil.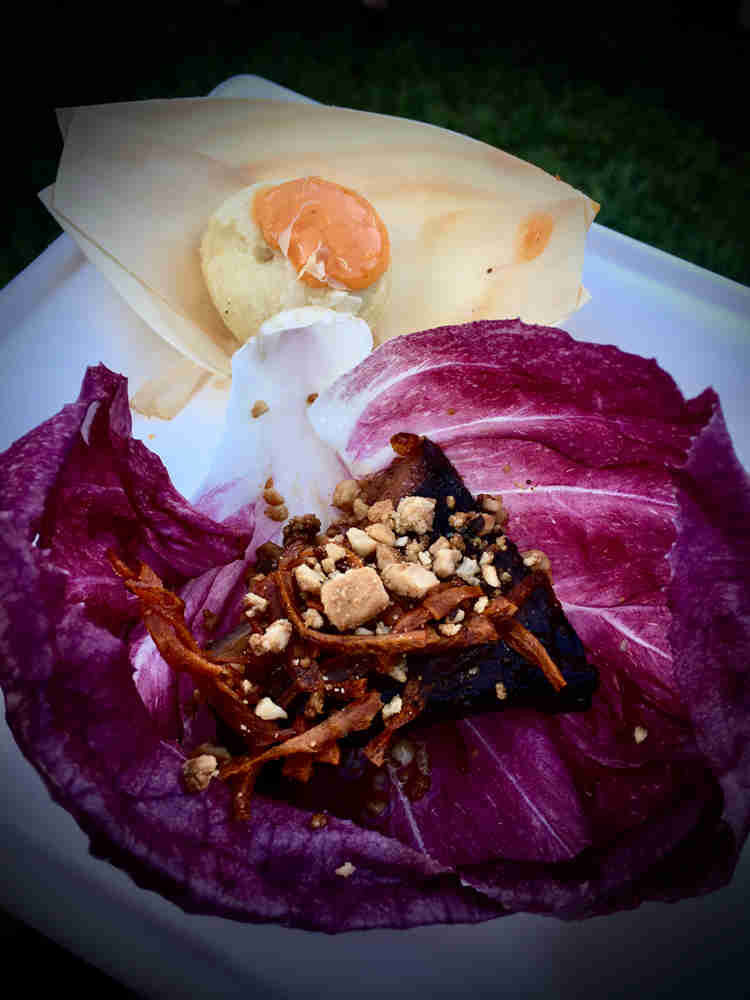 Smoked Trout Okonomiyaki (saver pancake) and Braised Pork Bo Ssam.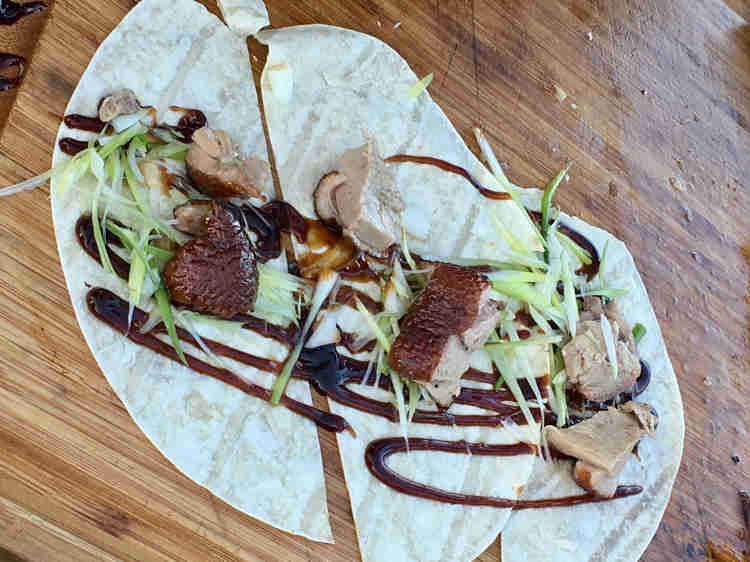 The smoked duck was incredibly moist and savory!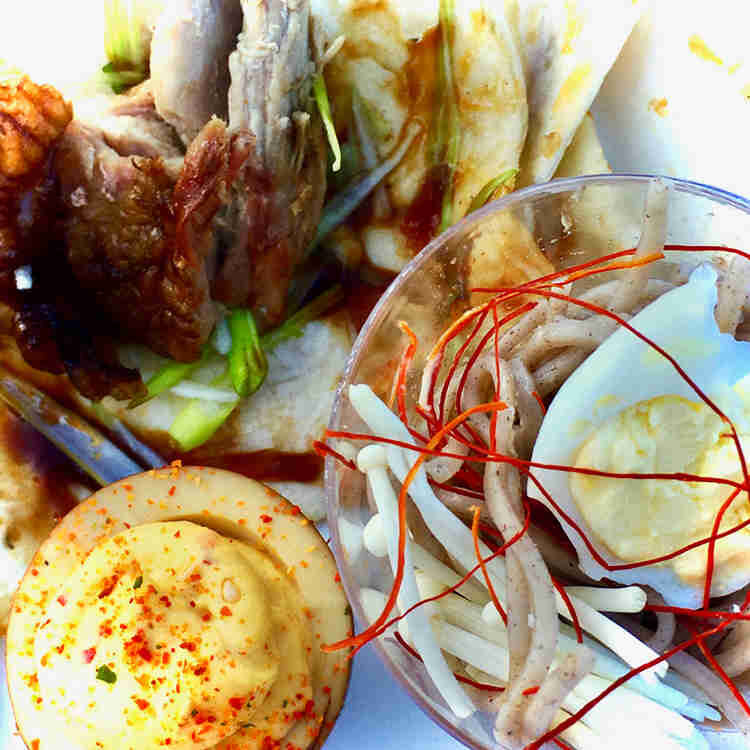 An assortment of delicacies including the Smoked Duck, Soy Deviled Egg and the Sōmen Noodle Dish topped with blazing red saffron.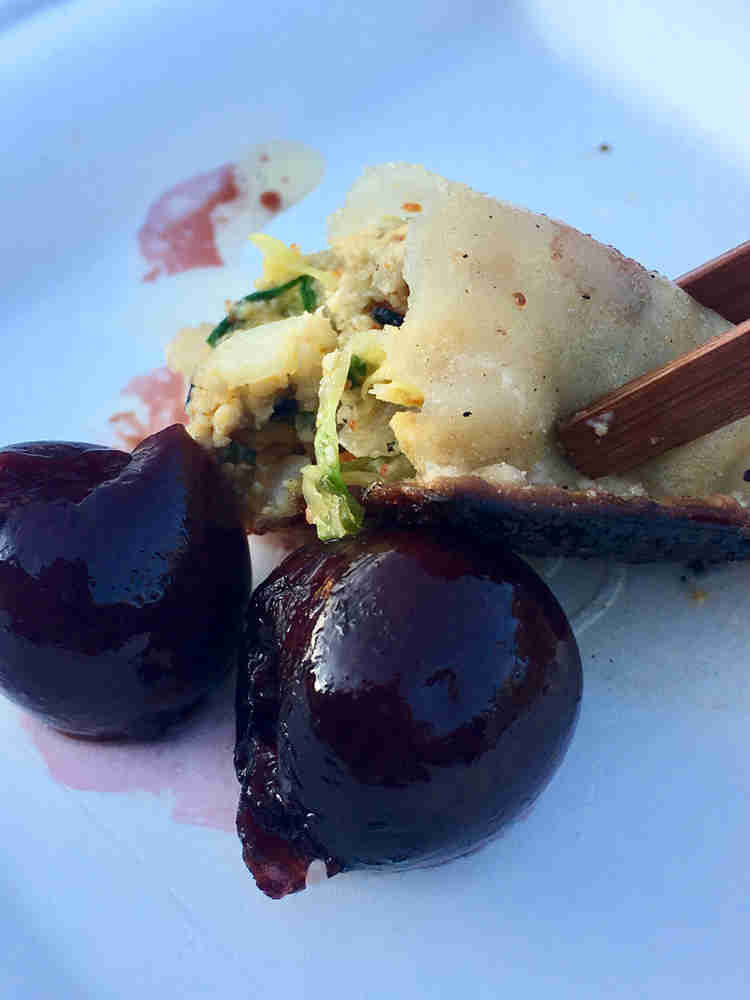 The Yachea Mandoo Dumpling with soy marinated cherries.
Should there be any room after all of those savory treats, the sweet finale of assorted house made tropical pops of Lychee, Mango and Dragonfruit!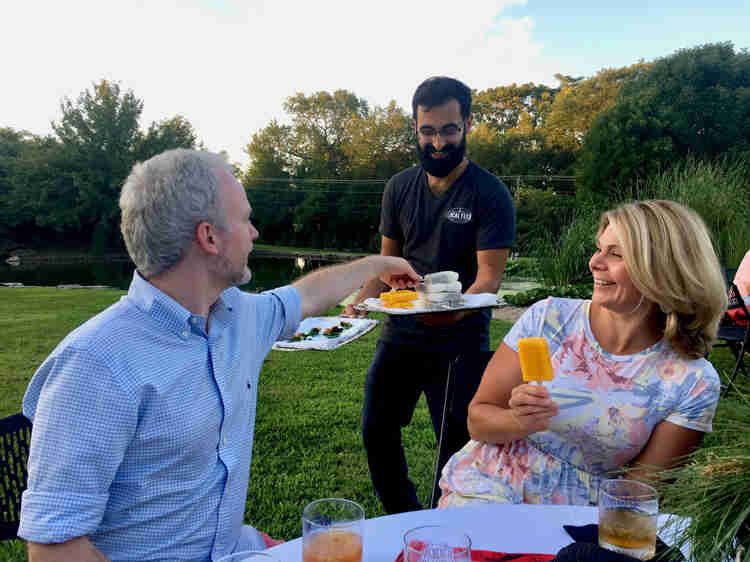 House made pops served with smiling faces from Local Feed.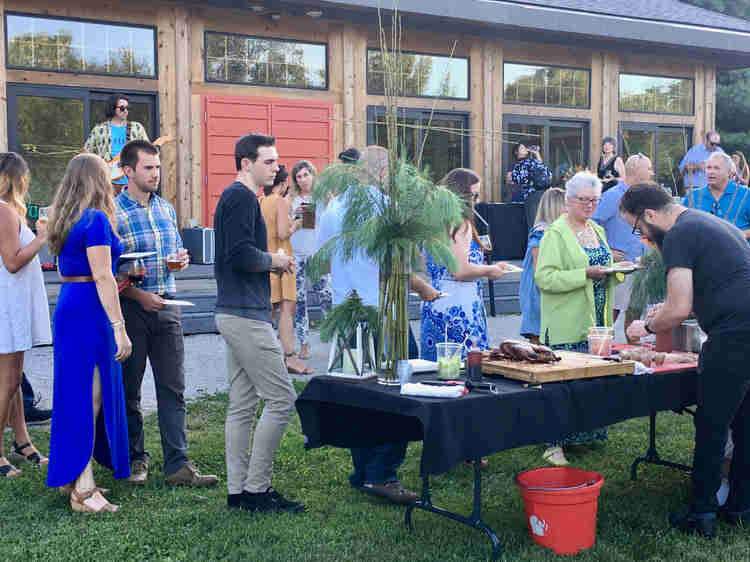 People gathering at the Chef Station to share wonderful eats.
Chef Julian grills tortillas for the Smoked Duck Mo Shoo Wraps
If you missed this event, don't worry, you can still attend the next Seed to Feed dinner on September 7, 2018 at Royal Springs Park with Chef Jonathan Lundy of Corto Lima and on October 5, 2018 featuring Ouita Michel at Old Friends Farm. Old Friends Farm this illustrious farm is a welcome home for retired racehorses. Theirs is a most worthy cause, providing aid and comfort to our aging racers. Please click on this link to learn more about this non-profit farm and the tours they offer.
#kytourism #Eatlocal #eatfresh #eathealthy #outdooreating #japanesefood #Shopsmallbusiness #georgetownky #Georgetown #chefdriven
A mid-summer night's dream arrived in late July on the evening of the Seed to Feed. This unique event is hosted at Yuko-En on the Elkhorn in Georgetown, Kentucky, the official Kentucky-Japan Friendship Garden. One could not have wished for a more delightful evening to spend outdoors, enjoying delicious edibles and meeting new friends. A…