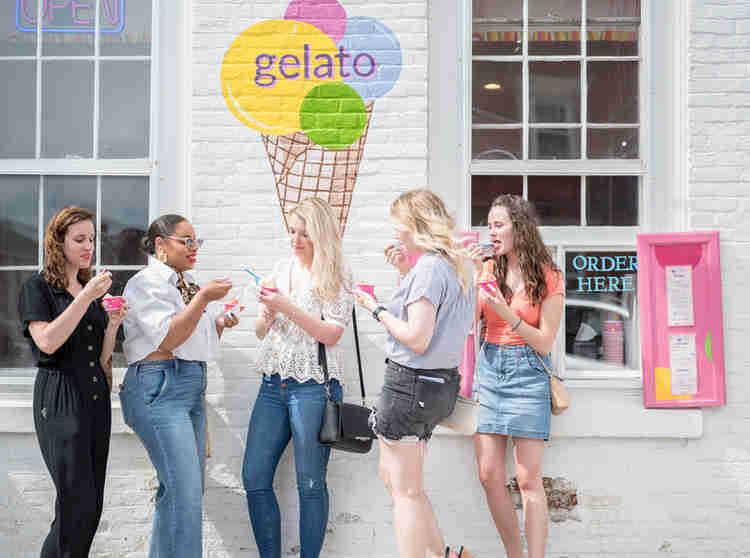 Visit Downtown Versailles, KY
As a favorite weekend escape, I revel in exploring small towns in Kentucky. There are so many little gems tucked away on the map, within just a 30 to 60 minute drive. I highly recommend an afternoon in downtown Versailles, KY.

Inspired by my desire to share the goodness of these small towns with my fellow Kentuckians and visitors as well, I organized my first, of what I hope to be many, Kentucky Blogger Events. In fact, you can follow #kybloggerevent on Instagram to see more photos and experiences from our day in majestic Woodford County. Enjoy the wonderful photos by Muse Marketing & Design. In the last few years, I have noticed a wonderful trend in the revitalization of memorable down towns. Versailles is a fine example. Streets lined with beautiful, historical buildings are being re-inhabited and re-purposed with inviting, new businesses. A delightfully walk-able downtown provides easy access along the Main, Court and Green Streets.
Our mission for the day was to make a B-line for desserts! We first called on Spark Community Café. Executive Directors, Kyle and Tristan gave a stirring recollection of the inspiration behind their restaurant. Their motto is "Dining with Dignity". This is a café with heart and a goal to serve "food insecure", as well as provide for the entire community. Patrons whose pockets are full can dine and pay it forward. Those with lighter purses contribute what they can. And if money is scarce, guests can exchange volunteer work for their meals. No one is ever turned away.
Mrs. Rogers' Popcorn & Sweet Shoppe dwells next door. If you have a sweet tooth, this surely is the place for you! I love that she uses non-GMO, high-quality popcorn and gourmet chocolates. You will immediately taste the difference between the mass-produced cakes and cookies and Mrs. Rogers' enticing delicacies. In the back, she and her helpers are busy hand-dipping bourbon balls, local strawberries, pretzels and creamy, peanut butter balls one by one. Drop in and sample seasonal confections such as tangy, lemon bars in the summer or a wintry, peppermint-dipped Oreo. The love is evident with every heavenly bite. Mrs. Rogers also creates fantastic baskets for any occasion. 
Three of the bloggers along with other patrons took part in the watermelon eating contest. The event was an absolute hoot and the winner received a $25 gift certificate!
Casually meander around downtown Versailles and fashion a day to remember. Savor their choice fare. Visit notable shops such as 5 Seasons Gift Gallery and Green Street Gifts & Antiques. You'll discover tranquil yoga studios and a fantastic art gallery with works by Eric Johnson. Consider holding your next special event at The Galerie on Court Street. Close by you'll find All That Is Lovely, which offers top-notch hair and makeup services. If you would like to stay in Woodford County, try the cozy Woodford Inn.
Downtown Versailles Kentucky isn't far from many Kentucky towns. Georgetown- 25 minutes, Louisville- 60 minutes, Lexington- 30 minutes, Richmond- 35 minutes, Covington- 95 minutes.
Did you catch my blog about the captivating horse farm tour at Sun Valley Farm in Versailles, KY? You can meet the new foals there and even pet some!
As always, I welcome your comments below. And should you visit any of these businesses after reading one of my blogs, please let them know you heard about it here!
As a favorite weekend escape, I revel in exploring small towns in Kentucky. There are so many little gems tucked away on the map, within just a 30 to 60 minute drive. I highly recommend an afternoon in downtown Versailles, KY. Inspired by my desire to share the goodness of these small towns with my…