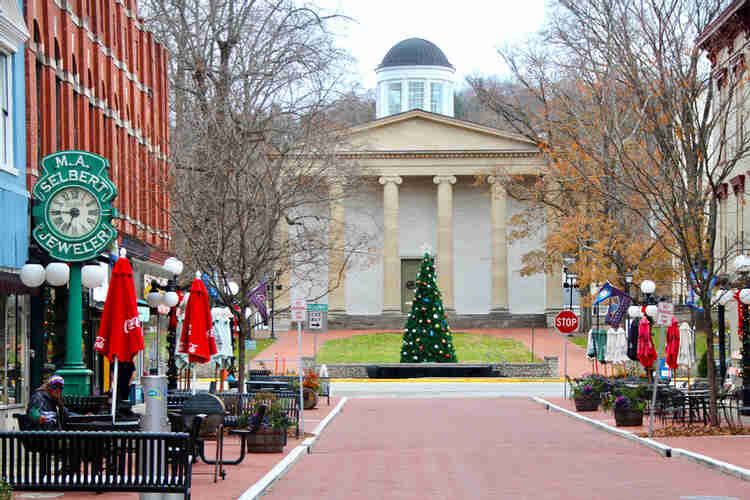 Visit Frankfort, KY for the Holidays
by Marie

Posted on

December 4, 2019
When it comes to the holidays, nothing evokes the Yuletide spirit like the warm charm of our own state capital of Frankfort, KY. A visit to this city is the perfect destination for a day trip or for the full experience, a weekend venture. For a flavorful bite to eat, a drink with friends, a merry day of shopping or a stroll to appreciate beautiful artwork and masterful architecture, our capital city of Frankfort fills the bill! 
*Family Friendly *Photos by Bluegrass Collaborative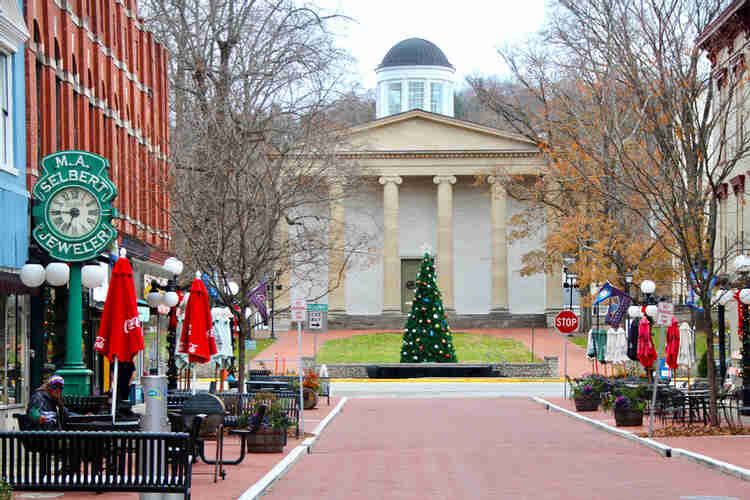 I began my journey at the heart of Broadway where the old state capital stands proudly, boasting a magnificent Christmas tree. The town was bustling with multitude businesses and eateries. Abandoned train tracks that run down the middle of the street add to the fanciful and historical flair.
For a delectable lunch or dinner, consider elegant Serafini's on the corner of Broadway and St. Clair streets. Based on fresh, local ingredients, Chef Jeff takes great pride in his culinary creations, combining the best of Italian and Kentucky's southern food traditions.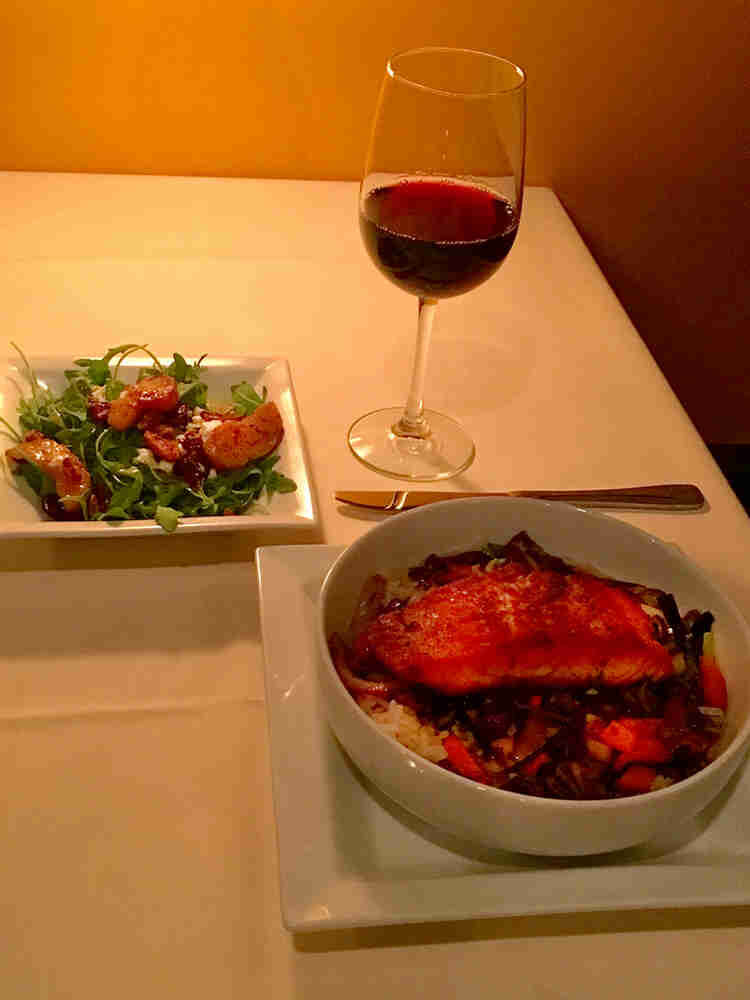 Engaging sculptures and wall hangings crafted by Kentucky artists are highlighted within the splendid interior design of this exceptional restaurant. Schedule a celebration or intimate dinner in their lovely dining area. Carlos will be stationed behind the bar to prepare your favorite drink!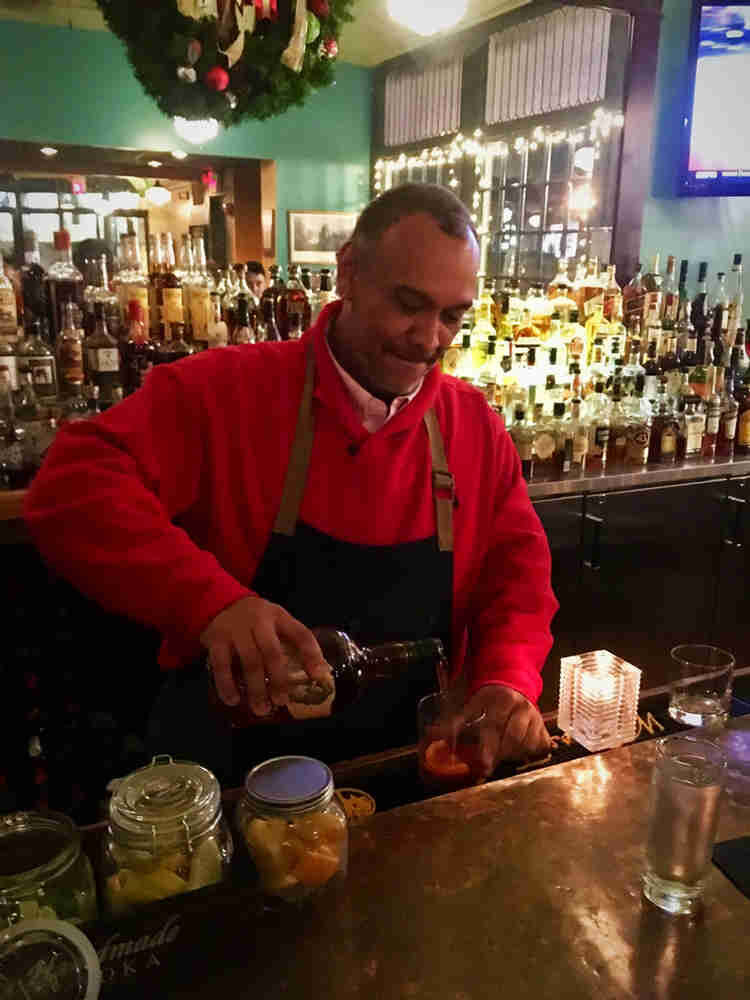 Carlos behind the bar mingling and mixing
Among guests' favorites is the Fried Green Tomatoes accented with a tangy tomato jam and aioli. You'll want to dive right into Serafini's luscious, deep dish lasagna. Chef prepares a mouth-watering, Country Ham Carbonara, which is a superb marriage of Italian and southern influences. The amazing Seared Salmon is paired with ginger-scallion rice alongside hearty, stir fried vegetables. Tender Southern Pork Loin is marinated in a sweet tea brine, grilled and served with a unique, apple cider chutney; tasty, sauteed Brussels sprouts and moist, Weisenberger Mill red onion spoon bread.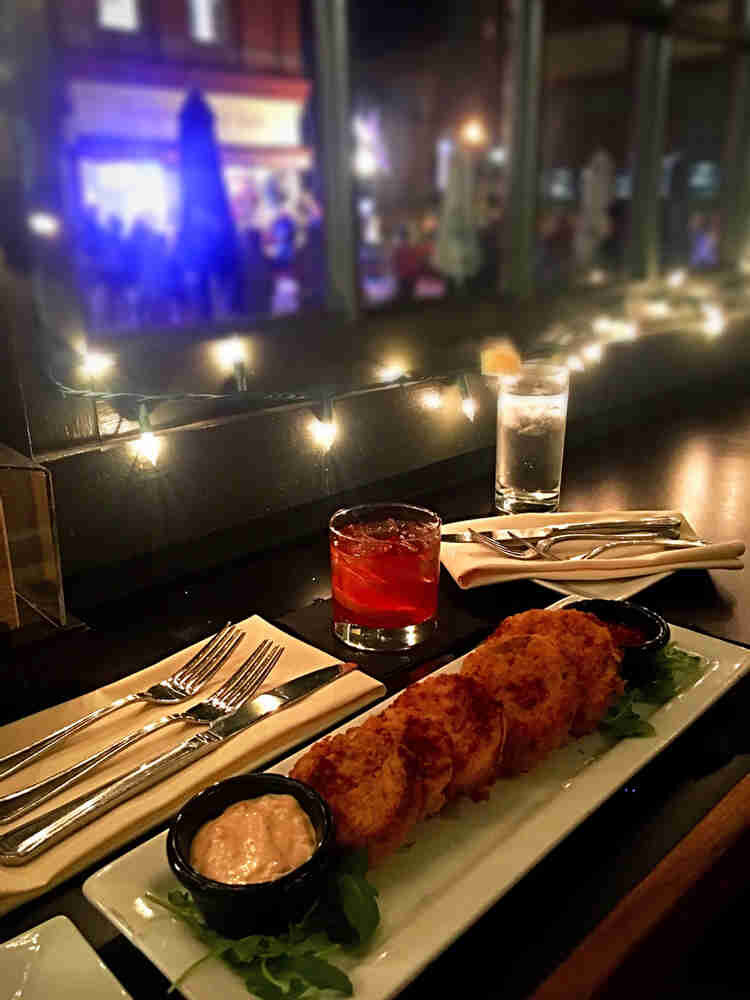 Fried Green Tomatoes with a view
Serafini's provides the ideal dining destination before catching a movie, concert or play at the historic Grand Theatre. 
Erected in 1911 as a small (135 seats), vaudeville house and silent movie venue, the theater was wired for "talkies" in the late 1920s.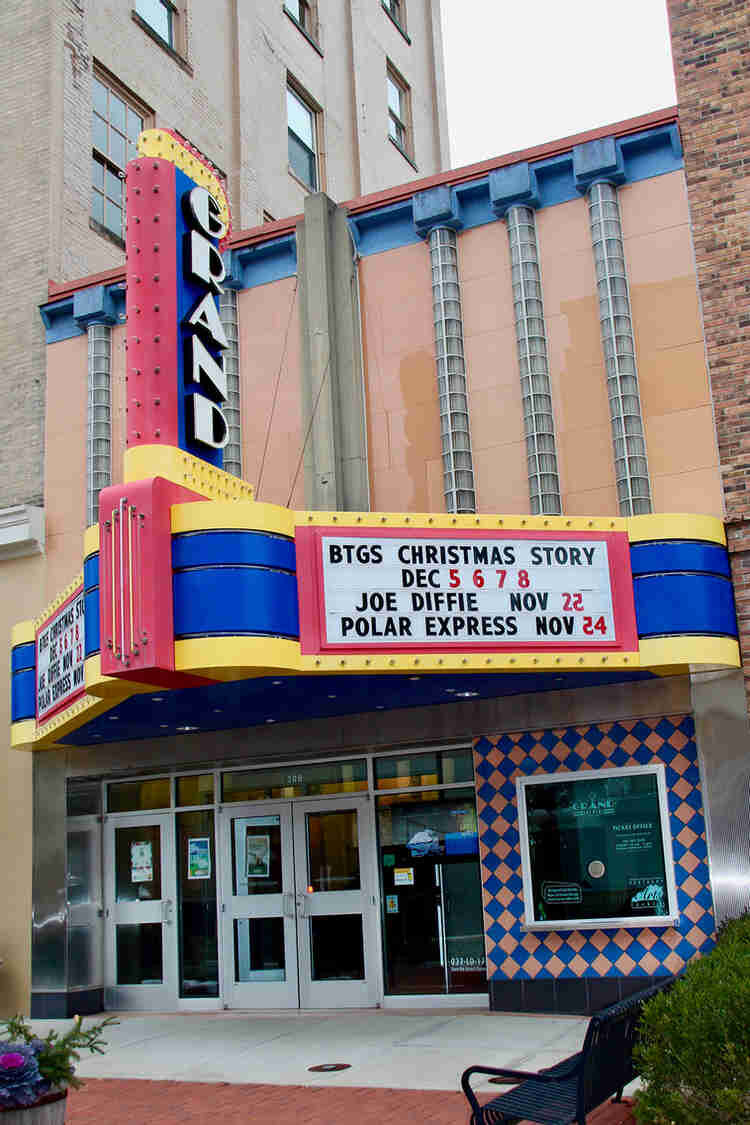 The retro signage beckons patrons for great entertainment.
In 1940, The Grand was transformed into a 600-seat theater and remained in operation until the 1960s. The property was then used for a variety of commercial purposes.
In 2005 a nonprofit group, Save the Grand Theatre, Inc. purchased the property with the mission of renovating the sublime structure into a multi-purpose community arts center. Their goal is to raise $3.7 million to complete the renovation. In the interim the existing space will be used for a variety of arts programming and fundraising.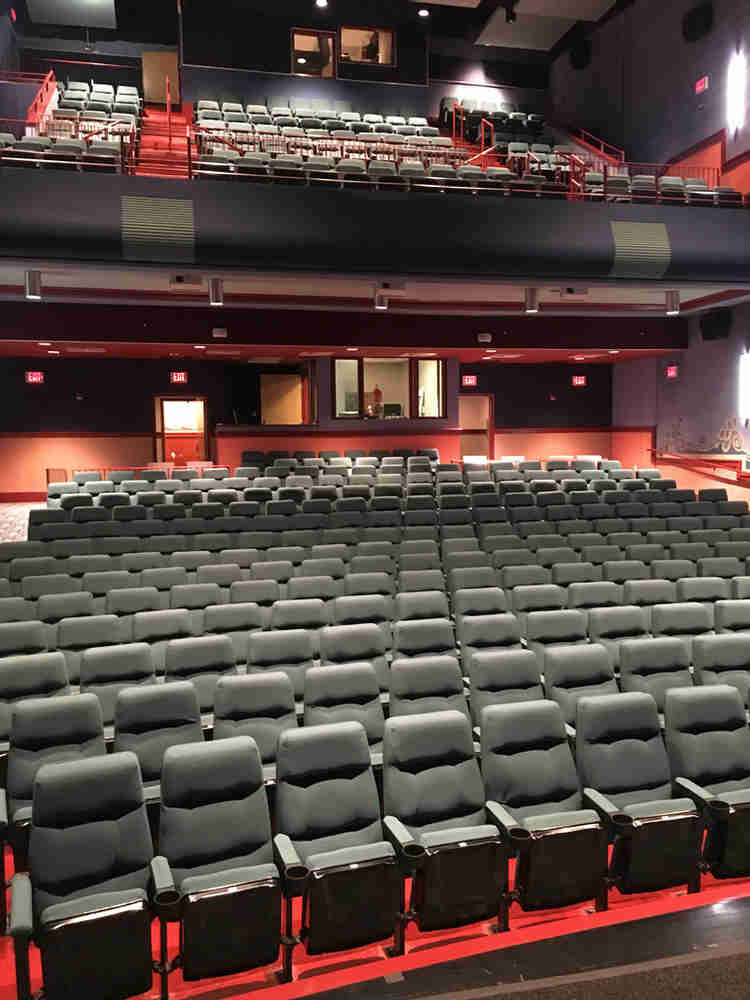 Be sure to check their calendar for all the great talent that's booked including an endearing rendition of  A Christmas Story on December 5th and Terrance Simien and the Zydeco Experience on February 25th.  Witness the courageous story of Anne Frank on March 6th or enjoy the musical talents of Béla Fleck and Abigail Washburn on April 21st.  Click here for a full calendar listing.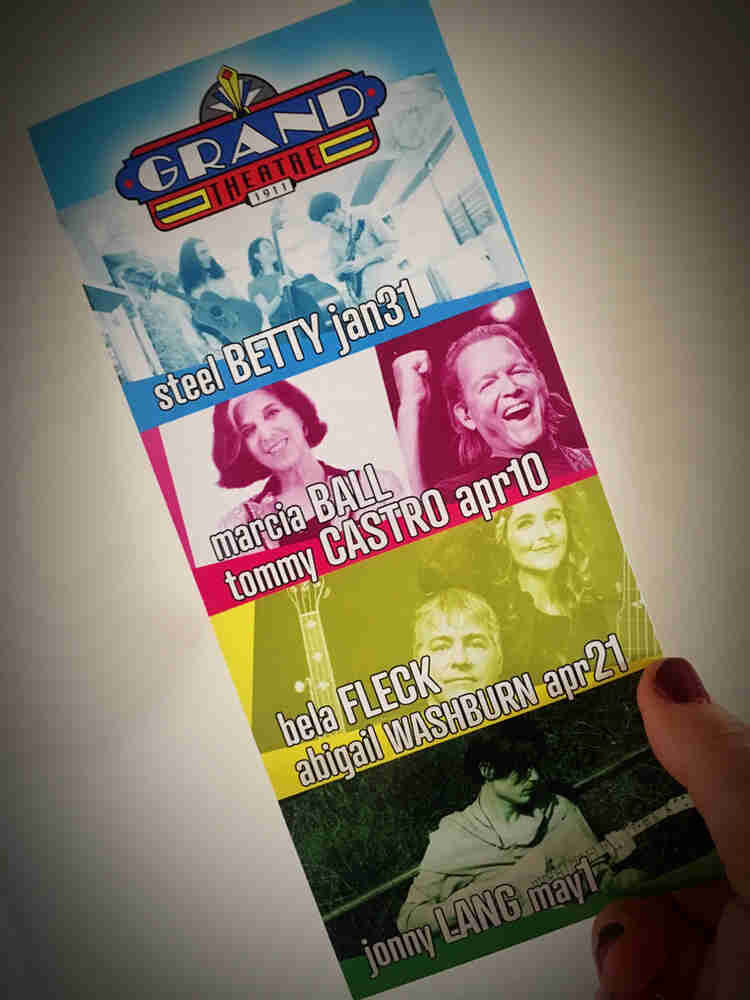 As I ambled down Broadway I had to step inside Completely Kentucky. As the name implies, every item therein is produced in Kentucky. There is no better place to support local artists and makers on such a large scale! This shop is a perfect reason to visit Frankfort, KY for the holidays.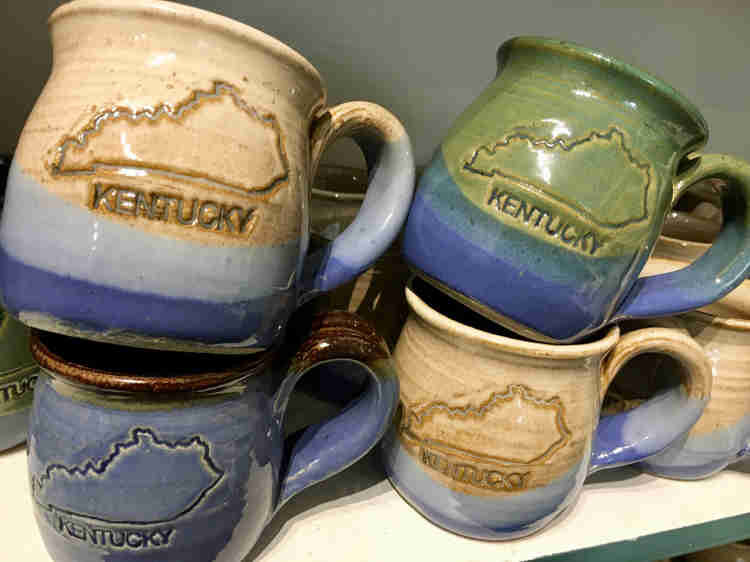 You will be blown away by the selection of locally made products in this huge, two-story gift store. Completely Kentucky carries extraordinary pottery, apparel and accessories, jewelry, wall art, multimedia artwork, wooden items, photography, frames and metal art. You'll fancy the huge selection of edibles such as sauces, spices, coffee, candies, mixes and other goodies from around the Commonwealth.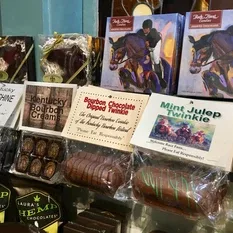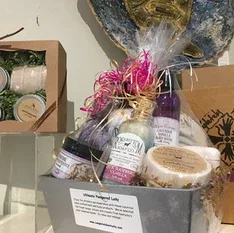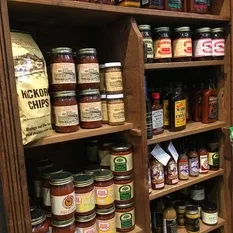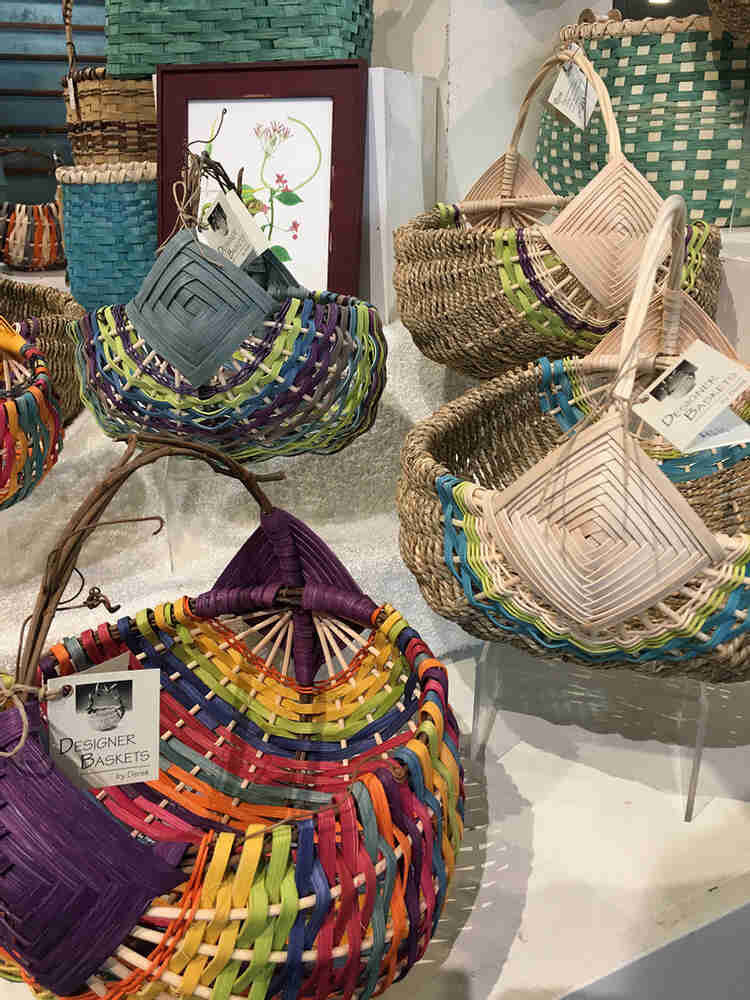 Fashion a custom gift basket or choose from their fascinating selections. In search of hand-made soaps and lotions? They have a nice variety. Keep an eye on their calendar of events for art walks, sales, samplings and artist demonstrations. Sign up for their birthday club to receive a discount during your birth month.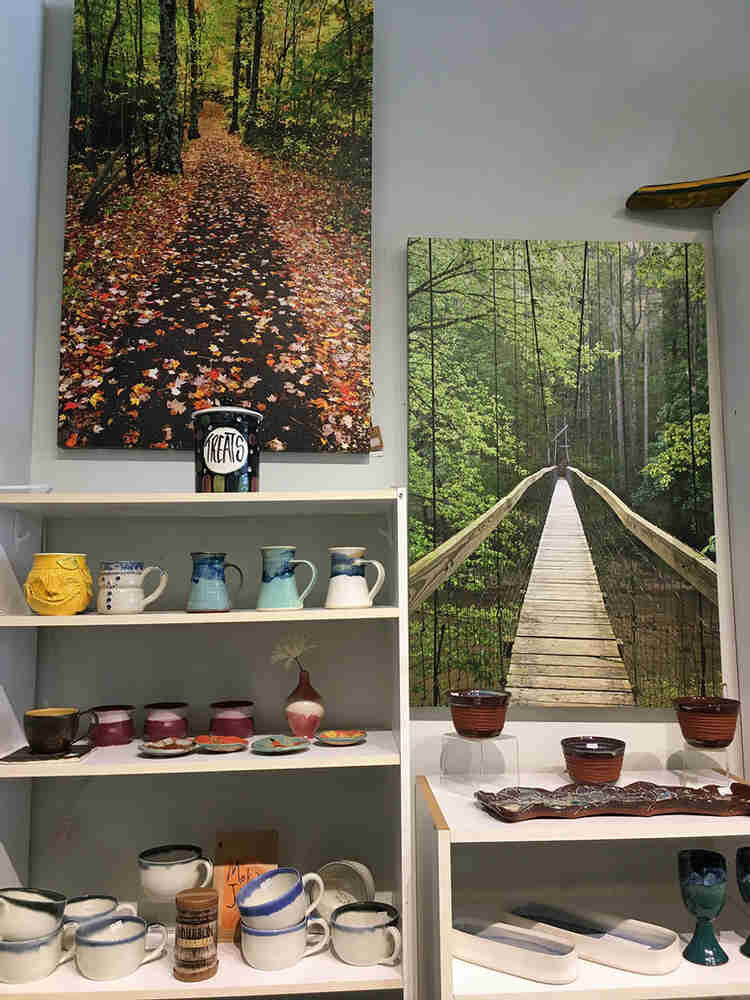 Completely Kentucky is one of the best places in the state to shop for locally-crafted gifts and a "must visit" during your stop in Frankfort.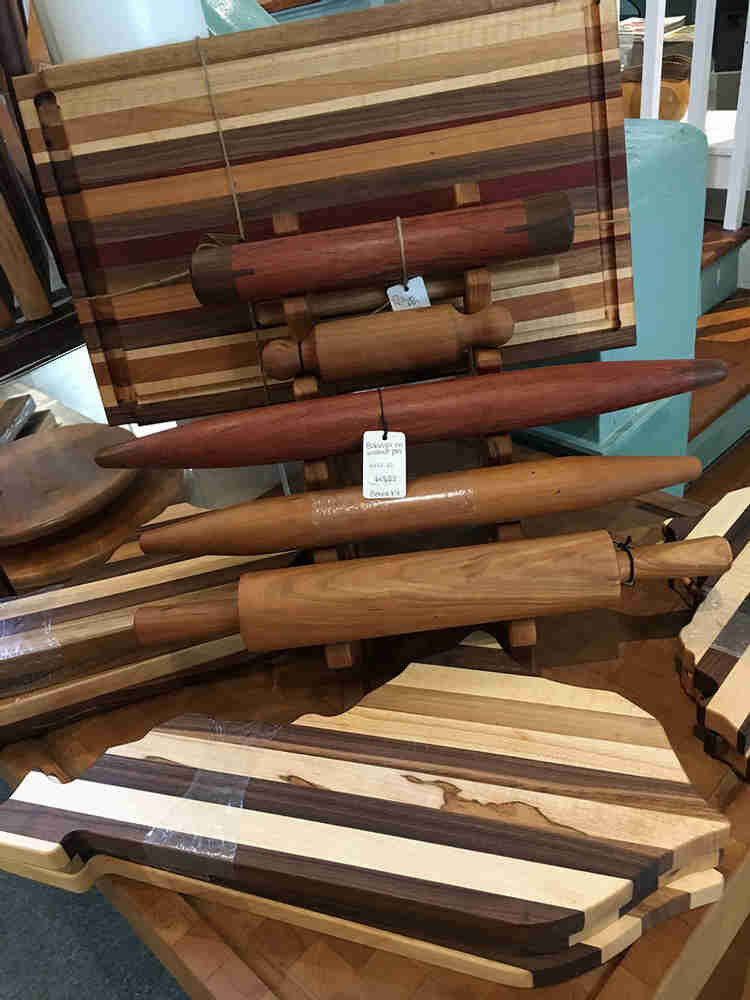 Whether an avid or occasional reader, Poor Richards Book Store is a great place to shop. This is a quaint and cozy bookstore with a homey feel. The namesake is a former Poet Laureate of Kentucky. A retired professor of English and Humanities at Kentucky State University, he now teaches at Transylvania University.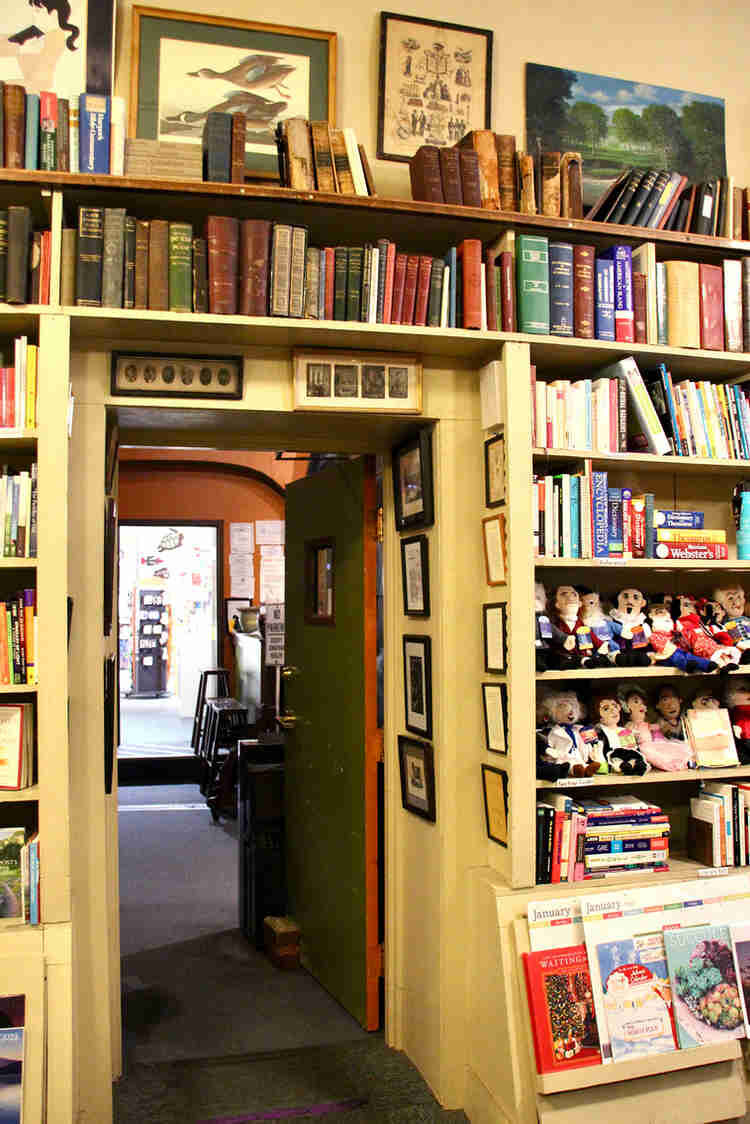 Serving Frankfort for over 30 years, Poor Richard's specializes in a large collection of Kentucky titles. Run your fingers along the bindings of fiction and nonfiction, historic, hard or soft back and let your imagination soar! Learn more about the local bourbons, or discover that choice children's book.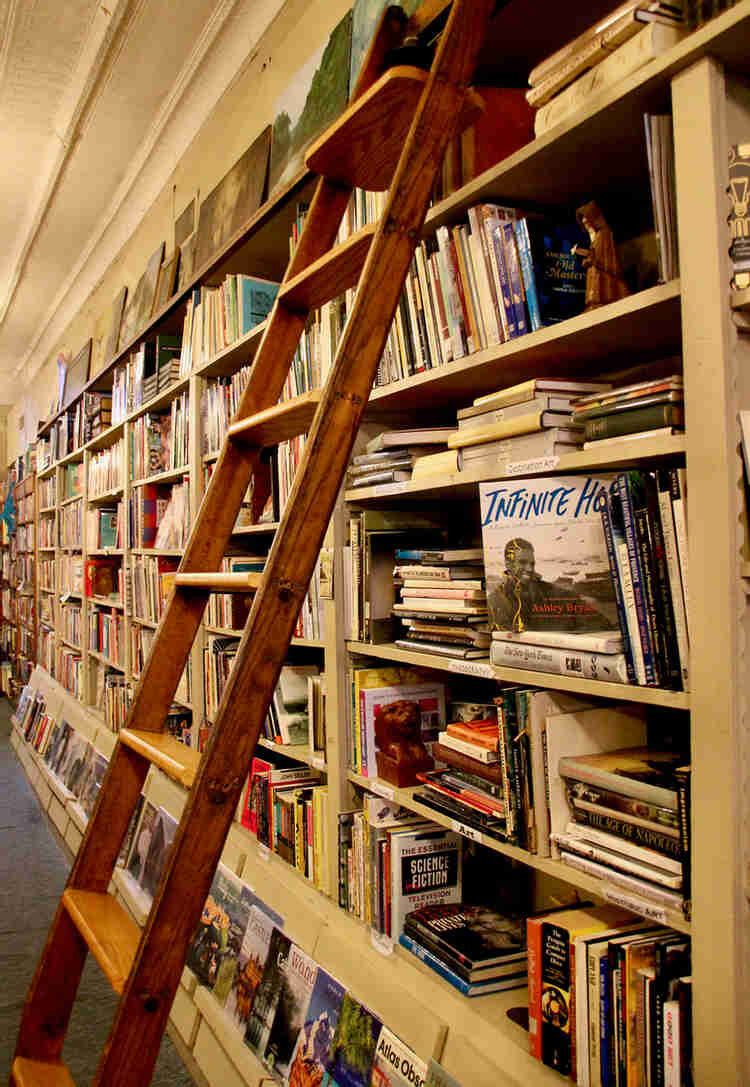 With shelves towering to the ceiling you'll step back in time, mounting the rolling ladders to locate just the right novel to take home for an enchanting read on the couch.
Grab a latte from next door, join a book club or attend an event. Just don't miss the chance to experience this marvelous gem of a bookstore.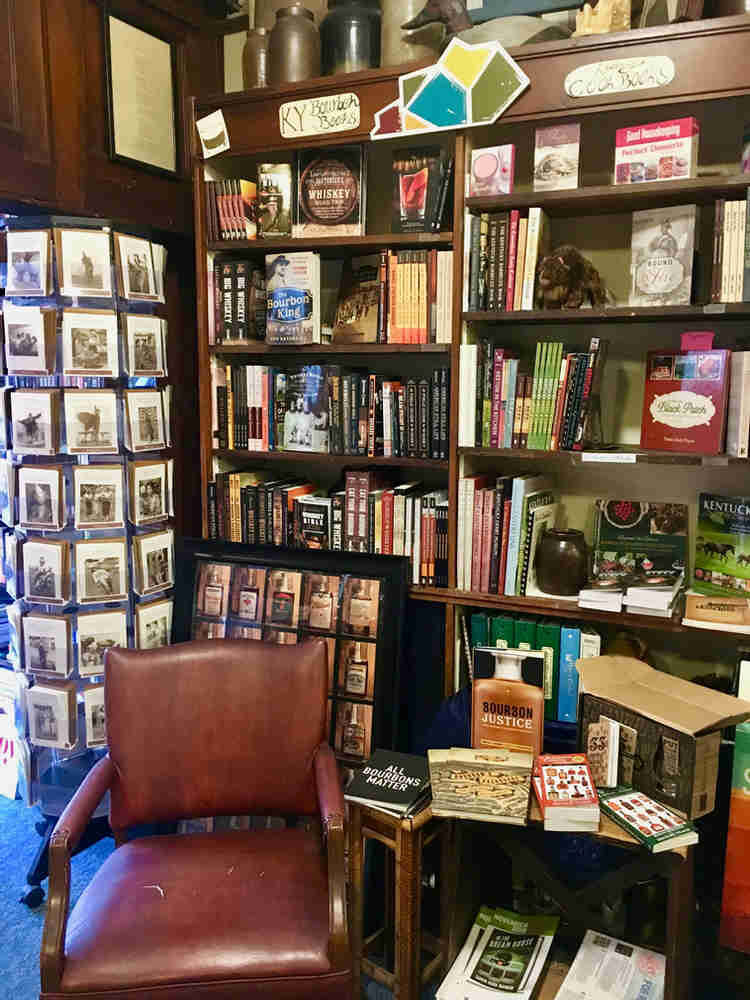 CAPITAL CELLARS/ WINE & SPIRITS CAFÉ MARKET  
My walking tour down Broadway guided me to Capital Cellars. Here under one roof is Kentucky bourbon, hand crafted beer and a global selection of wines, along with a relaxing bar and café. Capital Cellars is the quintessential meeting place for friends and family or mingling with the locals; dining inside and out. Join them every Thursday and Friday for informative wine sampling. Attractive, local artwork is often on display in their dining area.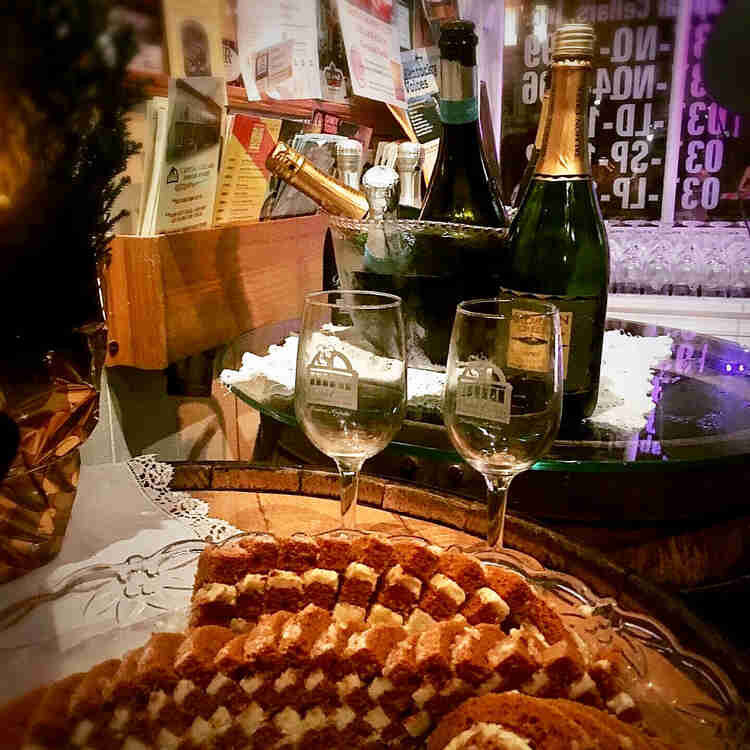 You can enjoy lite bites with your beverage selection including an appetizing Mediterranean plate with velvety hummus, olives, feta and flat bread. The Spring Board, ideal for sharing includes pungent cheddar, brie, ham, capicola, salami and pepper jelly. Try their irresistible pimento or bourbon bacon jam sandwich!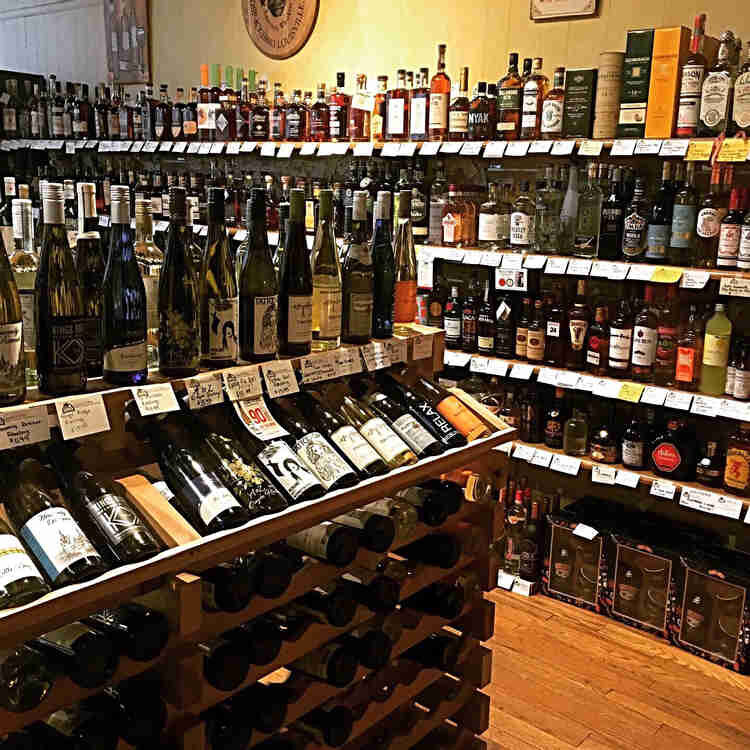 Plan your visit around one of their educational wine or bourbon classes. Join their wine club for something new and exciting every month. Sign up for email to get the inside scoop on rare bourbons and to stay current on all their happenings.
BROADWAY CLAY 
Moving across the street to Broadway Clay, I turned around to admire one of the newest exhibits of public art on the Capital Cellars outside wall. The pleasing burst of colorful whimsy depicts two children releasing an explosion of flowers!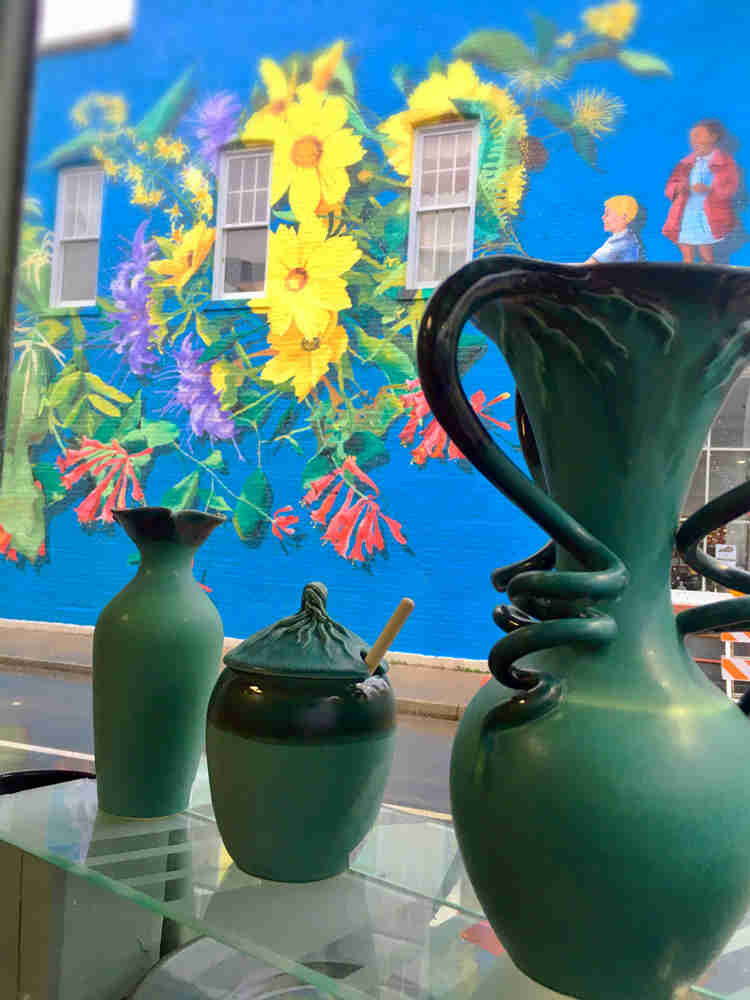 You'll discover pottery thrown by many local artisans at Broadway Clay. I was very impressed with the exceptional work. Visitors can choose from pieces such as vases, pots, mugs, plates and platters.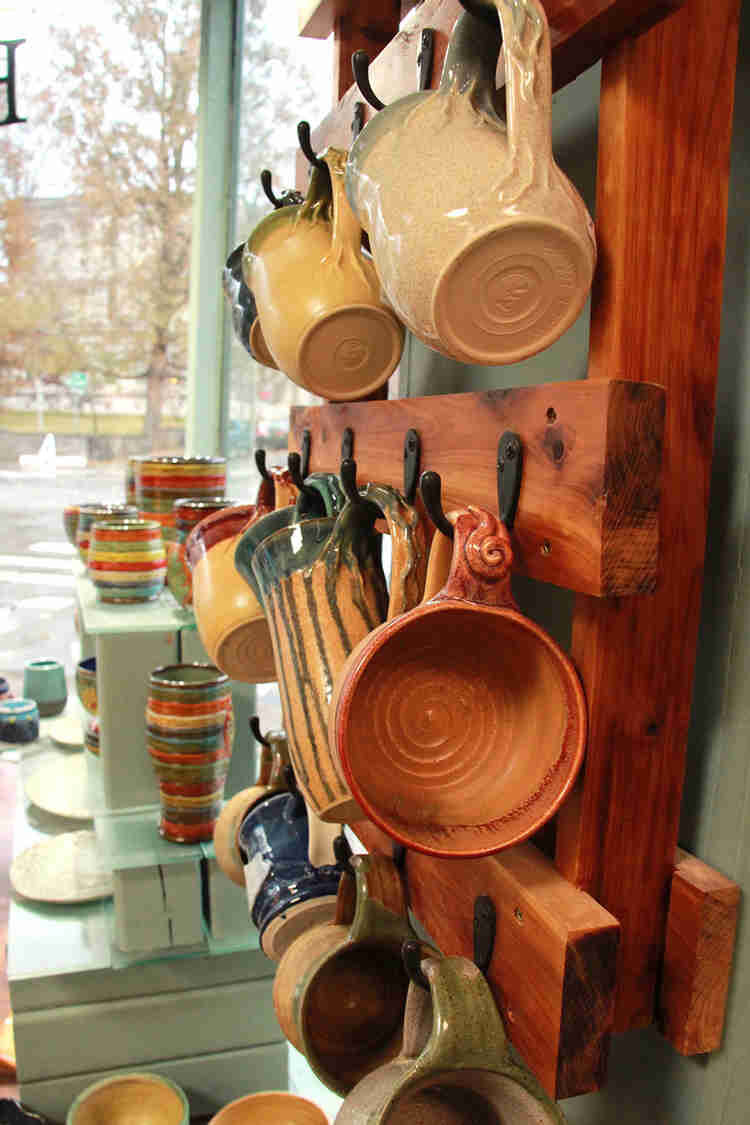 The building houses the shop, pottery wheels and kilns with room for creating and classes. They offer wheel throwing and hand building courses for children and adults, as well as parties and private lessons. Les Greeman has been a potter for 45 years and Anne Porter Elliot has been teaching pottery since 1993. She studied ceramics at the University of Louisiana. Schedule a class and learn from the best!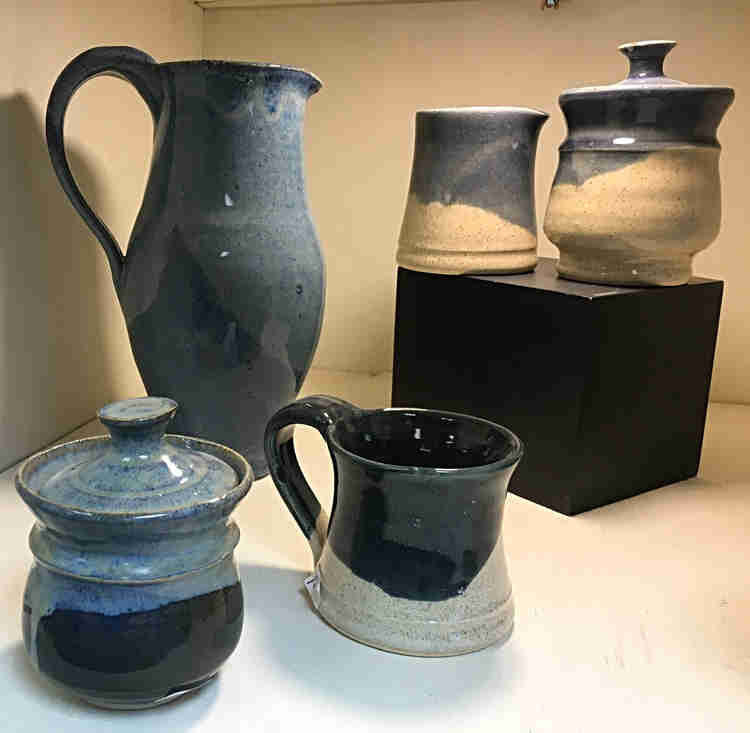 If you have an imaginative child consider one of three sessions with their fun-filled summer camp. The evening I attended families were painting Christmas ornaments for firing. Broadway offers new events every month so be sure to follow them on Facebook.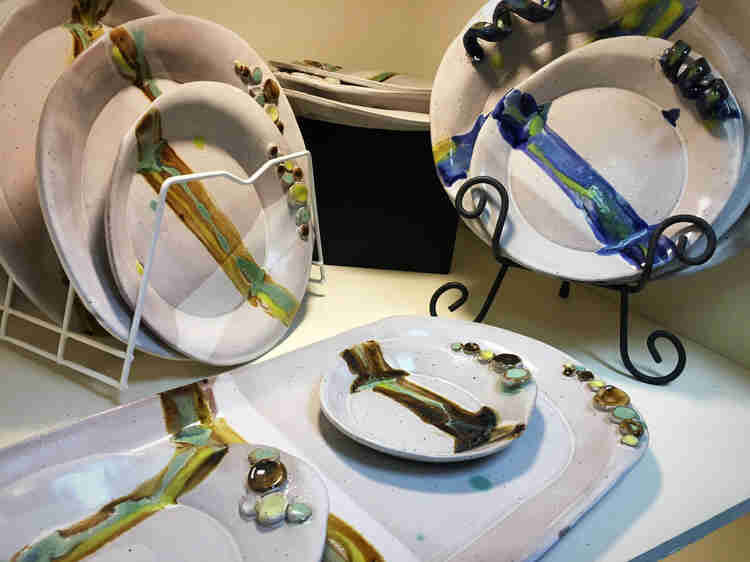 There's so much to explore and experience in Frankfort, it won't all fit it all into one blog! Keep your eyes peeled for more. You will not only want to visit Frankfort, KY for the holidays but you'll find many reasons to explore year round.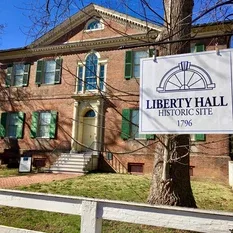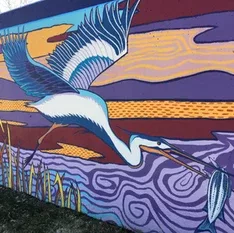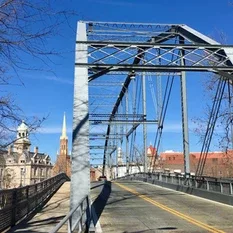 There's so much more to Frankfort, KY
Lexington- 39 mins
Louisville- 53 mins
Georgetown- 28 mins
Versailles- 24 mins
Covington- 123 mins
When it comes to the holidays, nothing evokes the Yuletide spirit like the warm charm of our own state capital of Frankfort, KY. A visit to this city is the perfect destination for a day trip or for the full experience, a weekend venture. For a flavorful bite to eat, a drink with friends, a…