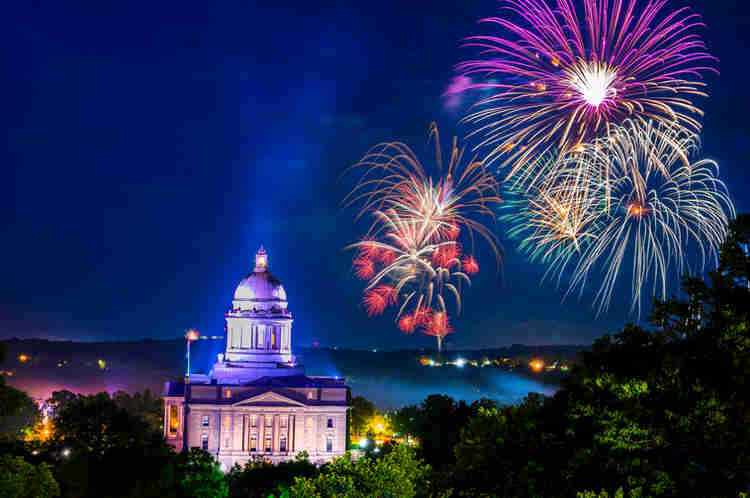 Visit Frankfort for the Holidays II
by Marie

Posted on

December 8, 2019
While in Frankfort I invite you to explore their Main Street, a parallel block behind Broadway. Discover even more shopping and dining opportunities. Be sure to read Part I of this Frankfort series. I recommend a visit to Frankfort for the holidays for local shopping.
*Family Friendly *Photos by @BluegrassCollaborative
BOURBON ON MAIN
First stop, Bourbon on Main. Where once the signature, red English phone booth was the distinguishing landmark for Bourbon, their outside wall covered with a fantastic mural is now the draw. Luckily the painting was in progress when I visited and I met the artist, Anna Murphy. Give her a follow at @annapmurphy to see more of her extraordinary artwork.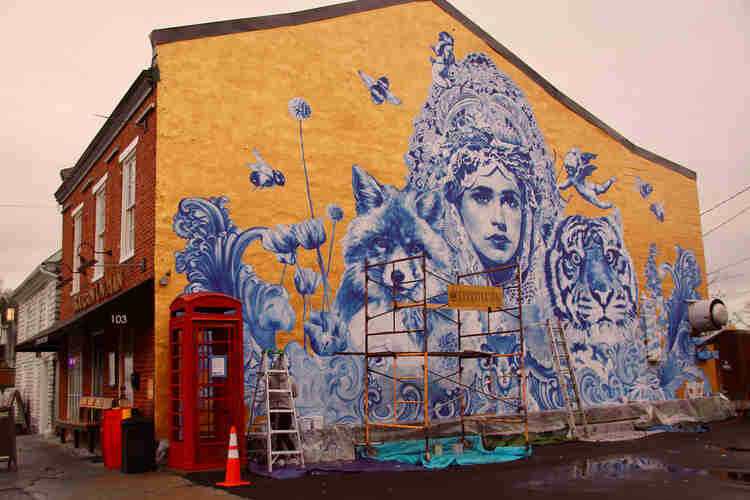 Settle in one of Bourbon's cozy seating areas, aside a roaring fireplace. They boast a fabulous drink menu with bourbon specialties and a nice selection of rotating craft beers on draft.While visiting this distinguished restaurant, take a minute to peruse both upstairs and down where you will view numerous photos of old Frankfort from yesterday. My imagination reels envisioning capital city life so many years ago!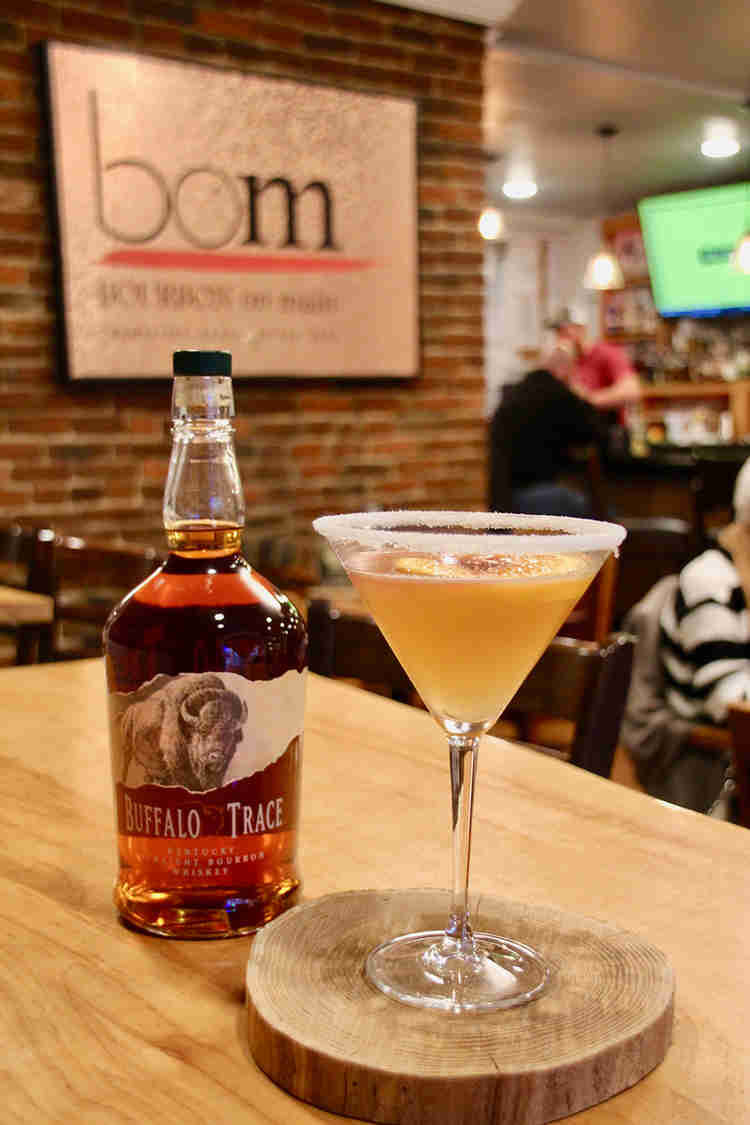 I chose the Buffalo Sidecar from their featured cocktail list. It was served in a sugar rimmed, martini glass with Buffalo Trace bourbon, Cointreau, sweet and sour, orange and barrel aged bitters. Heavenly! The Taco Wontons called my name from the Starter menu. These deliciously crispy pockets were filled with house-made taco meat and finished with crema, scallions, tomatoes and cotija cheese. They grill masterpiece burgers and I was captivated by the House Special as it featured provolone, bacon preserve and a fried egg. Wonderful! When weather permits you will love relaxing on the back patio that overlooks the Kentucky River. Unwind and watch for the occasional kayaker and boater passing by.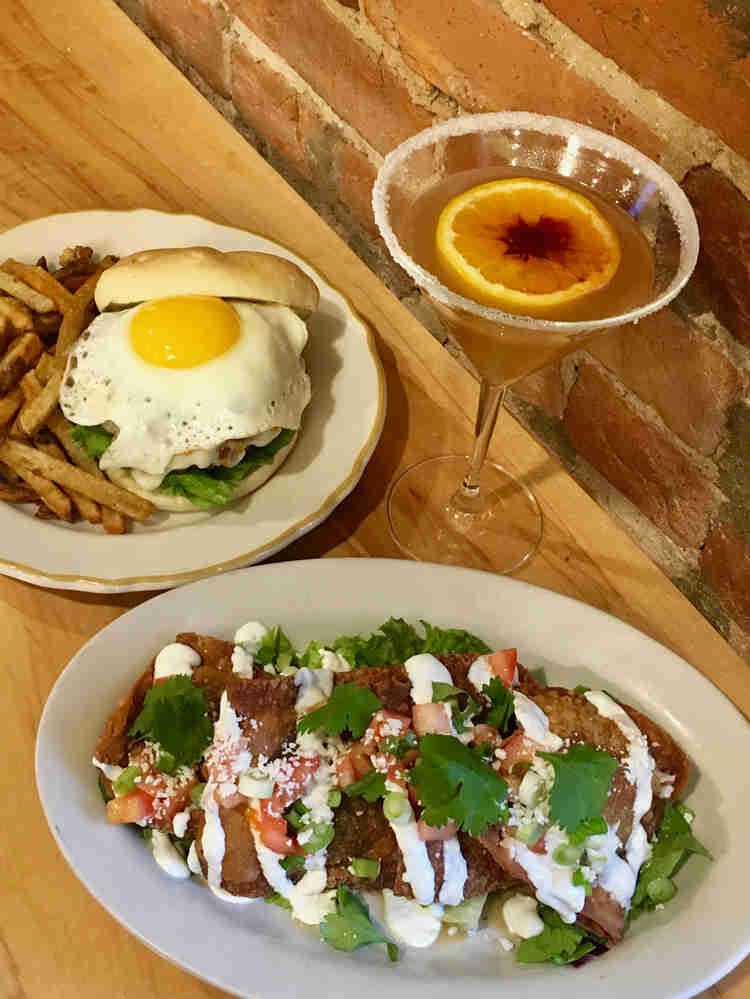 Nearby I visited adorable B's Bakery where I was greeted with a captivating atmosphere conceived with classic cookie jars, an antique stove, and old painted doors. You'll feel you've stepped into your grandmother's kitchen with the metal cookie cutters and mixing dishes from yesteryear on display.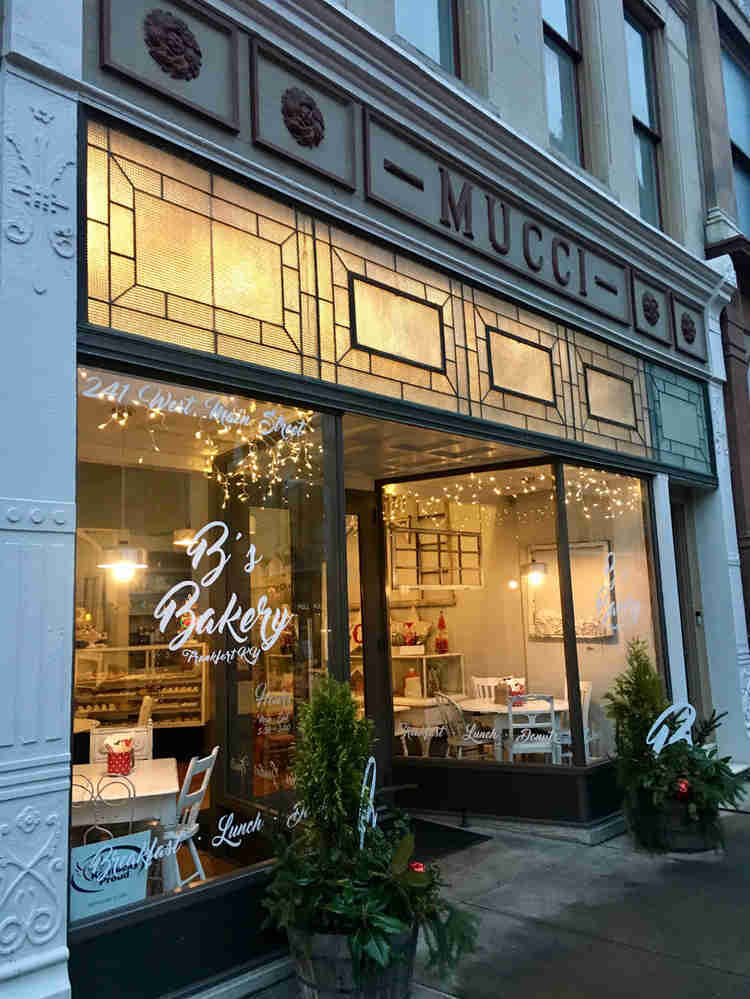 Get lost in the showcase filled with every imaginable confection and your cares will melt away like sugar on a rainy day.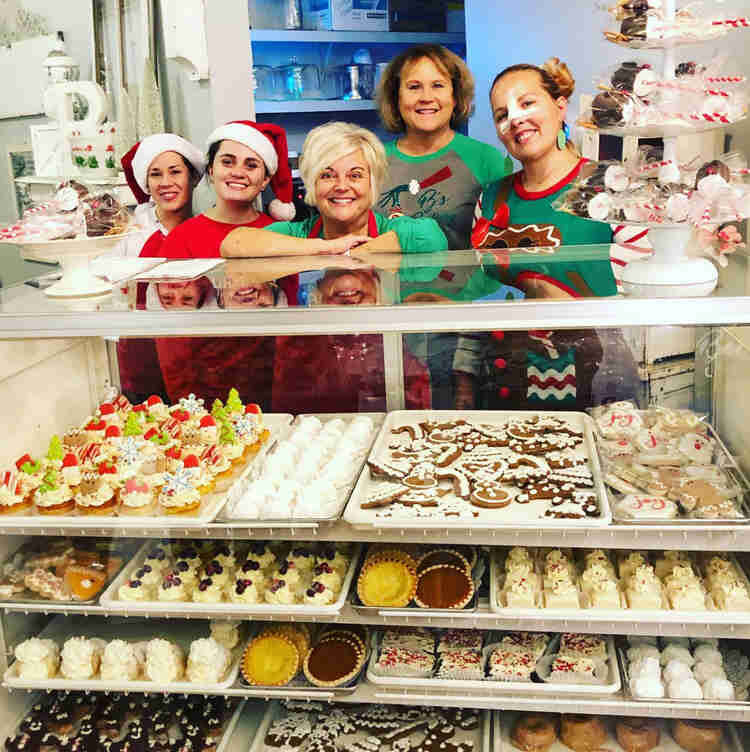 Owner Beth and her fabulous staff bake up mouth-watering pastries, cookies and cakes for every holiday and occasion. I marveled at the marshmallow reindeer sporting pretzel antlers, oversized Italian wedding cookies and homemade gingerbread men. There were the cutest sugar cookies made to look like pumpkin pie and turkey legs as well as cream filled horns, cake donuts and mini pumpkin pies. Beth saves one special cookie for Christmas and boy it is worth the wait. It consists of a shortbread cookie with a dollop of buttercream icing, topped with three fresh cranberries. Bite into this scrumptious wafer and your pallet will do a little dance. Cookie meeting creamy icing combined with the tart burst of cranberry is a taste sensation!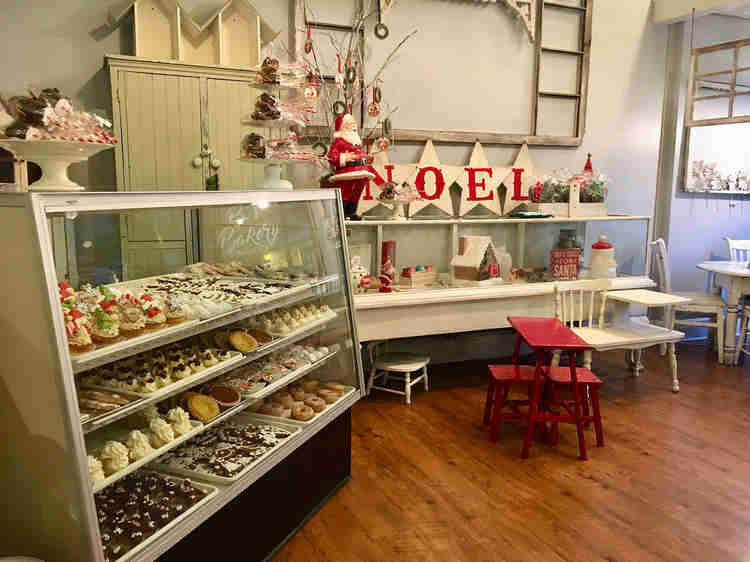 You can schedule your child's next birthday party at B's Bakery where the kiddies can decorate their own themed cookies.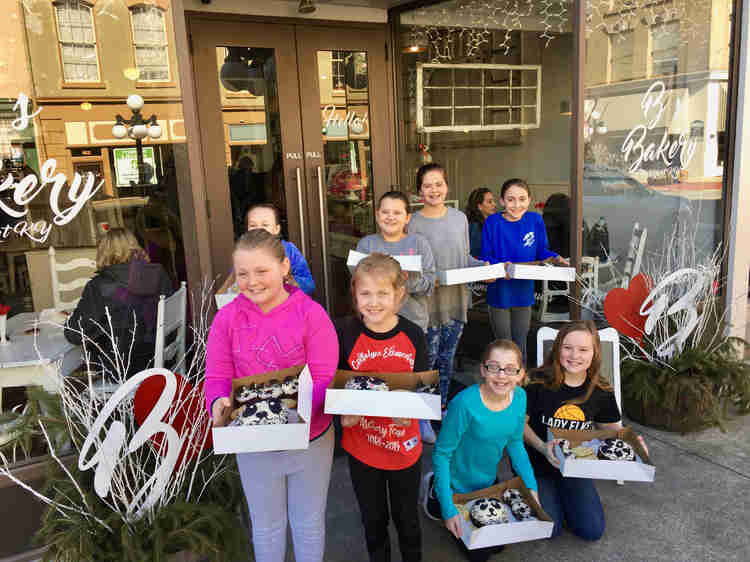 Not far from B's you'll find the Sig Luscher Brewery. The founder, Sigmond Luscher immigrated from Switzerland and set up his beer making business in Frankfort. A keen businessman and also inventor of one of the first ice machines, Luscher ran a thriving business. Unfortunately the doors closed upon his death is 1891.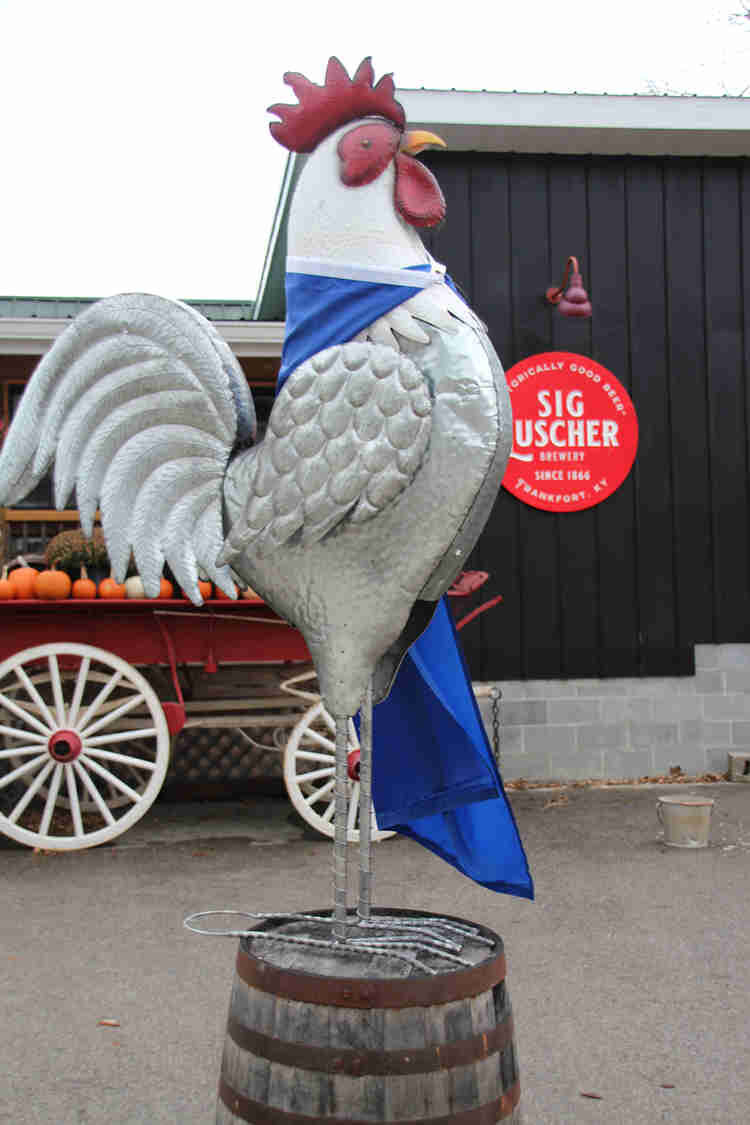 What was once old is now new! In 2018 Luscher's great, great, great grandson Tim Luscher and Nathan Cryder revived Sig's legacy by re-opening what is now the eighth oldest brewery in America. The establishment resides on Mero Street in what was formerly E. H. Taylor, a famous Kentucky whiskey maker's, own back yard.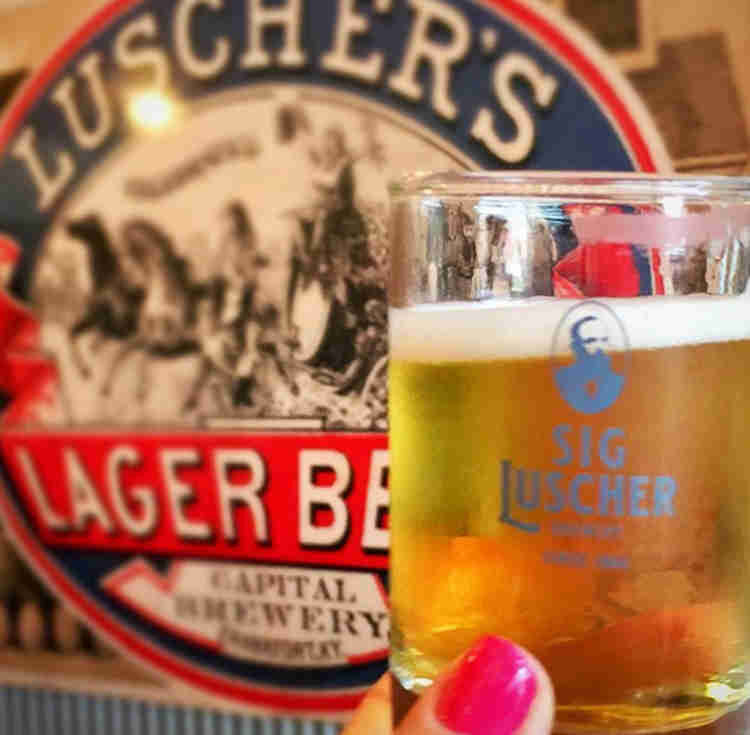 Brewmeister Dylan Greenwood continues the fermenting tradition with specialty lagers year-round, available exclusively in their taproom. I sipped some seriously tasty lagers as Tim related stories and the history of the brewery. Sample a beer-steamed brat and pretzel stick that pairs so well with their sudsy libations. Stored in Buffalo Trace barrels, a choice bourbon flavor is imparted into all their fine beers.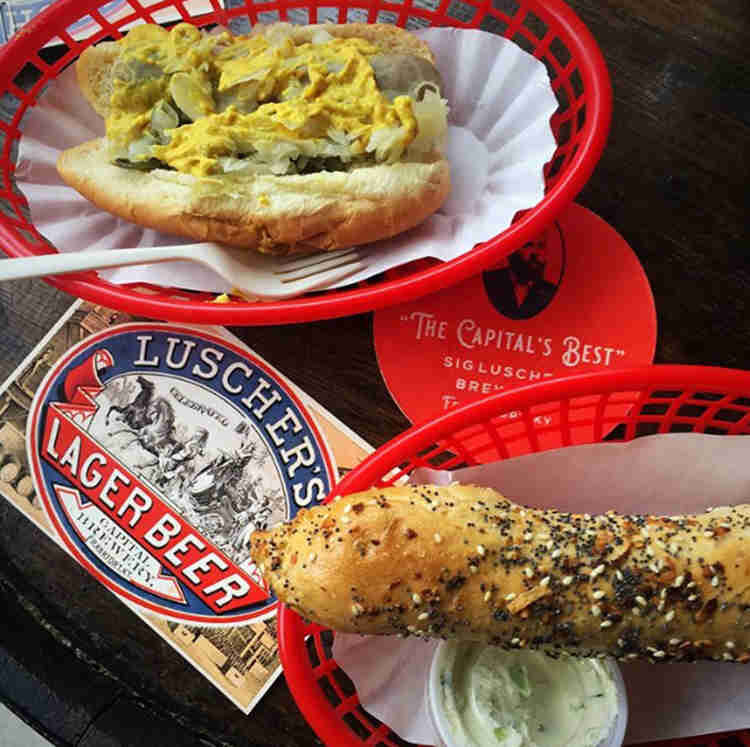 WILSON'S NURSERY  
If you are entertaining this holiday season or seeking a beautiful, live Christmas tree, head to Wilson's Nurseries in Frankfort. Their campus covers four acres of greenhouses on 25 acres of land. Click here for a 360 tour. There's not much your heart desires that you won't find at Wilson's. The friendly, knowledgeable team members will answer your questions and offer expert advice.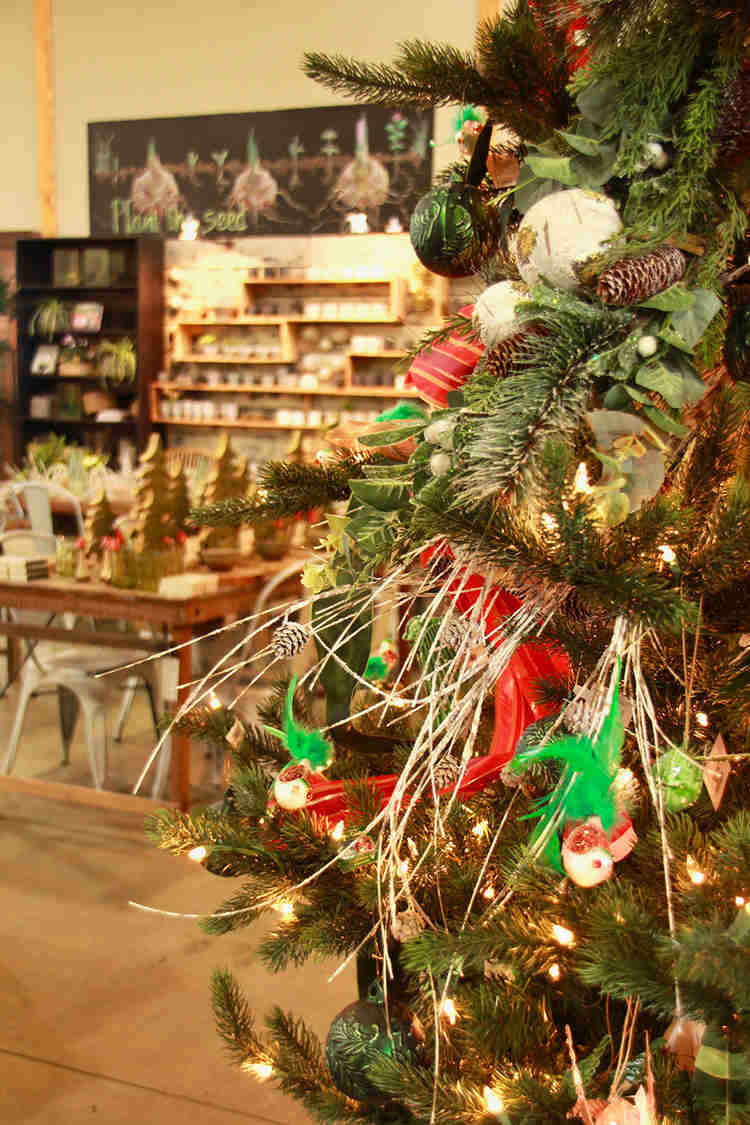 Wilson's celebrates a time-honored tradition of growing unique plants, both current and classic, establishing them as Kentucky's ultimate nursery destination and garden center. Built and nurtured with the energy, grit, innovation and passion of their group of plant enthusiasts, Wilson's has married horticultural knowledge with uncompromising quality and inspired design.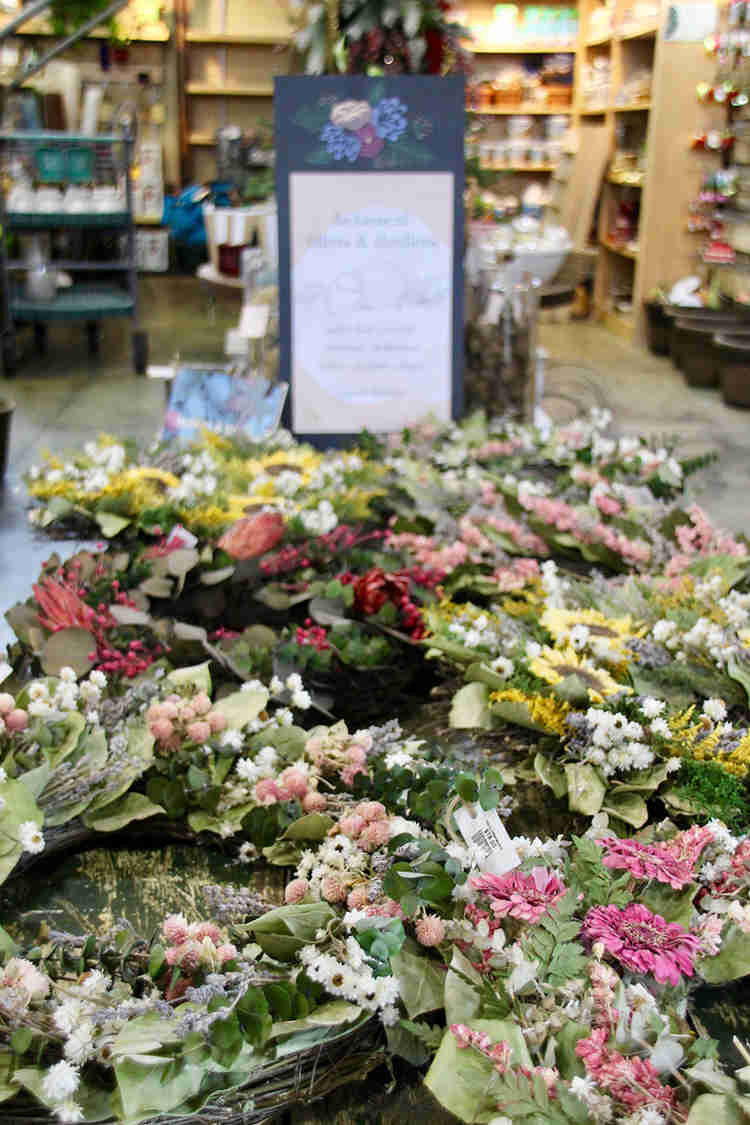 You have a choice of whimsical or traditional tablescapes, lush poinsettias and Christmas cactus, dried floral wreaths and much, much more. Fill your home with the sights and scents of the holidays while you enjoy shopping local. Wilson's has been keeping Kentucky green for 40 years!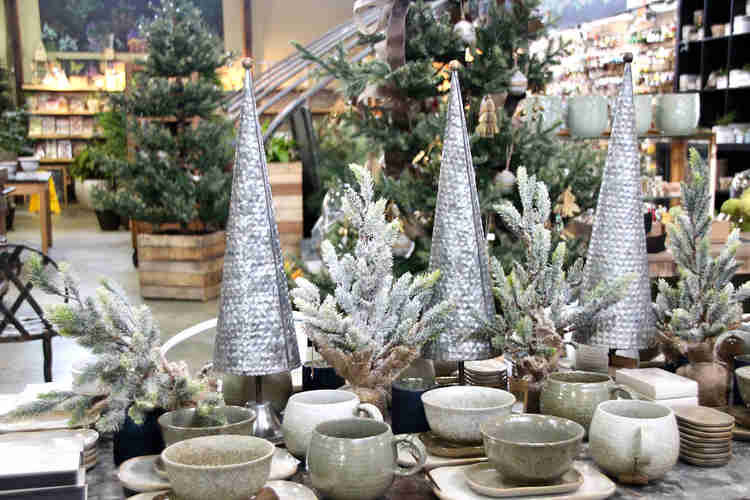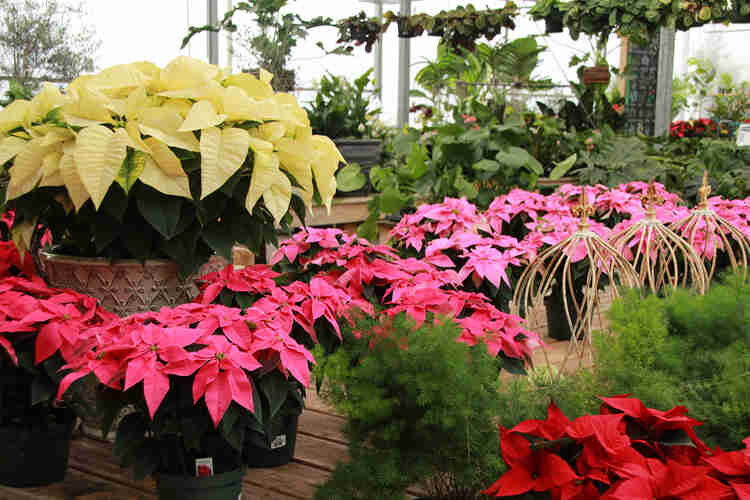 Schedule one of their fun and creative classes like the upcoming Wine & Design, Holiday Wreath, Fresh Holiday Wreath Make & Take or the Deck the Doorstep Holiday DIY.
Sage Garden Café centers around the concept of garden to table. Located on the footprint of Wilson Nurseries and Plants Company, the café, patio and surrounding gardens reflect the horticultural bones of the original center. Plants and flowers, from table topper terrariums to living walls and window boxes showcase the green offerings of the occasion.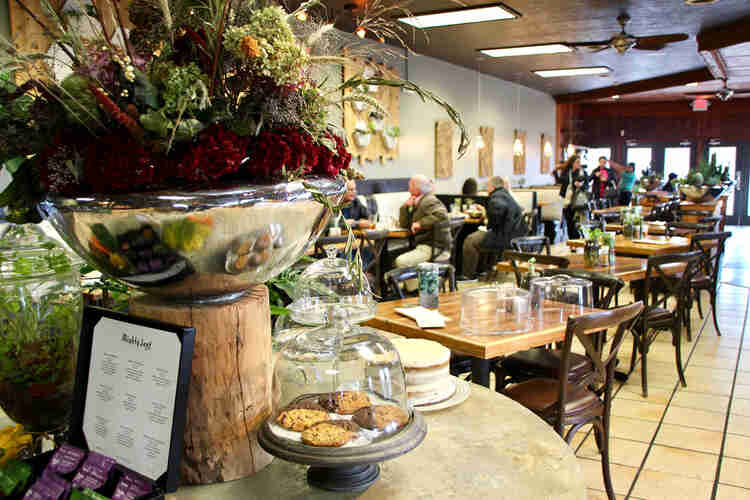 The Sage menu includes regional favorites and house originals. While their classic sandwiches, soups and salads remain year-round, each week their chefs prepare specials based on the current harvest of the season.
Their kitchen uses herbs obtained from their own gardens including mint to infuse local honey for their fresh fruit. They grow a variety of herbs in their greenhouses, twelve months a year inspiring bracing, culinary creations. These include parsley, chives, basil, dill, thyme, chervil and of course their namesake, sage.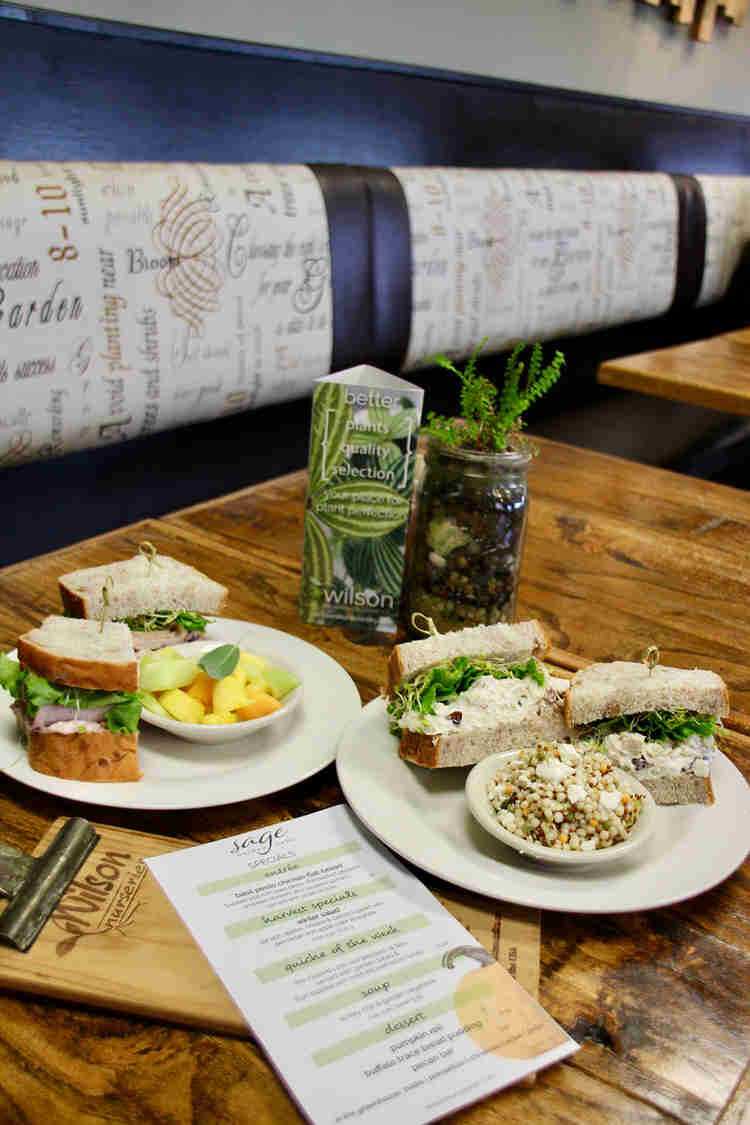 Their house-made, oatmeal walnut and sourdough breads are baked on-site daily and featured in the distinctive sandwiches that have designated Sage a Frankfort favorite for more than ten years. Don't miss their amazing "french toast experience" (served for brunch Saturdays and Sundays), suitable with a morning mimosa.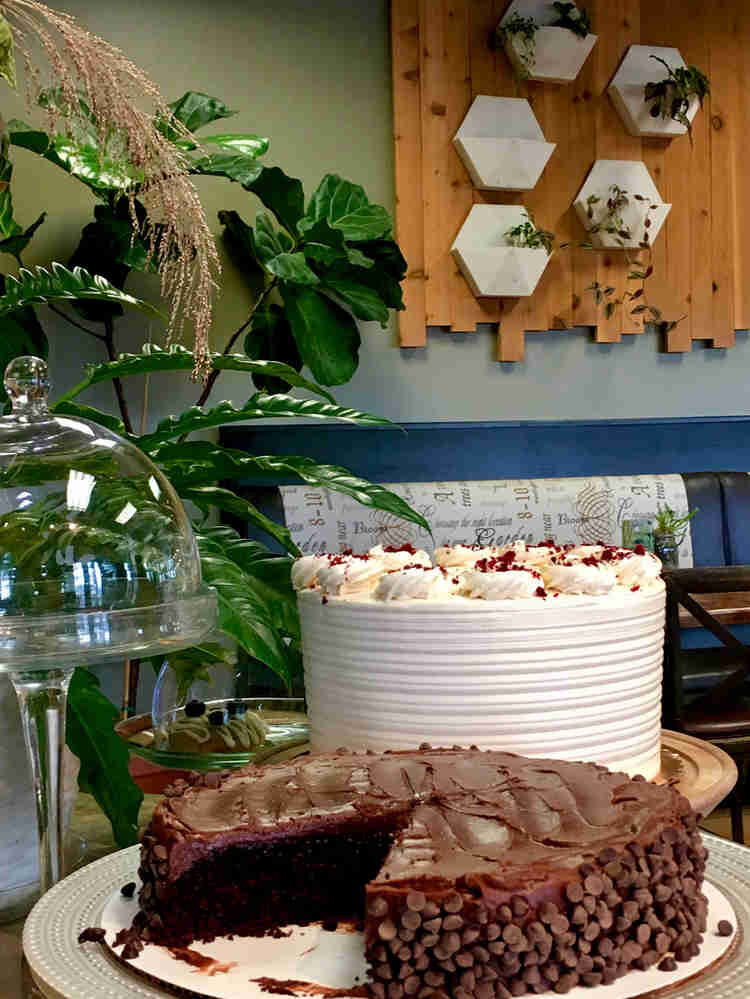 Sage's specialty dessert, Buffalo Trace Bourbon Bread Pudding starts with their oatmeal walnut bread and is topped with a bourbon infused caramel sauce. Outstanding! Local and organic wines and craft beers round out the menu. Sage is the perfect gathering place with a great lunch served in a unique green setting. Order for pick up online or over the phone. Sage offers 10% off to retired and active military on Mondays.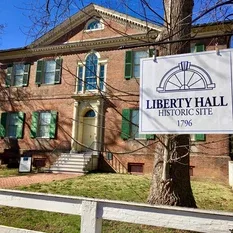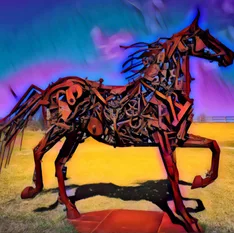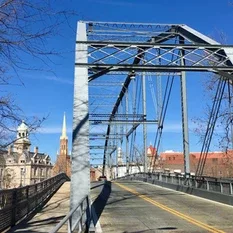 Plan a stay at the historic Meeting House or other Airbnbs near the heart of the city. You will be delighted with all the town has to offer!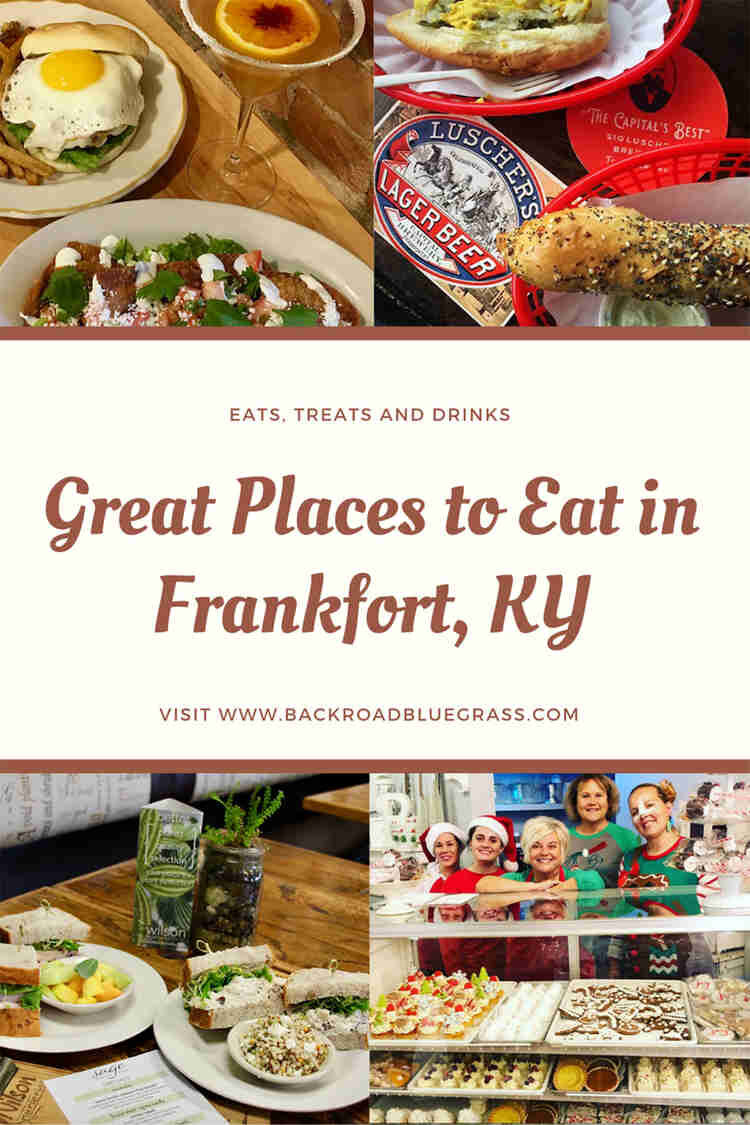 While in Frankfort I invite you to explore their Main Street, a parallel block behind Broadway. Discover even more shopping and dining opportunities. Be sure to read Part I of this Frankfort series. I recommend a visit to Frankfort for the holidays for local shopping. *Family Friendly *Photos by @BluegrassCollaborative BOURBON ON MAIN First stop, Bourbon…