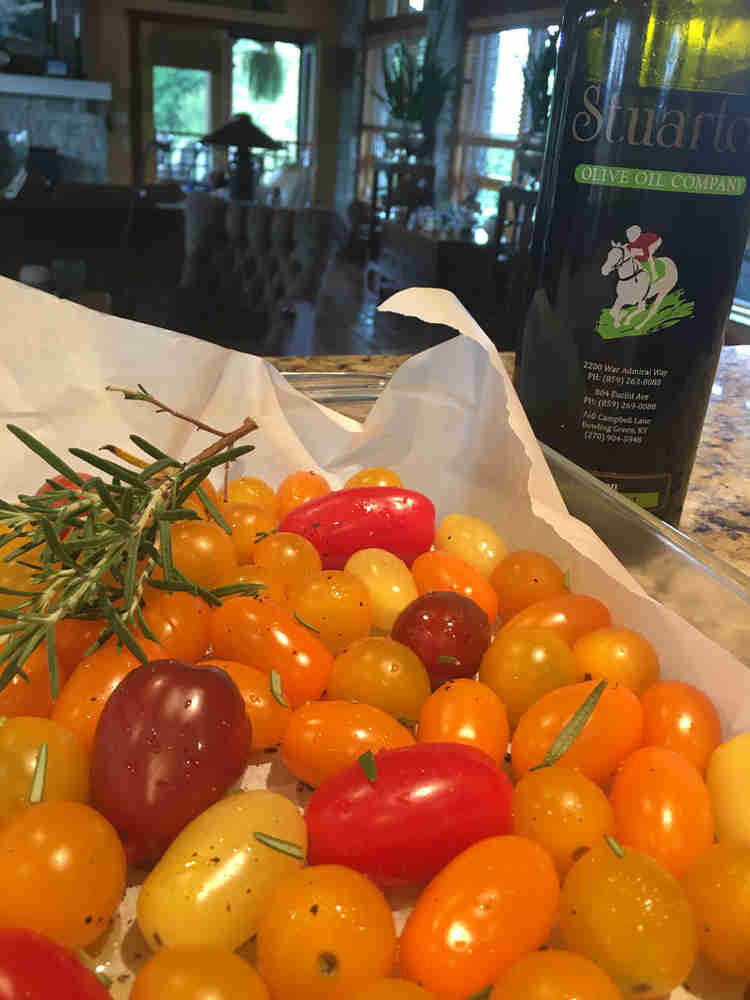 Roasted Tomatoes with Sauteed Buttah Beans
by Marie

Posted on

October 24, 2017
Visit the Lexington Farmers Market to get many of the ingredients locally for this super yummy dish!
Ingredients:
Triple J's Farm Cherry Tomatoes- 1 pint
Feta Cheese or cheese of your choice
1 can Butter Beans or beans of your choice
Stuarto's Lemon Olive Oil
Stuarto's "Olive Oil's Best Friend" seasoning (or other Italian seasoning with herbs)
Henkel's Fresh Basil
Henkel's Fresh Rosemary
Salt
Garlic Powder
Prep time: 5-10 mins
Cooking time: 20-30 mins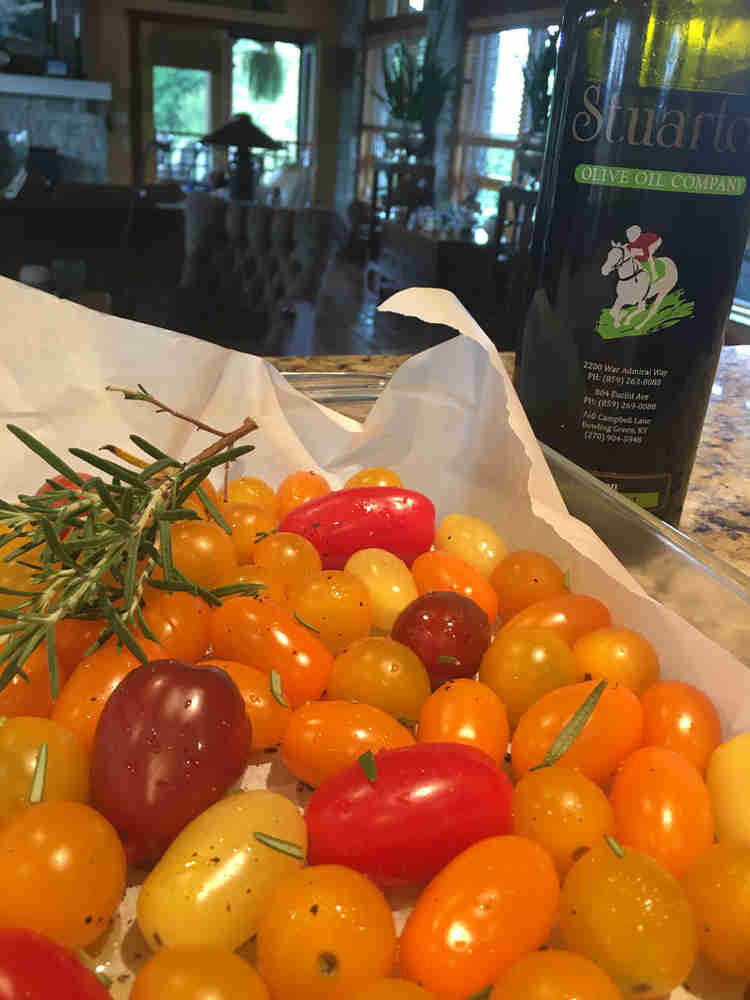 Photo by Marie Pullen Photography
Begin by tossing whole cherry tomatoes in regular olive oil and roasting in a baking pan with parchment paper or foil along with a sprinkle of seasoning and chopped fresh rosemary leaves. I like to create a little lip around the foil to keep the juices from running into the pan.
Bake at 400 degrees for 20-30 minutes or until tomatoes begin to soften and collapse slightly.
While your tomatoes are roasting, spray a sauté pan with olive oil and add a can of drained beans. I prefer Butter Beans or Cannellini Beans. Add a pinch of salt and garlic powder to taste. Sauté on medium to medium high heat as you are not looking to cook the beans but to give them a bit of a crispy, brown coating. Be careful when moving them around so as not to break them apart.
Using a rectangular serving dish, spread your tomatoes along 1/3 of the dish and spoon out your beans on the opposite 1/3 of the dish leaving a valley for cheese in the middle.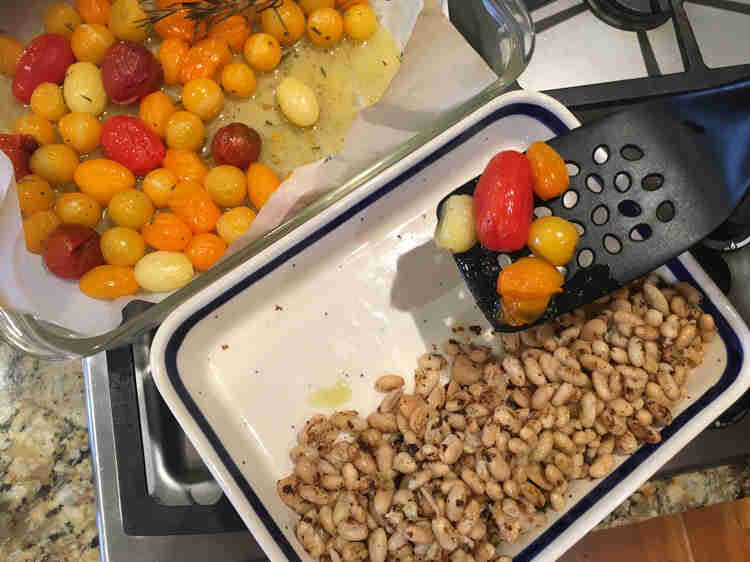 Photo by Marie Pullen Photography
Your choice of cheese is really up to you, I prefer a good quality feta cheese from Boars Head. You may also like to use a Buffalo Mozzarella, Butter Käse or a Havarti. Check out locally made cheeses from Boone Creek Creamery's Mama Mia or Kentucky Derby flavors while at the market.
Next, drizzle the lemon olive oil over the beans. Chiffonade the basil into ribbons and sprinkle over the cheese like confetti. If the mood strikes, give the tomatoes a couple turns from the peppermill and a sprinkle of grated Parmesan.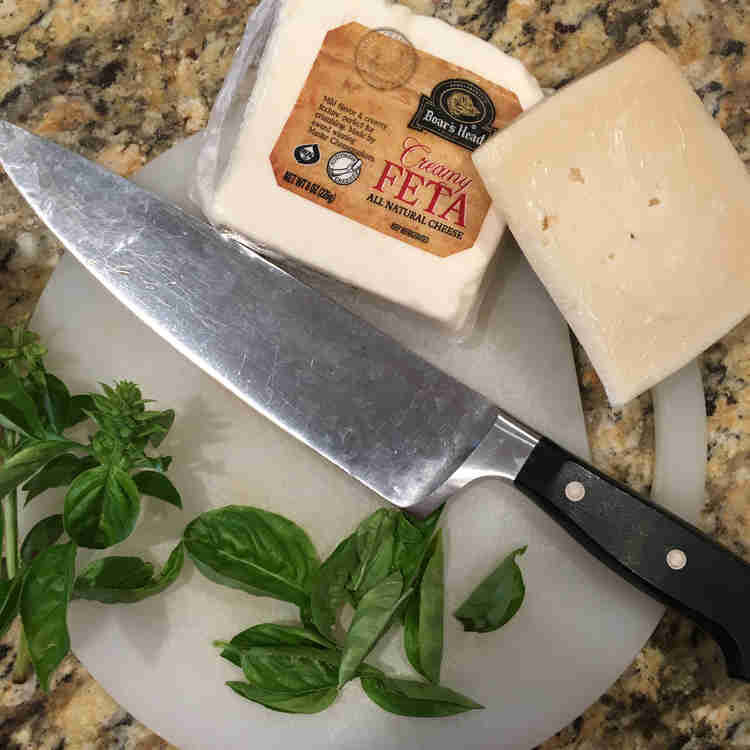 Photo by Marie Pullen Photography
Voilà! You're finished with your healthy and colorful meal. This dish is great served warm, room temperature or even chilled. Its especially good after a day in the refrigerator having marinated. It's easy to make ahead and bring to a party.
#farmersmarket #food #eatrealfood #recipe #shopsmall #shoplocal #eathealthy #easyrecipe #oliveoil
Visit the Lexington Farmers Market to get many of the ingredients locally for this super yummy dish! Ingredients: Triple J's Farm Cherry Tomatoes- 1 pint Feta Cheese or cheese of your choice 1 can Butter Beans or beans of your choice Stuarto's Lemon Olive Oil Stuarto's "Olive Oil's Best Friend" seasoning (or other Italian seasoning…