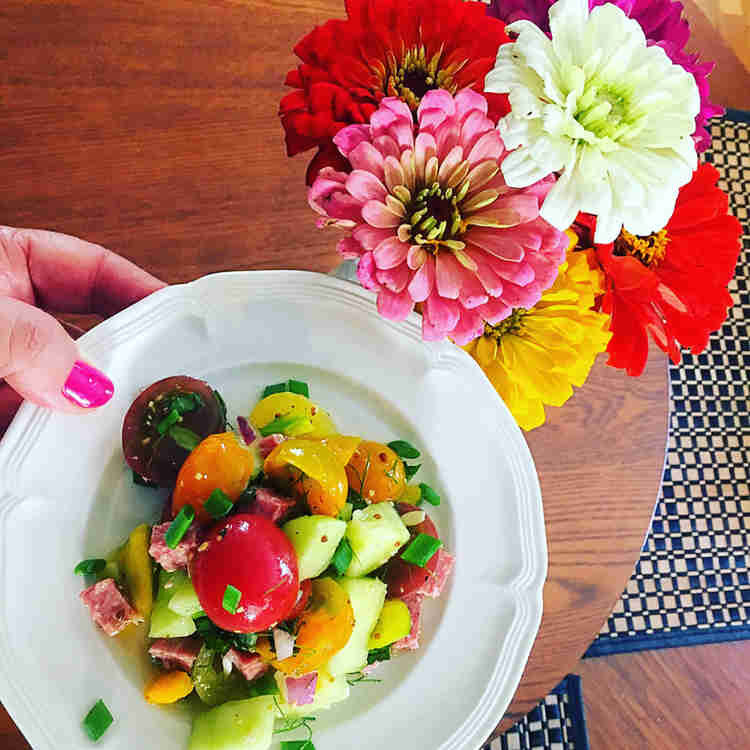 Recipes of Summer II
by Marie

Posted on

August 15, 2019
I received such great feedback from my first Recipes of Summer blog that I just had to offer you one more! This is a perfect time of year to enjoy the freshest locally harvested produce and create some tasty farmers market recipes. No matter your preferences, I know you'll find something in these summer recipe blogs that tickles your fancy. Some require a little time to prepare while others are simple to assemble and enjoy on the spot. 
Cucumber Mater Salad
2 cups chopped tomatoes or halved cherry tomatoes
3 cups chopped cucumber, peeled only if bitter
1 orange or yellow bell pepper
¼ cup thinly sliced or finely chopped purple onion or leek
The Delicious Dressing:
4 T olive oil
2 T red wine or apple cider vinegar
1 T Dijon mustard, preferably whole seed
Salt & pepper to taste
Add any fresh herbs you like such as dill, basil, and parsley
Whisk together, pour over veggies and toss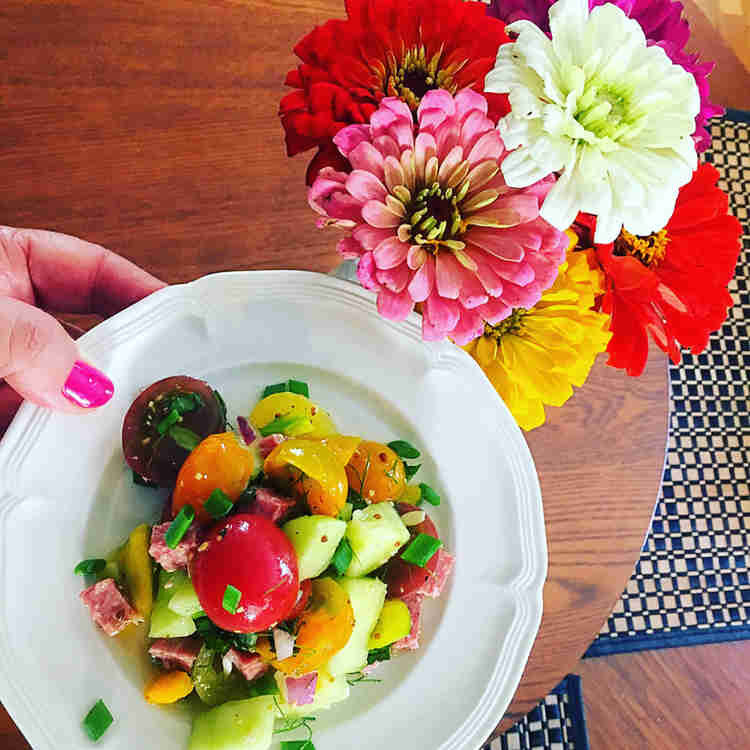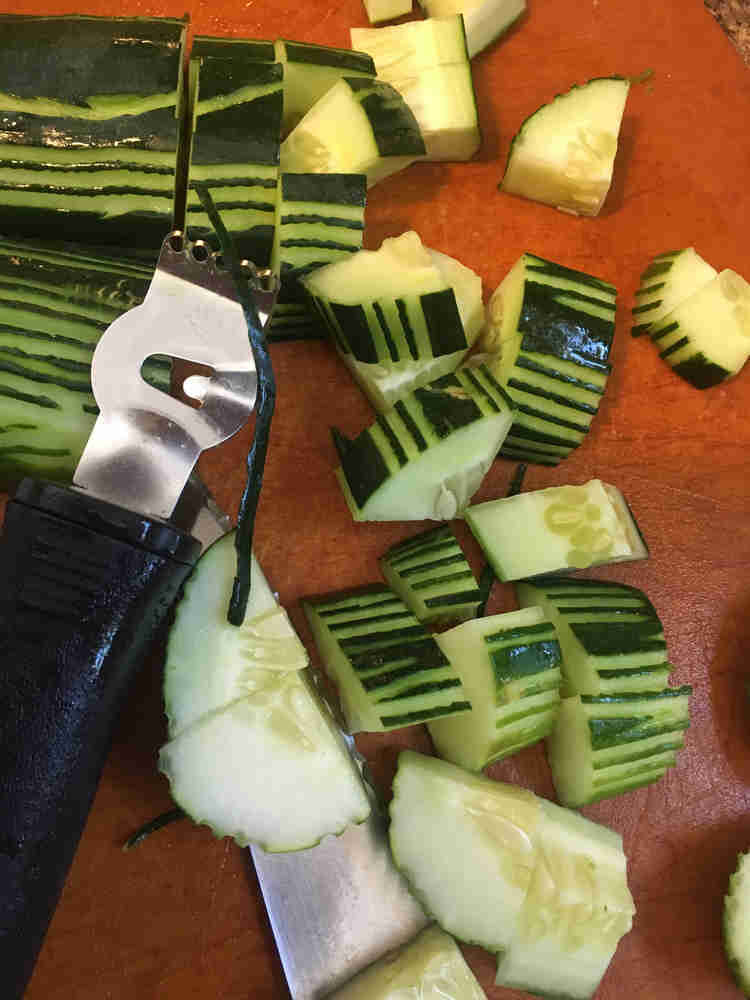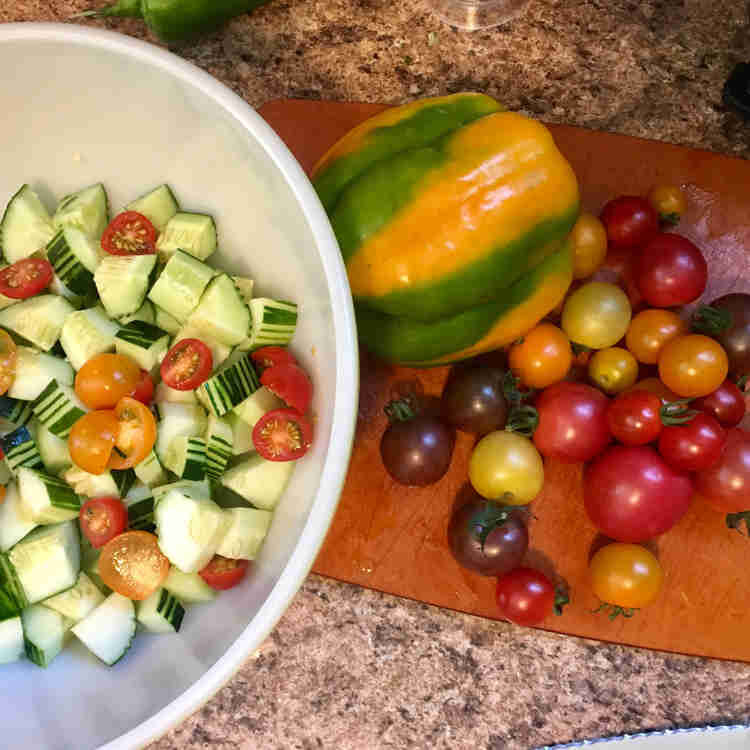 Mix It Up!
It's great as it is, but you can give it a little additional "umph" if you like. Get creative with your farmers market recipes. To keep it vegan just add chick peas or vegetarian by adding feta. Give it a Caprese twist by adding basil and buffalo mozzarella. Go Italian sub by tossing in chunks of salami and pepperoni along with 1t of oregano.
Stuffed Acorn Boats
2 acorn squash
1 lb ham or turkey burger or 2 chicken breasts
1 small can tomato paste
½ cup sautéed zucchini
½ cup sautéed yellow squash
1 red, orange or yellow bell pepper or 2 banana peppers
1 small yellow onion, chopped
2 small garlic cloves, sliced
½ cup cottage or ricotta cheese optional
Salt & pepper to taste
1t Sowful Blessings dried oregano
1t Sowful Blessings dried basil
Fresh basil ribbons and shaved Parmesan cheese for garnish
Don't Miss the Boat!
1. Brown burger and drain or sauté chicken and chop small.
2. Sauté veggies & garlic.
3. Halve acorn squash and scoop out seeds. Turn cut side down on a plate and microwave for about 4 minutes or until flesh is soft. Lightly butter the squash.
4. Mix together the sautéed veggies with the meat, cheese, dried herbs, tomato paste and salt/pepper. You may need to heat the mixture briefly in the microwave.
5. Scoop a healthy serving of the mixture into the acorn halves.
6. Garnish with a sprinkle of shaved Parmesan and basil ribbons.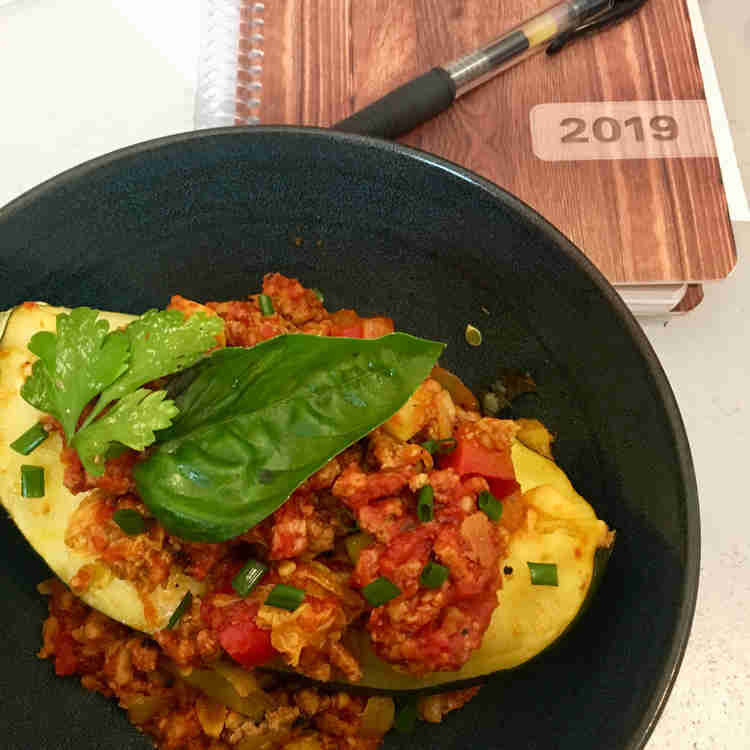 Peach and Tomato Caprese
This is a slightly sweeter version of the traditional tomato caprese. Use tomatoes for a savory dish or all peaches for a more sugary flavor. 2 ripe local tomatoes, sliced 2 ripe local peaches, sliced
1/4 cup pesto (click this link for my recipe)
3-4 ounces of fresh, soft buffalo mozzarella. 
Handful of fresh basil
The Round Up
1. Slice tomatoes and peaches into thin circles. Lay them in a ring, slightly overlapping. 
2. Cut or tear mozzarella into small chunks. 
3. Spoon pesto into the bottom corner of a small Ziploc bag. Snip the corner with scissors and squirt the pesto over the peaches and tomatoes. 
4. Roll basil leaves and cut them into ribbons to sprinkle over your dish. Save a couple of whole leaves to highlight the center!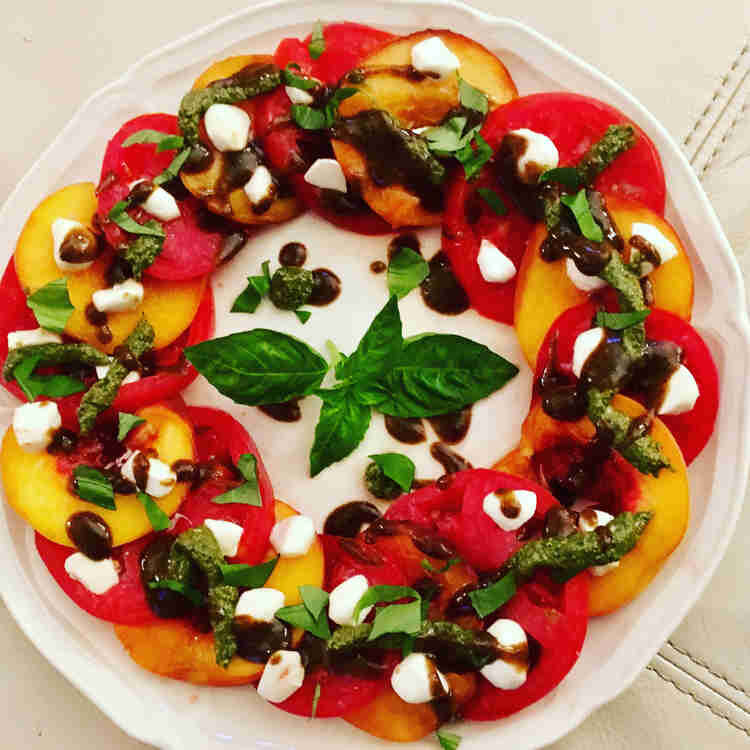 Salsa Verde
1 pint tomatillos (about 1.5 lbs), charred
1 fresh jalapeño, charred
1/2 yellow or white onion, charred
1/2 fresh lime
1/2 cup fresh cilantro leaves (some stems are okay)
Salt to taste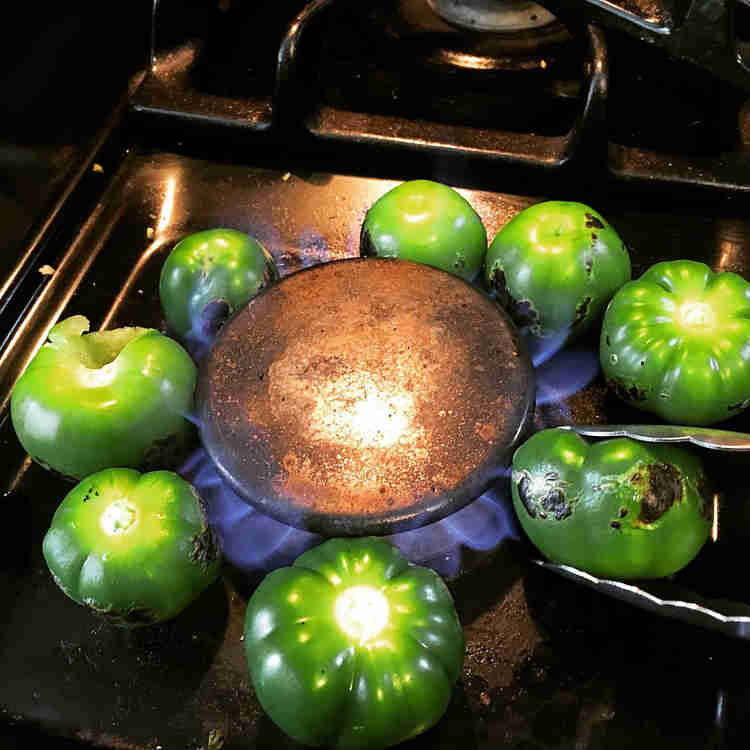 Whip it Up!
1. Remove papery, outside layer and wash tomatillos
2. Roast tomatillos,1/2 onion and a jalapeño directly on grill or gas stove, turning as the skin singes.
3. After cooling, use a food processor to blend charred tomatillos, onion, garlic, cilantro, juice from half of a lime, and a teaspoon of salt to taste. 
4. Remove seeds and ribs from 1/4 of a jalapeño at a time and add to taste. You'll probably use less than half of the flesh. Charring will diminish some of the heat. I recommend handling the peppery jalapeno (needs wavy accent) with gloves as the juice has a way of making it to the eye, etc.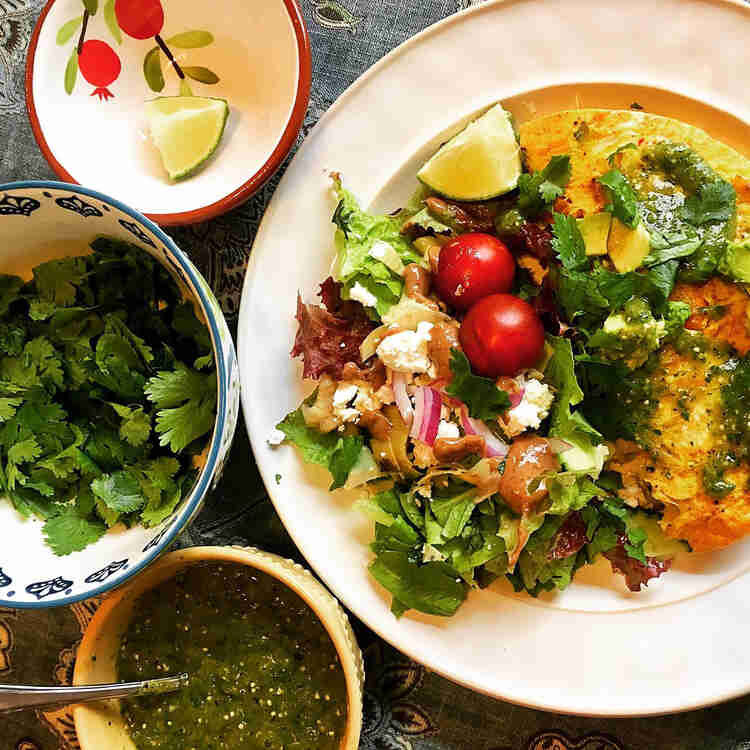 Tip:  Pungent ingredients such as garlic, onion and jalapeño will "blossom" into a stronger mixture after several hours, so take care not to add too much. On that same note, you'll find that making a recipe like this in advance will marinate into higher taste bud appeal the following day, so it is excellent dish to prepare and refrigerate for later use. Great on tacos, eggs, etc, or just with tortilla chips.
If you want a fabulous fresh salsa recipe, try my Sunsational Summer Salsa recipe!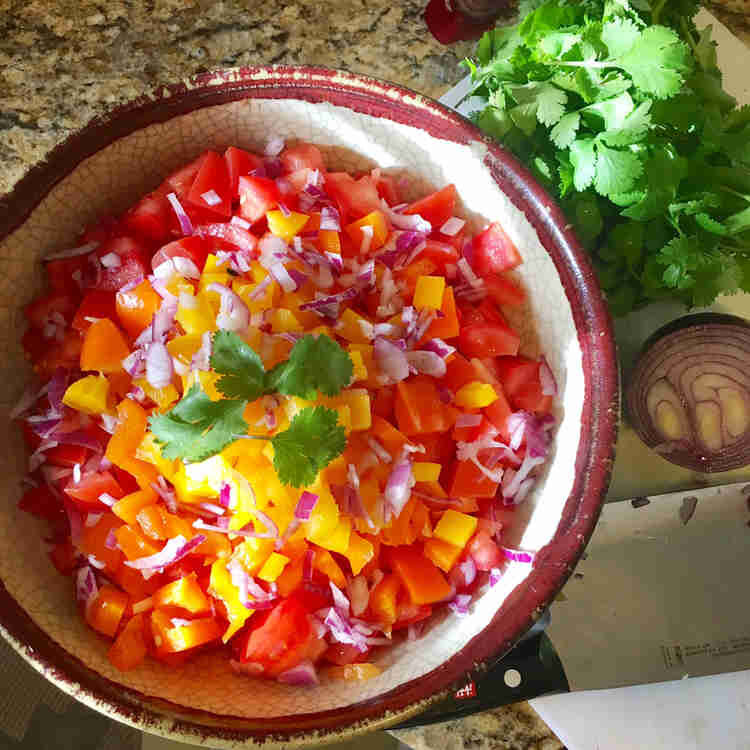 Try your hand at a gorgeous watermelon cake using local produce, click for the instructions HERE.
If I've inspired you to try any of my recipes, please tag @BluegrassBlog in your posts. I wanna hear about it!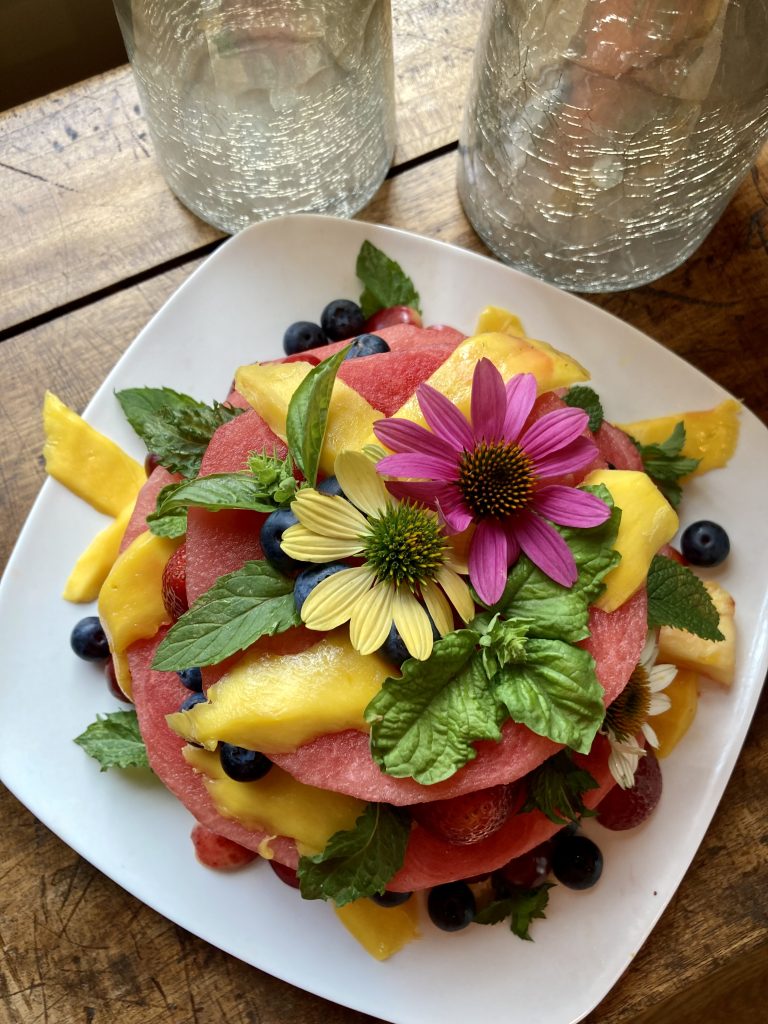 I received such great feedback from my first Recipes of Summer blog that I just had to offer you one more! This is a perfect time of year to enjoy the freshest locally harvested produce and create some tasty farmers market recipes. No matter your preferences, I know you'll find something in these summer recipe…