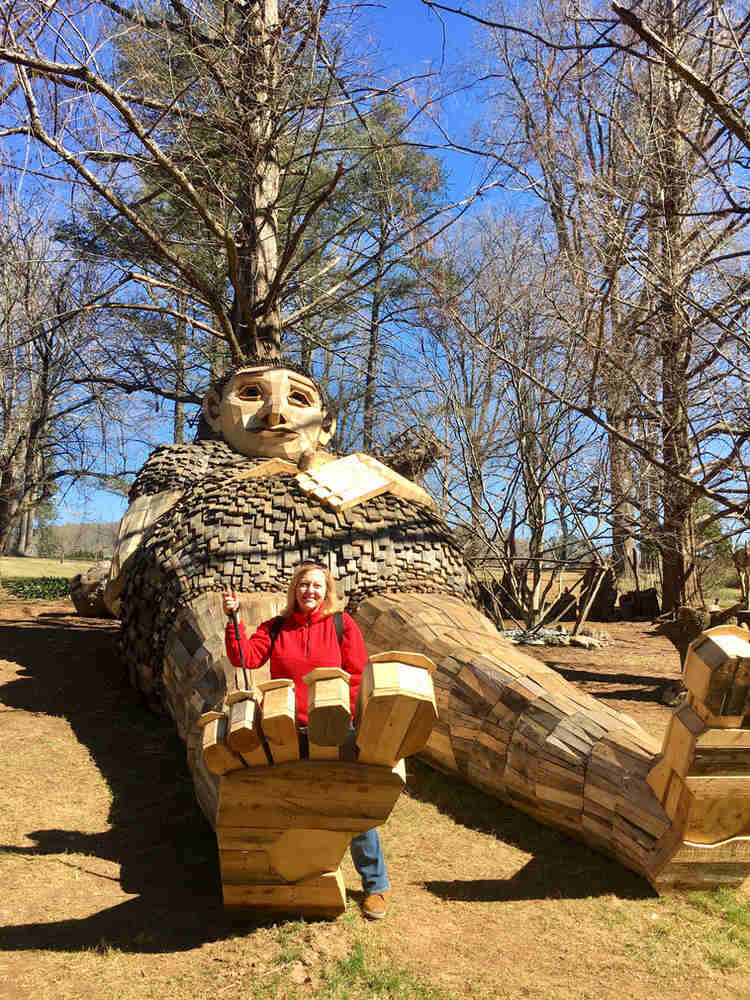 Bernheim Arboretum & Research Forest
by Marie

Posted on

September 24, 2019
Intrigued by all the recent photos across social media? You might want to learn more about Bernheim Arboretum and Research Forest, as well as the recently introduced "Giants" who dwell there. Bernheim Forest's moto is "Connecting People with Nature" and they do a tremendous job of it. The founder's wish was to provide a place for the renewal and restoration of the bond between people and nature.
Just think! Right up the road in Clermont is 25 miles (over 16,000 acres) of the largest, privately held forest in the region dedicated to conservation and research.
*Family Friendly *Pets on leash, outdoors only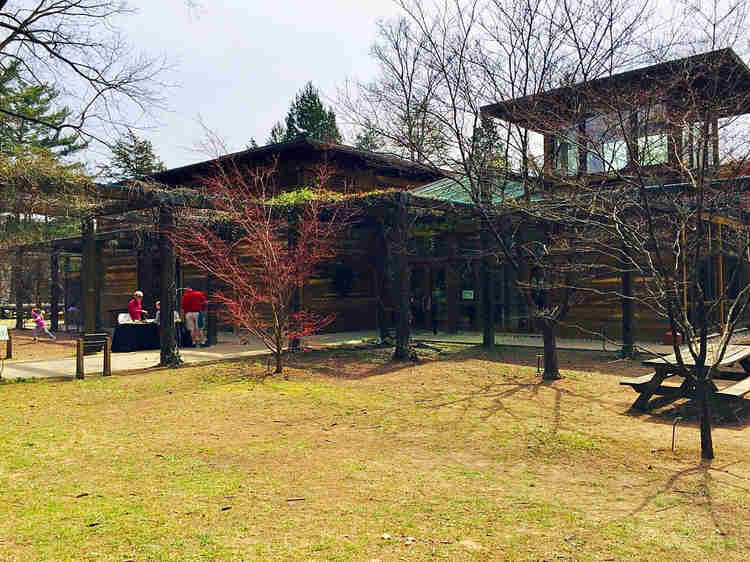 Bernheim's Visitor Center
The Forest was founded by Isaac Wolfe Bernheim, a German immigrant who arrived on our shores at the age of 18 with $4 to his name. He moved to Kentucky to become a distiller after several years in the north working unsuccessfully as a peddler. His whiskey business established the I.W. Harper brand. Bernheim purchased land at a great discount for just $1 per acre in 1928 because most of it had been stripped for mining iron ore. Evidence remains of the activity on some of the hiking trails. The area opened as a park in 1950 after almost 20 years of renovation and was lovingly granted to the people of Kentucky.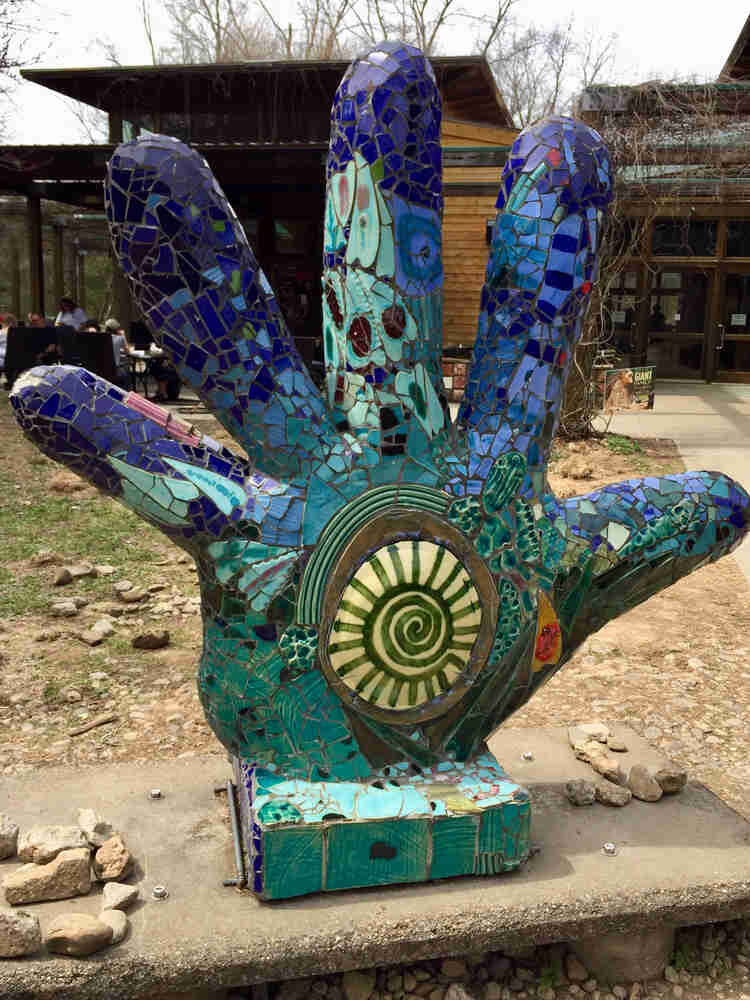 You'll find outdoor all over.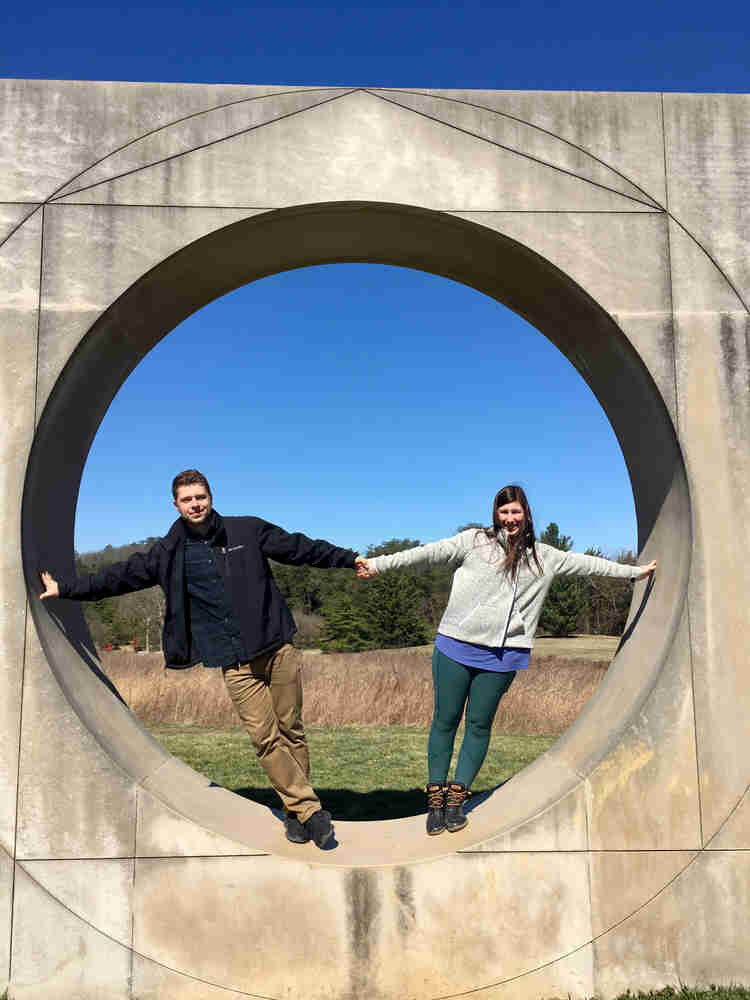 A sunny day for enjoying the sites.
Mr. Bernheim was so grateful to the residents of his adopted home for allowing him the opportunity to prosper, he made many contributions throughout the community. When you wander the acreage, his love of sculpture is evident. He bestowed several gifts on the public, including the statue of Abraham Lincoln at the Louisville Free Public Library and the statue of Thomas Jefferson in front of the Jefferson County Courthouse. He also generously donated the statues of Henry Clay and Ephraim McDowell, founding father of abdominal surgery which represent Kentucky in the Statuary Hall of the Capitol Rotunda in Washington, D.C.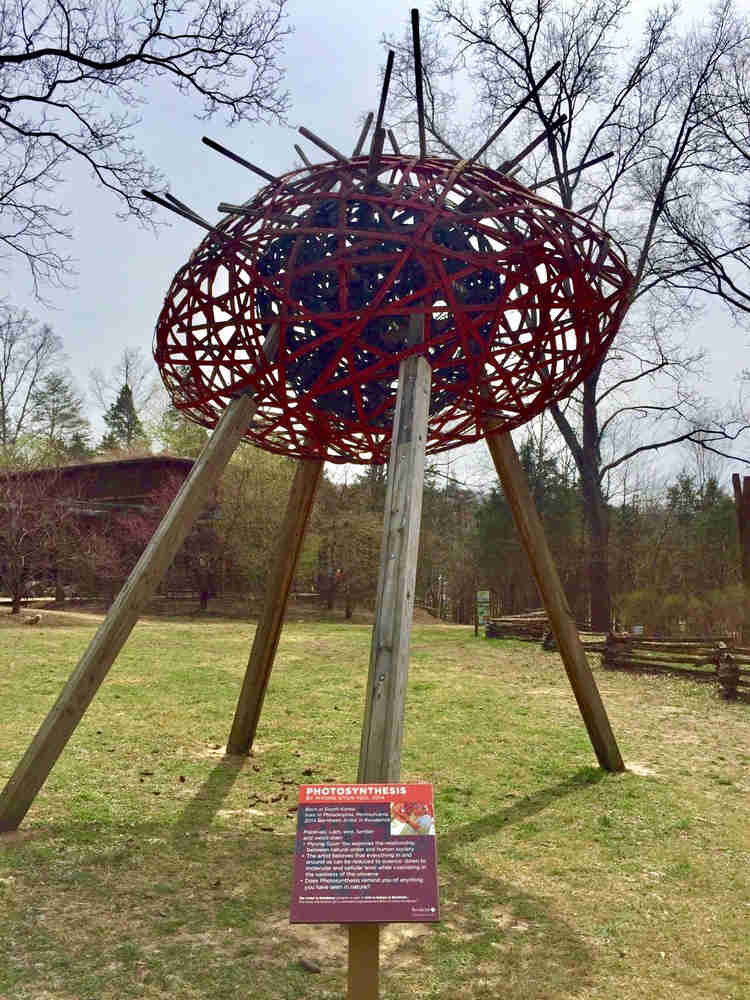 Bernheim Forest is celebrating its 90th anniversary this year and it couldn't be a better time to visit. A sunny day provides a spectacular, natural environment for the whole family to enjoy with ample space for the kids to roam and play. There are public art and educational classes for students of all ages. The staff is well-organized and and it's clear they're serious about the precious land they manage.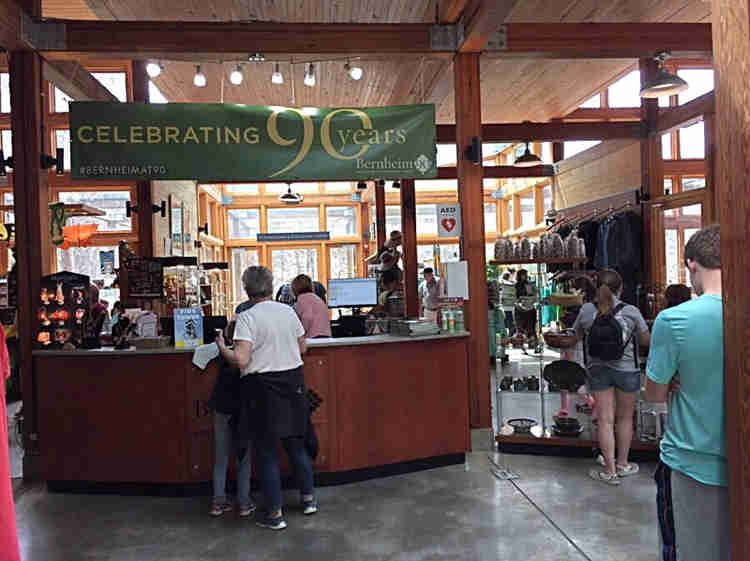 Bernheim's Gift Shop
Entry into the park is free on weekdays and only $5 per car or $8 per van on the weekends. Bernheim Forest is 100% member and donation supported, so please don't hesitate to drop a bill or two in the box. Your contribution goes right back into supporting this pristine land for future generations.
During your visit you won't want to miss the marvelous new Forest Giants. These incredible sculptures are created from recycled materials such as pallet wood and sticks. The colossal creatures are the imaginative, come-to-life work of Danish artist, Thomas Dambo. Each has a name. You'll discover Little Nis examining his reflection in a pond, while Little Elinahas wonderfully flowing hair made of branches and sticks. Mother to them all is Mama Loumariwhom you'll find resting against a tree. She's notably tired because Giant, her third child resides within her. I was especially drawn to the underside of the feet of this fantastical family due to the incredible attention to detail.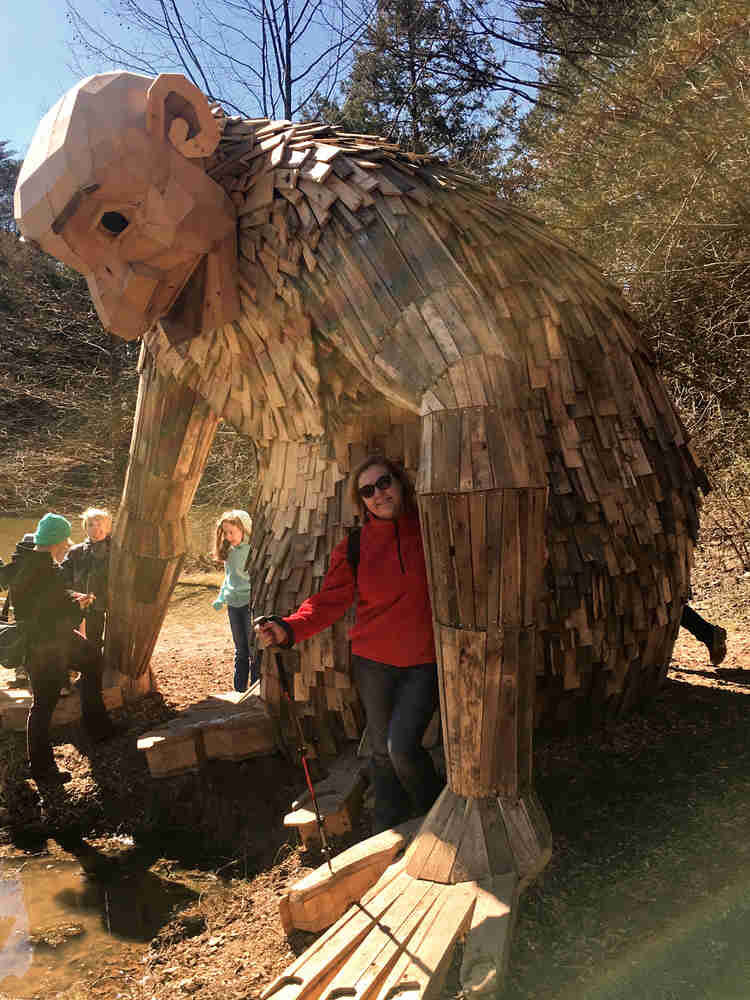 Little Nis
Little Elinahas
Standing next to the edifices for a photo op demonstrates the comparative size of these serene titans. The park asks that no one climb on the giants and suggests visiting them at non-peak hours during the busy season (before 11AM and after 3PM) in order to enjoy more one-on-one time. They expect the family to remain in the forest for approximately three years. Click here to read their endearing fairy tale. Bernheim Forest welcomes our new GIANT arrivals!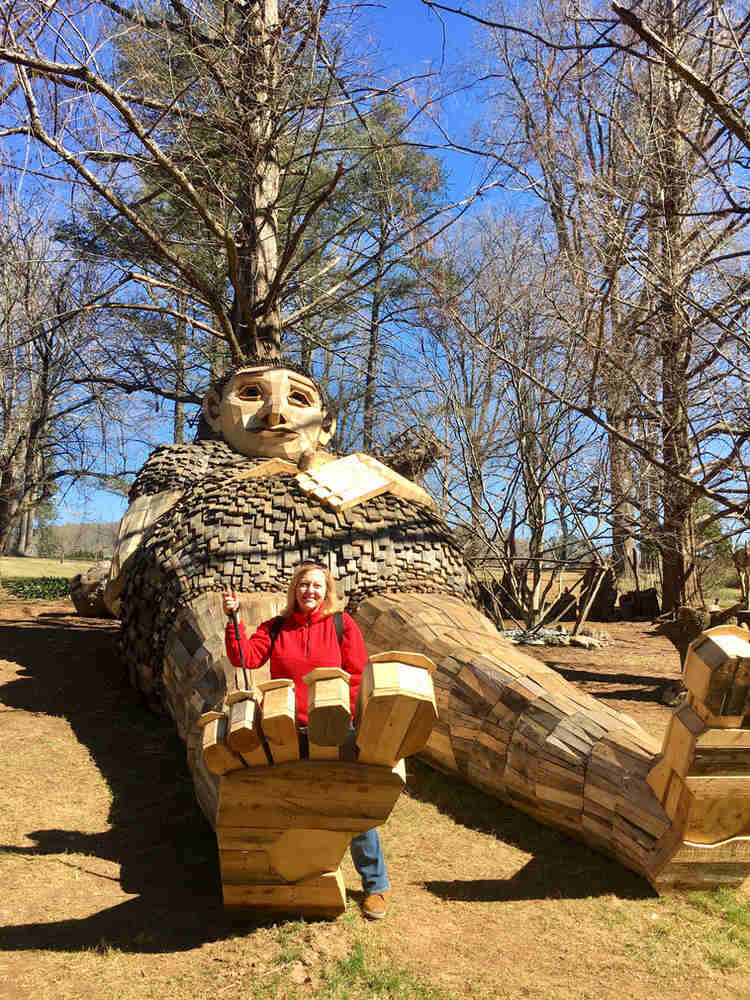 Mama Loumariwhom
Stop by the visitor center for maps to the giants and other trail locations. There is a nice gift shop and a lovely eatery. The deli isn't your usual "tourist trap" food. Thoughtful consideration has gone into the delicious sandwiches, salads and seasonal sides made with veggies from an edible garden. Food trucks were available with additional dining choices on one of my visits.
Once you've gotten your fill of the big guys, be sure to explore the over 40 miles of hiking trails. You'll find little jaunts as short as ½ mile to the 13-mile Millennium Trail; 20 trails in all from which to choose. Click on this link to have a look at the walking trails plus a bike/hike path. All routes are described and rated for difficulty to ensure that participants know just what to expect.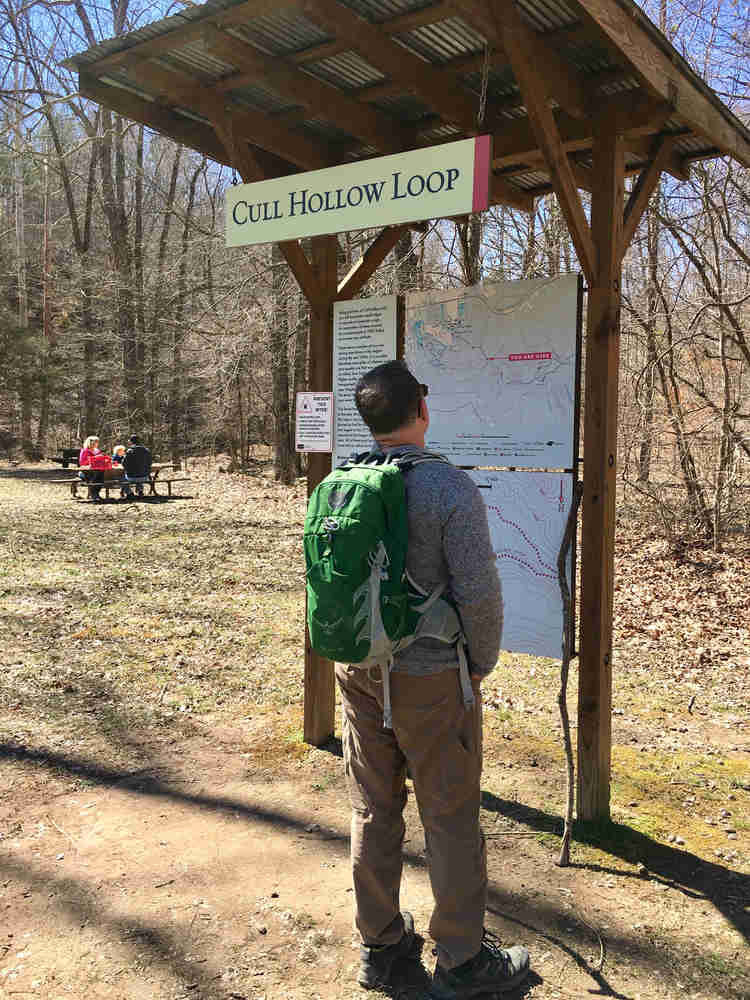 Exploring the trails
Cozy areas with picnic benches dot the landscape. Take a moment to admire the view from Canopy Walk, a 900-foot overlook that offers particularly spectacular views of the Forest's natural wonders in the spring and fall.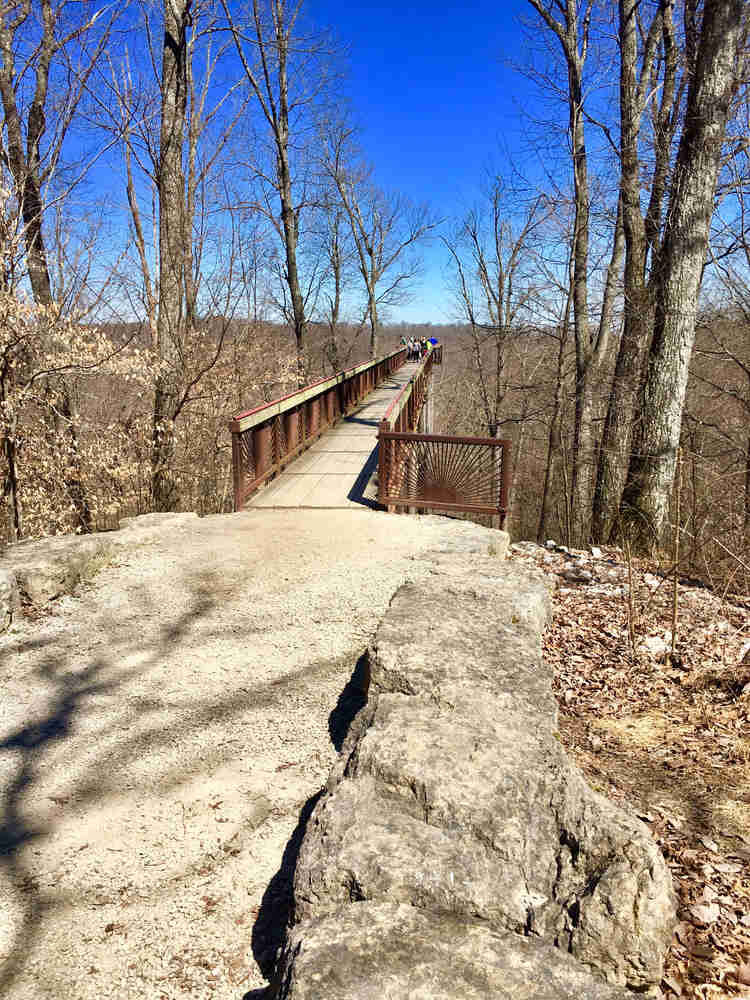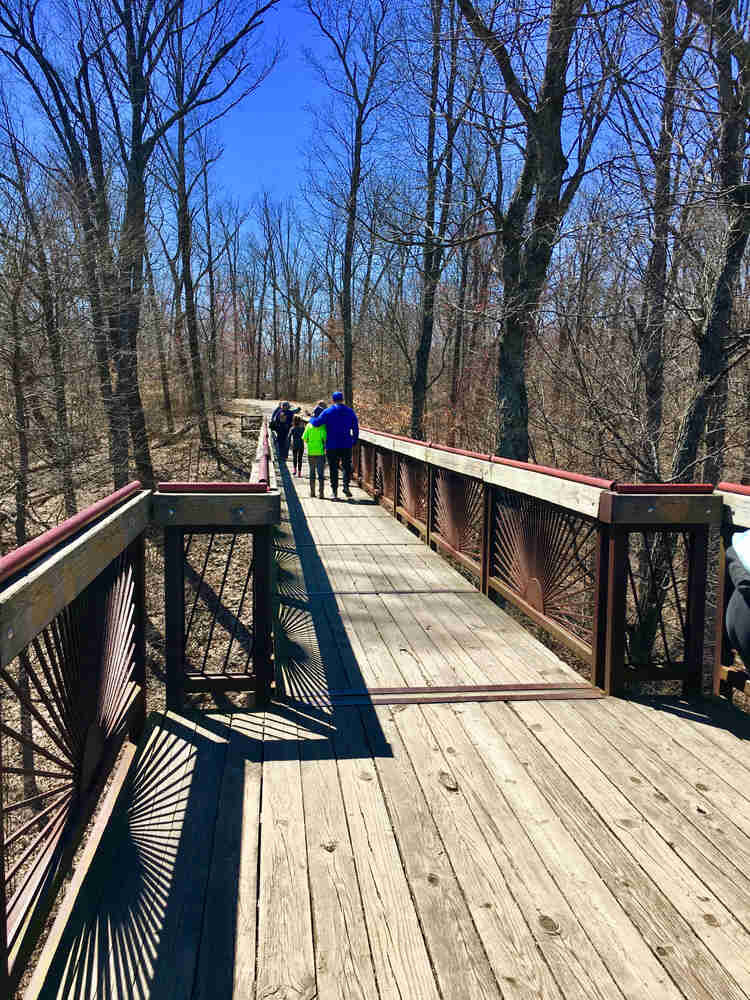 The Canopy Walk 900 feet up
Stroll the open meadows to observe captivating outdoor sculptures made of wood, metal and stone. Chance upon a pond surrounded by blossoming trees. Spend the day getting lost in nature and you will find yourself renewed!
Study the Calendar for all of the super events and unique classes Bernheim has to offer.
Bernheim
Open year-round
Daily: 7 a.m. – 8 p.m.
Closed Thanksgiving, Christmas,
and New Year's Day
Guerilla Hollow
Daily: 7 a.m. – 7:30 p.m.
Forest Hill Drive
Daily: 7 a.m. – 7 p.m.
Visitor Center and Education Center
Daily: 9 a.m. – 5 p.m.
If you live to the west of Bernheim you might fancy a visit to Bardstown on your drive home. Bardstown was voted "the most beautiful small town in America" the reasons for which are evident. With its attractive downtown filled with great shops and dining pleasures, Bardstown is also known for its bourbon. Distilleries nearby such as Lux Row, Heaven Hill, Jim Beam, Willett, Barton 1792, Preservation, Bardstown Bourbon Company and more distinguish this lively little town as "the bourbon capital of the world"!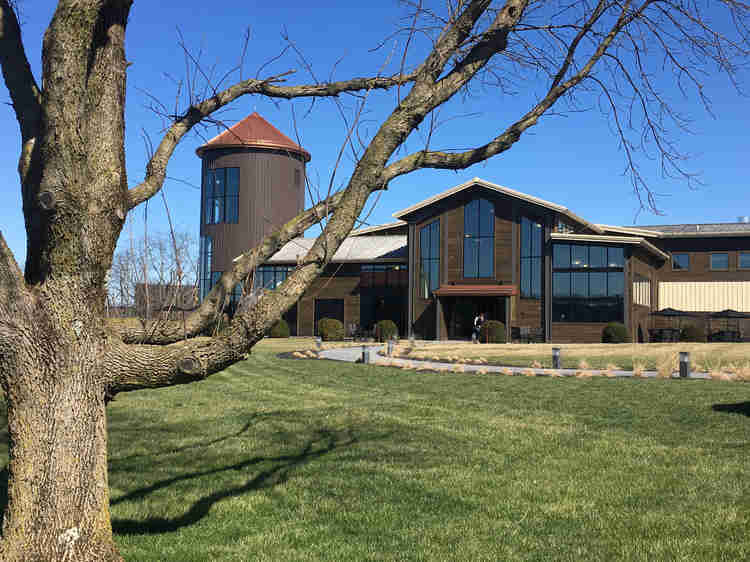 Lux Row Distillery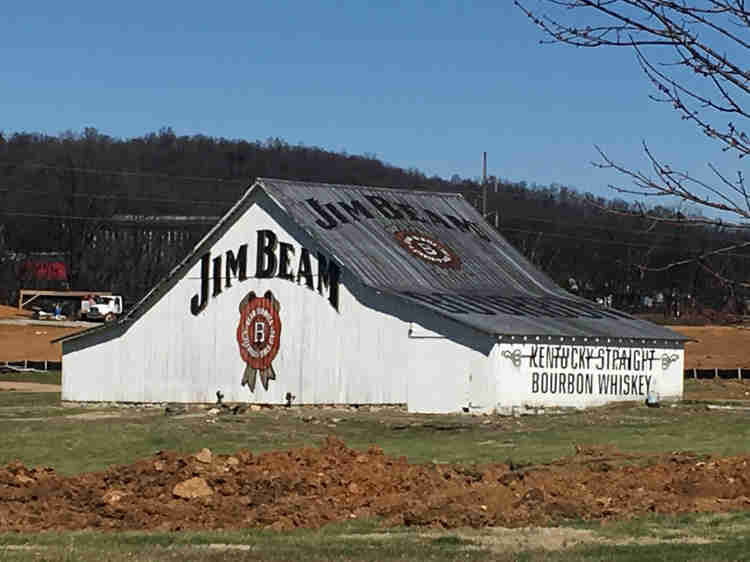 Jim Beam Distillery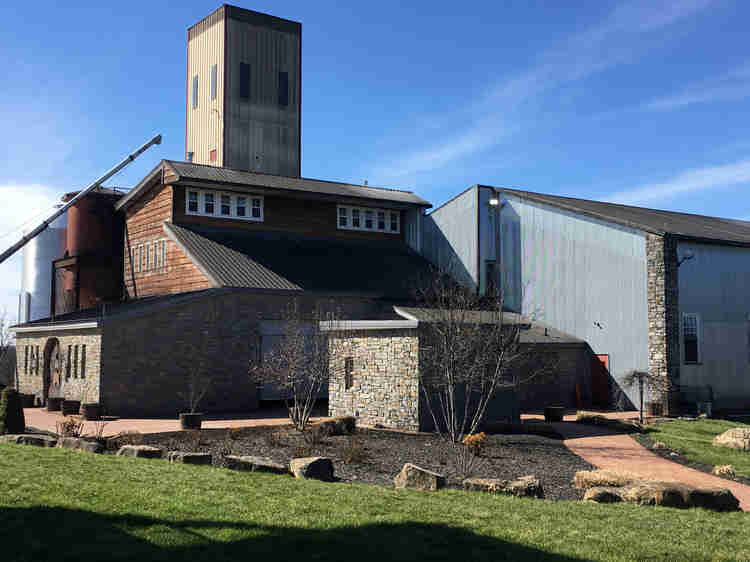 Willett Distillery
Intrigued by all the recent photos across social media? You might want to learn more about Bernheim Arboretum and Research Forest, as well as the recently introduced "Giants" who dwell there. Bernheim Forest's moto is "Connecting People with Nature" and they do a tremendous job of it. The founder's wish was to provide a place…