Visit Paducah, Kentucky
by Marie

Posted on

September 24, 2019
As a Lexington resident writing a "Bluegrass" blog, I have the urge to venture out and explore more of Kentucky. Hmm, where to go on a long weekend that is within an easy, four hours drive from Central Kentucky? Paducah, Kentucky came immediately to mind which tapped some happy buttons! This delightful city provides alluring artwork; attractive, historic buildings; a downtown that experienced an intriguing resurgence and fabulous hiking that is not too far away.
Clara Barton, founder of the Red Cross visited the city in 1884 to help direct relief efforts during the Ohio River floods
Heading into the picturesque town, we acted on a tip that Kirchhoff's Bakery & Deli was a must do. This shop had all of the homey vibes of a small town deli and bakery. It was evident that many of the patrons knew one another and shared the latest on local events over lunch. Here appetizing sandwiches, salads, soups and dreamy desserts await. Upon entering the bakery you relish the heavenly bouquet of freshly baked cookies, cakes, bagels and breads.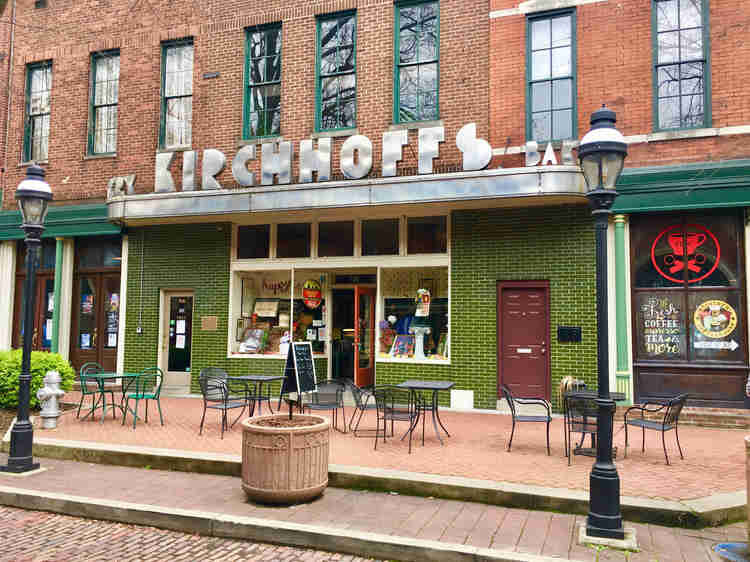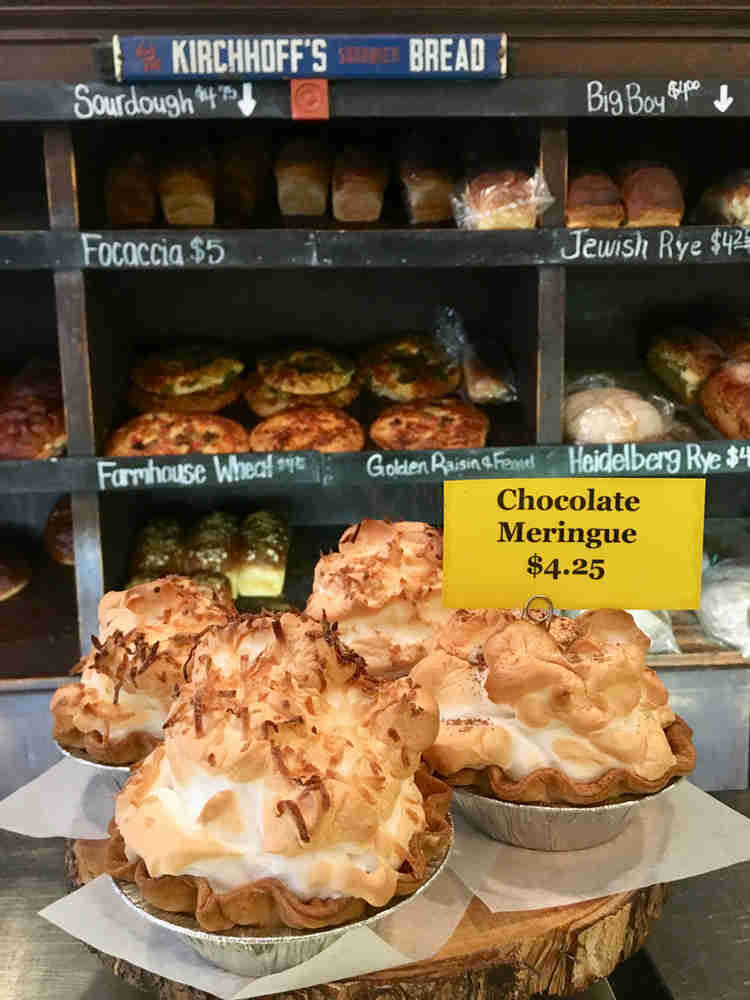 The pastries and baked goods were phenomenal
Walk through the door on the left into the restaurant where that same, newly prepared bread is crafted into flavorful sandwiches. Exit to the right to enter Etcetera Coffeehouse, where you can sup an aromatic cup of your favorite joe or tea.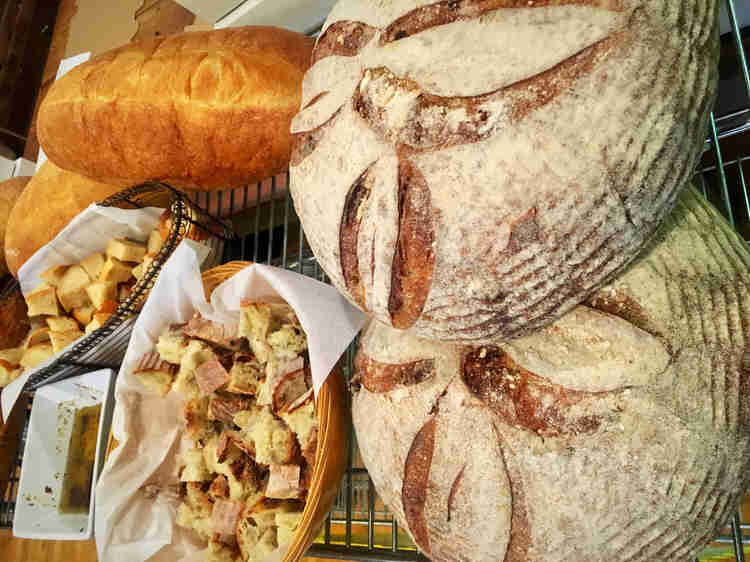 Fresh baked bread for sandwiches or to take home
Downtown Paducah, Kentucky sits right on the banks of the convergence of the Ohio and Tennessee Rivers. The city did a fabulous job of commissioning mural artists to depict rich periods of its history along the retaining wall. View this video link to get an idea of the fascinating murals that adorn the flood wall.
Legend has it that the city of Paducah, Kentuky was named after Chief Paduke by William Clark of Lewis and Clark fame. However, Clark was actually referencing a tribe called the Padouca, but misspelled it "Paducah". It appears the town was named for this Native American tribe, as seen here in a letter from Clark to his son in 1827:
"I expect to go to the mouth of the Tennessee River, and be absent about two weeks. I have laid out a town there and intend to sell some lots in it, the name is Paducah, one of the largest Indian nations known in this country, and now almost forgotten."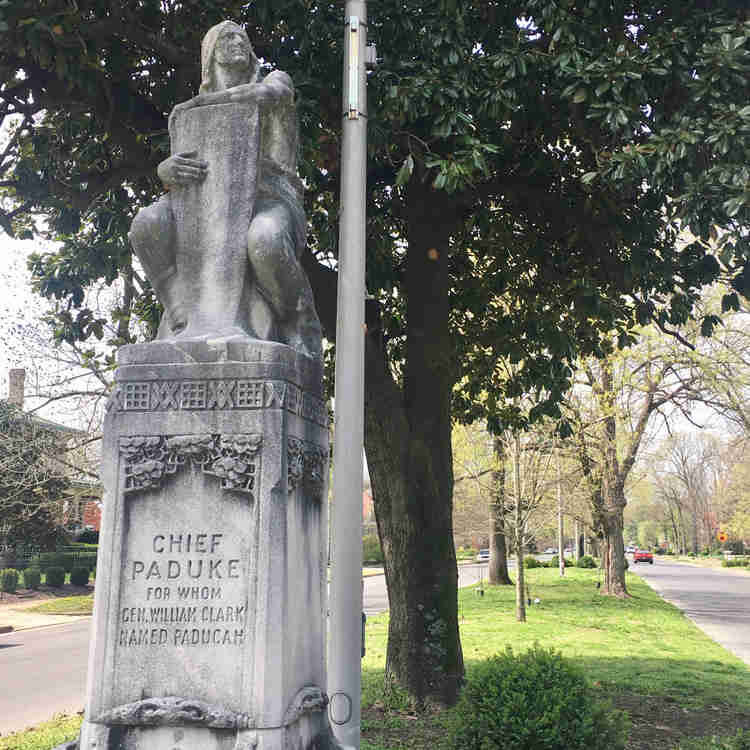 How did Paducah get it's name?
We took the opportunity to wander around town and explore. Paducah, Kentucky has spectacular architecture! Be sure to turn your gaze upward and marvel at the intricate details that adorn these memorable buildings. We were captivated by the exquisite Maiden Alley Cinema and Confleur Sweet Shop where I sampled my first homemade pop tart. Scrumptious! Paducah is home to the greatest number of historical markers in the state, opening doors into the riveting stories of their past.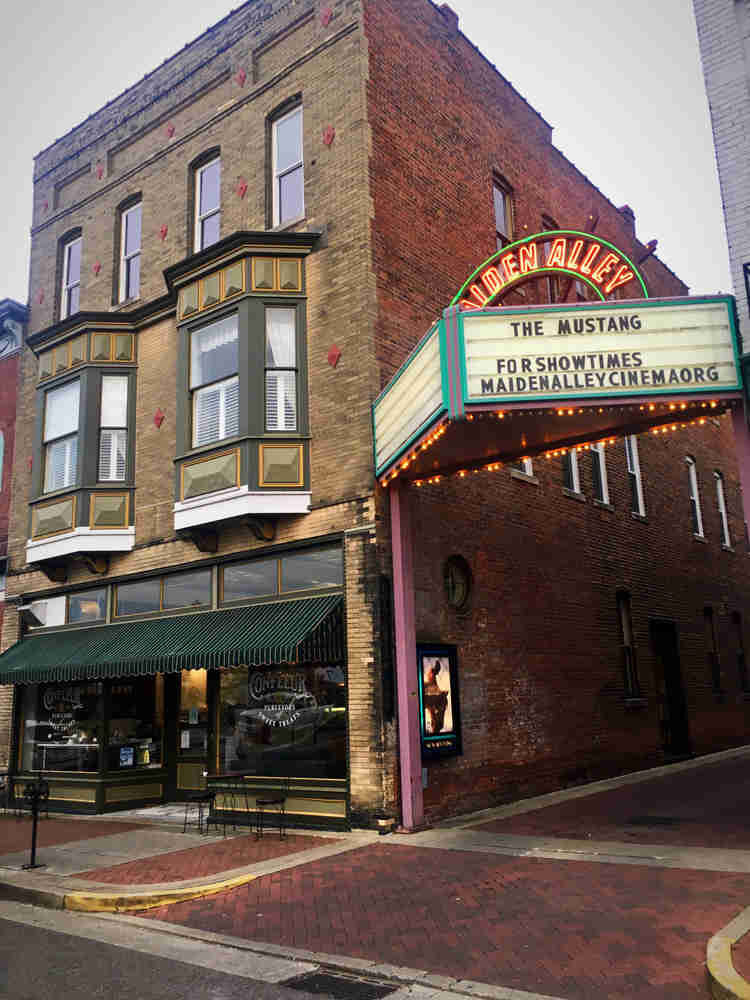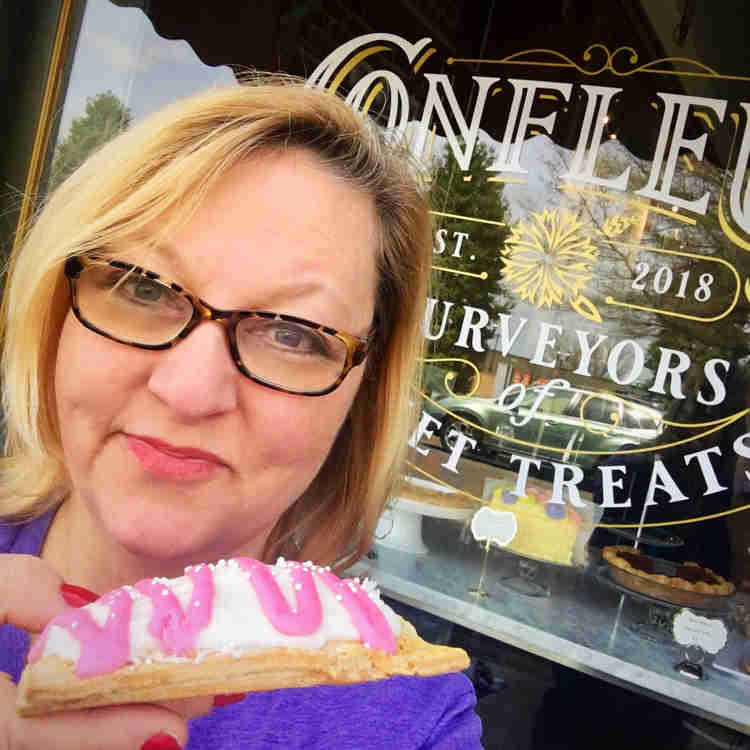 Homemade pop tarts at Confleur
As is popular these days, some edifices have been given a new and FUNctional second life! We visited Paducah Beer Werks which established its base in a renovated Grey Hound Bus Depot. As a nod to the former travelers, areas were left intact such as bus stops, passengers' lockers and waiting rooms. There I had one of the most tasty beers ever; a hearty stout which procured its distinctive flavors from a bourbon barrel.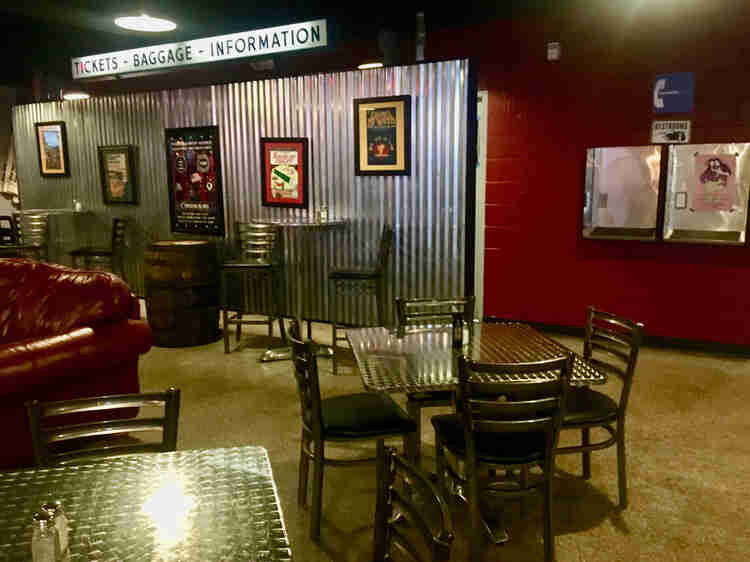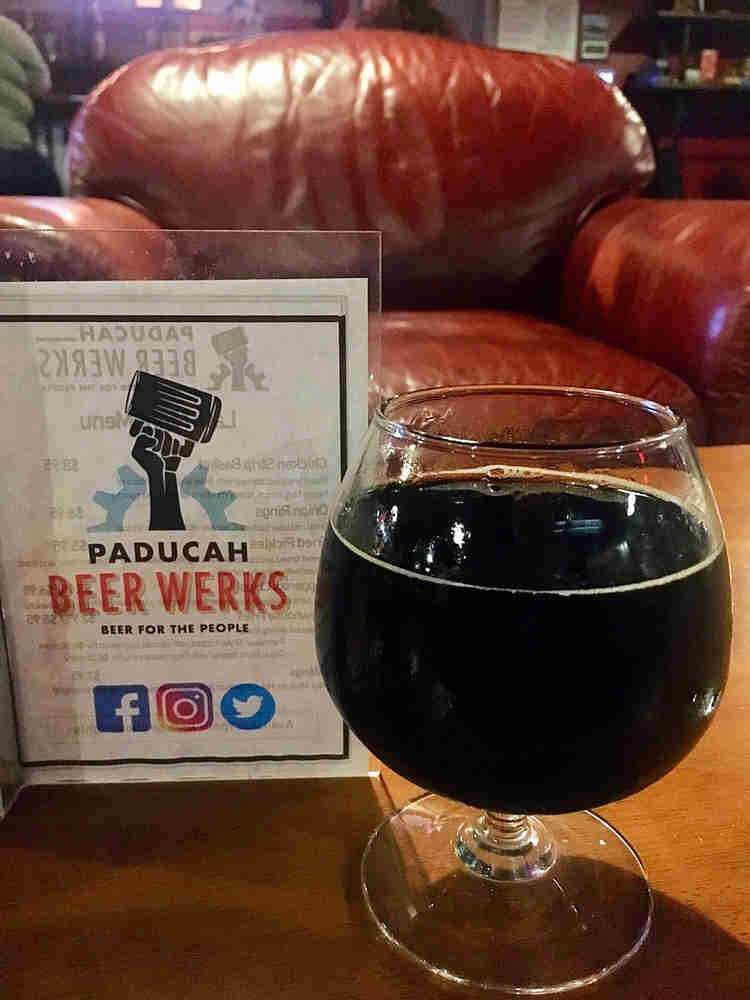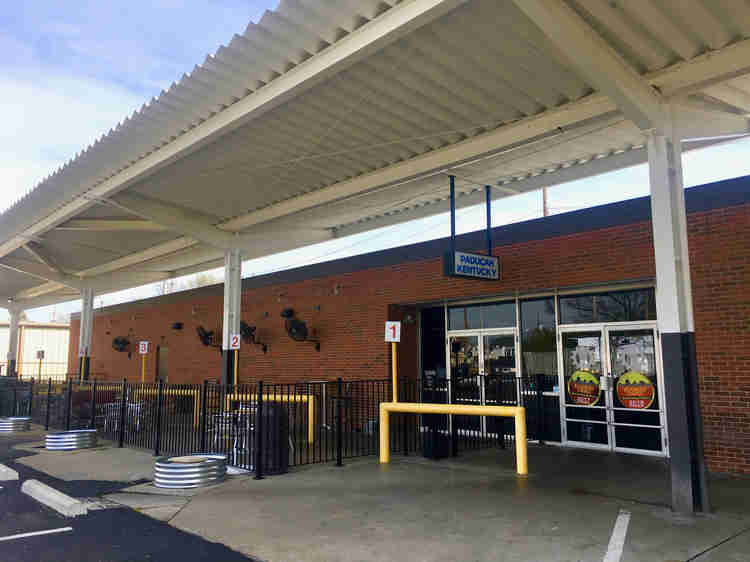 Bus depot transformed
We stumbled upon another interesting, re-invented building by accident while searching for an artist's work by the name of Scott Morris, whose works you can find at local galleries. Dry Ground Brewing Company is situated in the old Coca Cola plant. It has pleasant outdoor seating perfect for the mild weather of the day. They offer a nice selection of their own brews, as well as from visiting taps.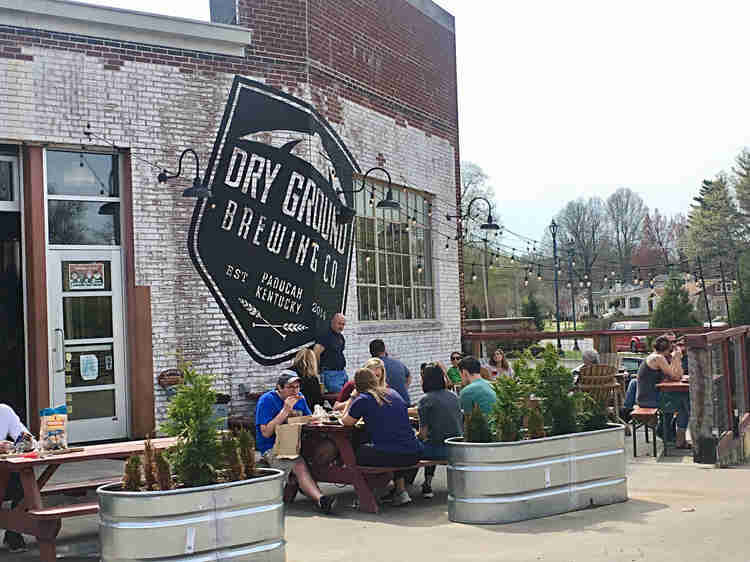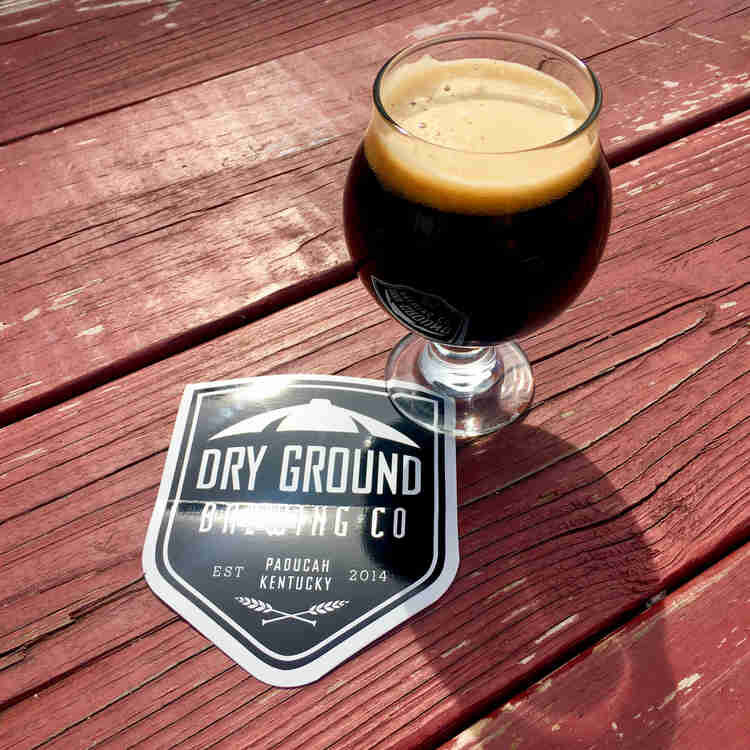 Of course, the origin of their name is steeped in the yesteryear. When the big flood hit Paducah, Kentucky in 1937, the owner of the Coca Cola plant was rescued after floating on an empty syrup keg. Launched from a second floor window, he was able reach a rescue boat. The owner proclaimed that if he ever reached "dry ground", he would rebuild his bottling company. Thirty some blocks from the river banks the new factory was erected and later became the locale of the city's first craft brewery.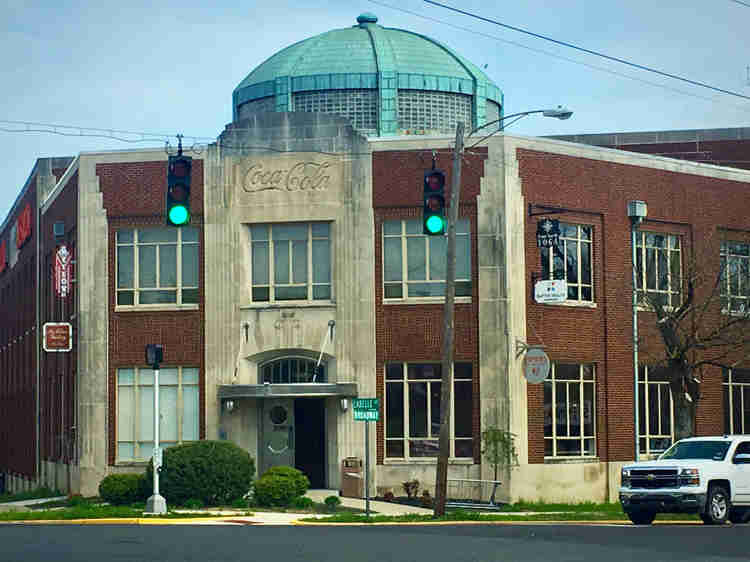 No visit to Paducah, Kentucky is complete without a call on The Freight House. As the name implies, this lovely restaurant found its home in a former freight house near the railroad tracks. The rustic interior is open and bright. I especially enjoy dining here as their draw is the belief on which they operate, that food is to be eaten in season. They partner with a number of local farmers to create the freshest menu offerings! Using ingredients at their peak, the menu changes regularly to accommodate the best produce. The Freight House aims to cultivate awareness of the life work of farmers to encourage their support throughout the community.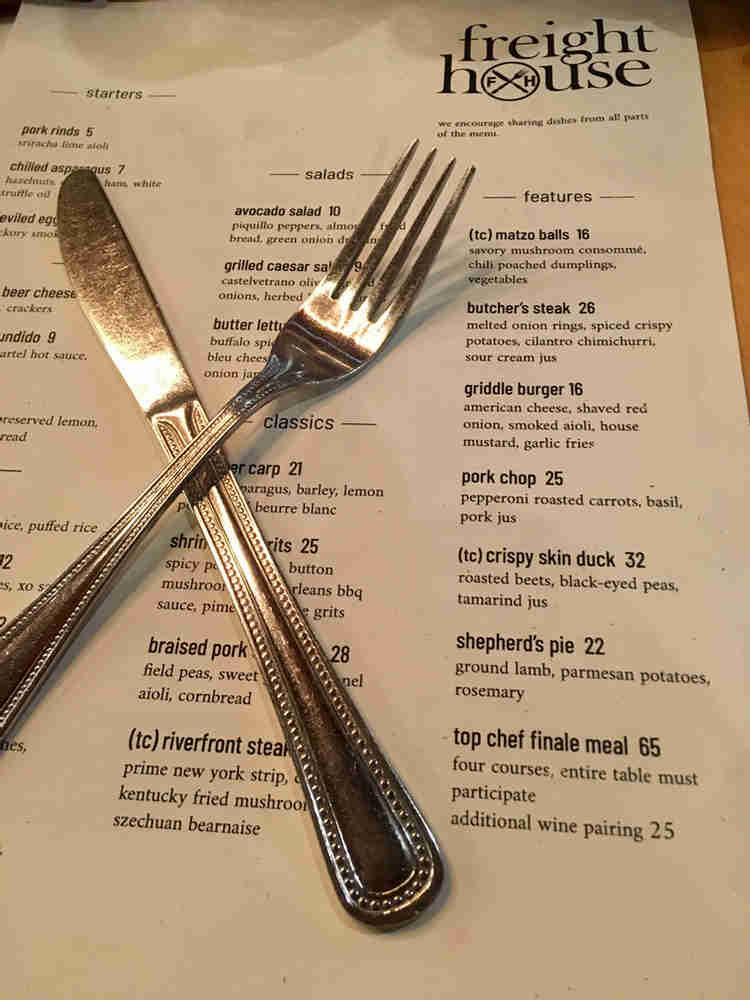 Order the meal with which Chef Bradley took home the Top Chef win.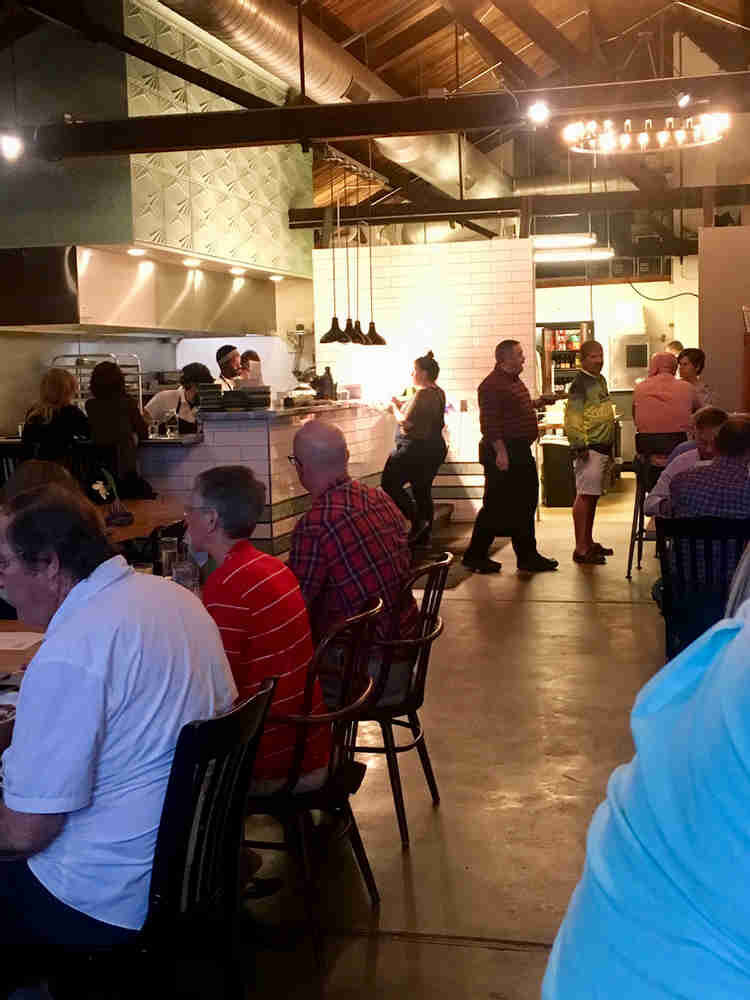 Chef Bradley at work
I highly recommend making reservations as this establishment is no longer a secret. The chef and owner, Sara Bradley was proclaimed winner of Bravo's Top Chef. In fact, your whole table can enjoy the complete meal she prepared which gained her the title! It was nice to see Sara walking around, greeting patrons and engaging with her staff. Her mother, a fabulous home cook in her own right, has the role of pastry chef. Her frequent smile is warm and inviting.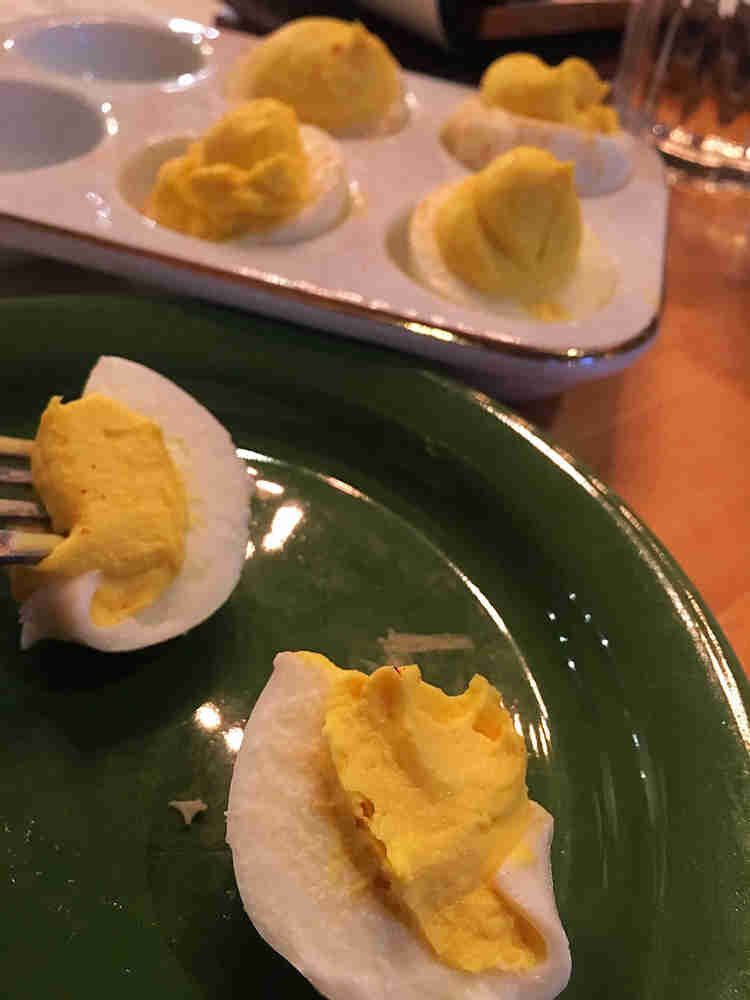 Smoked deviled eggs
The well-prepared meal did not disappoint as we began with an appetizer of six delectable, hickory-smoked, deviled eggs. We followed with a buttery avocado salad that cleansed the pallet for their mouthwatering Shrimp and Pimento Cheese Grits.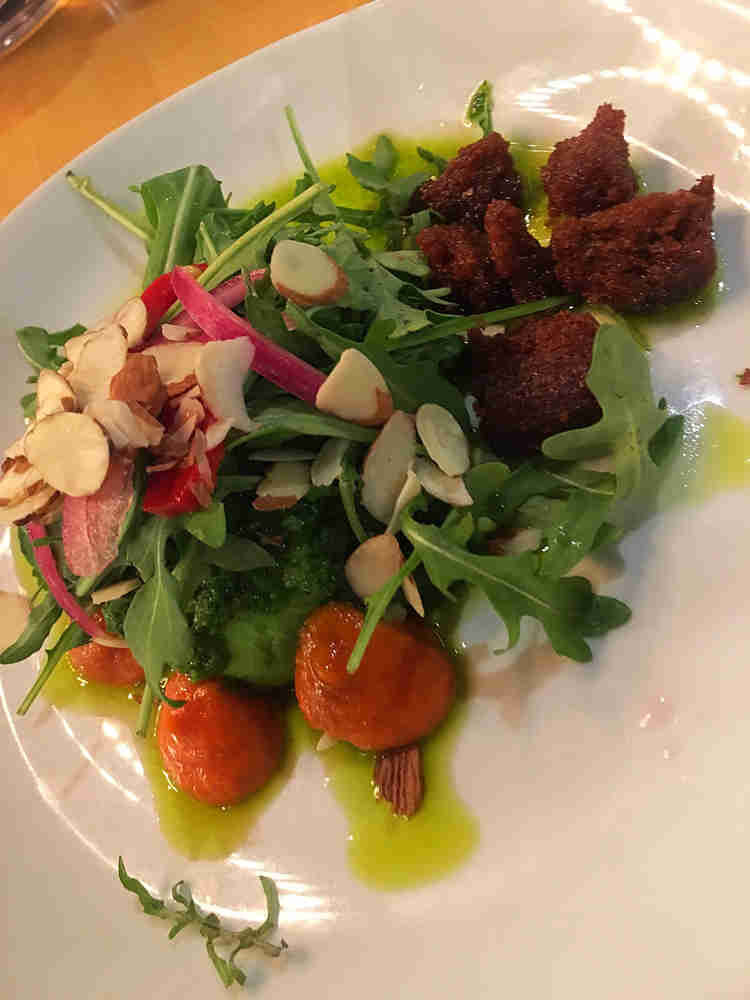 Avocado salad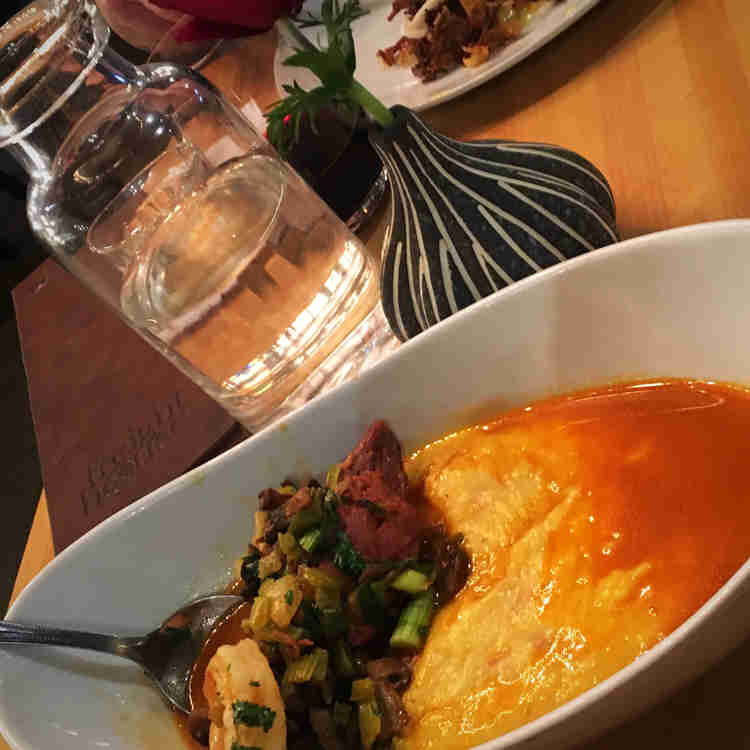 Shrimp with pimento cheese grits
When visiting a new place, my best advice is to consult the locals on their preferences. This can often guide you off the beaten path to a delicious destination and they'll rarely steer you toward a pricey tourist trap. We tried Max's Brick Oven Café on such input and reveled in their wonderful fare. Much of the gooey goodness of their luscious pizzas is derived from a hot, brick oven. But you won't want to overlook other great culinary treats like Max's Shrimp de Provence, Brick Oven Brie with a port wine glaze and toasted walnuts along with fresh salads options.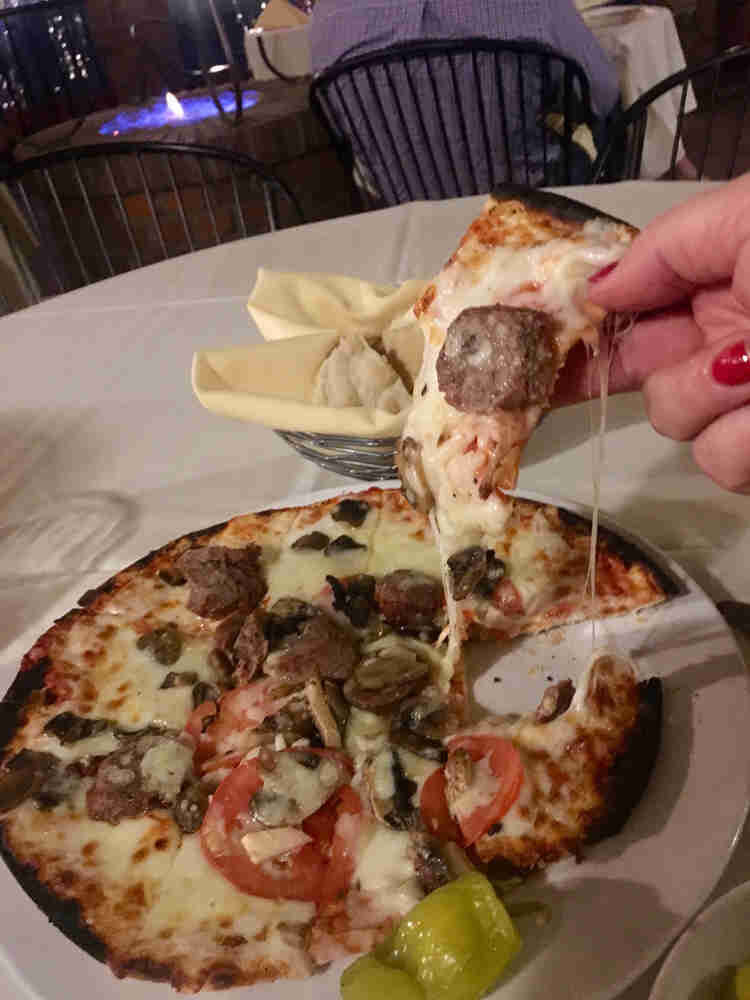 Pizza fresh from the fire
Whether you enjoy viewing or conceiving art, Paducah is the place for you. Arrange your visit during a creatively-curated camp or join a class. Activities include all interests and ages, available at Make Paducah.
Paducah, Kentucky is home to the National Quilt Museum. If perhaps your feel this might not be your thing, you may want to take a look at this video link. These fine pieces are marvelous works of fabric art, hand-crafted by artists from the world over!
Several years ago Paducah underwent a renovation and the city offered new zoning and loan opportunities for artists to use old buildings as studios and store fronts. Some of the galleries are operating as co-ops, where artists are able to trade time working in the gallery for space to display their artwork. I was able to actually meet the gifted artist who created the painting I purchased.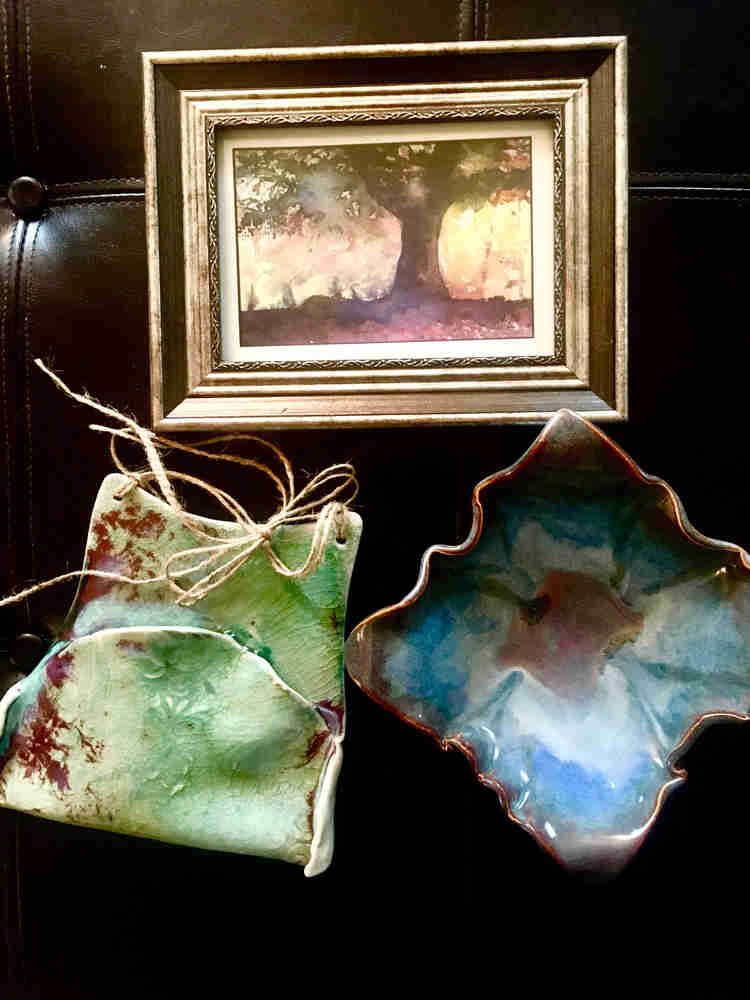 My take-home art!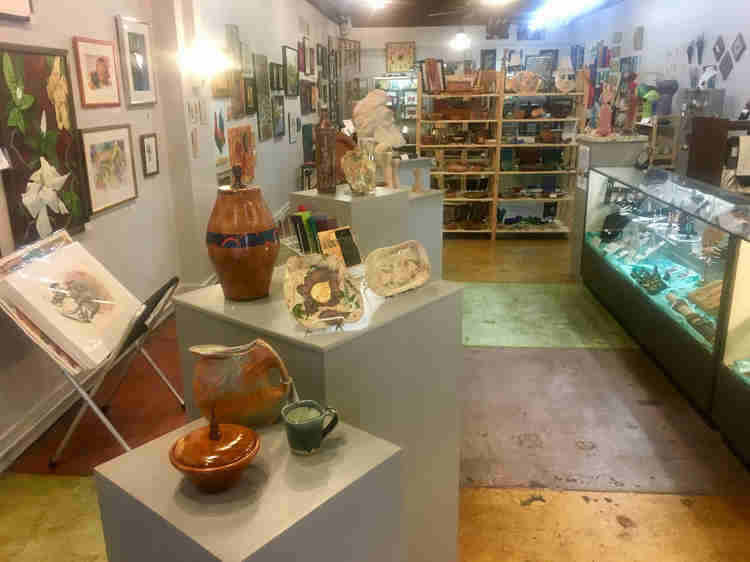 Galleries filled with local artwork
To cap off your day, one final consideration is the marvelous Land Between the Lakes National Recreation Area. It lies about 45 minutes to the east. This 170,000 acre estate claims a multitude of activities including mountain biking, cycling, camping, fishing, hiking, horseback riding, hunting, off-highway vehicle trails, backpacking and water sports. Visitors may explore the Golden Pond Planetarium, Elk & Bison Prairie, Nature Station and The Homeplace, an amazing 19th century working farm.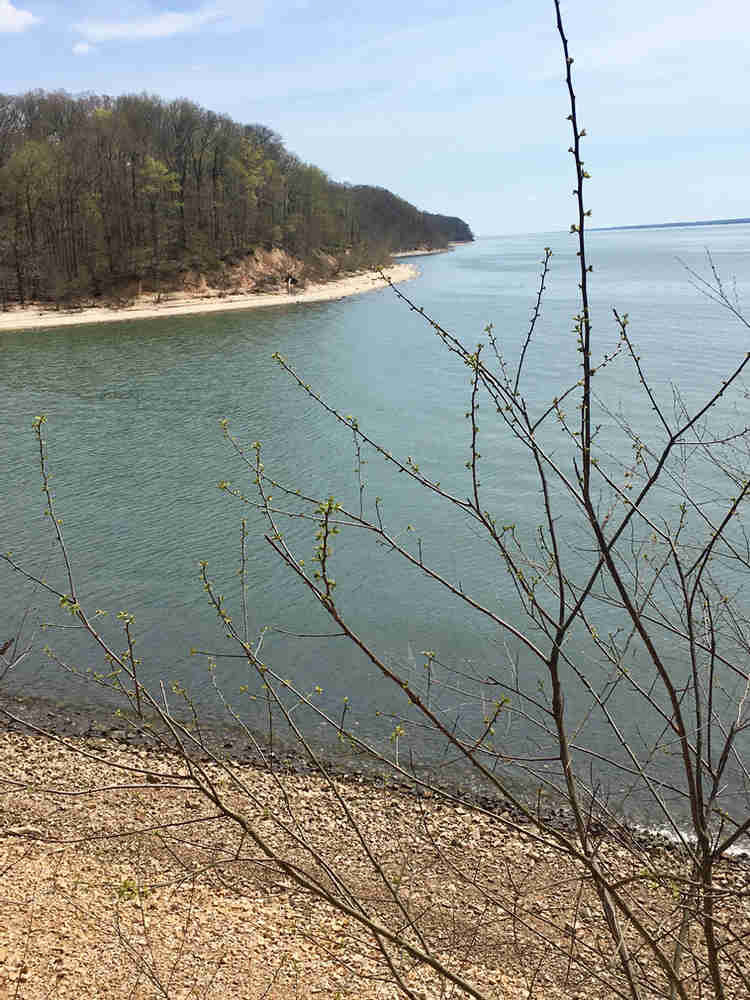 Almost like an ocean in Kentucky with waves lapping onto the beach
Click on this link for a head's up on the incredible wonders nature has in store each month at Land Between the Lakes. You may arrive for a hummingbird migration or one of the seasons for birthing bison, egg-laying turtles, squirrel mating, elks shedding antlers, peeping tree frogs, bald eagles hatching their eggs and so much more!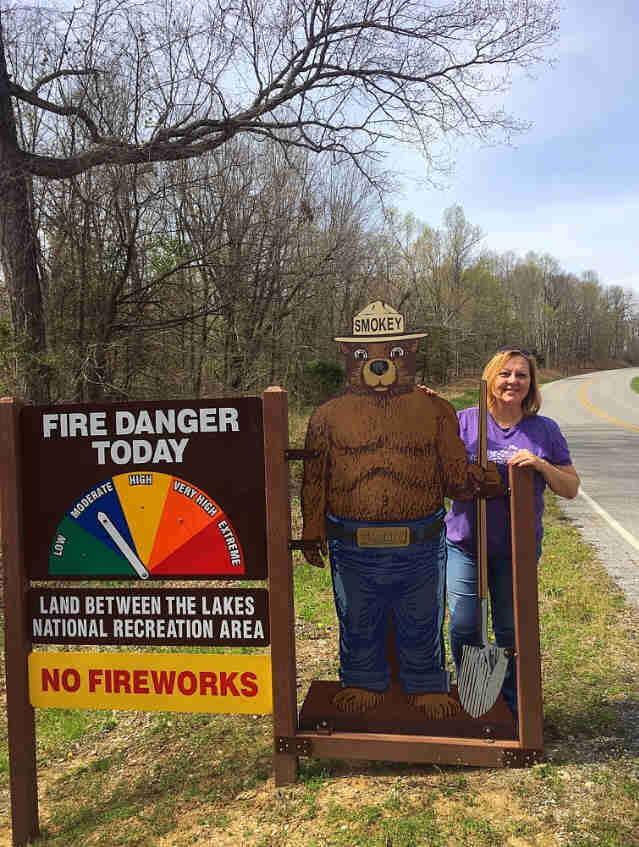 Have you visited Paducah or do you want to? I'd love to hear your comments below. Feel free to share with your friends!
#shopsmallbusiness #smalltown #Explorekentucky #explore #weekendgetaway #kentuckybourbon #adventureawaits #hiking #bakery #Ovenbakedpizza #getouthere #getaway #westernkentucky #rivercity #architechture #topchef #finedining #downtown #historicdowntown #walkabledowntown #microbrewery #coffee #exploring #naturalkentucky #localart #artists
As a Lexington resident writing a "Bluegrass" blog, I have the urge to venture out and explore more of Kentucky. Hmm, where to go on a long weekend that is within an easy, four hours drive from Central Kentucky? Paducah, Kentucky came immediately to mind which tapped some happy buttons! This delightful city provides alluring…