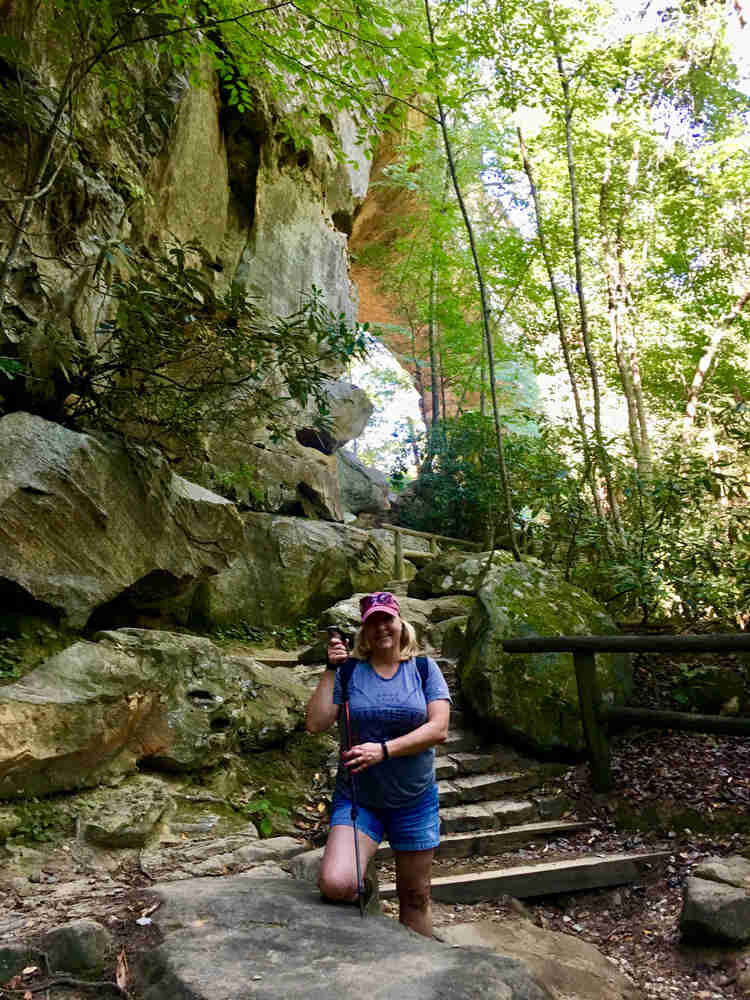 Kentucky Culinary Trail- Natural Bridge
by Marie

Posted on

September 24, 2019
I have been itching to visit the Kentucky State Parks' Culinary Trail for a while now and finally got the chance. This program is part of the Better in the Bluegrass initiative. There are nine Kentucky State Parks participating including Jenny Wiley, Rough River Dam, Cumberland Falls, Blue Licks Battlefield, Natural Bridge, Kentucky Dam Village, Pennyrile Forest, Pine Mountain and Barren River Lake.
My choice this trip was Natural Bridge State Park as I love the Red River Gorge (RRG) area. RRG offers some of the most extensive and diverse hiking trails in the state. You can visit time after time, each for a unique and natural encounter.
I was off to check into the Hemlock Lodge at Natural Bridge State Park. This facility was built right into the mountainside with trails just out the back door. Every window offers a beautiful vista. The lobby is large and provides comfy seating. Amenities include a gift shop, swimming pool, tavern and restaurant.
*Family friendly *No pets on trails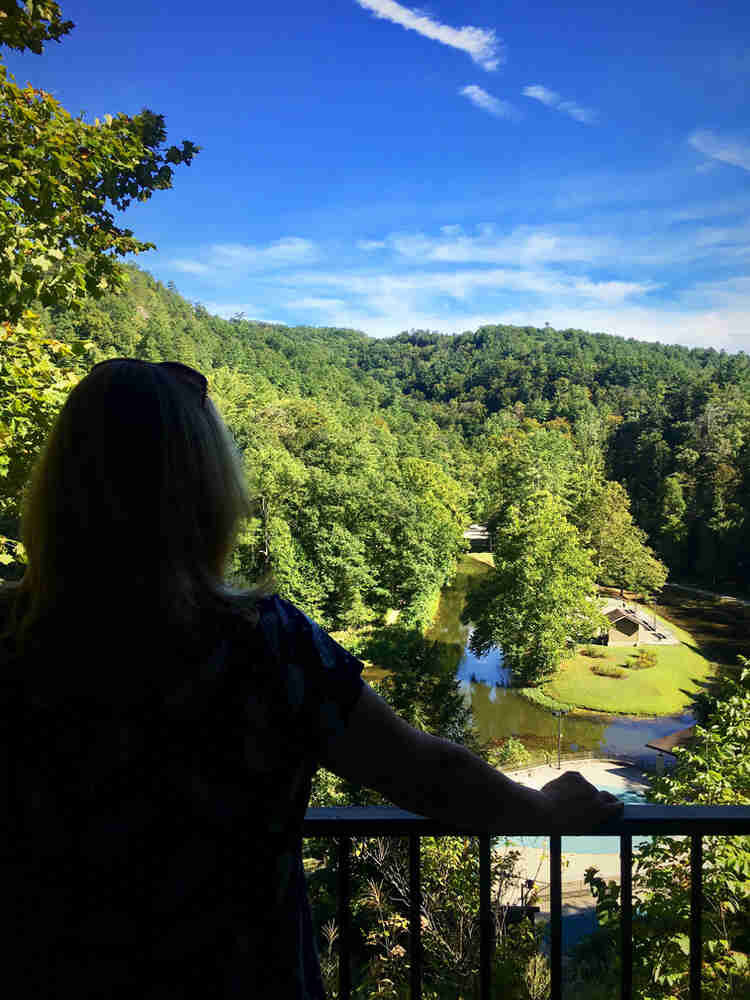 The room was lovely with a private balcony overlooking the forest. Gazing across the panorama, I visualized the colorful, autumn foliage that will soon blanket the woods.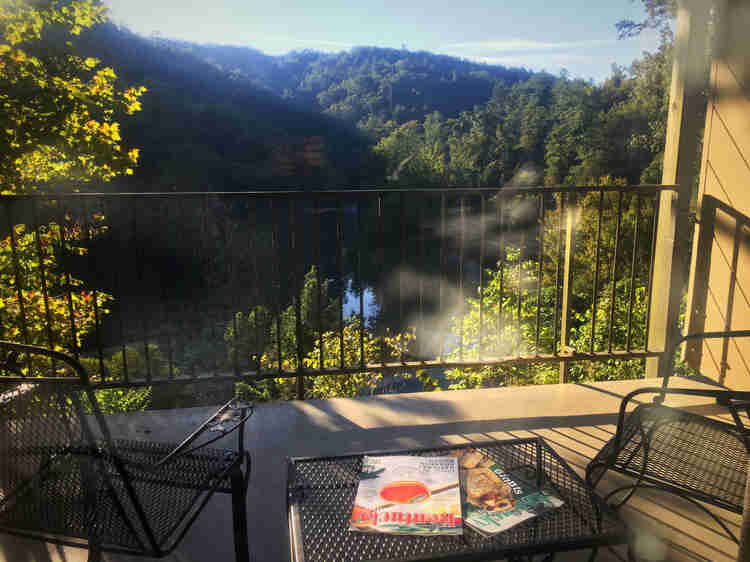 Each participating park offers a different meal to represent the area cuisine. Admittedly, another decisive factor in selecting Natural Bridge Park was their fabulous choice of cuisine! 
A zesty bourbon and ginger ale cocktail kicked off dinner at the Lodge's Sandstone Arches Restaurant. 
The chef prepared savory, homemade beer cheese, served with crispy pretzels and celery sticks. The tasty spread had a great texture with a small kick to it.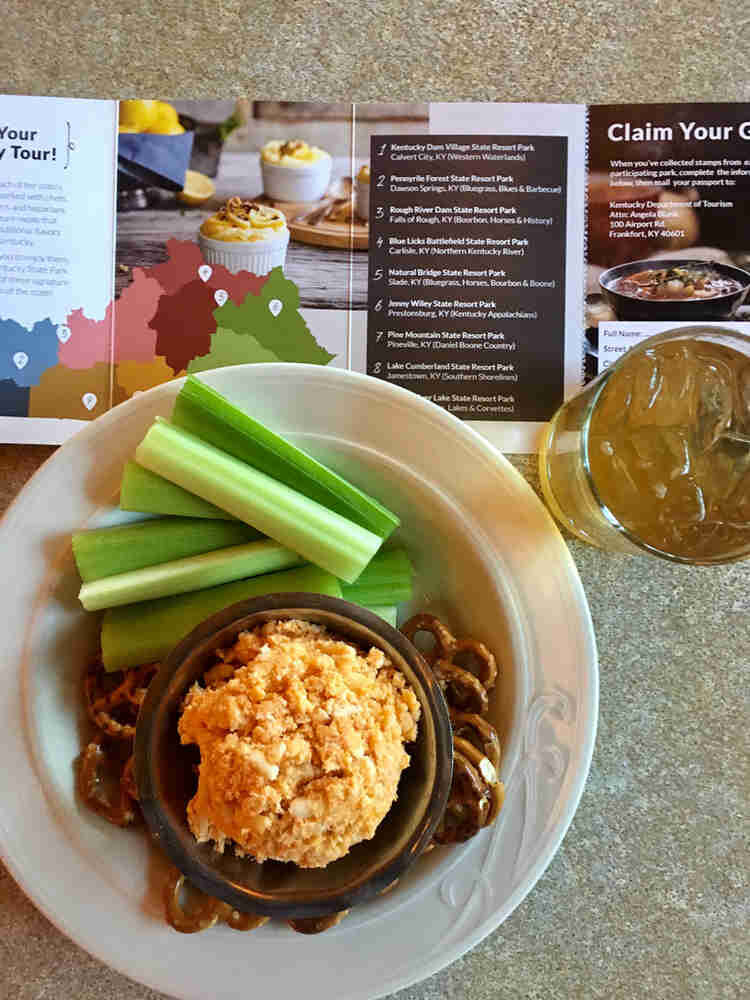 Local Bibb lettuce salad followed, so fresh with silky leaves, vine-ripened tomatoes and a tangy, vinaigrette dressing.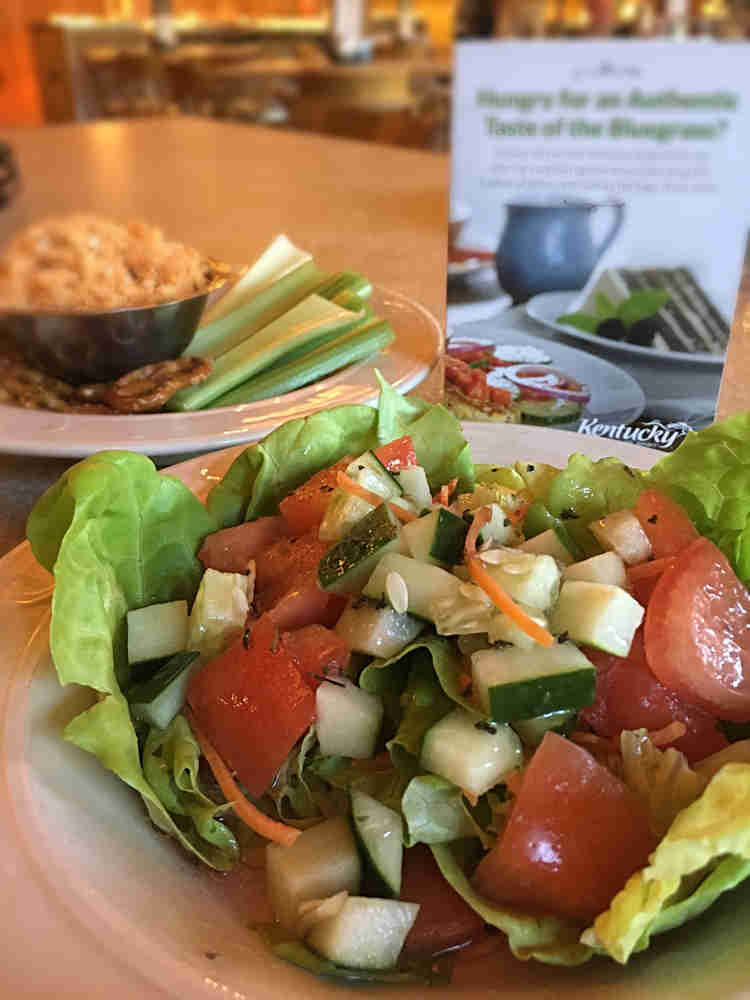 The main course boasted Kentucky Proud beef, delectable with moist "spoon" cornbread and buttery grits.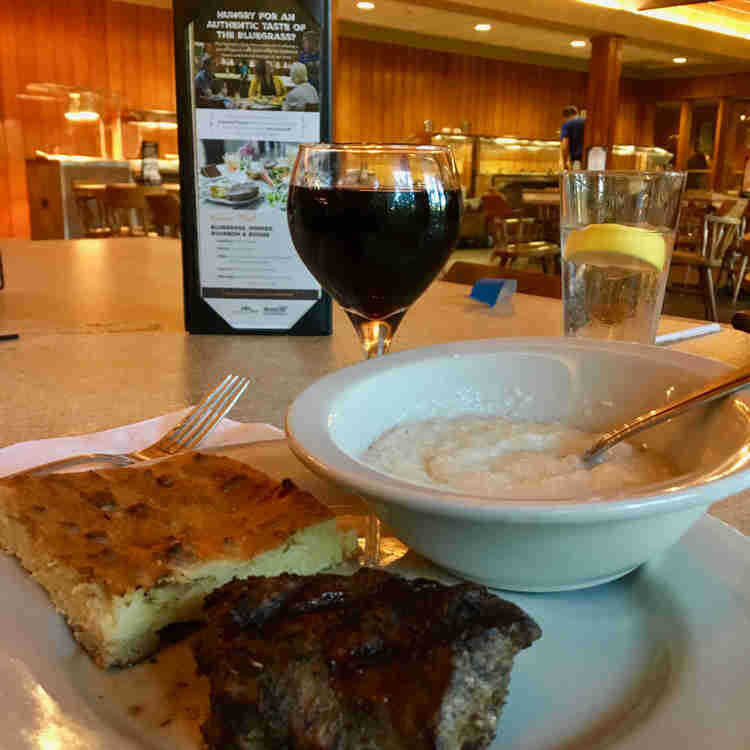 I finished with a delicious slice of a Kentucky pie reminiscent of that famous horse race in May. Can you imagine a more quintessential Kentucky meal than this?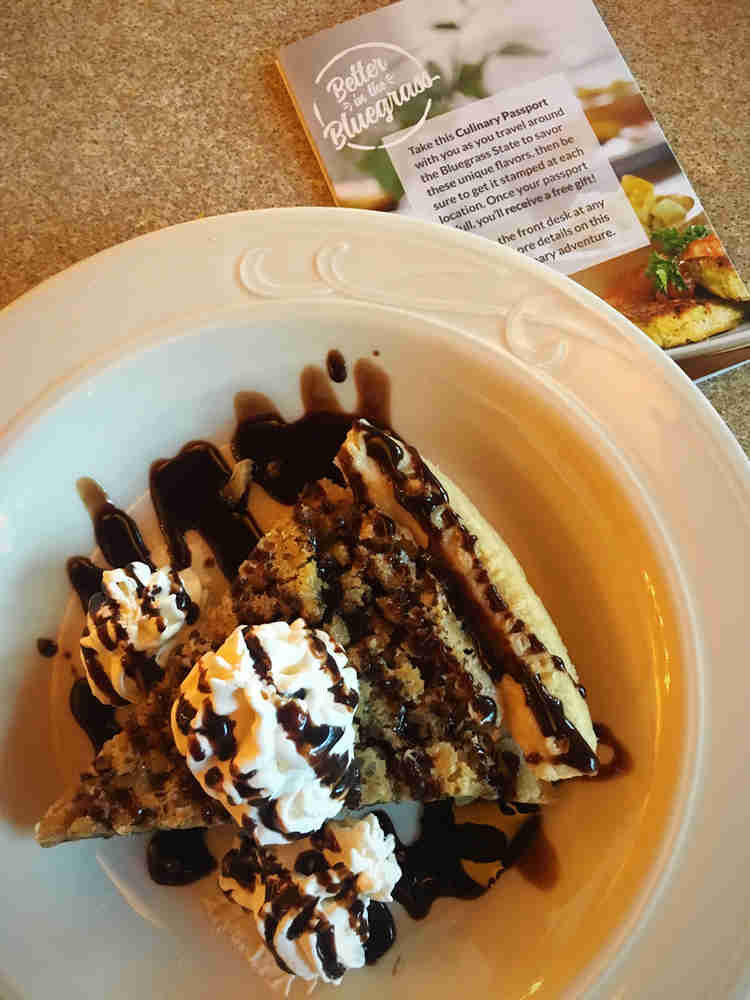 Be sure to have your Culinary Trail passport stamped and share a photo of your meal using
#tasteky
. Fill your passport with stamps to receive a free gift.
I opted for the Original Trail which is a mere .75 miles up to the impressive bridge. One of the most famous natural, sandstone arches in Kentucky, Natural Bridge is 65 feet tall and 78 feet in length. Once ascended, seekers can take in a splendid overview of distant ridges and lush valleys.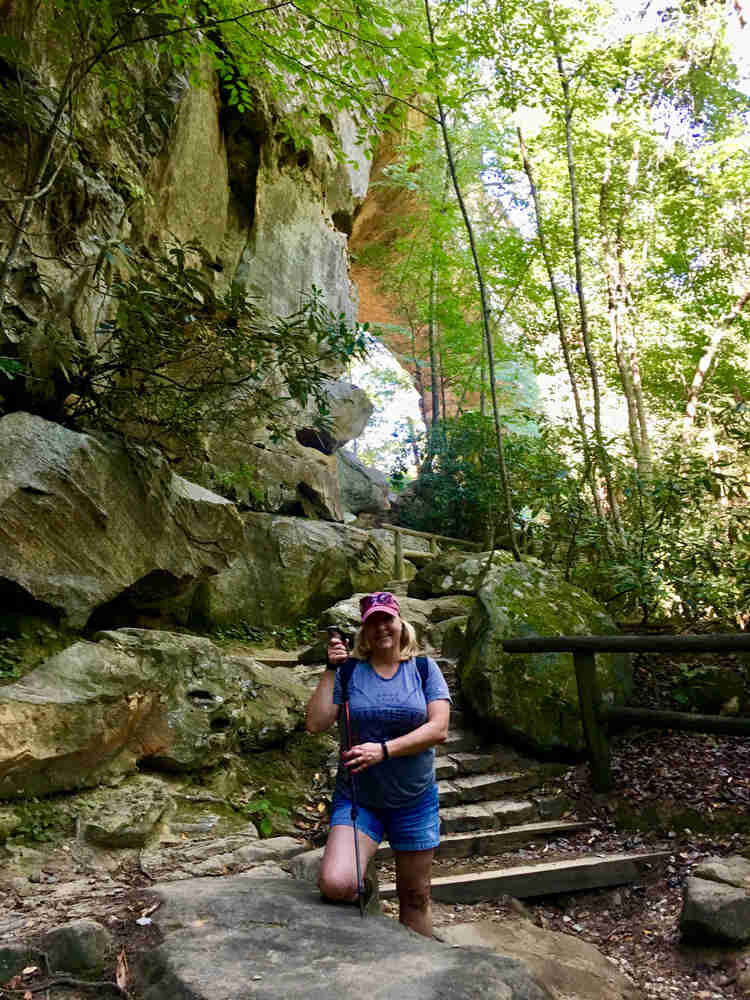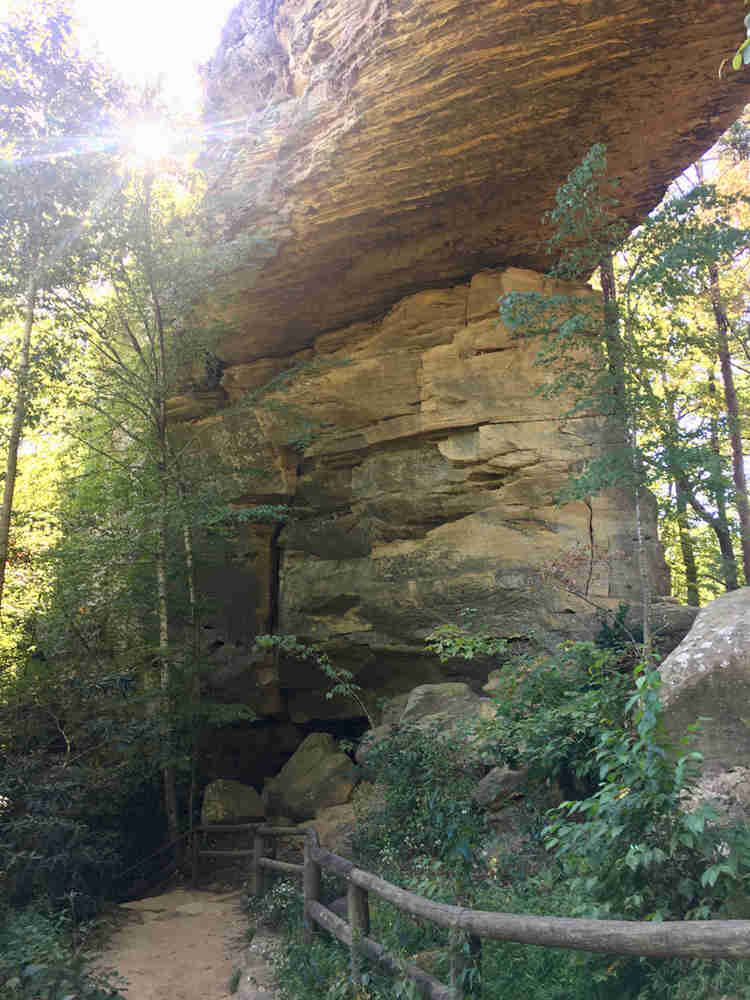 I continued to the
Laurel Ridge Trail
which provides an excellent overlook of the majestic landscape. In the distance, Natural Bridge!
Venturing along the ridge to Lovers Leap, I enjoyed another marvelous tableau of the vast horizon with emerald valleys spilling down the opposite mountainside.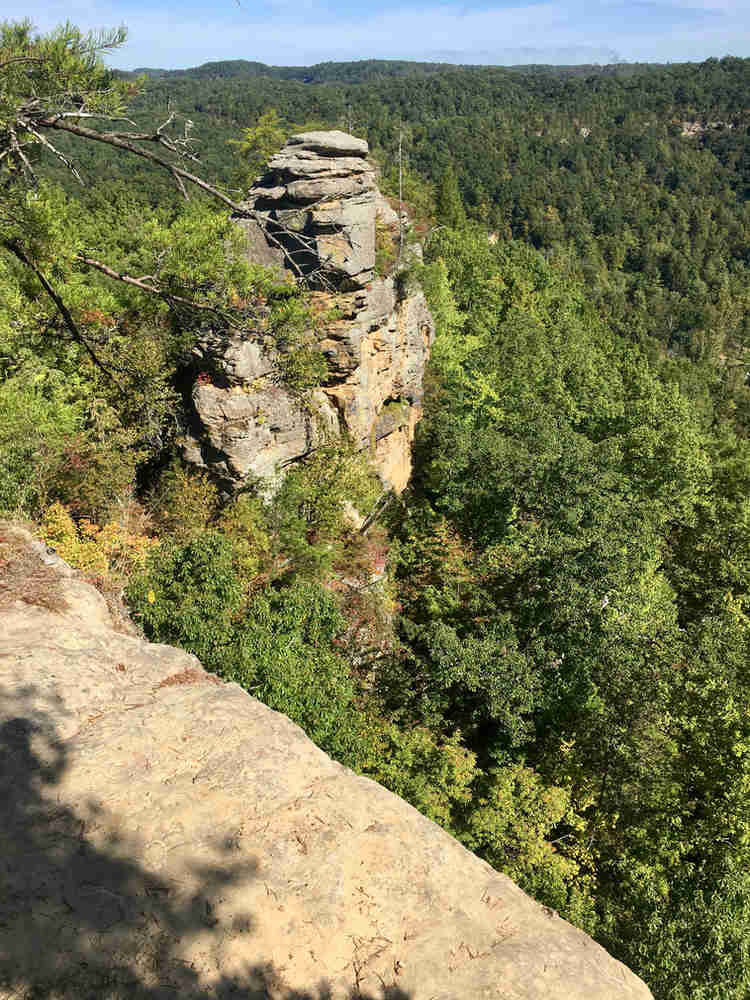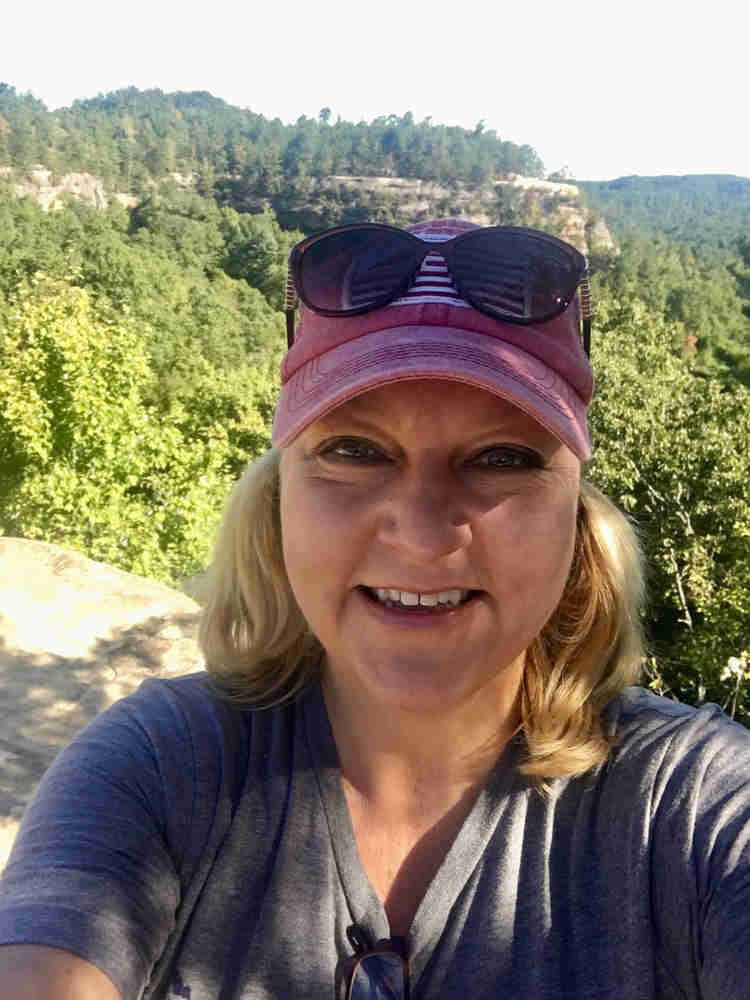 Finally to the intriguing Balanced Rock Trail. As the name implies, this footpath leads to what appears to be a precariously balanced rock feature. (Note, if approaching this trail from the bottom, there is a 600-stair climb.)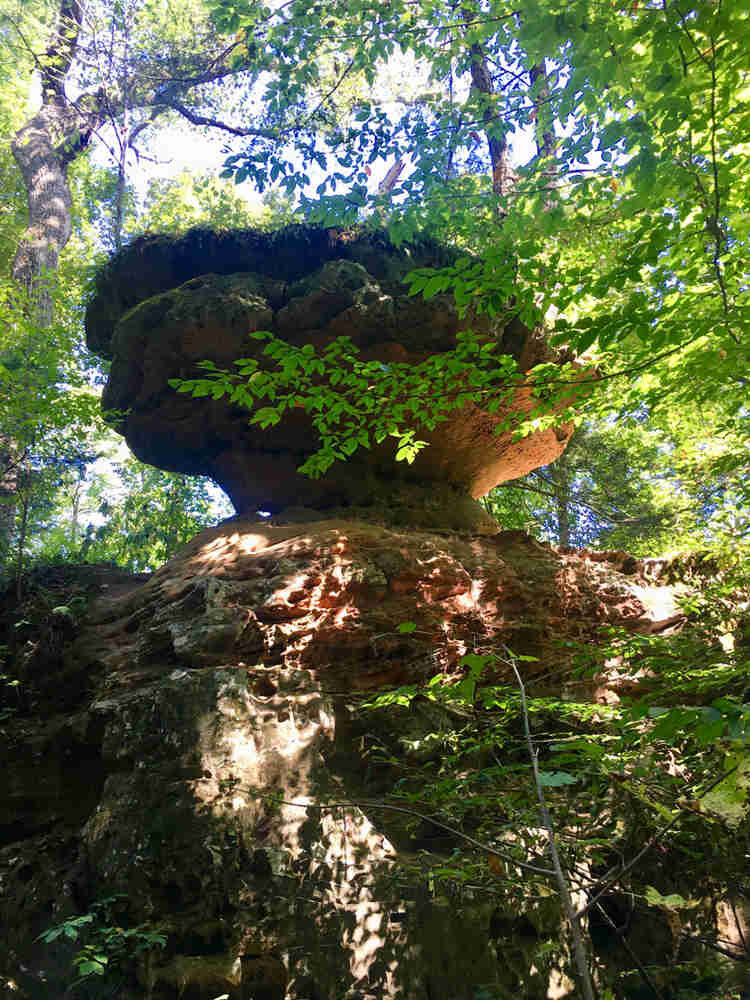 Natural Bridge trails number about a dozen with countless more in the nearby Gorge area, where pets are allowed. Should one not be up for hiking to the bridge, a ski lift option is available.
While in the area, don't miss the occasion to indulge in other pleasurable pastimes. There's rock climbing, stand up paddle boarding, kayaking, geocaching, zip lining and nature watching, to name a few.
Before scheduling your stay, be sure to check the events calendar, full of fun opportunities for the whole family.
Note- Pets are not permitted on the Natural Bridge State Resort Park hiking trails – except for the Henson Arch Trail and Whittleton Trail. Most trails at Natural Bridge are within a dedicated Kentucky State Nature Preserve, and pets are not permitted as a part of the management guidelines. However, all trails are open to pets in the Red River Gorge area.
Tag me on social media @BluegrassBlog with your Kentucky State Park photos for a feature in my stories!
If you didn't receive this blog in your inbox, please click the Home button at the top to subscribe.
To Natural Bridge from:
Lexington- 60 miles
Georgetown- 70 miles
Covington- 135 miles
Louisville- 132 miles
I have been itching to visit the Kentucky State Parks' Culinary Trail for a while now and finally got the chance. This program is part of the Better in the Bluegrass initiative. There are nine Kentucky State Parks participating including Jenny Wiley, Rough River Dam, Cumberland Falls, Blue Licks Battlefield, Natural Bridge, Kentucky Dam Village,…