In Part 1 of my Discovering Cynthiana blog, I shared information on this vibrant town and the marvelous shops and restaurants. But I have just scratched the surface! This Discover Cynthiana Part 2 blog gives testimony to the many enchantments Cynthiana has in store. If you missed Part 1, read about it here.
With appetites satiated at one of Cynthiana's fine restaurants, I suggest a stroll through their beautiful town to view the exquisite murals. Most notable is the Walking Dead painting created by Odeith, an international artist of extraordinary talent. Cynthiana is world famous for the Walking Dead as one the two founders, Robert Kirkman is a native. Odeith is also responsible for my favorite Lexington mural, a marvelous portrayal of Louie Armstrong.
Cynthiana local, Wylie Caudill is the creator of many remarkable works of public art about town. Wylie is behind the graceful Cynthiana mural and the mystery animal on a veterinary clinic wall (Is it a cat or a fox?), plus recent paintings inside the public library and local hospital.
His whimsical wings adorn the sides of buildings, providing great photo ops. Children love hunting for the thirteen fairy doors depicted down low on the sides of buildings and stairs.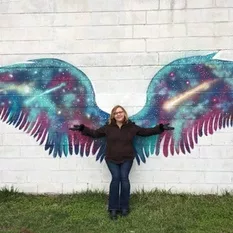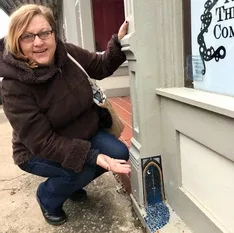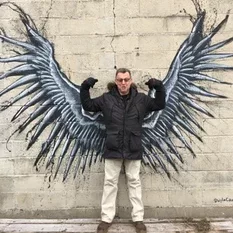 An interesting mural of bourbon bottles from an era gone by was illustrated at the hand of Jerrielle Hanlon. With more murals than you can count, Cynthiana is a focal point for those of us who appreciate imaginative wall art!
A visit to the Rohs (pronounced "Ross") Opera House is not to be missed. Erected in 1871 as Aeolian Hall, it was a live production theater where a silent projector was eventually added to bring "movies" to Cynthiana. Now in its second home, this expansive theater occupies 133 East Pike Street and is currently under renovation. Slated to be completed by March 1st, former U.K. coach, Joe B. Hall will be speaking about his new book at the commencement.
The current location opened in 1941 with the movie Down Argentine Way for a cost of five cents per adult. Today the Rohs presents first run movies, comedy, concerts, variety shows and more!
The Rohs Opera House will transport you back in time with vintage, cinema seating, Art Deco ornamentation and a quaint entrance lined with old, newspaper clippings and movie posters.
Be sure to mark you calendar this October when every Friday and Saturday night, experienced storytellers and actual ghost hunters will lead eager visitors on a lantern-lit Ghost Walk around downtown. Purchase your $10 tickets in advance as they always sell out. You may even have the friendly mayor, James Smith as your guide!
I was especially excited about this brew house because they offer such creative concoctions. You'll discover coffee, cocoa, spice and sour notes, to name a few. I'm always pleased to locate beers aged in local beer barrels which impart deliciously smooth and subtle flavors.
Alex, Austin and Jamie founded this micro brewery in 2016 at 123 East Pike Street. They believed hard work, thoughtful recipes and passionate support for the community would be the keys to a successful brewing experience. In my opinion, they've hit the nail on the head. I was amazed to meet patrons from all over Kentucky. These included a customer from Louisville who remarked, "They have something for everyone." I agree!
Pay a visit to Maiden City Brewing for a true, down-home, crafted beer experience.
May I expand on what else Cynthiana has to offer?! It is an ideal destination for a day trip or weekend getaway. Plan a stay at the gorgeous Ashford Acres Inn built in 1858. This historic home is refurbished with period pieces and décor. The stately facade features sleek, white pillars with many original, glass windows. Inside, hardwood floors, built-in bookcases and skeleton key locks complete the picture.
The elegantly decorated rooms bear names such as Oak, Maple and Magnolia in honor of the lofty trees that flourish on the property. A breakfast table is designated by your room name, mine was the Magnolia, one of my favorite southern trees. It's a pure pleasure to begin the day by selecting from sweet to savory in this splendid bed and breakfast!
I yearned to spend an entire day relaxing and getting to know every nook and cranny of my spacious bedroom and bath. A cushy robe was thoughtfully supplied and I unwound by the cozy, gas fireplace. An enormous magnolia rose outside my window shading a covered, seating area. Lined with the soft glow of string lights, the grand campus beckoned me to explore.
Nearby the new wedding barn stood ready as a venue for your dream-of-a-lifetime event.
The interior had abundant room for tables and chairs. Everything the wedded couple desires for their special day is supplied. They proffer hors d'oeuvres, plated or buffet style meals and various dessert counters, just to mention a few accompaniments. There's a cordial, little bar, space for a DJ, an inviting dance floor and a fun photo booth. The handsome grounds and buildings are prime backdrops for memorable photos.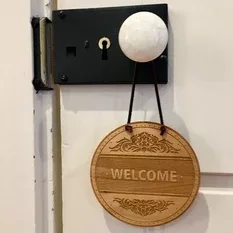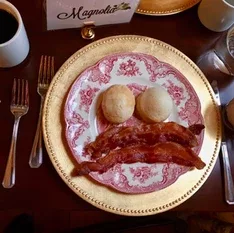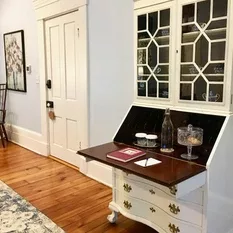 Consider Ashford Acres Inn for all your party settings. You and your guests will be delighted!
Speaking of weddings, did you know that Cynthiana is home to Kentucky's only flower truck? Maybe you have seen Brownings Flower Truck at events or shows. Owned by Lauren and Drew, this adorable pick-up and trailer will melt your heart.
The couple met in Puerto Rico while in the U.S. Coast Guard. Drew hails from Texas and she from California and their goal was to establish a sustainable farm. They began in agriculture, including working at free-range chicken and cow farms. However, they soon realized starting up a food farm was cost-prohibitive.
As an alternative, Drew and Lauren purchased a 40-acre farm in Cynthiana. Then in July 2019 they presented an enthralled public with a unique, sunflower field experience that drew families and photographers from all around!
They soon launched their charming flower truck and cart. Specializing in blossoms too delicate to ship, the Brownings furnish a wide variety of dazzling floral displays.
Serving areas all around the state, Brownings Flower Truck provides a full service with attractive arrangements for weddings, receptions, parties, and all occasions. There are even buckets of lively posies to entertain the DIYers as well as workshops. I'm really looking forward to the Brownings' newest project, the "You Pick" blooming meadow coming this July.
Despite its modest exterior, the Cynthiana Harrison County Museum contains a treasure trove of historical items from the area. It opened in 1994 in the former Rohs Movie Theater on South Walnut Street.
The number of articles and artifacts this depository holds is extraordinary. Admission is free (donations accepted) so just amble through and investigate the years of memorabilia gathered from the Cynthiana of yesteryear.The museum has several rooms filled with over 3,000 relics featuring the community's military, agriculture and educational history. I was fascinated by the scaled-down replica of the city which spreads across an entire room. Handcrafted, this impressive miniature represents the town in the 1800s. There is a model of a covered bridge which I would have loved to experience. However it burned down many years ago.
As described on their website, "The museum exists to preserve, display, maintain and share artifacts of historical significance.  It provides a "snapshot" into the past. The Cynthiana Harrison County Trust Inc. established the museum to provide a place where the tangible history of this small town, Kentucky community could reside."
Whew! Supplied with all this information on the merits of a playful escape to Cynthiana, I'm sure you're already arranging a visit. I certainly enjoyed my stay!

Distance to Cynthiana:
Lexington – 28 miles
Georgetown – 22 miles
Covington – 57 miles
Louisville – 93 miles