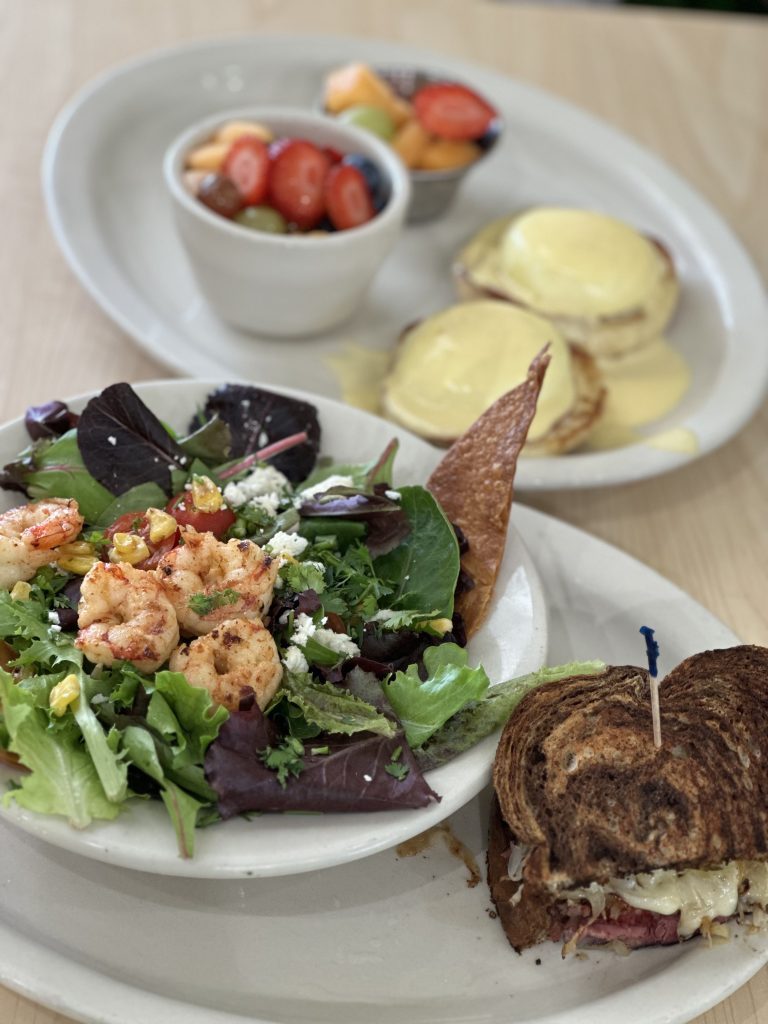 Things to do in Elizabethtown
by Marie

Posted on

September 5, 2023
"Walk a mile in Elizabethtown and you will never want to leave." What better motto for a small town? Certainly, our time in E'town left us wanting more. I'm already drawing up a new list for taking in the many things to do in Elizabethtown when we return.
I must begin with my husband's and my favorite meal, which we enjoyed at Out on the Vine Wine Bar. Anticipating a flavorful glass of vino, we were pleasantly surprised by an amazing dining experience. We fell completely in love with this fine cuisine. Don't let the subtle exterior fool you. There is some serious goodness crafted in their kitchen!
Their murals fascinated us, about five in all. The wine vending is self-serve and super convenient, though the staff is happy to offer recommendations. You can order a small taster, medium or regular pour. I don't like to commit before going for a glass … and I don't have to! They offer different features and flight options including a Kentucky wine choice which I welcome.
The dishes here are real showstoppers. Feast on charcuterie boards and charcuterie style pizza where you choose your own meat and cheese. The combos and salads are deelish and seasonal options are available. We requested the peach salad which was scrumptious, like summer on a plate. We followed with a sizzling Bee Sting Pizza that was sooo, soooo yummy.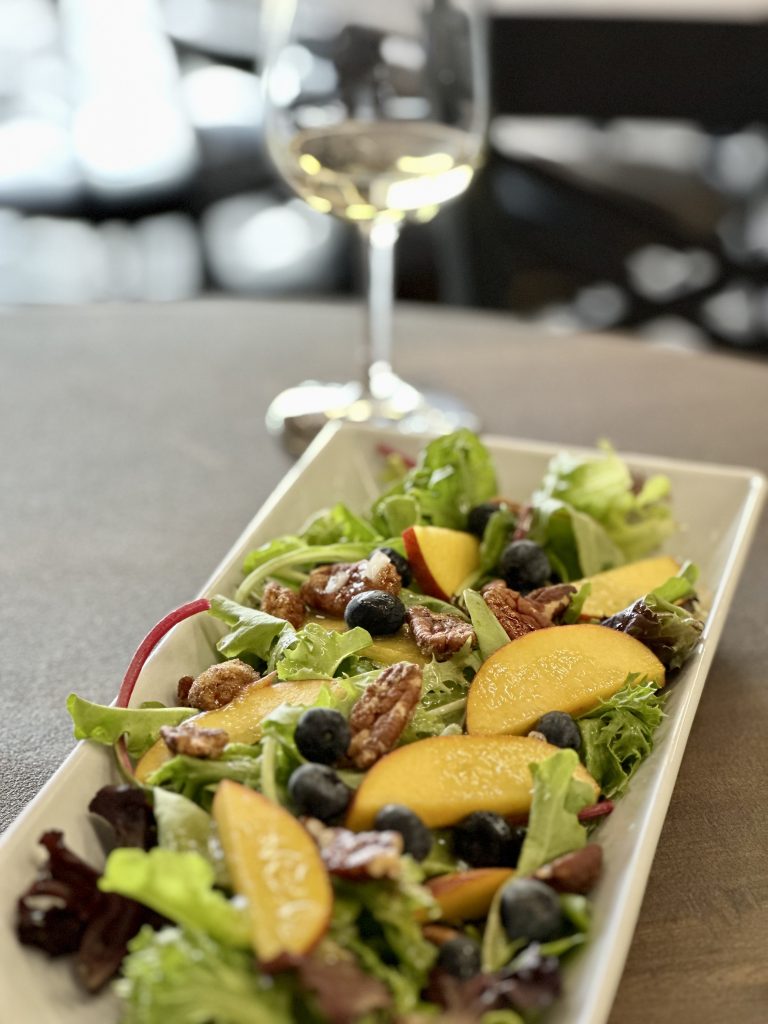 This mother/daughter-owned cafe prepares the most fabulous food! Oh yes, Out on the Vine Wine Bar is a 100% repeat on our agenda of things to do in Elizabethtown.
My husband and I are avid outdoor enthusiasts and discovering Freeman Lake was a real game changer! The entrance right next to the shopping center can be missed, so keep an eye out.
Driving in, the landscape unfolds into a natural oasis. The area is well equipped with amenities including numerous tennis and pickleball courts. Pickleball and other equipment can be borrowed from the park office. This is an excellent destination for a scenic view provided by nearly five-mile walking trail around the lake.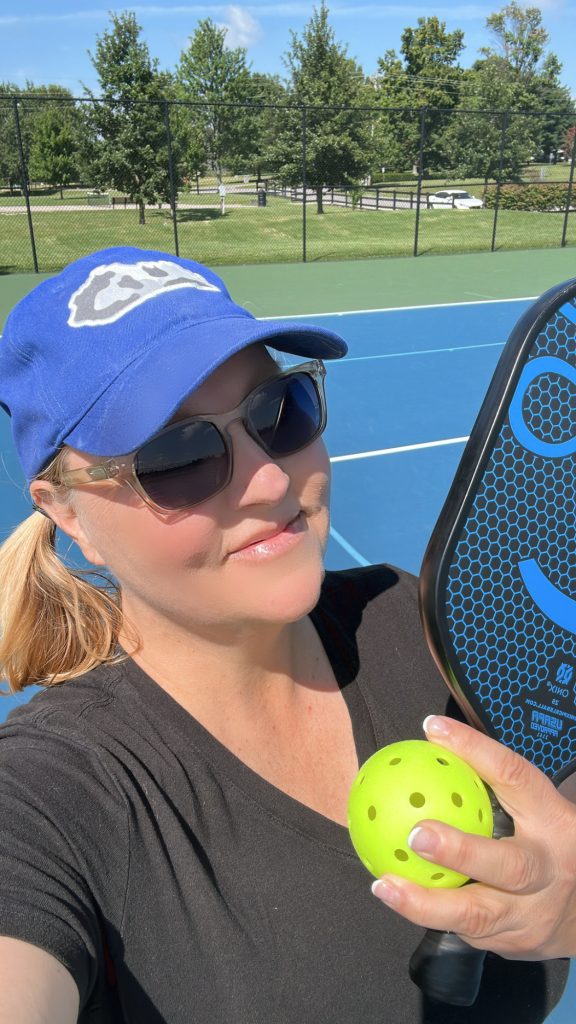 Visitors have their choice of renting a paddle boat or a kayak for $10 an hour. Fishermen/women can rent a jon boat at just $2 an hour or $10 for the day.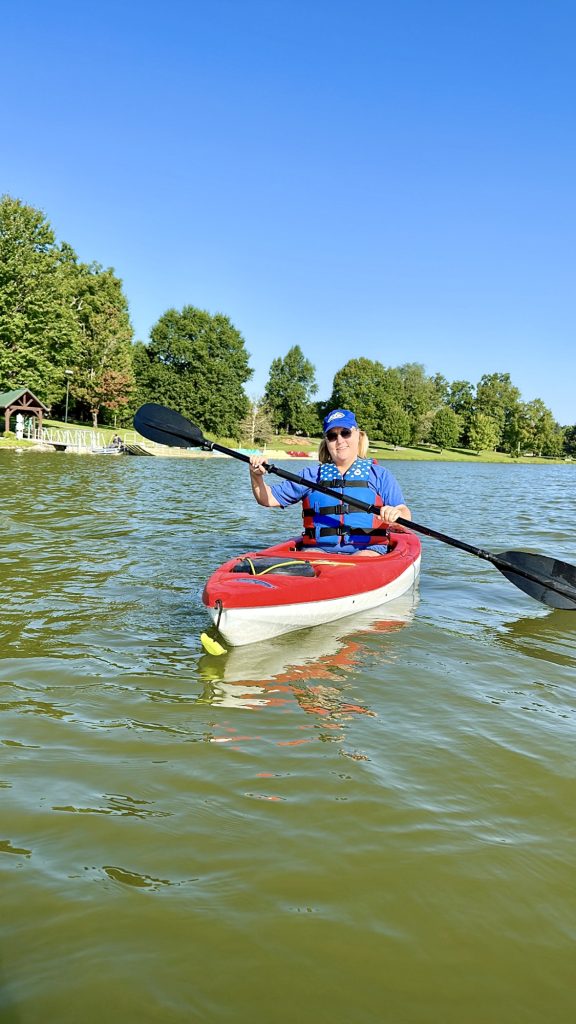 Ding, Ding, Ding! Never get your feet wet with Freeman Lake's easy kayak boarding dock. The kayak sits on rollers that remain steady on the pier as you climb in. At that level, you simply use your arms to pull down into the water. Typically, getting in and out of a kayak is the most common way to tip over and that possibility is eliminated here. Not only that, it's wheelchair accessible!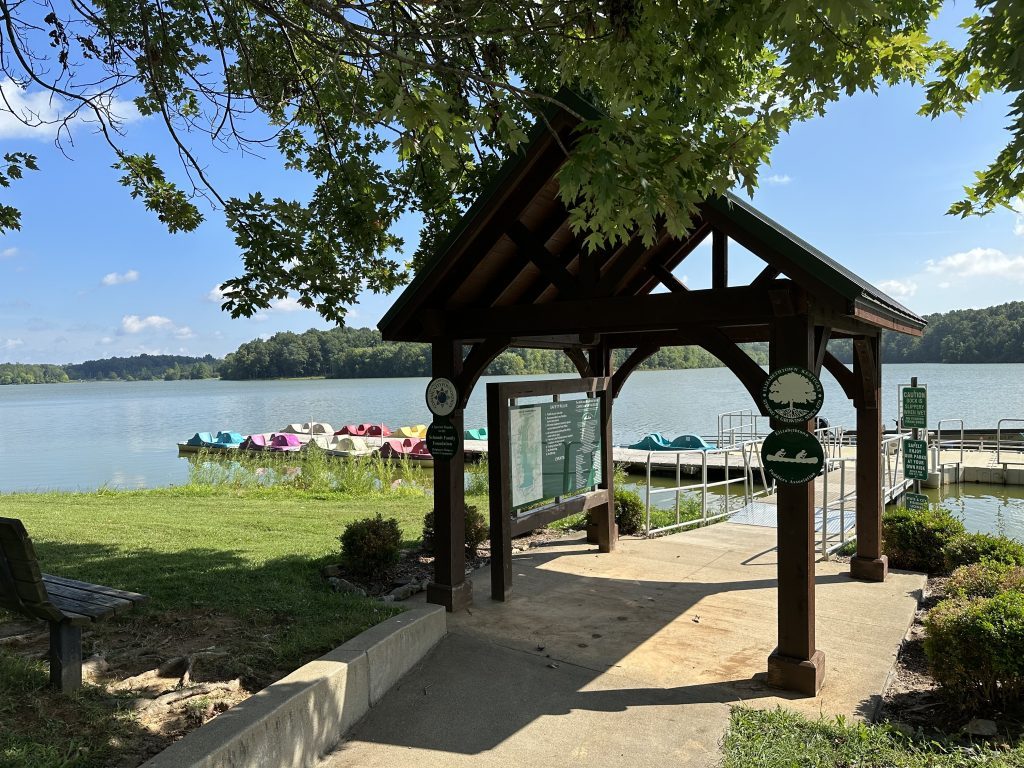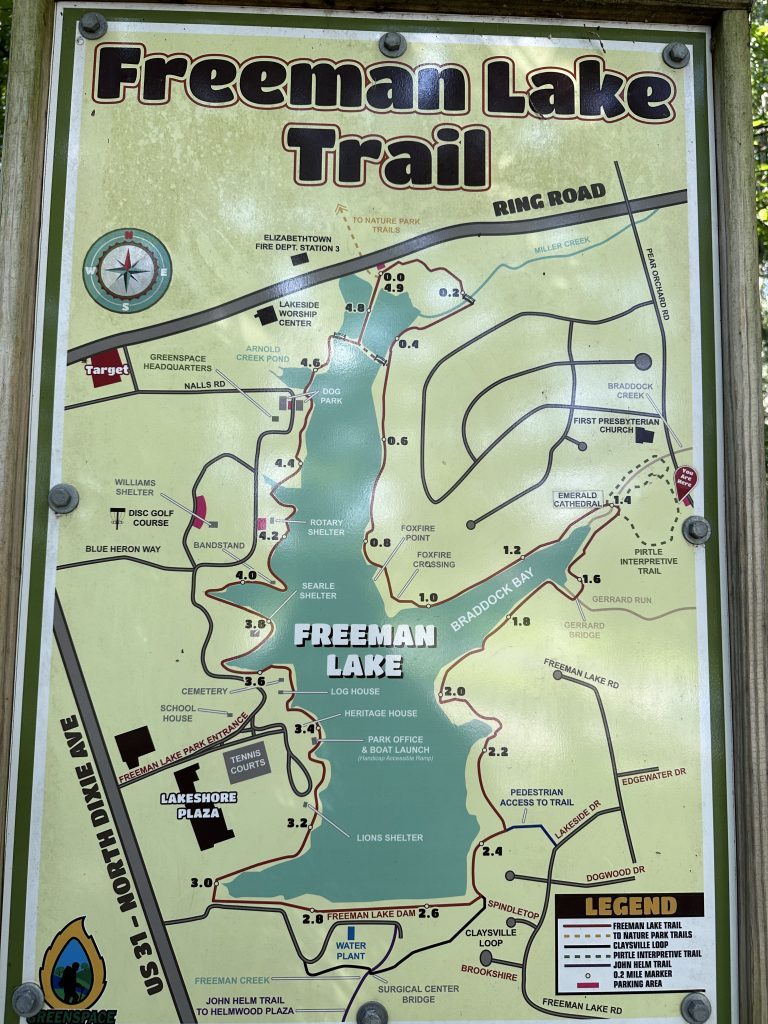 We savored our quiet time on the water. The lake was clean and free from debris. We spotted sunbathing turtles, a regal hawk and a beautiful blue heron. Relaxing in Freeman Lake Park is a must for things to do in Elizabethtown.
Oh my goodness, we ran across the cutest new shop in Elizabethtown! The interior decor of Harlow was a-dor-a-ble, bright with fun colors and wonderful backdrops for photo ops. This mother/daughter team created an inviting ambience with indoor and outdoor seating and a comfortable, bring your friends to hang out atmosphere.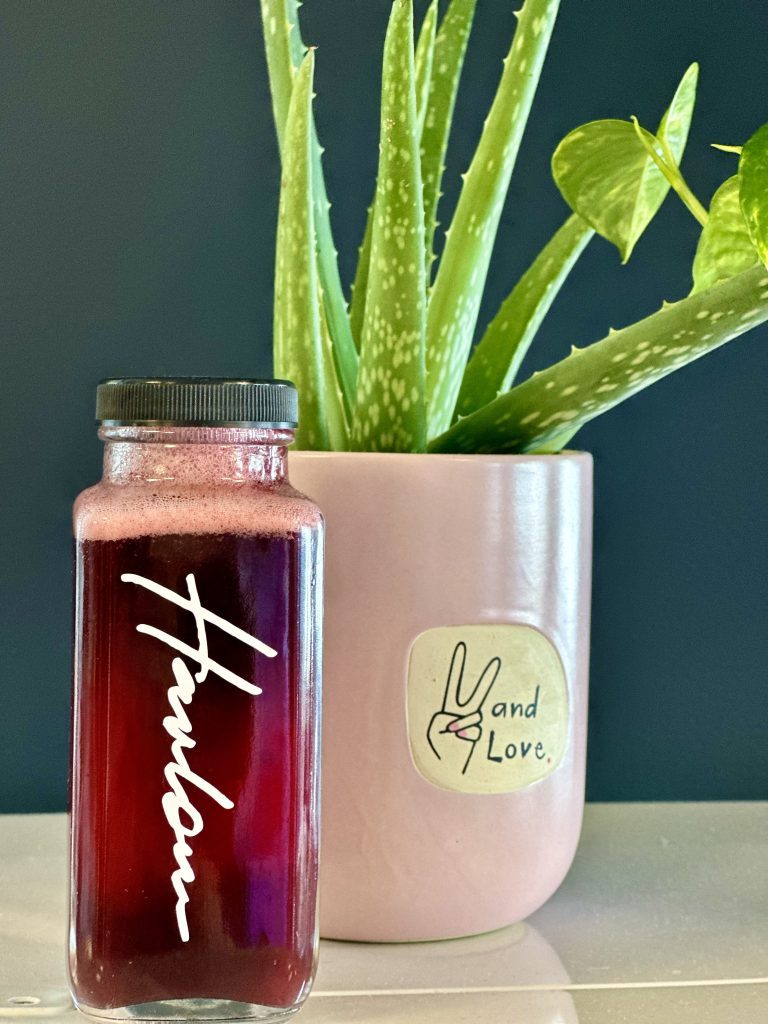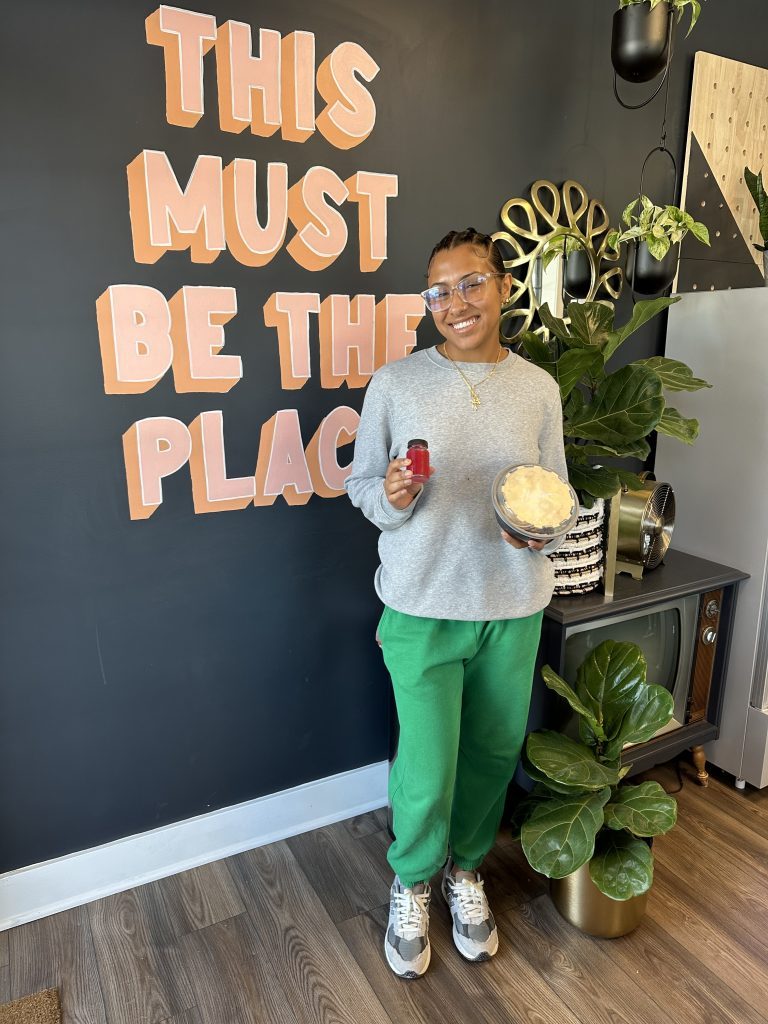 Though it wasn't easy to choose from the impressive menu of locally sourced, natural ingredients, I decided on two different drinks. The first was brimming with nutritious, green vegetables, a little fruit for natural sweetness, plus a hint of cayenne. I selected a small shot as well with beets and ginger. A juicy delight!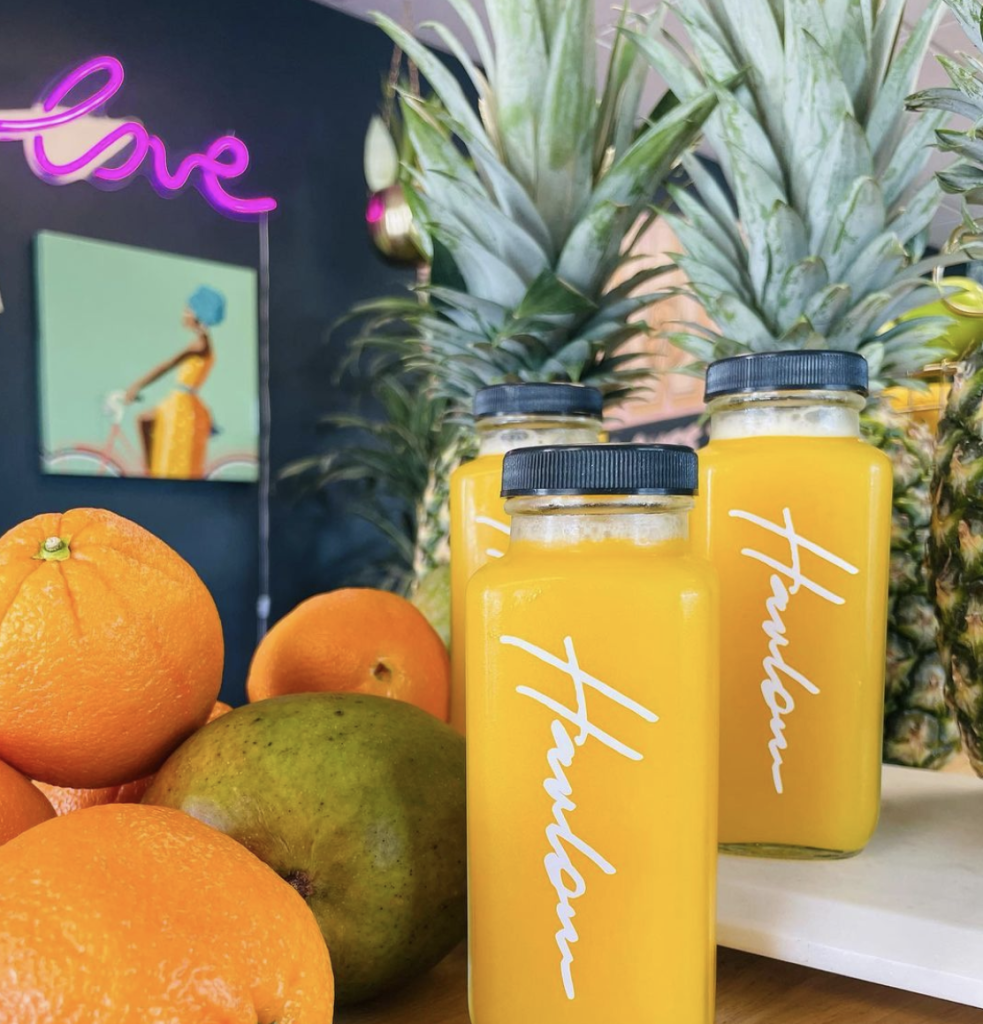 My husband opted for the jumbo tub ladened with fresh fruit – succulent pineapple, kiwi, strawberries, blueberries and grapes. It was just what he needed, a healthy snack to tide him over until lunch.
Did I mention lunch? We curbed our lunch/brunch cravings at the Toasted Yolk Cafe. Covered with hand-painted murals from the entryway to the bar and adorning the walls, guests can appreciate the artwork while munching on tasty home cooking.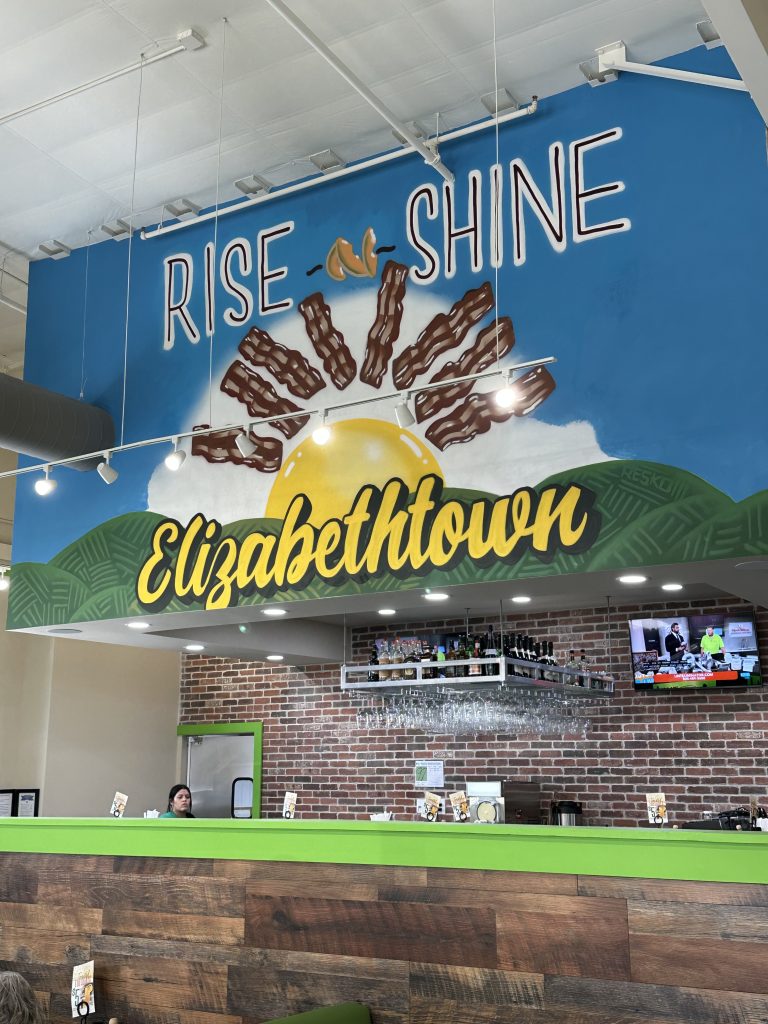 Serving both breakfast and lunch items, The Toasted Yolk menu is quite extensive and includes libations. I am a Reuben kind of girl, so I ordered an appetizing half sandwich and salad. My husband was all about the Eggs Benedict!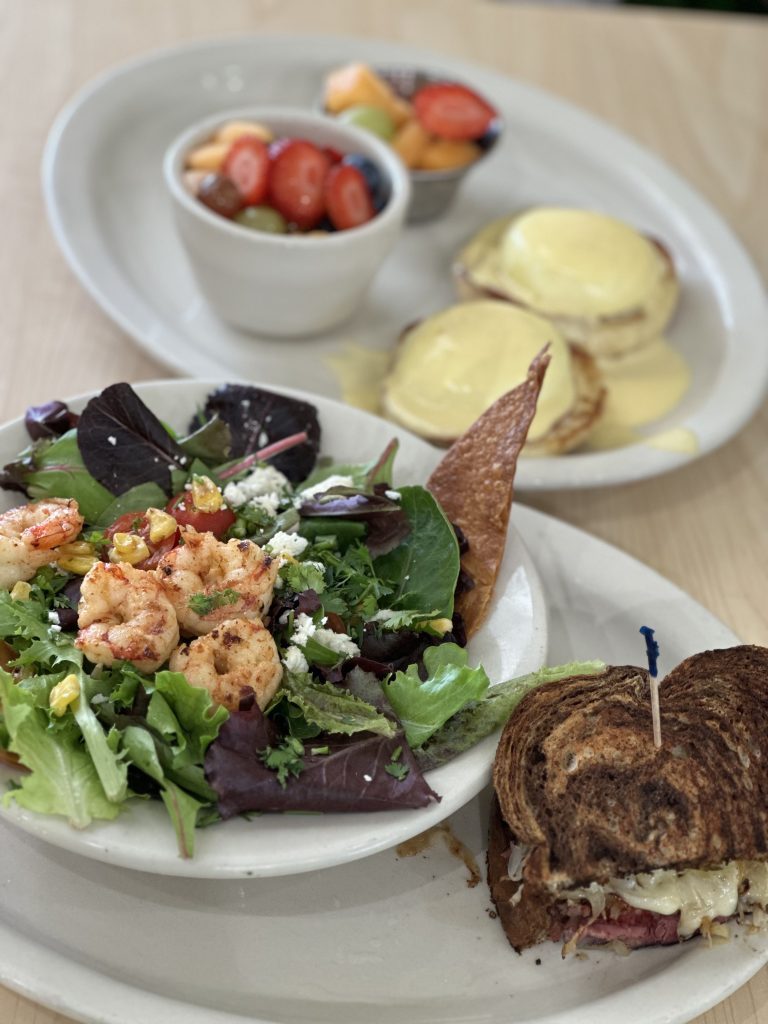 Refreshing mimosas flow steadily in a variety of flavors at the Toasted Yolk, a cheerful gathering place for family and friends.
If you are a fan of craft beer, I highly recommend a stopover at Flywheel Brewing. They have a nice selection of in-house brews, including lager, IPA and ales. Crisp ciders, wines and mixed drinks are also listed.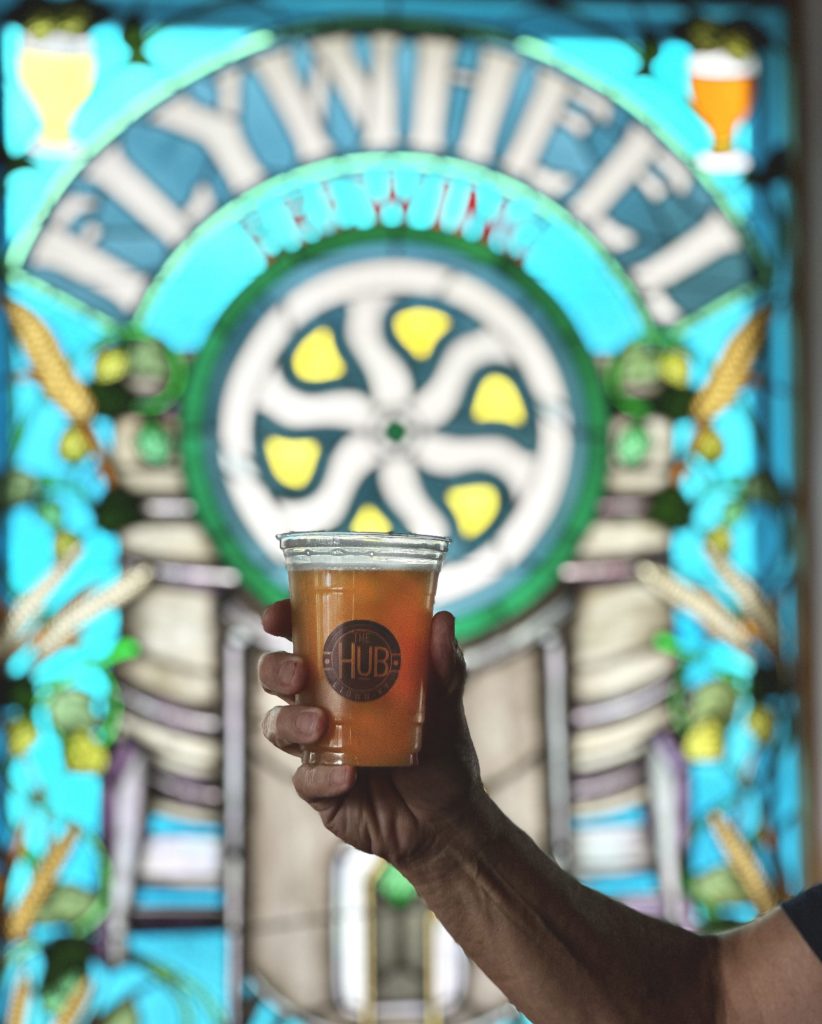 Quench your thirst with a goblet of liquid sunshine outdoors, unwinding on their lovely patio. Feeling friendly? Belly up to the bar for a chat, shoot some darts, lounge in the comfy seating or challenge your friends to one of the many board games. It's a happy time all around at Flywheel Brewing, Ya'll!
"The Hub"- downtown Elizabethtown has been deemed an entertainment district. This means that participating bars and restaurants may serve alcoholic beverages in to-go "Hub" containers that can be carried openly along the downtown streets. We arranged for a couple adult beverages; a pleasing perk for the walking tour.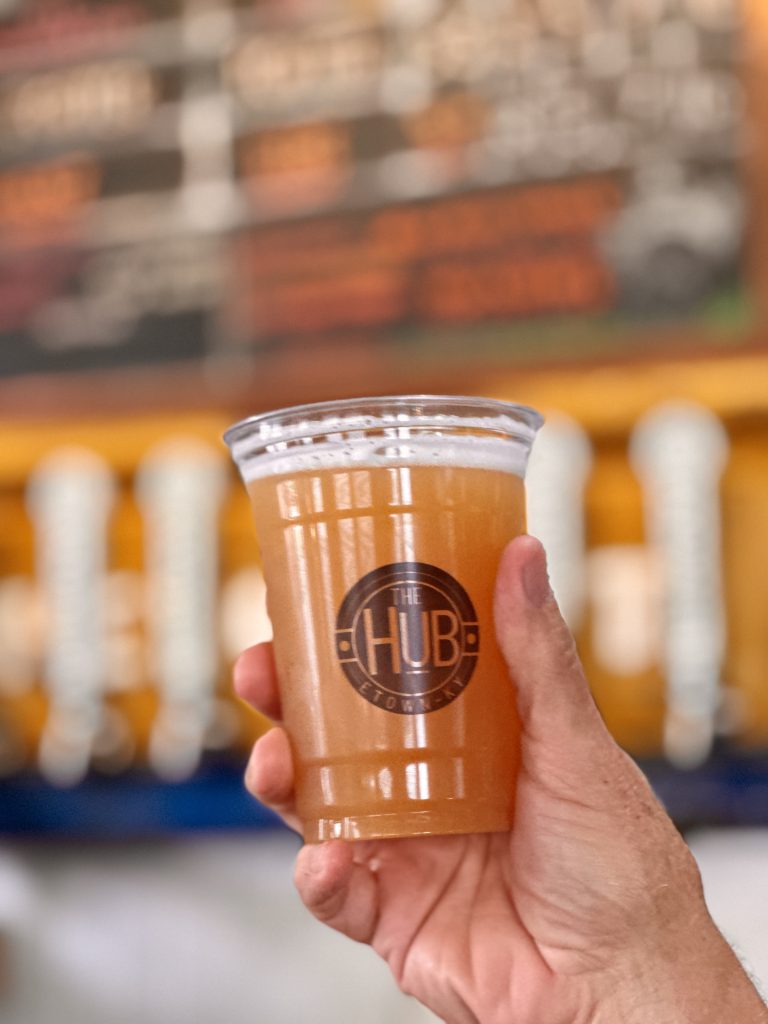 The Charles W. Logsdon Historic Downtown Elizabethtown Walking Tour has been performed since 1988 and continues its 36th season this year. Every Thursday throughout the summer guests gather to meet colorful, historic characters who shaped the town's past and present. The tours run early June through mid September.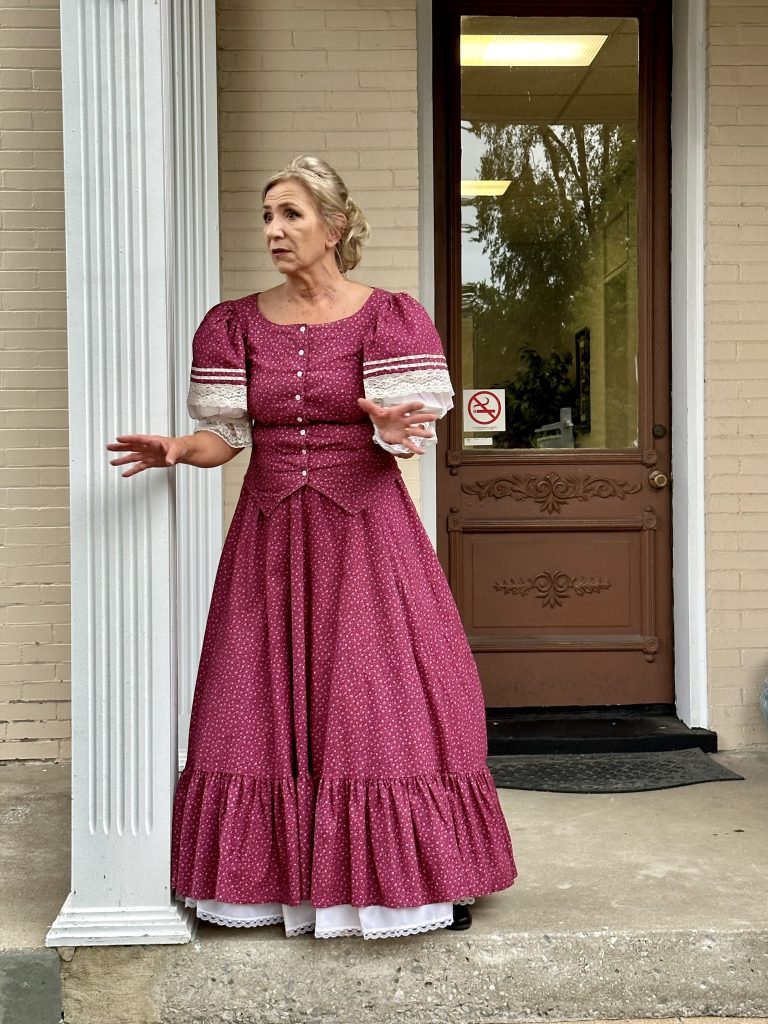 This tour is suitable for all ages and is conducted outdoors for the most part. The characters may change at times but you might hear from Abraham Lincoln, John Hunt Morgan, Carrie Nation and General Custer, to name a few. I suggest this tour as an engaging way to learn a bit of Kentucky history.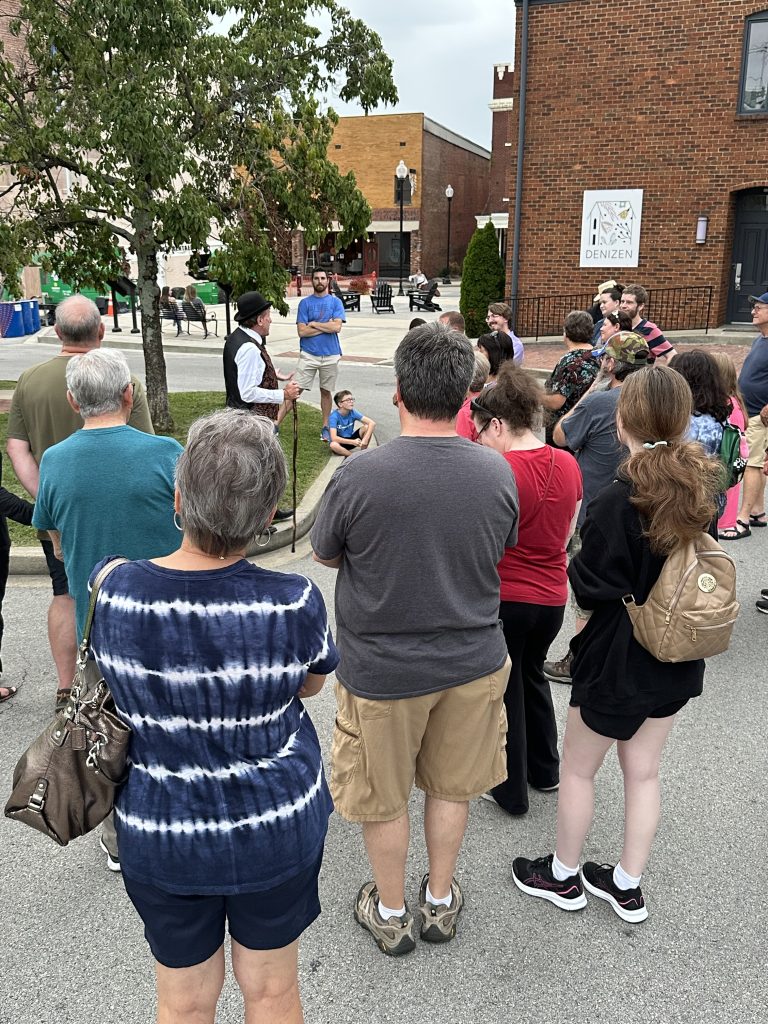 The best part? It's free! Absorbing the history and scenery is definitely among the great things to do in Elizabethtown.
Now I hope I've convinced you to head to Elizabethtown to spend a carefree weekend. Read my Destination Elizabethtown blog for more on shopping, dining and public artwork.
Get to know this unique, little town as we have and as they say, you will never want to leave!
TRAVEL TO ELIZABETHTOWN, KENTUCKY FROM:
Lexington- 76 miles
Georgetown- 94 miles
Covington- 140 miles
Louisville- 45 miles
Harrodsburg- 77 miles
Bowling Green- 70 miles
Indianapolis- 154 miles
Nashville- 131 miles
Followed my travel suggestions and paid a visit? Please let the merchants and business owners know you heard about them from the Backroad Bluegrass blog!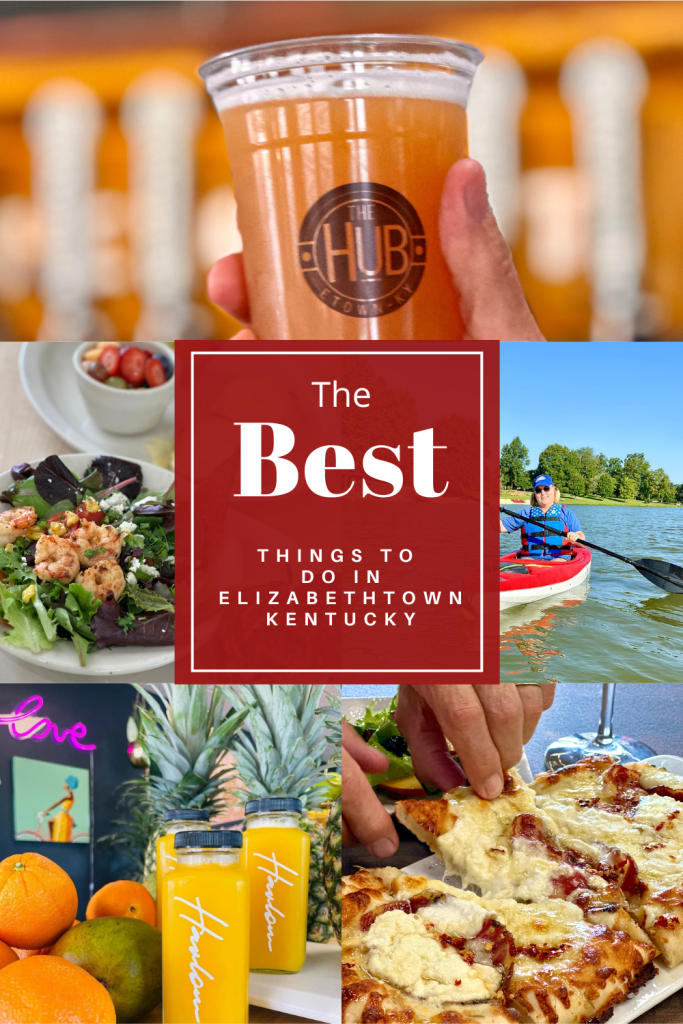 "Walk a mile in Elizabethtown and you will never want to leave." What better motto for a small town? Certainly, our time in E'town left us wanting more. I'm already drawing up a new list for taking in the many things to do in Elizabethtown when we return. OUT ON A VINE WINE BAR I…