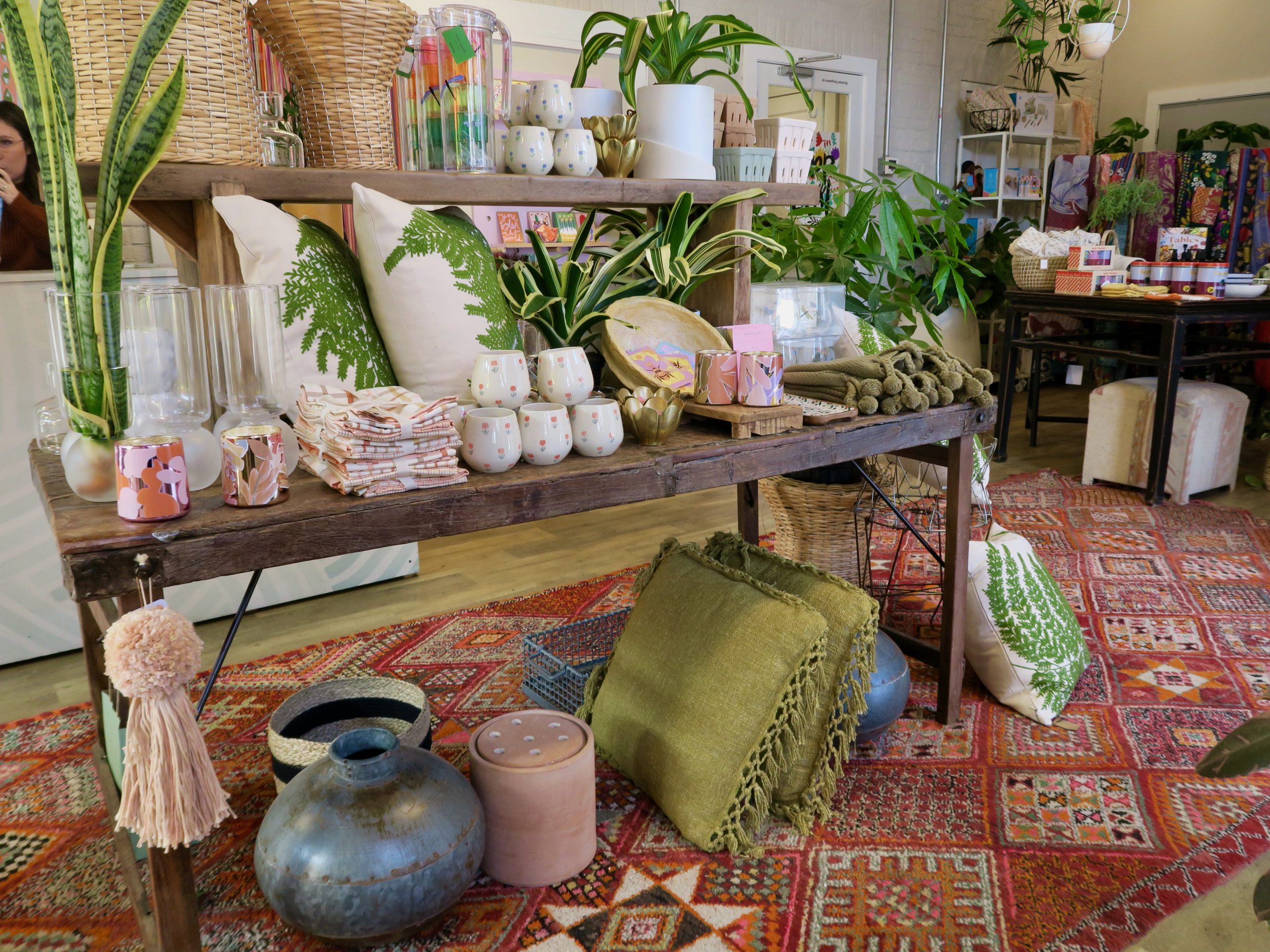 DESTINATION ELIZABETHTOWN, KENTUCKY
by Marie

Posted on

March 21, 2023
Developing and thriving since 1779, Elizabethtown, Kentucky is a fabulous destination located just off I-65 in the central portion of the Commonwealth. As always I suggest you drive straight downtown into the heart of the city. The stately courthouse is surrounded by a roundabout beckoning visitors and locals alike to pause and experience all this fine city has to offer.
SHOPPING IN ELIZABETHTOWN, KENTUCKY
Husband in hand, we ran across the coziest little shop known as Denizen. If you are a plant person, this is your kind of place! They offer many varieties of greenery to perk up your home while upping that healthy H20 level. Peruse for decorative pots and vases, propagation vessels, planters and stands.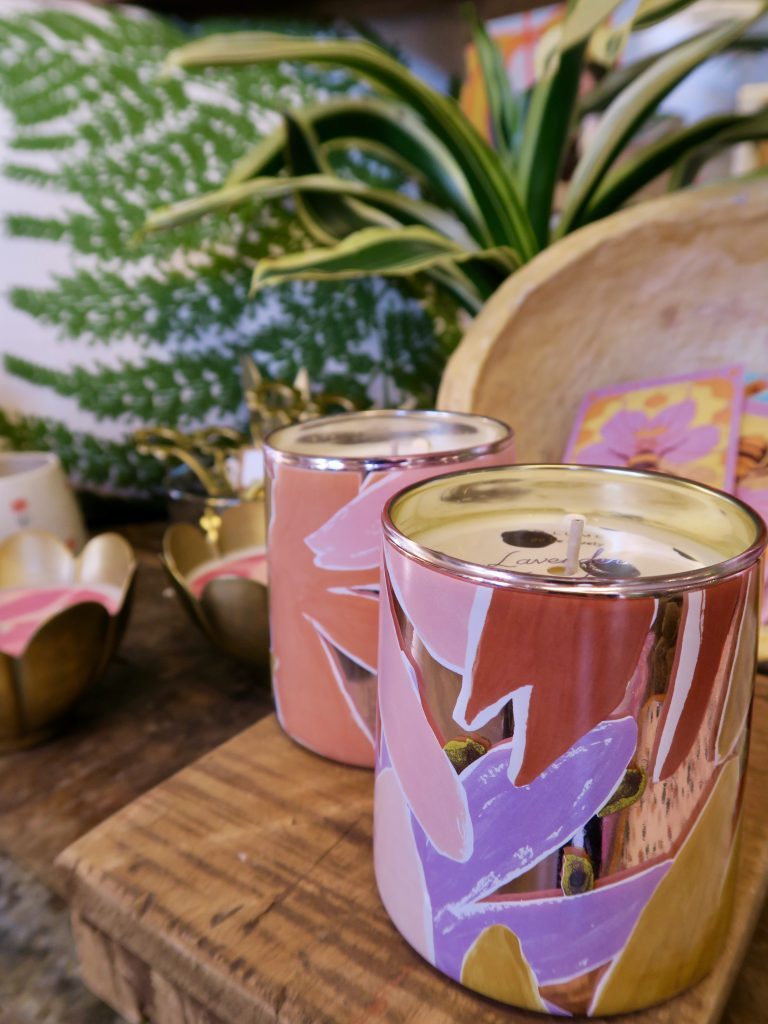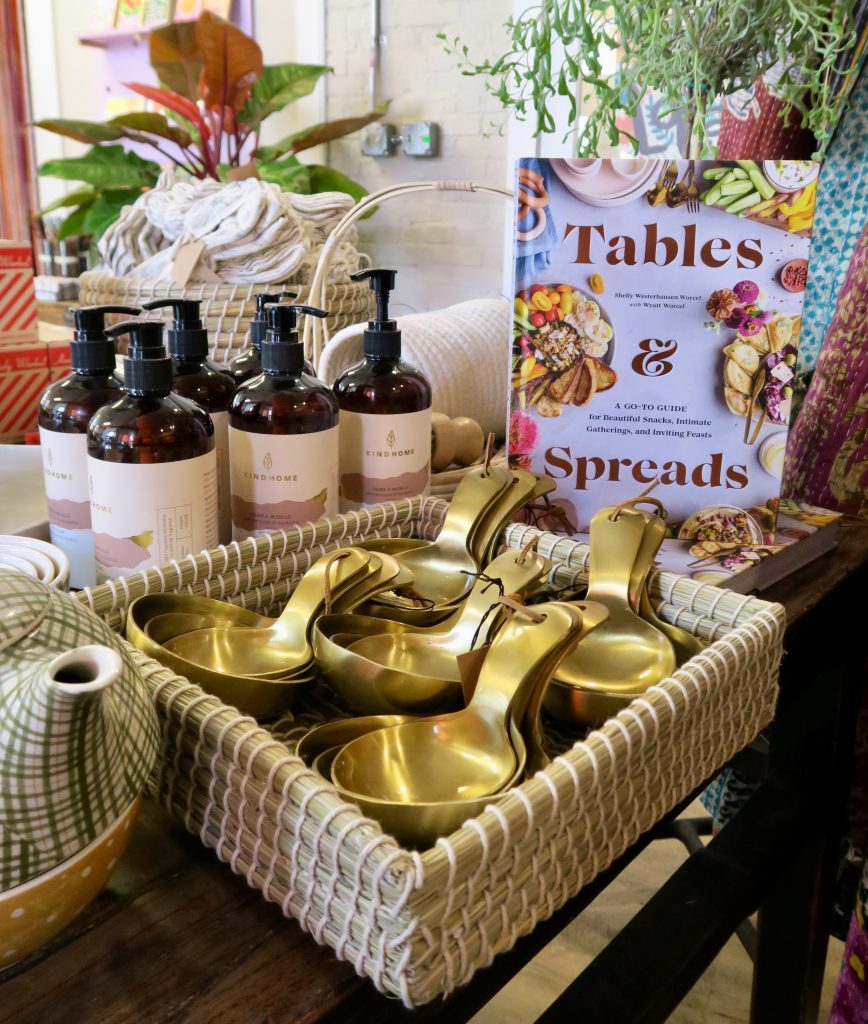 Denizen isn't just about gardening. This quaint shop is stocked with contemporary items for cooking and entertaining. Did you know Snoop Dogg has a recipe book? Well, you know now and Denizen carries it!
Embroidered, fern leaf pillows caught my attention, as well as an interesting section dedicated to drinks and cocktails.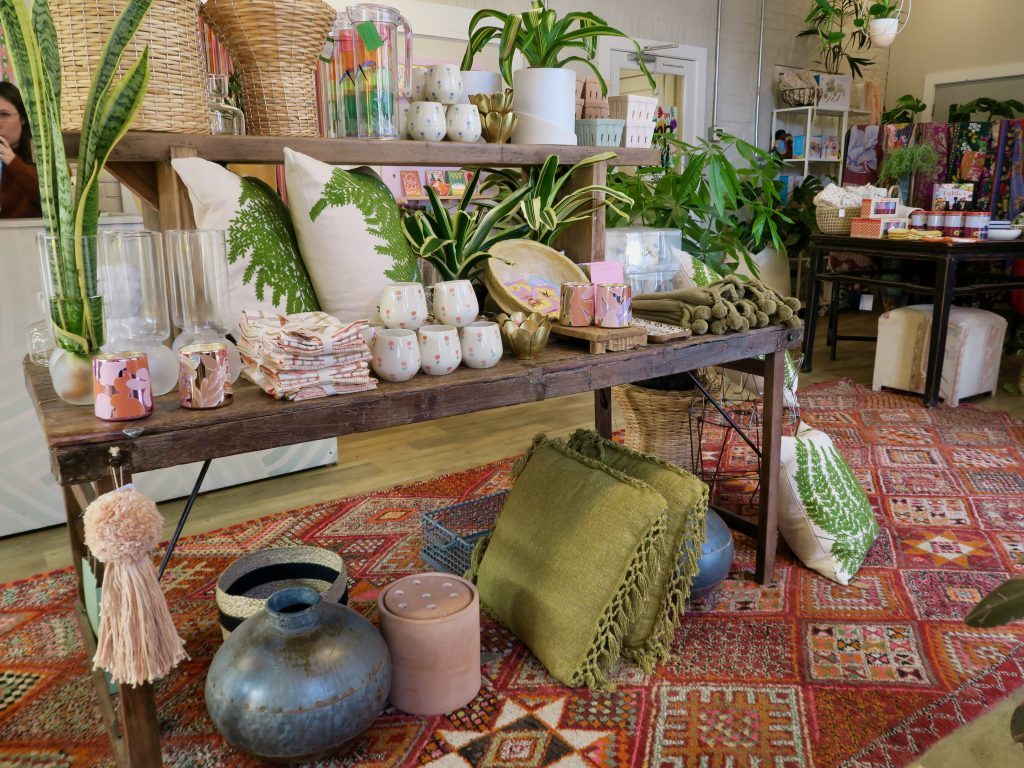 As I wandered into That Cute Little Shop I was captivated by their cheerful atmosphere. Begin your shopping spree by ordering a mini bottle of bubbly or other adult beverage.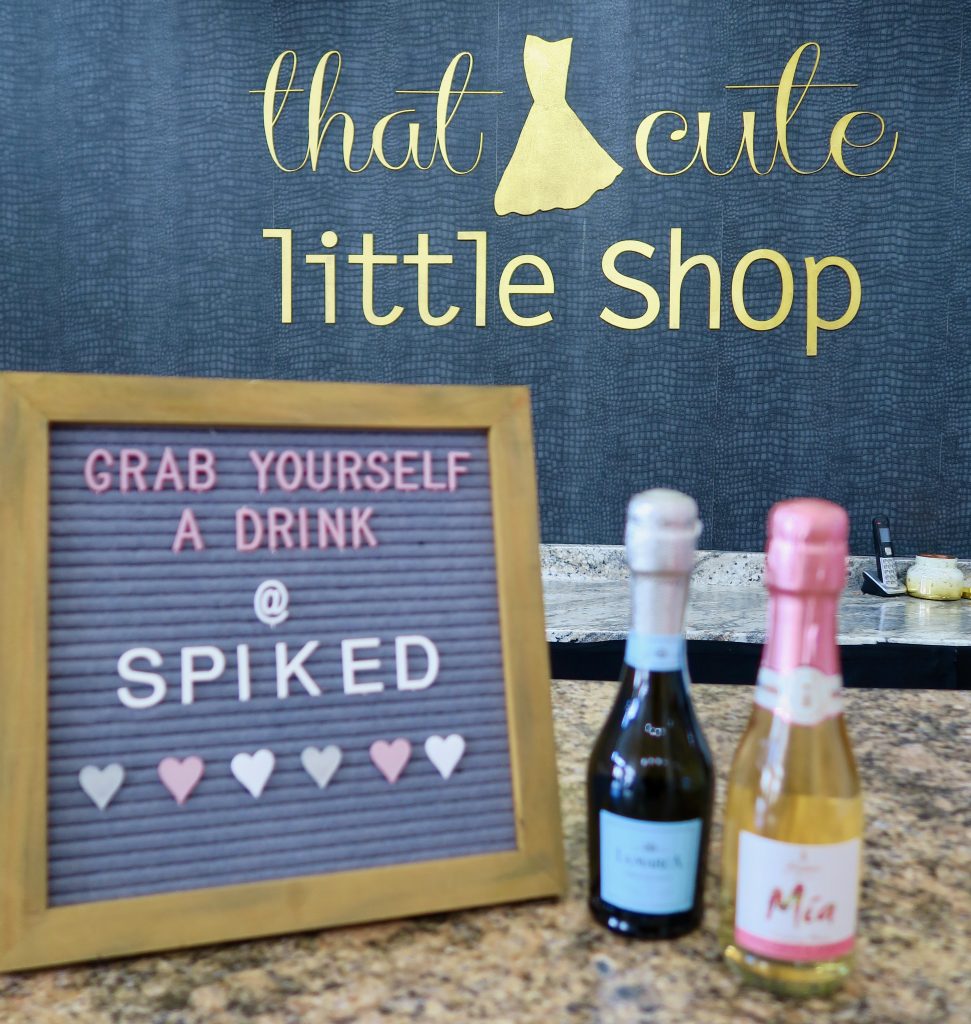 The décor is accented in gold and the store is filled with cute and colorful outfits of all sizes, from petite to curvy. Welcome spring with their striking display of shorts, skirts, tops, rompers, athleisure wear (yes, that's a thing), shoes and accessories.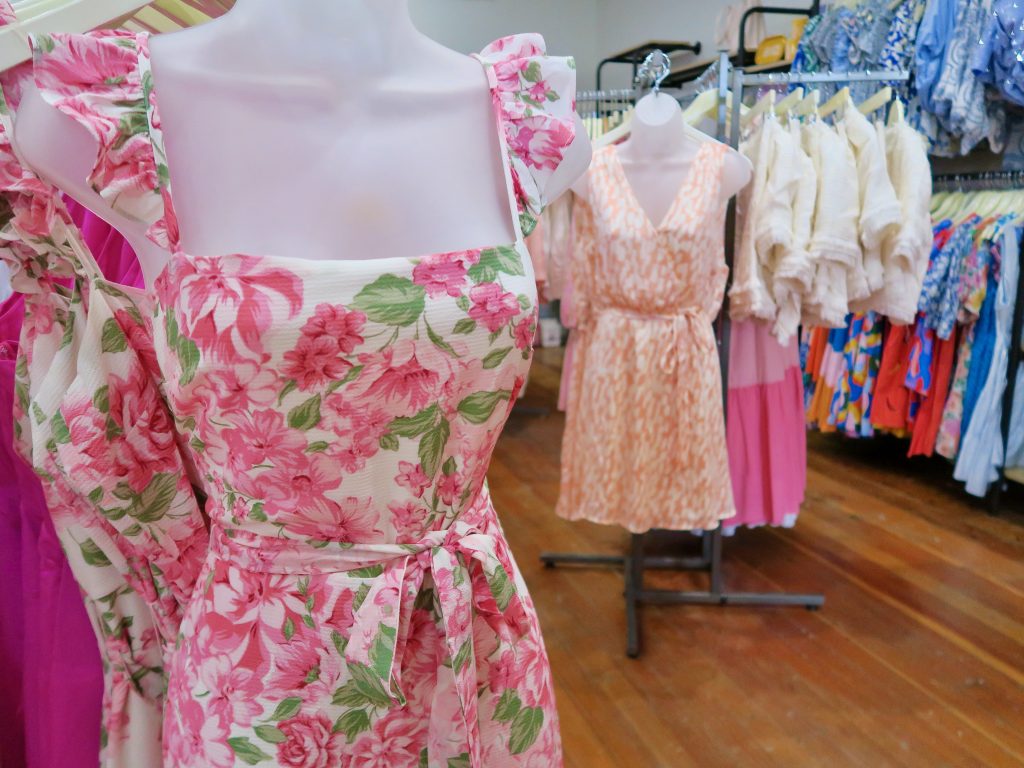 That Cute Little Shop is your go-to for Derby wear as well. I just had to flash a couple dazzling hats and fascinators. Match your headpiece with a sweet frock, Derby-themed earrings and a pair of stunning heels, all compliments of That Cute Little Shop!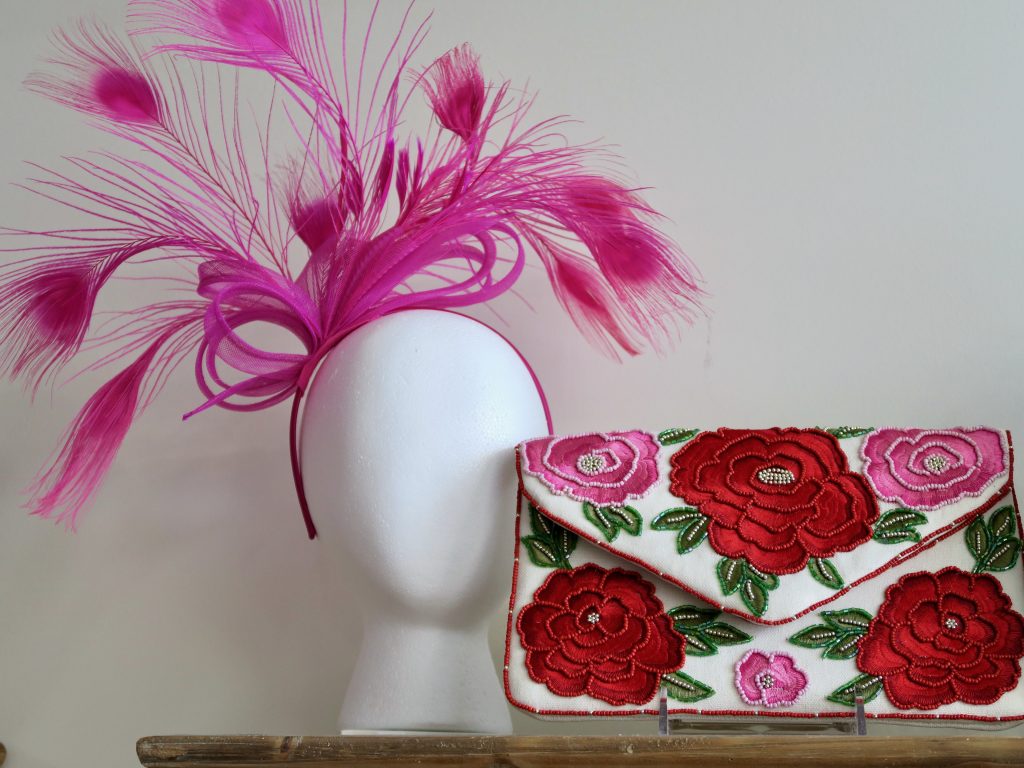 Grab a surprise for your girlfriend on the way out from outstanding brands like Corkcicle, Swig Life, Lilly Pulitzer and Sun Jellies. That Cute Little Shop is a good example of the reason Elizabethtown is an excellent destination.
Featuring J. Bradley's Clothier and Provisions, Elizabethtown did not forget the guys. J. Bradley is renowned for exceptionally well-crafted goods for gentlemen. My husband loved the yak wool sweater, so soft to the touch. Bradley provides handsome trousers, vests, hats, shirts and accessories.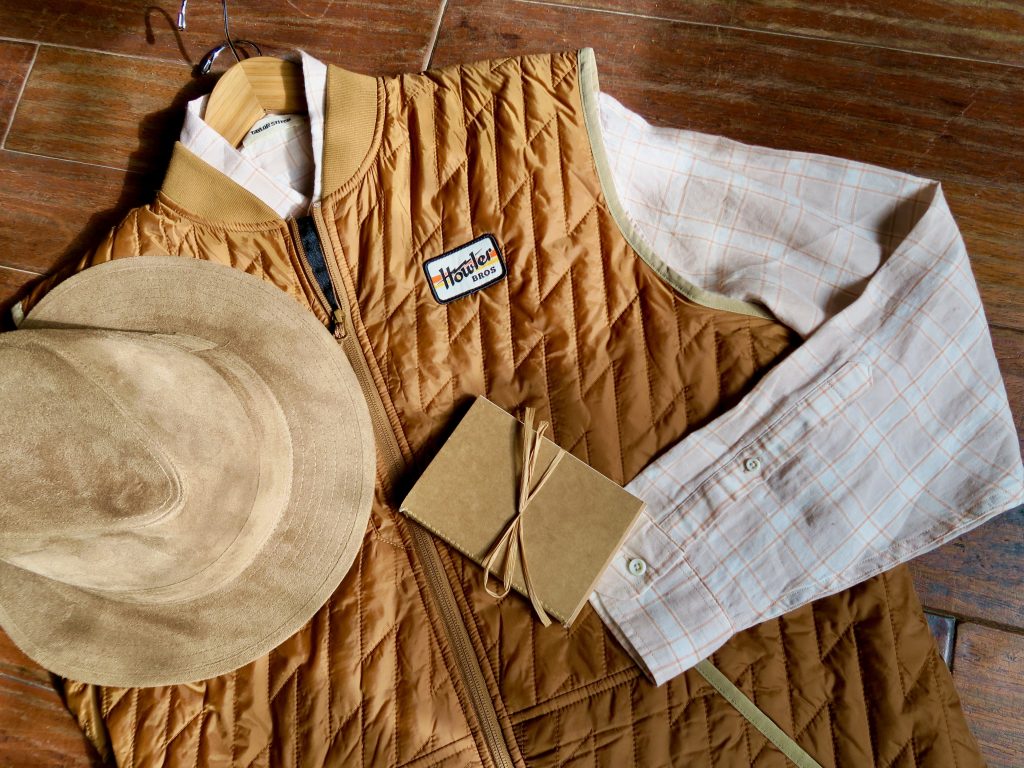 Exposed brick walls highlight the interior design, sporting classic outdoor, camping and hunting merchandise.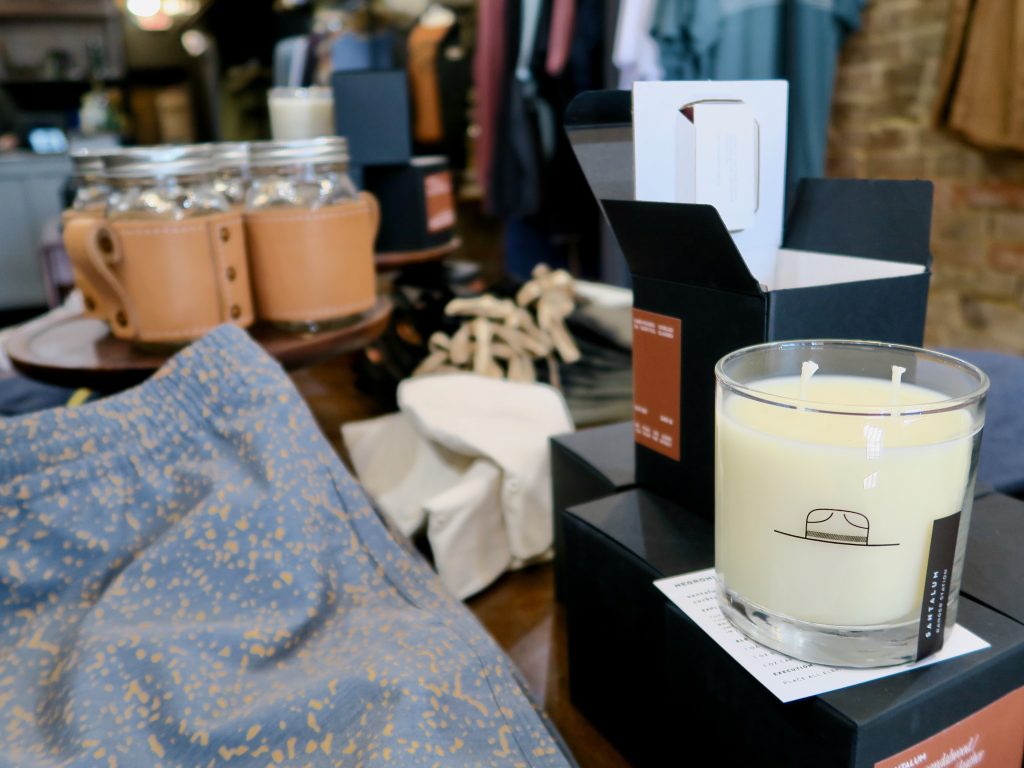 For one-stop shopping, men browse high quality shaving and bath items, candles and journals, just to name a few of the ample selection of goods. Check out their retro refrigerator while you look around and snag a cold beer!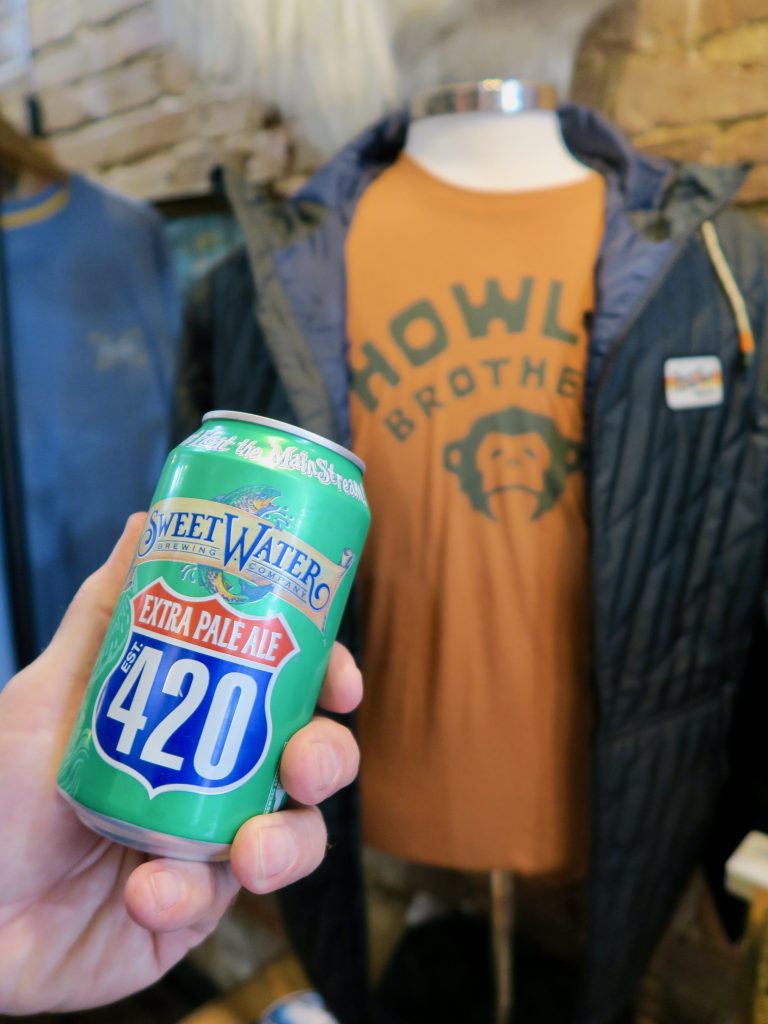 Take time to admire the amazing mural displayed on the outside wall of J. Bradley. Iconic Kentuckians who made their mark on history such as Abraham Lincoln, Muhammad Ali, Daniel Boone and Loretta Lynn are celebrated.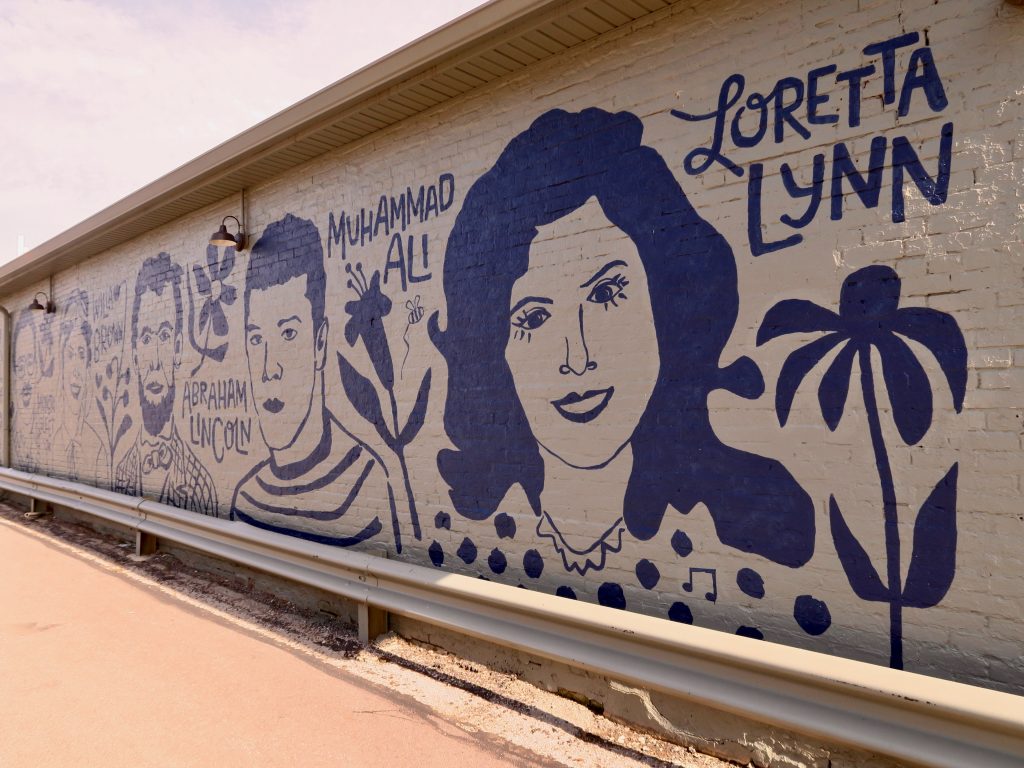 This magnificent painting includes important figures like Anna Mac Clarke, born in Lawrenceburg, Kentucky in 1919. She became the first African American woman to rise to the rank of commanding officer of an all white regiment. Born in 1906, Glasgow, Kentucky native, Willa Brown was the first African American woman to earn a pilot's license in the United States. Click this link to view and read more about this fascinating mural.
DRINKING AND DINING IN ELIZABETHTOWN, KENTUCKY
We were excited to visit the Back Home Restaurant and O'Neals Boutique at Back Home. The Fulkersons began selling crafts and antiques out of the trunk of their car over 35 years ago. Throughout the years they have flourished into a full-service restaurant, delighting diners with their favorite family recipes. Their daughter now owns and operates a charming shop upstairs known as O'Neals Boutique at Back Home.
First things first – lunch! I enjoyed a wonderfully fresh salad with grilled chicken, sliced apples, cranberries and blue cheese. Word is, their chicken salad on a croissant is a showstopper. The down home southern delicacies like fried pickle sticks and sweet onion suffle (spelled that way in the menu) are ideal for sharing. Indulge in chicken fried chicken, served in a hot iron skillet.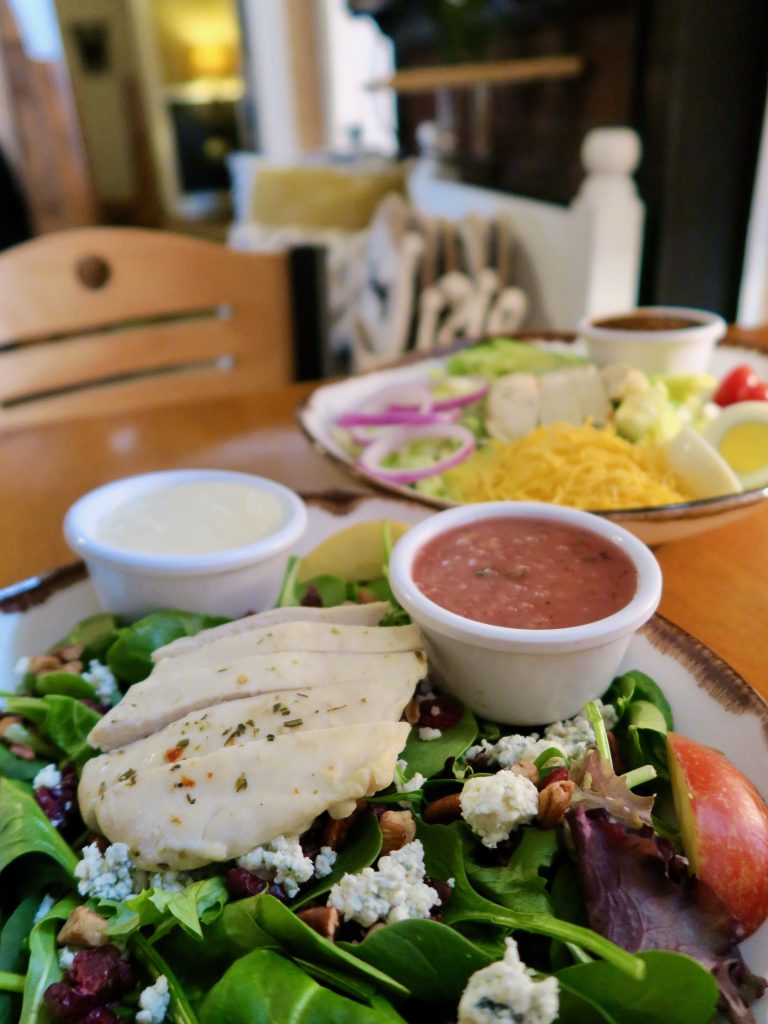 Fortified, we scouted about and spotted exceptional gifts and home goods. Distinctive clothing, wall art and home décor cascaded down a flight of stairs, drawing me up to discover more!
Ascending the steps into O'Neals Boutique at Back Home, I was greeted by a lovely and thoughtful women's clothing parlor. There were too many outfits, wraps, tops, dresses and shorts to count. I tried on a number of items and settled on an irresistible pair of shoes and a fun t-shirt.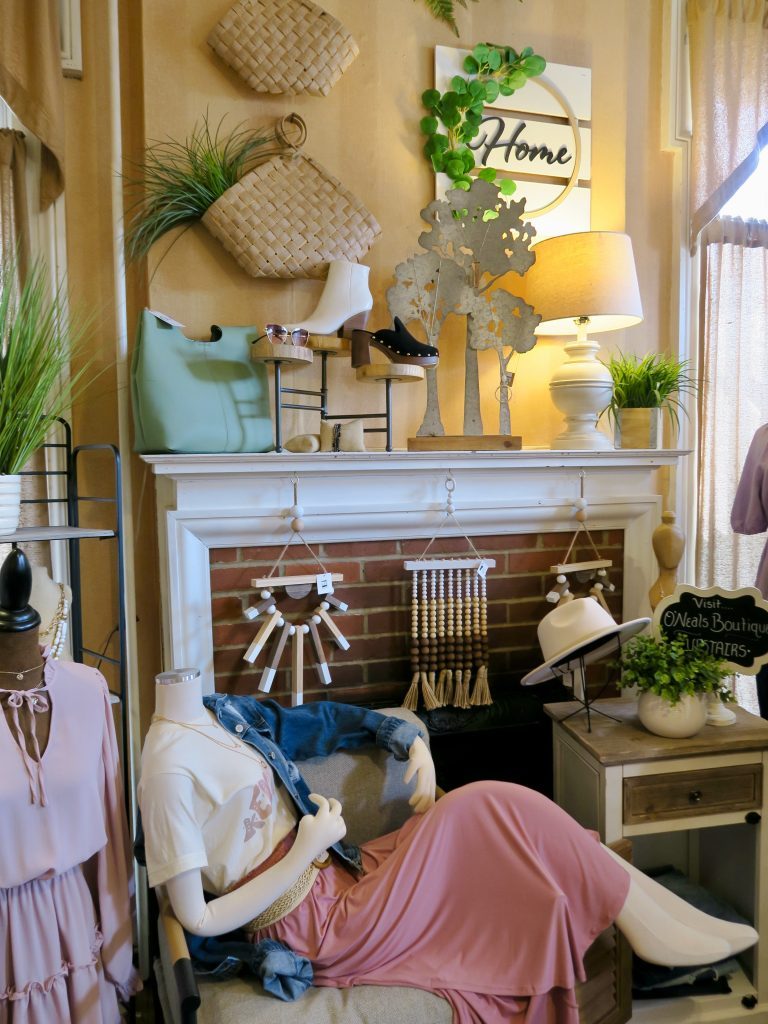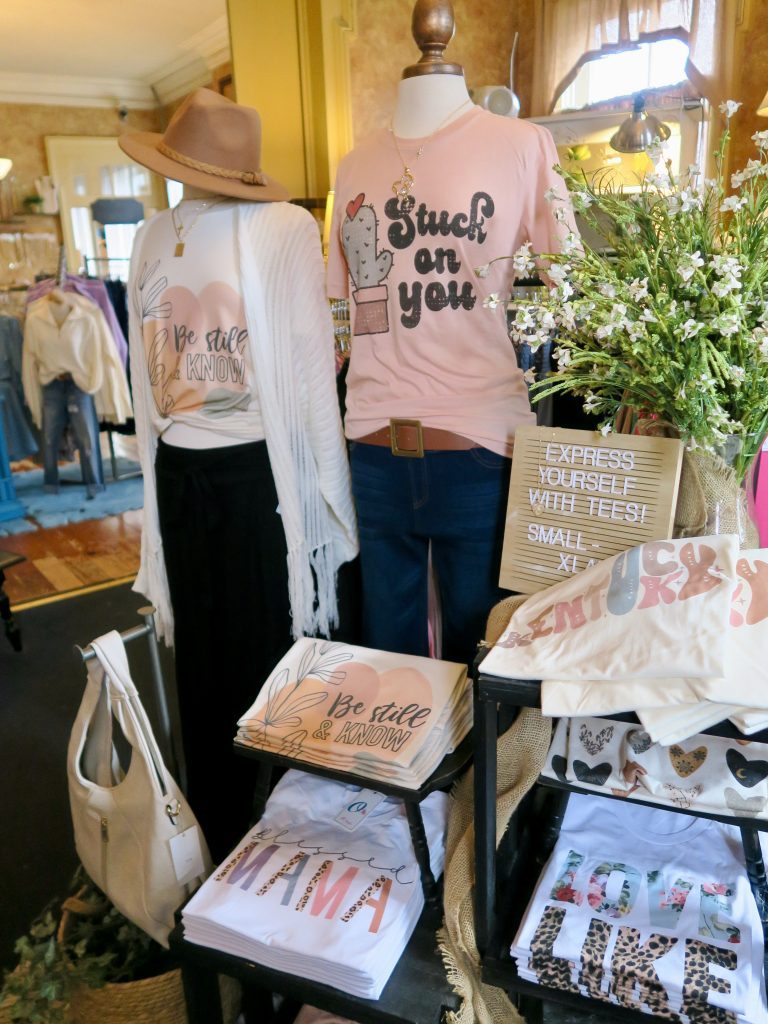 The area is tastefully decorated with polished, antique furniture, candles, tea towels and plaques with endearing adages; classic designs to grace your home. For the perfect gift, consider their attractive coffee mugs and picture frames. I'm sure you'll agree, this is a great destination in Elizabethtown.
We decided on dinner at J. R. Neighbors, which judging from the packed house, was a popular choice! Named for the Neighbors Saloon, owner J. R. Neighbors confronted the infamous Carrie Nation, a radical member of the temperance movement, pre-prohibition. She appeared at the bar wielding her signature hatchet, intent on demolishing the place while preaching the dangers of alcohol as a "dirty business".
Known for their superb gourmet burgers, signature salads and hand-crafted cocktails, I began my experience with a smoked Old Fashioned entitled The Elizabeth. Blended at the bar, the tasty elixir arrives at your table for "the reveal" – a delicious, smoky aroma that dissipates into the air.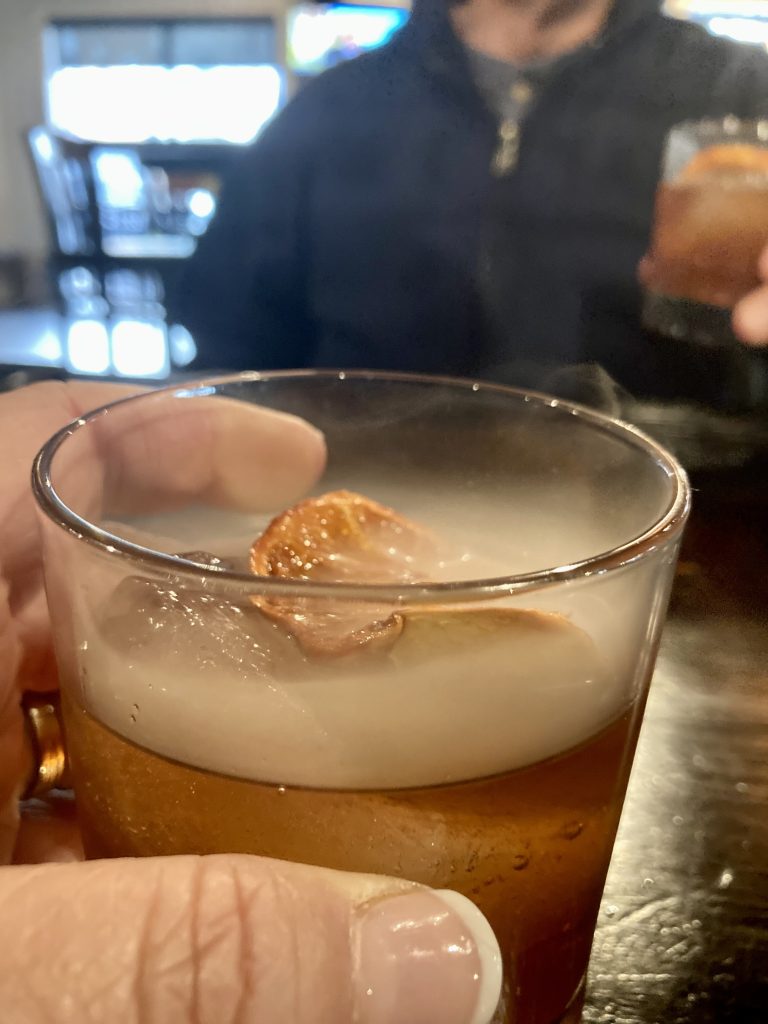 My husband chose the J. R. Classic, a juicy hamburger topped with American cheese, tomato and lettuce with a crispy side salad. They also offer bison and lamb patties.
I opted for two of their scrumptious appetizers. I like sampling a variety so I ordered a flight of creamy Deviled Eggs, prepared four different ways. This was an engaging request as the variations change daily. I also snacked on the finger-licking Fried Green Tomato Napoleon, a crunchy combination of the fried green veggie layered with house-made pimento cheese, Remoulade sauce and a local honey drizzle. I kid you not Folks, this dish is to die for!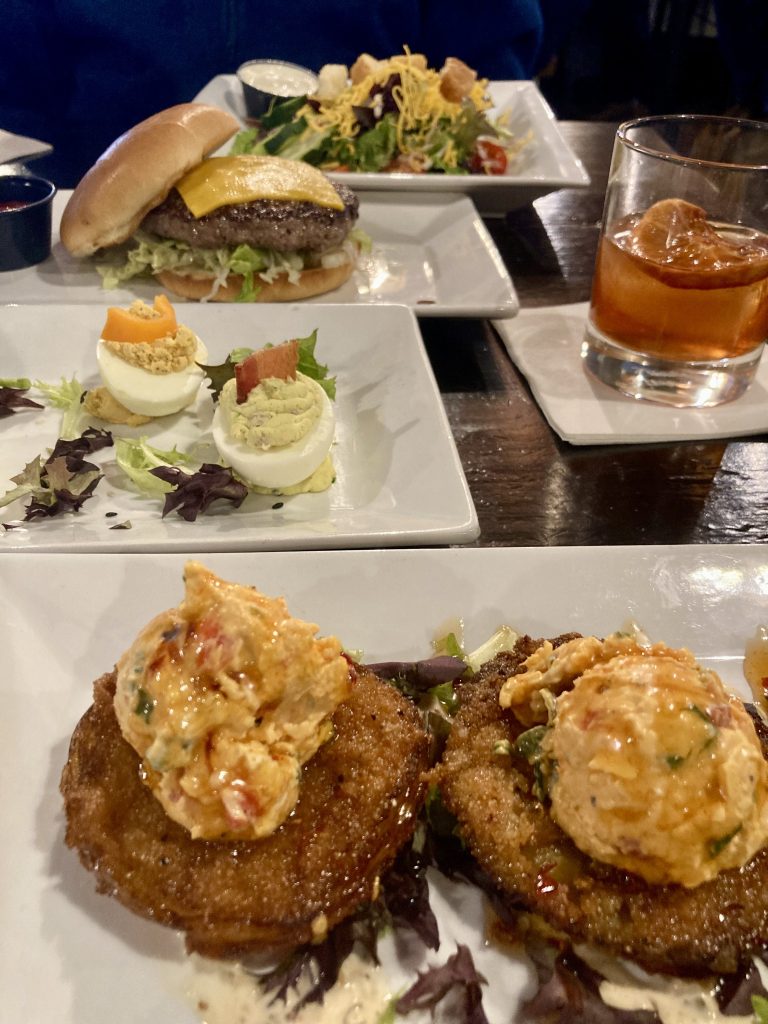 We finished our evening at Cavern Club, an enticing speakeasy modeled after the 1920s prohibition establishments. Guests enter through the back with a small window in the door designed for accepting a secret password for admittance.
Inside the mood shifted us back in time with dim lighting provided by defused candlelight and picturesque chandeliers. The staff dressed the part in pinstripes while tunes from yesteryear floated across the room.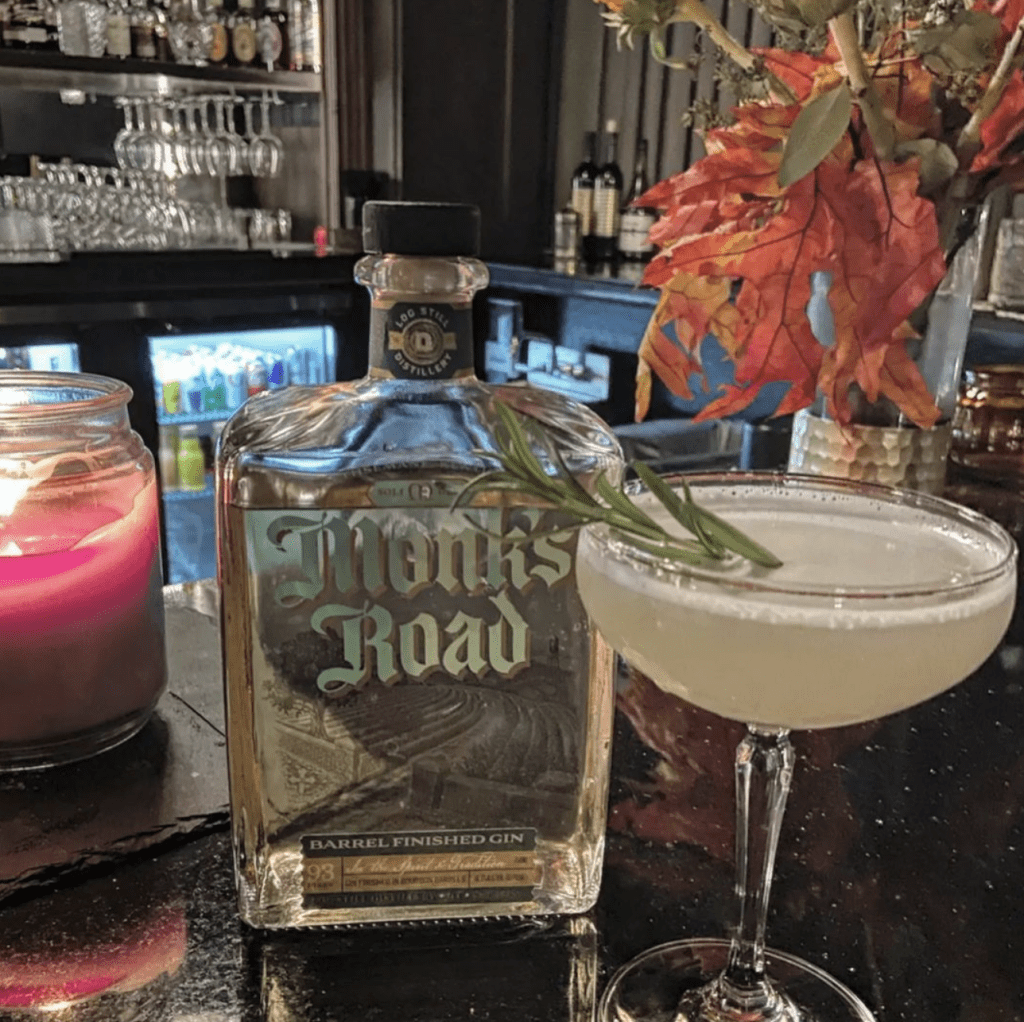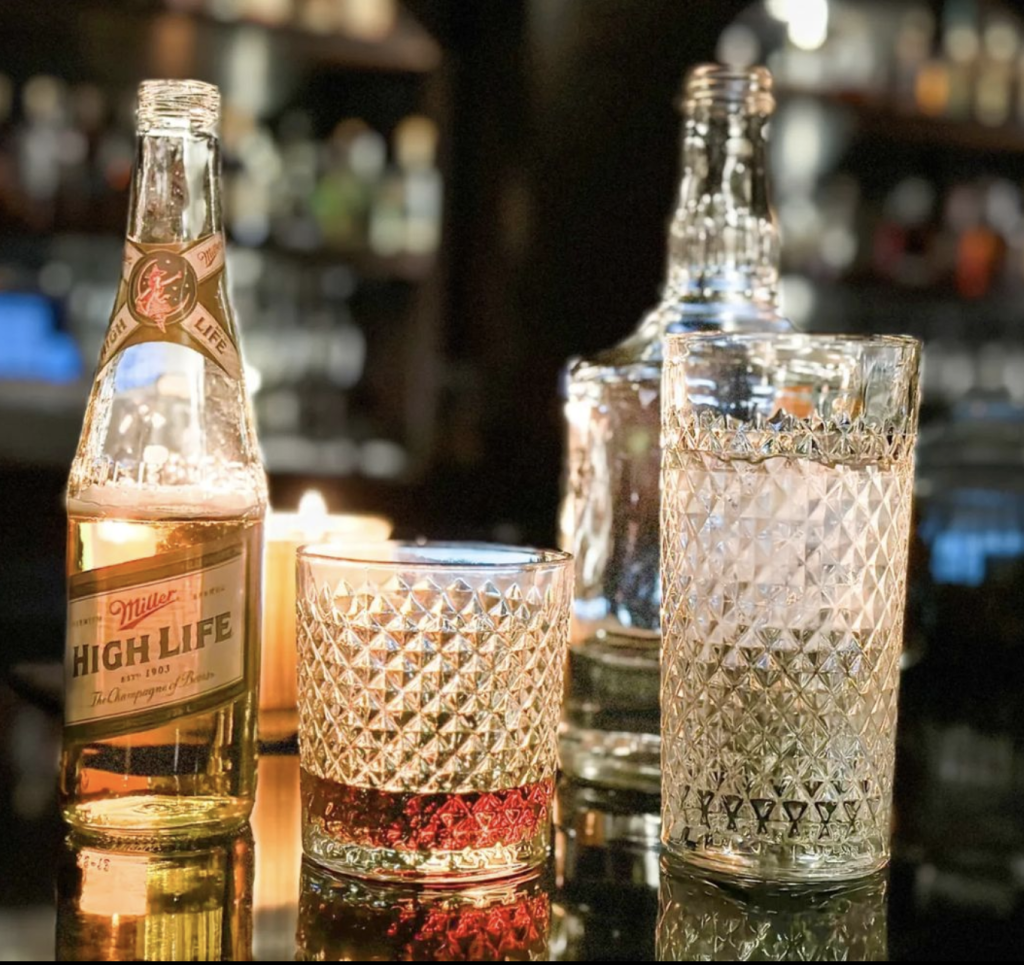 Seating was plentiful, open in the center. Cuddly, little niches were available, cloaked with plush velvet curtains.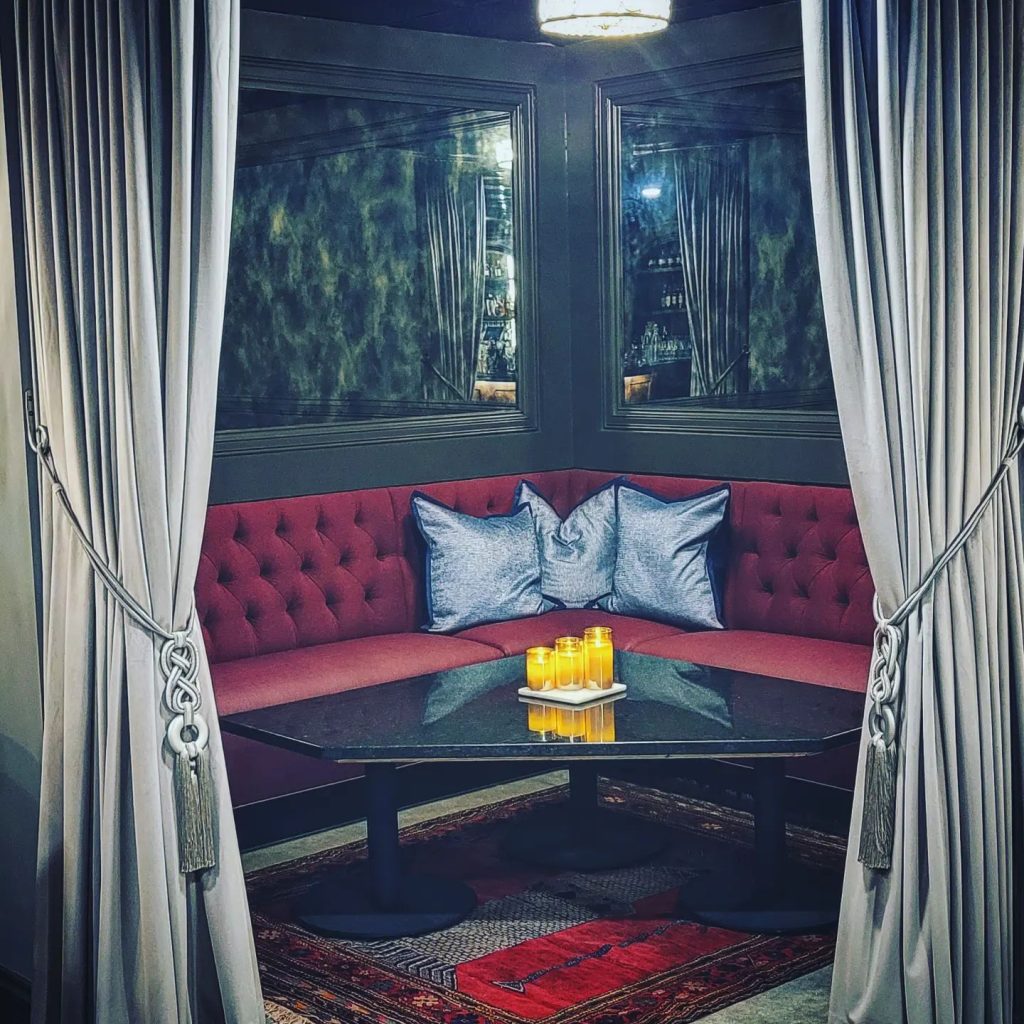 Created with fanfare, the cocktails at Cavern Club are all the rage. I savored a cool and minty Classic Mojito. The ambiance was both intimate and inviting. I definitely recommend stopping by this entertaining tavern during your visit to Elizabethtown. It is quite a unique experience!
I have barely scratched the surface of Elizabethtown, Kentucky as a wonderful destination. This vibrant city encompasses much more, so keep an eye out for additional blogs and plan on heading to E-town, y'all!
When considering a trip to Elizabethtown, you may also enjoy nearby Glasgow, Kentucky.
TRAVEL TO ELIZABETHTOWN, KENTUCKY FROM:
Lexington- 76 miles
Georgetown- 94 miles
Covington- 140 miles
Louisville- 45 miles
Harrodsburg- 77 miles
Bowling Green- 70 miles
Indianapolis- 154 miles
Nashville- 131 miles
Followed my travel suggestions and paid a visit? Please let the merchants and business owners know you heard about them from the Backroad Bluegrass blog!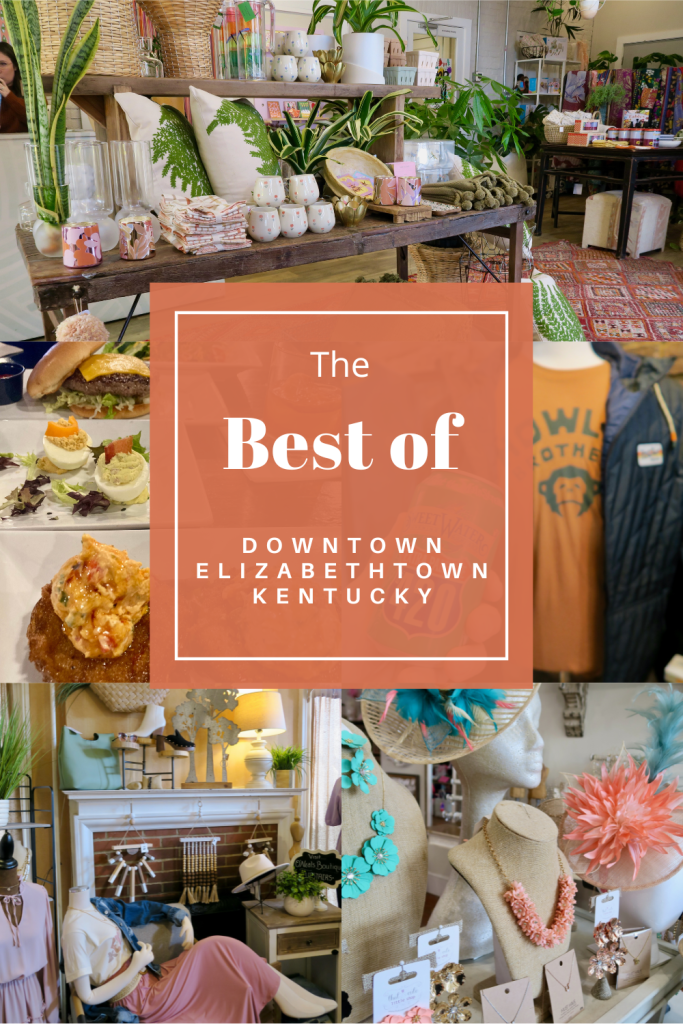 Developing and thriving since 1779, Elizabethtown, Kentucky is a fabulous destination located just off I-65 in the central portion of the Commonwealth. As always I suggest you drive straight downtown into the heart of the city. The stately courthouse is surrounded by a roundabout beckoning visitors and locals alike to pause and experience all this fine city…