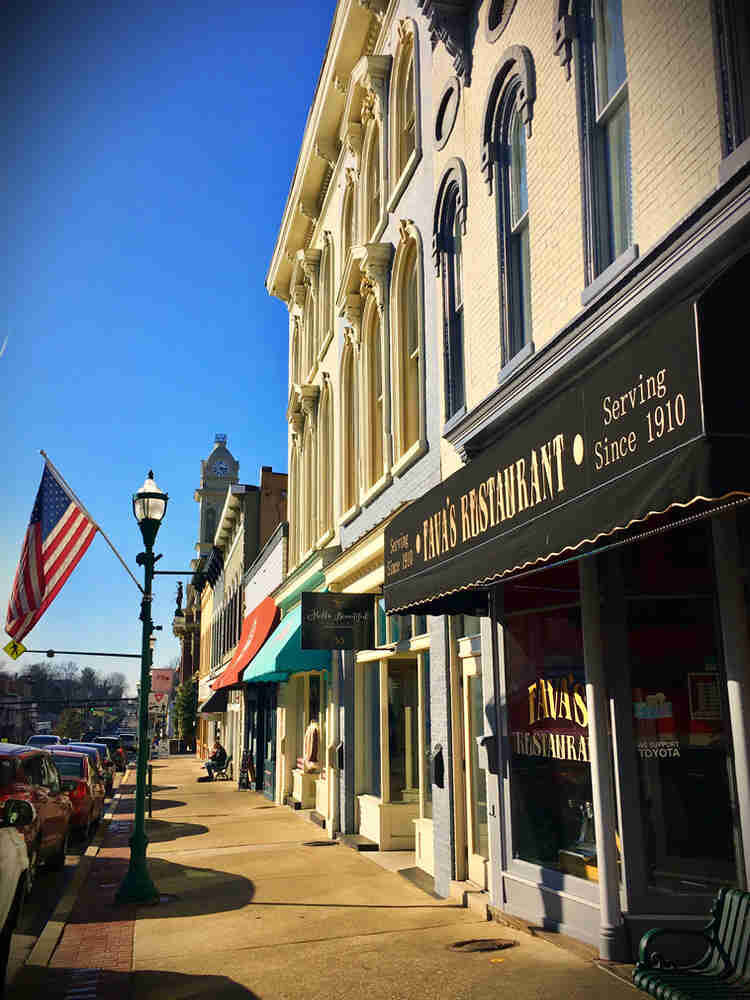 Love Your Downtown- Georgetown, KY
by Marie

Posted on

February 11, 2019
Looking for a great way to spend your day or weekend? Drive the short distance to Georgetown, KY February 9th through the 23rd and take part in the celebrated Love Your Downtown event. There are a host of restaurants, bakeries, bars, shops and boutiques participating along with the museum and tourism center. Click on this list to view over 30 businesses to pick up your "passport". With a minimum of ten stamps you are registered to win a cool prize!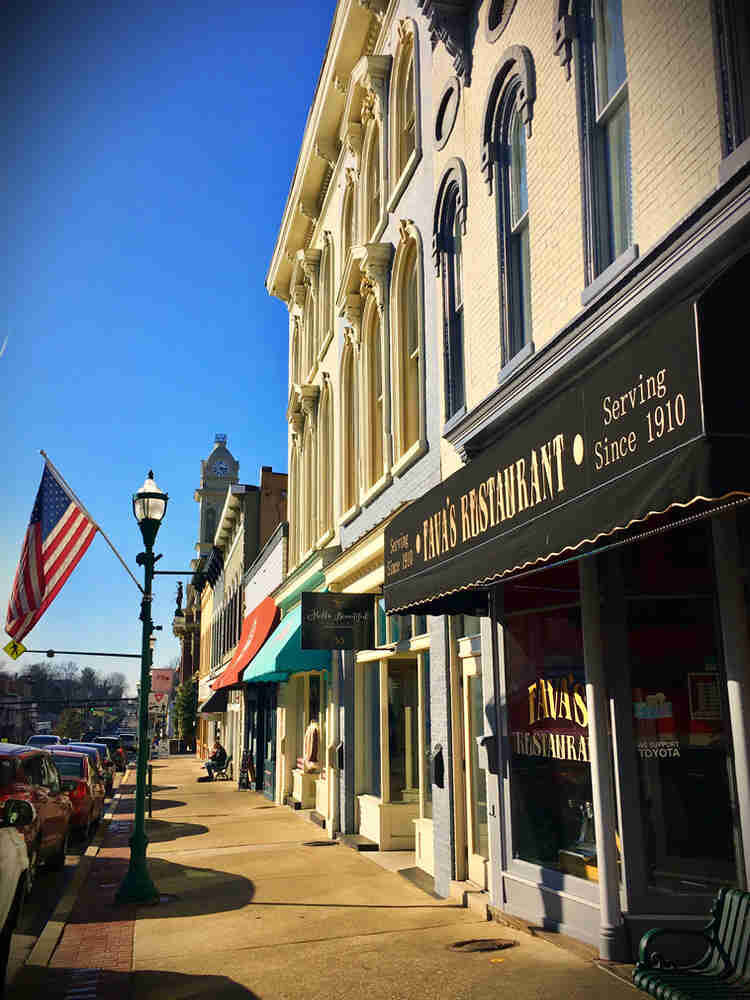 I always enjoy my time in downtown Georgetown, its tidy streets lined with gorgeous, historical buildings. Easy to navigate,the area is filled with locally-owned stores; little shopping gems just waiting to be discovered! One could casually spend all day in this quaint midtown. However, we had just a few hours and needed to set priorities. So first and foremost of course – sustenance!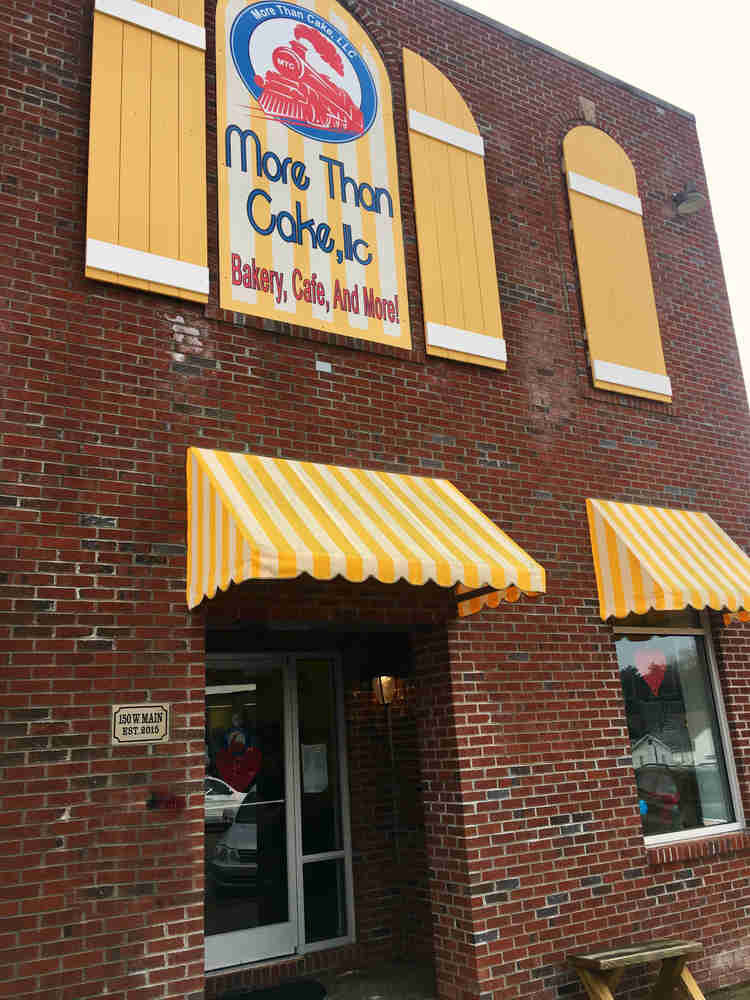 There are several excellent restaurants located on and near Main Street as you explore downtown Georgetown, KY. We opted for a bite at the local bakery and eatery, More Than Cake. Your senses will delight in the mouth-watering aroma of freshly baked breads, pastries, cakes and candies. Their menu includes breakfast, served throughout the day and lunch. We are breakfast junkies so that suited just fine! We ordered the Colossal Belgium Waffle, crisp and fluffy with creamy eggs and a sizzling choice of sausage or bacon. We added a delicious omelet, which could be stuffed with as many as a dozen tasty choices!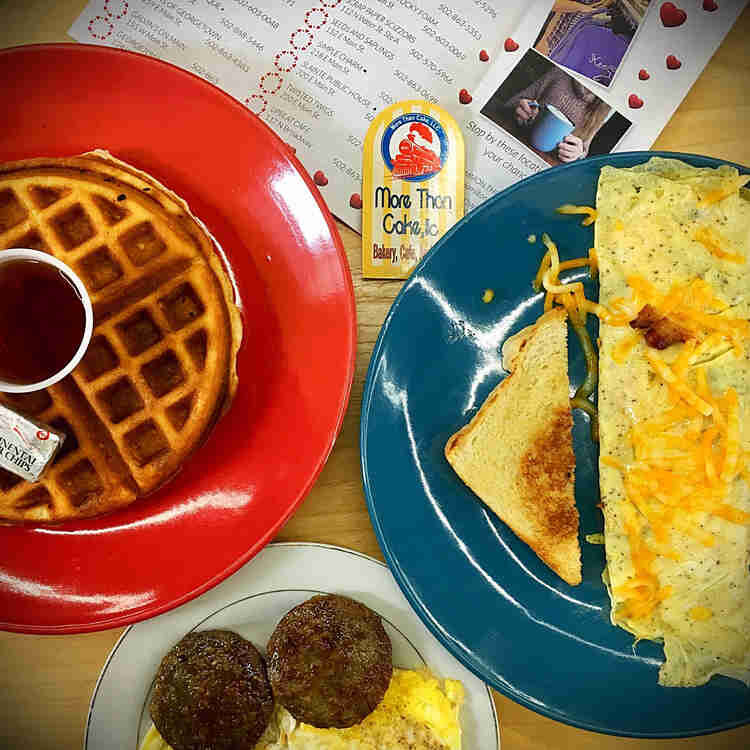 You'll find a "ü" notation next to many items, indicating good news to vegetarian customers who can opt for enticing, non-meat choices. The owner, Leisha plans to expand the menu soon to include more vegetarian and vegan options. More Than Cake offers a delightful, patio-seating area, perfect for outdoor dining. I can't wait to return this spring! Be sure to give their catering options a try for your next big event.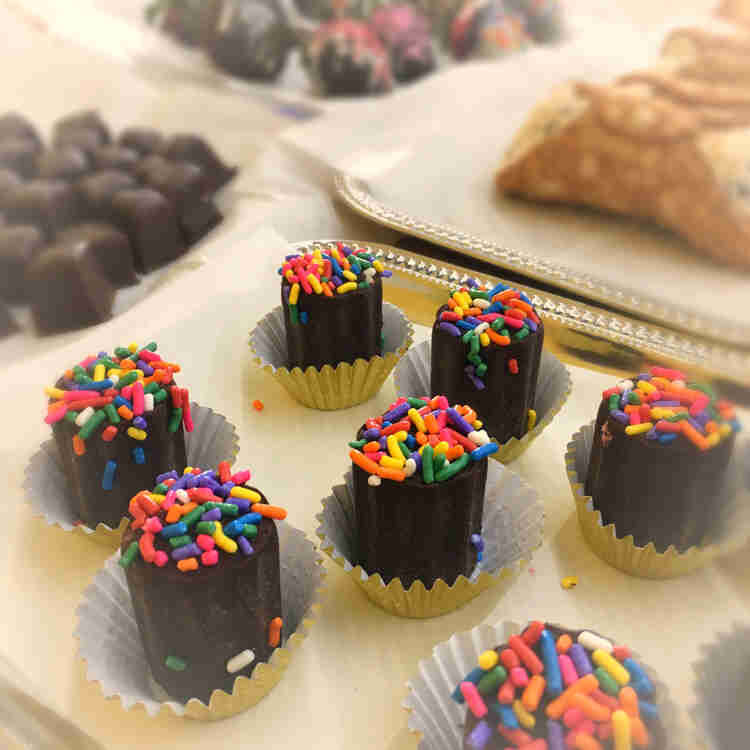 Tummies full, we set out to explore Georgetown. Our first stop was EM + ME; a darling boutique featuring women's clothing and home décor.
The shop is named for two friends: Emily (Em) and Melissa (Me) whose dream of a down-home boutique was founded on the concept of faith, family and community. Their goal is to bring trendy and affordable together with the newest styles.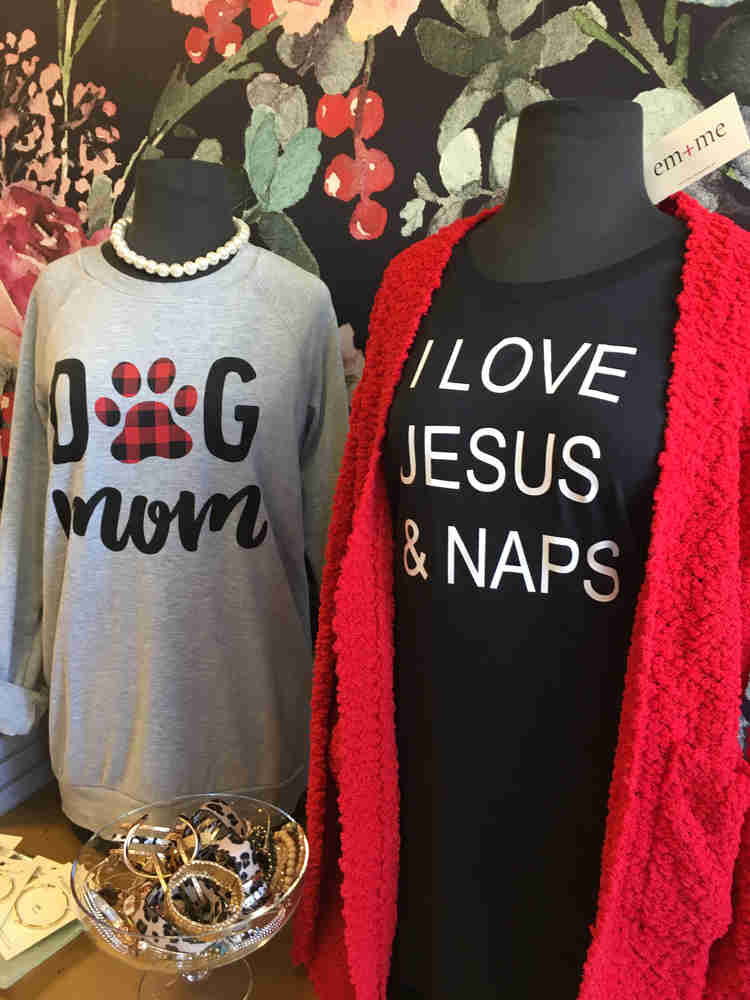 The atmosphere is bright, open and inviting and they offer a selection of the cutest tops, eye-catching jewelry, UK themed clothing, soaps, pillows, unique gift items and more. Contemporary, baseball-style tees with fun designs are prime for Valentine's or anytime. The hardest part of shopping at EM + ME is choosing between all of the super-cute styles!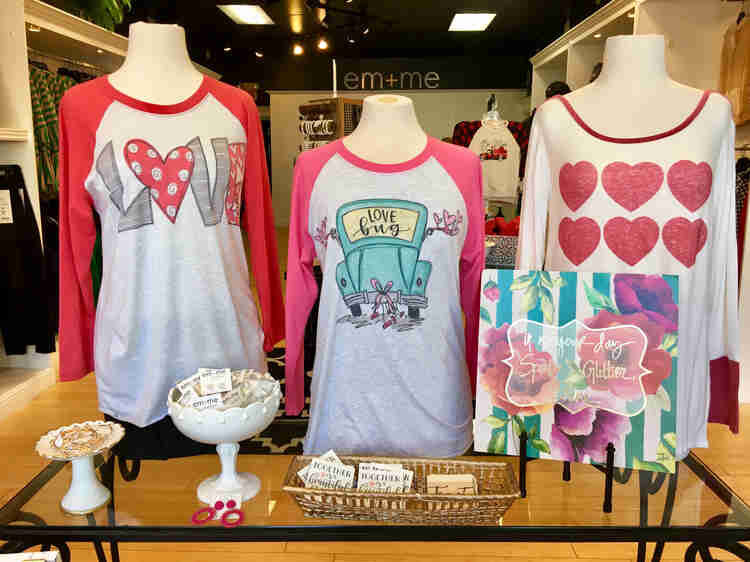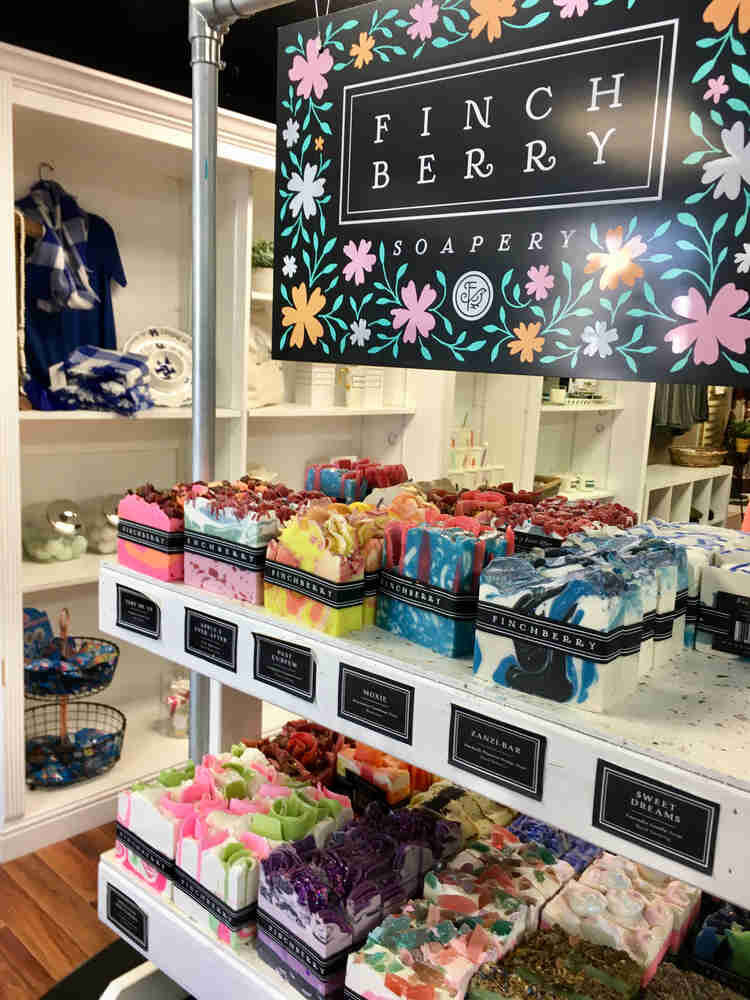 The next stop was Miss Behaven. This charming, local establishment is chocked full of great gift items too numerous to mention. But I'll try. There is a very nice selection of Kentucky-made, food products from Applecreek to City Roastery coffee to bourbon-laced sauces with Evan Williams, Buffalo Trace and Jim Beam.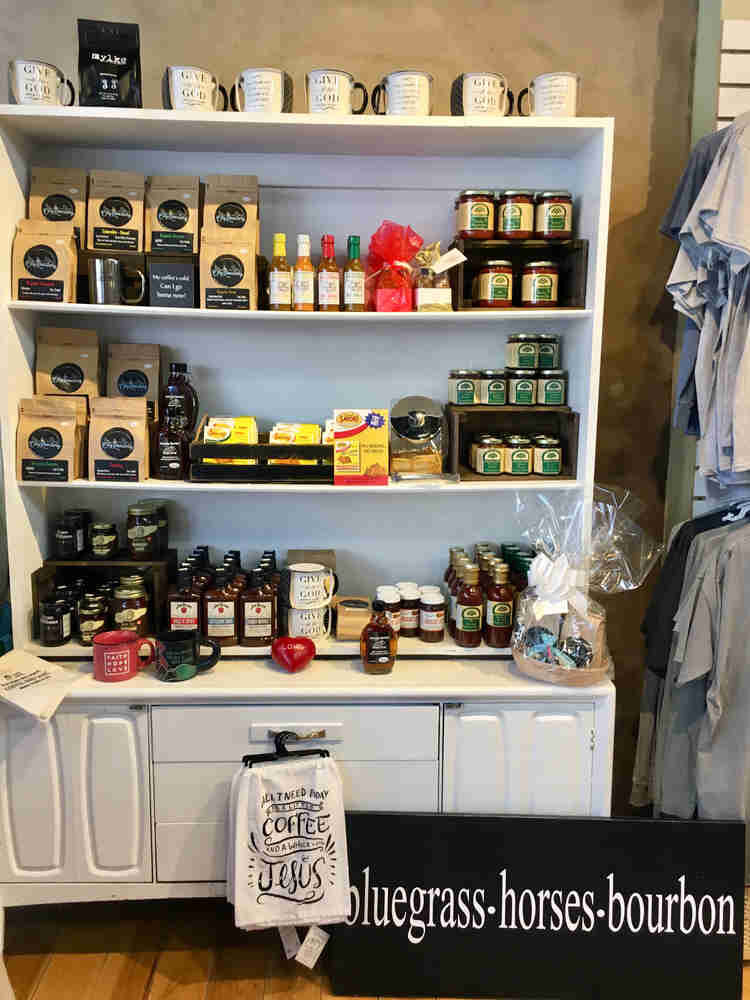 You'll find fashionable purses, hats, totes, picture frames, kitchen items, home goods and even a Doggie Snack Bar.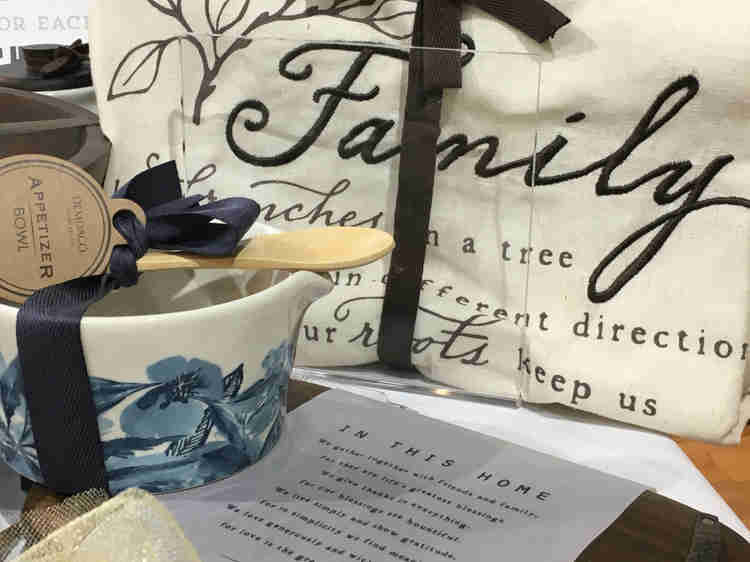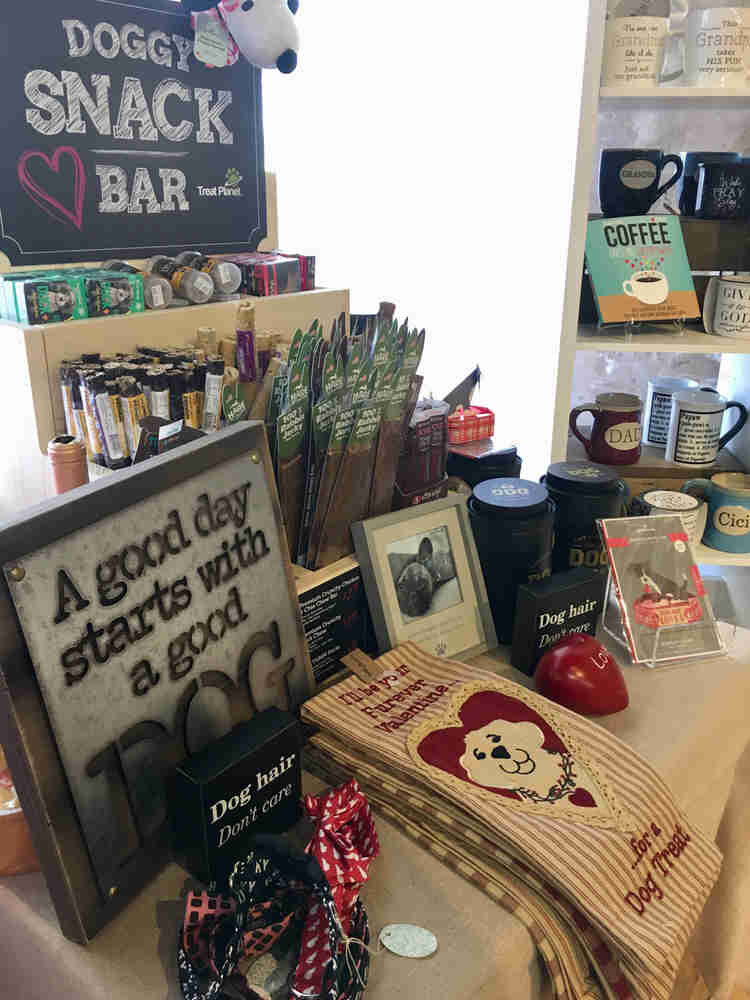 Just a few doors down I visited Arianne, owner of Simple Charm. This fascinating store has been in the family for 33 years.
The owner's goal is to bring beauty to the unusual. It is clear that Kentucky pride runs deep here. The love of this small-town, family business is heartfelt as they share their joy with those who venture through the door.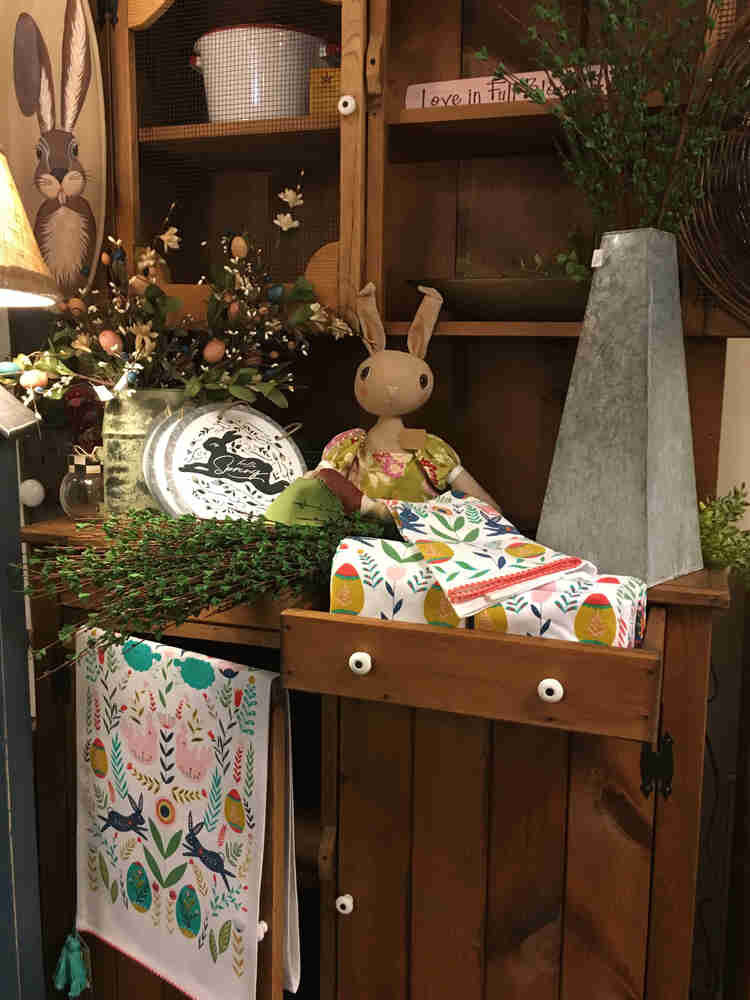 Guests will find simple and timeless home goods such as inspirations etched in wood, beautiful faux greenery, soft lines and comfy, country home furnishings.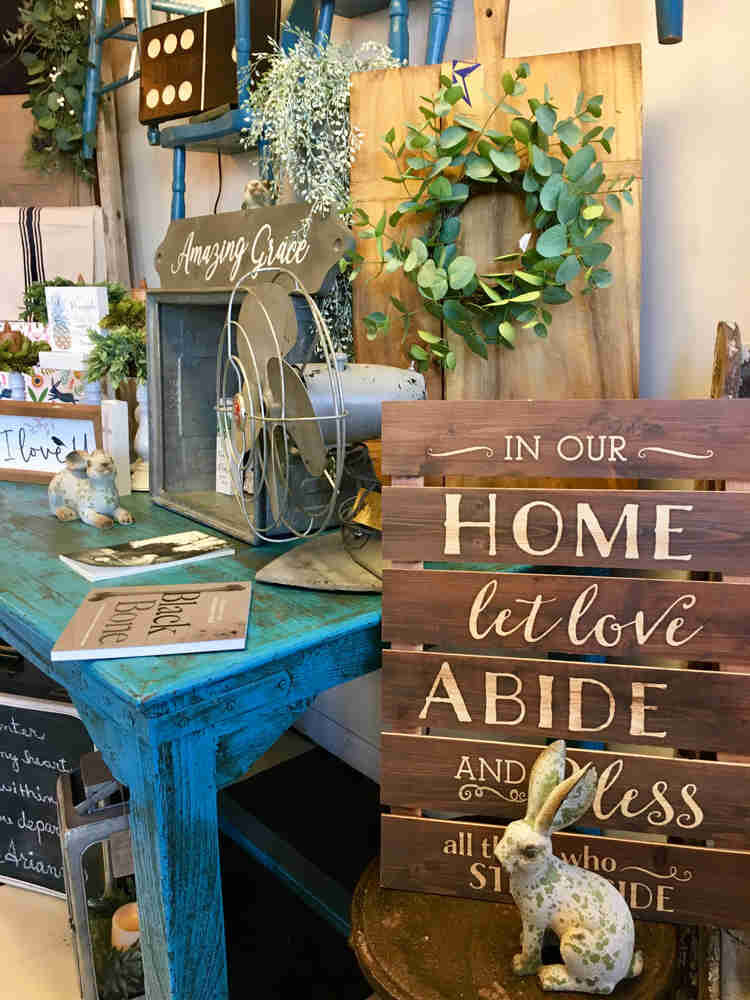 When visiting the downtown district, don't miss Sláinte Public House. Pronounced "Slawn-cha", it translates as good "health", quoted in an Irish Gaelic toast.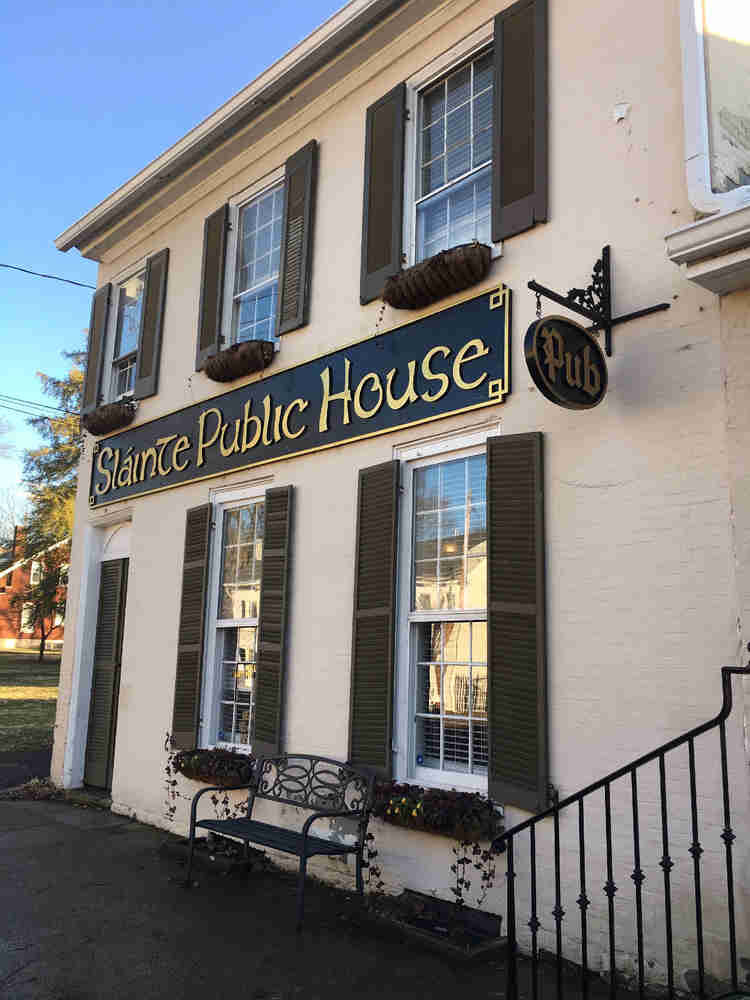 Husband/wife owners Matt and Ashley fulfilled their dream of owning a business in this magnificent, former home built in the 1800s. Among the many nooks and crannies you will spy something of interest whether it be the lively bar, a quiet, corner retreat, side quarters with guests playing cards or the upstairs dart room.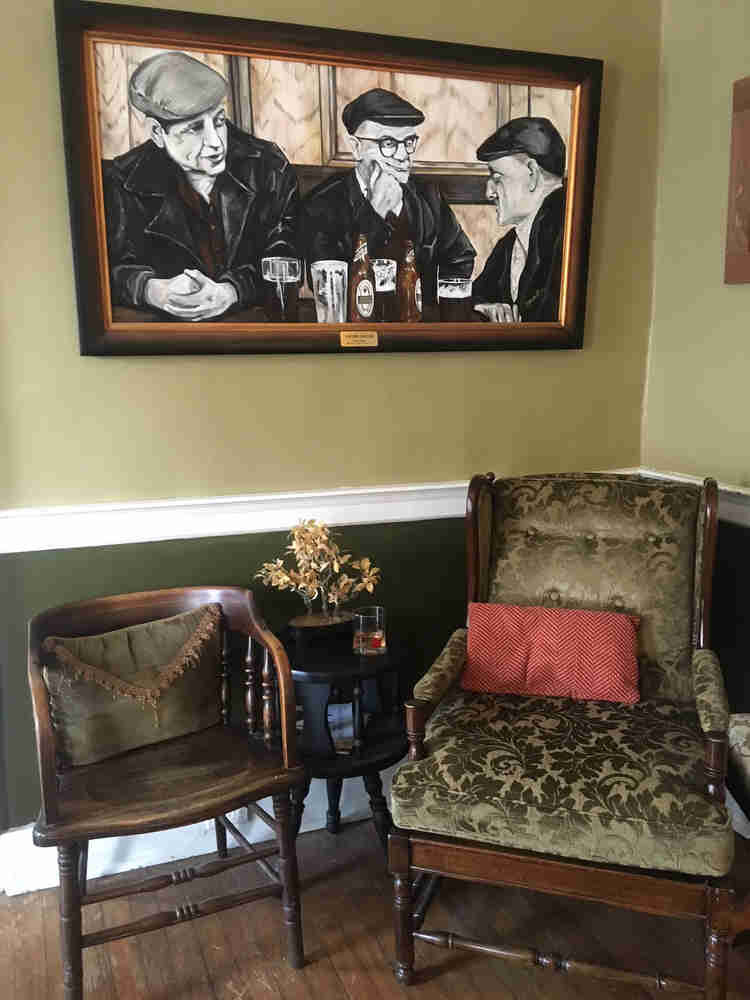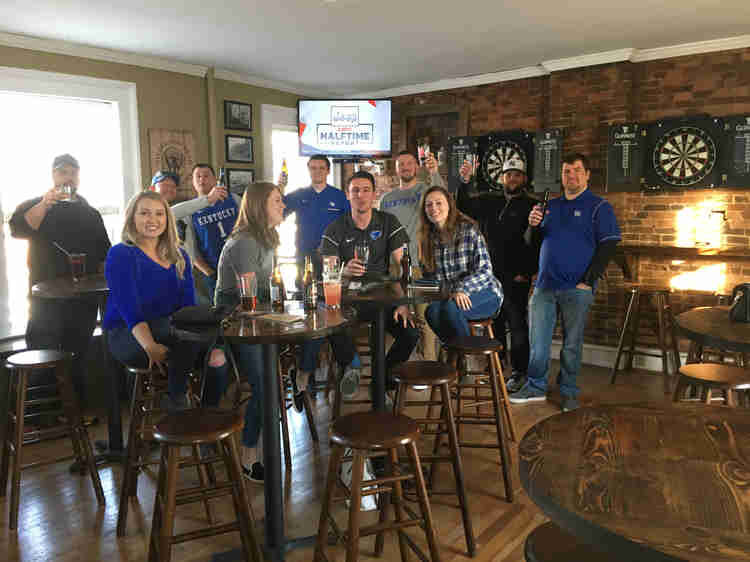 An inviting lounge beckons with deep, leathery chairs and a glowing fireplace. There you will also find four original paintings by the aforementioned, local artist, Margie Rigney. For a special treat, stop by on a warm evening and enjoy their extensive courtyard, reminiscent of old New Orleans. Come as you are to the Sláinte Public House and you will feel right at home.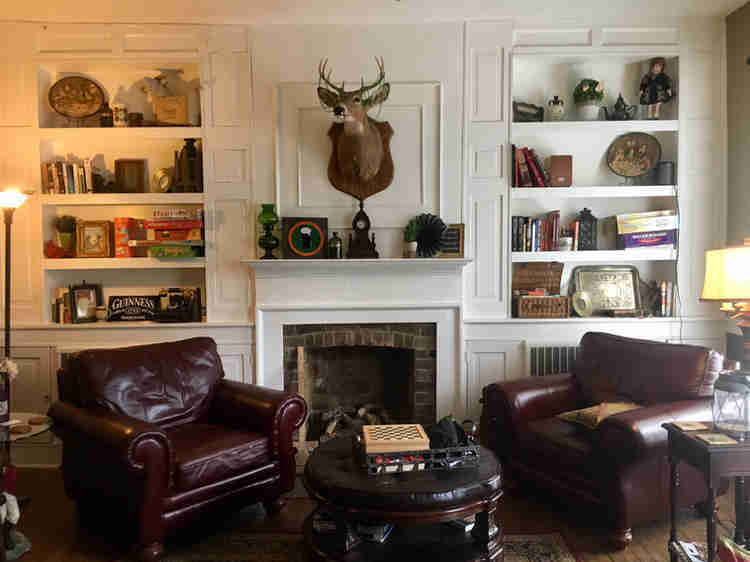 Last, but certainly not least was our visit to Bourbon 30. Though seemingly small and unassuming, this establishment is owned by Jeff Mattingly who comes from a long, long line of bourbon distillers. Like no other individual I've met, Jeff will instantly make you feel comfortable and at ease. It was our lucky evening to visit as Bourbon 30 was hosting a number of bourbon group members from all over Florida.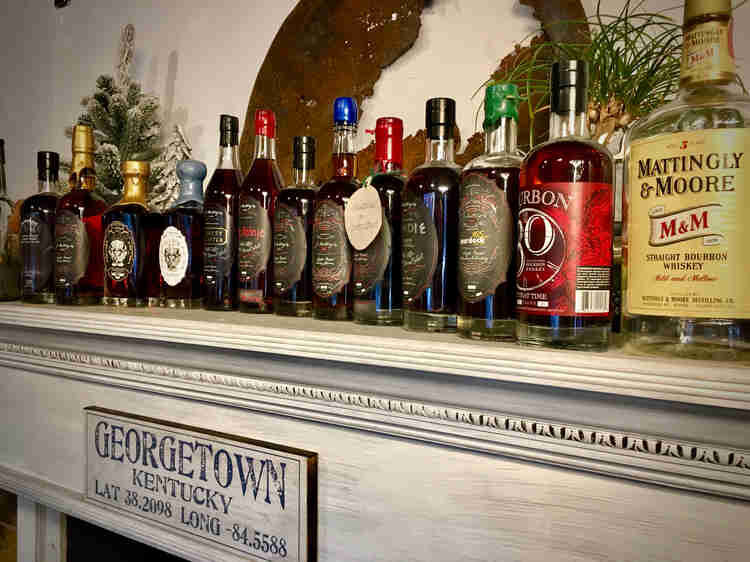 Welcomed in, we were granted a dip of our glass into the barrel and savored a sip of their newly prepared bourbon before it ever hit the bottle! I can say in all sincerity, that was one of the best bourbons I've ever tasted. We appreciated meeting the members, snapping photos and chuckling at the tall tales of spirit-making trials and errors. We've taken in our share of distilleries, but have never felt more a part of the people and process as we did that evening. As Jeff said, "It's not about bourbon, it's about people."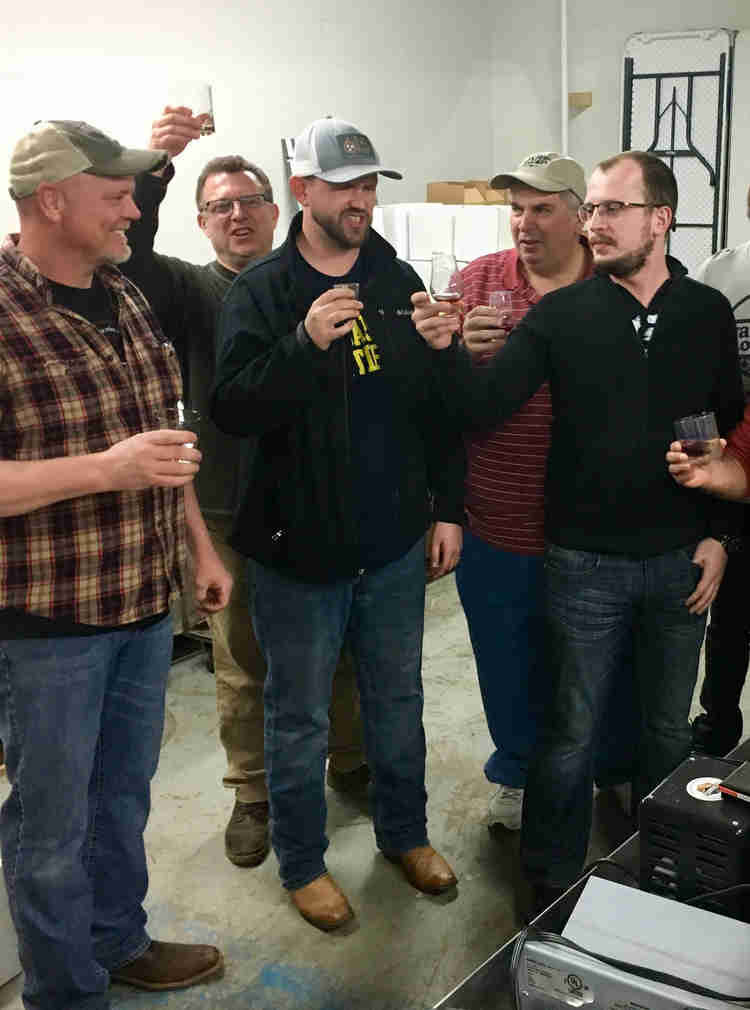 For more information about the area, stop by the Scott County/Georgetown Visitor Center located conveniently close to I-75. The cozy hub is furnished with relaxing couches and a fireplace. Brochures and booklets for visiting in or around Georgetown are available and the amiable staff is happy to share a wealth of knowledge. Treat yourself to a lovely Georgetown keepsake on your way out!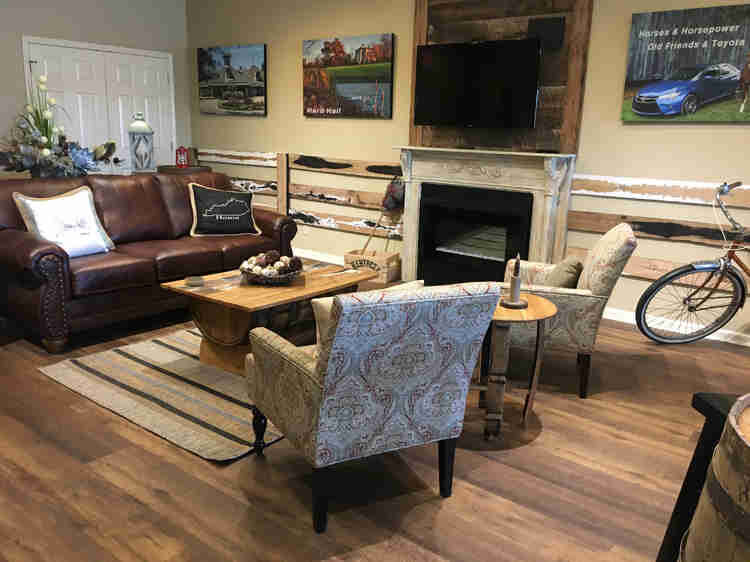 #getaway #familyfun #bourbontasting #funinkentucky #daytrip #kentuckyhistory #artist #localbeer #adultbeverages #adventureawaits #foodie #movetokentucky #walkingtour #kytourism #downtown #kentuckybourbon #comfortfood #shop #shopsmall #shoploca #shopsmallbusiness #shopping #passport #contest #georgetownky #buylocal #blogger #kentuckyblogger #bluegrassblogger #bluegrass #gifts
Looking for a great way to spend your day or weekend? Drive the short distance to Georgetown, KY February 9th through the 23rd and take part in the celebrated Love Your Downtown event. There are a host of restaurants, bakeries, bars, shops and boutiques participating along with the museum and tourism center. Click on this…