If you're looking for something a little different and a lot of fun, jump on the Bluegrass Parkway to Horse Cave and pay a visit to Kentucky Down Under Adventure Zoo.
We had the great pleasure of an exclusive tour of the campus by Mick and Pretty Lady, a beautiful Australian Shepherd. She was injured as a puppy but retains loads of energy and affection to share.
*Family Friendly *Photo credit Bluegrass Blog and Kentucky Down Under
Mick and Pretty Girl, our tour guides.
Kentucky Down Under began as a cave tour operation and the zoo was added to create a unique attraction. This unusual menagerie offers an Australian twist featuring kangaroos, wallabies, dingoes and emus. Except for the dingoes, you can see all of them up close and personal. Visitors can purchase a handful of kibble and feed the kangaroos and emus. But watch out for those sneaky emus. They might snatch a nibble while you're not looking!
Kids love feeding and petting the roos.
The multitude and coloring of the emu feathers was amazing.
The wallabies at the zoo are actually albinos. Mick, the zoo manager explained that you wouldn't see them in the Australian wilderness. Due to their white coat they would be unable to conceal themselves against predation and they are also blind. It was good to observe them thriving there at the center.
I'm inclined to visit places in the off-season. You don't fight the crowds and often enjoy a more personalized experience. Kentucky Down Under never fails to deliver! The timing of our stopover coincided with an incredible bonus. Adorable kangaroo joeys were just venturing from the protection of their mother's pouch. What an extraordinary opportunity to delight in the playful antics of baby roos out and about for the first time
Fun fact: Did you know that a female kangaroo can carry babies at three different stages of development in her body at once?!
The joey didn't venture too far from his mamma.
The dedication to the animals at this habitat was heartwarming. Many of the residents have been rescued from homes that could not support nor care for an undomesticated or exotic creature. Kentucky Down Under provides 75 acres of free-roaming space for a large number of animals. These include Belgian Draft horses, goats, llamas, sheep and donkeys, to name a few. Some are part of the barnyard petting zoo.
This stunning Belgian Draft was so gentle.
Making friends with the locals.
Acres to roam at the park.
An amazing peacock photo.
Patrons who visit can take advantage of golf cart rentals to explore the campus on their own. In this oasis you will discover birds of all sorts, reptiles, bison, lemurs and a variety of other critters. We were amazed to find a sloth who is new to the fold.
I had the opportunity to pet this little boy.
Lemurs use their tails like scarves when the weather is chilly.
Participants can opt for an excursion into the Land of the Lorries. You enter an enclosure filled with enthusiastic parrots who, for the price of a snack will land on your shoulder!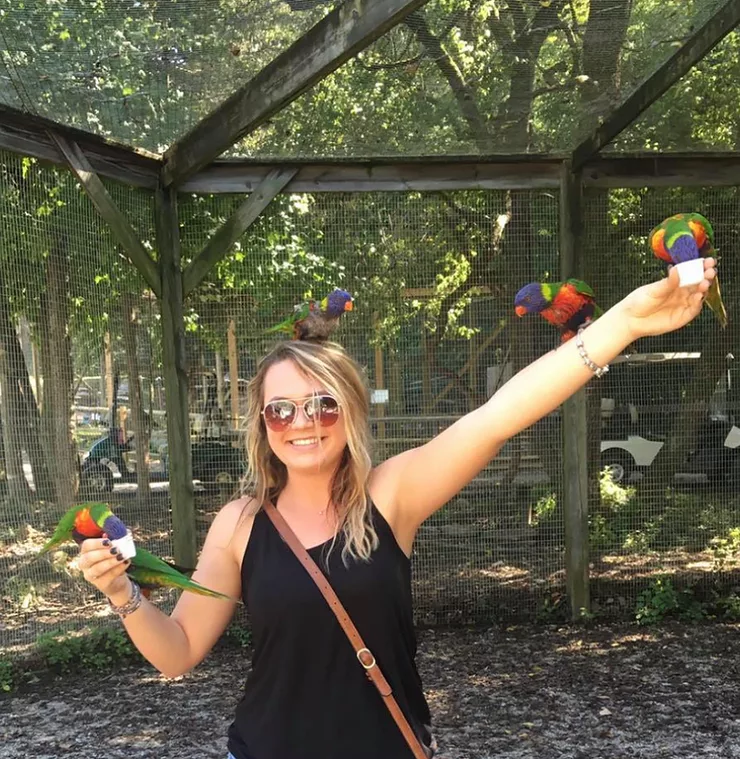 In the company of Lorries.
Take a moment to click on this video of the Kookaburra Bird I filmed laughing, you can't help but smile!
Kentucky Down Under grants a one-of-a-kind adventure for the whole family and those who love animals and crave a little, furry affection. While in the vicinity, treat yourself to a tour of Mammoth Onyx Cave, boasting splendid onyx formations!
Find more adventure closeby in
Horse Cave, Kentucky
!