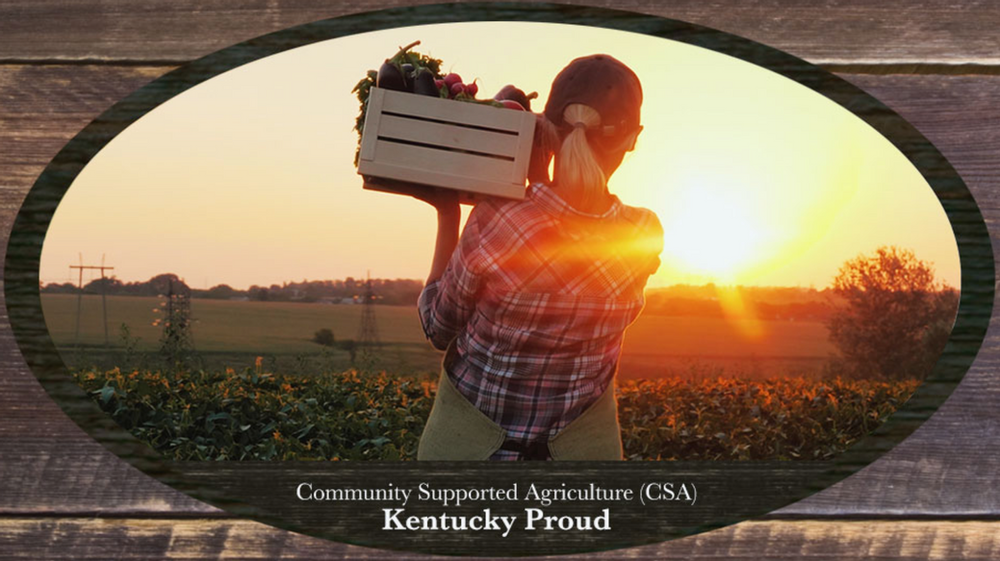 Farmer's Market Recipes
by Marie

Posted on

May 31, 2020
Spring has sprung with a flourish and 'tis the season to be cooking! Our local farmers are coming to market with a bounty of delicious, garden goodies. I've partnered with two friends, Brittany of Her Mise en Place and Lauren May from Must Love Herbs to provide exciting, new Farmer's Market Recipes for dishes to create with this fresh produce.

It's normal to be intimidated when working with unfamiliar ingredients. Admittedly, I was nervous about preparing my first lamb meat. When trying something new, the internet is your friend. Search for an item followed by the word "recipe" and you will receive plenty of suggestions. Better yet the information is often from a local, just like us!
I purchased lamb chops from Quarles Farm at the Farmer's Market. I'm a lover of Mediterranean cuisine so I decided to use a traditional dry rub. As a side, I roasted Brussels sprouts with a sweet and savory mixture. 
Brittany created a tangy, marinated, tomato salad and Laura offered an incredibly delicious Appalachian stack cake recipe. 
All of our recipes include ingredients that can be found at your neighborhood farmers market. Consider investing in Community Support Agriculture (CSA) with a resident farmer. Click here for more information
MEDITERRANEAN LAMB CHOPS
Ingredients:
Dry Rub:
2 Tablespoons coriander seed
2 Tablespoons fennel seed
1 Tablespoon cumin seed
1 Tablespoon brown sugar
1 Tablespoon Himalayan or kosher salt
1 Tablespoon garlic powder
1 Tablespoon mustard seed or whole grain mustard
2 teaspoons dried turmeric
1 teaspoon ground pepper
½ teaspoon cayenne powder
You can obtain seeds in the bulk section of health food stores or you may have the dried version already in your pantry. 
Directions:
Toast the fennel, cumin, mustard and coriander seeds (or their substitutes) in a dry sauté pan. This will enhance  the flavor nicely. Allow to cool and then grind into a powder using a spice grinder or with mortar and pestle. Actually, I use my coffee grinder and then wipe it out well. (Be sure to unplug it first!)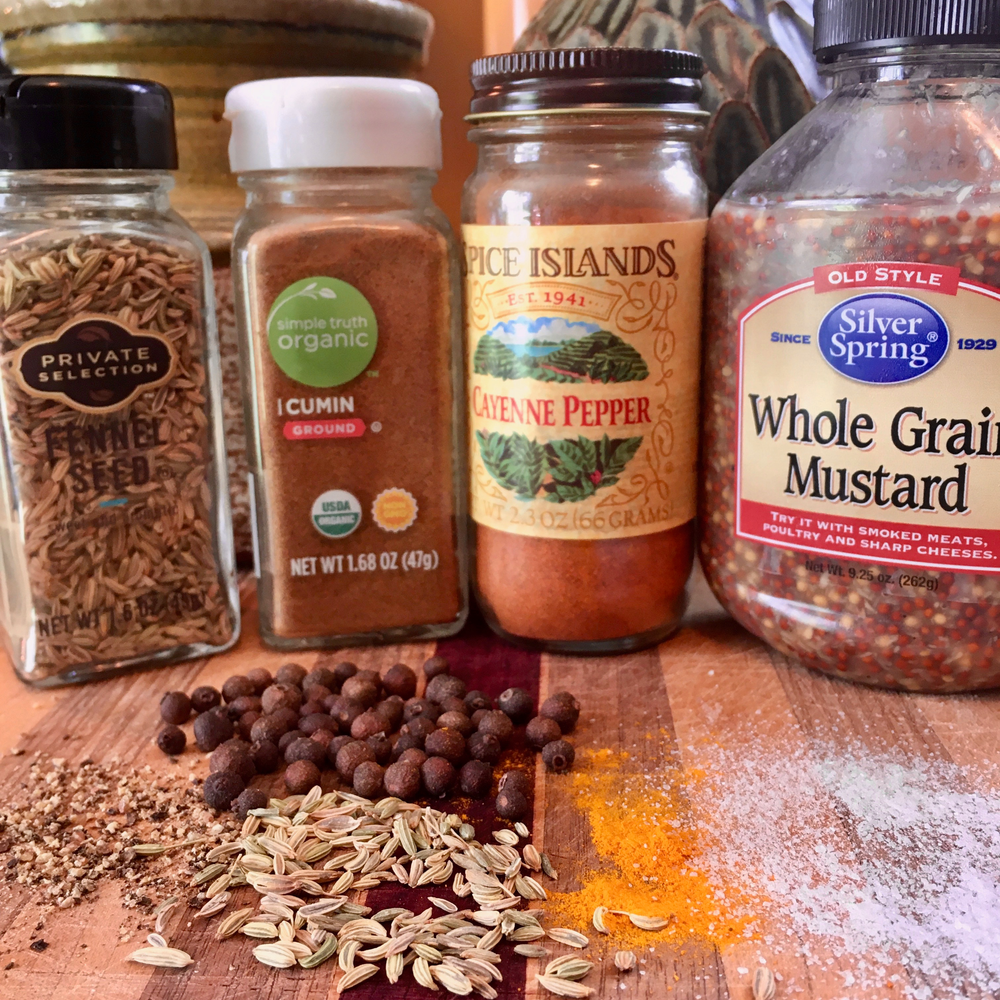 Combine all of your spices in a bowl and mix well. Massage rub into both sides of the meat.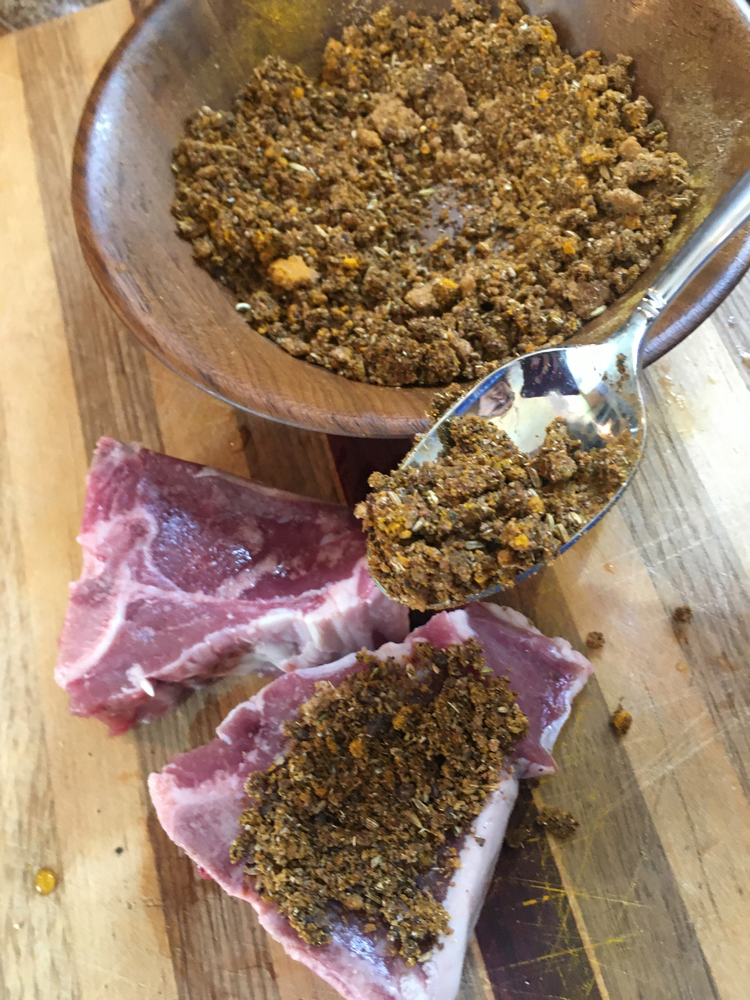 Dribble olive oil in a sauté pan on medium heat. Place meat in pan when hot and cover with a lid. Cook for 2-3 minutes depending on thickness, until rub has crusted. (This recipe is for a 2" thick cut.) Use tongs to turn meat carefully to prevent scraping off the pungent rub with a spatula. Heat the other side for 2 minutes. Present with a sprig of rosemary or parsley. If serving meat sliced, let it rest for 5 minutes before cutting.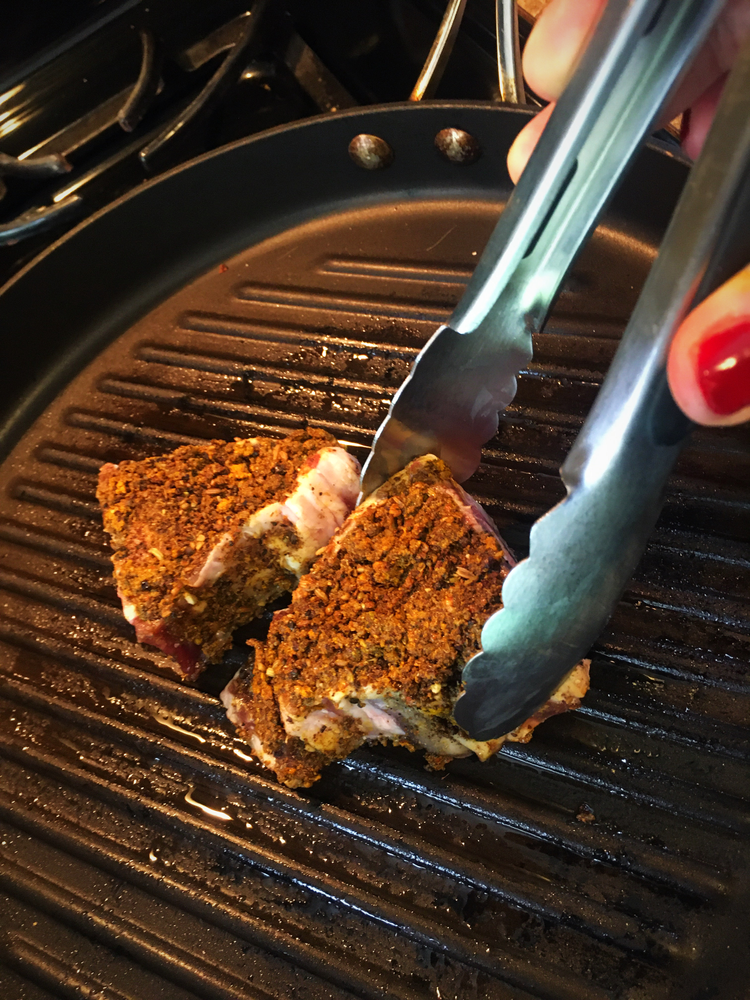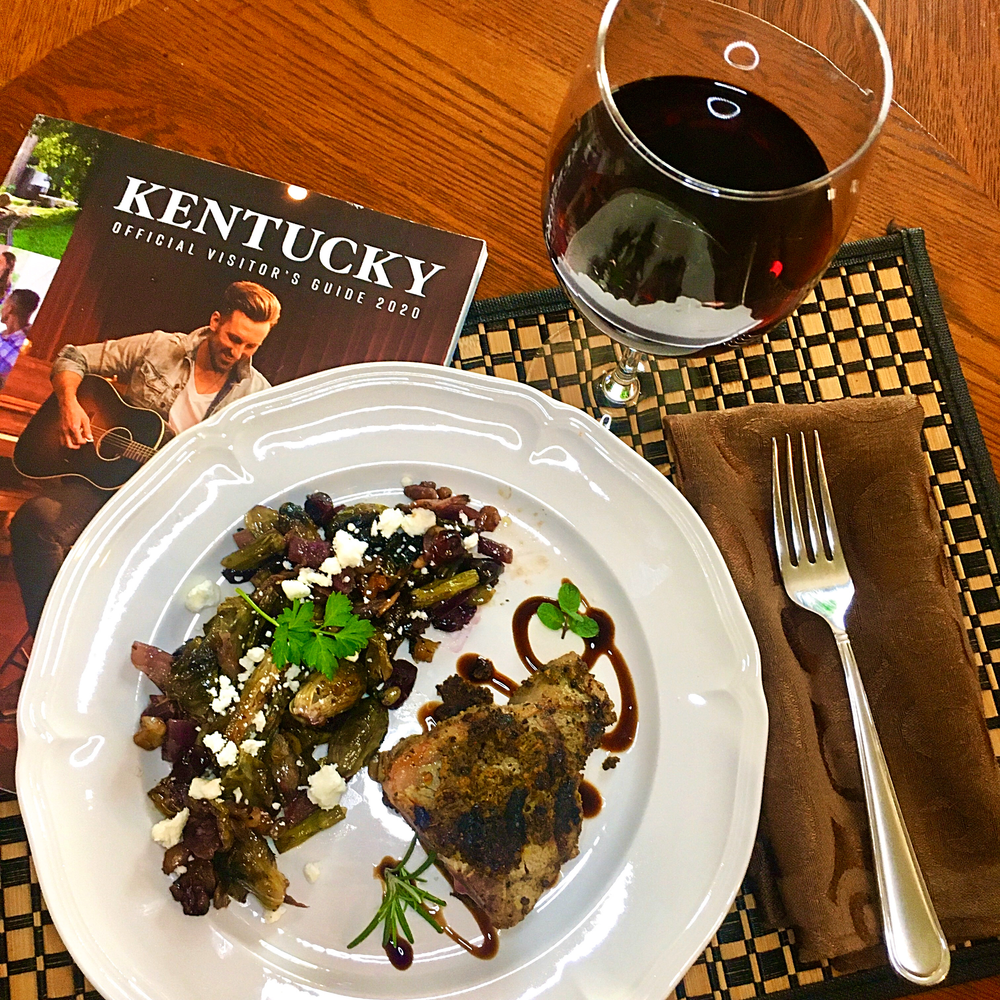 ROASTED BRUSSELS SPROUTS
Ingredients:
20 or so raw Brussels sprouts halved
15 large red or black seedless grapes halved
¼ cup chopped walnuts or your favorite nut
1 coarsely chopped red onion (yellow or white will do)
3 Tablespoons olive oil
1 bulb of garlic, peeled and halved
Reduced balsamic
¼ cup feta cheese
Salt & pepper to taste
1 Tablespoon chopped fresh rosemary or Italian parsley to taste
Directions:
Preheat oven to 400F degrees.
Cover a cookie sheet with foil, to save time on clean up. Spray with cooking oil.
Sprinkle all of the above ingredients around the cooking sheet, taking care to spread them out as much as possible. Drizzle with 2 Tablespoons of olive oil and season with salt and pepper.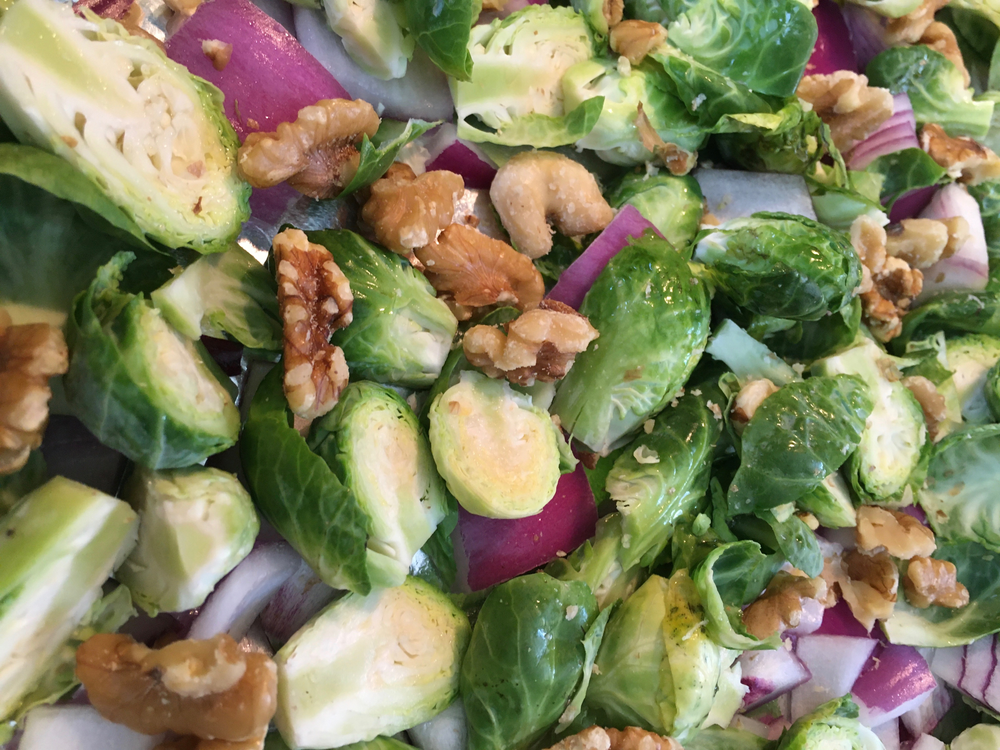 Cover with a large sheet of foil and tuck in the sides. A little steam will render a softer texture. Cook for 20 minutes. Check to see that the Brussels and onions are tender to the touch: they will retain their crunch. If still too raw, give them another 5-10 minutes, checking every 5 minutes.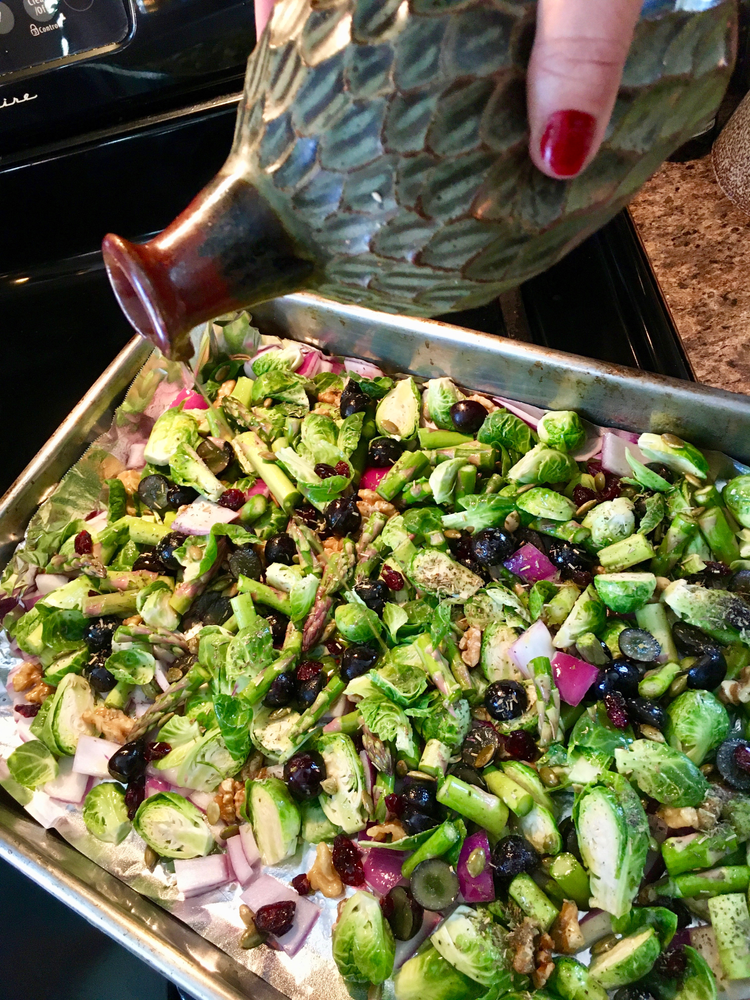 Once everything is cooked, remove foil and broil for 5 minutes. Brown and crisp the nuts and veggies. Turn on your oven light and keep an eye out when broiling as your dish will brown quickly. 
Mix your ingredients and drizzle with 1 Tablespoon olive oil. Arrange your yummy veggies on a somewhat flat serving dish (not a bowl). Finally, trickle with reduced balsamic. Add a few, fresh leaves of rosemary or parsley. I'm sure you'll enjoy this sweet and savory side dish!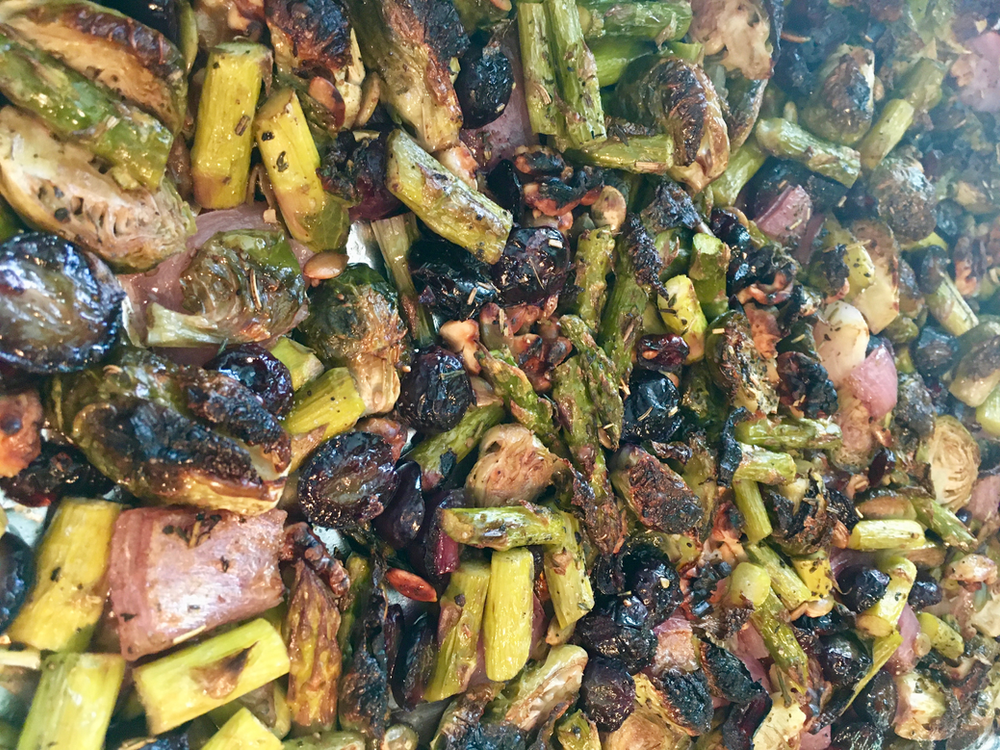 Brittany Fiero of Mise En Place:
My friend and fellow blogger, Marie Pullen of Backroad Bluegrass Blog recently reached out to me regarding the support of local farmers. Without hesitation I agreed to collaborate. Kentucky farmers are essential to our good nutrition and produce a variety of high-quality products. Additionally, many Kentucky farmers offer Community Supported Agriculture (CSA) opportunities for consumers to buy seasonal food directly. To learn more, I highly recommend reading Marie's Kentucky CSA blog posts here- Elmwood Stock Farm, Triple J Family Farm and Root Bound Farm.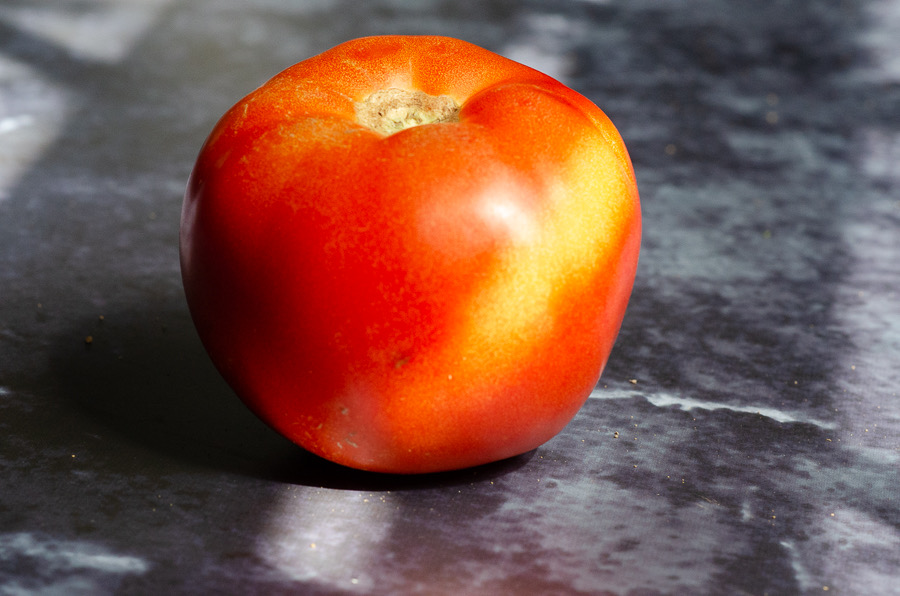 The last few weeks I have found great comfort in shopping at the farmers market. I truly needed the fresh air and human interaction (from a distance of course). There was also a sense of satisfaction in the assurance that I was buying fresh, locally grown products from businesses in the area. During my quick trip I bought plump radishes, a hefty bag of pea shoots, vine-ripe tomatoes and freshly ground lamb.
Diving into my largess, I prepared Brittany's quick and delicious, marinated, tomato salad. Comprised simply of tomatoes, infused olive oil, Dijon mustard, honey and fresh herbs, it's adjustable to your taste. For example, you can use your favorite infused olive oil which can be found at most farmers markets. Or opt for other fresh veggies, like onions or thinly sliced radishes.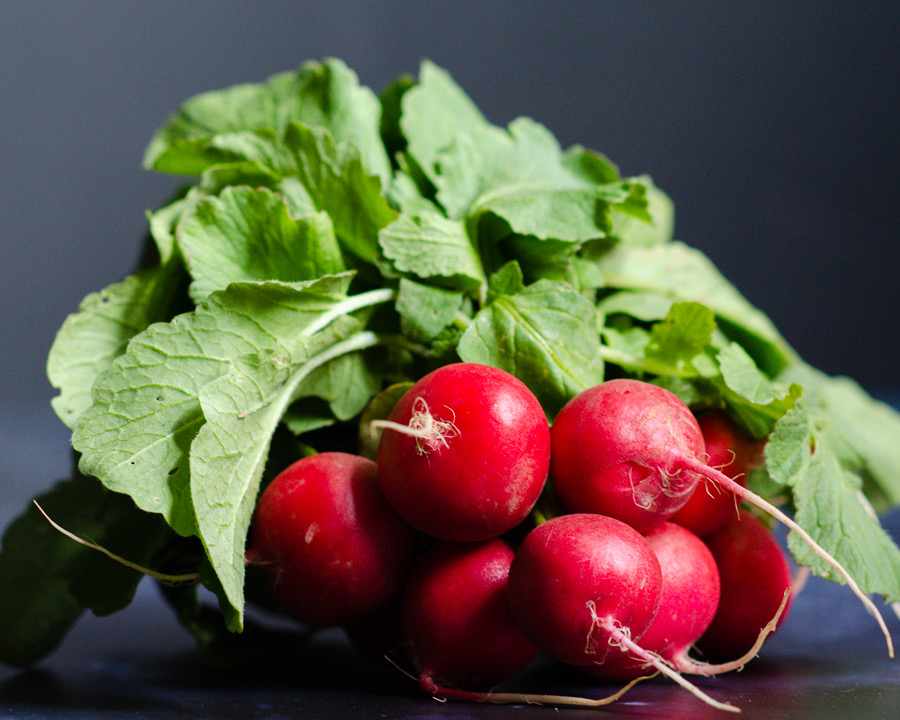 MARINATED TOMATOES by Brittany Fiero of Mise En Place
Ingredients:
2-3 large tomatoes
1/3 cup infused olive oil (I used blood orange infused olive oil)
1 Tablespoon Dijon mustard
3 Tablespoons lemon juice
1 Tablespoon honey
½ teaspoon onion powder
2-3 Tablespoons fresh herbs (I used chopped chives and thyme)
Salt and pepper to taste 
Directions:
Cut tomatoes into large slices and place in a serving dish.
Whisk remaining ingredients together in a bowl. Pour this marinade over tomatoes.
Cover dish and allow tomatoes to marinate at room temperature for at least 30-45 minutes.
Note: If you refrigerate the tomatoes, the marinade will solidify. Take dish out of fridge for at least one hour before serving to allow the dressing to warm up and revive.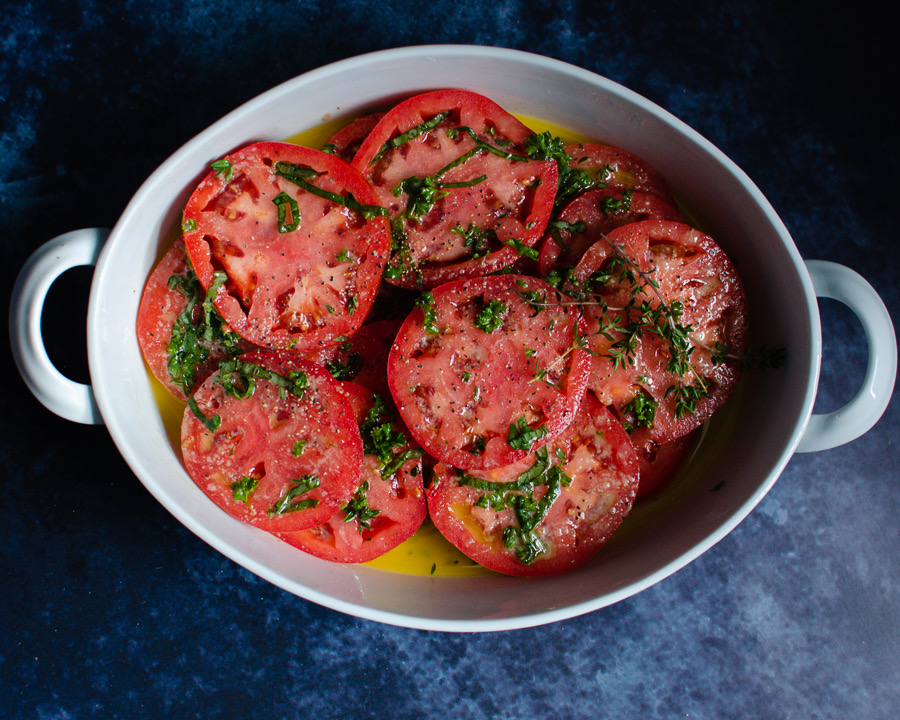 APPALACHIAN APPLE CAKE by Laura of Must Love Herbs
Appalachian Stack Cakes are deeply rooted in our Kentucky mountain heritage. Every grandmother has her own version of this cake and method of preparation. Whether fried on a stove top with a cookie-like texture or soft, fluffy layers produced by baking in an oven, threads run true in each recipe. Apples and apple butter are basics with ample warm and comforting spices. 
I am sharing "my" Appalachian stack cake. It's light and moist, accented with a generous share of apple butter flavor making it the perfect Farmer's Market recipe.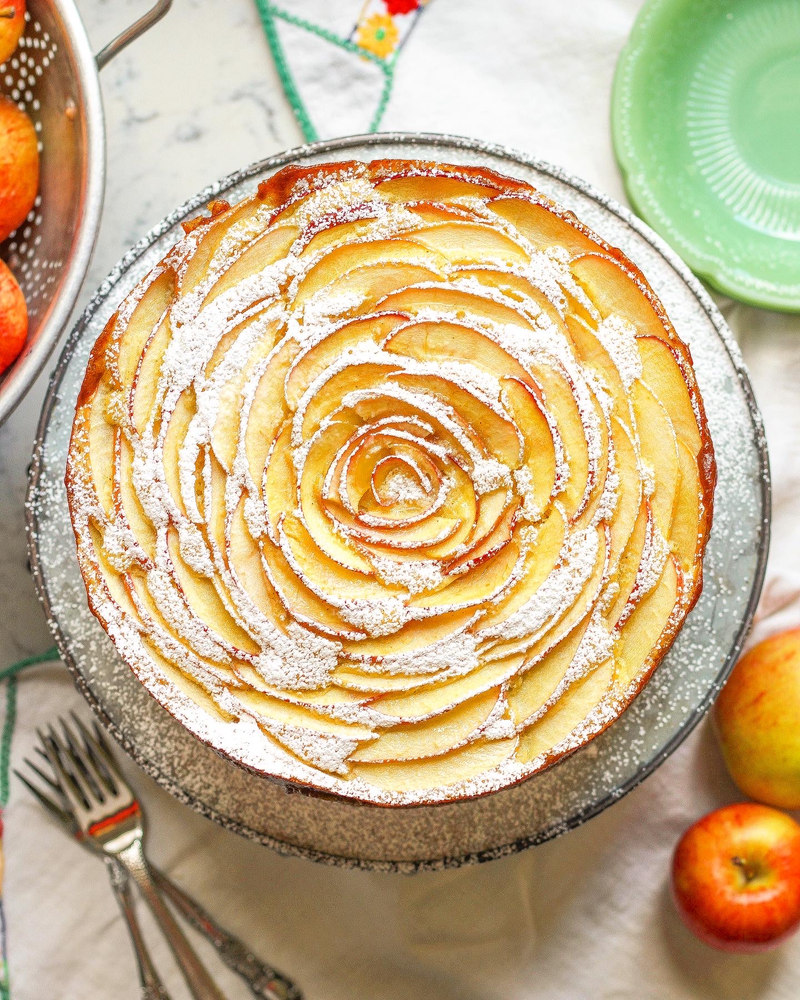 Ingredients:
2 cups all-purpose flour 
2 teaspoons baking powder
1/2 teaspoon salt
1 teaspoon ground ginger
1 teaspoon ground nutmeg
1 1/2 teaspoons cinnamon 
2 sticks of unsalted butter (at room temperature). Reserve a bit more to grease pans
1 1/3 cups granulated sugar
4 large eggs
2 Tablespoons moonshine (the legal kind, please)
4 teaspoons vanilla extract
2 1/2 cups diced apples. Remove the peel if you'd like, but not me! 
1/2 cup black walnuts
2 quart jars apple butter (64 ounces)
3 apples, cored, halved and cut into thin slices for rosette top
Powdered sugar for dusting
Directions: 
Preheat oven to 350°F. 
Grease the inside (sides and bottom) of the 9″ cake pans with butter. Line the bottom of each pan with parchment paper. Make sure to also butter the top of the parchment paper.  
Combine flour, baking powder, salt and spices in a bowl. Set aside. 
In a separate bowl, use a mixer to cream butter and granulated sugar together until airy and color has lightened slightly. Beat in the eggs until combined. Add the moonshine and vanilla. Slowly pour in the flour mixture making sure not to add too much at once. Mix until just combined. Carefully fold in the apples and walnuts until they are evenly distributed throughout the batter. Measure 1 cup of batter per cake pan. Tap pans to distribute batter evenly and reduce the amount of air pockets. ,Reserve one pan of batter to decorate with apple slices for the rosette top.
Lay a circular row of apples along the outside edge of the preparation. Work your way in, overlapping the circle each time until you reach the center. For the middle of the rose, microwave an apple slice at 50% power for 15 seconds to soften. Roll the apple slice into a pinwheel and place in the center of apple slices. 
Bake each cake layer, including that with the rosette, for 13-14 minutes or until a toothpick inserted in the center pulls out cleanly. This recipe will make a six-layer cake. Allow the layers to cool completely. Once all  have reached room temperature you may assemble the cake. Trim off any high spots with a large bread knife to assure each layer is even. This is especially important for the bottom one.
Between each cake layer spread a thin coat of apple butter to 1/4 inch away from the cake's edge. Top the cake with apple rosette piece and finish with a light dusting of powdered sugar. Cake is best enjoyed when allowed to cure 24 hours. 
So pull out your mixer, warm up the stove and share your spring cuisine ideas with me.  I'm always open for suggestions!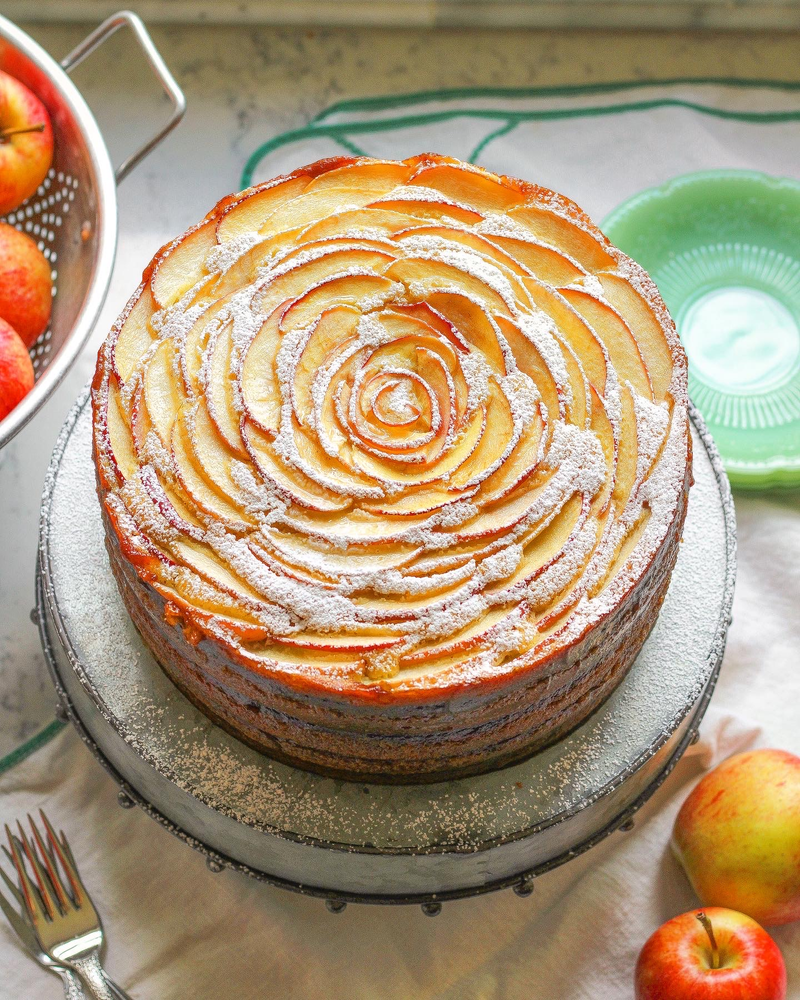 Enjoy even more Recipes of Summer!
Spring has sprung with a flourish and 'tis the season to be cooking! Our local farmers are coming to market with a bounty of delicious, garden goodies. I've partnered with two friends, Brittany of Her Mise en Place and Lauren May from Must Love Herbs to provide exciting, new Farmer's Market Recipes for dishes to…