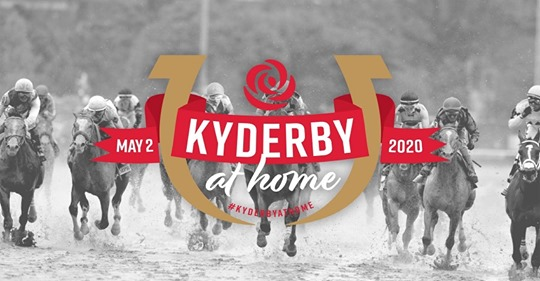 Triple Crown Showdown Virtual Derby
by Marie

Posted on

May 2, 2020
With all the unfamiliarity in our lives right now, many developments seem odd and at times surreal. I watch reports on those drawing parallels to World War II and the Great Depression as the last experiences on par with our current crisis. This year we will be watching a Triple Crown Showdown Virtual Derby.
As most of you know, "the most exciting two minutes in sports" has been rescheduled for September 5, 2020. The postponement of the 146th running of the Kentucky Derby, the traditional gem we hold so dear, is a shock to the system. This has never occurred since its inception in 1875; making it the longest, continuously held sporting event in America!
I was pleasantly surprised when a friend mentioned a "virtual derby", dubbed the Triple Crown Showdown will be live all day today on May 2, 2020. It will feature the 13 historical triple crown winners "racing" against one another. So we can still celebrate the Derby, even if it's in our home! Click the link above to register and watch live streaming including cocktail making, virtual tours of the Kentucky Derby Museum, fascinator tutorials and more.
A credit card is required, but not charged unless you choose to make a donation to the Covid 19 fund which will be matched up to one million dollars by Churchill Downs. You can also view derby coverage from 3-6PM EST today on NBC. Might I mention I hosted my last three or four derby parties in the worst, sopping weather ever, thus preventing all outdoor activity?  However, beautiful weather is forecast for this Derby Saturday.
With news of the virtual derby circulating among friends and family, interesting yarns from yesteryear have surfaced. I thought it might be nice to relate a couple of these Derby/thoroughbred tales.
I know you'll enjoy these anecdotes, straight from the horse's mouth!
It was a cold spring day in 1975.  On Claiborne Farm in Paris, Kentucky, with the wind whipping over the fields, it was bitter cold.  I'd brought an out-of-state friend to view the horses at Claiborne, the best thoroughbred breeding farm in the world.  I was a 22-year-old who adored horses, working as a groom on another farm.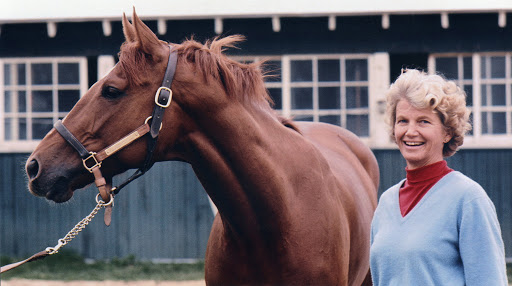 Big Red as he was known by owner Penny Chenery. Photo Credit: Photo Courtesy of Secretariat.com
That day, Claiborne management was kind enough to permit one of their grooms to show visitors around and ours was an old hand with the stallions.  I was on one side of a white-planked, pasture fence, with the famous Secretariat having come up to the other side.  He wanted the Red Delicious apple I'd brought for him and was holding in my hand.  
I turned away for a second to get the attention of a family from Japan, because they'd said they were fans of "Big Red".  I thought Secretariat plucking my shiny apple would be a great picture.  But Secretariat decided he didn't want to wait and impatiently bit the back of my upper, left arm, clamping down hard through my coat, sweater, and long-sleeved shirt.  He was just trying to get my attention, but, oh, it hurt like hell!  I gave him the treat through water-filled eyes, not letting my tears run over.  I was so embarrassed for crying.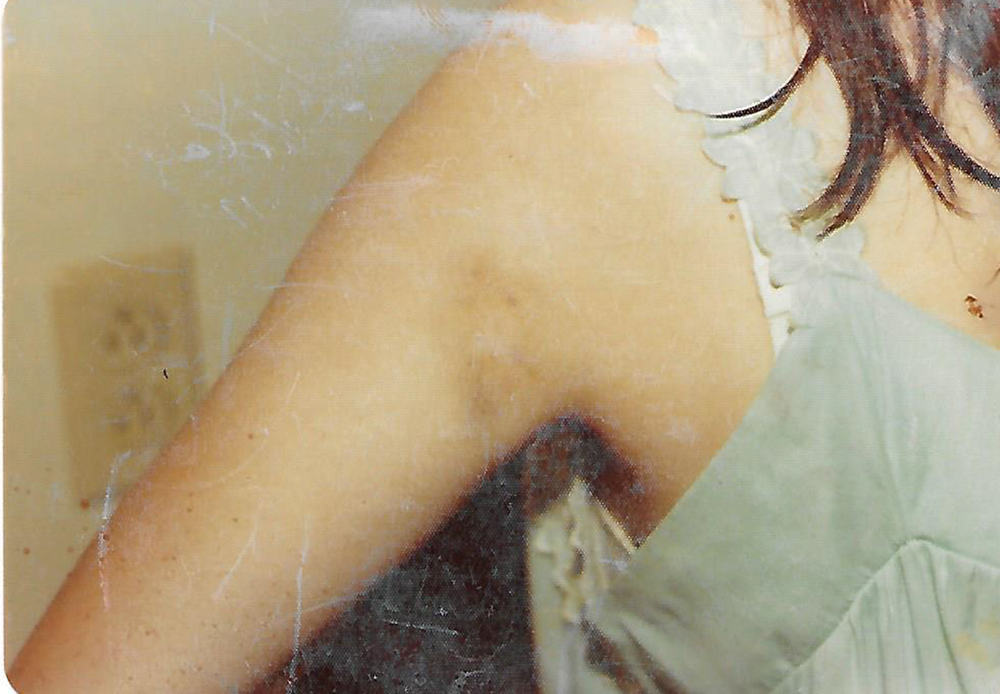 1975 Photo of Secretariat's "autograph".
Secretariat was nippy, just like most thoroughbreds. But his groom appeared embarrassed by the stallion's maneuver and reached around and snatched a few hairs from the horses's tail.  He handed them to me saying, "For your trouble."  Secretariat didn't even seem to notice.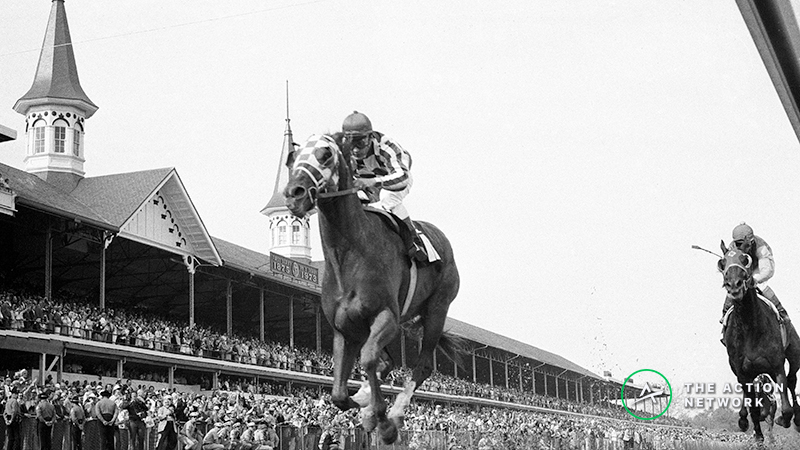 Secretariat Photo courtesy of The Live Action Network
Interestingly, after Secretariat's death an autopsy revealed his deep chest held a healthy heart twice the size of a normal horse, enabling him to run as so many wrote, "like a tremendous machine."  If you don't believe me, take three minutes to observe Secretariat triumphing at the Belmont Stakes in 1973:  Secretariat – Belmont Stakes 1973.  Forty-seven years later, Secretariat's record that day still stands.
I will always treasure those precious horsetail hairs, because I loved that horse.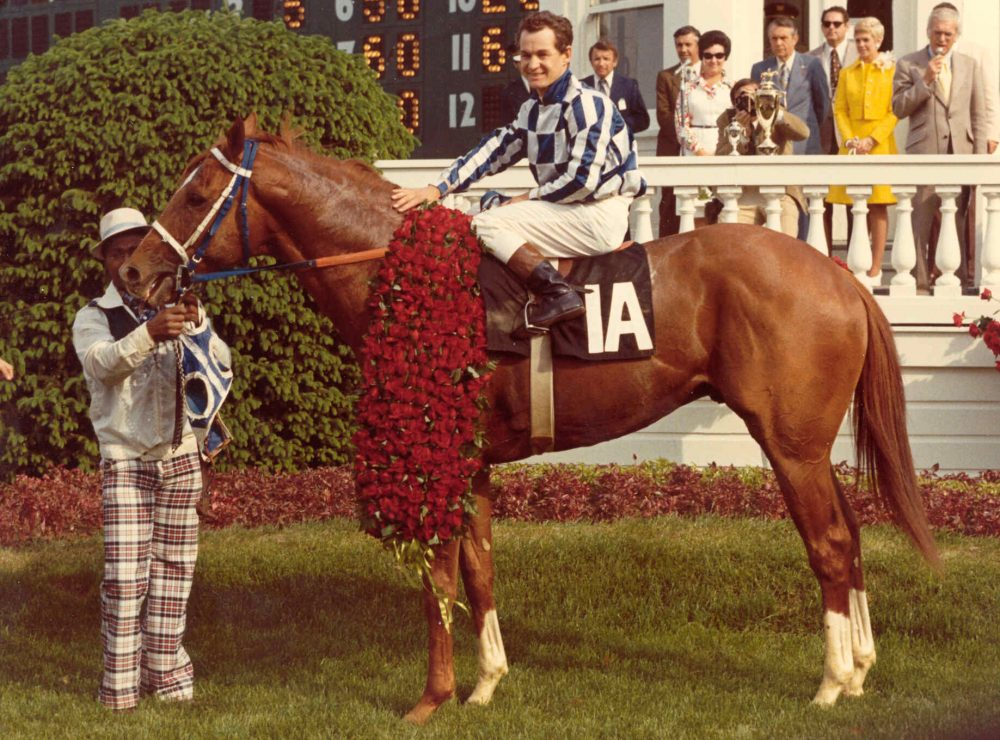 Secretariat wins the Kentucky Derby in 1973. (nice pants!) Photo from the Paulick Report
Here's another recollection by our neighbor who grew up with us on the north side of Lexington.
Seattle Slew, the 1977 Triple Crown winner was born on the farm next to my home in Lexington, KY.  I will be in virtual attendance this Saturday and reliving some of my memories of going to the Derby and sitting in the infield.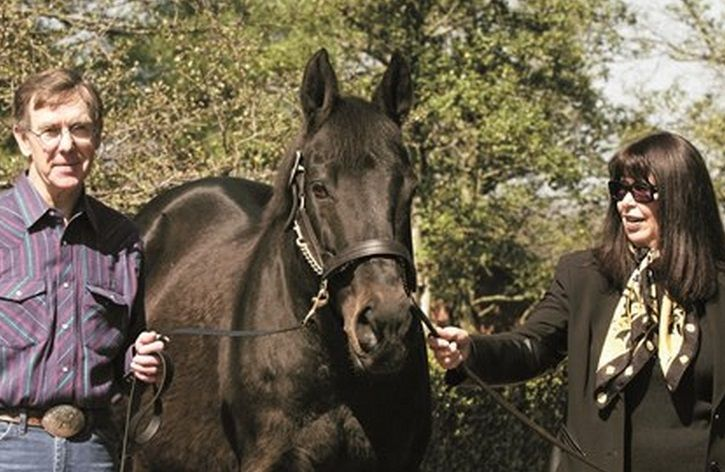 Owners Mickey and Karen Taylor purchased Seattle Slew for $17,500. He went on to earn over $1 million in race purses plus $100,000 stud fees. Photo from theHorse.com
The last time I went was the 100th running in 1974.  I swore I'd never return unless I could go as a human being; get all dressed up and sit in the stands. I've been to many Derby parties through the years and enjoyed numerous races alone at home.  It will definitely be a Single experience this year!  I still get chills when they play, "My Old Kentucky Home".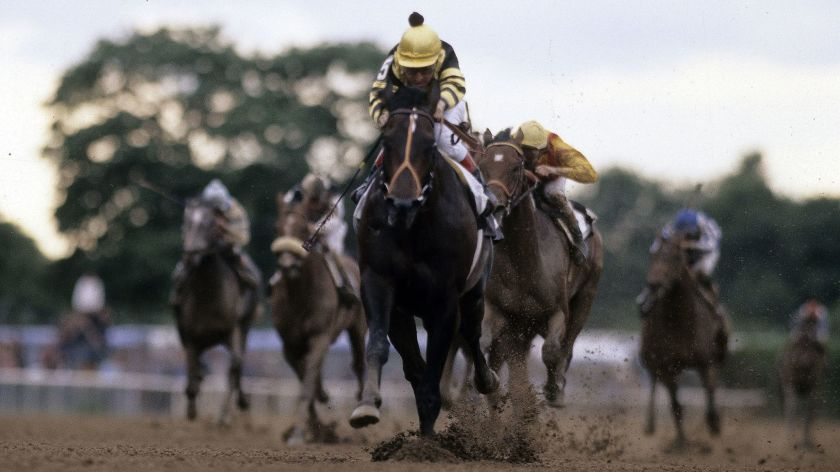 Seattle Slew becomes the tenth thoroughbred to win the triple crown in 1977. Image from the Los Angeles Times
A longtime Kentucky resident Bill Owsley remembers:
It was a chilly, cloudy day in 1989 and the track was off. The girls all wore their spring dresses with big sunhats and the boys looked dapper in their smart suits.
Mom had made us several sandwiches to take along in her picnic basket including turkey, ham and Benedictines, a wildly popular, Southern, cucumber and cream cheese concoction. Some chips and pickles on the side and we were good to go for the race. For once, we'd been winning all day so we decided to bet on an Exacta with five dollars on Sunday Silence and Easy Goer. Boxed them. $350 win. Best day ever at Churchill!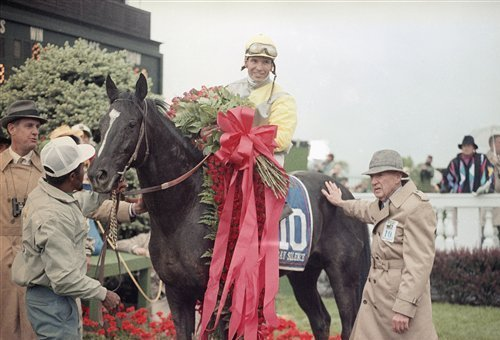 Sunday Silence Photo from the Bleacher Report
If you have memorable experiences you wish to contribute, I would love to share more stories this fall to coincide with the actual Derby. So please send me your thoughts. Hashtag your home derby photos with #KyDerbyAtHome and #safeathome. And be sure to tune in to the Triple Crown Showdown Virtual Derby this weekend!
With all the unfamiliarity in our lives right now, many developments seem odd and at times surreal. I watch reports on those drawing parallels to World War II and the Great Depression as the last experiences on par with our current crisis. This year we will be watching a Triple Crown Showdown Virtual Derby. As…