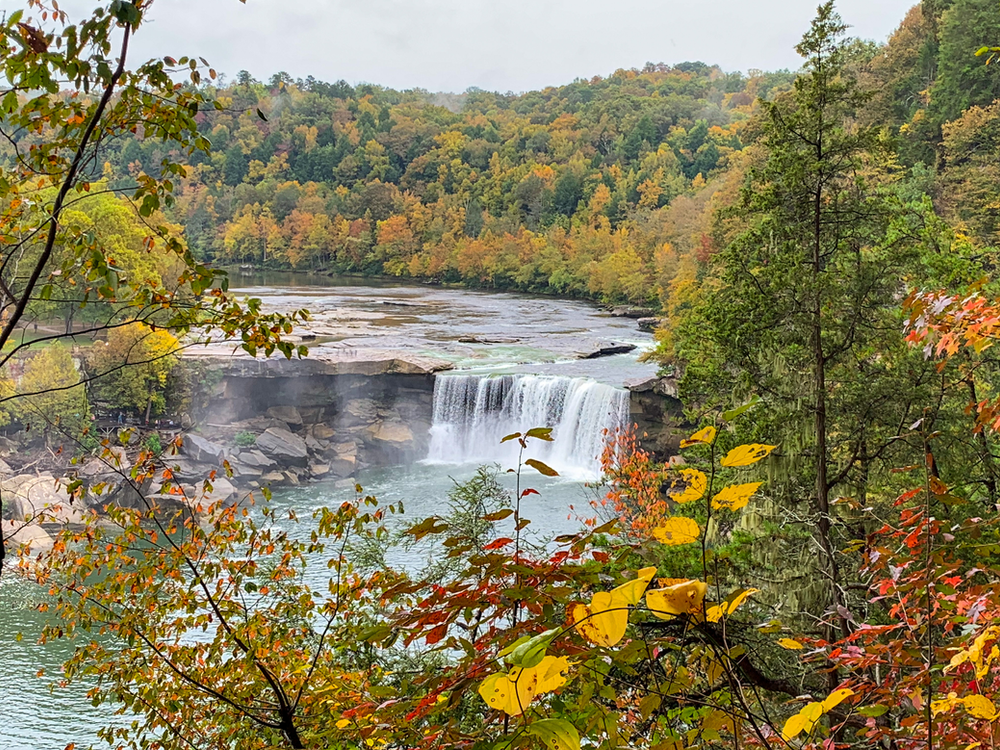 Explore Corbin, Kentucky
by Marie

Posted on

October 12, 2020
Explore Corbin, Kentucky nestled between Knoxville, Tennessee and Lexington, Kentucky. The town is situated on Laurel Lake, a destination for boating, swimming and fishing amidst the beauty of Daniel Boone National Forest. Hikers enjoy 17 miles of trails at Cumberland Falls State Park while travelers visit Cumberland Falls, dubbed the "Niagara of the South". The falls are 125 feet long and cascade over a 60 foot drop, resulting in a beautiful mist that creates the only "moonbow" in the Western Hemisphere making it a wonderful place to explore! The excitement is palpable among locals and tourists alike eager to observe this phenomenon which appears only on a clear night at certain times of the year.
Corbin is famous as the home of the original Kentucky Fried Chicken Restaurant featuring Harland Sanders Café and Museum. Here one can regard vintage restaurant items from days gone by. As an ode to the Colonel the Sanders Park in downtown features the acclaimed icon trailed by chickens, as well as his life-size, bronze statue which provides a great photo op.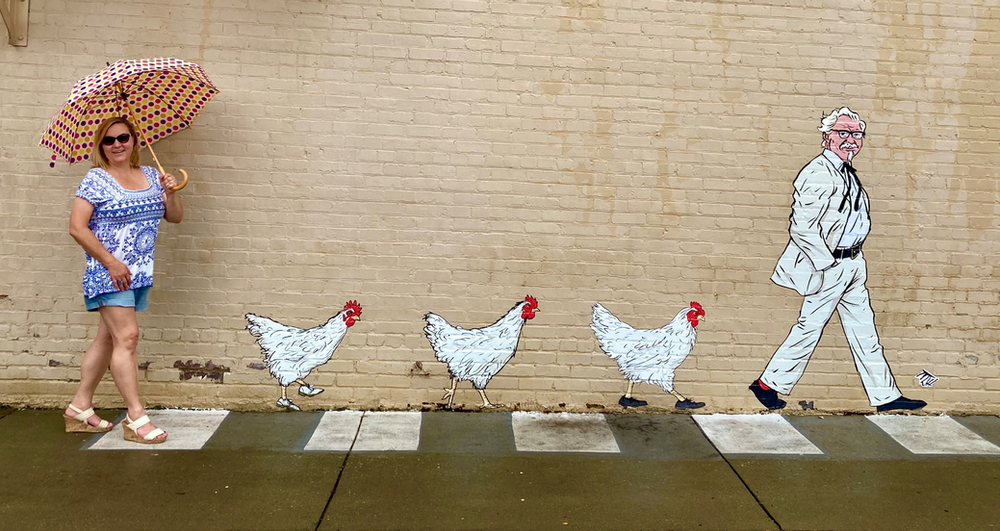 The L&N Railroad runs through the town and boasts a restoration of the last remaining steam engine built in Louisville in 1920, including a coal tender (coal-car) and the original L&N caboose. Construction of a museum is underway chronicling the history of Corbin and its railroad. The exterior is covered with commemorative murals depicting life at that time. Be sure to read more about this renowned train on my blogsite here- Steam Queen L&N 2132.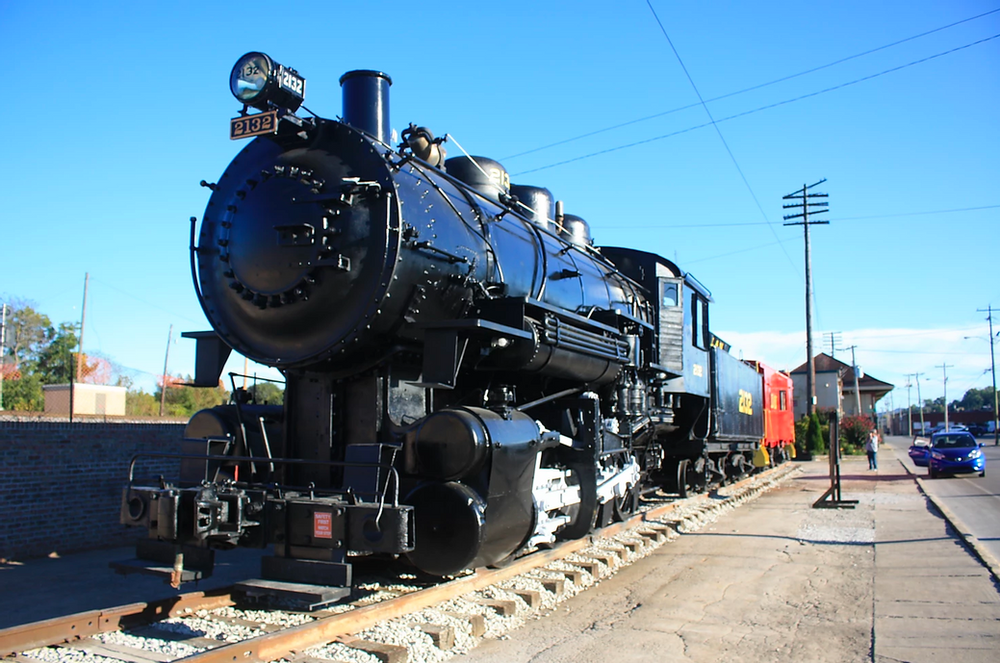 Corbin has a lot to offer and is a perfect travel destination. The downtown has enjoyed a revitalization in recent years with the restoration of buildings of historic architecture occupied by new, local businesses you'll want to explore.
First things first. Be sure to pop by You & Me Coffee and Tea for a little caffeine kick-start. This cute coffee and tea shop has been open since 2012, residing in the former Cottongim Drug Store building on the corner of 3rd and Main Street.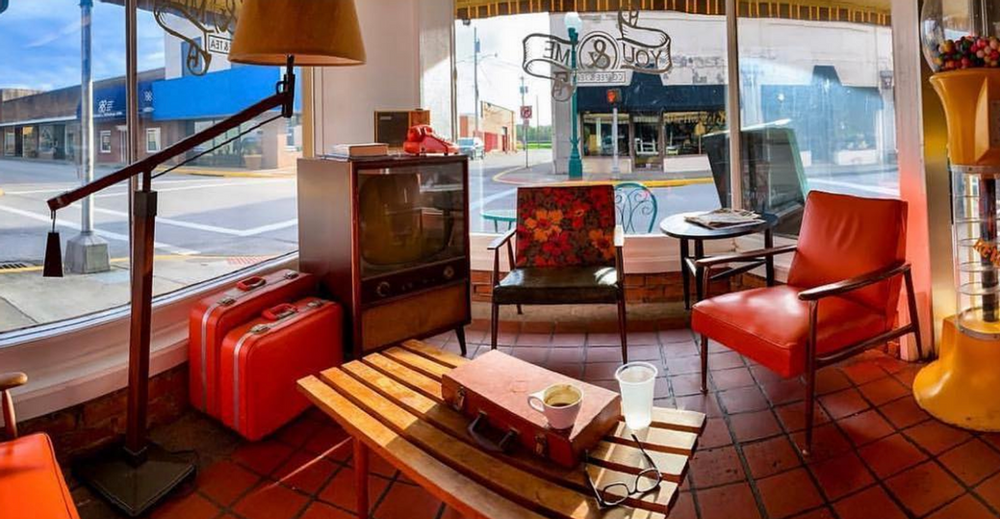 Owner Andy Salmons spent some time in South America where his love for good coffee took root. Once back in Corbin, he perceived the need for a quality coffee house. You and Me sets itself apart by roasting their own coffee beans and preparing sweet syrups in-house. Best sellers include bourbon, vanilla and chocolate. However, their seasonal concoctions such as pumpkin spice, gingerbread and buttered rum are just as enticing.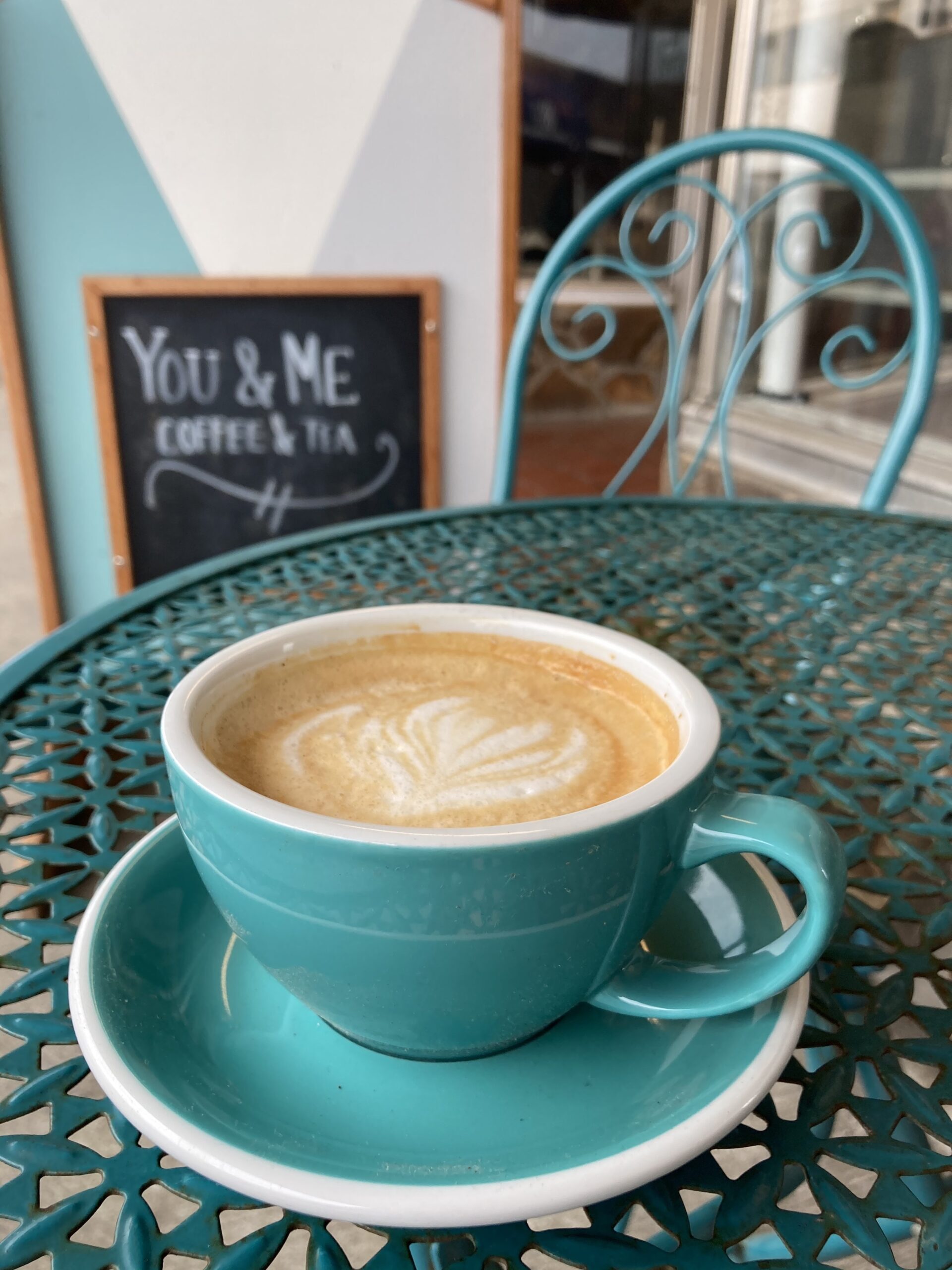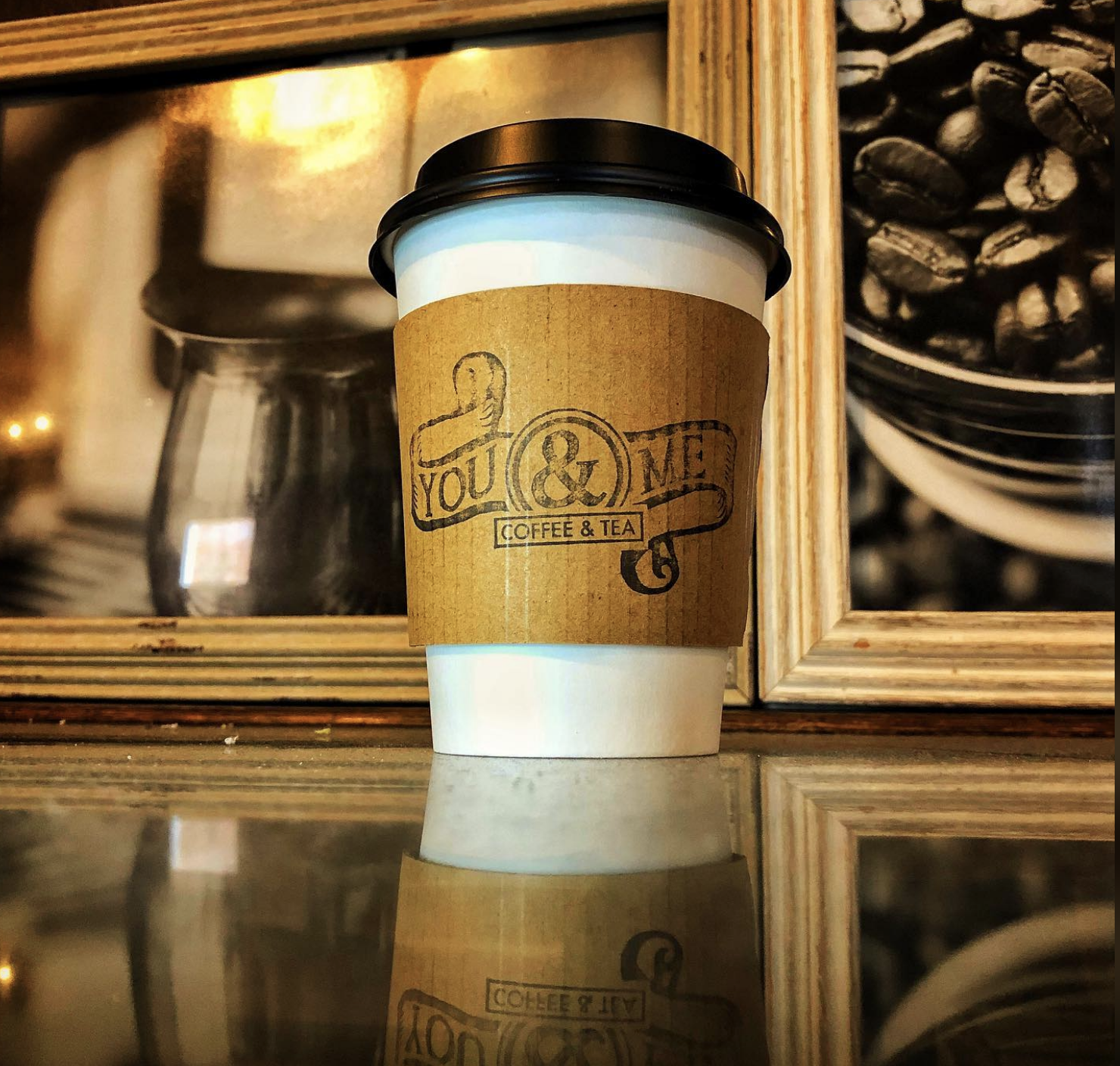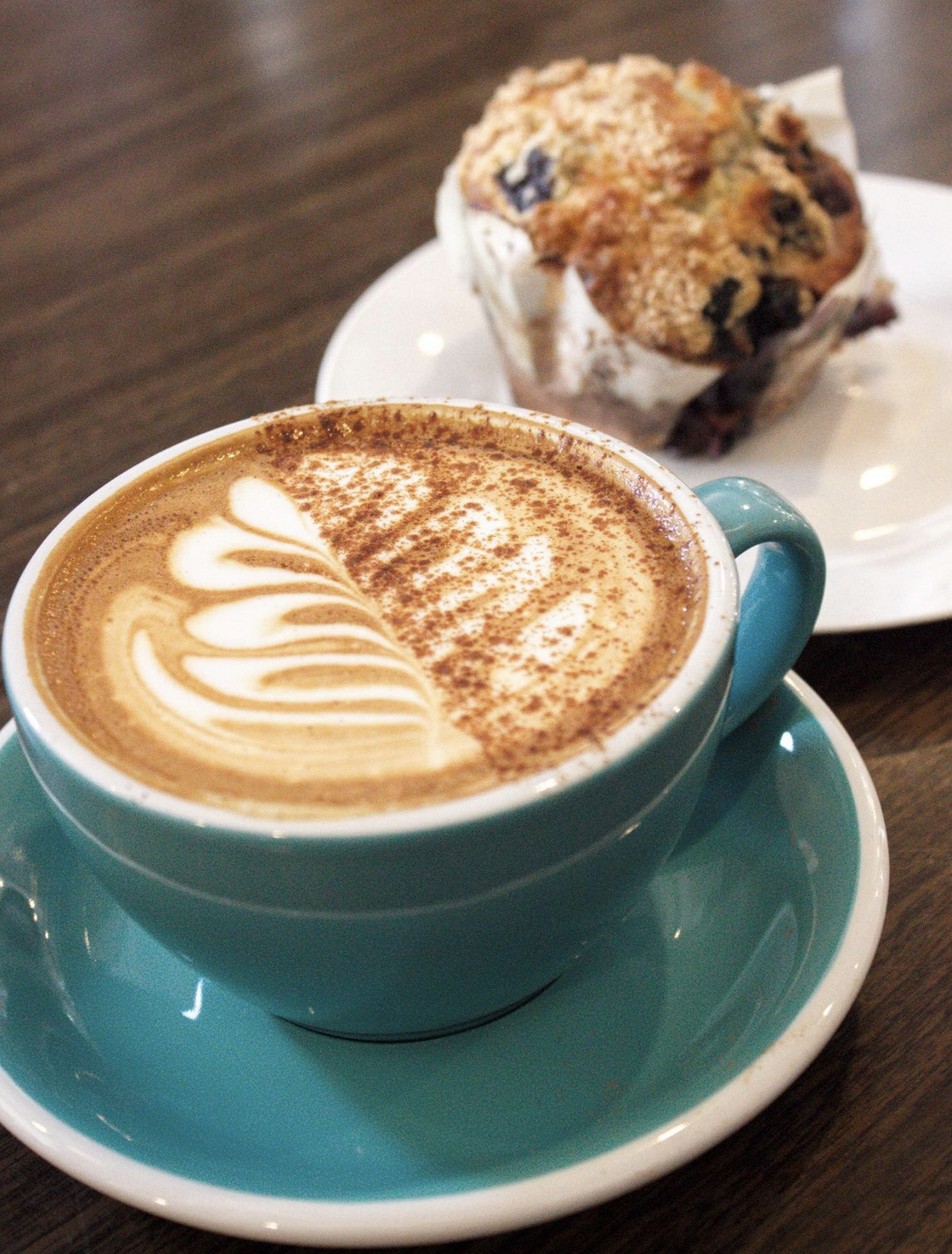 They offer deliciously decadent treats to accompany their java, namely tarts, pumpkin chocolate muffins, sea salt chocolate chip cookies, brownies and more.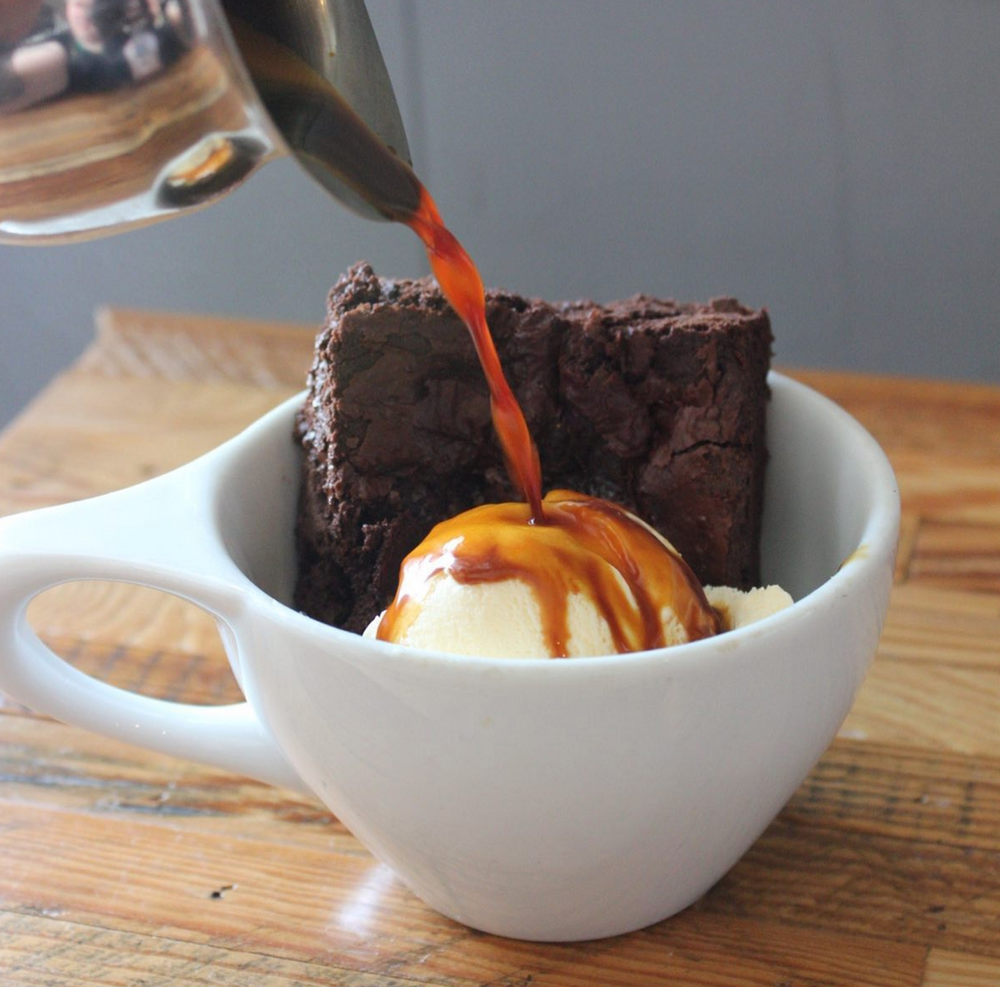 Right up the street I found Alley Stuff Antiques and Eccentricities where I could have gotten lost for hours. This shop is full of eclectic, vintage treasures and antiques including lovely home décor items from rustic to fancy. There are a million and one articles to grace your indoors and out!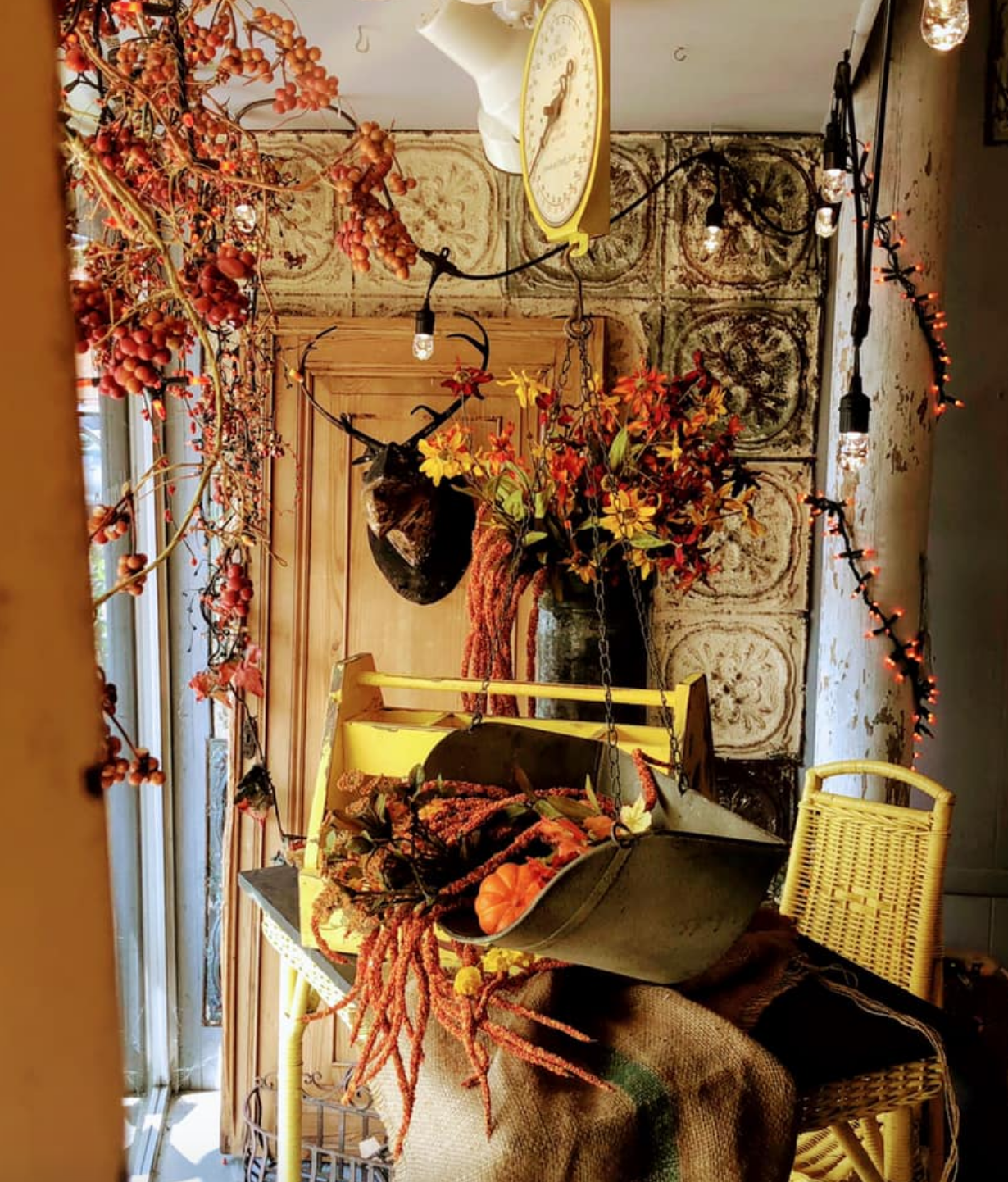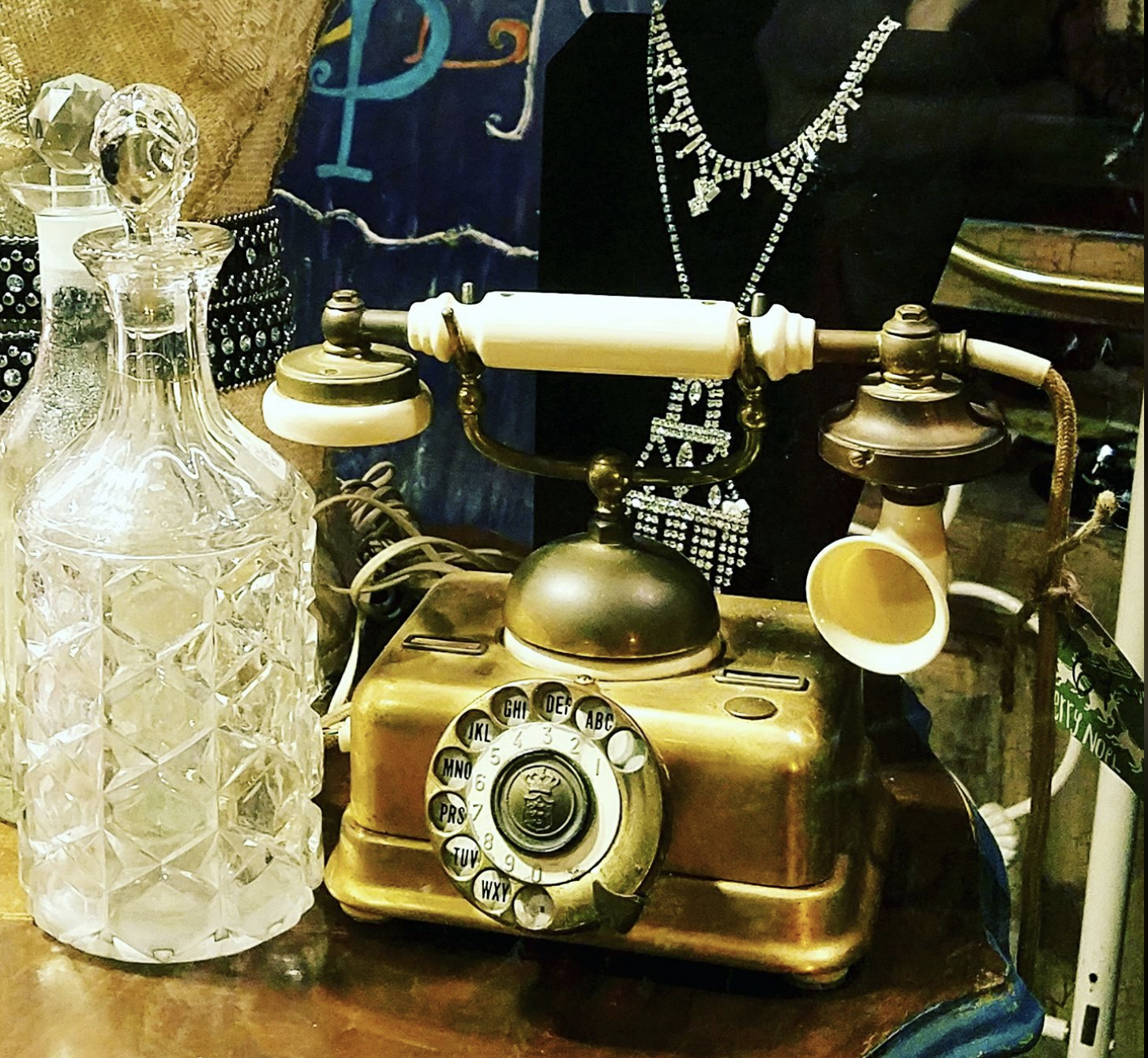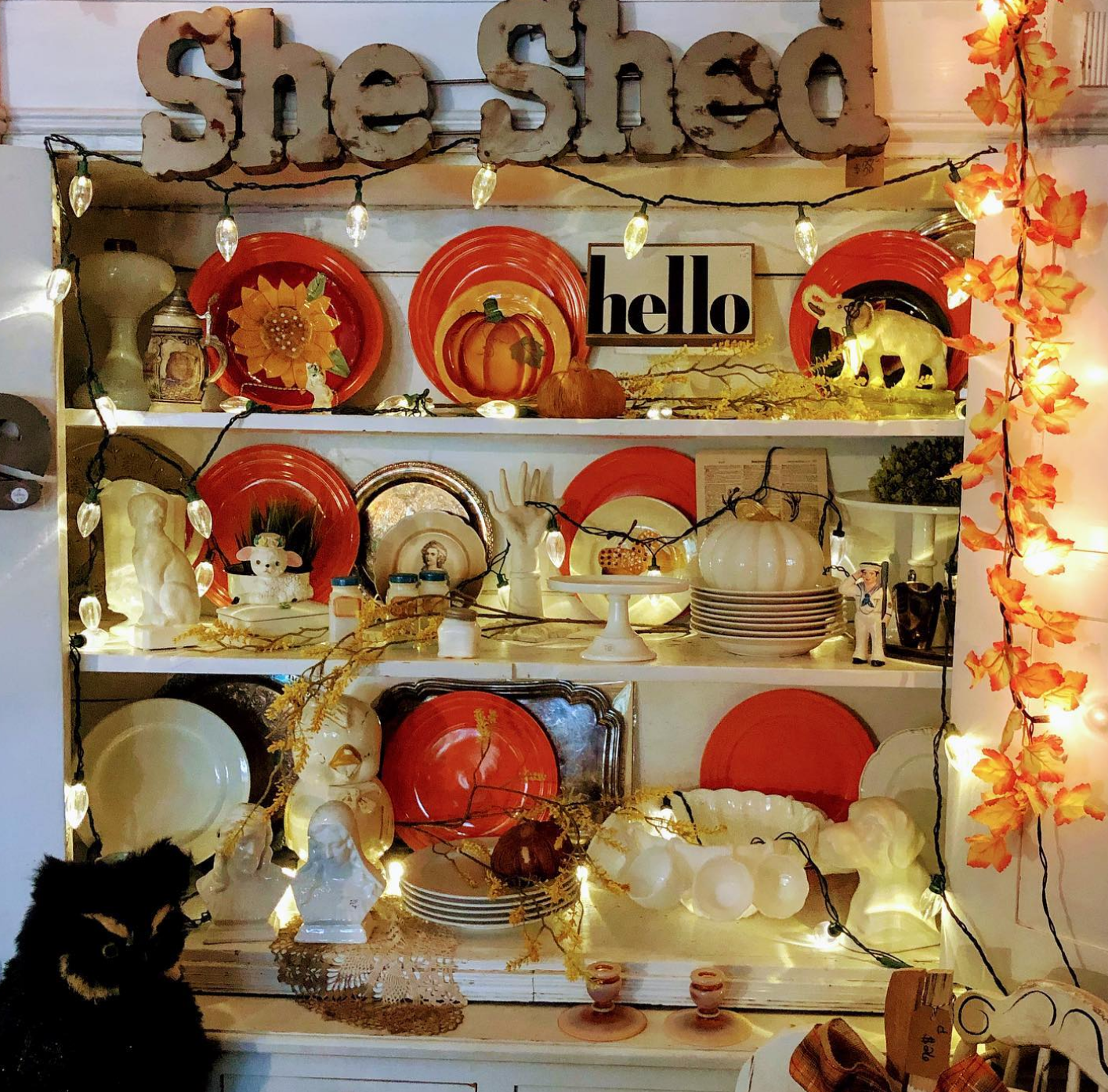 They have filled their space with shabby-chic style, table settings reminiscent of bridge parties in the 1950s. I wandered from room to room, inspired with ideas to decorate my home. A rusty, goat weather vane caught my eye which I just had to have. Aside from home goods, clothing and accessories abound including chunky necklaces, retro formal party and everyday wear.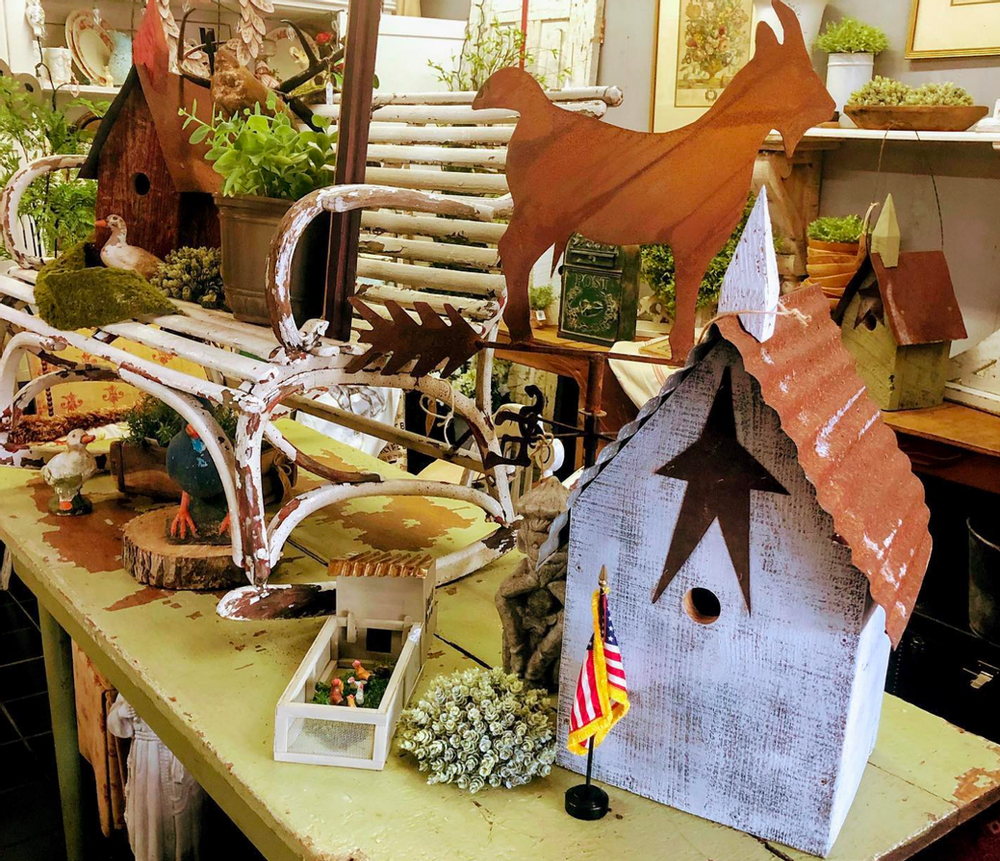 You'll discover everything from antique ad signage to old soda machines to an illuminated She Shed for the wall in your crafting room.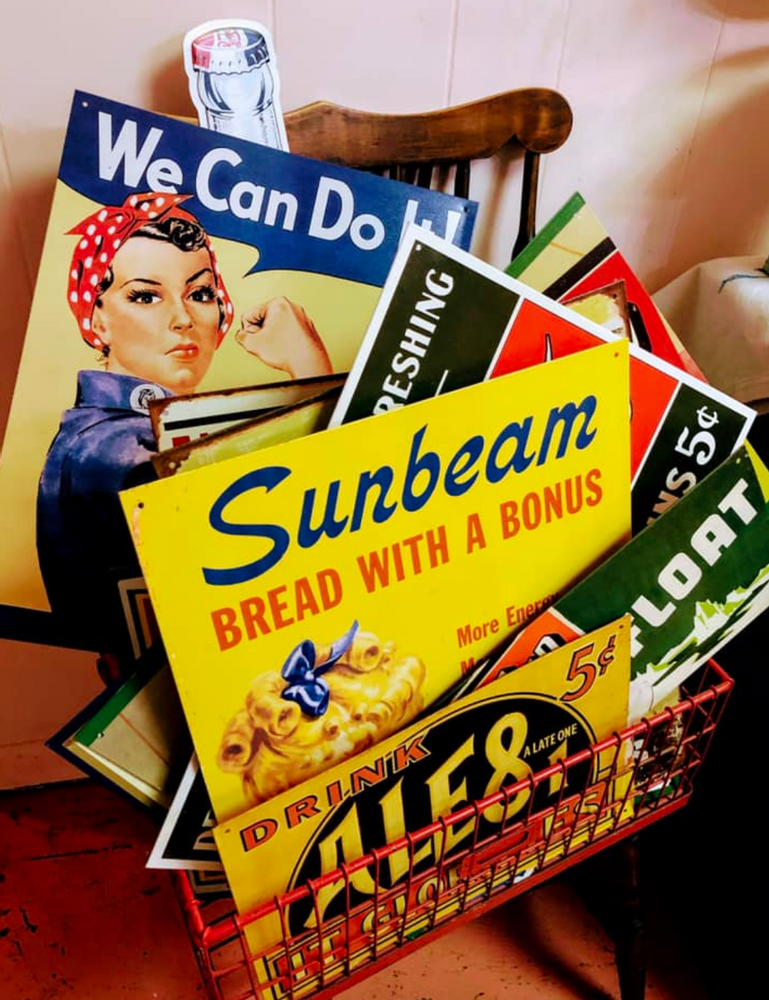 With shopping bags full of vintage goods, have a bite at Seasons Restaurant. Don't let the exterior fool you as the interior of this eatery is decorated to the hilt. Before taking a seat you will want to explore the Renaissance inspired motifs all around.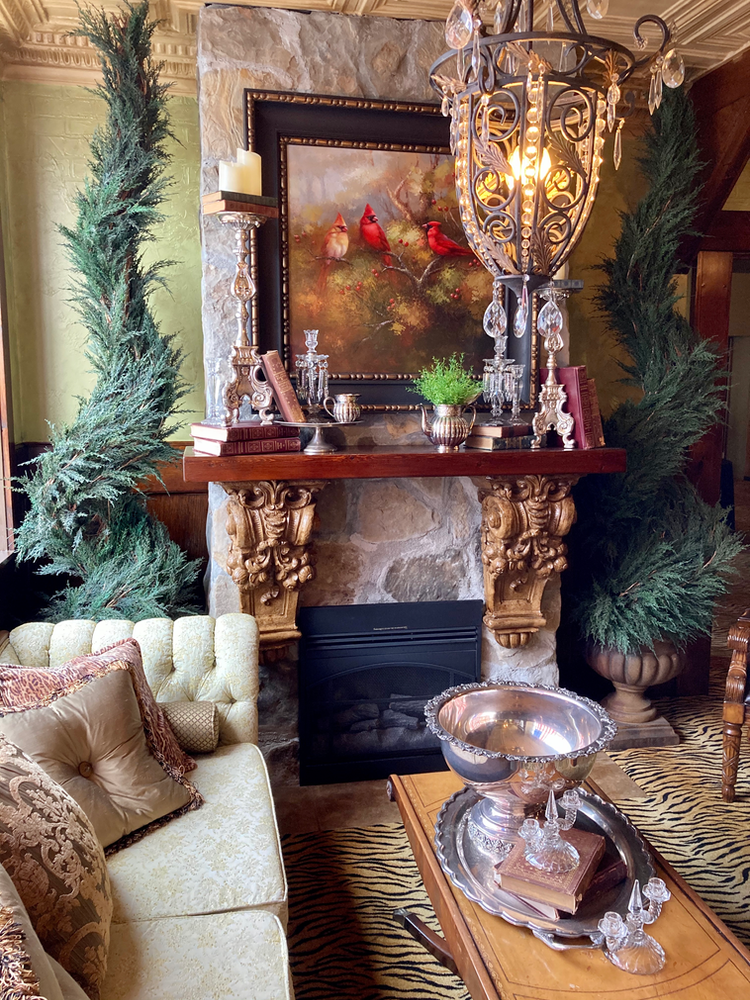 Deep, rich colors accented with gold will capture your attention. Lush, floral arrangements top hand-carved furniture with large, lionhead handles on solid wooden doors and a vibrant zebra print carpet to welcome you into the elegant dining room.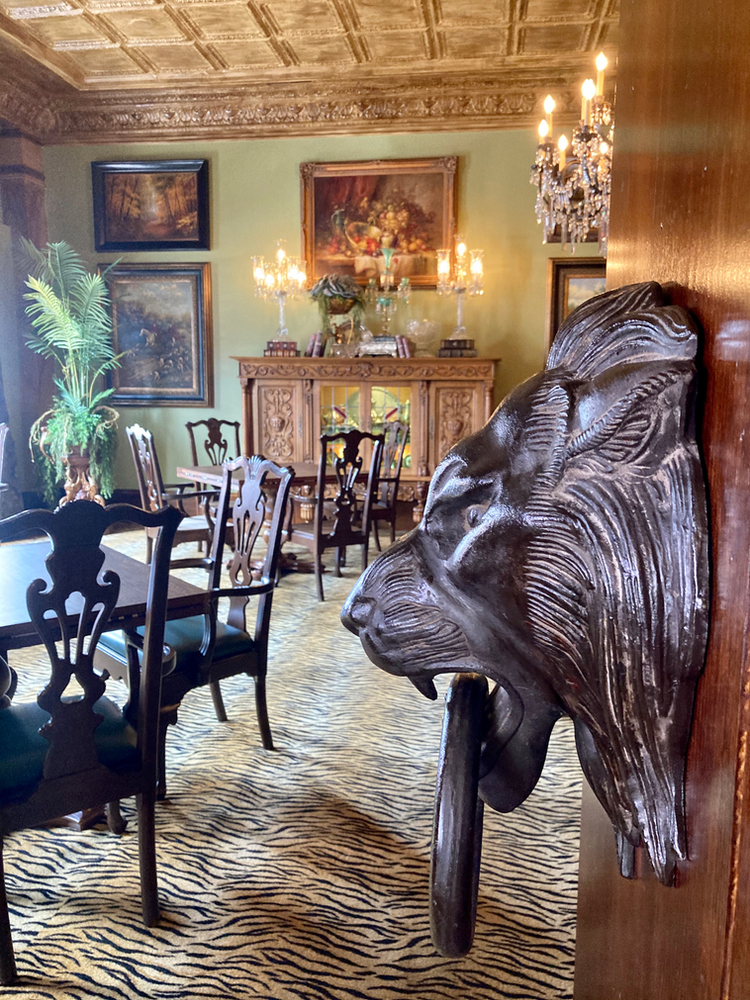 But wait, there's more. The year-round, Christmas room is beyond your imagination! Bulb-studded, Yuletide trees twinkle and charm visitors. Mantels are swathed in seasonal garlands while jolly St. Nick is settled at his table, checking the naughty and nice list. Better take this opportunity to whisper your gift list in his ear.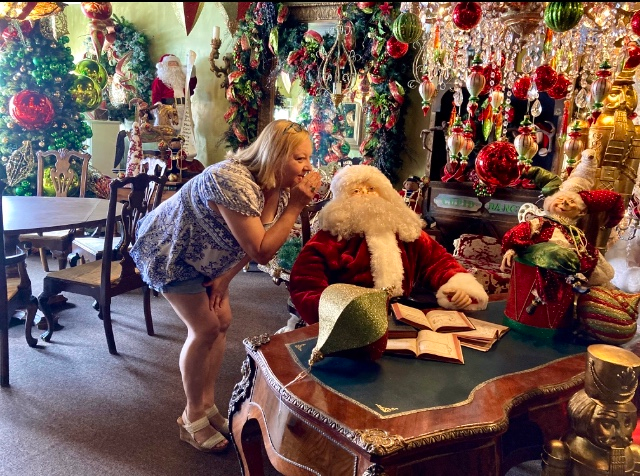 Seasons is best known for their succulent chicken salad, prime rib, beef tips and twice-baked potato, not to mention creamy pastas.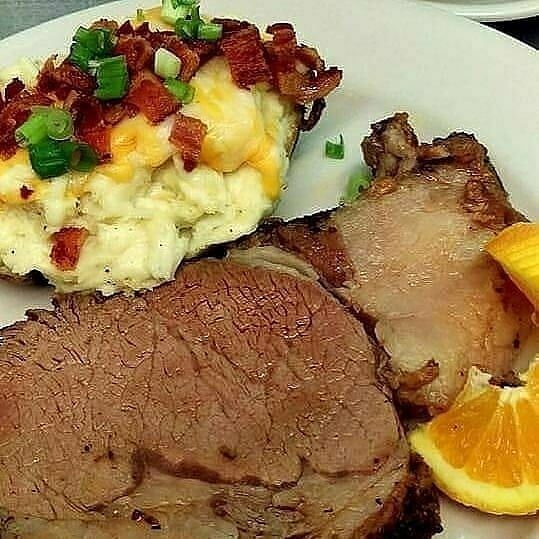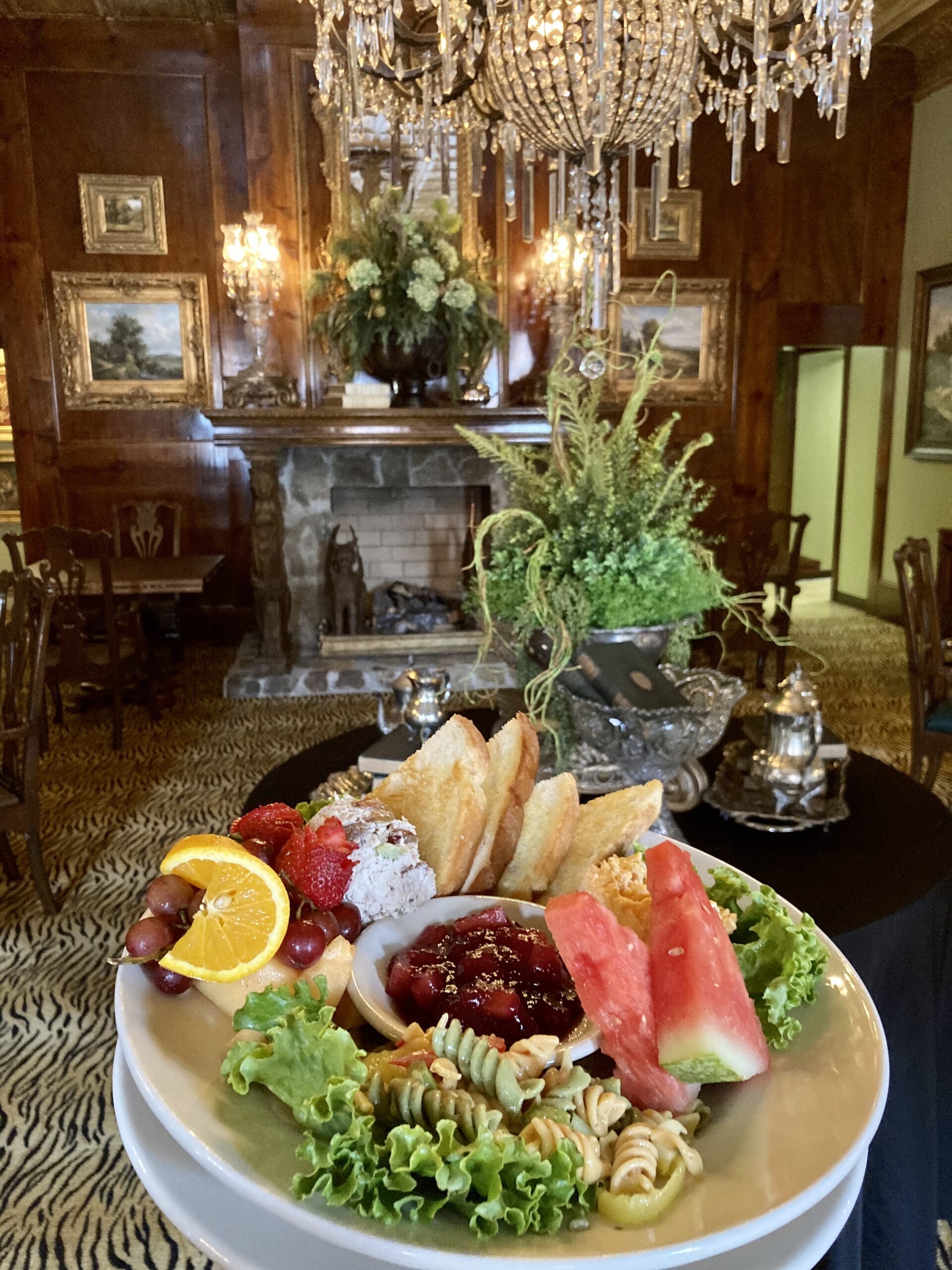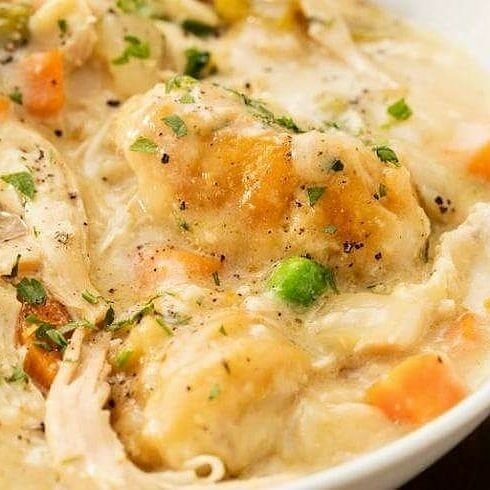 While downtown explore Moonbow at 2nd and Main Streets. They are located in the former JC Penny building originated in 1921.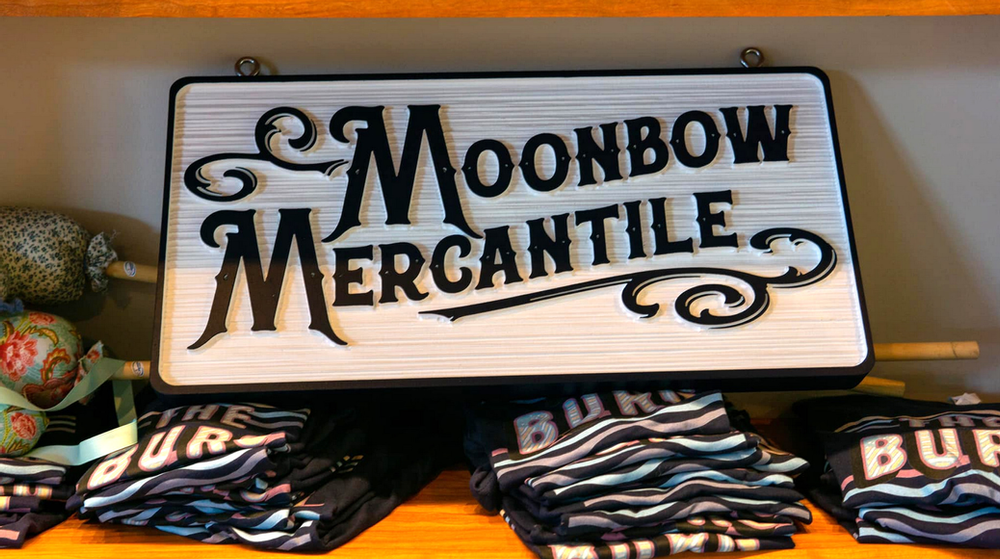 Moonbow, aptly named for the unique sensation at Cumberland Falls offers handmade goods by local Appalachians. Visitors will be thrilled with the finest gifts and pieces including hand-thrown pottery, locally designed t-shirts, turned wooden bowls, beauty products, local honey and home goods, to name a few.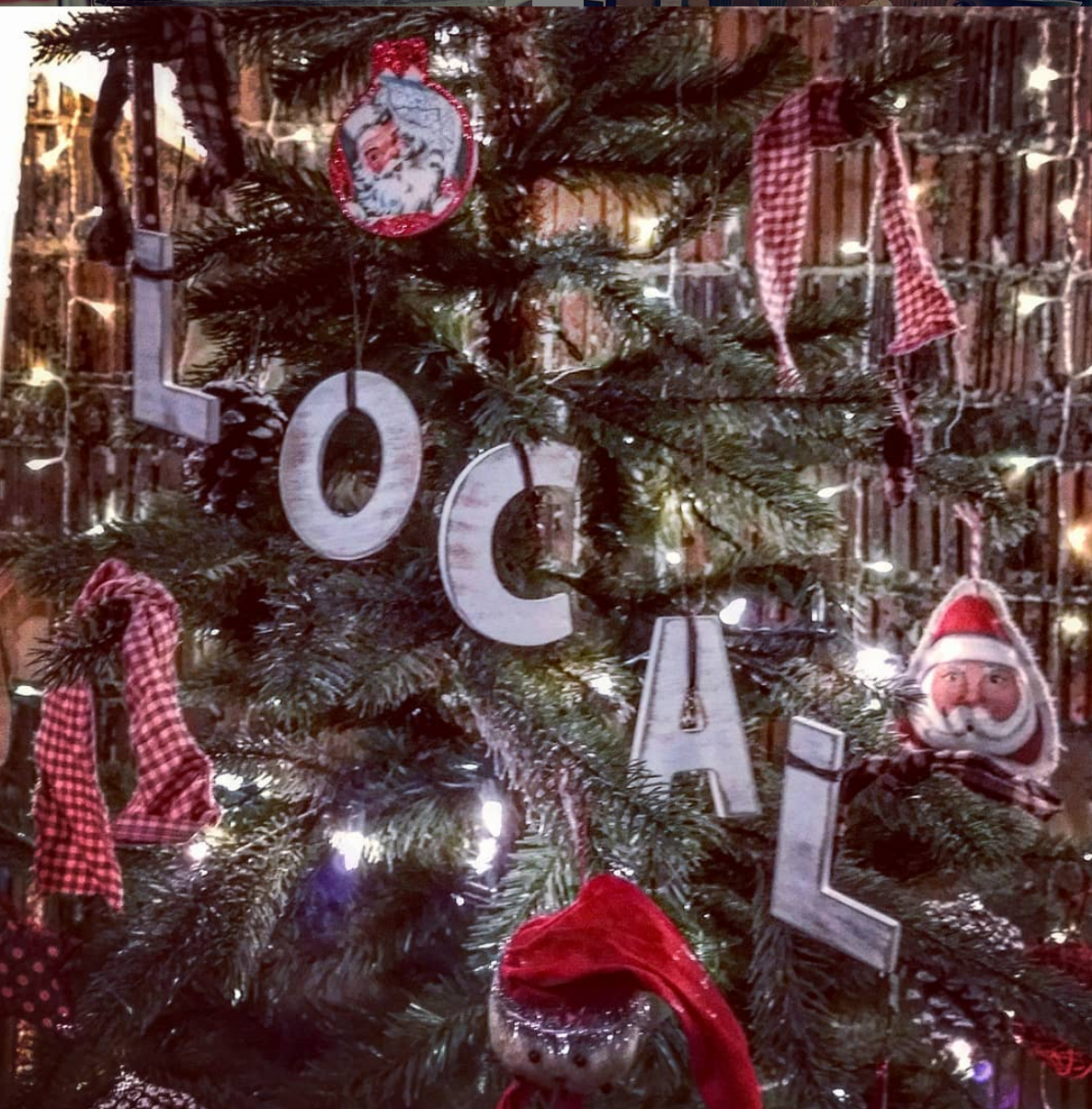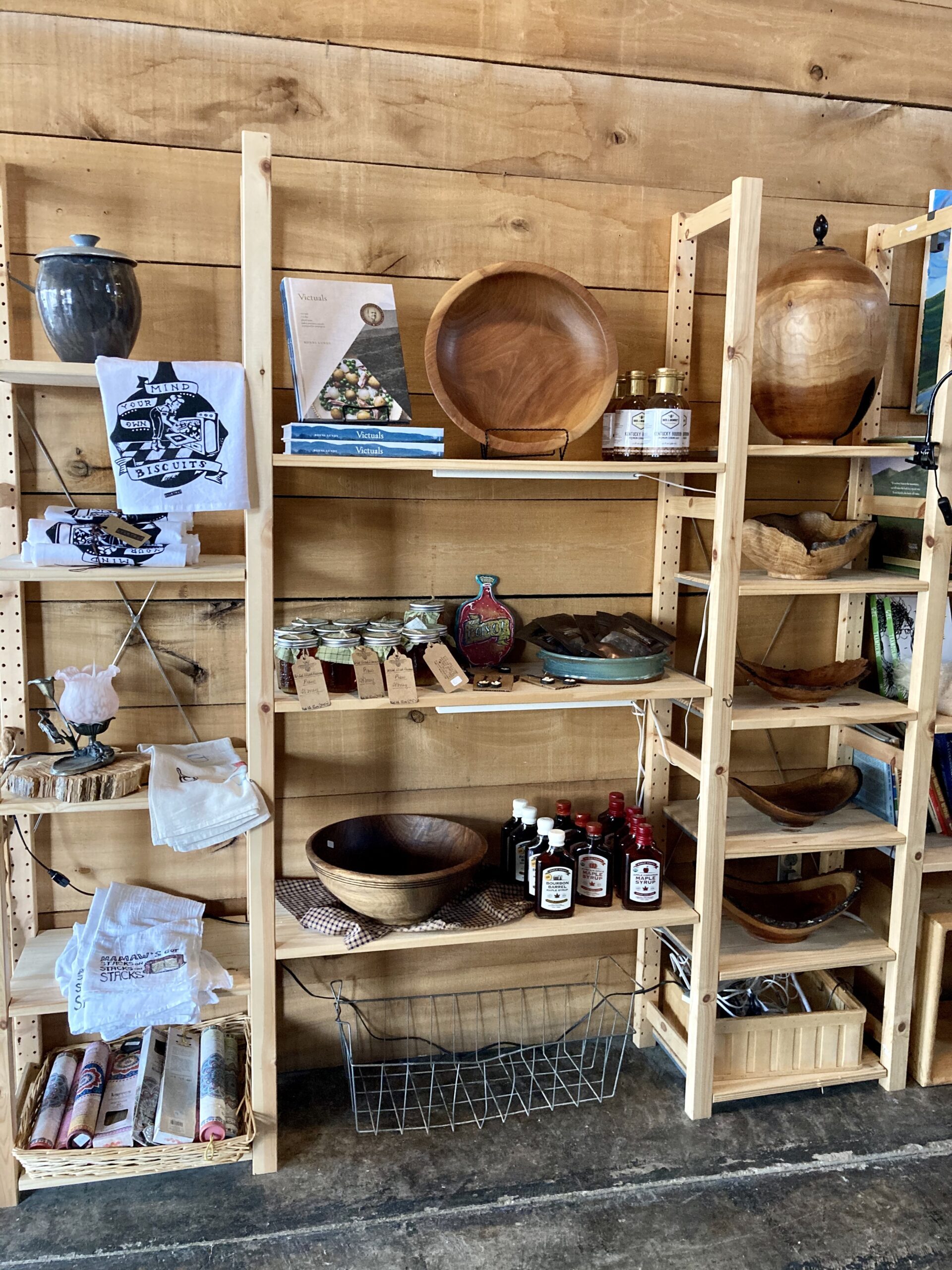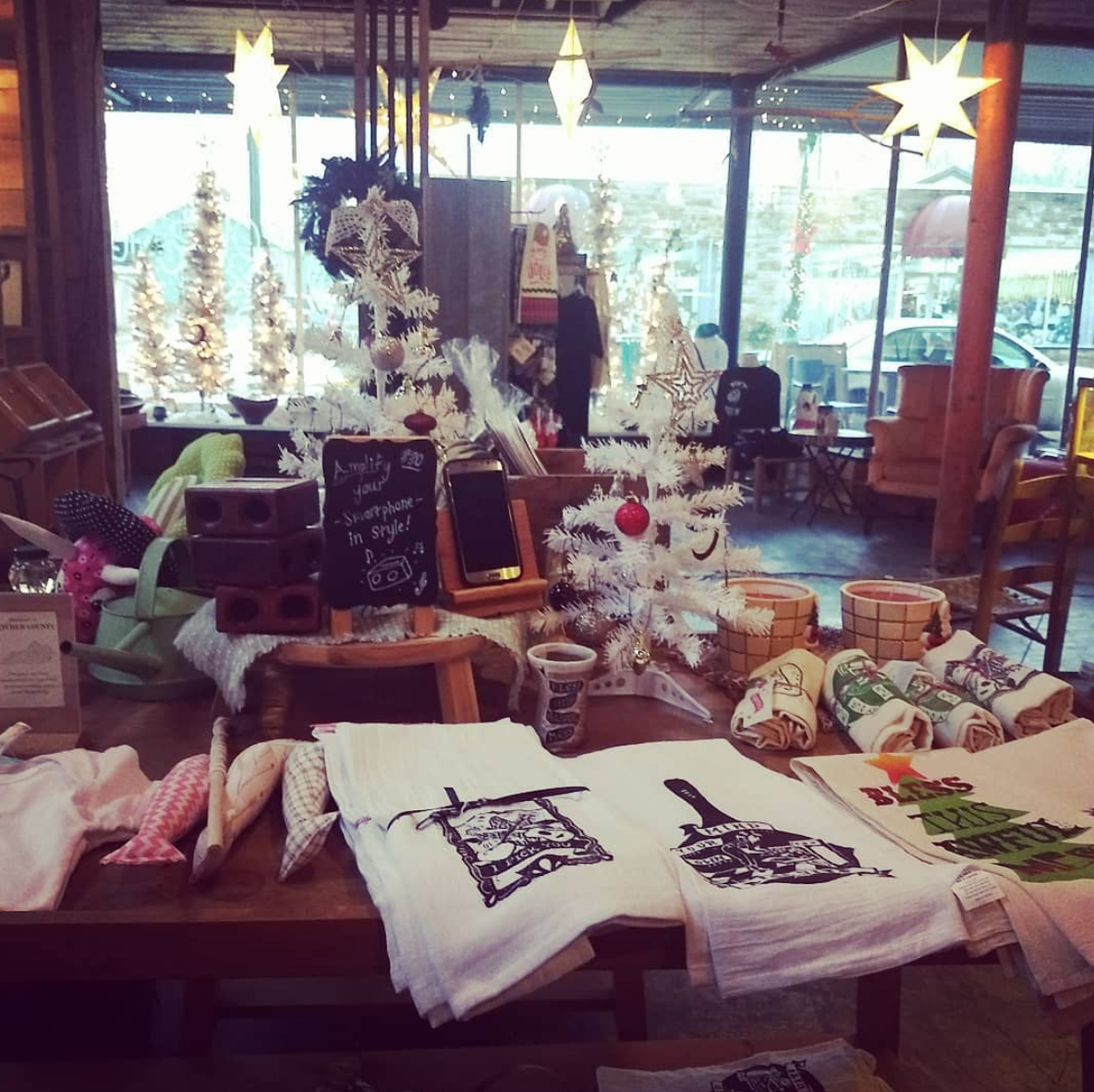 Keep Moonbow in mind for your next event as they provide a large venue space for weddings, parties and meetings.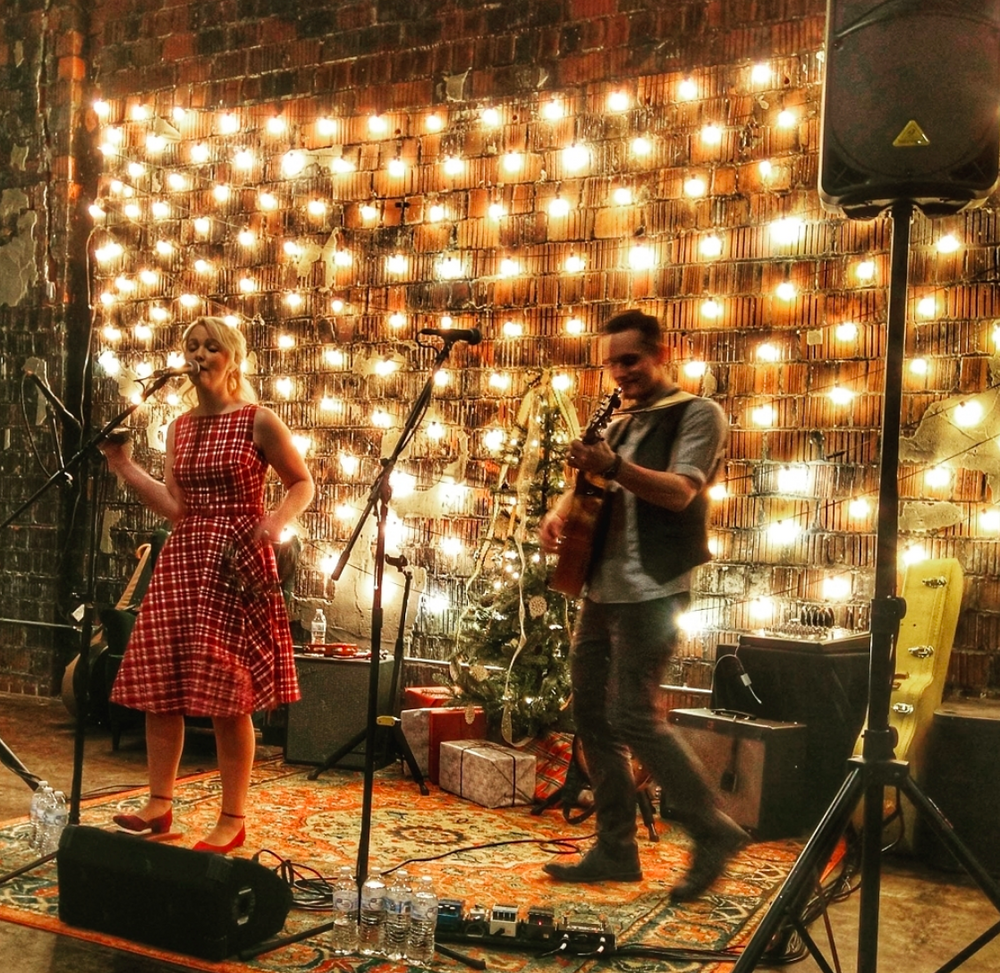 Moonbow owners Geoff and Sky Marietta are also the founders of Invest606.org which is a non-profit with a mission to catalyze business growth in the 606 area code. They connect entrepreneurs with the resources they need to succeed today and grow tomorrow. Eastern Kentucky is an incredible place with unlimited opportunity. The Invest 606 Accelerator has awarded more than $30,000 in prizes to promising businesses in this district!
Linger to take in the Corbin nightlife including a stop by Tomahawks. Open on Friday and Saturday evenings, Tomahawks is the ideal locale to unwind and entertain a little axe throwing. They abide by the World Axe Throwing League's (WATL) rules and regulations, drawing both amateurs and pros.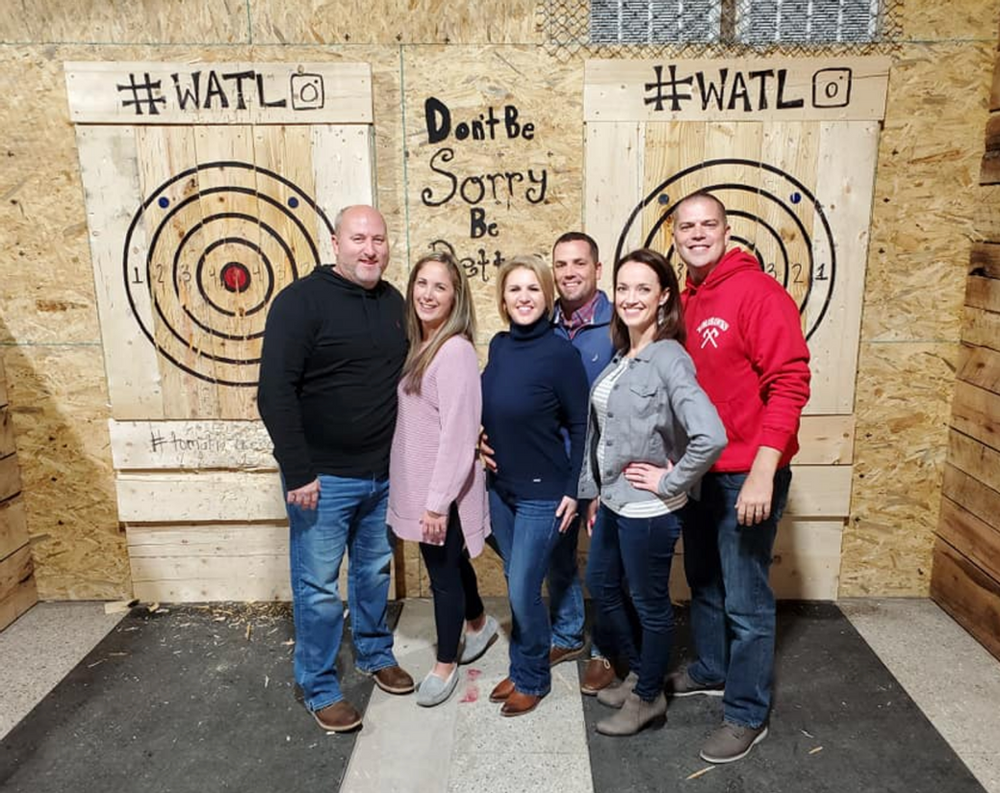 Partake in this popular past time with friends and family. Tomahawks offers four, double-target throwing pits as well as one large, triple-target party room that, get this, doubles as a glow-in-the-dark throwing chamber! League options are also available.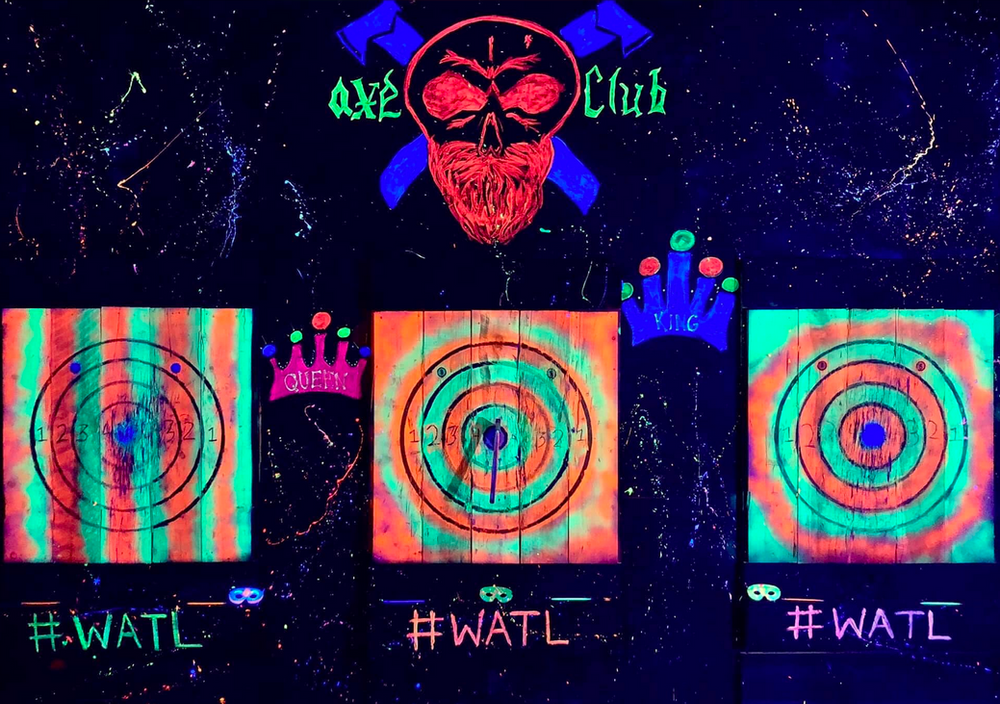 Family-friendly, parents are offered the option of plexiglass throwing boards with foam, suction-cup axes. This allows small children the opportunity to experience the same art of axe throwing without the dangers of handling real implements.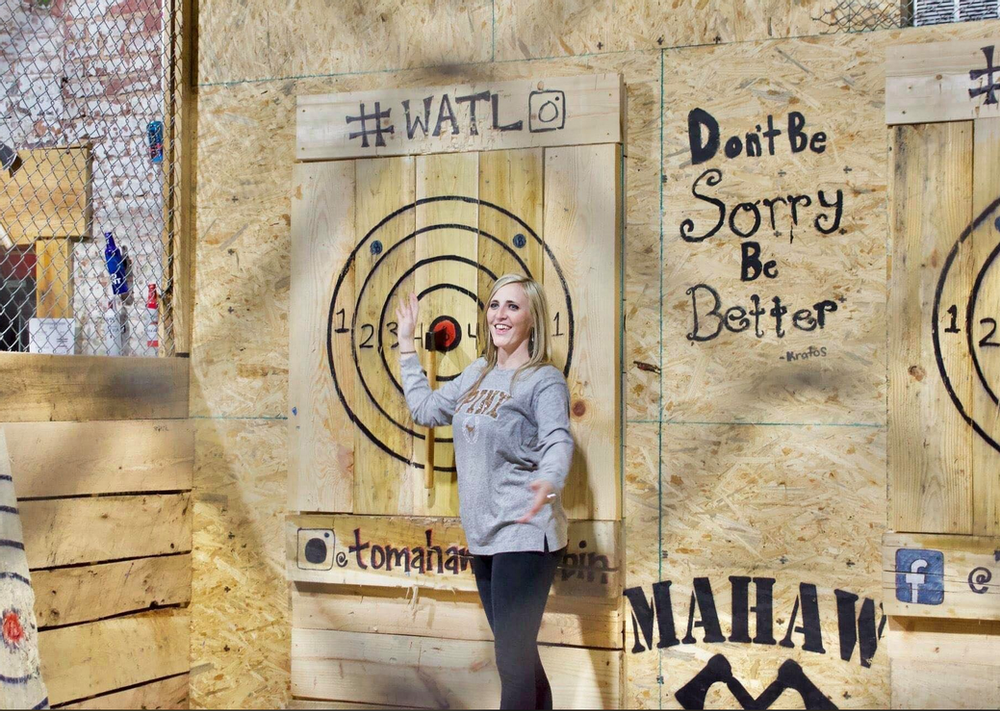 Sip a soft drink or cold beer with yummy food options available from the Austin City Saloon next door.
Do stop by Blue Belle Boutique at 15649 US Highway 25, stocked with the most appealing apparel for women. It's hard to chose between the trendy T's, cozy sweaters, adorable tops and dresses. Many styles of blue jeans await you to be matched with a choice pair of dressy or casual shoes. Peruse their colorful collection of jewelry including attractive earrings, necklaces and bracelets. And yes, they carry that super cute hat you have been wanting!

They are a full-service shop featuring the latest trends. Guests can watch their styling videos online to learn how to best wear and pair items from their boutique.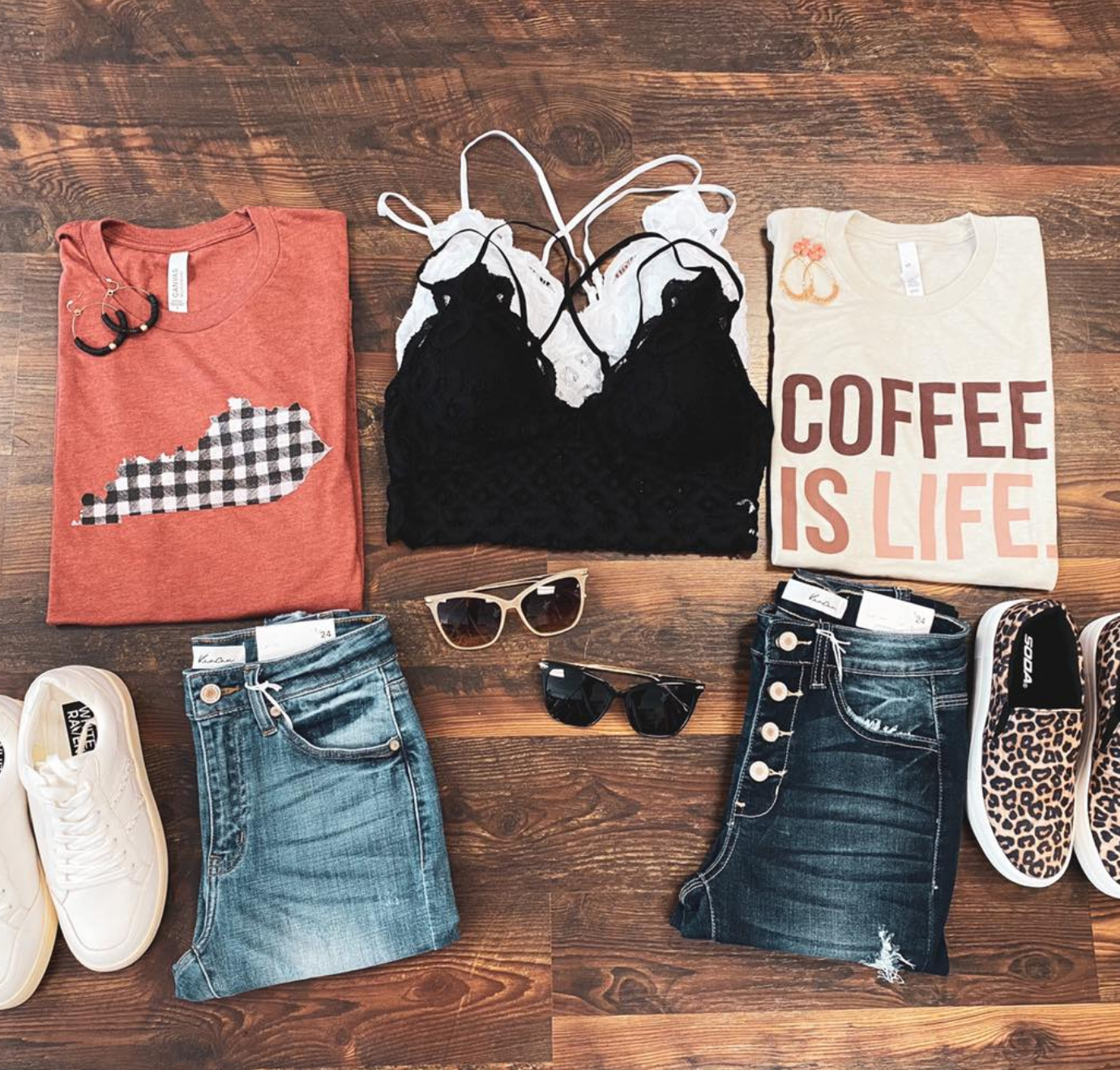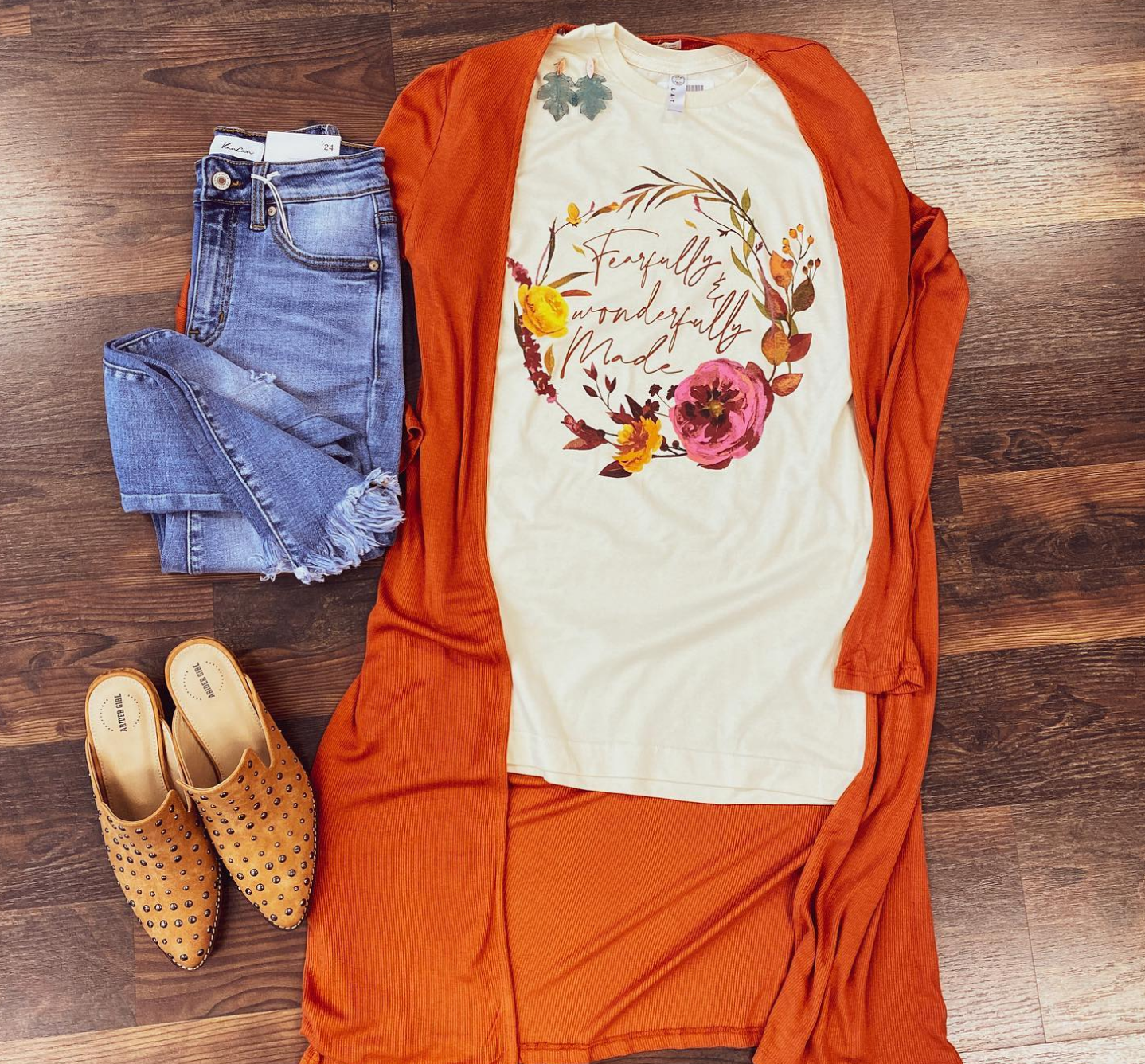 The fashion doesn't stop with the ladies. Their sister store, Little Belles and Beaus is just a few doors down. There customers browse through clothing sized from the smallest to preteen and maternity options. There are tantalizing toys, gifts and snazzy diaper bags to choose from as well.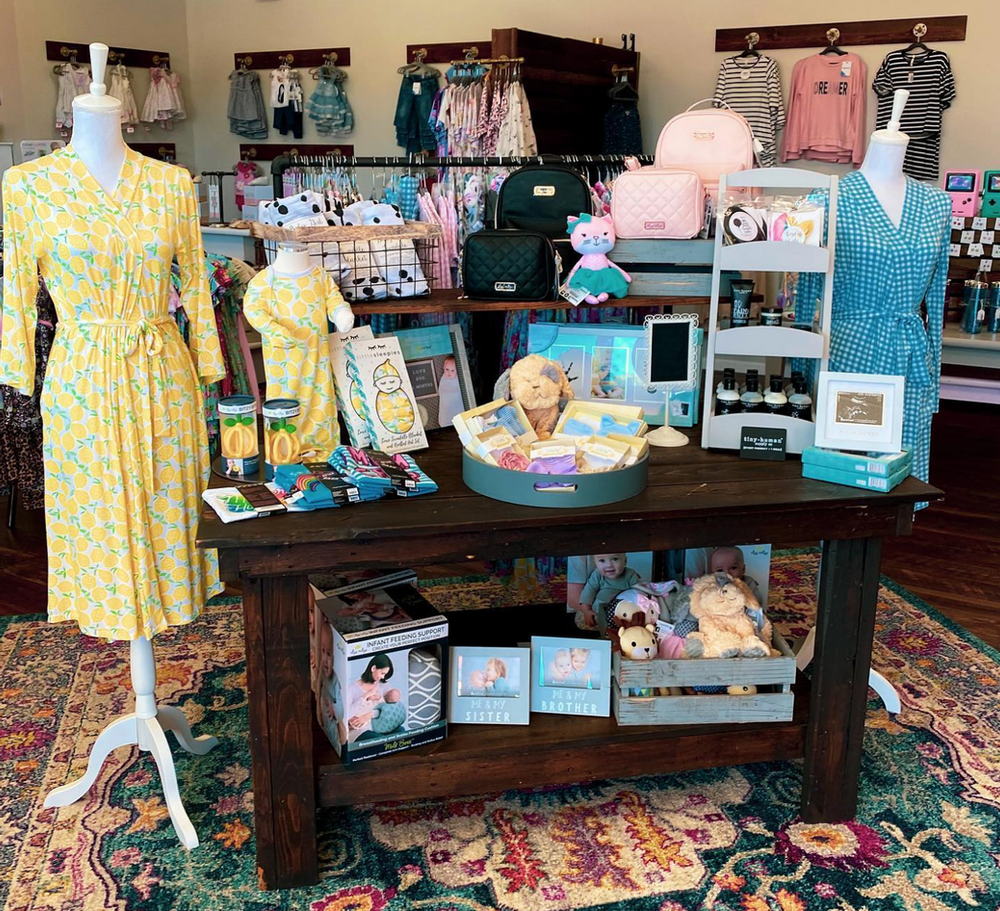 I've described just a few of the attractions Corbin extends and invite you to keep me posted on the entertainment you find in this quintessential Kentucky town. A rich mountain culture with world-class, outdoor recreation and residents with an unbeatable work ethic, this corner of Kentucky is truly one of America's hidden gems. Put exploring Corbin, Kentucky on your bucket list.
To Corbin from:
Lexington- 87 miles
Georgetown- 100 miles
Covington- 165 miles
Louisville- 164 miles
Richmond- 64 miles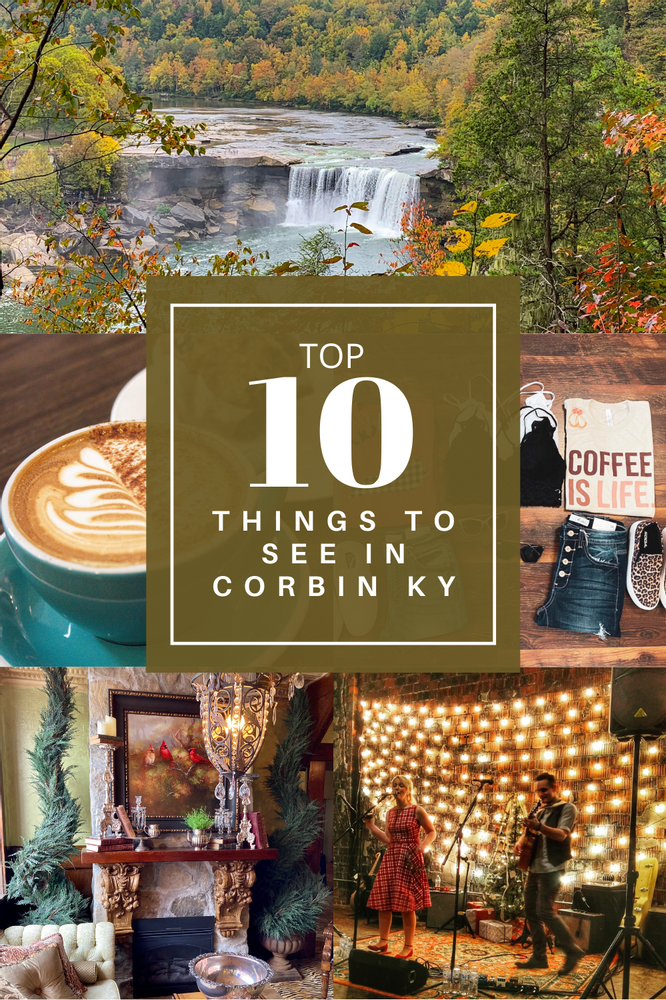 Explore Corbin, Kentucky nestled between Knoxville, Tennessee and Lexington, Kentucky. The town is situated on Laurel Lake, a destination for boating, swimming and fishing amidst the beauty of Daniel Boone National Forest. Hikers enjoy 17 miles of trails at Cumberland Falls State Park while travelers visit Cumberland Falls, dubbed the "Niagara of the South". The…