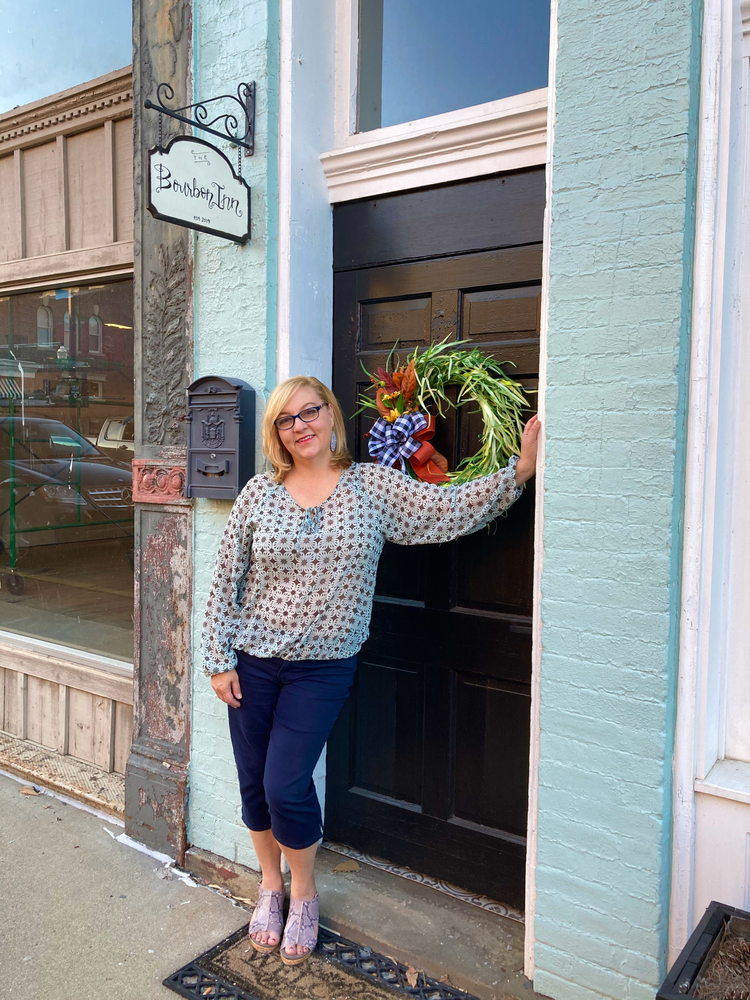 Falling in Love With Paris
by Marie

Posted on

November 21, 2020
Paris, Kentucky is an amazing treasure just 30 minutes from downtown Lexington. The drive amid rolling hills and manicured horse farms is as delightful as the destination. You'll find yourself exhaling, as the trip sets the stage to relax, take it slow and enjoy all of the intricacies of this unique small town while falling in love with Paris.
Settled about 1775, Paris was formally founded as Hopewell in1789. The next year it was christened Paris, located in Bourbon County, in recognition of French aid during the American Revolution.
Remarkably, all the downtown buildings on Main Street from 7th Street to the stately Courthouse are listed on the National Register of Historic Places. This notation keeps the exterior of these buildings true to historic guidelines, providing an intriguing architectural view as you stroll or drive through.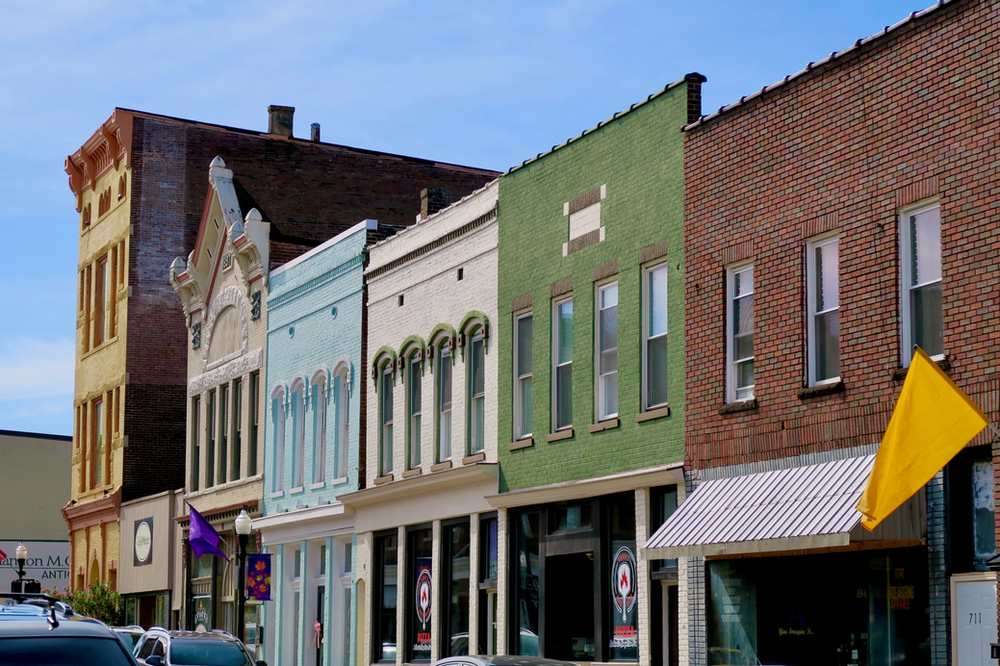 With so much to see and do in and around Paris, you may wisely opt to make a weekend of it. A recent downtown renovation project is The Bourbon Inn, an exquisite gem of a B&B nestled in the heart of the city. Built in 1880 as the J.C. Gateway building, it housed a general store. Later purchased and restored by and the Poynter family joining with Lorena Foley, owner of Southern Marketplace, the inn is an ideal resting place for Paris visitors.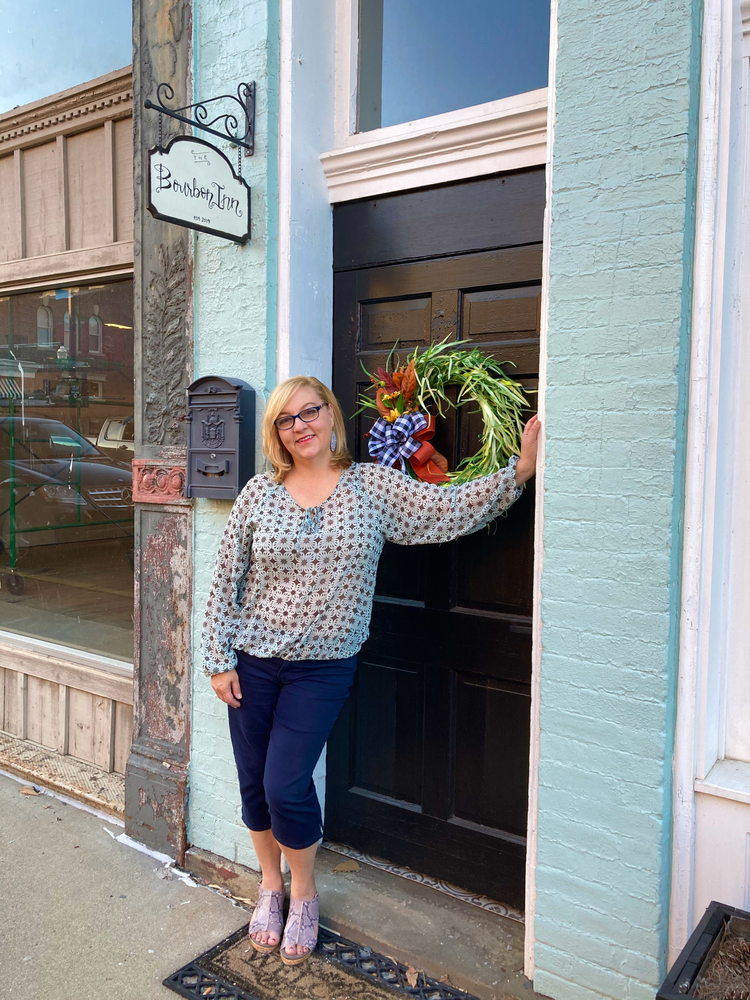 Just up the stairs, guests can kick their shoes off in the Small Batch suite, the Single Barrel suite, or the Double Oak Loft. The flooring remains true to former days, marrying the old with the modern and providing an authentic edge to a newly and perfectly designed and decorated space.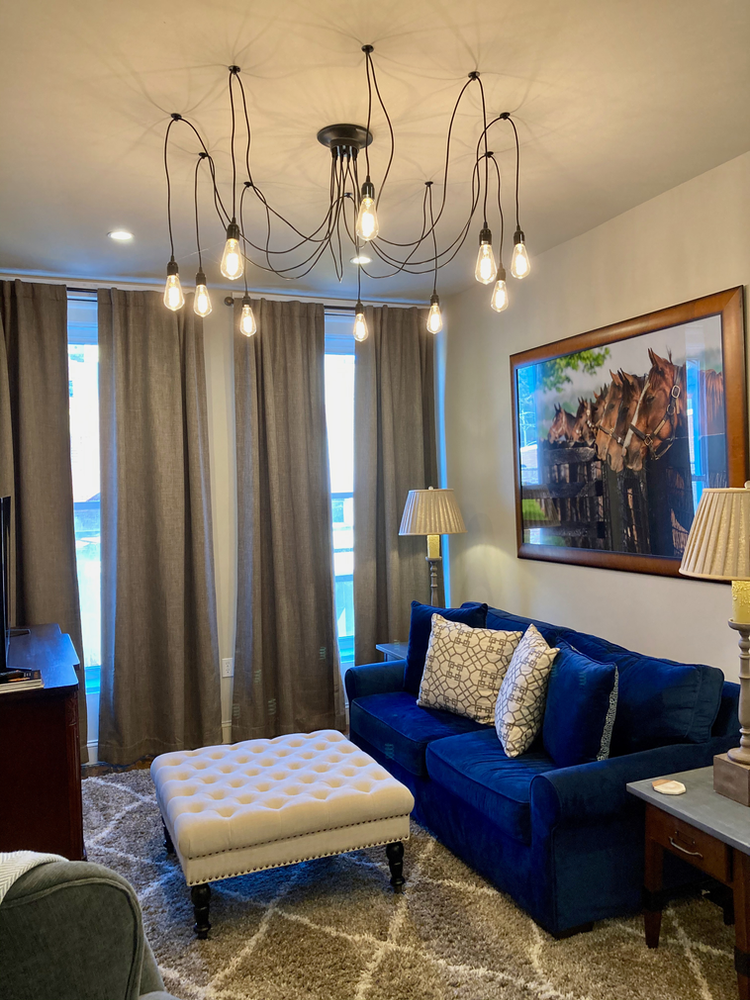 Once again, using local talent for the doors, shelving, tables and wall hangings, the abode takes on a Kentucky feel like no other. Comfy seating with floor to ceiling large pane windows gives guests the perfect overview of the downtown below.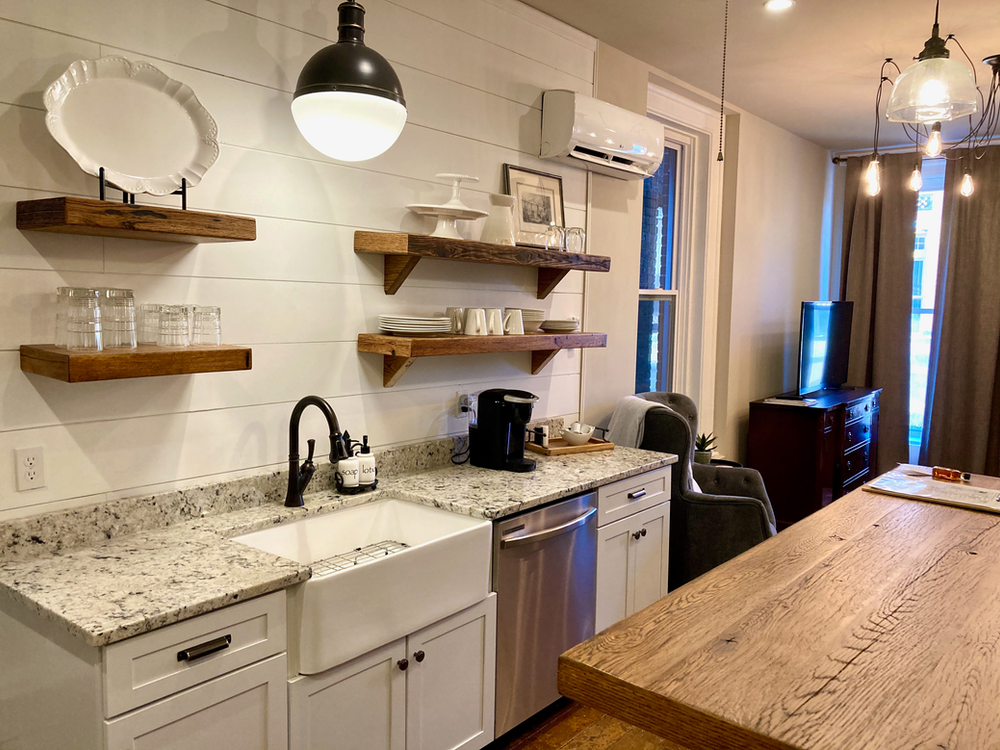 Utilizing the sleeper sofa allows for up to four occupants. Equipped with all the amenities including washer/dryer, dishwasher, oven, microwave, etc., The Bourbon Inn is available to guests for a weekend, a week or even longer term.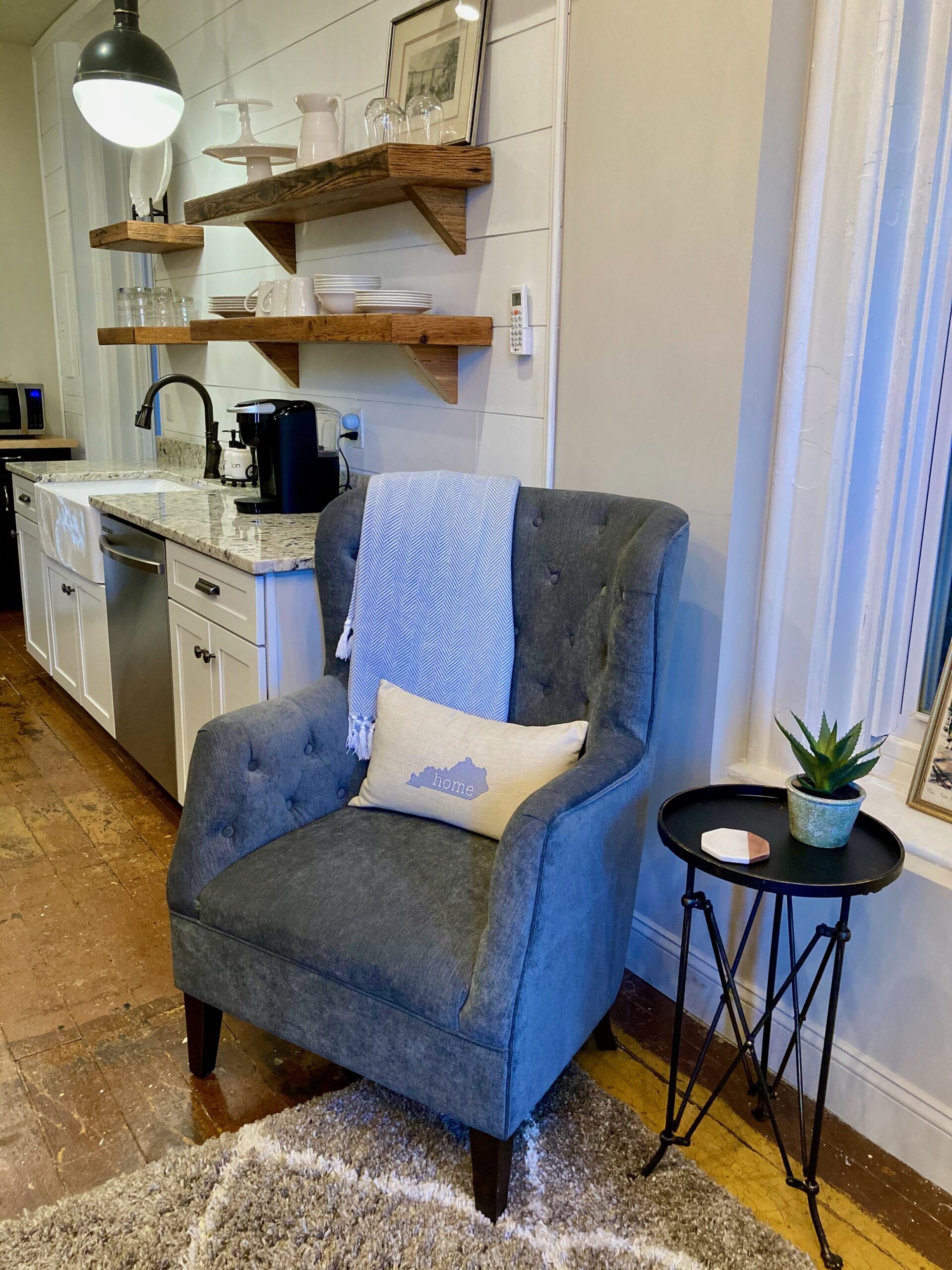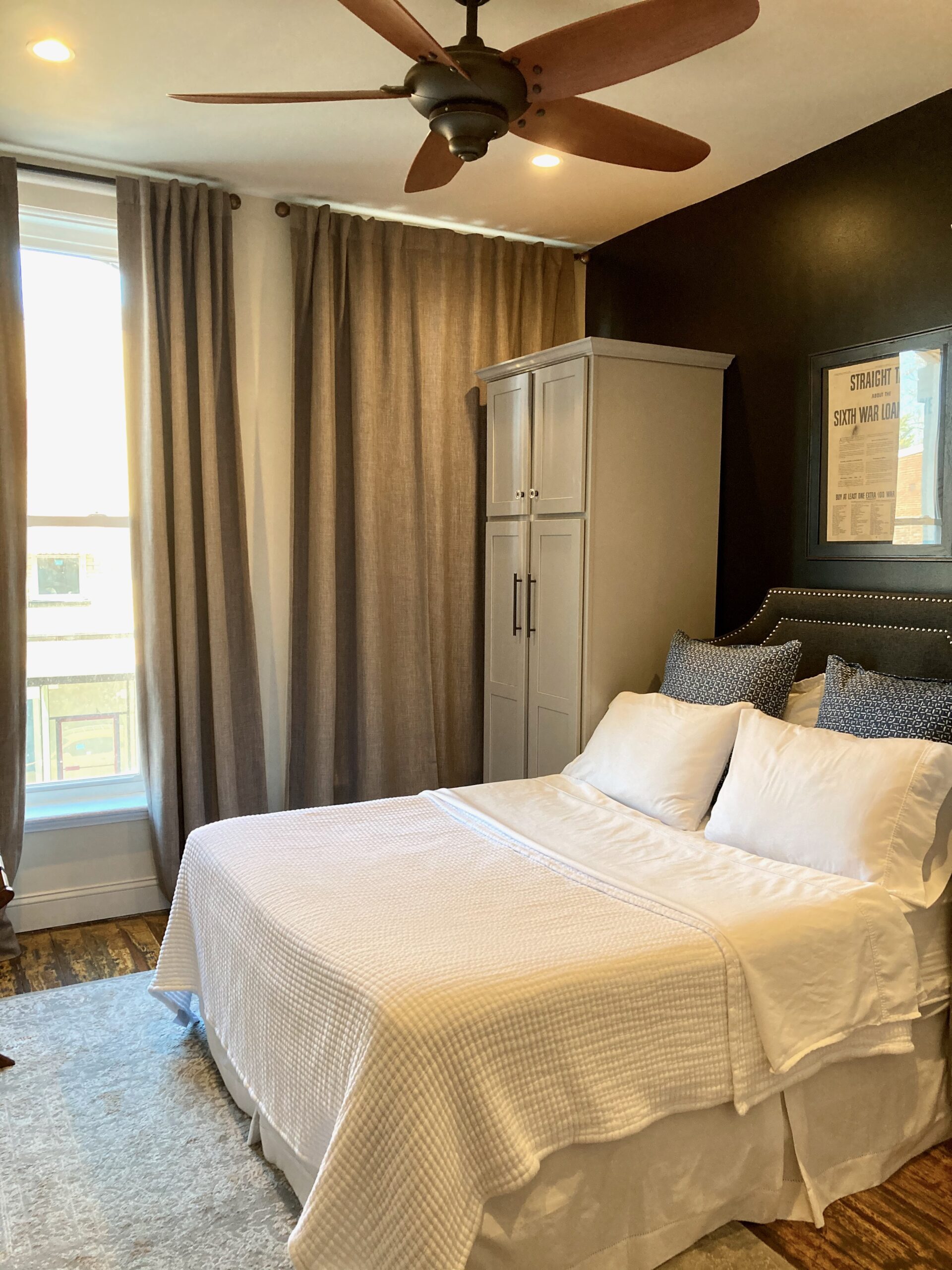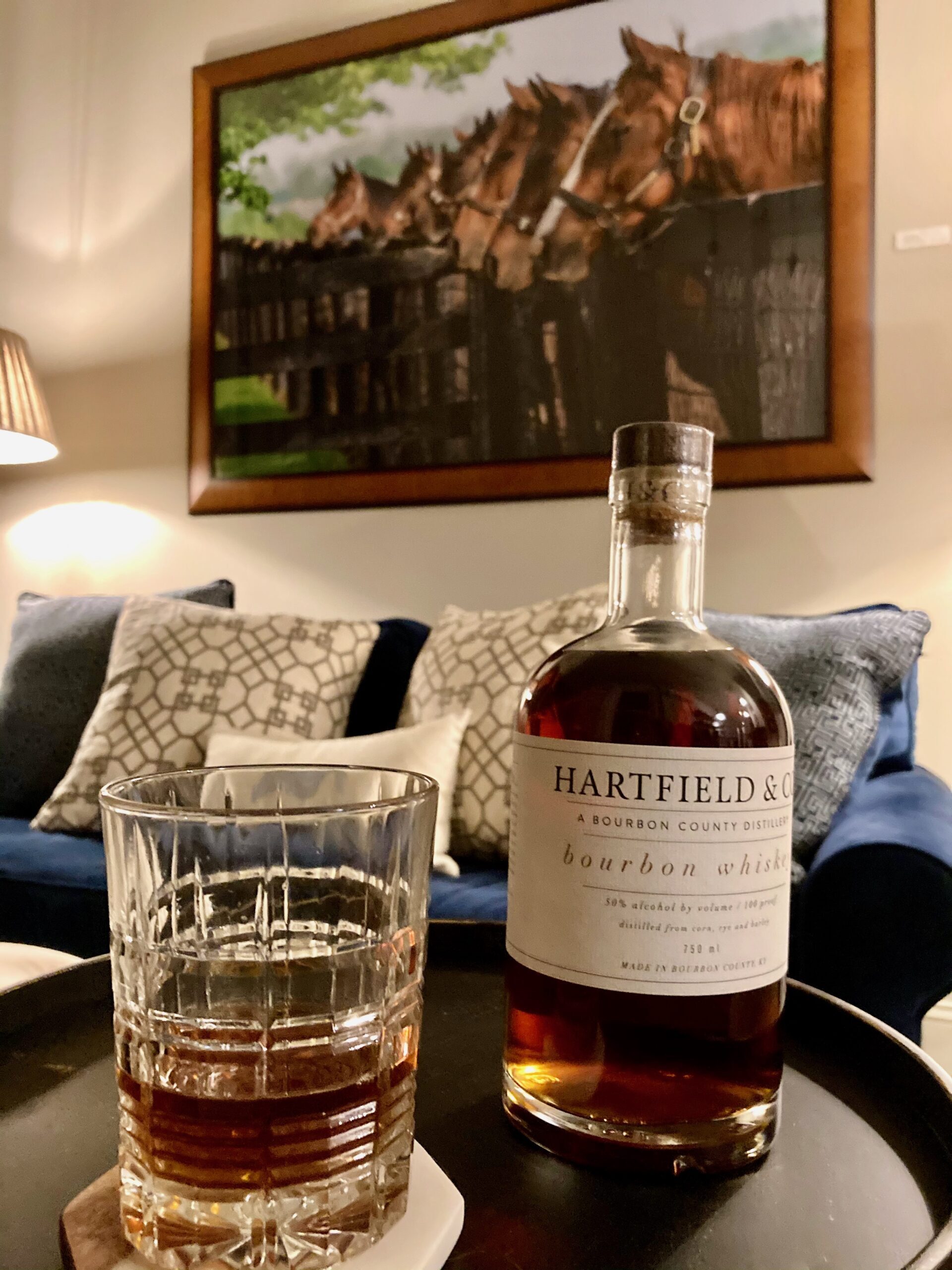 Located on the first floor of 719 Main Street (just under The Bourbon Inn), you'll find the transformative Skin NV Aesthetics. Here you can relax your cares (and worry lines) away!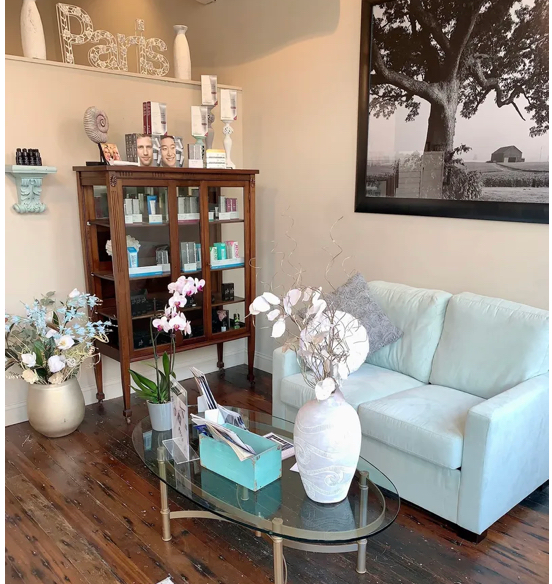 Owner Kimberly Howard is a passionate skincare expert dedicated to offering avenues for maintaining and restoring beauty. She brings four years of experience and a lifetime of passion to her proactive and preventive approach to aging gracefully. As a licensed aesthetician, Kimberly opened the doors of Skin NV to pursue her dreams of making her clients look and feel their best. She believes good skincare is an integral part of everyone's overall health.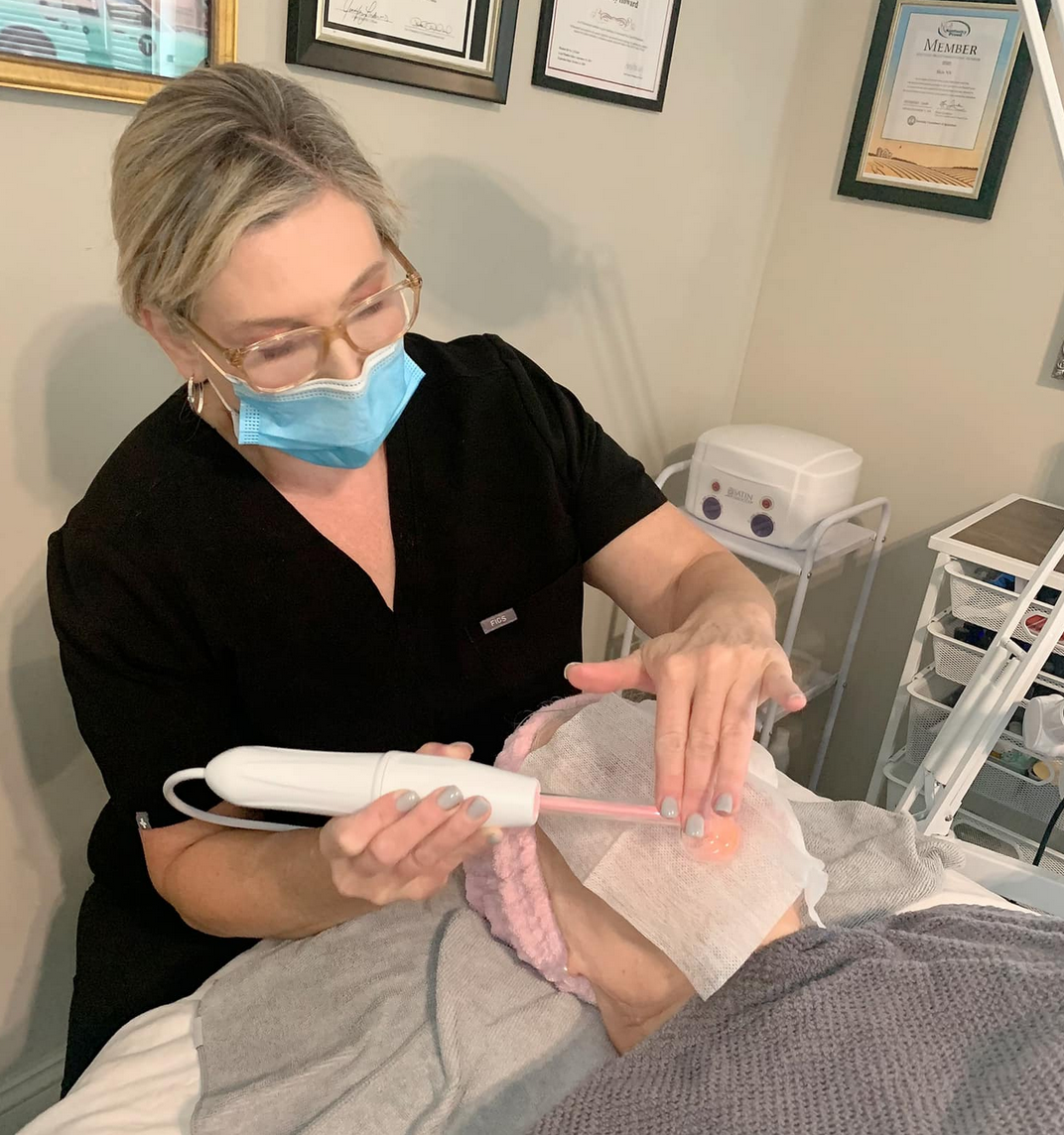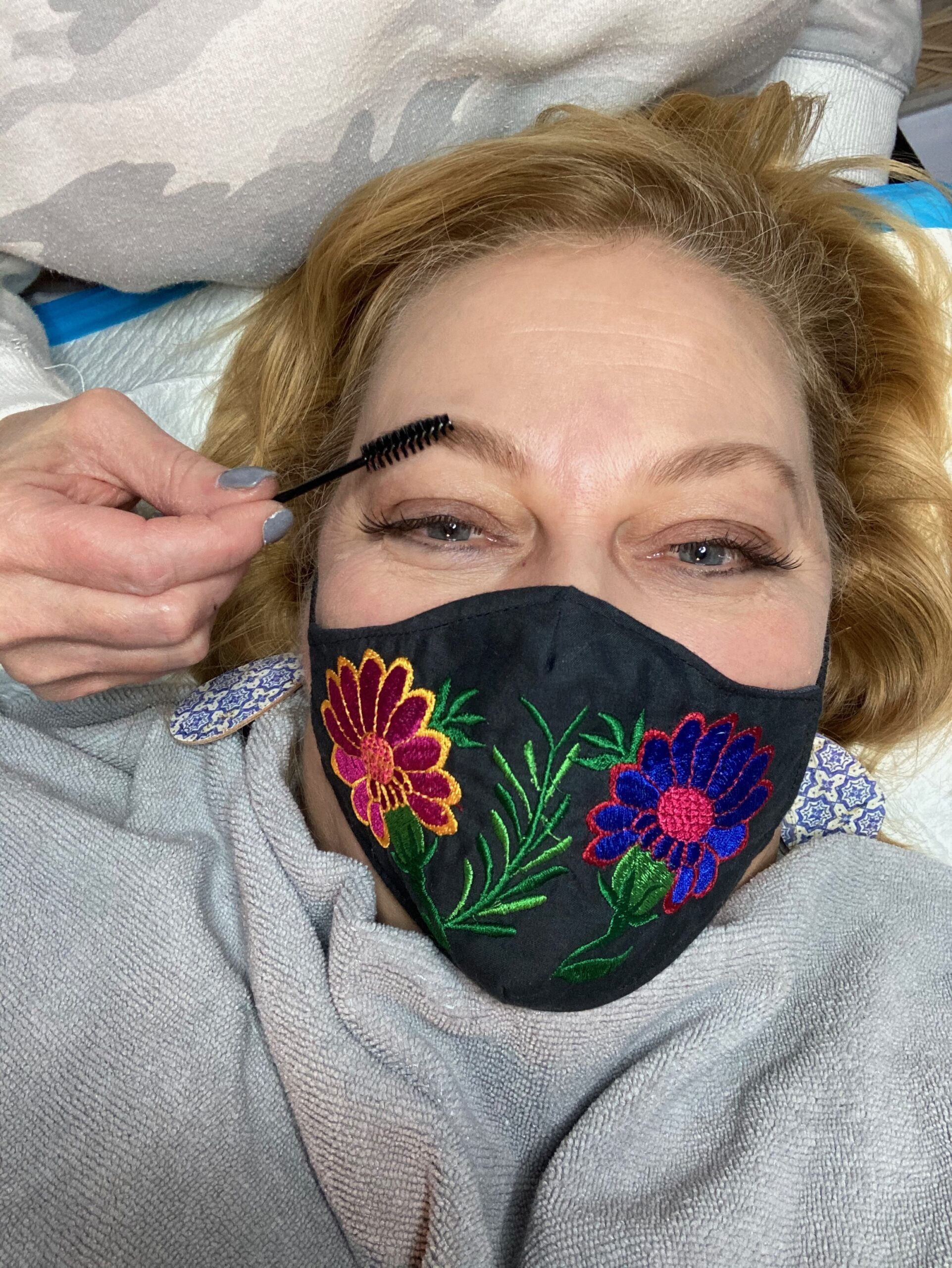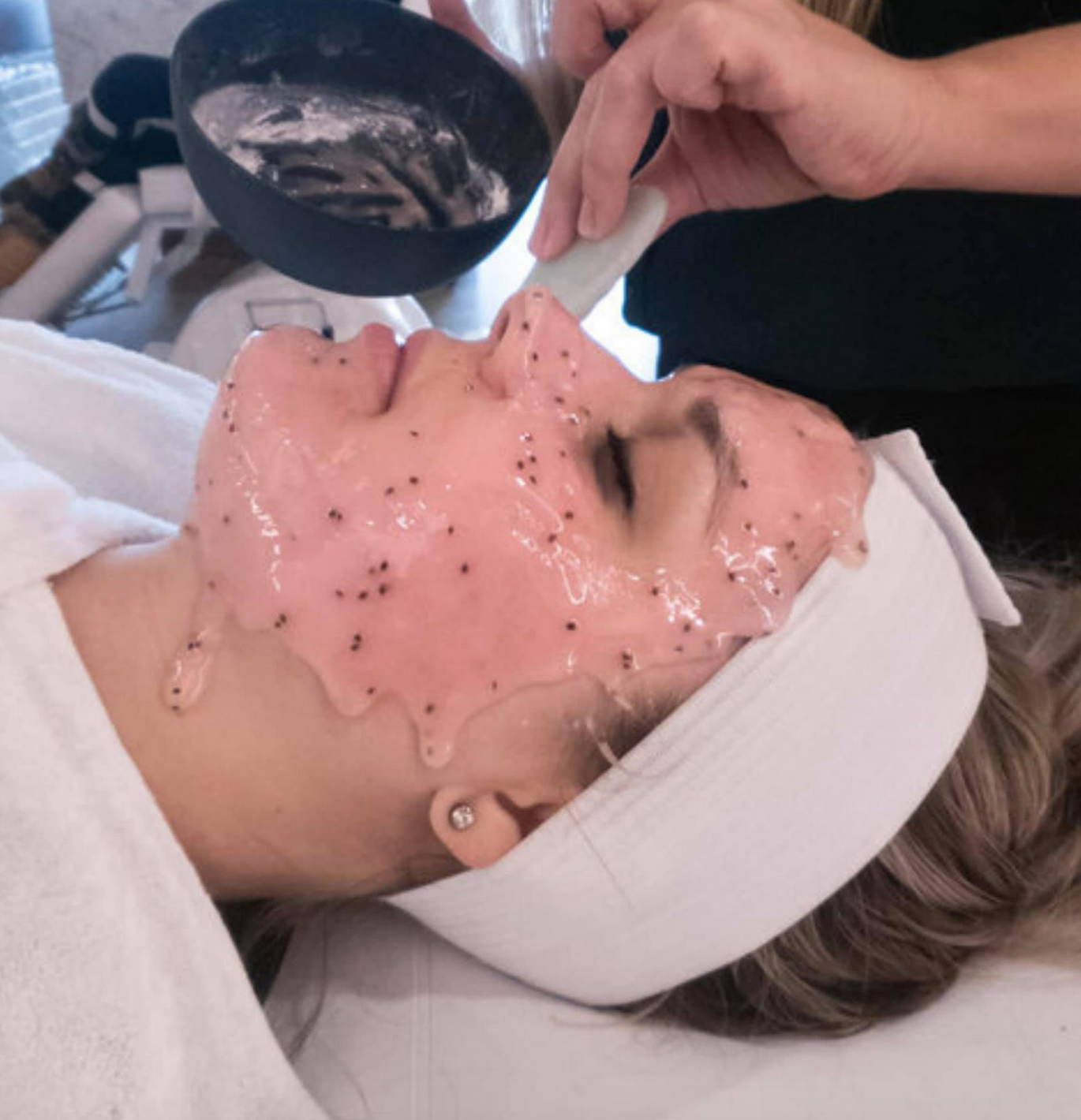 Kimberly also developed her exclusive Kentucky Proud product using CBD and essential oils named Skin NV Restore which is an anti-aging skin treatment for fine lines, rosacea and wrinkles.
An integral part of the team is licensed make-up artist Erica Minnick. Erica is forging a name for herself in the bridal makeup industry, creating beautifully timeless looks for her brides and wedding parties as she utilizes her skills with traditional makeup and airbrushing.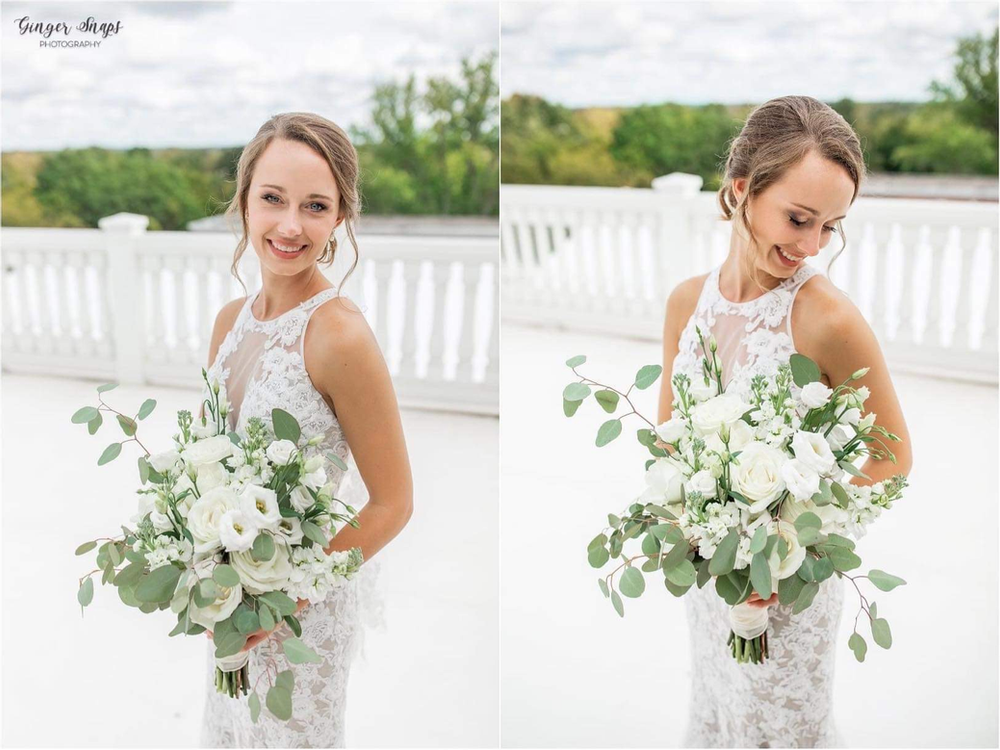 Photo by Ginger Snapp Photography
Visit Skin NV and take advantage of their extensive array of beauty offerings which include waxing, threading, facial treatments, tinting and more.
As you make your way downtown, you'll find many local shops and eateries. On the corner of Main and 7th Streets, The Southern Marketplace is a sweet and sophisticated boutique store of all things southern. The facade exudes an aura of history and grace with its stately black and white exterior. Once inside, the shop shows off its true charm with southern flare. Signage for the home is offered, some with a side of sass. You'll find a little bit of everything here, which makes for a gift-shopping paradise.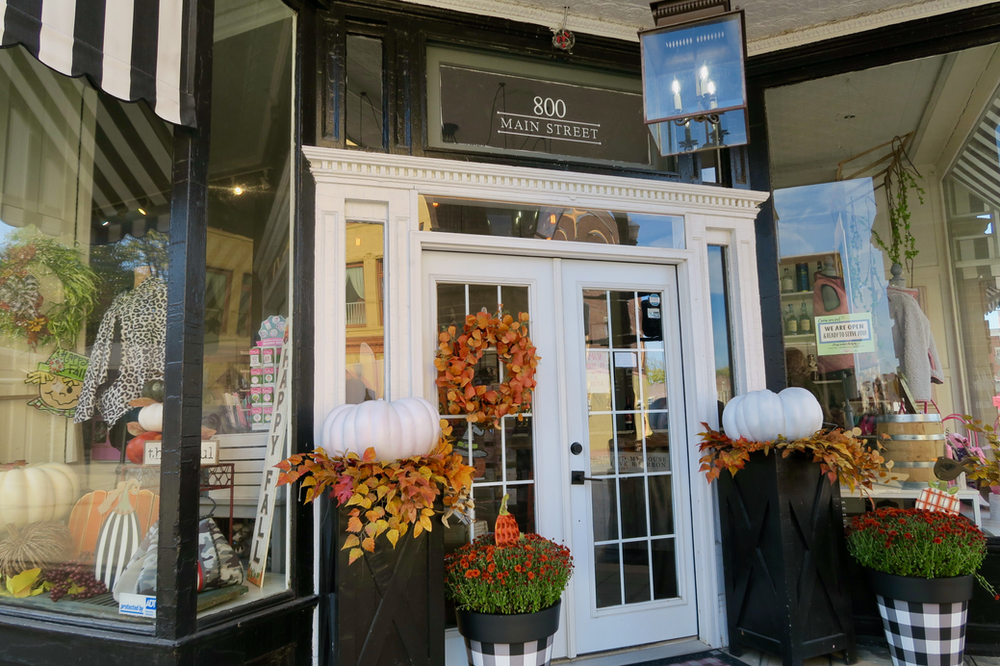 Wandering through the large boutique you'll enjoy jewelry, accessories, jackets, hats and many other clothing items. A cute baby section is perfect when seeking presents for the mom-to-be or new baby. As well, their kitchen/dining offerings make me want to redecorate and throw a party!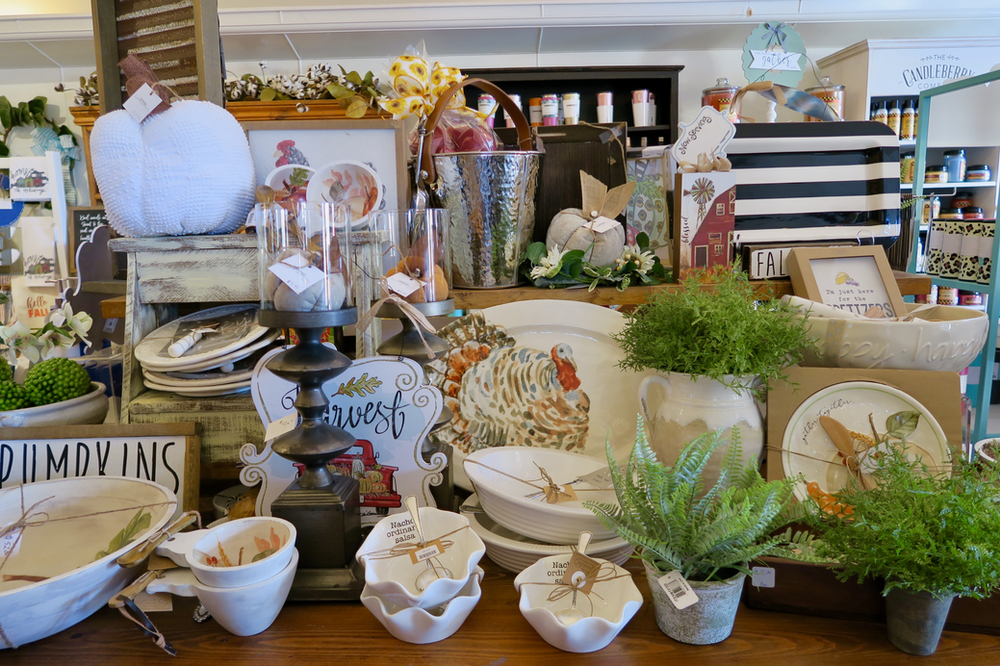 Bourbon-themed items abound, as don't forget, you are smack dab in Bourbon County. The Hartfield and Co. hand sanitizer is crafted right up the street at Hartfield & Co.'s distillery, and pairs perfectly with the "Bourbon Breath" face mask.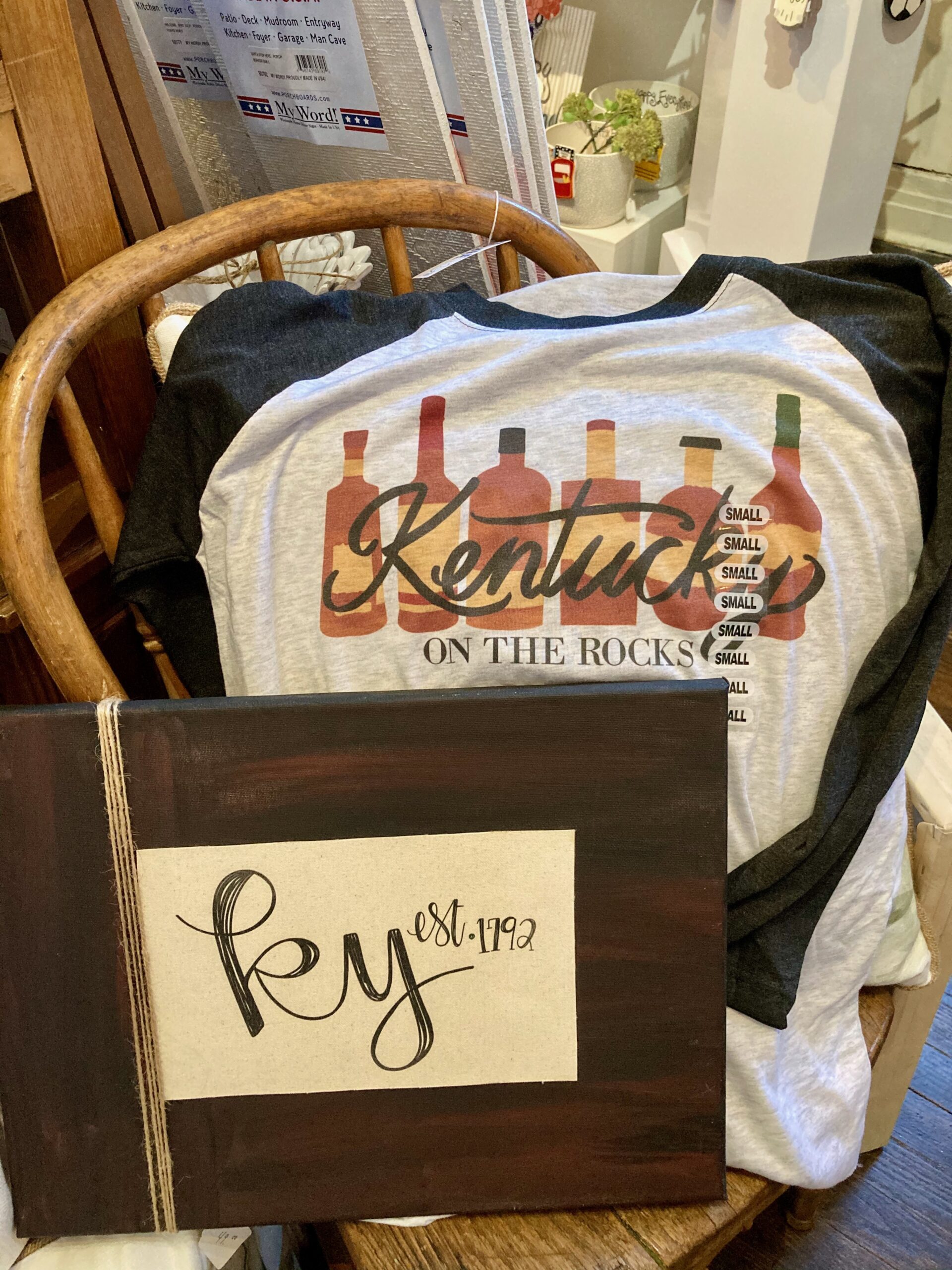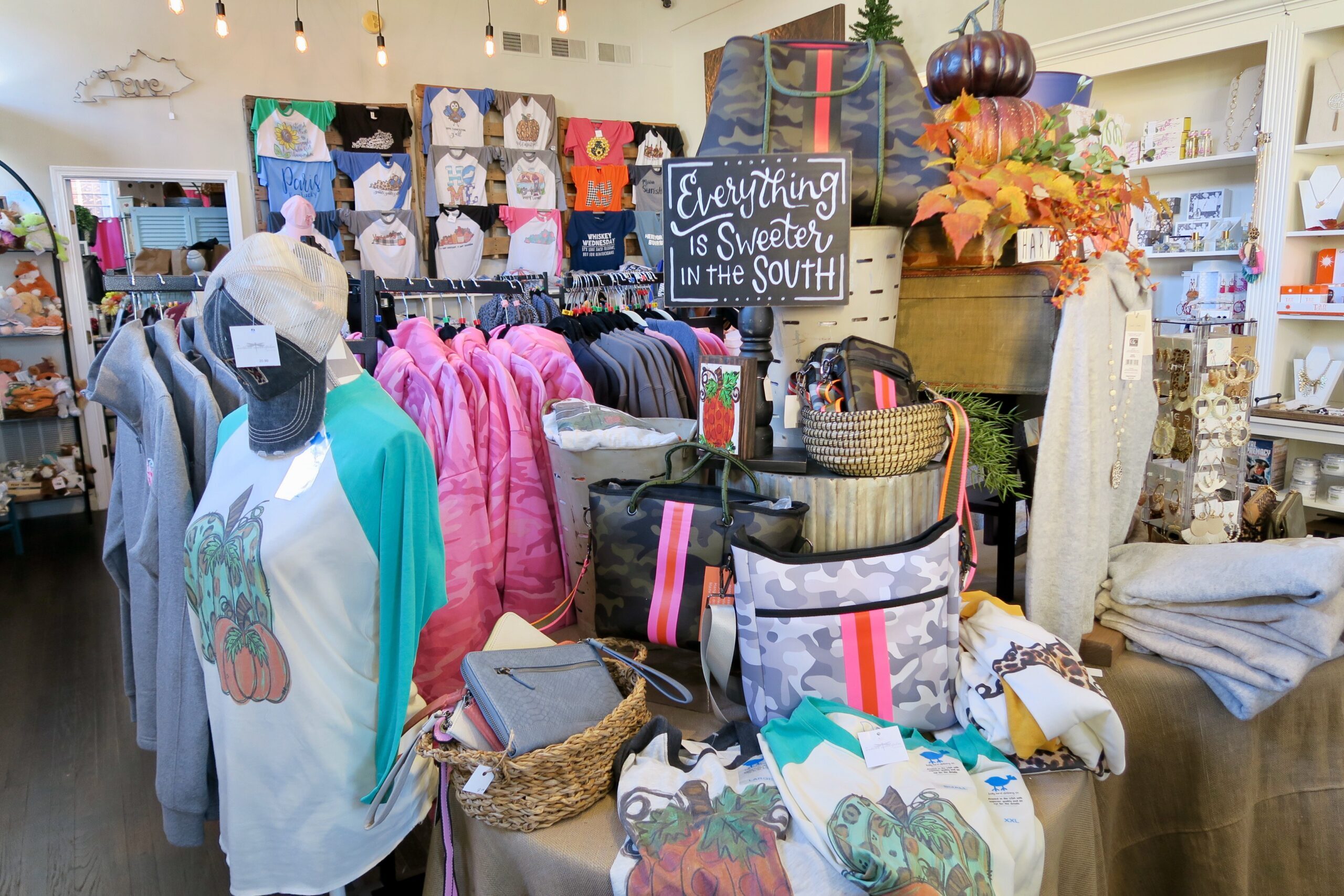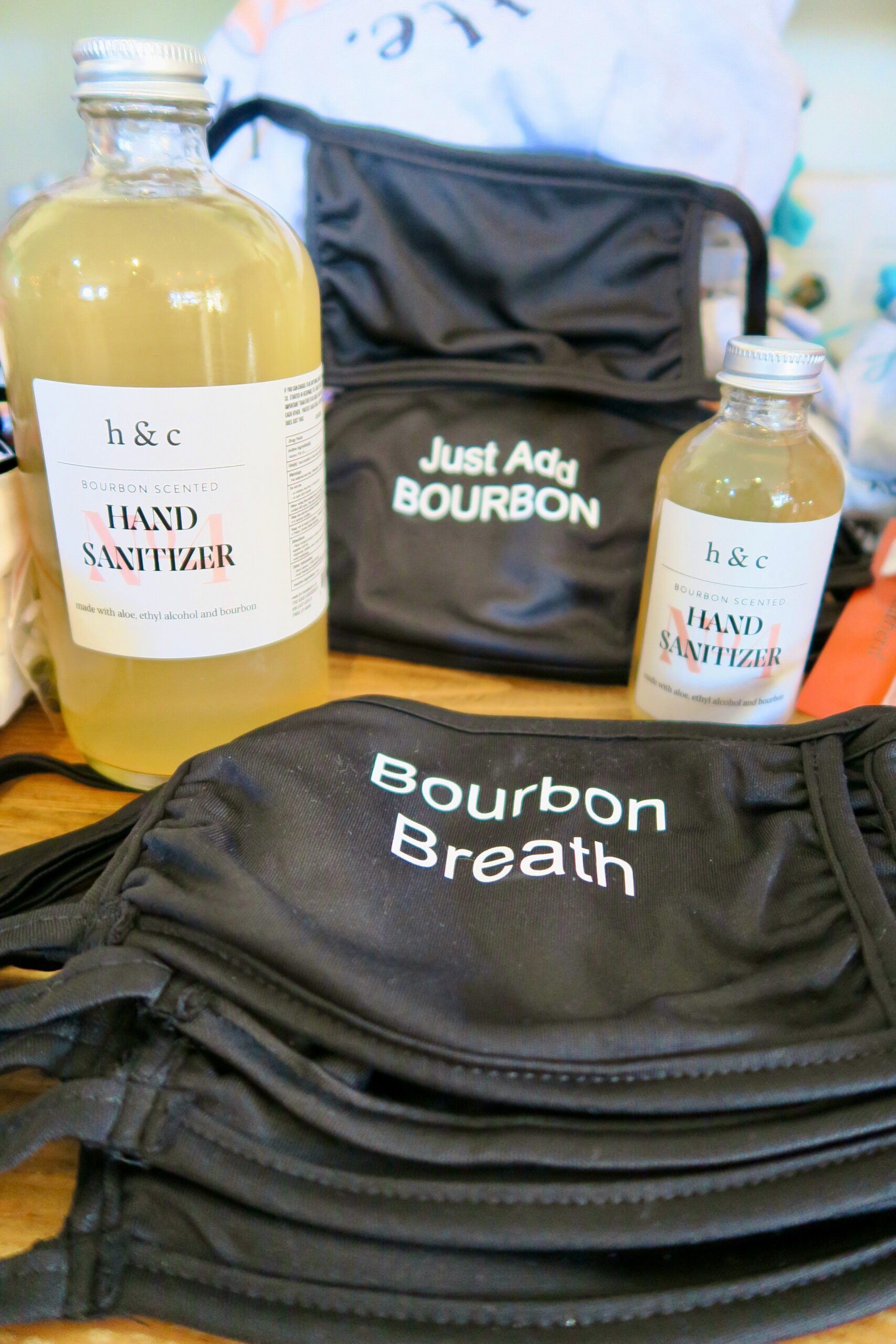 Many of the t-shirts are designed by the owner, Lorena Foley, which means you won't find them at any other store. Rest assured, when you buy it for your girlfriend, her girlfriend won't have one just like it!
The Pie – Brick Oven Pizza, located in downtown Paris, serves authentic Neapolitan Pizza by the books with tomatoes and Caputo flour from Italy.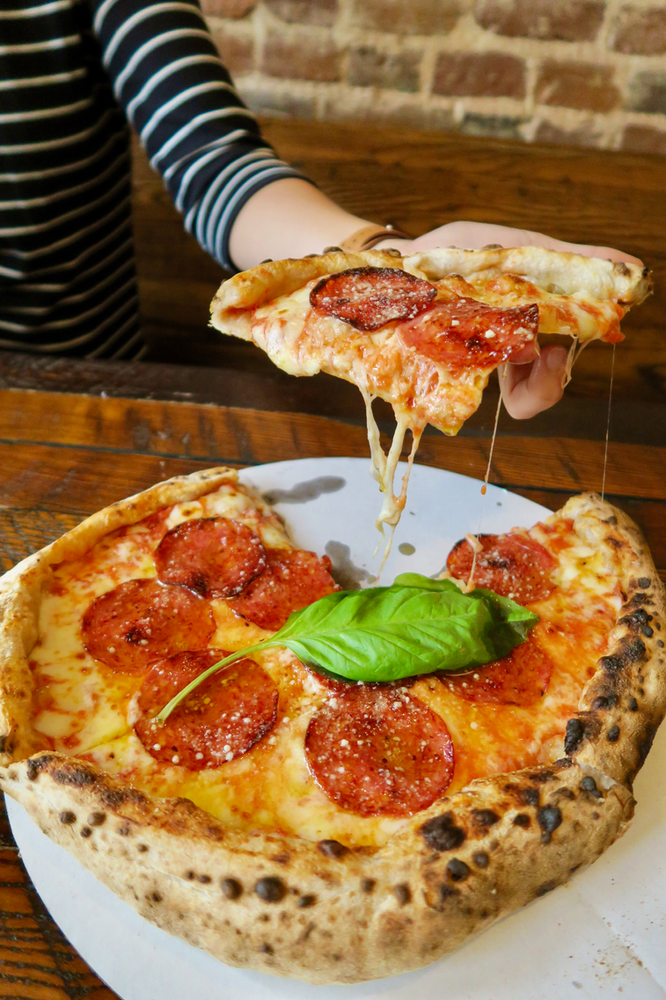 The blazing brick oven heats to 900 degrees, baking the perfectly cooked 12" pizza in just 90 seconds. You'll find traditional pizzas such as The Meat Obsessed which is topped with pepperoni, Italian sausage, ham and bacon.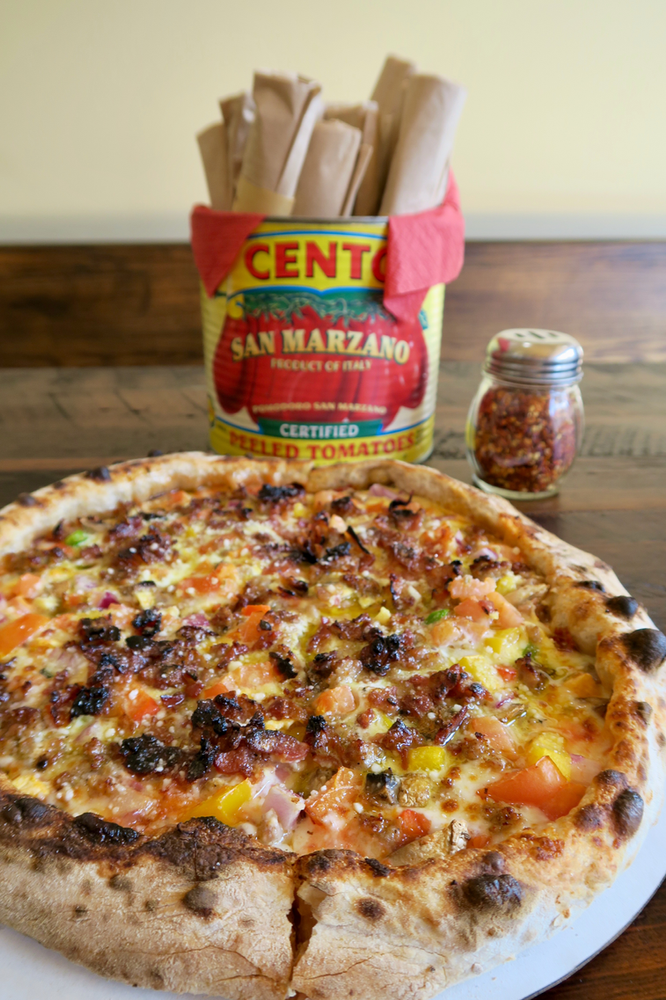 As well, the restaurant offers their own unique creations such as The Honey Pot with fresh mozzarella, goat cheese, caramelized onions, pancetta, arugula and honey. There's also the Crunch Berry, consisting of tomato sauce, fresh mozzarella, bacon and blueberries . . . what?! Not to mention that at The Pie – Brick Oven Pizza you can build your own pizzas and calzones just as you like them.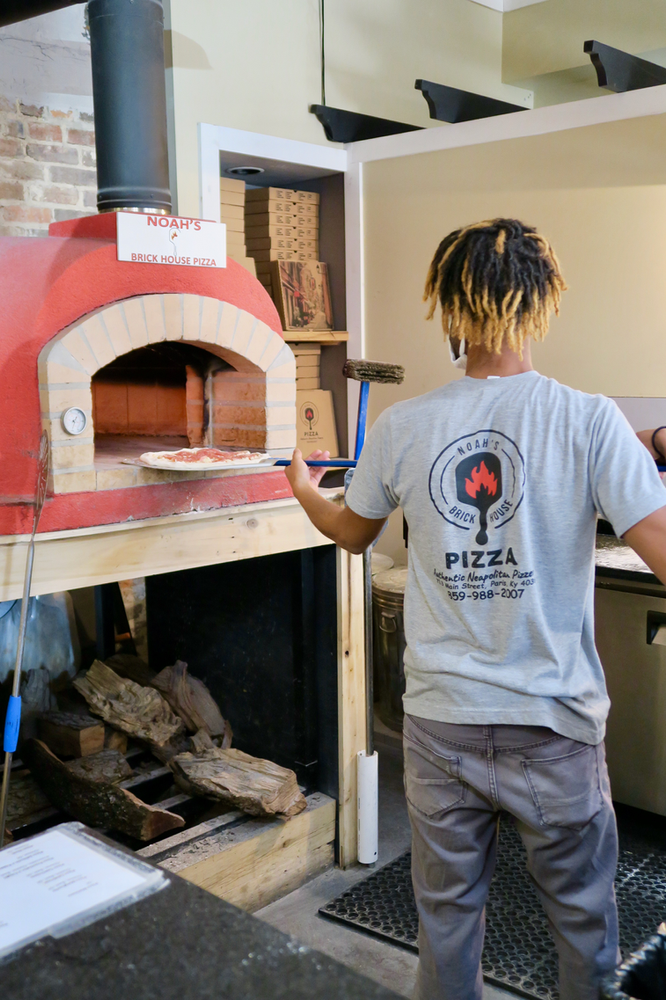 Don't miss the opportunity to stop for a truly mouth-watering pizza, while also satisfying your sweet tooth with an enticing Tiramisu or Cannoli.
Nestled in the backside of a downtown building, the artisans of Wood Cutters work their magic. Owner Dave Bond and staff collect barn wood, horse farm fencing and tree slices. What comes of these unassuming remnants are amazing pieces of custom furniture, flooring, cabinetry, shelving and more.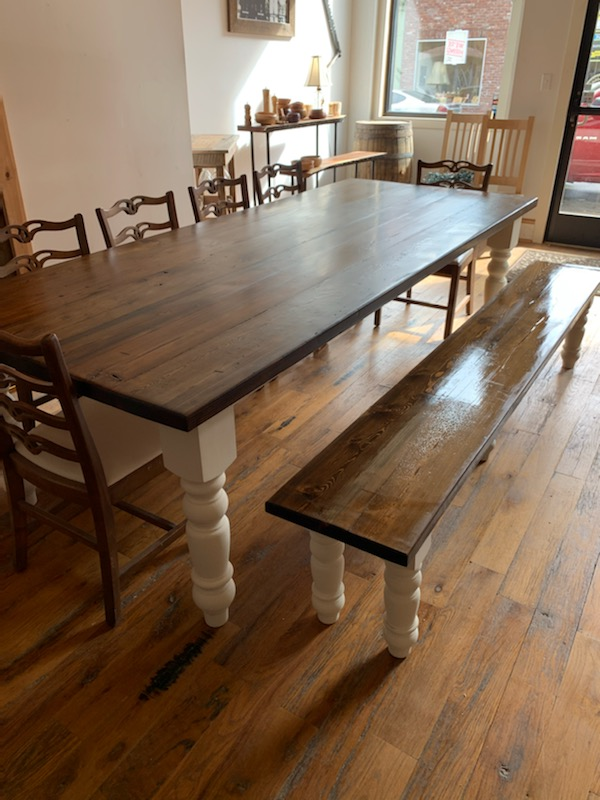 Creating beautiful things from reclaimed wood is no easy task. Dave and his crew often take down barns themselves, carefully salvaging wood that may be damaged, weathered and warped. They then skillfully bring forgotten planks back to life to become a reincarnated treasure in someone's home or office.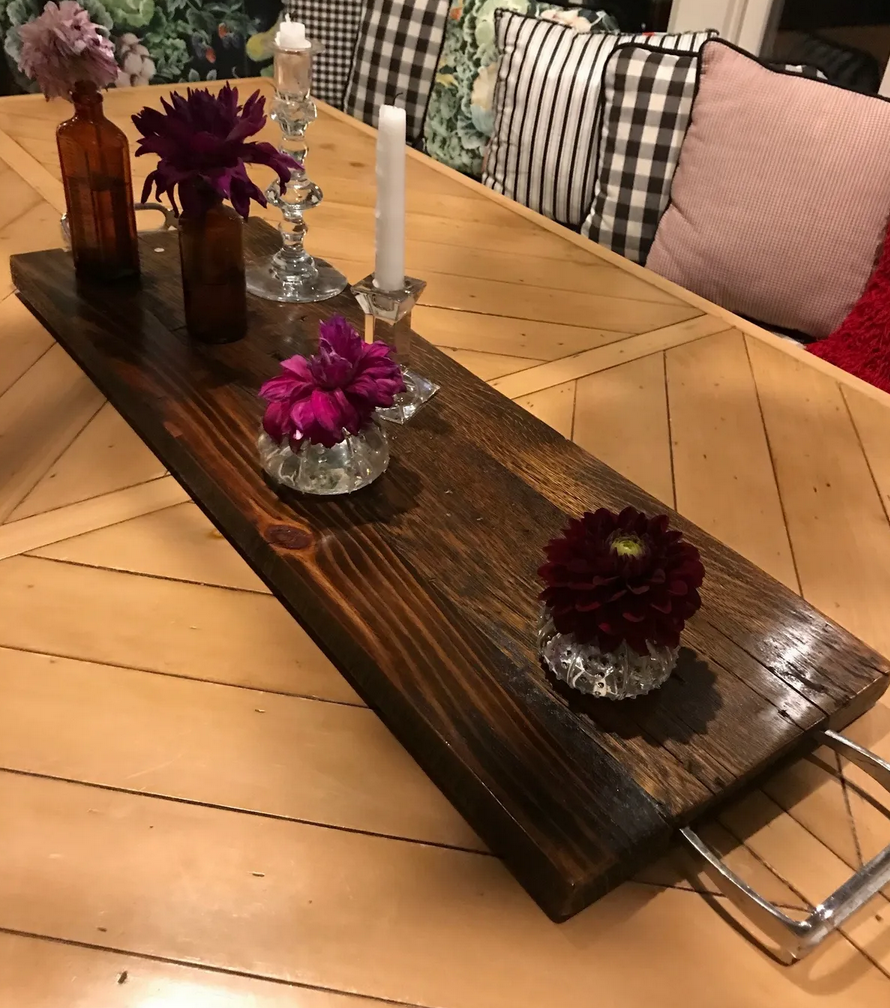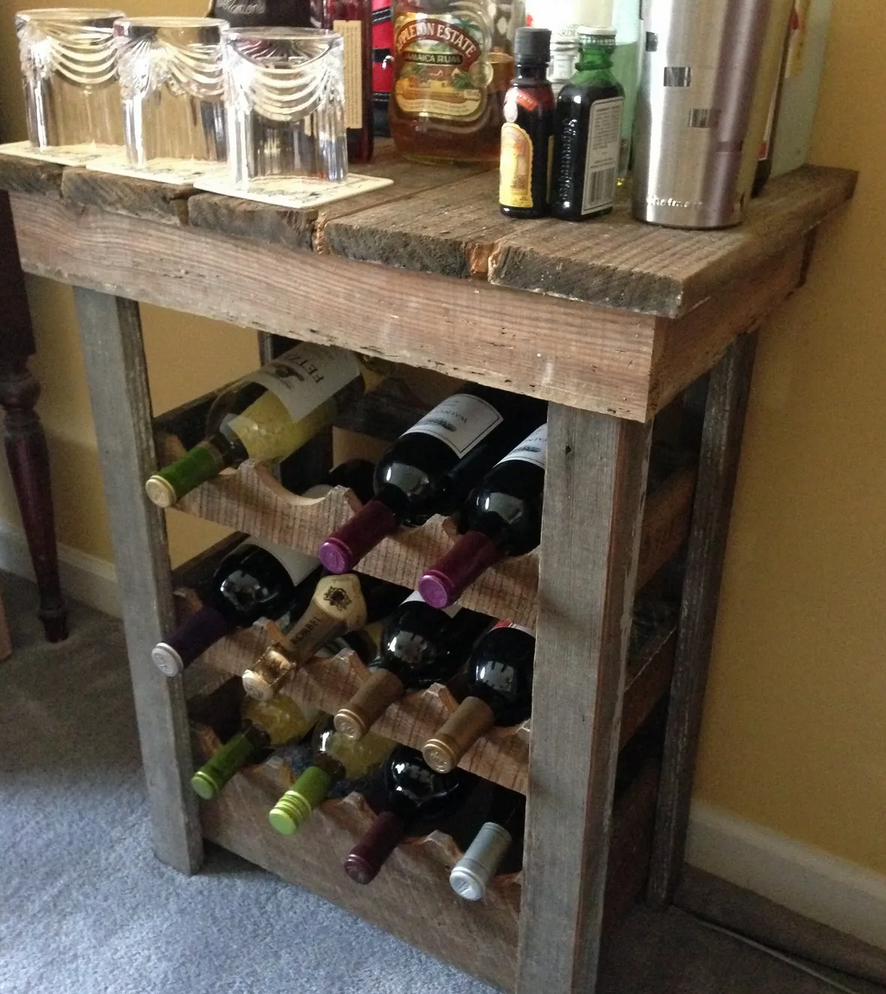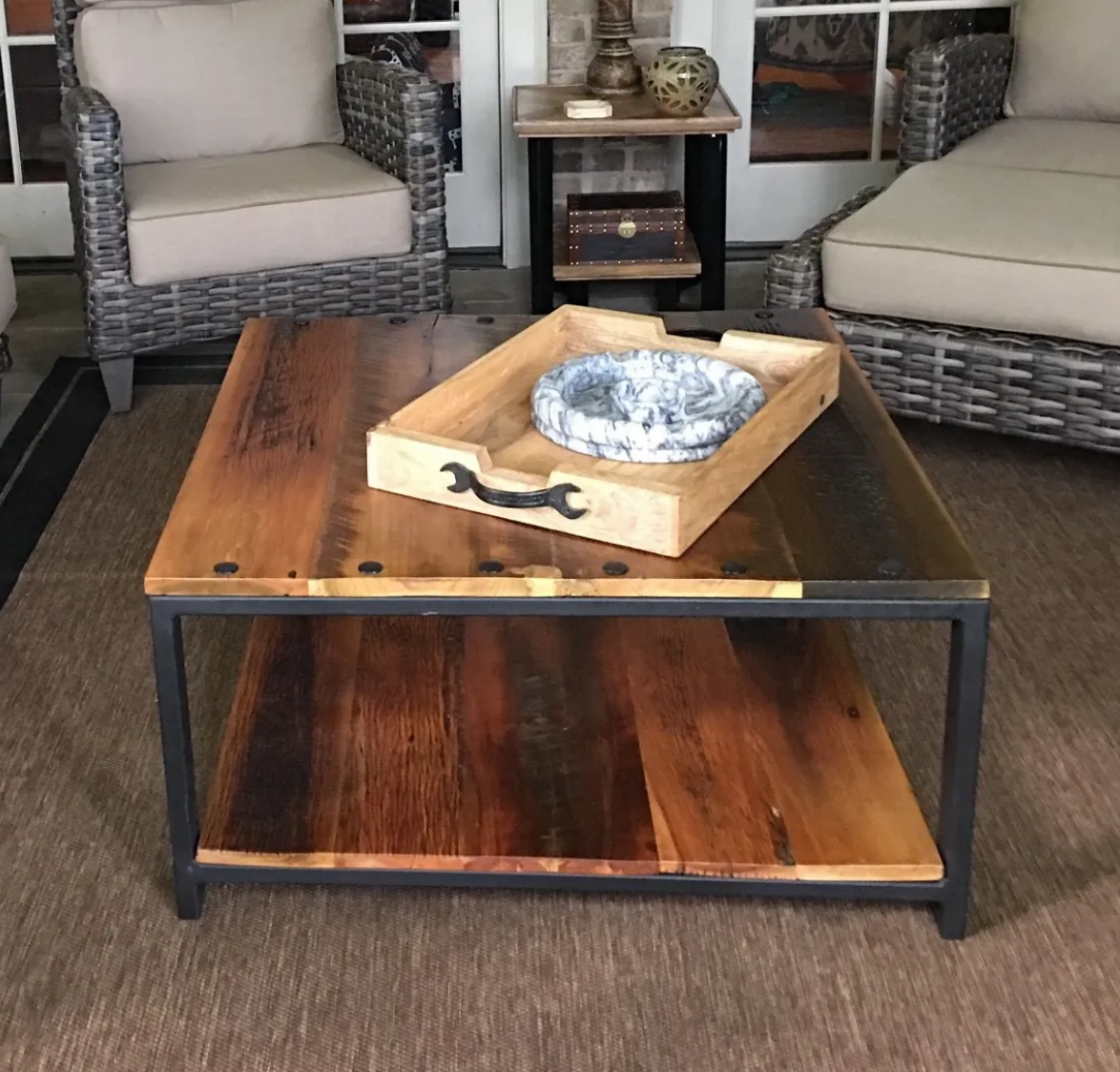 I'm a sucker for a live edge and Wood Cutters makes incredible farm tables and shelving while maintaining the integrity of the natural tree exterior.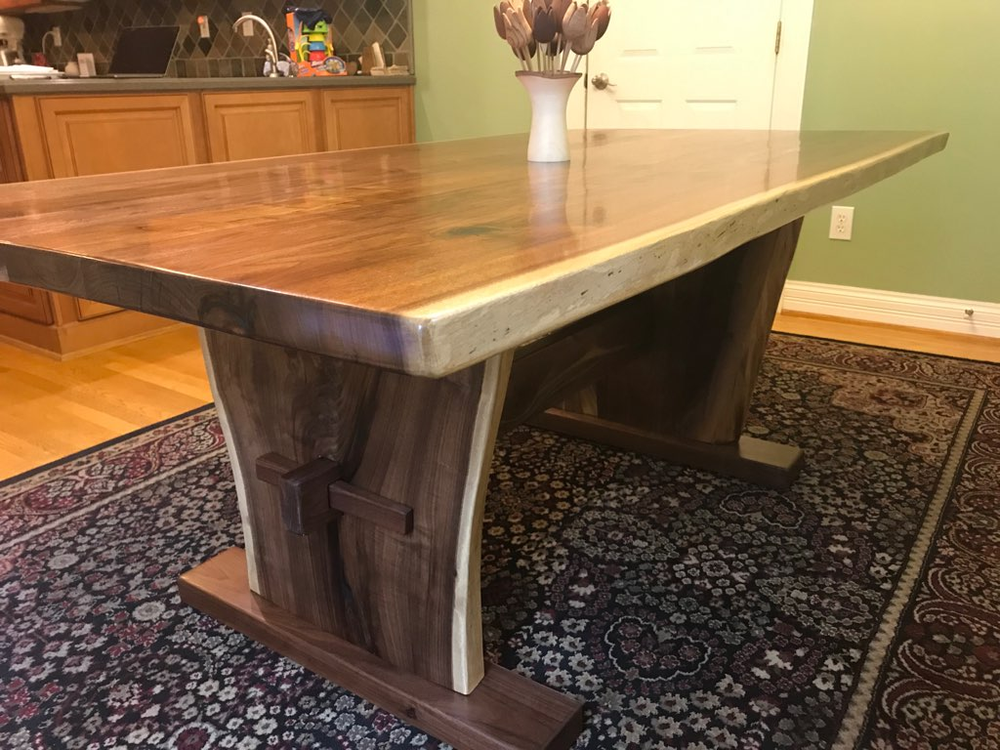 If you are a collector of the eclectic, then Timeless Design is a must stop on your downtown Paris visit. It's located in the former JJ Newberry Company building. The space is large with room to roam through kitchen décor, table settings, home décor, barware and even some retro clothing items and accessories.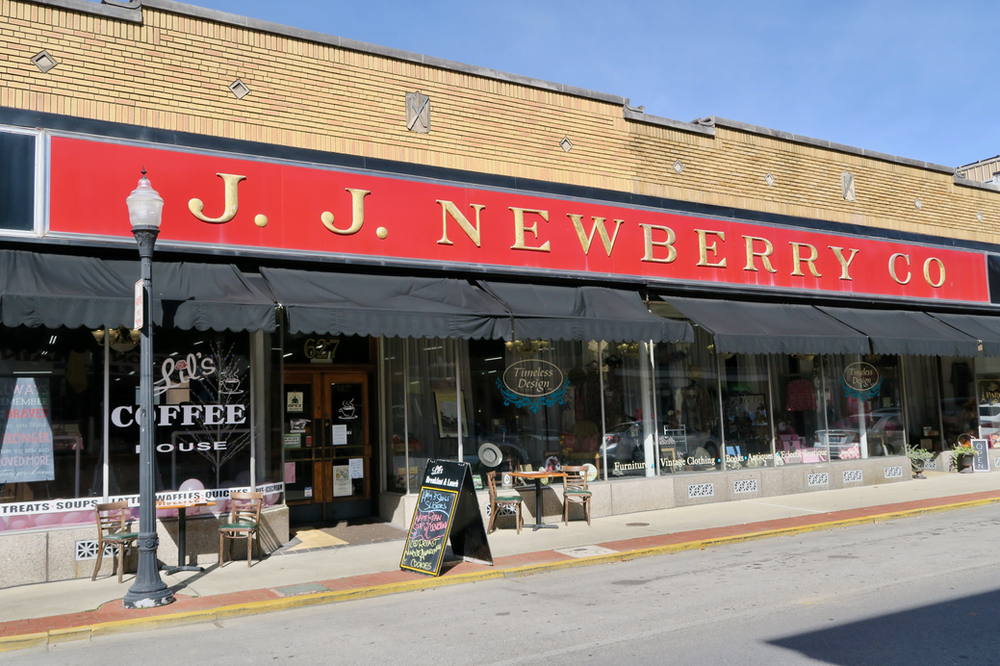 If you are in the market for some vintage wedding goodies, this is just the place with beaded dresses, veils, jewelry pieces and more. You may even find something borrowed or blue!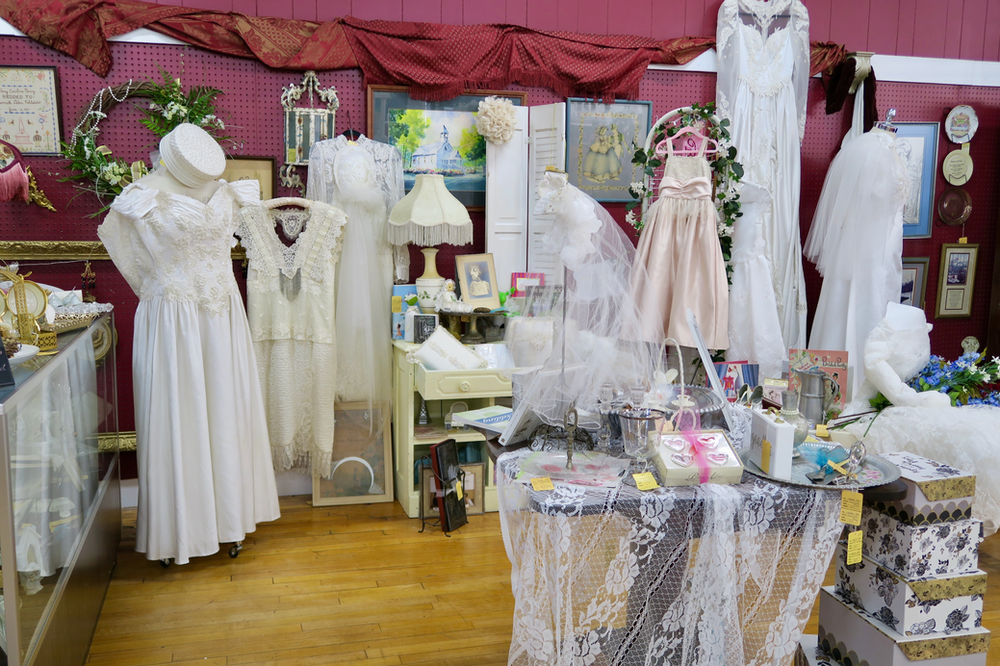 I enjoyed taking a moment to thumb through the old 12" records with fun artists including the Bee Gees, Rolling Stones and many others to choose from.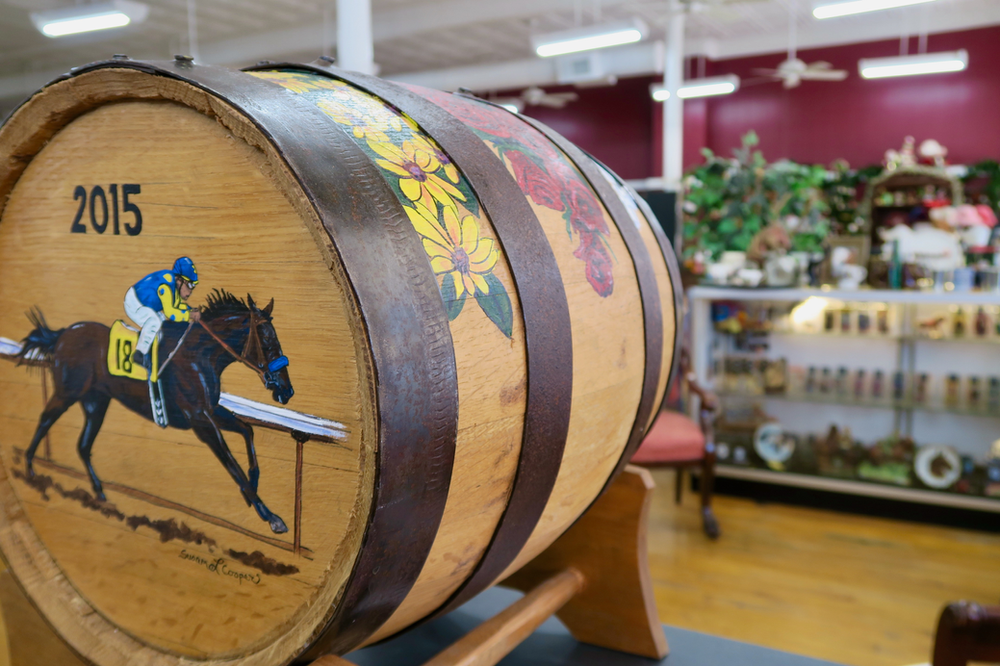 Timeless Design's owner is passionate about providing exclusive vintage pieces. She travels to find items for her stores and enjoys learning the stories behind them which she shares with her own customers. Timeless Design is a great place to shop for out of the ordinary, classic items for yourself and your home.
Be sure to stop into Lil's Coffee House for a slice of the best quiche around. Lil's is located in the same building as Timeless Design.
Taking in downtown Paris on foot is easy and relaxing. Simply round the corner of Main to see the stately courthouse with its large Christmas tree ablaze this time of year. Then have a look at Duncan Tavern, erected in 1788 by Joseph Duncan, a Revolutionary War officer. The edifice is constructed of native limestone, and as a tavern went under the sign "The Goddess of Liberty." Duncan Tavern is the oldest standing tavern in Kentucky and was a gathering place for pioneers such as Daniel Boone, Simon Kenton, James Smith, Peter Houston and Michael Stoner.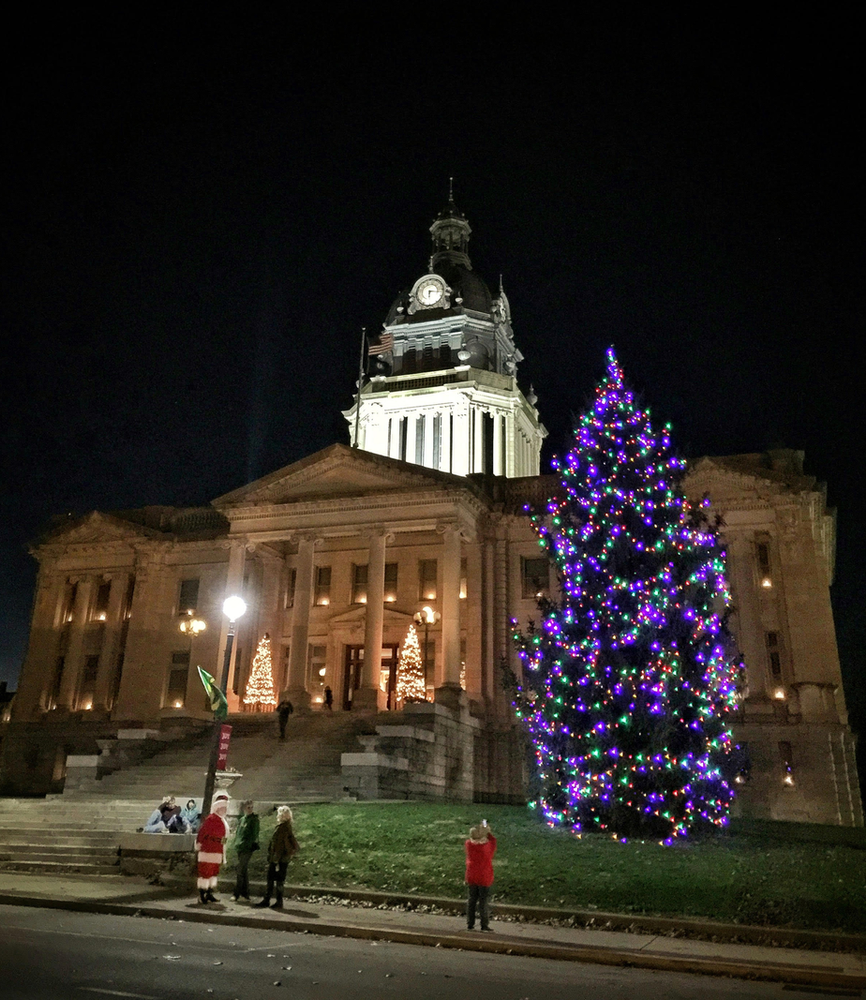 Photo by Kathy Shiflet
While in Paris take the opportunity to explore the Colville Covered Bridge which spans Hinkston Creek. Just 10 miles outside of Paris, you will enjoy an enchanting backroad drive to witness the last surviving bridge of its kind in Bourbon County.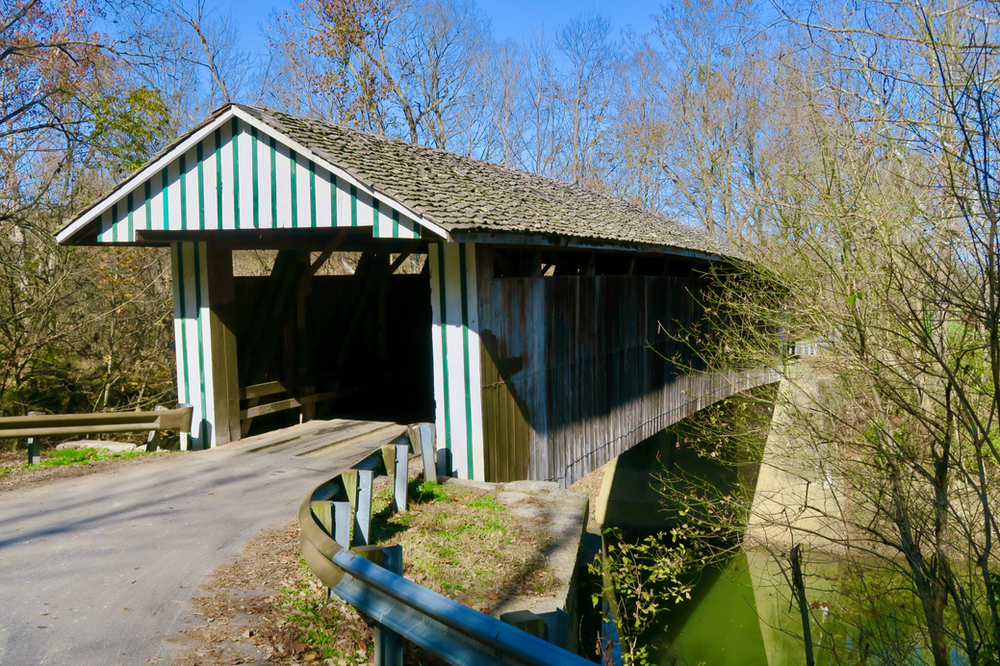 There's this and so much more to experience in and around Paris. Read about even further riches in Part 2 of Falling in Love with Paris!
To Paris from:
Lexington- 18 miles
Georgetown- 17 miles
Covington- 83 miles
Louisville- 90 miles
Harrodsburg- 55 miles
Paris, Kentucky is an amazing treasure just 30 minutes from downtown Lexington. The drive amid rolling hills and manicured horse farms is as delightful as the destination. You'll find yourself exhaling, as the trip sets the stage to relax, take it slow and enjoy all of the intricacies of this unique small town while falling…