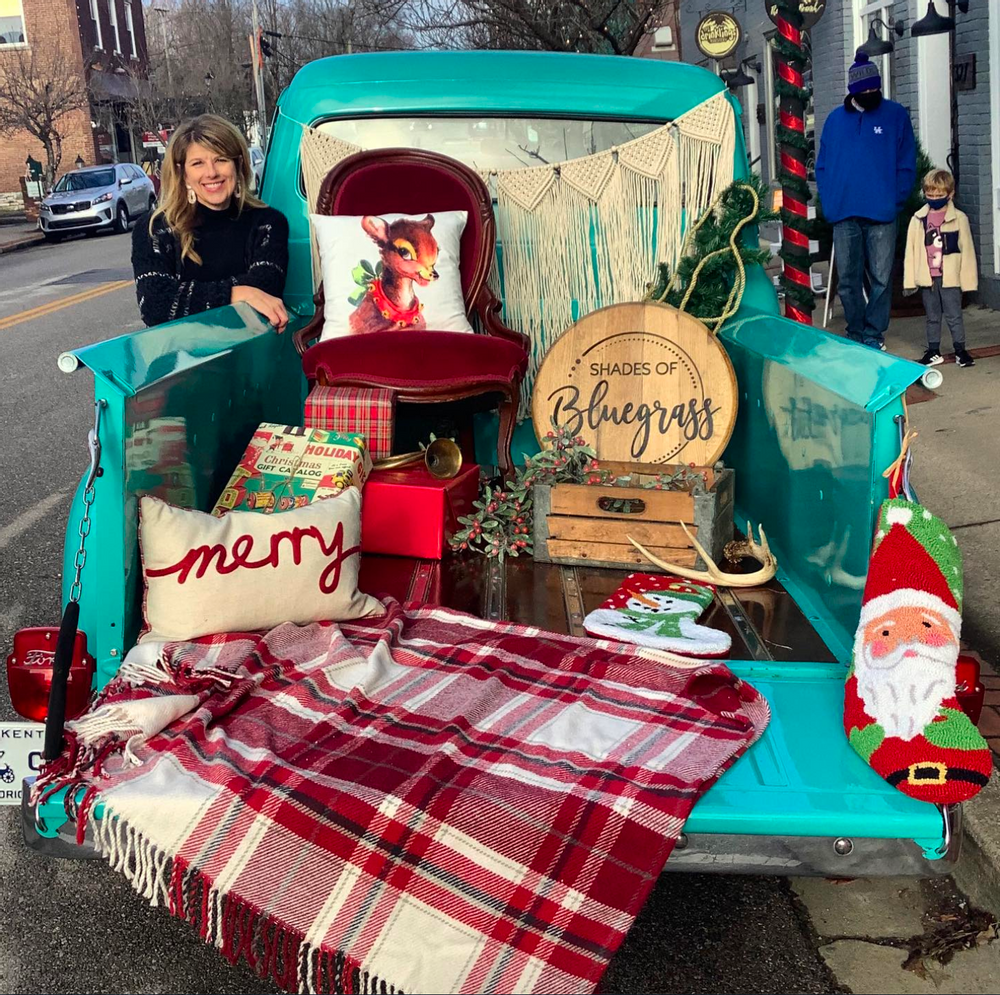 Wilmore, Kentucky
by Marie

Posted on

December 13, 2020
Wilmore, Kentucky was established in 1876 by the Cincinnati Southern Railroad as a flag stop prompted by the construction of the High Bridge railroad trestle on the Kentucky River. At the time, this bridge was the highest in the world. Today the High Bridge is an exciting place to visit with a breathtaking vista of the bridge and river from the park and great waters for kayaking!
The train stop was originally dubbed Scotts Station after a wealthy landowner. However a dispute between the owner and the railroad resulted in the name being changed to Wilmore in honor of a different influential landowner in the area. By 1882 there were several businesses established in this promising town.
John Wesley Hughes came to Wilmore a few years later in search of a good location for a religious school. In 1890, Asbury College (becoming Asbury University in 2010) opened its doors in a two-story, frame building serving 11 students with three faculty members. In 1923 a graduate department in theology was created and by 1926 Asbury Theological Seminary had become a separate institution. The seminary was relocated to its current campus, following a string of fires which destroyed many businesses downtown in the early 1900s.

Centrally located in the heart of the Bluegrass Region of Kentucky, Wilmore is just 15 miles south of Lexington. The downtown is nostalgic with reminiscent features dating back to its inception.
Owner Tammy Goble shares a love of all things Kentucky. Locally made and carefully curated merchandise fills her beautiful store, Shades of Bluegrass.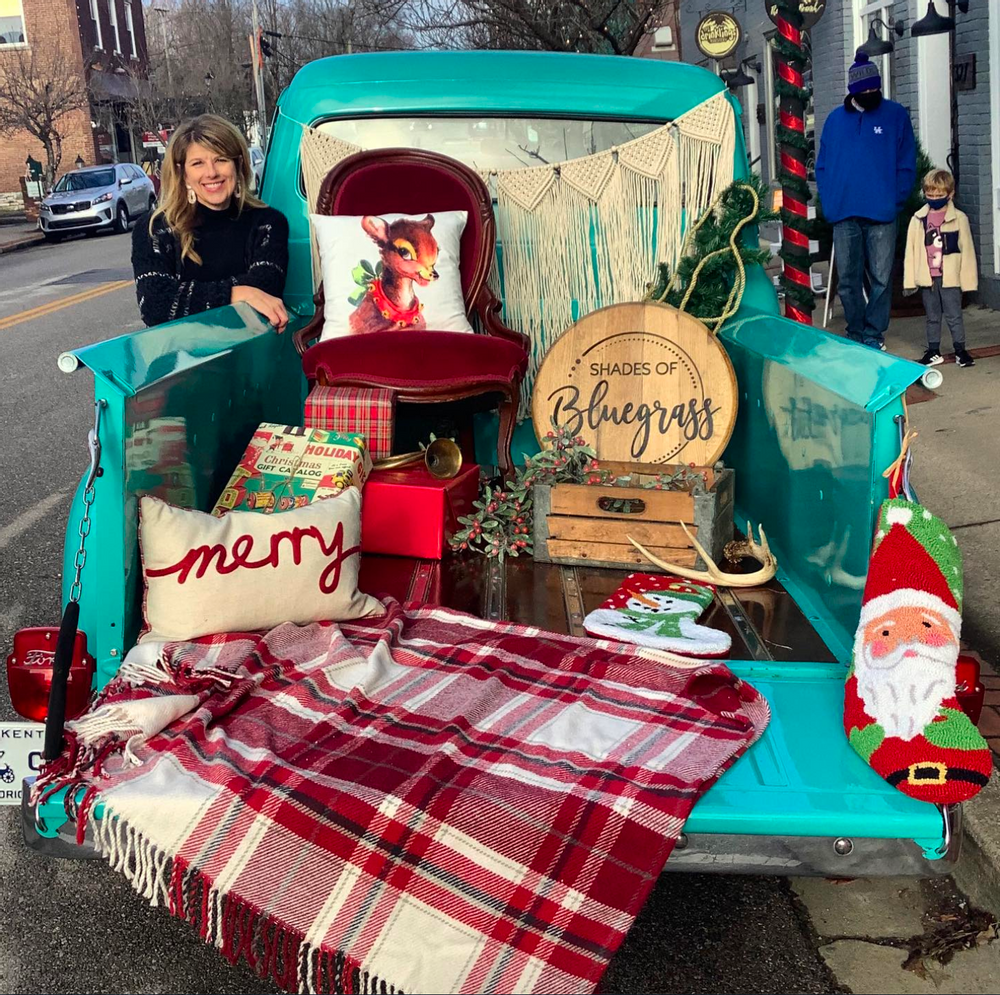 Visitors will discover the loveliest window display inviting them in to peruse the fantastic gift items, home décor, adorable baby goods, ornaments and more that Shades of Bluegrass has to offer.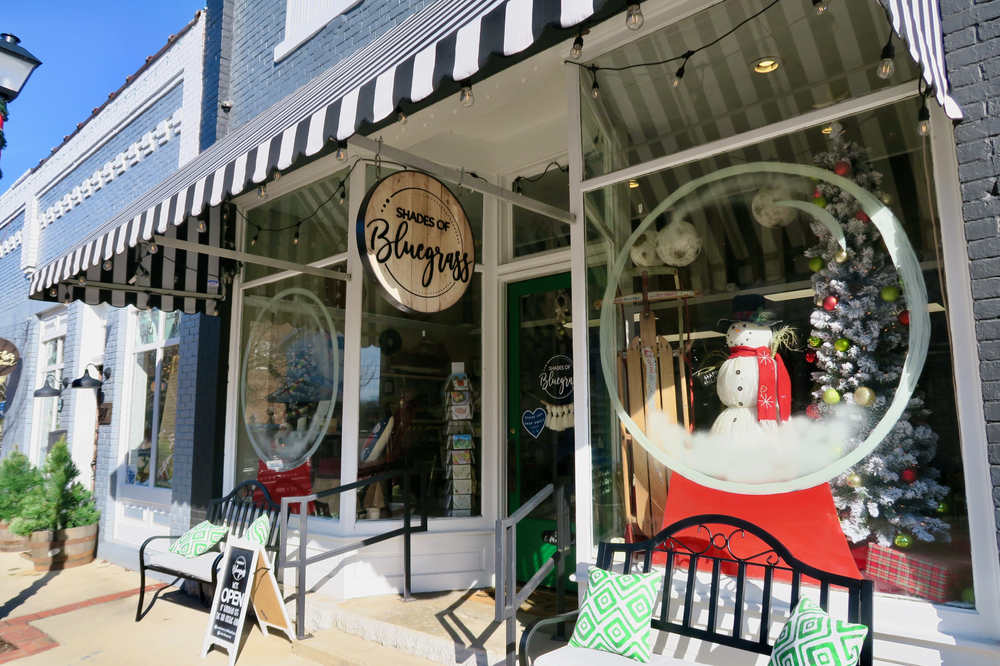 Tammy, an imaginative artist in her own right creates some of the charming articles, including amazing bourbon barrel wall hangings.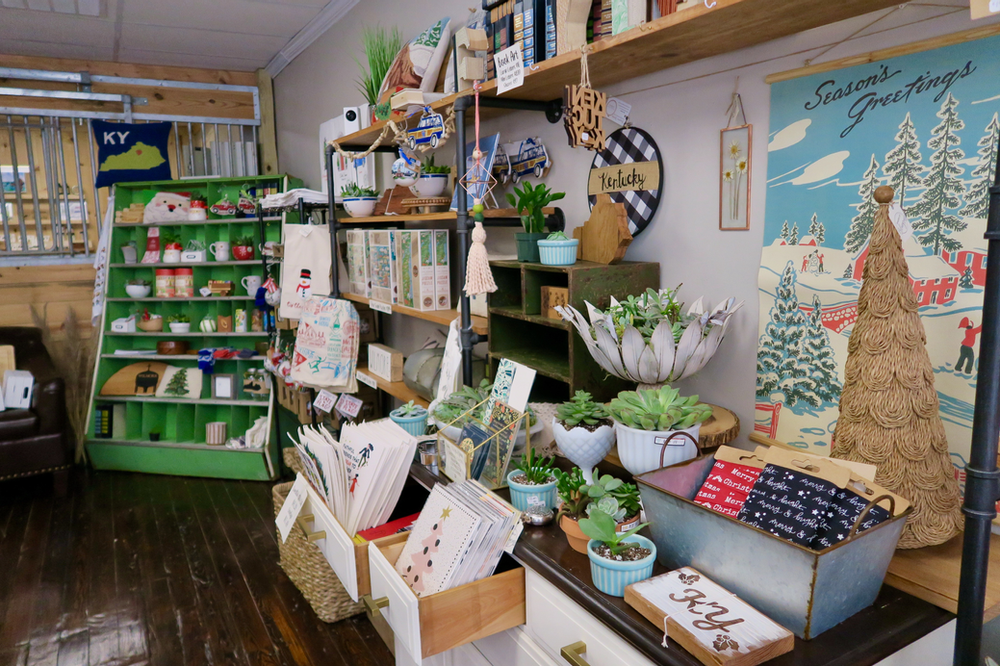 Shades of Bluegrass earnestly supports many local Kentucky artists and makers who fashion endearing, wooden toys and cutting boards, burlap home décor creations, candles, art prints, pillows and cards, to name a few!
Local father and daughter, Andy Williams and Tiffany Mayhew translated their hobby of antiquing into Days Gone By, a wonderful brick and mortar business. After years of attending antique shows, pulling a trailer full of venerable inventory, setting up in the late hours, cooking dinner over an open fire and sleeping on cots in the back of the trailer, they decided to settle down.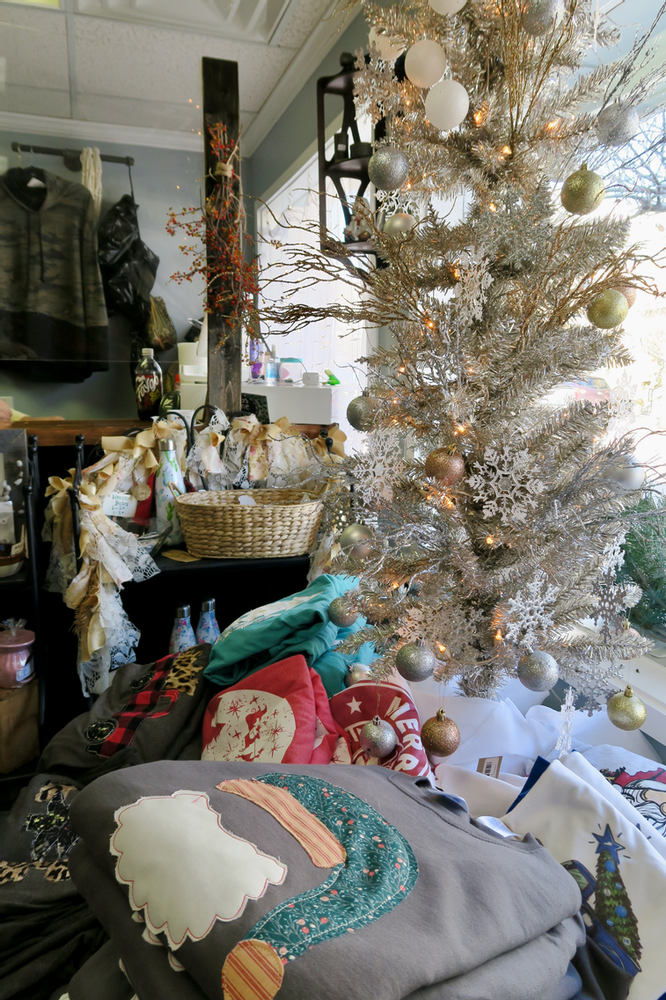 But once retired, Andy quickly became bored. He learned of an attractive space for rent and together, Andy and Tiffany forged a thriving enterprise. With Tiffany's expertise in accounting, they made the perfect team. Before they knew it they had transformed their little building into a marvelous boutique, blooming with vintage charm.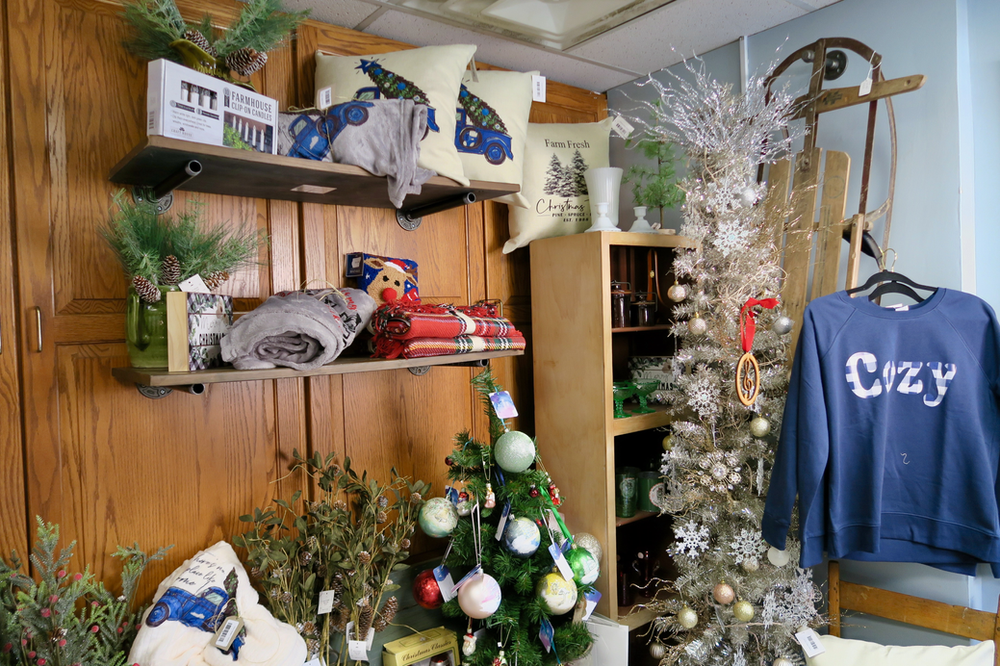 With the arrival of Covid and nervous about the future, these entrepreneurs had to temporarily close their doors. But the community of Wilmore came together with tremendous backing, allowing Days Gone By to flourish once more when they re-opened.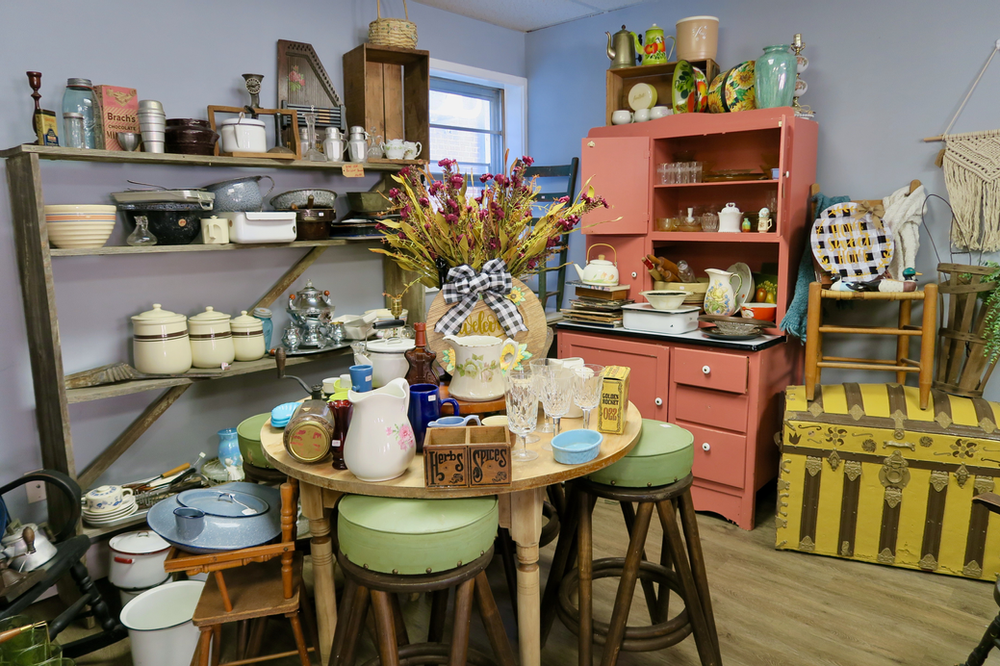 Drop in to Days Gone By while in Wilmore where you'll delight in something old, something new and a selection of gourmet goodies too!
The Olive Branch has become a downtown fixture in Wilmore, with unique offerings of exclusively, Kentucky made wares. This intriguing shop proffers a rustic vibe and is stocked with great treasures, ideal for gifts or a personal treat.
Shoppers will find a wide array of enticing commodities including candles, t-shirts, ornaments, beauty products, macramé, leather works, ball caps, tea towels and mugs.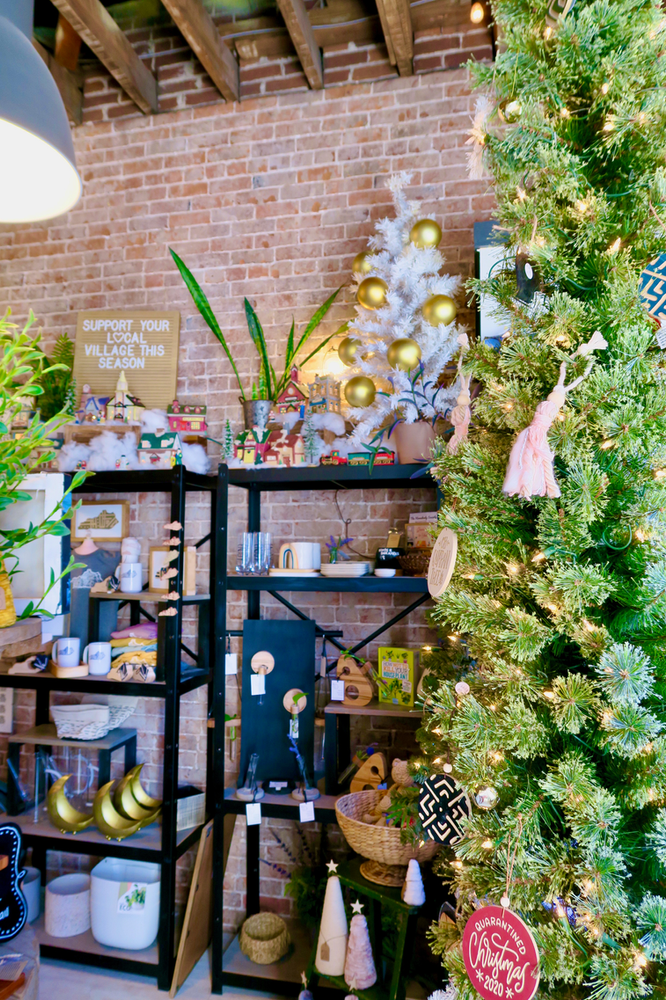 Interested guests can participate in small classes offering floral design, candle-making and other fun, hands-on, creative events. They also carry pop-ups from featured makers.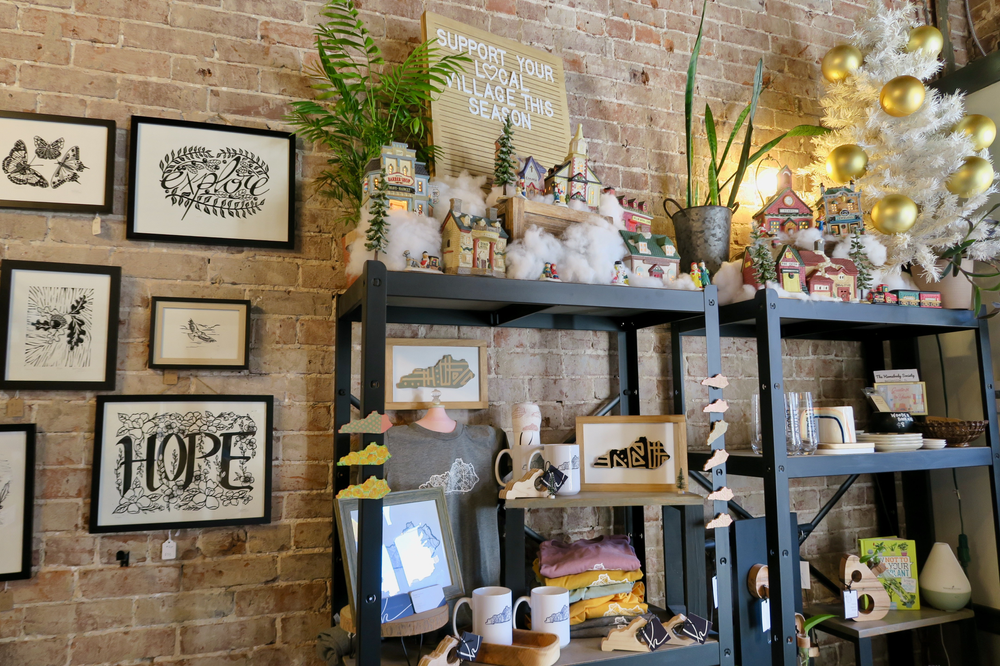 Visitors are assured that they're not only backing a locally-owned store but offering support for the gifted artisans within the Commonwealth. Behind every hand-made, skillfully crafted item dwells a real-life, business owner who is positively impacted by your patronage.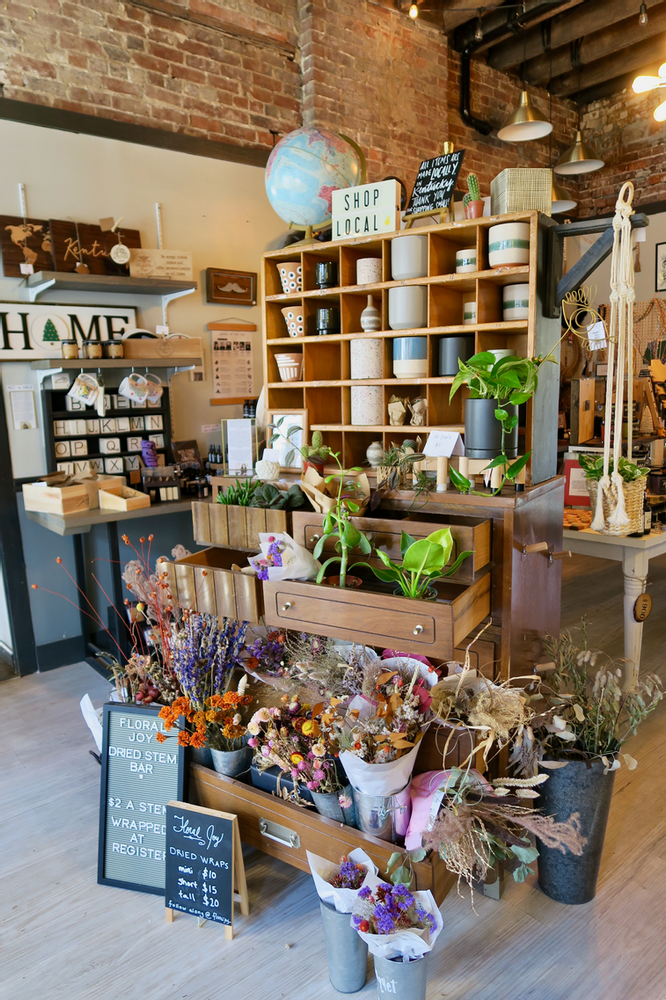 Give Olive Branch a follow to stay current with their new inventory, classes, pop-ups, and events, plus!
Erected close to the train tracks in the historic downtown in the late 1800s, Scott Station Inn was originally the Sallee Hotel which provided rooms to travelers stopping in Wilmore.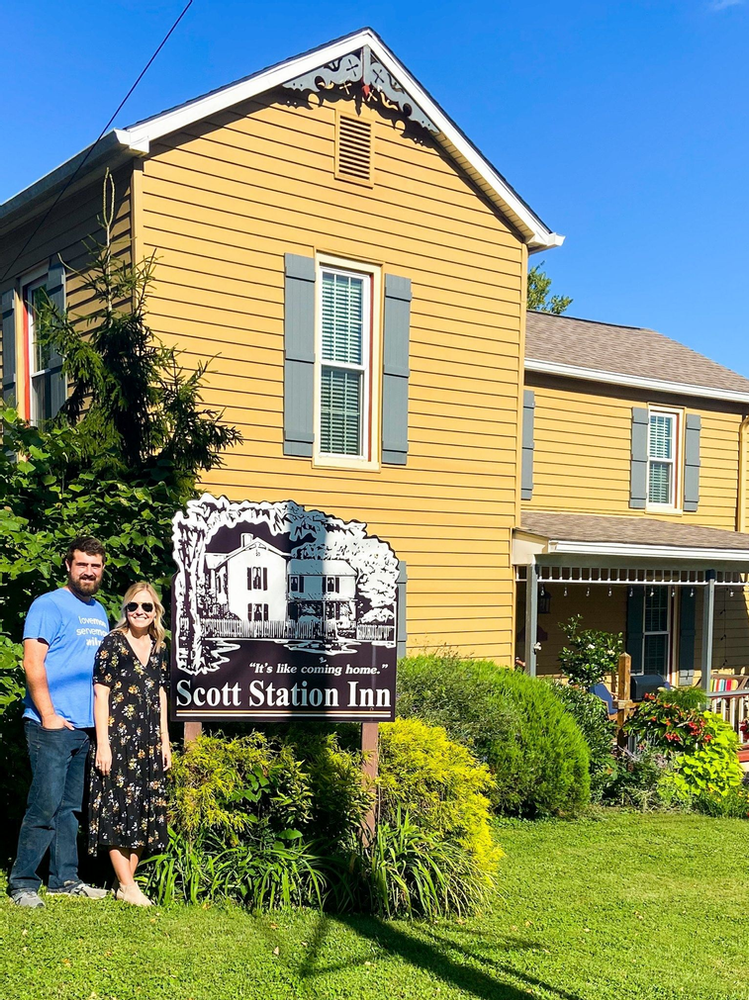 Erika and Cameron Miller, owners of the Olive Branch gift shop recently acquired this captivating AirBnB. Long-time residents and proponents of Wilmore, the Millers are the faithful sustainers of the Inn's sterling reputation.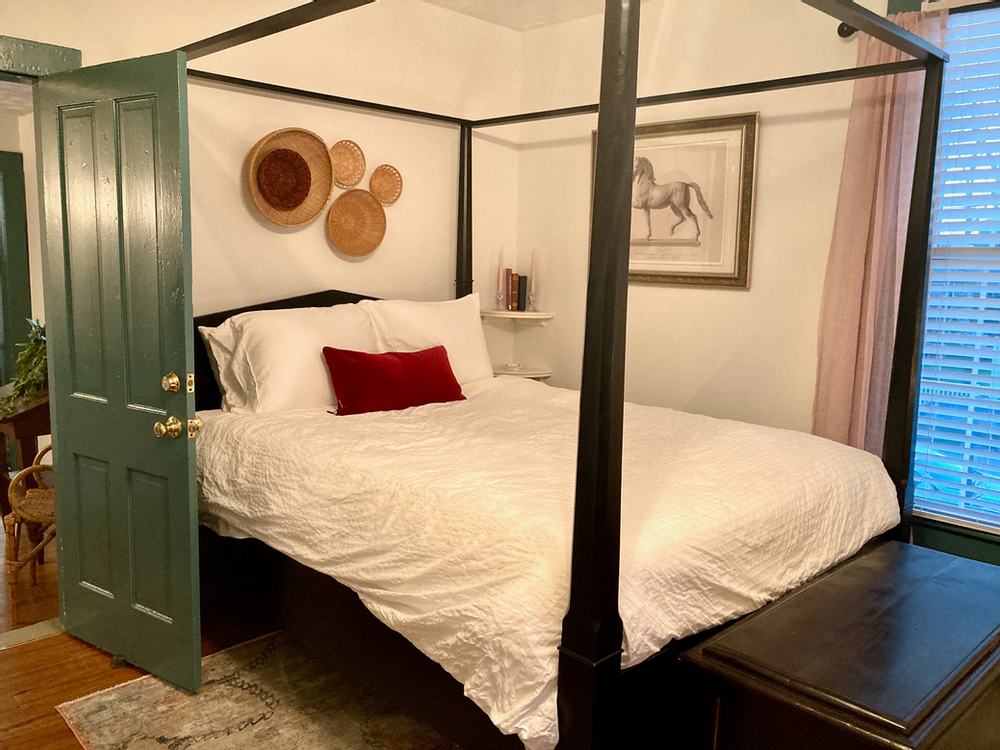 The exterior and interior are maintained in the quaint appeal of yesteryear, with the amenities of the 21st century! This comfortable home offers five distinctive guest rooms, each of which boasts an in-room bath and separately controlled heating and air. The chambers are named for their prominent color such as The Orange, Blush, Blue and Green Rooms.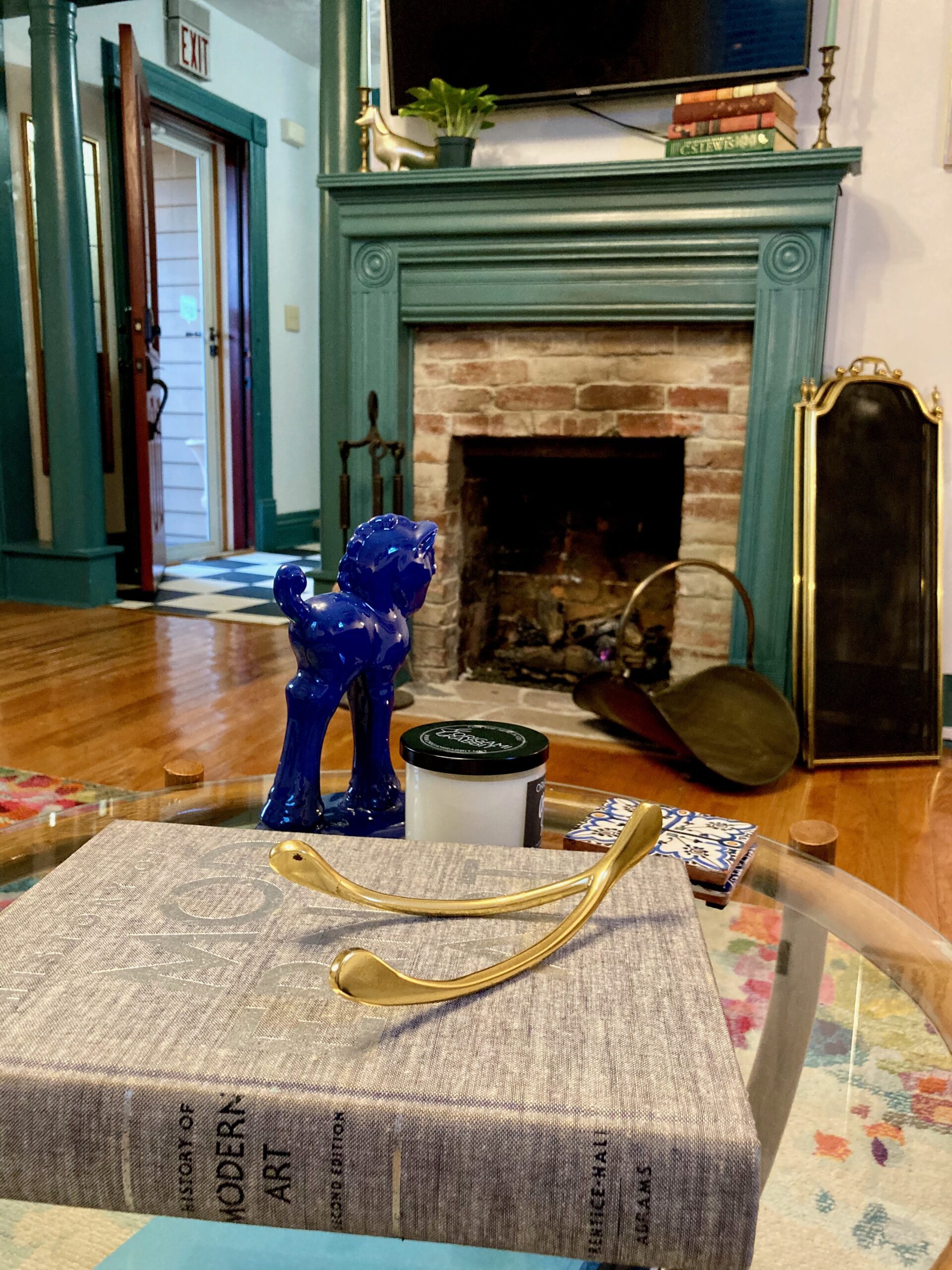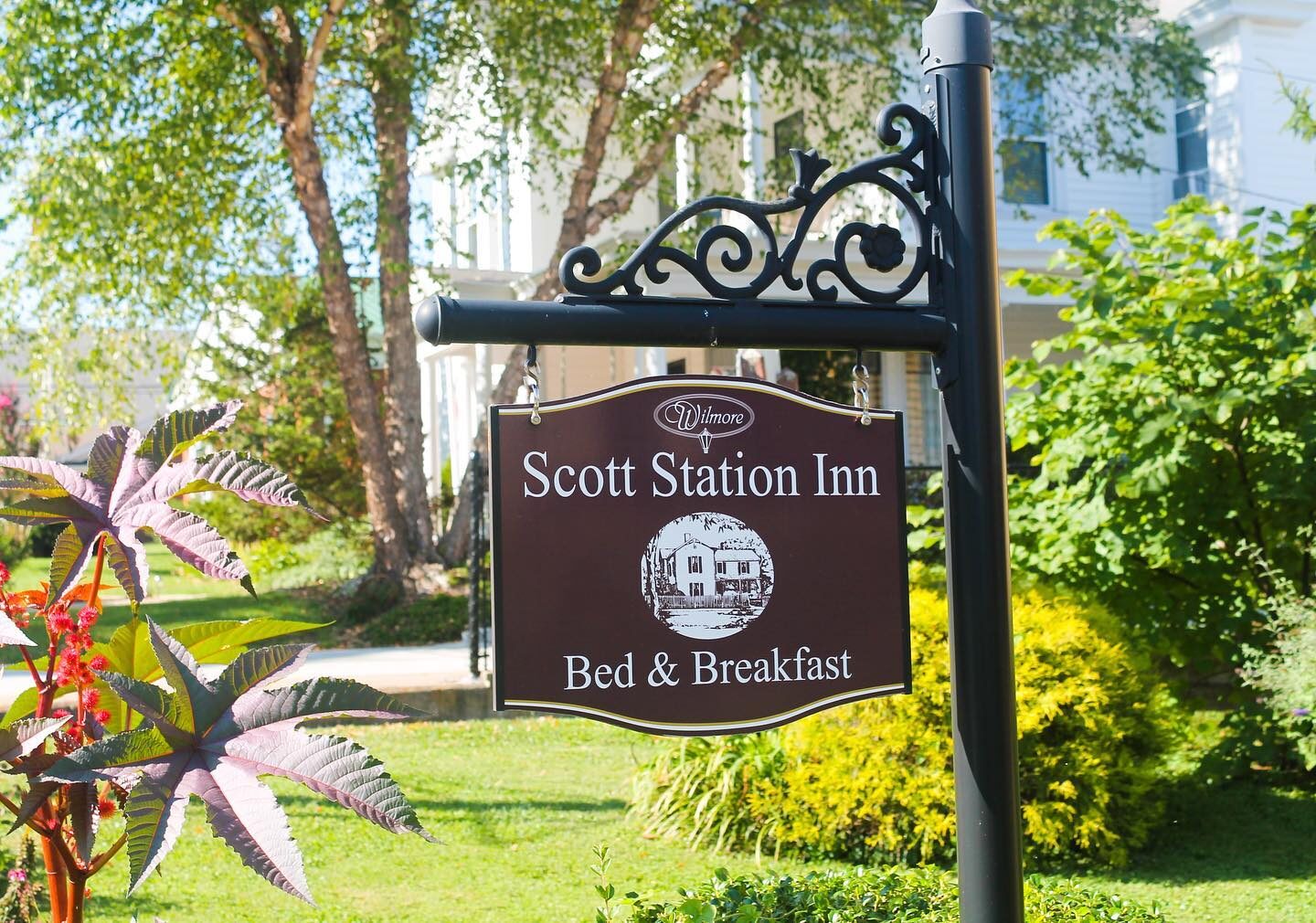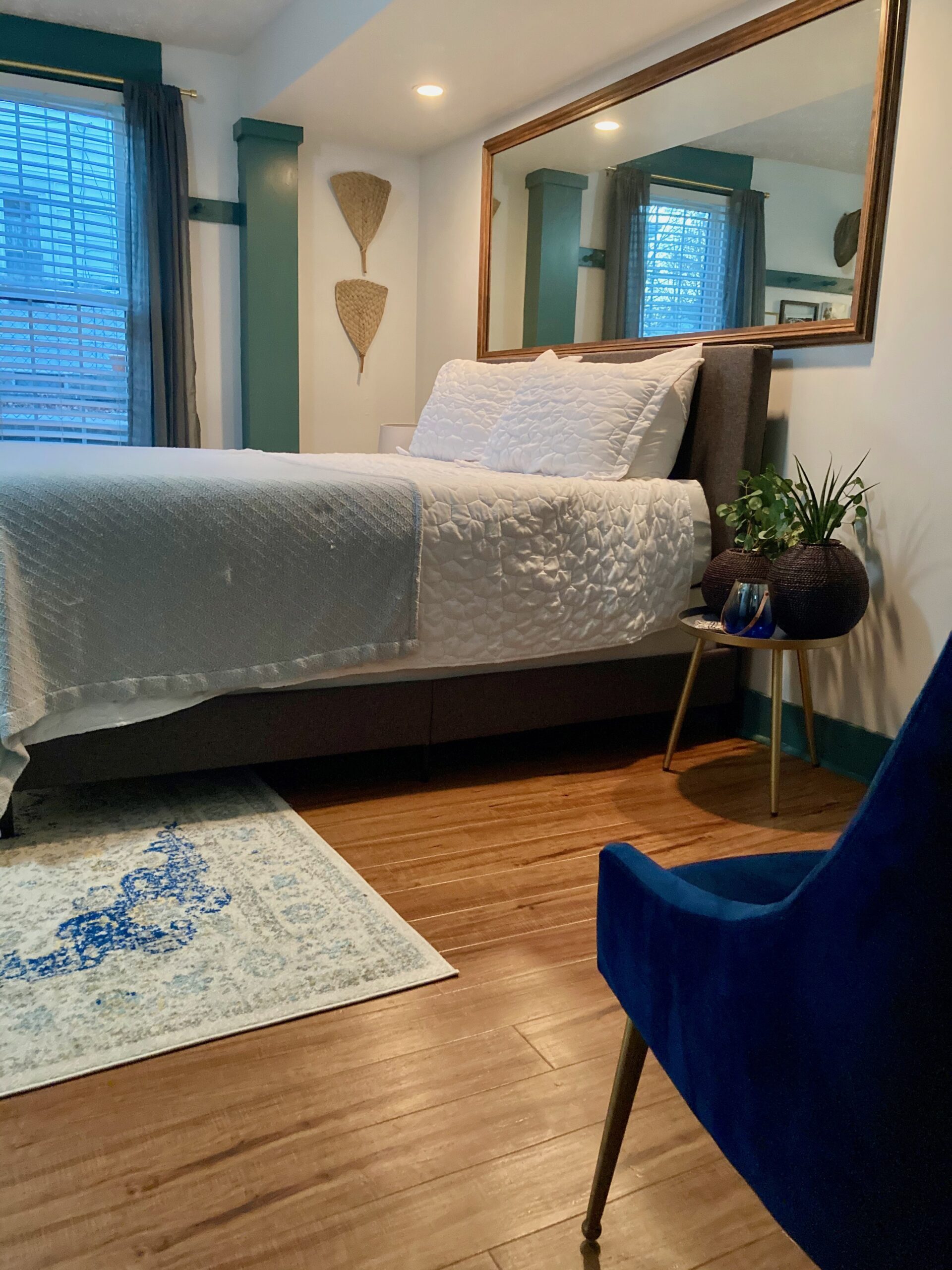 The interior is finely appointed with classic, retro styles, family hand-me-downs and interesting gems granting a pleasant, sustainable and meaningful experience.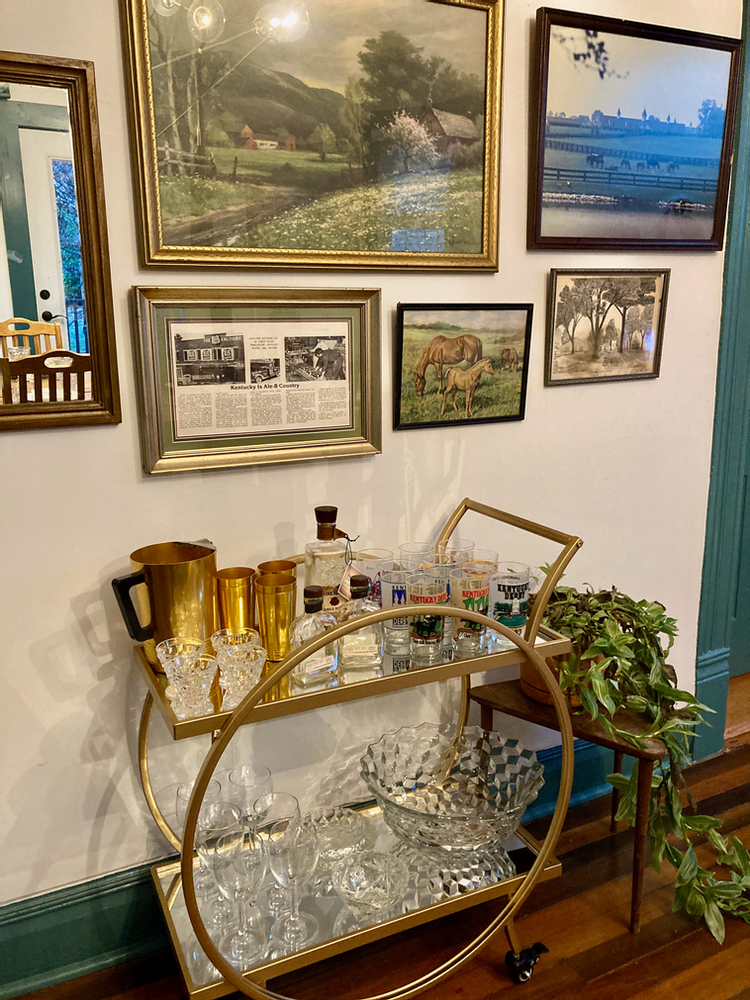 Common spaces include a living area which offers a cozy fireplace and couch, chairs and a working, vinyl record player. An elegant, wrapped, back patio beckons travelers to relax and enjoy downtime, free from the hustle and bustle of everyday work life.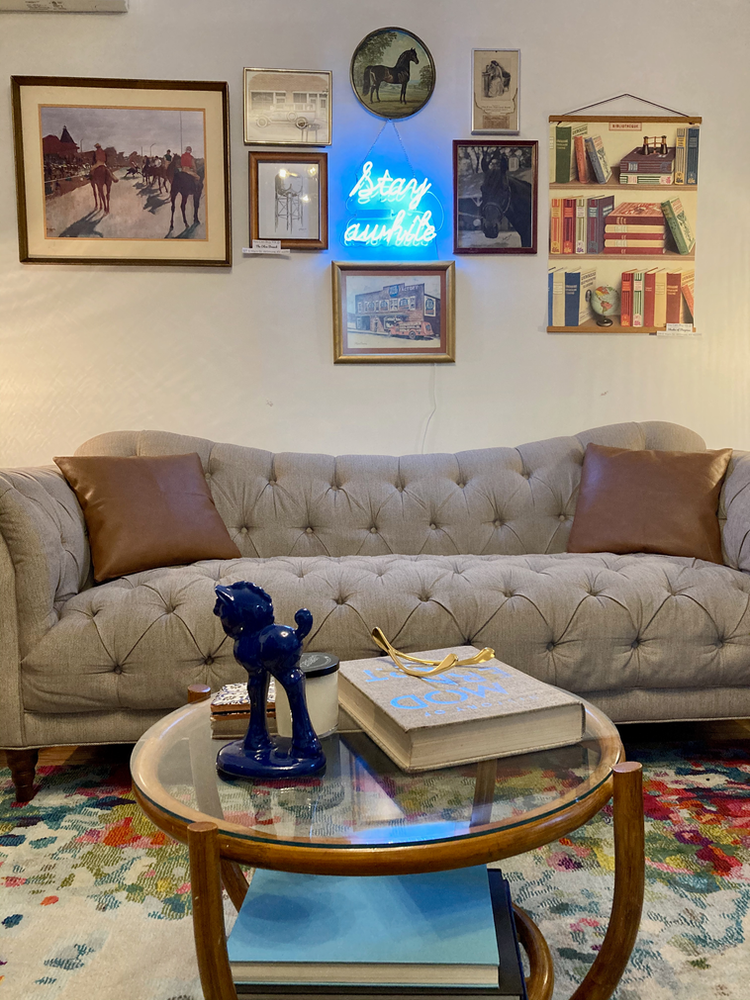 Don't forget to take in one of my favorite walking trails, located near the Asbury Equine Center in Wilmore, Kentucky. Encouraged by a few days of rain, Asbury Trails is one of the best around to view multiple, cascading waterfalls. Hiking in the winter is also a marvel as you witness the frozen beauty of these stilled watercourses. Please read more about my Top 10 Hiking Trails in Kentucky blog.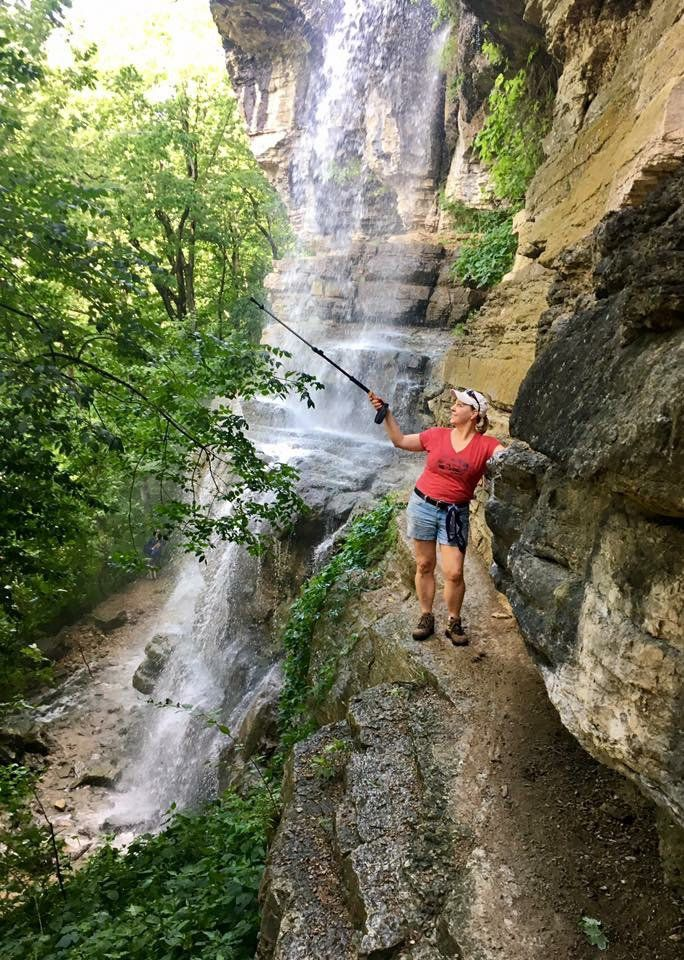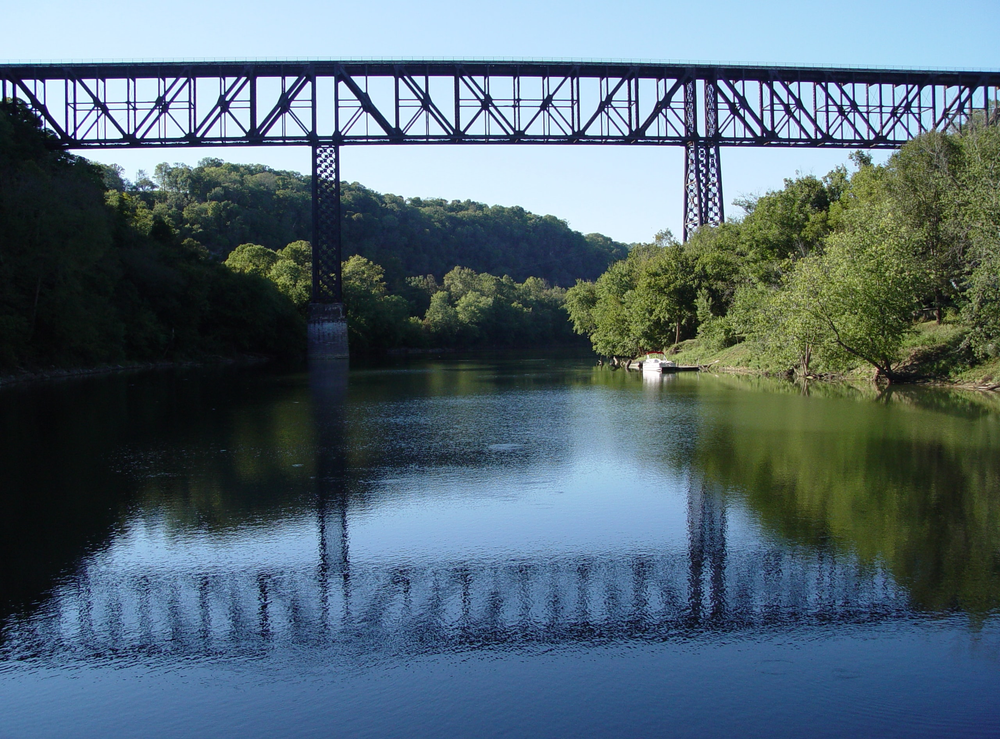 To Wilmore from:
Lexington- 15 miles
Georgetown- 30 miles
Covington- 98 miles
Louisville- 82 miles
Harrodsburg- 17 miles
Richmond- 36 miles
Frankfort- 19 miles
Wilmore, Kentucky was established in 1876 by the Cincinnati Southern Railroad as a flag stop prompted by the construction of the High Bridge railroad trestle on the Kentucky River. At the time, this bridge was the highest in the world. Today the High Bridge is an exciting place to visit with a breathtaking vista of…