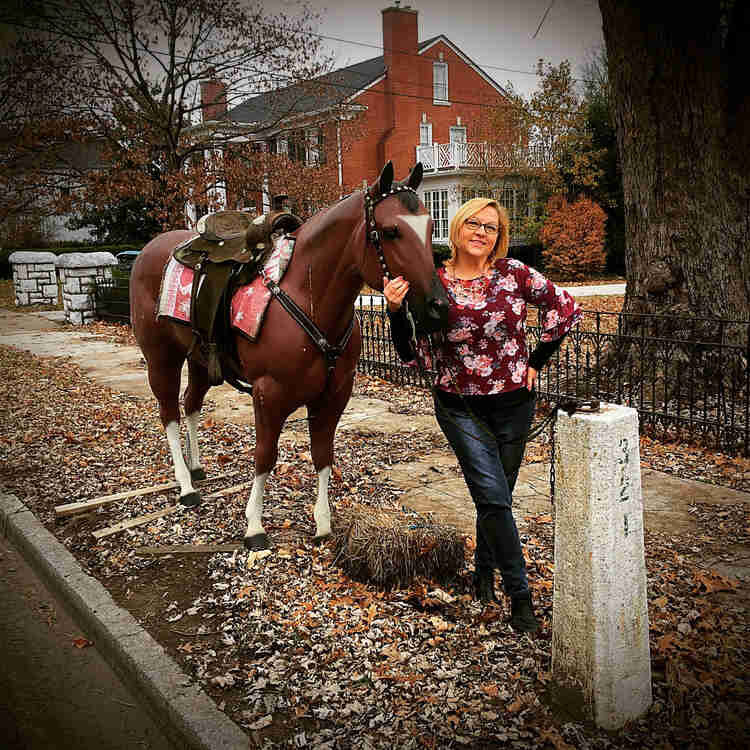 Visiting Lawrenceburg, KY
by Marie

Posted on

December 17, 2018
Lawrenceburg, KY is quintessential small-town with a surprisingly large number of sights and activities. The downtown district is inviting and easy to navigate with a plethora of delightful, little businesses.
I appreciate a town such as Lawrenceburg where residents strive to maintain the provincial ambiance. Buildings with ornate, turn-of-the-century markings entice with seasonal window scenes. Shop owners take great pride in their offerings and provide experienced, personalized service.
Lawrenceburg makes my list of towns to spend Christmas in Kentucky, read more about all of them.
*Family Friendly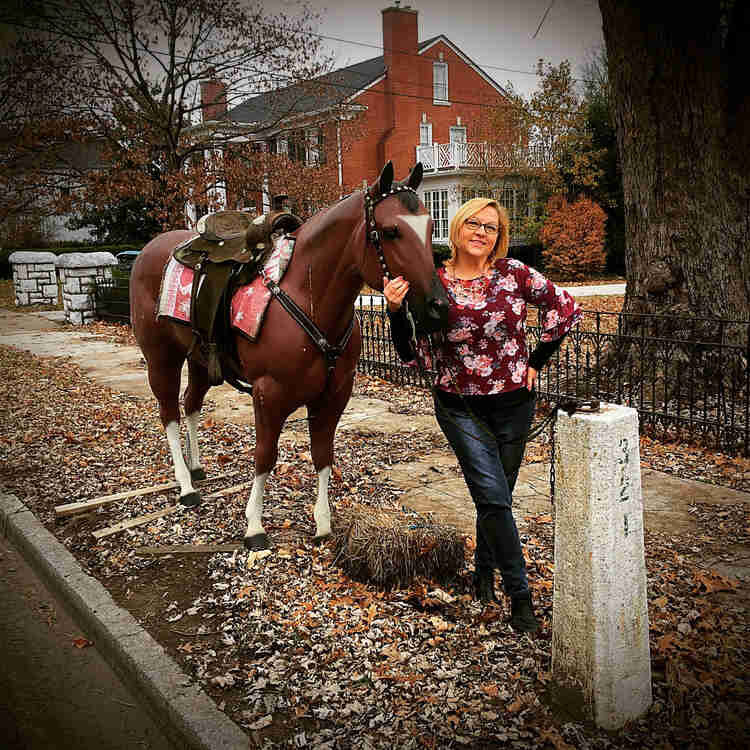 Couldn't pass up this photo op on the way to downtown.
Our first stop was Tastefully Delicious: Kentucky Proud Specialty Foods and Gifts. Any day is a great day at this exchange, but Saturdays are extra-lucky with tastings galore! I've never been to a place that had more samples readily available. We enjoyed appetizing bites of jerky, cheeses, dips, mustards, pickled goodies, chocolates, jams and cakes.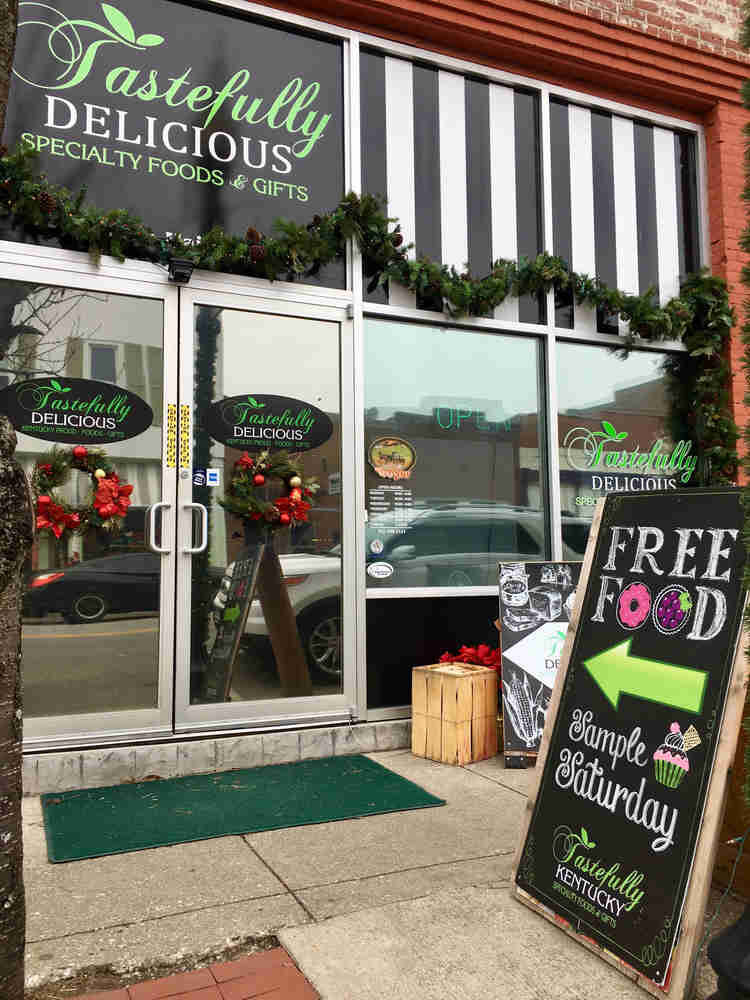 Sampling Saturday is always a delight.
I'm not gonna lie, I may have visited the cake table more than once. They have incredible bourbon jam cakes baked in-house, topped with caramel-pecan icing that will tug on the sleeve to accompany you home. You will be amazed at the array of goods from which to choose, most of which are produced locally in Kentucky.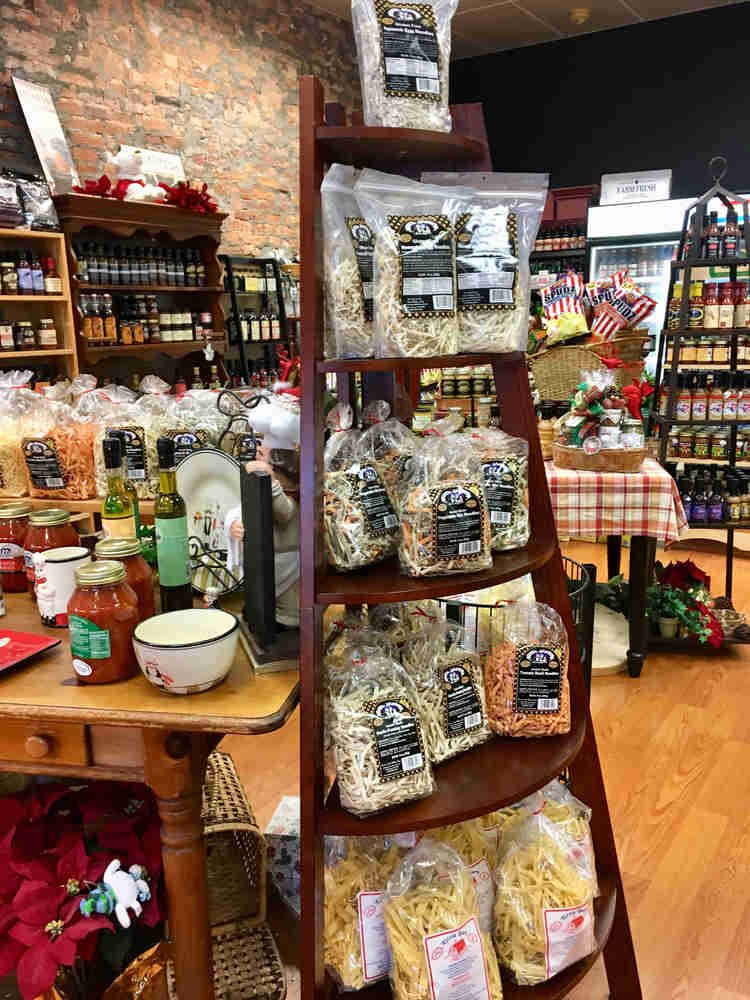 Local pastas, sauces, oils, seasonings and more.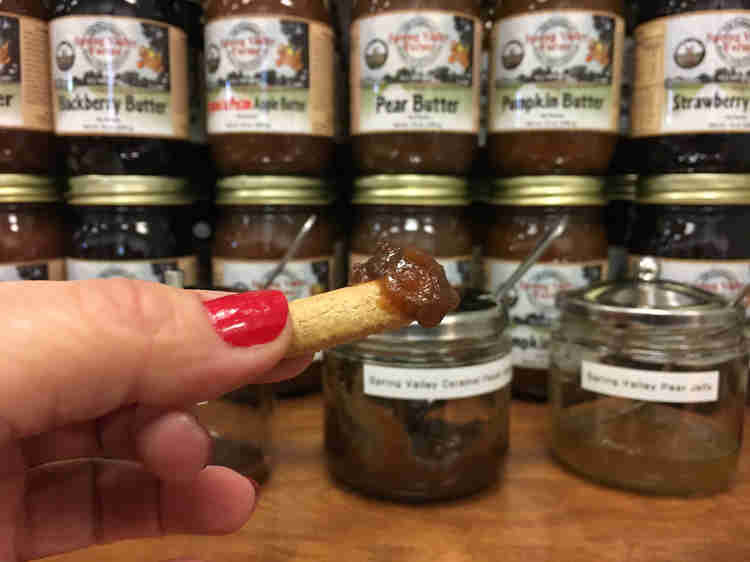 Mmmm, sampling small batch fruit butters.
Tastefully Delicious offers the convenience of gift baskets, arranged with your loved ones' favorites. When seeking a zesty flavor such as Winchester's own Ale 8 beer cheese and salsa or a sweeter selection of locally dipped chocolate, cookies and other treats, this market has it. Drop in Tastefully Delicious and follow on Facebook. They offer weekly giveaways throughout the year!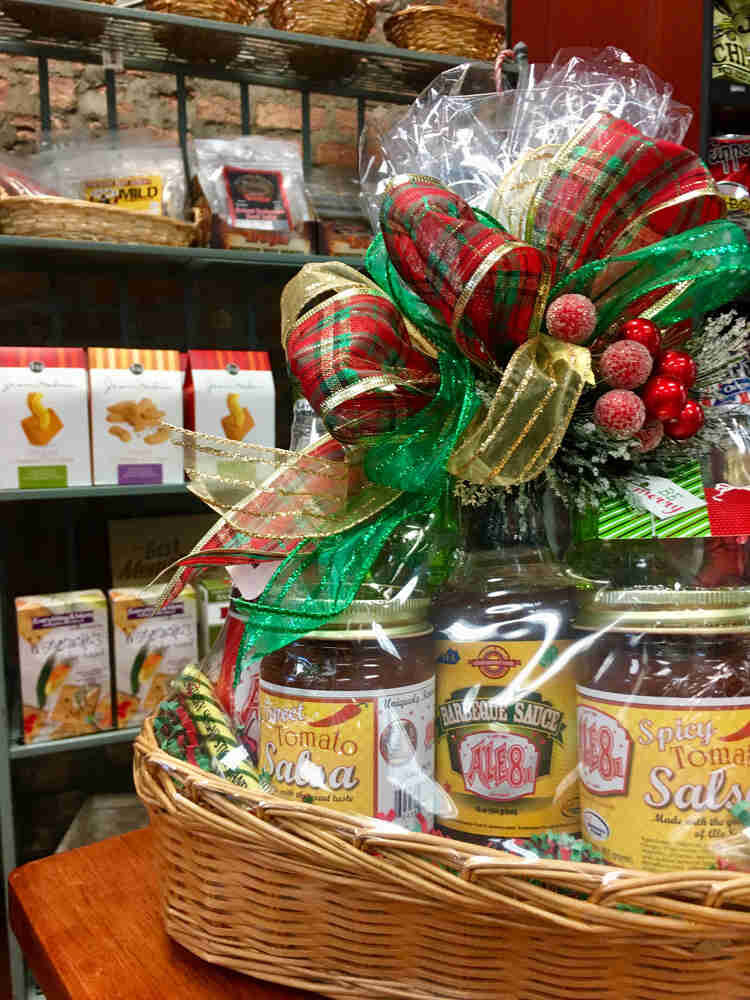 Gift baskets to go.
We discovered a new shop,
Good Ol' Boys Leather Co
that is just getting its feet wet in Lawrenceburg. Home to a former billiard hall this family-owned enterprise now displays leather goods and wooden items created by owners John and Debbie Bailey and their son, John III. Here you will find everything from cutting boards to barrel stave belt buckles to beautiful, large, Kentucky barnwood, wall pieces.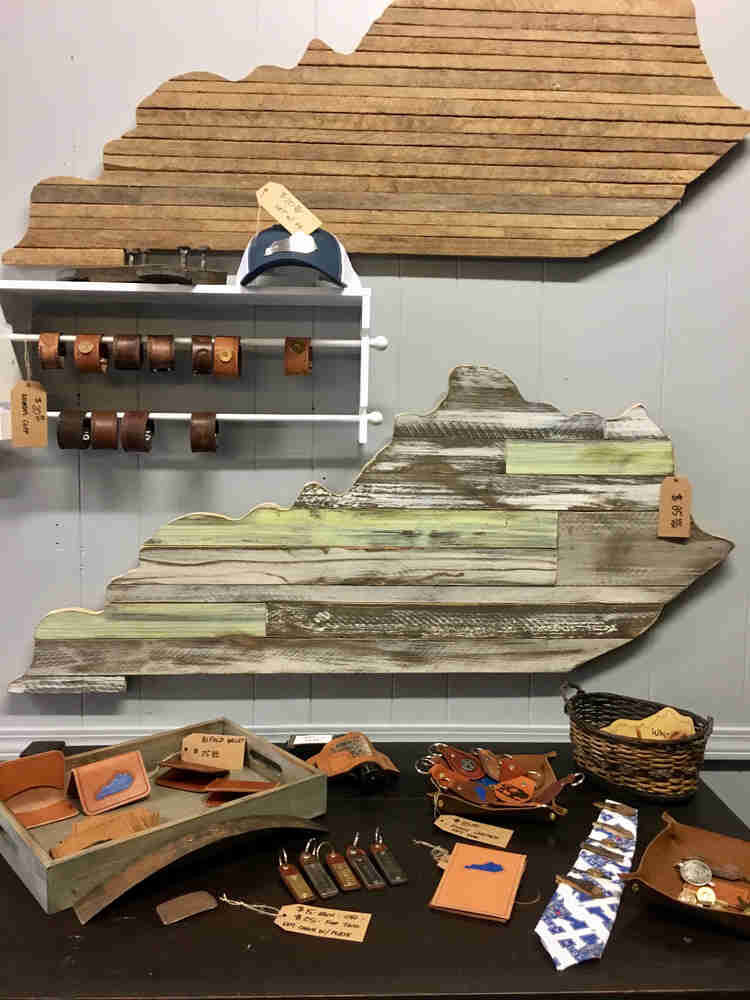 Wood and leather goods.
If the breeze is just right when you arrive in the city, you may catch a wonderful whiff of sweet mash emanating from a nearby distillery. In fact Sweet Mash, named with a nod to the local distilleries was on my list of notable locations in Lawrenceburg. The owners, Tamara and Dawn are two high school friends who have kept their friendship alive. They express their relationship in the form of an artfully designed store front advertising a bonanza of bar and kitchen accessories, home goods and articles of apparel such as socks, aprons and T-shirts.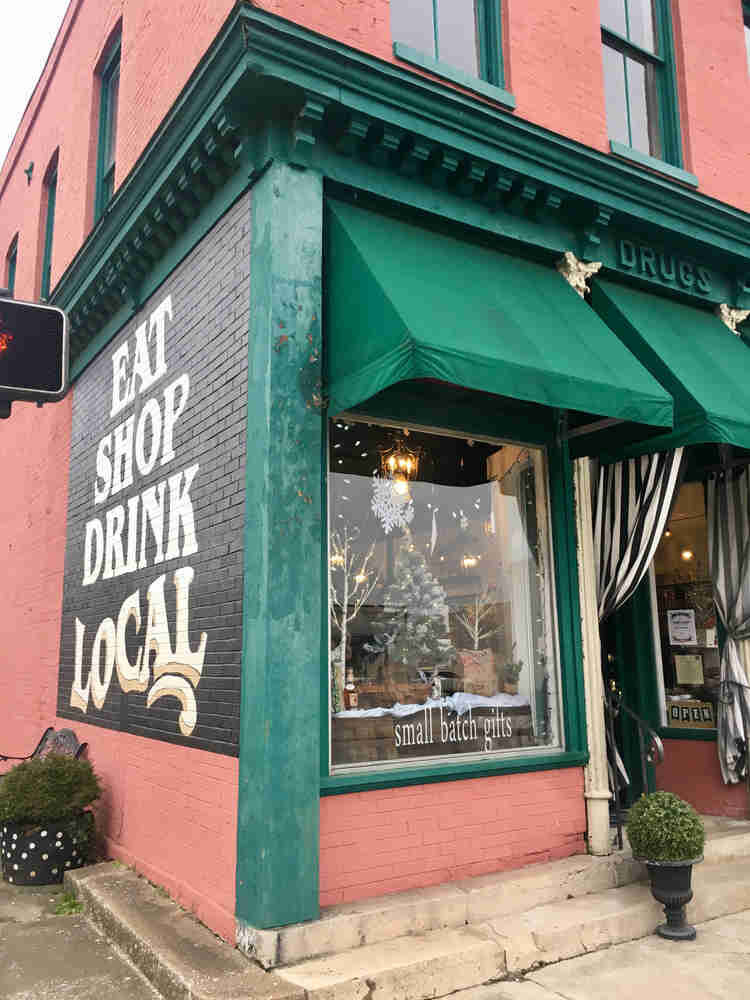 Eat, shop and drink local y'all.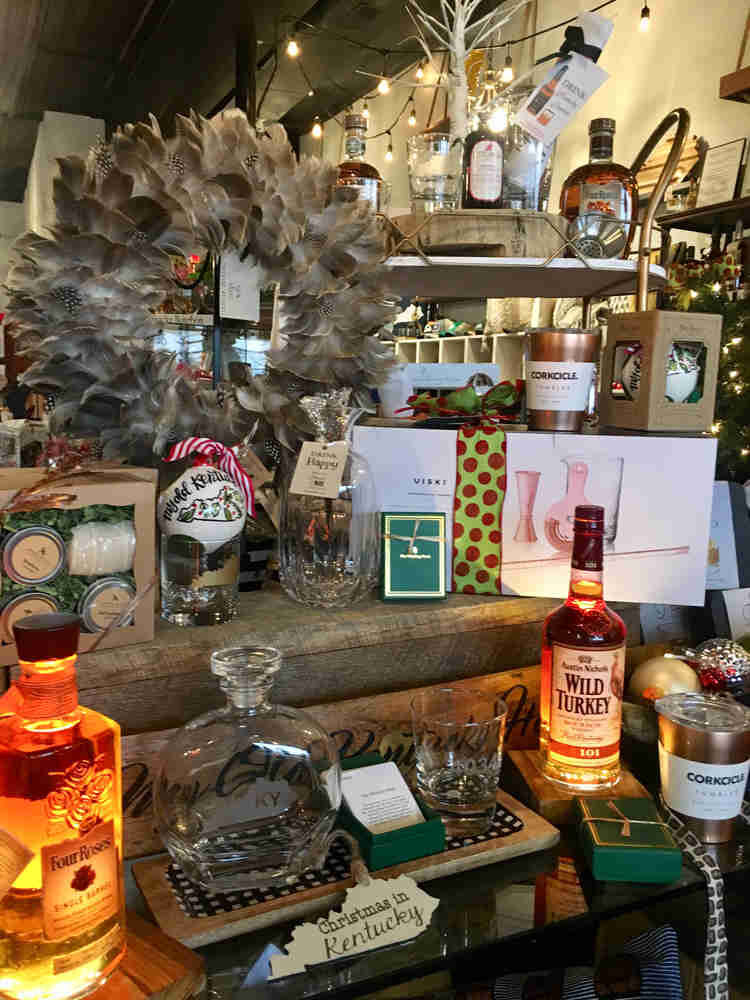 A wide selection of bar ware.
The sweet aroma of warm bourbon tickles your nose as you enter this unique emporium. Sweet Mash offers three candles dedicated to the bourbon experience. These lovely candles are created exclusively for their store by Candleberry in Louisville.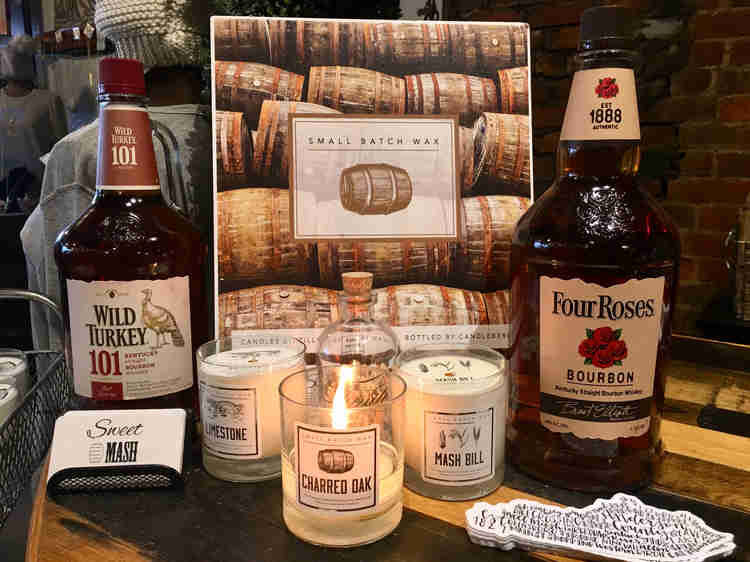 Speciality candles by
Candleberry
.
We popped into
Chick a Dee's
Speciality Shoppe, a super cute clothing boutique. Stylish dresses, shoes, scarves, jewelry and other apparel are for sale.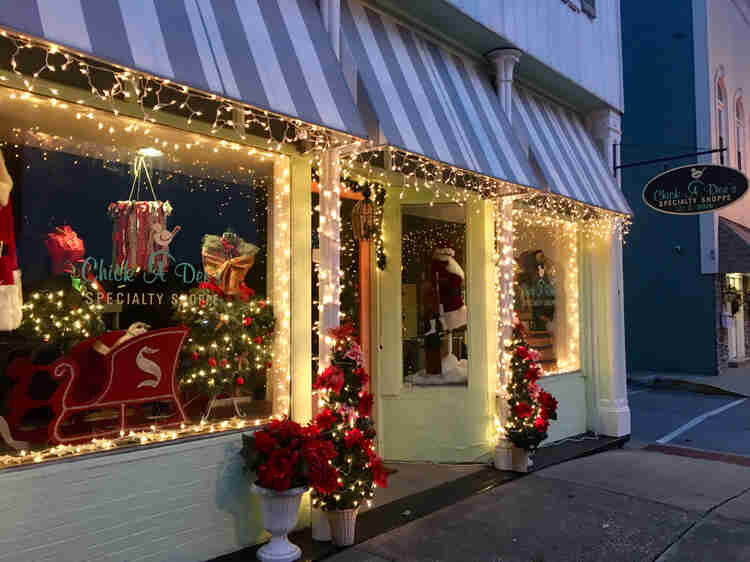 Christmas lights at dusk in downtown Lawrenceburg.
In the Lawrenceburg area you have your choice of making calls on the Lovers Leap Vineyards and Rising Sons wineries along with the Wild Turkey and Four Roses distilleries. We settled on Four Roses and they were kind enough to grant us a private VIP tour that we truly enjoyed. We made our way through the distillery learning about the ten recipes which Four Roses uses to create bourbons that will please any palate. Four Roses was one of only a few distilleries able to maintain production during prohibition, selling bourbon medicinally. Now they are celebrating 130 years in the bourbon business!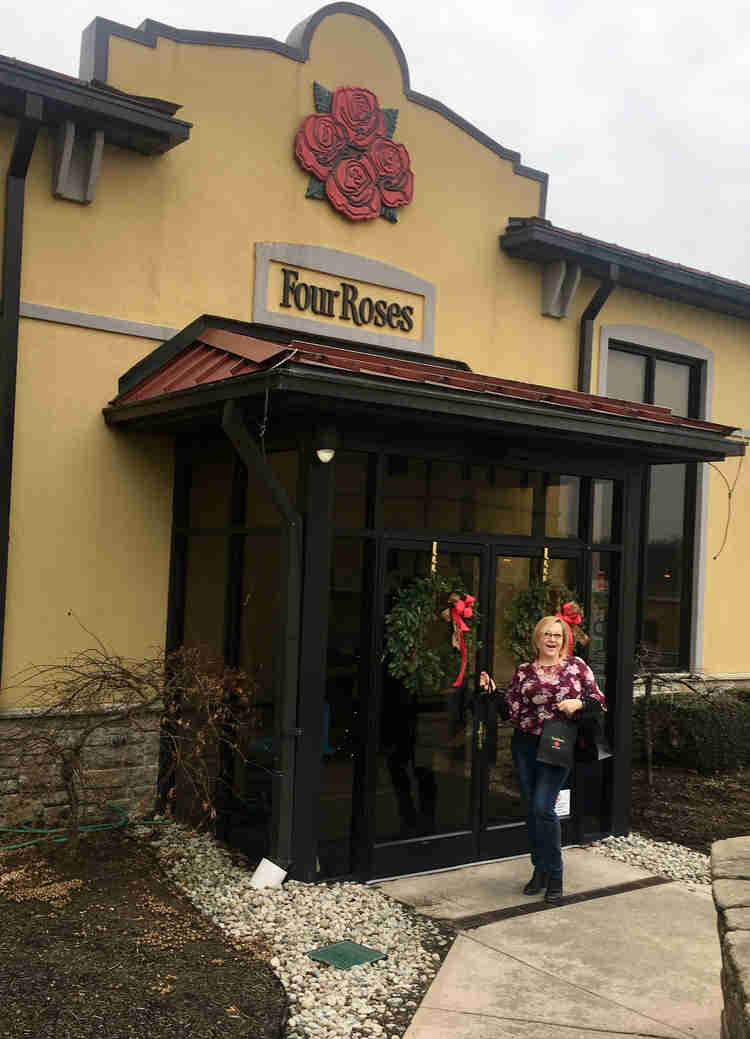 Got some goodies to share.
Behind the scenes we viewed the production of the golden elixir at different stages in the process of becoming Kentuckians' drink of choice. It was amazing to watch the active yeast bubbling in the enormous wells. We were given a sampling of the brisk concoction in the "beer well", a stage in the fermentation process.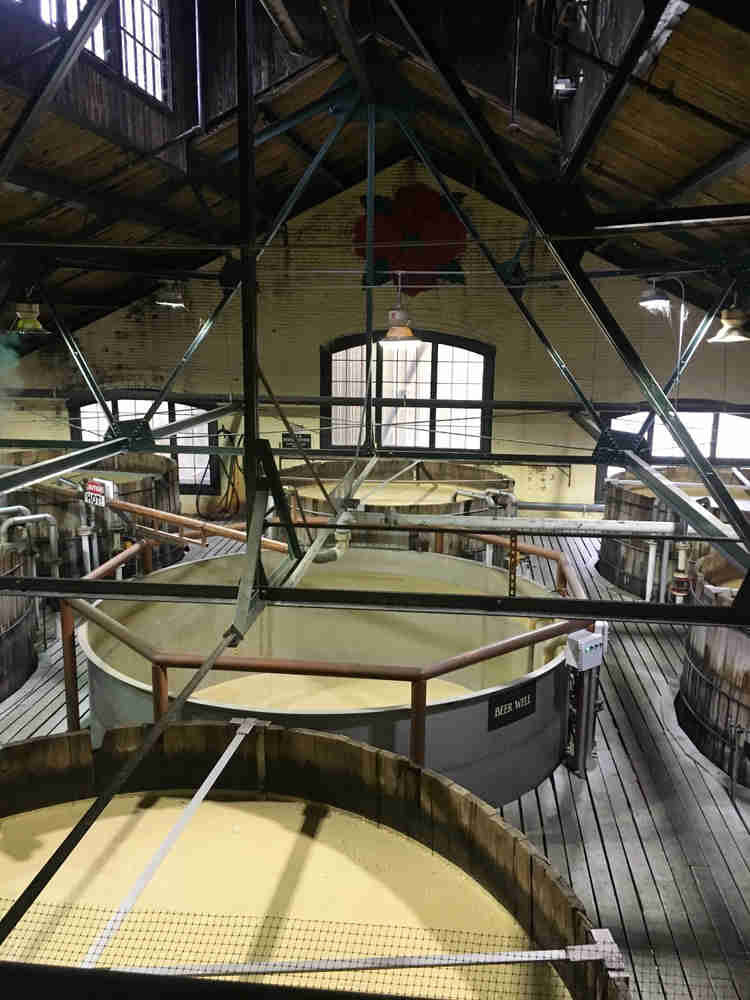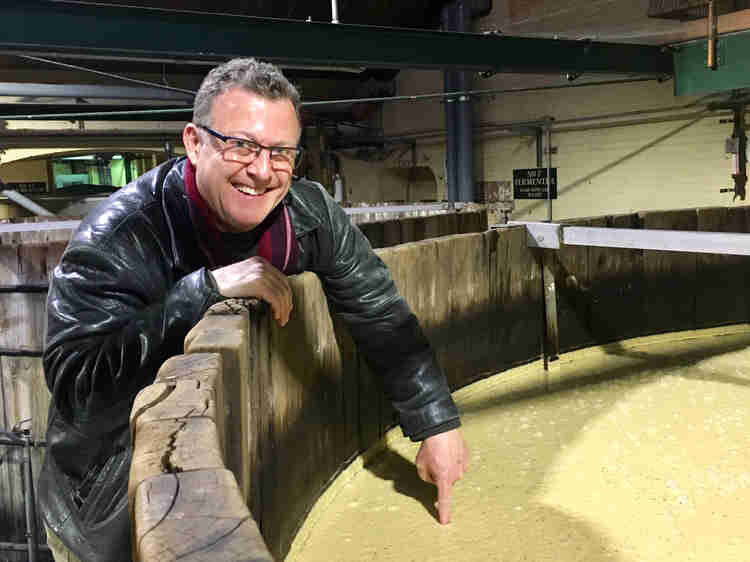 Sampling the fermented bubbly mixture.
With the tour completed, we were excited to experience the fruits of the group's labor. We sipped the single barrel, with distinctive hints of ripe plum and cherry. The mellow small batch was soft and smooth. We were fortunate to get a nip of a limited edition, single barrel, private selection – perfectly presented straight up or on the rocks.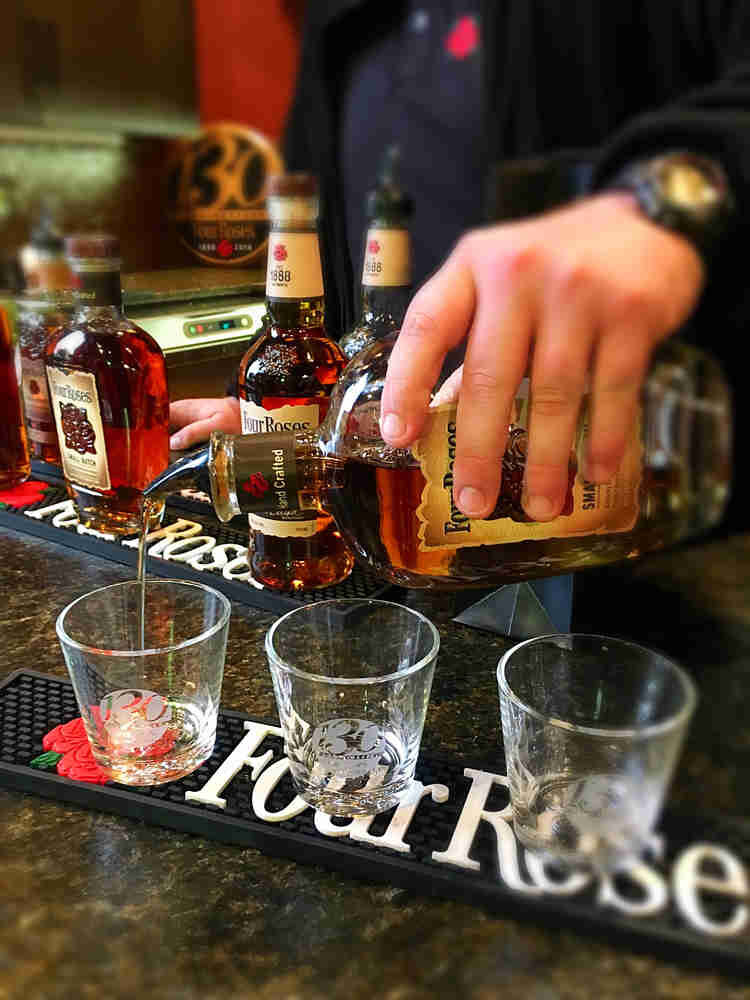 Tastings sure to please any bourbon lover.
Visitors will find the gift shop full of quality merchandise for every occasion and do take time to visit the beautiful Four Roses campus.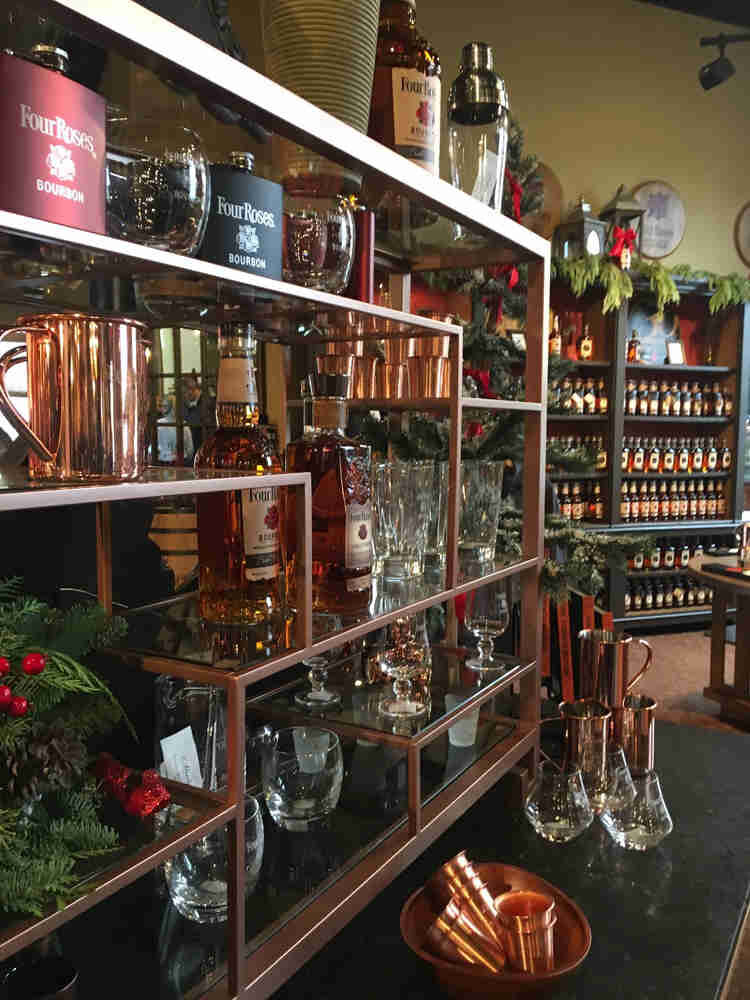 A lovely selection of gifts at the Four Roses shop.
Our senses warmed with the delectable bourbon, we headed back downtown for dinner at
Heavens to Betsy! Bakery and Deli.
This building once housed a hotel upstairs and still bears the signage. H2B, as this cafe is also known is the coziest of restaurants, furnished with booth and table seating.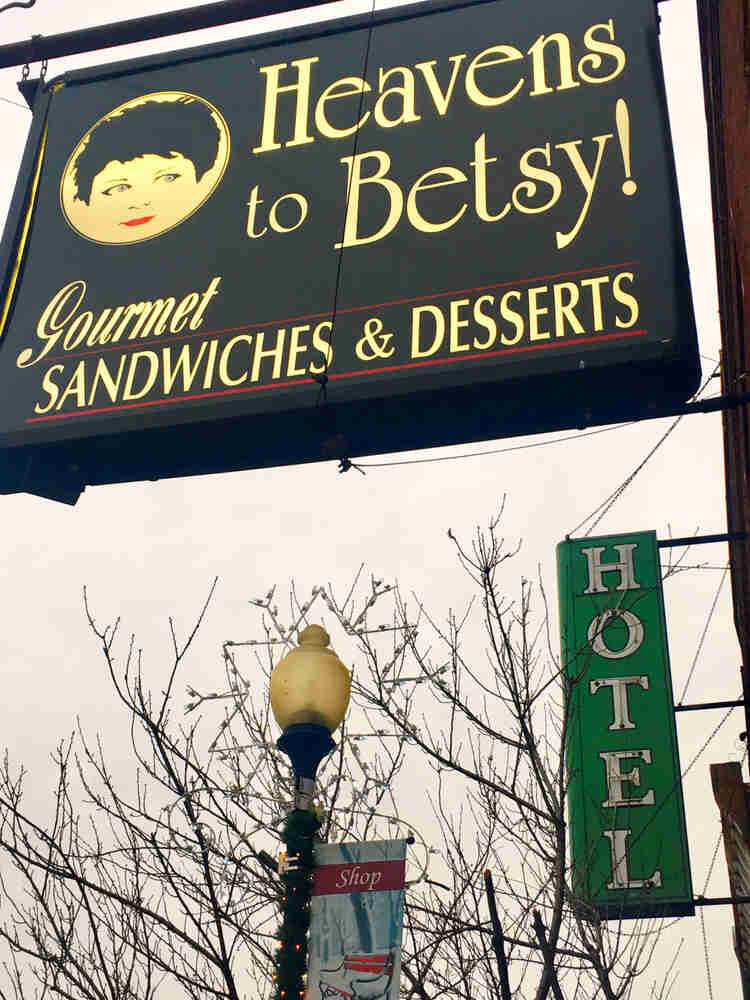 The upper floor a former home to a hotel.
Owners Betsy and Jackson extend a great selection of hot and cold sandwiches, soups, salads and desserts. We opted for the delectable Pretzel Panini with ham, banana peppers and beer cheese and the rich and savory Spicy Hot Italian with ham, pepperoni, salami, Swiss cheese, onion and balsamic mayonnaise, arranged on soft sub buns. Both were delicious and totally hit the spot after a day of sightseeing. Locals and visitors alike gather at H2B for lunch and dinner. They offer tables with checkers for those who care to linger for a quiet afternoon.
Fun and relaxing ambiance.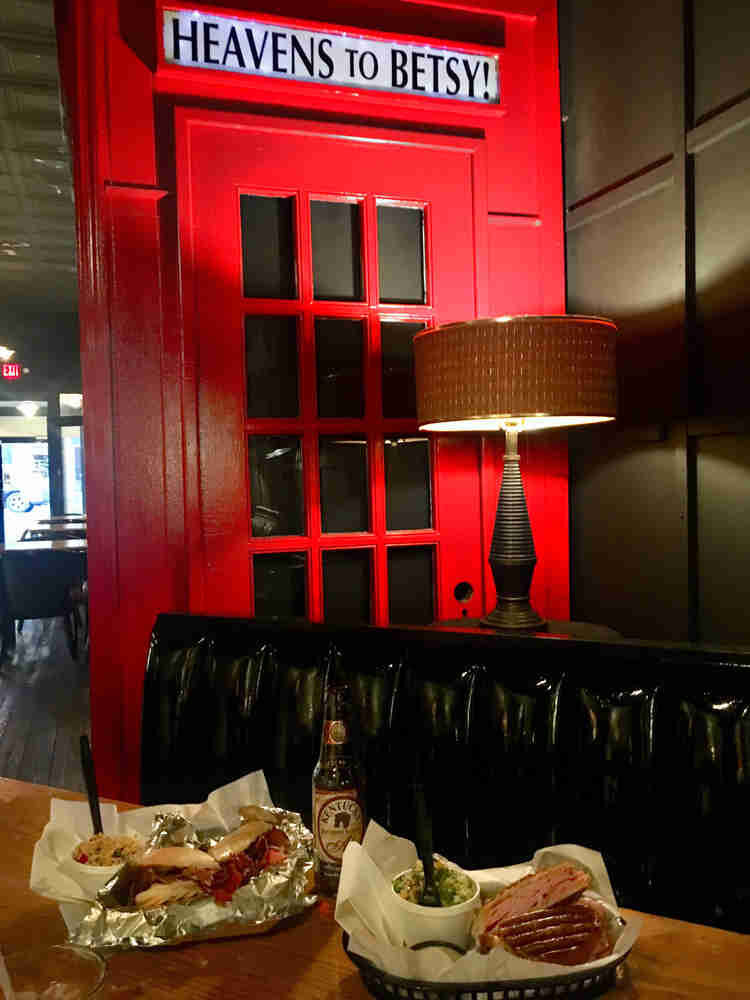 Delicious eats at Heaven's to Betsy.
We even found a little music store, Court Street Music, which has a wide array of guitars and deals in gently used instruments.
We so enjoyed our day in Lawrenceburg! It is just 30 minutes from Lexington, 20 minutes to Frankfort and less than an hour from Louisville. We'll return soon for there is so much more to experience, including Josephine Sculpture Park minutes away in neighboring Frankfort.
Clippity Clop greets visitors at the Josephine Sculpture Park.
Take the opportunity to visit this captivating little city and don't forget to make your reservations in advance for the popular distilleries!
#funinkentucky #daytrip #homedecor #adultbeverages #holidayseason #movetokentucky #greatfood #kentuckywine #foodie #pasta #giftideas #kentuckymade #salsa #kytourism #Travelky #restaurants #kentuckyhistory #food #kentuckybourbon #bourbontasting #smalltown
Lawrenceburg, KY is quintessential small-town with a surprisingly large number of sights and activities. The downtown district is inviting and easy to navigate with a plethora of delightful, little businesses. I appreciate a town such as Lawrenceburg where residents strive to maintain the provincial ambiance. Buildings with ornate, turn-of-the-century markings entice with seasonal window scenes.…