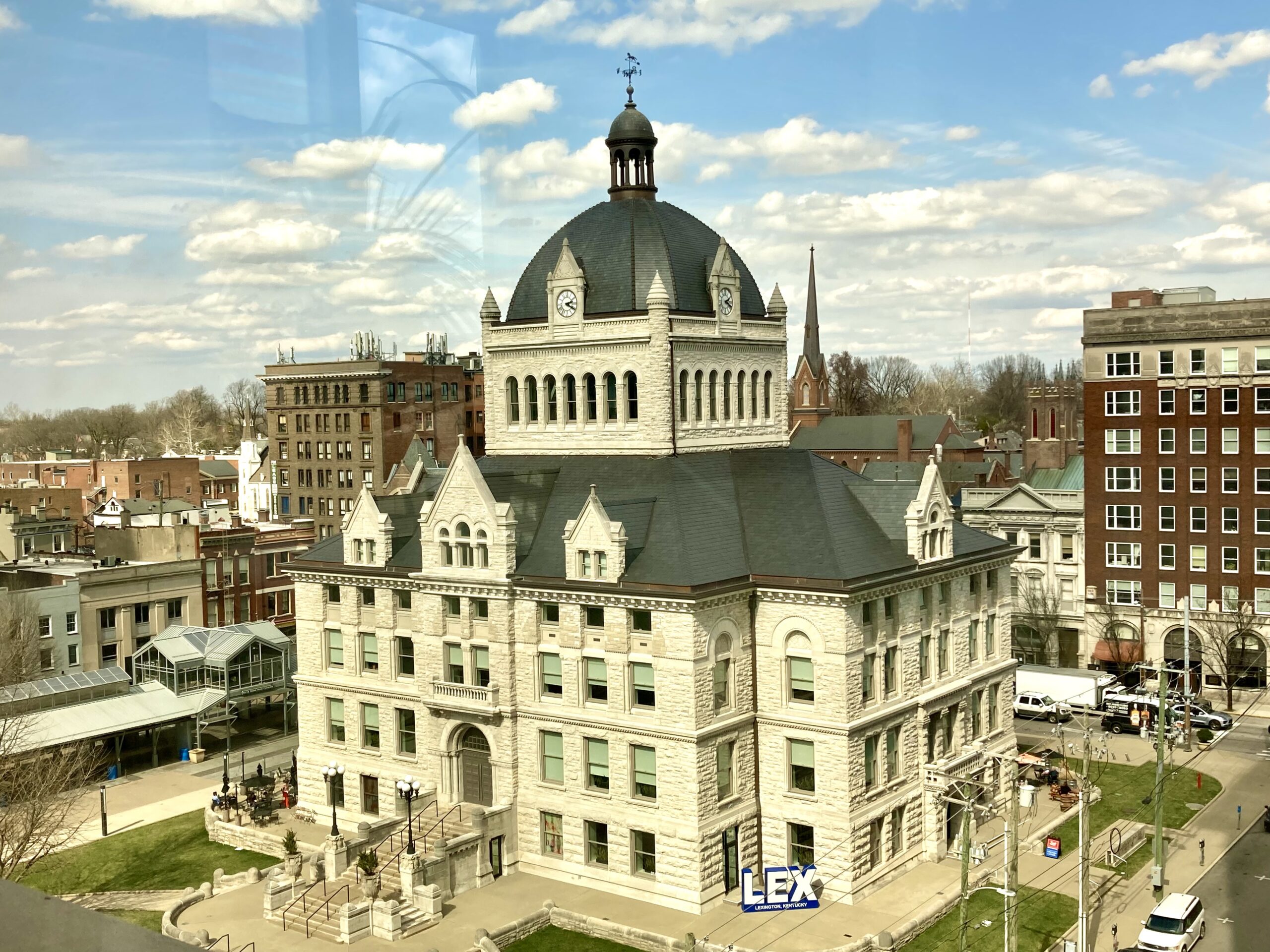 Best Places in Downtown Lexington, Kentucky
by Marie

Posted on

April 6, 2022
An excursion to downtown Lexington offers an amazing number of exciting activities for every age. And now for your easy reference is an all-inclusive, walking tour of our fair city, so read on to find the best places in downtown Lexington, Kentucky.
BREAKFAST/BRUNCH/LUNCH
The Lexington courthouse fell into disrepair for years after the offices moved to a new building and there was even talk of demolition. But renovations have transformed this historic edifice into a magnificent structure and home to Visit Lex, Zim's Café, the Thirsty Fox and an event space on the upper level.
Zim's Café was named in honor of Chef Ouita, Michel's grandfather. Chef Ouita is a James Beard nominated chef and owner of several restaurants in central Kentucky. Order from any number of lunch/brunch items including juicy burgers, plates, bowls and grazing boards. I suggest you try their grilled Wallace Cubano (a staple at Wallace Station on Old Frankfort Pike). I think you will love this killer sandwich because it is packed with their own slow-cooked, pulled pork, swiss cheese, ham, honey dijonnaise and pickles and is served with garlic annatto.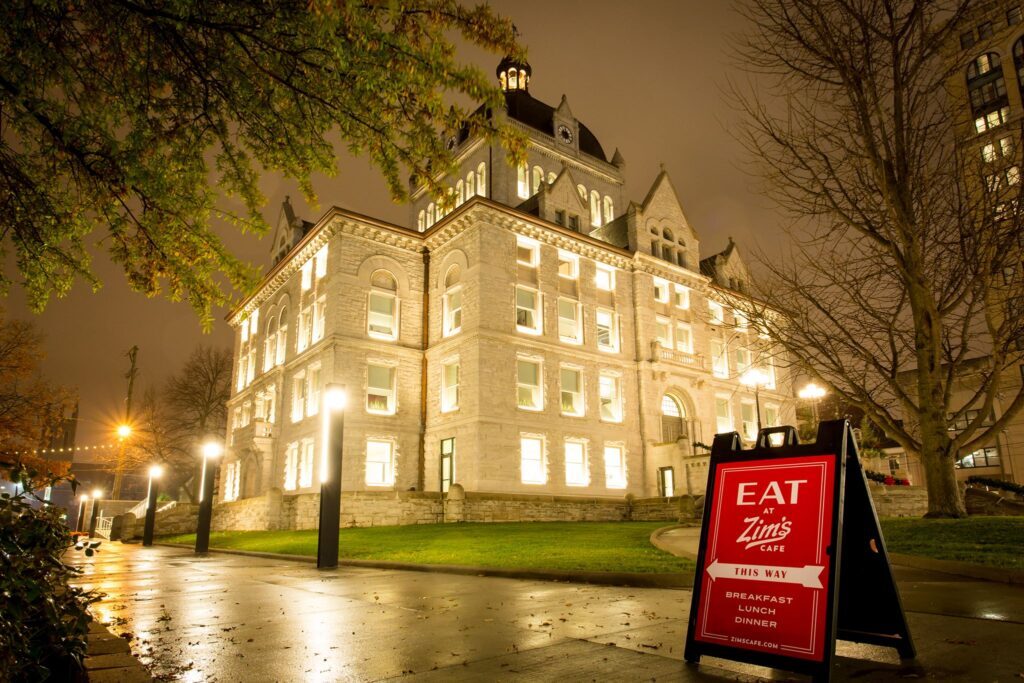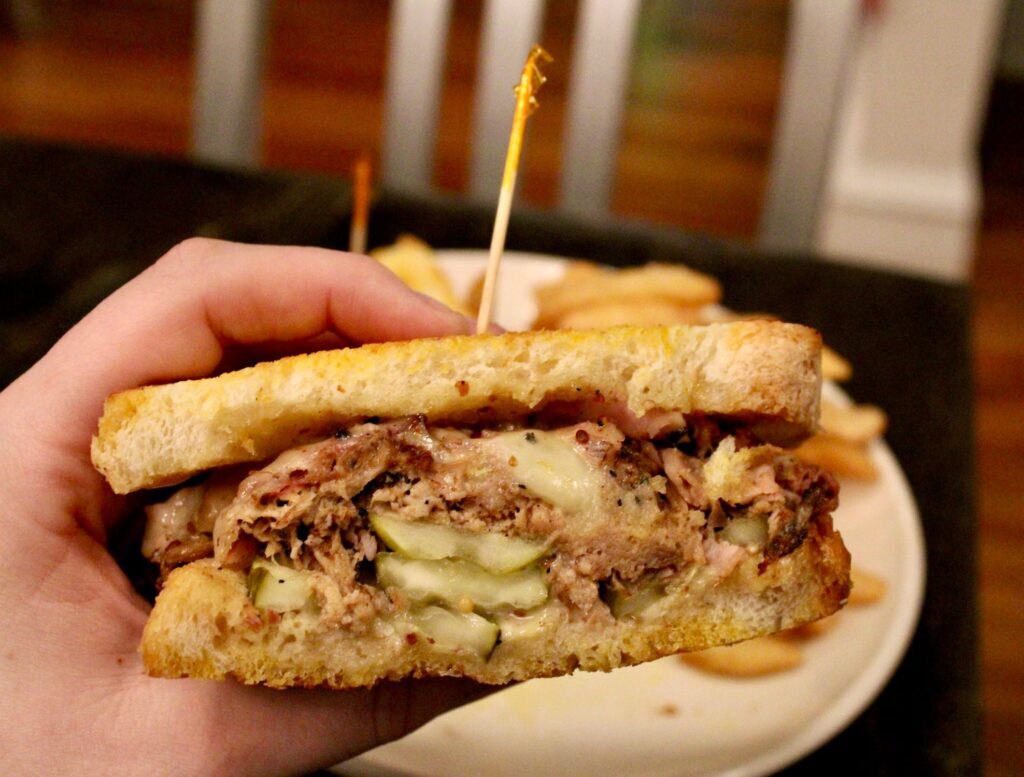 Photos courtesy of Zim's and Tali Schroeder
Speaking of attractive, renovated spaces, I love upcycled spots like Doodles on the corner of Limestone and Third Streets. This quirky, little restaurant serves breakfast all day with indoor/outdoor dining in a former gas station which is so cute. Doodles sources products from as many local farmers and businesses as possible which gives them an A+ on my list. Their motto is, "Comfort food with a conscience." They have lots of tantalizing menu items and you can't leave without a batch of their fluffy, powdery beignets!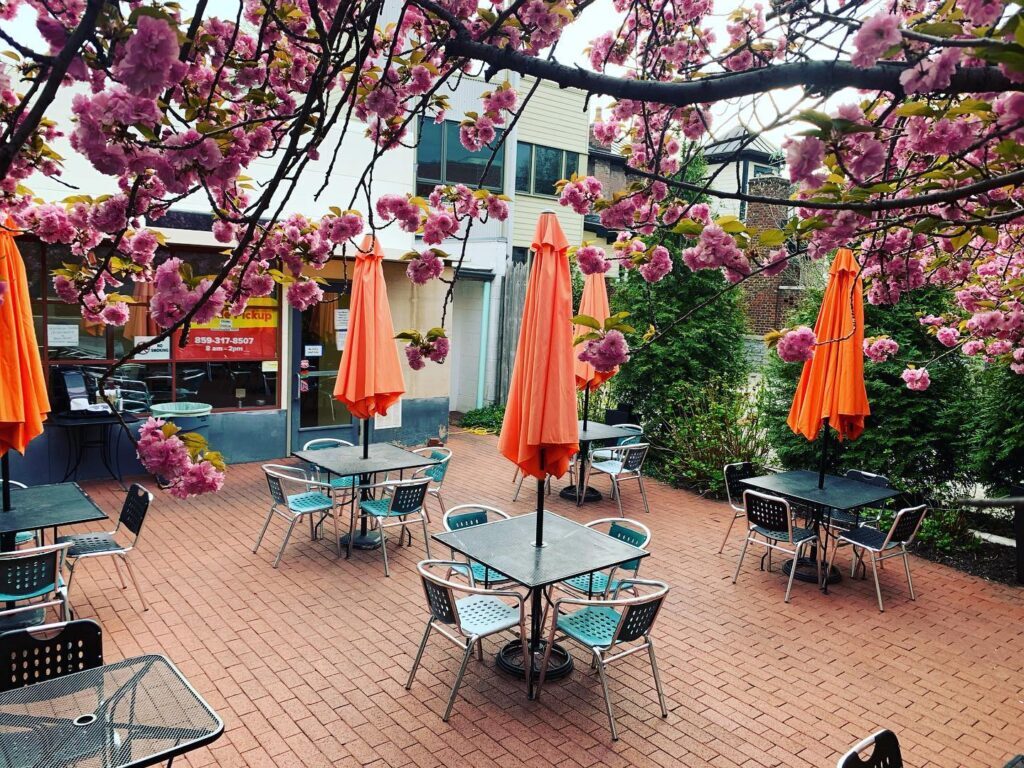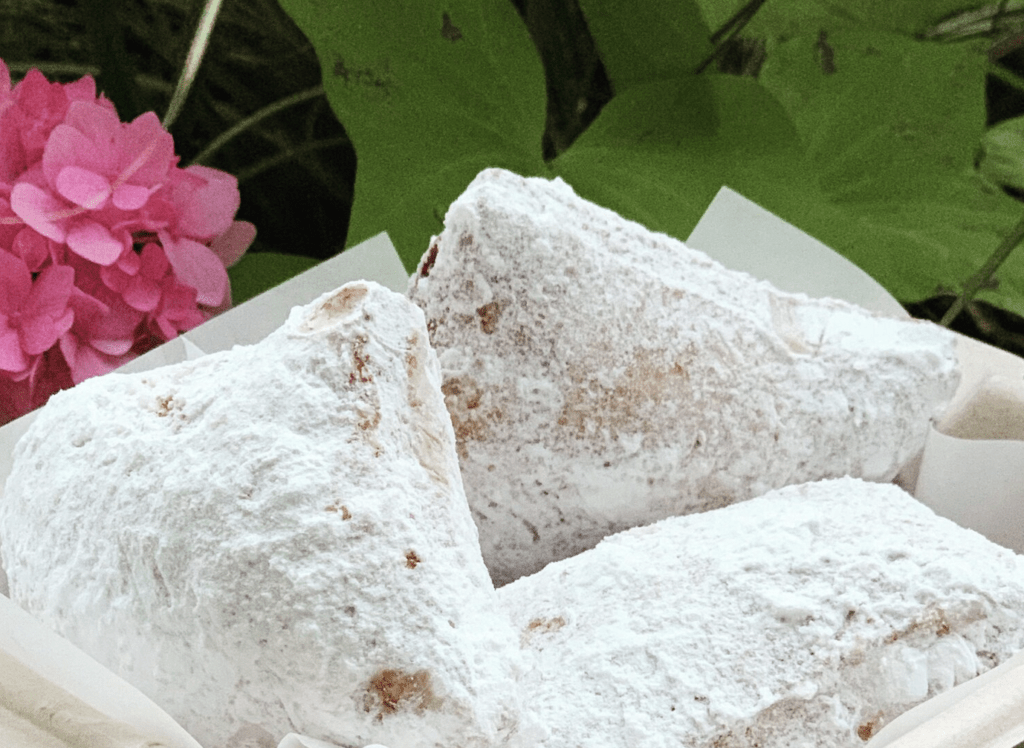 Photos courtesy of Doodles
You've heard of wood-fired pizza. How about wood-fired bagels? Stop in Pearl's for a delicious bite of each. They bake everything in-house and trust me when I say, they deliver a mean bagel sandwich! Though their building may be small, do NOT underestimate their outstanding menu for dining in or carry-out including vegan options. You'll find them street side at 133 North Limestone.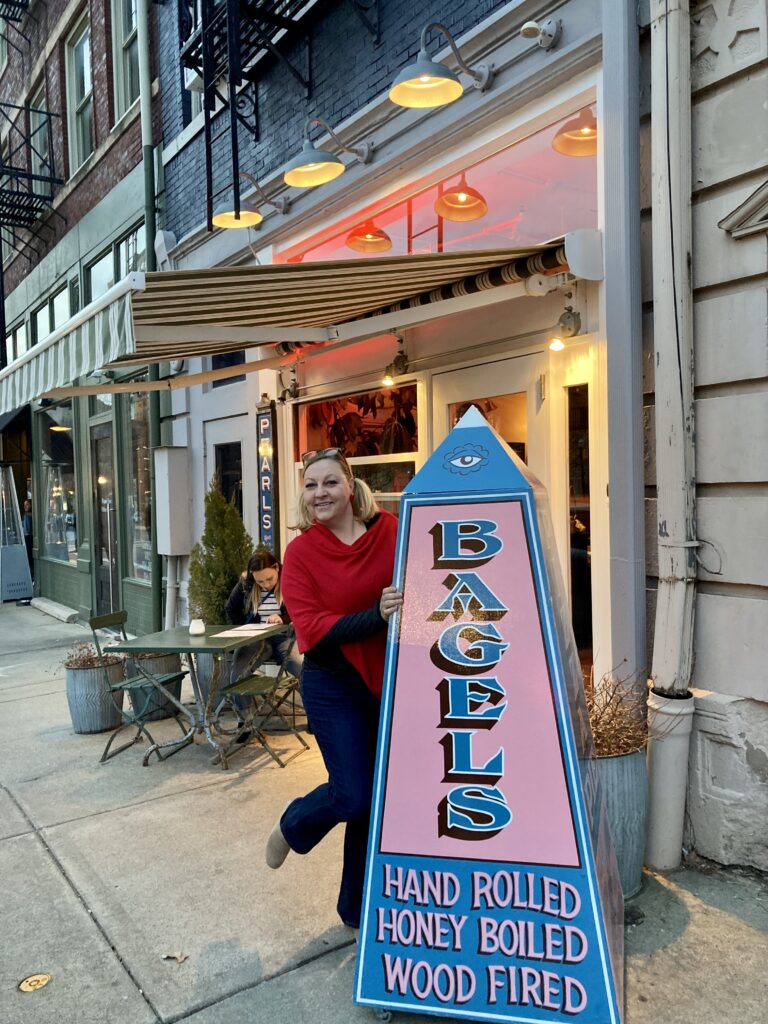 SHOP
Lexington Farmers' Market– Shopping local is the best way to get a real feel for the city, therefore I hope you will include a Saturday and visit the downtown Farmers' Market. This market is one of the best places in downtown Lexington, Kentucky because it provides the opportunity to support dozens of small businesses all under one roof. This is the ideal destination for fresh veggies, flowers, bread, kombucha, coffee, eggs, cheeses, meats, pastries, pastas and much more. Meet farmers from all over Kentucky, year-round at the Tandy Centennial Park. If you're there in peak tomato season, then select a warm slice of the best tomato pie your taste buds will ever meet because you'll want to devour it right there on the spot! Click here for recipe ideas from local produce.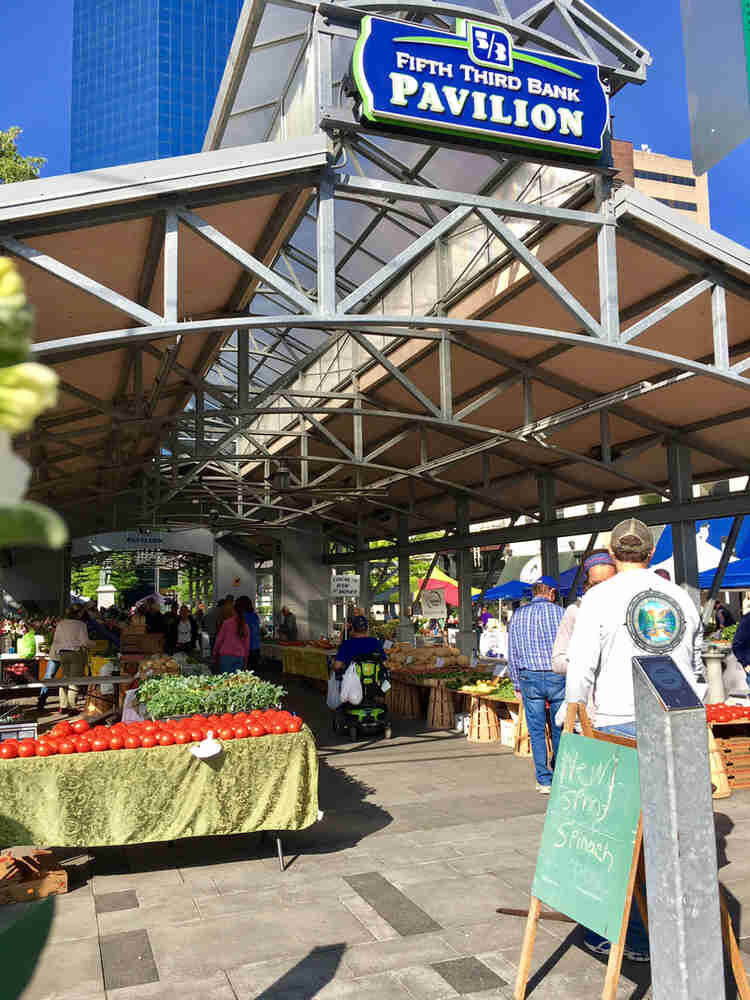 Mulberry on Lime at 216 North Limestone was opened in 2001 by Mary Ginocchio in her historic childhood home built in the 1800s. Mary strives to provide quality home furnishings and gift items. Shoppers can choose from a wide and appealing variety, including bedding, rugs and furniture; gifts, soaps, handbags and jewelry. I recommend checking out their exclusive, original paintings, spotlighting local masters.
I bet Lexingtonians are thrilled to have a second location of Keeneland Merchantile at 120 Main Street downtown because this high-end shop specializes in bourbon and Kentucky themed items. They carry a nice line of alluring prints from local artists, board games, home décor and jewelry.
Creatures of Whim on 126 N Broadway offers a lovingly curated collection of handmade and organic goods created by artisans, designers and craftspeople from around the world. Creatures of Whim is a great place to shop because they partner with global nonprofit organizations and their skilled makers to forge unique and high-quality, fair-trade goods. Your support of Creatures of Whim helps provide a stable income for community makers in need around the world. Take home one of their beautifully scented candles.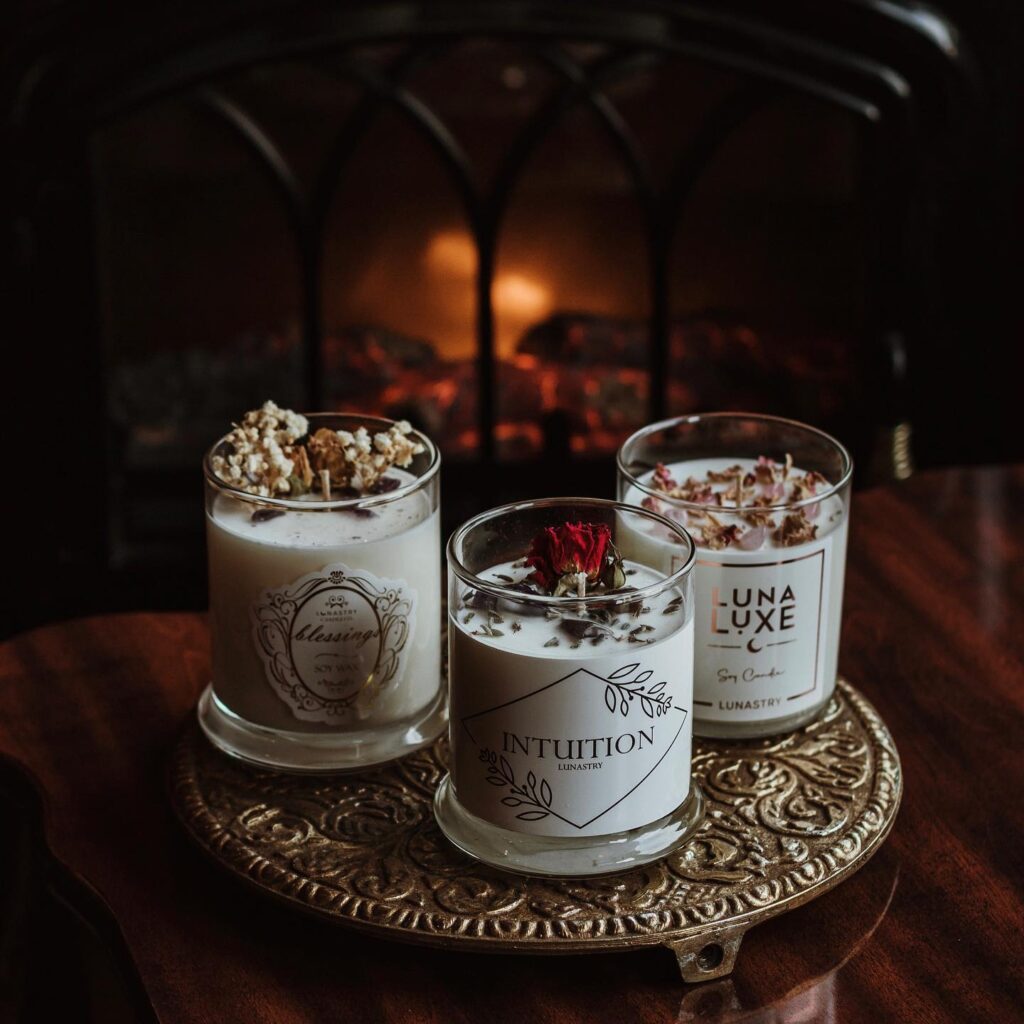 MURALS
Downtown Lexington boasts a wide selection of hand-painted murals by local and international artists. I think a walk-about is the best way to discover these striking public works of art. Snap some photos and tag them with #kentuckymurals. Here are a couple of sources to learn and see more- PRHBTN plus Fabulous in Fayette released several great blogs featuring Lexington murals.
Here are just a few of the marvelous murals I love, all within the blocks of Main, Broadway, Third and Limestone Streets.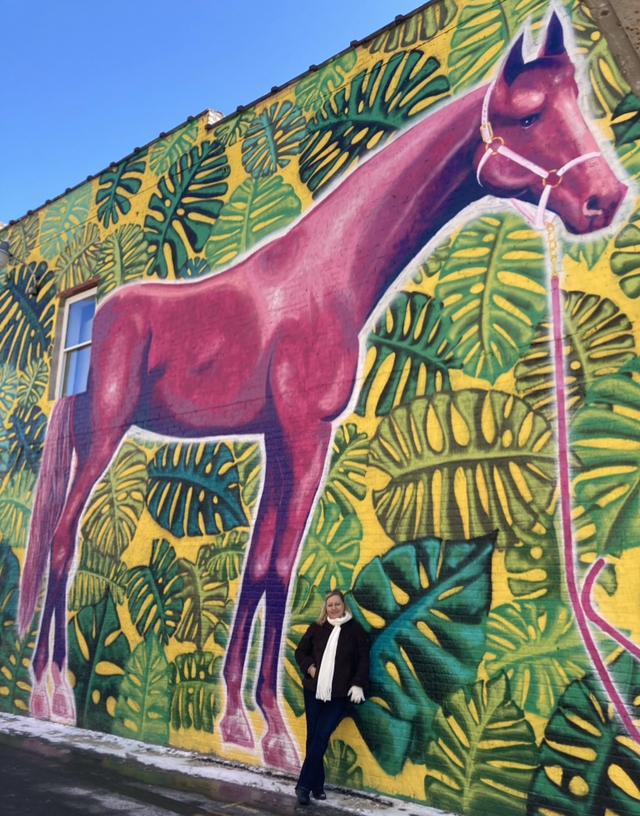 THE ARTS
The best, one-stop-shopping place for local artwork to peruse and purchase is The Square in the center of downtown on the corner of West Main and Broadway. You can't miss it with its large, red "The Square" signage on top.
The Square is a block of brightly renovated, Victorian style buildings from Lexington's heyday. Therein you can visit the alluring Plymale Gallery, Main Cross Gallery and the Artist Attic.
When you are out and about on your excursion, stop by LexArts to view their latest installations. LexArts also hosts a Lex Arts Hop. This is an intriguing tour and a terrific way to explore downtown businesses. Local artists are featured on the third Friday of every other month at dozens of galleries and businesses. Keep an eye out for Horse Mania 2022, back after 12 years, follow @LexArts and #horsemania2022 for progression images and more details.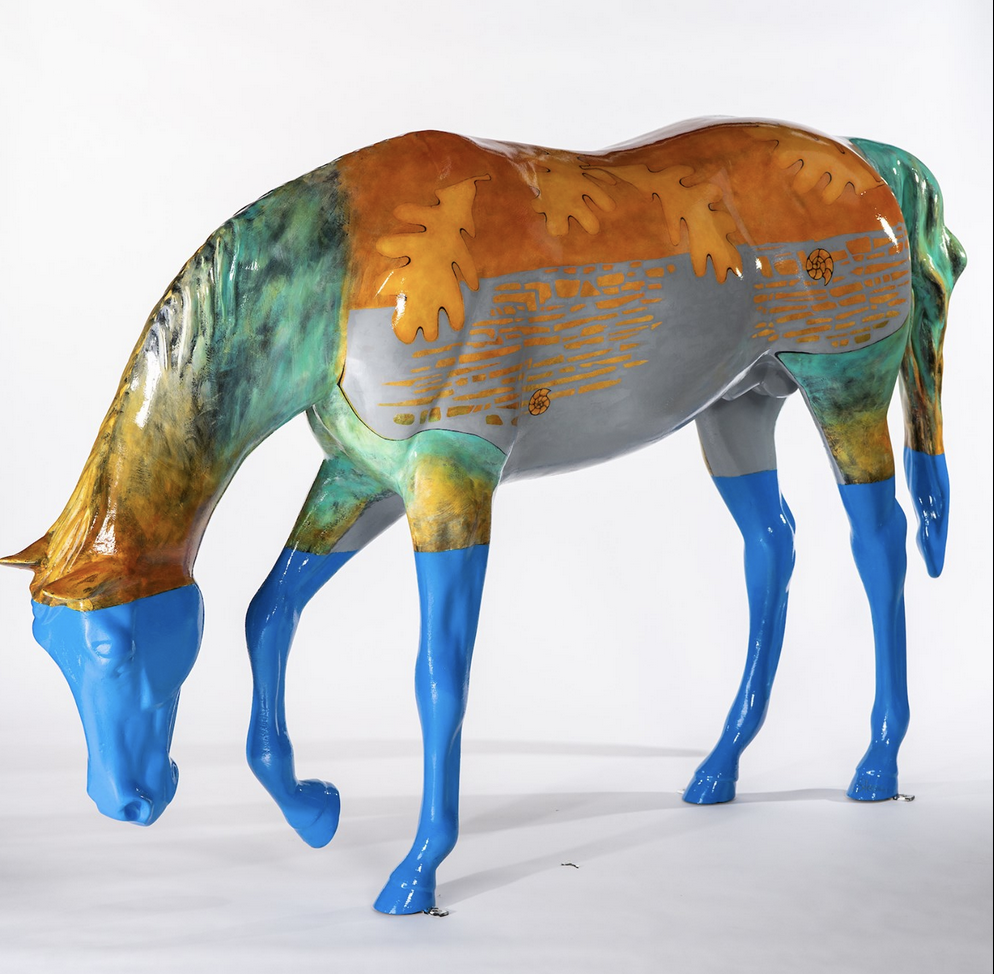 Enjoy fascinating plays at the Lexington Opera House. See upcoming performances including Hair Spray, Charlie and the Chocolate Factory, American in Paris, Stomp and Waitress. Book your tickets and plan an entertaining evening out!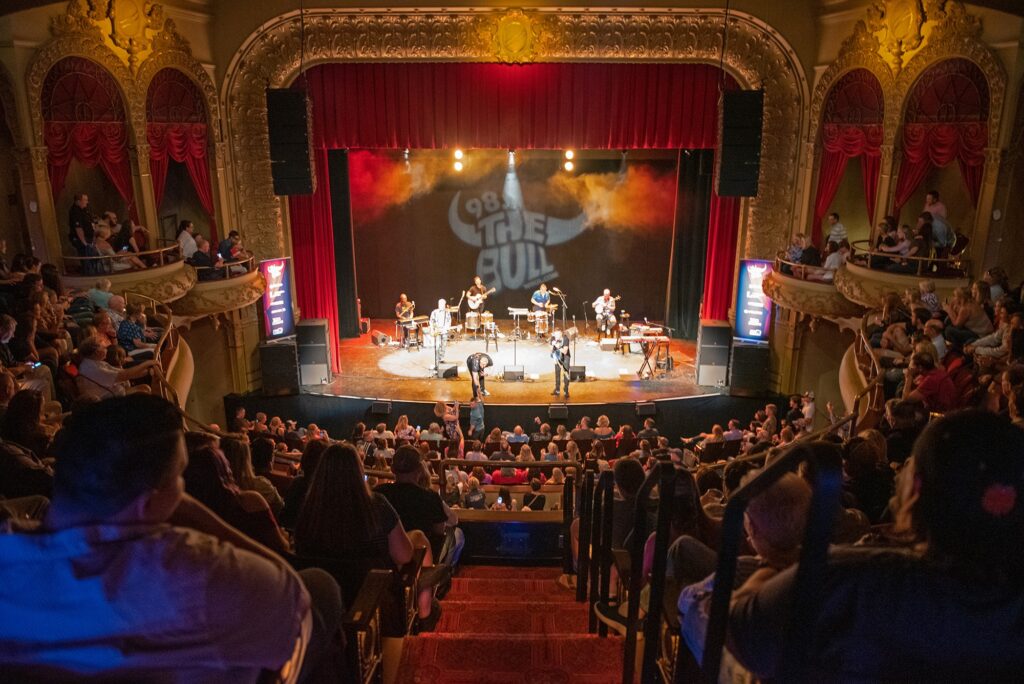 THE GROVE
One of the best places in downtown Lexington, Kentucky is The Grove, a collective of five small, local businesses located across from the courthouse. Included are Harvey's Bar and Beer Garden, Fable Charcuterie, Luna food truck, The Melodeon (events venue), Nate's Coffee and fabulous murals by local artist Wylie Caudill.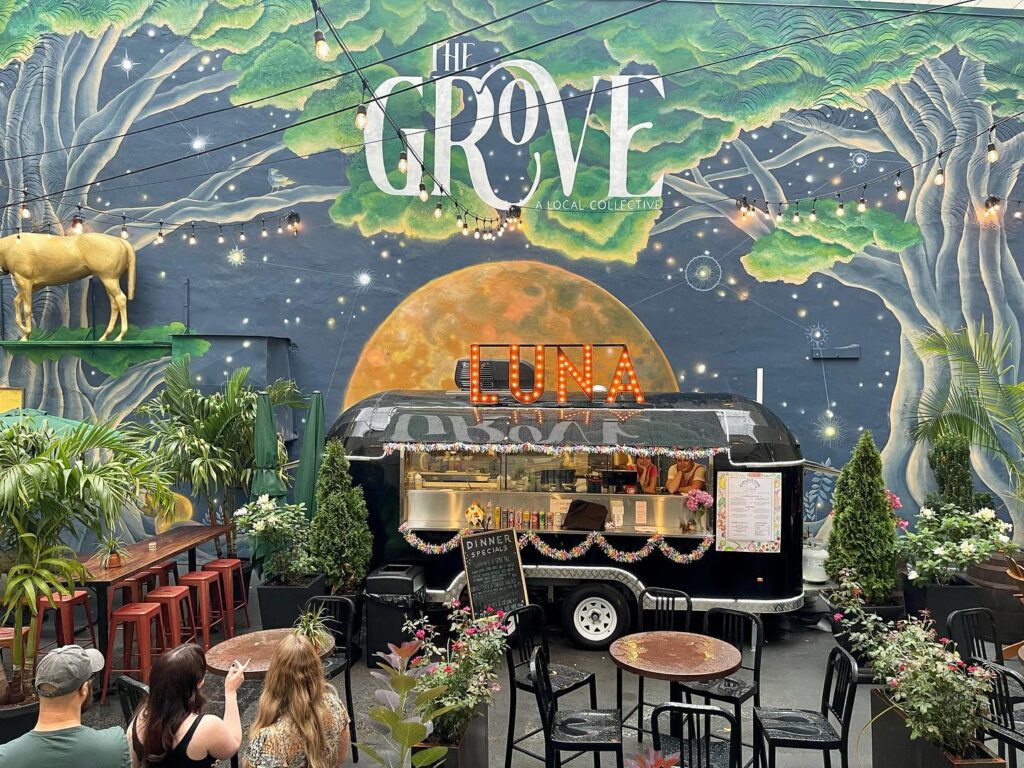 As Lexington's original charcuterie kitchen plus wine bar, patrons are drawn to Fable for the irresistible cheeses and settle in for the charm. Owner Lauren's passion and calling are evident when she observes guests gather around one of her creations, conversing and sharing memories.
Grab a beer, wine, cocktail or a flight of spirits at Harvey's Bar. Sample one of their signature cocktails such as the Nurse Kelly which is back by popular demand! You'll savor green apple-infused Aperol, J.P Chenet sparking wine, simple syrup, lime juice and club soda. Or try the bartender's Jess Razzle Dazzle, a delish concoction of Castle & Key gin, Sphere Rosé, house-made raspberry syrup, lime juice and berries.
Luna is The Grove's cutie food truck owned by Chef Stephania Sharkey. She offers a rotating menu with finger-licking diner fare, international bites and daily specials that focus on seasonal produce. Luna is available for dine in, take-out and catering.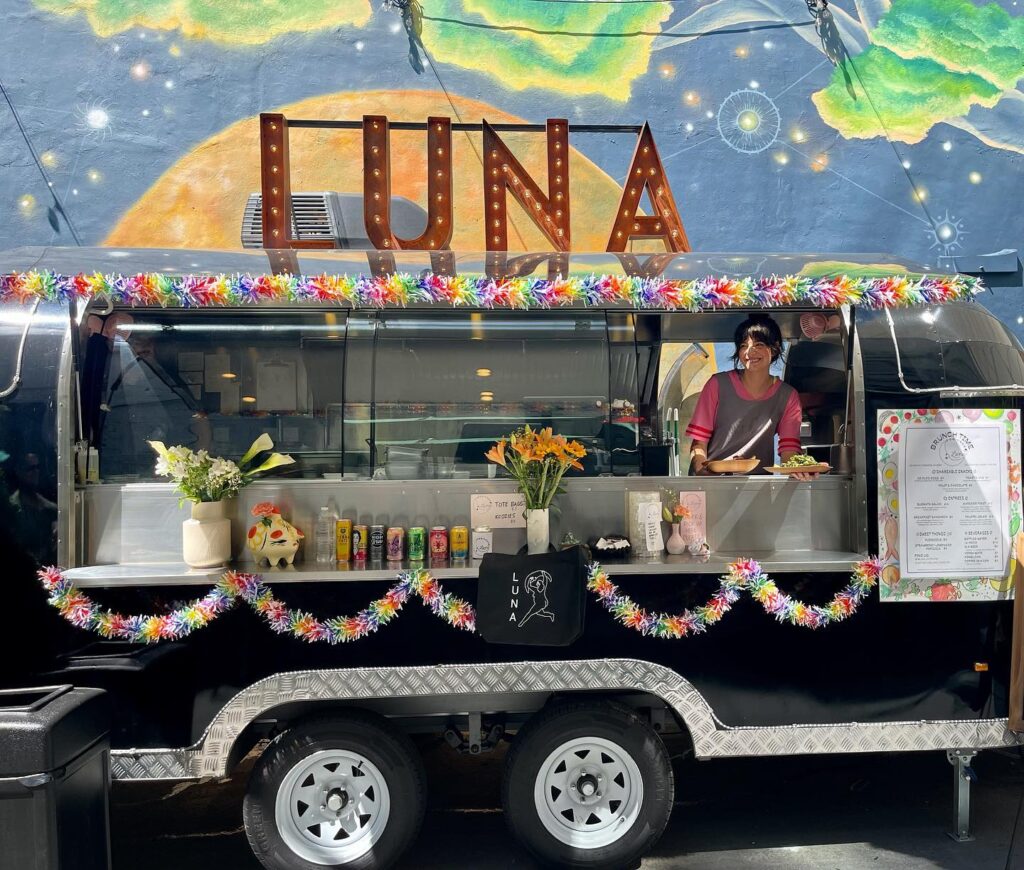 BUT WAIT, THERE'S MORE..
In 2012, the owner of Nate's Coffee began roasting beans for cafes, restaurants and shops. Like other successful entrepreneurs, Nate's Coffee started in his parents' garage. Fast forward seven years and Nathan has realized the grand dream of opening his own coffee shop.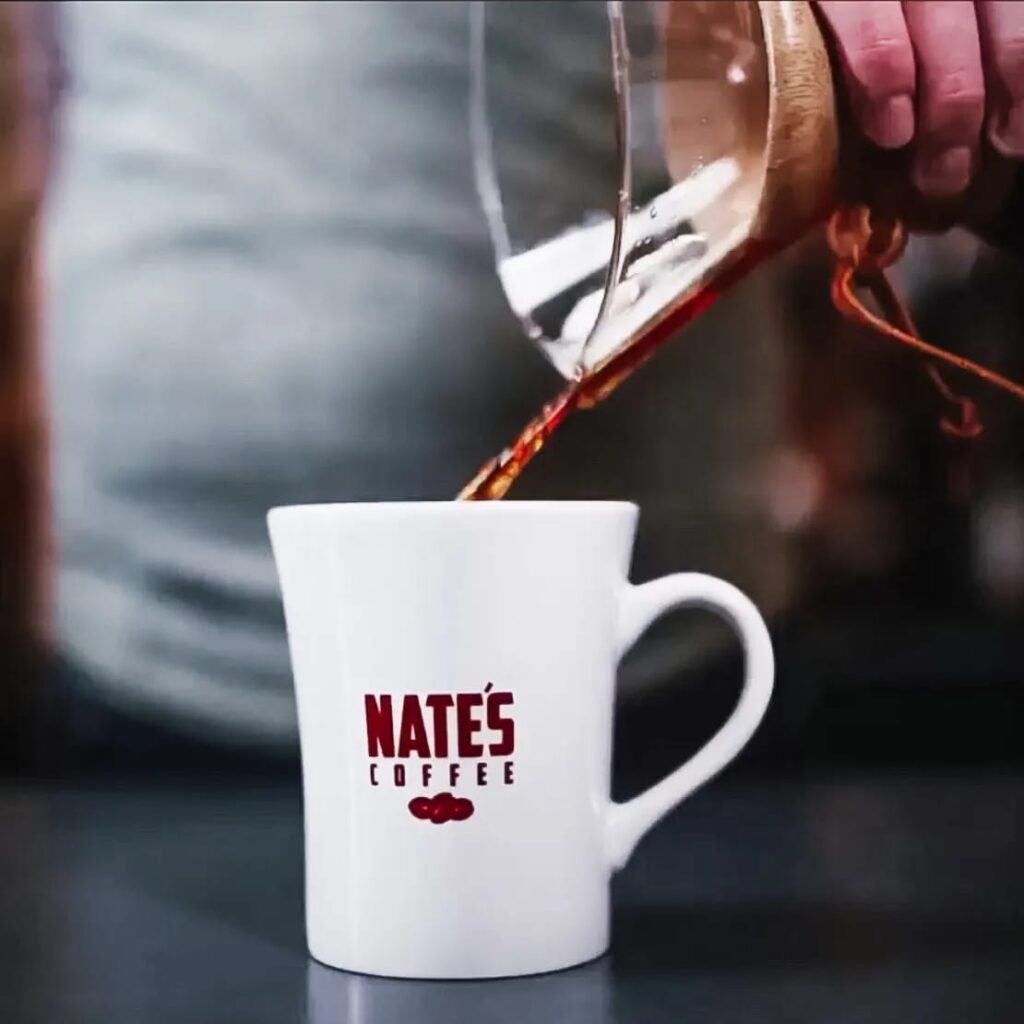 Nate and his team joined forces with the Grove as a destination for coffee, cocktails, and delicious food. The Nate's Coffee Hideaway just opened in the Spring of 2022.
What was once a college dance club, is now a thriving private event space! The Melodeon provides an exciting, yet intimate experience for all private event entertainment. From high school reunions, to wedding receptions, birthday parties to company happy hours, this newly renovated space offers an exceptional atmosphere for everyone.
Whatever your mood or interests, consider visiting some of these best places in downtown Lexington, Kentucky!
There's so much more to see and do in downtown Lexington. I couldn't get it all in one blog so stay tuned for Part 2!
I invite you to subscribe to my site to get the latest blogs delivered hot and fresh right to your inbox. Keep in touch on Facebook and Instagram for updates on great things happening around Kentucky!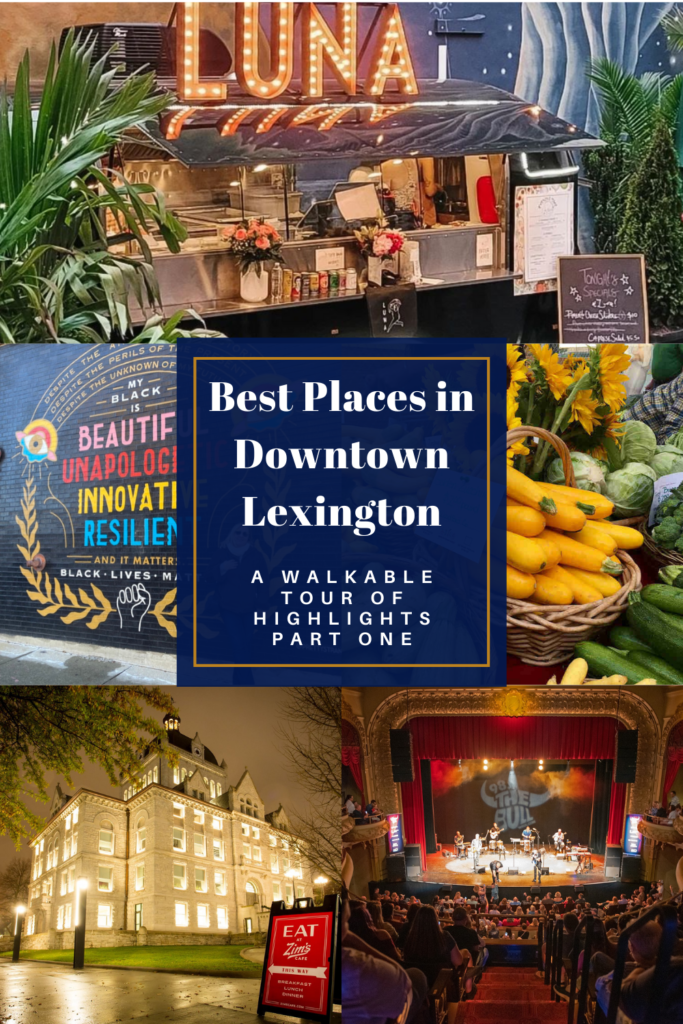 An excursion to downtown Lexington offers an amazing number of exciting activities for every age. And now for your easy reference is an all-inclusive, walking tour of our fair city, so read on to find the best places in downtown Lexington, Kentucky. BREAKFAST/BRUNCH/LUNCH The Lexington courthouse fell into disrepair for years after the offices moved…