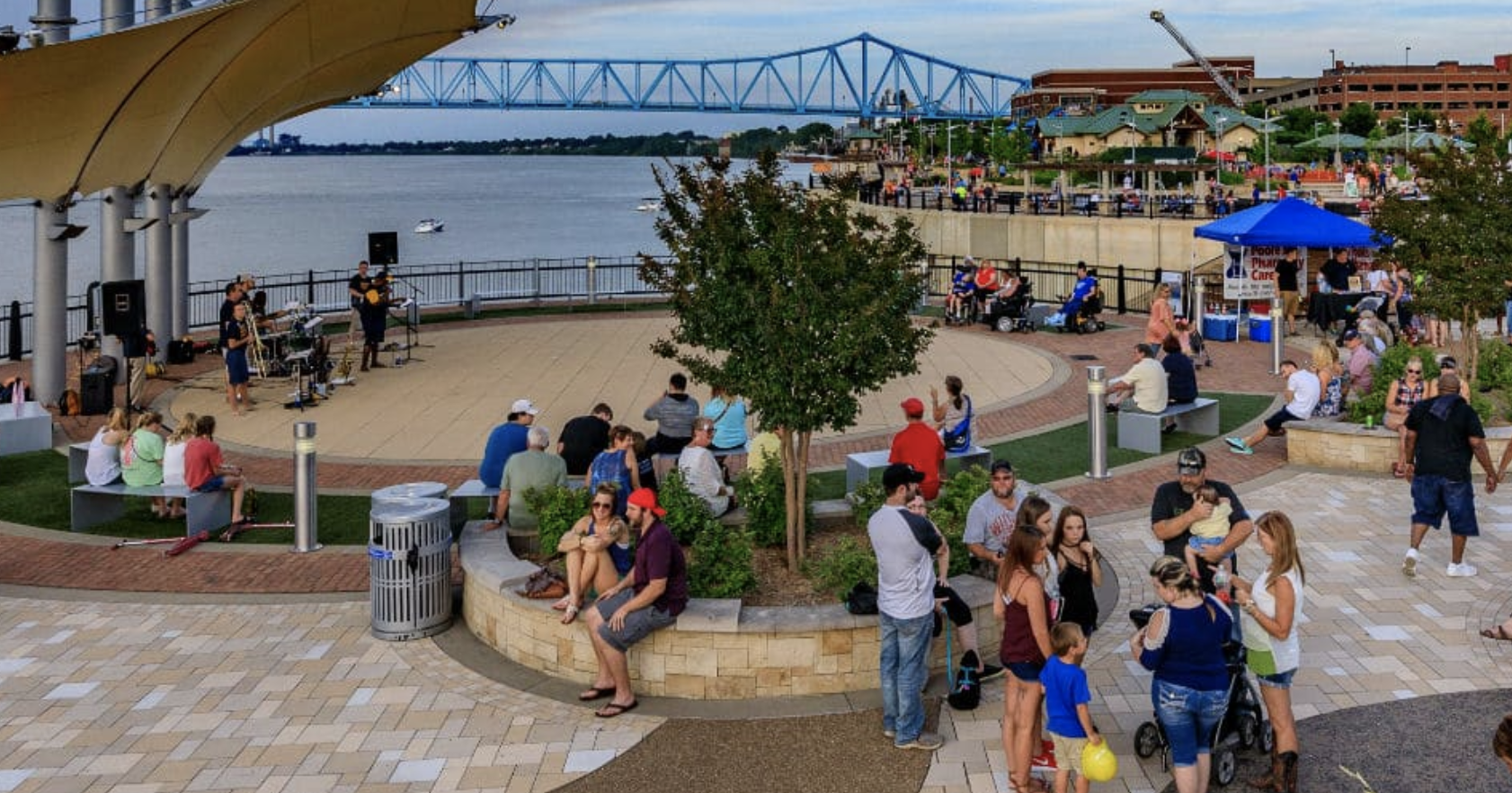 3 Top Reasons to visit Owensboro, Kentucky
by Marie

Posted on

May 23, 2022
Are you into barbecue, bourbon and bluegrass music? Then Owensboro is the town for you! These are the 3 top reasons to visit Owensboro, Kentucky and there are so many more!
RIVER WALK
There's something about a river town that is extra special. I value townships that take an interest in the intrigue of their riverside by designing breath-taking views and comfortable walk-ability. I found the lighted circular fountains, engaging entertainment, restaurants, bars and lovely artwork very endearing. Owensboro, the fourth largest city in Kentucky offers all these amenities along the way, establishing this oasis as one of the top reasons to visit.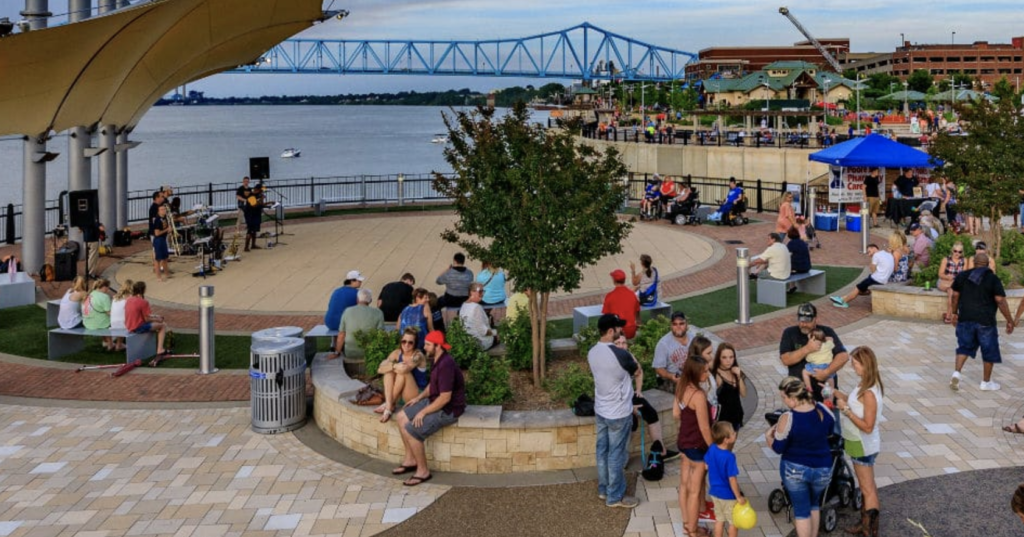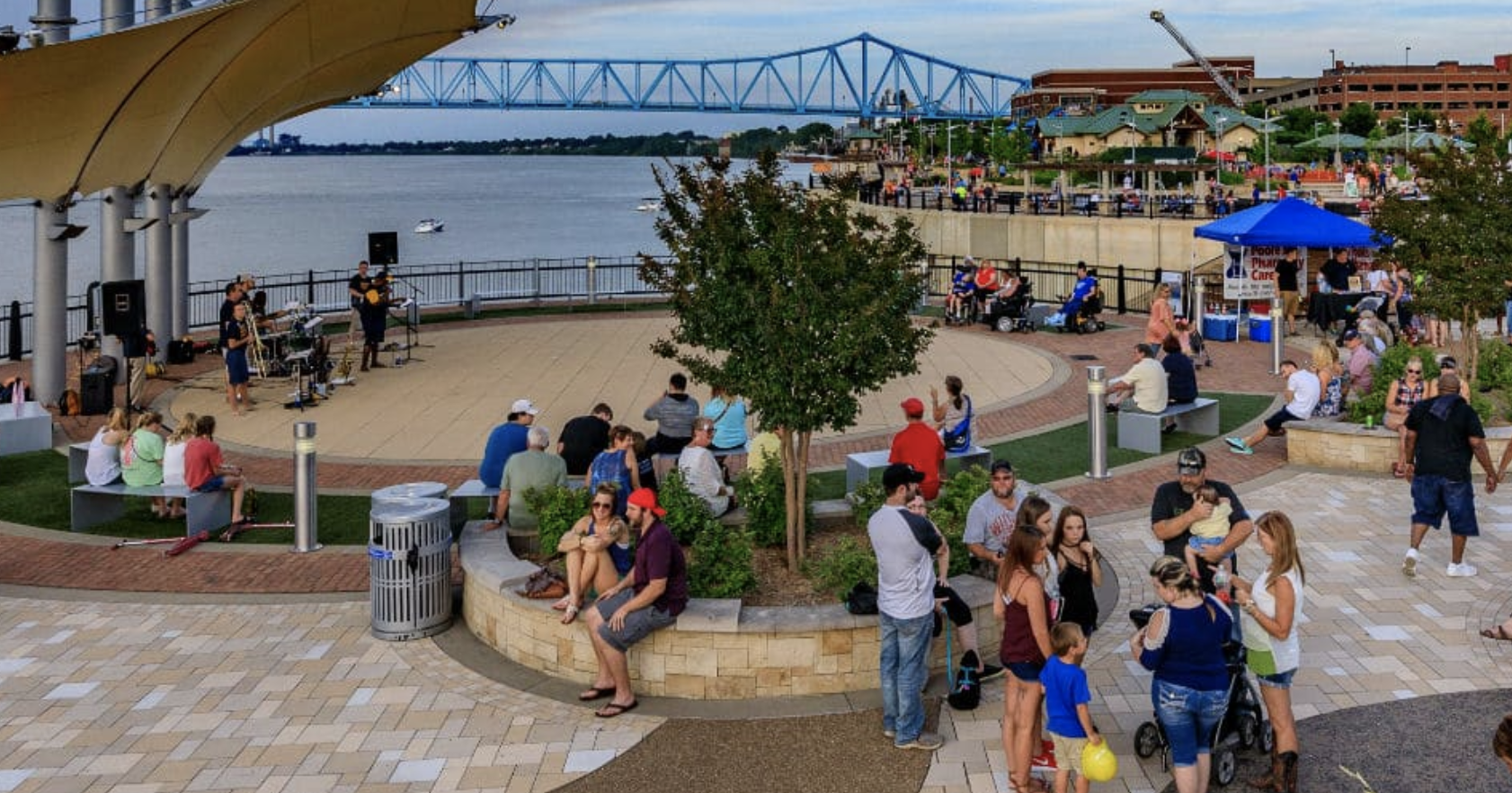 River walk visitors will appreciate the alluring sculptures, grassy, picnic areas and swings. A performance stage, the Blue Bridge (named for its blue lights in the evening) stands at the ready and I was amazed by the phenomenal kids' play area.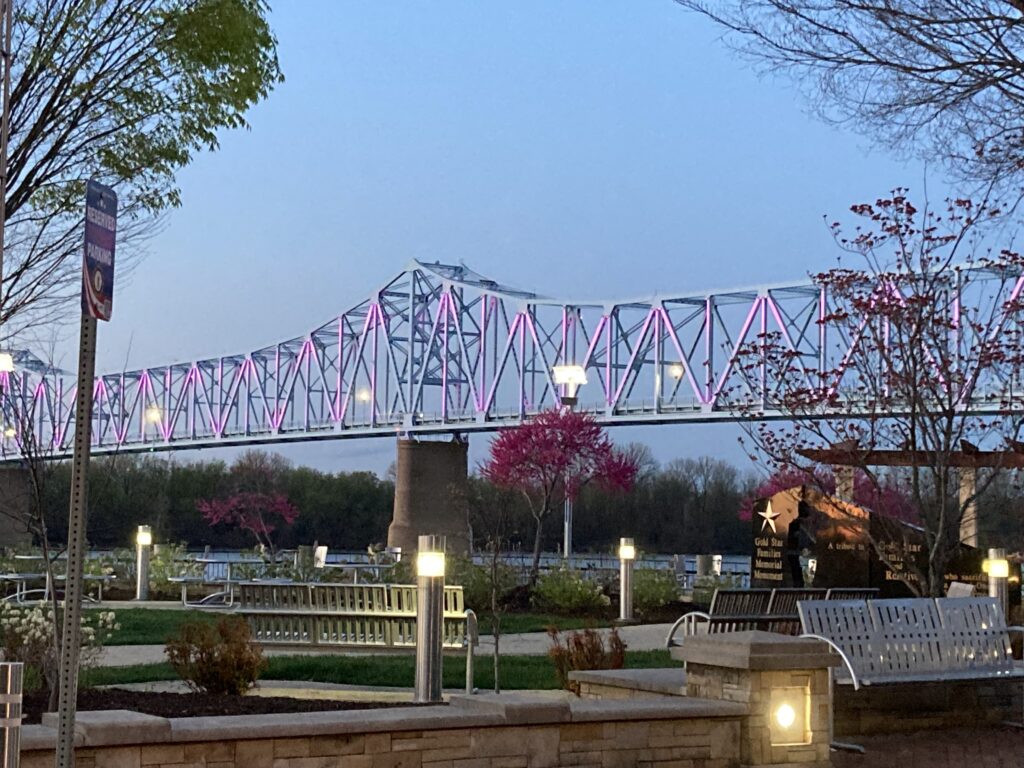 Downtown is close by the waterway and easily accessible. Many highlights will draw your attention; all within a six-block radius. Several years ago, the city invested heavily in their downtown, converting Owensboro into a great opportunity for destination tourism. They present a large convention center, nice hotels and the Bluegrass Music Hall of Fame & Museum.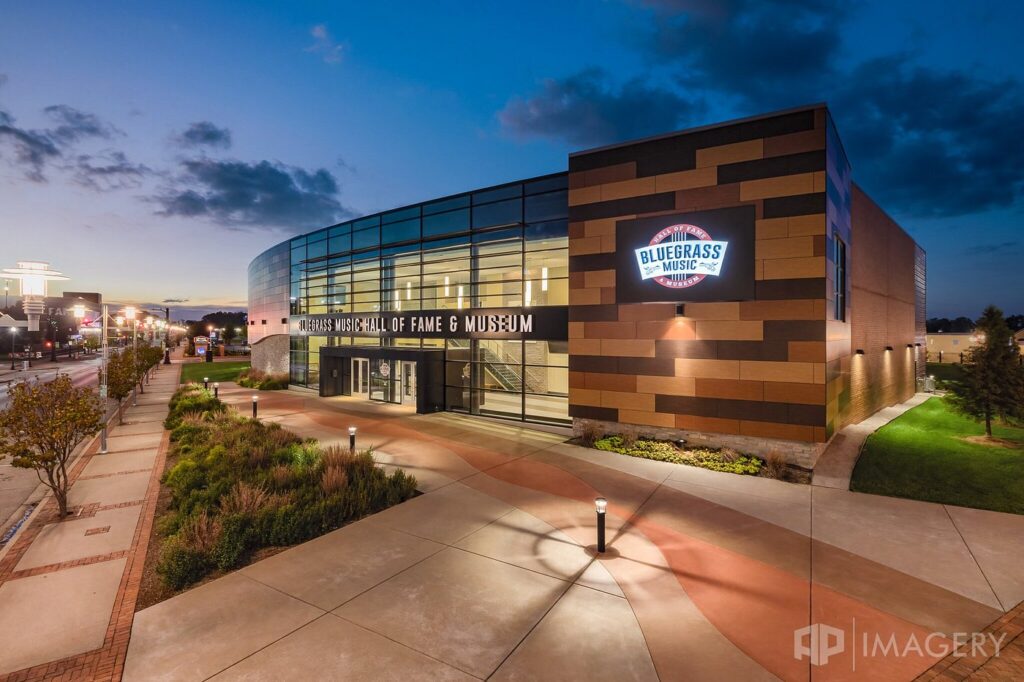 BLUEGRASS MUSIC
Our Commonwealth is indeed the home to bluegrass music thanks to Bill Monroe, known as "The Father of Bluegrass Music". Director Chris Joslin, a very talented musician granted us a tour of the impressive Bluegrass Hall of Fame & Museum. Our first stop was the Picking Parlor which provides a wall of instruments for the public, ready for the plucking! My friend and I each held a banjo ukulele gingerly while Chris taught us a few simple chords. Once we had those, we fumbled, sang and laughed our way through a song or two and even attempted my request of Hey, Good Lookin' by Hank Williams. It was really a joyful experience!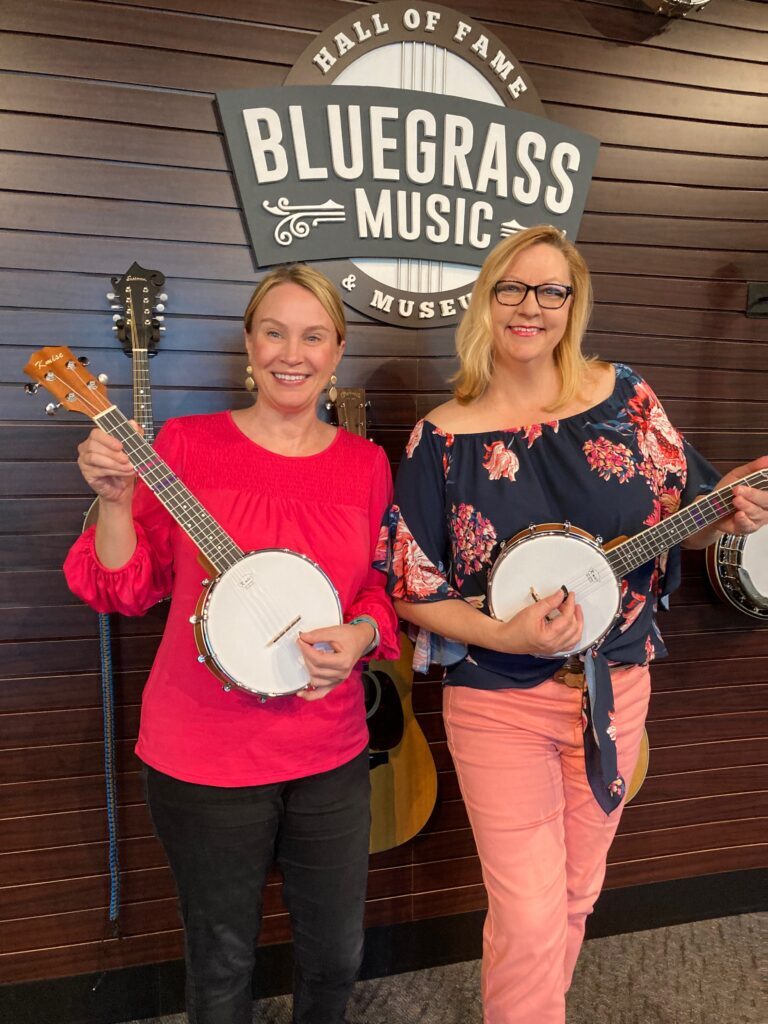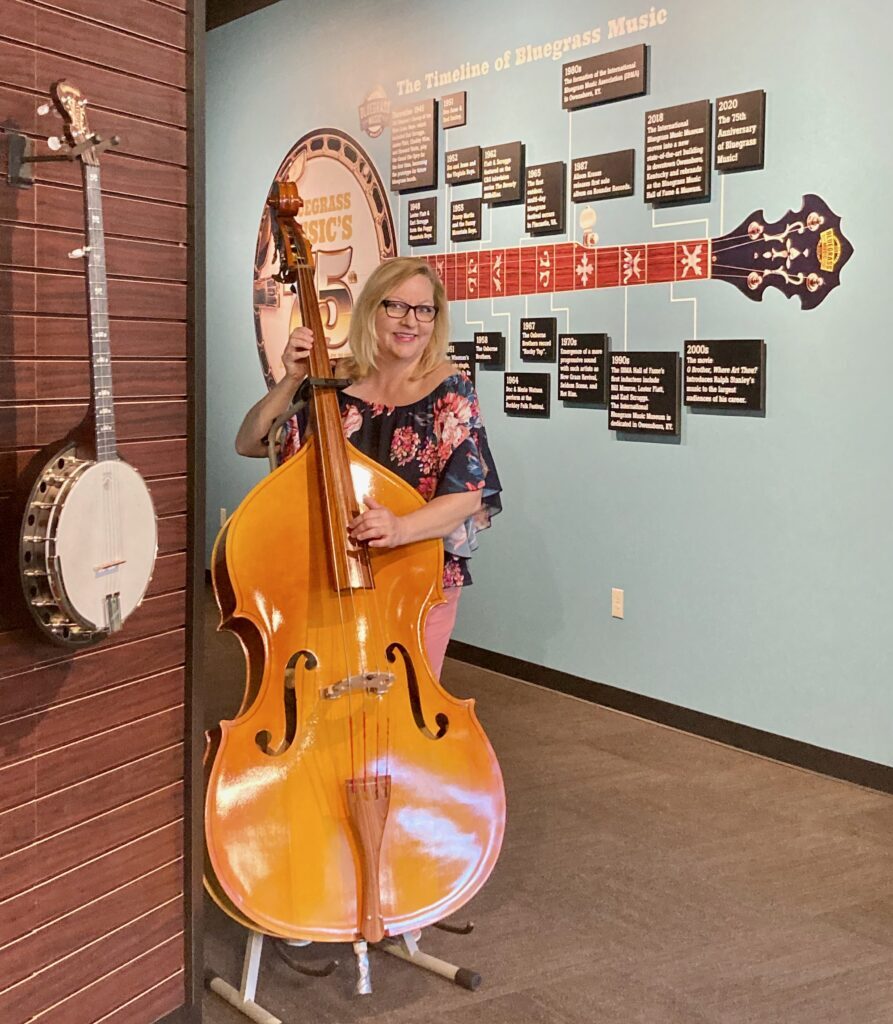 We visited their high-tech theater, home to weekly rap sessions and some big-name performers, as well as their outdoor theater. Click here for their event calendar. The museum is a fascinating walk-through time chronicling the evolution of bluegrass music and its impact on other genres. (Did you know that Elvis performed a cover of Blue Moon of Kentucky by Bill Monroe?) Bluegrass was popular entertainment at the time and featured on highly rated TV shows such as the Beverly Hillbillies, the Andy Griffith Show and others. We learned that 90% of the employees at the museum are musicians, so you can imagine the passion behind the events they offer! The town's rich history of bluegrass music is one of the top reasons to visit Owensboro, Kentucky.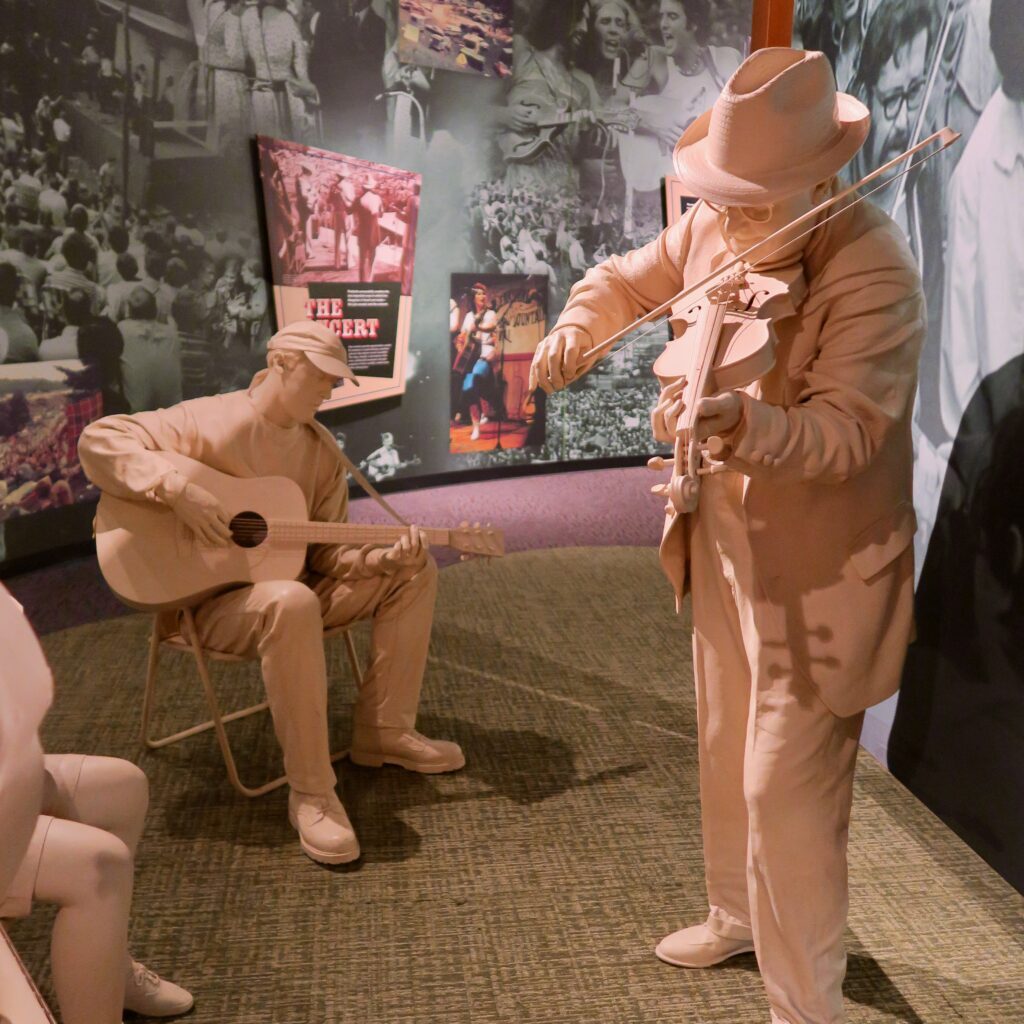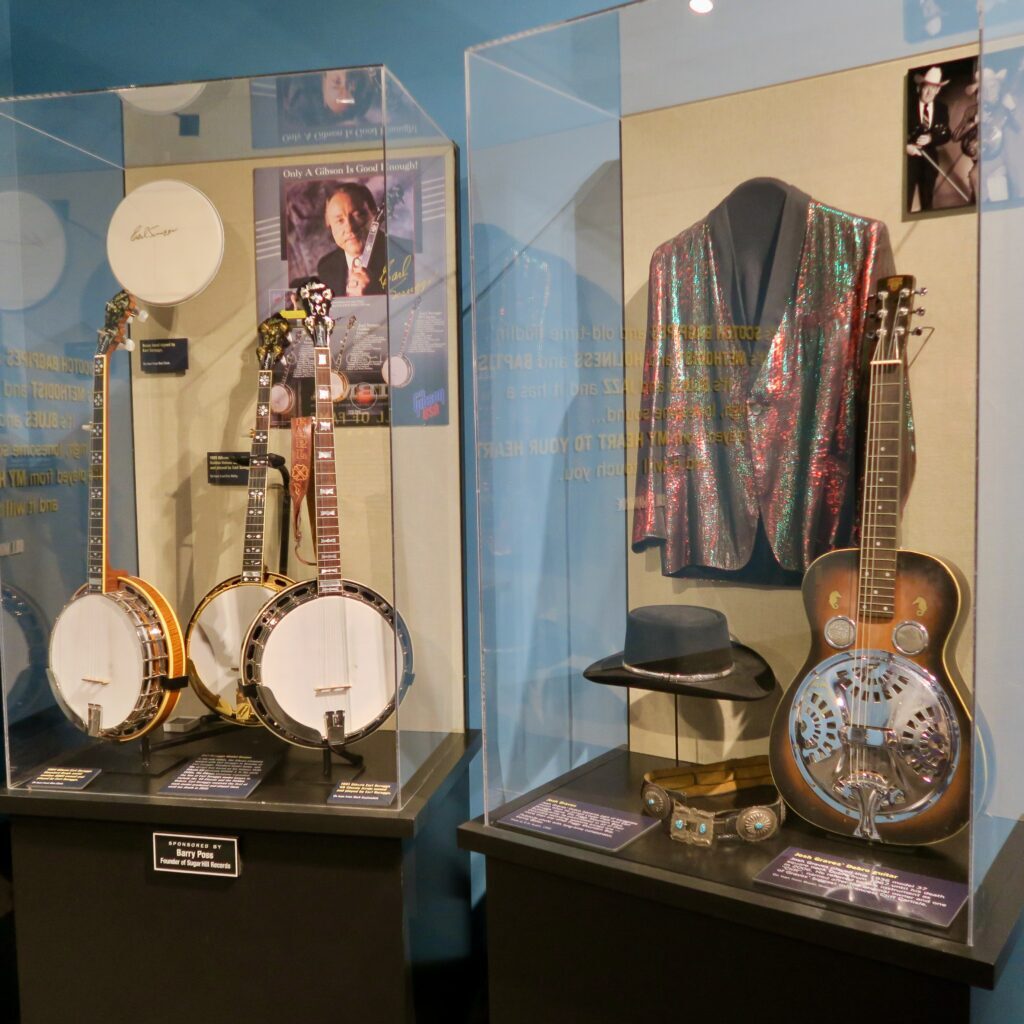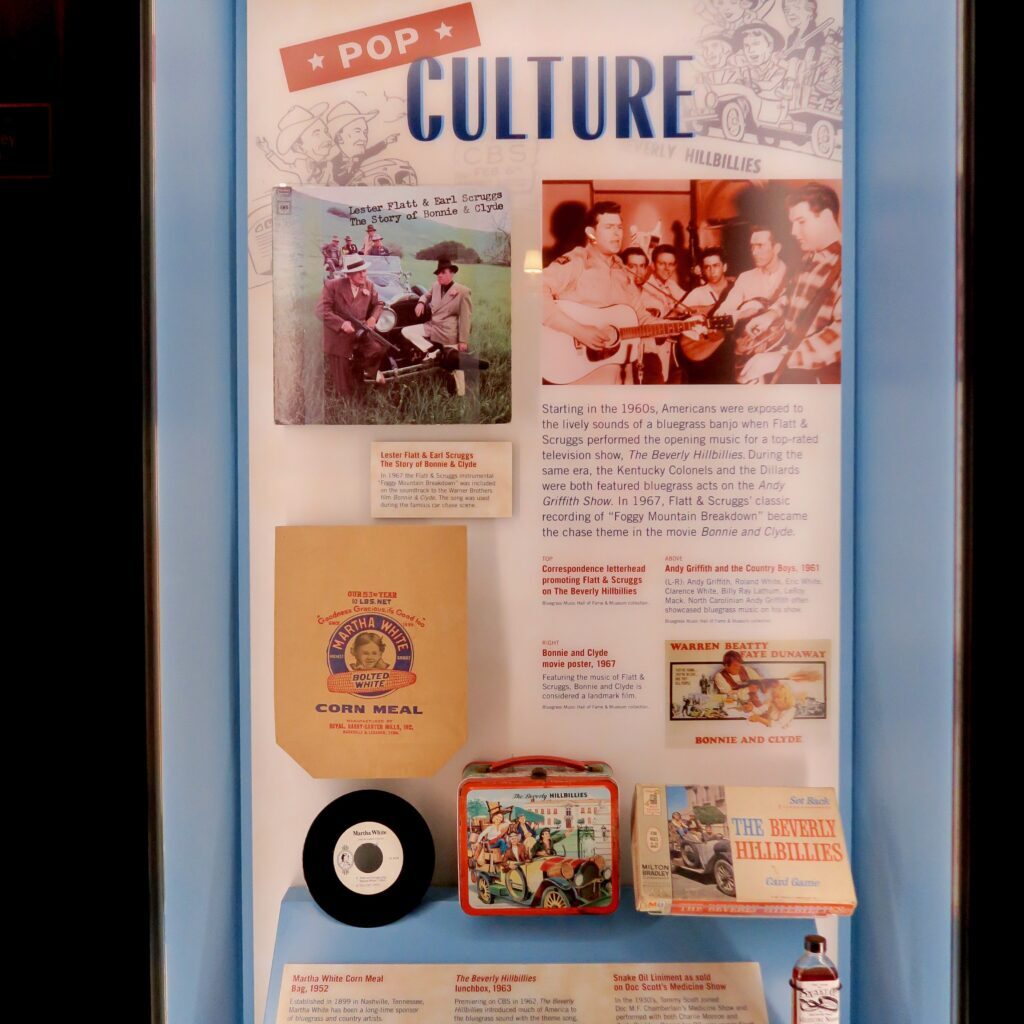 And finally, for your listening pleasure, take in the ROMP Fest held June 22nd– 25th. ROMP Fest is celebrating its 19th year, sharing the true love of a their cherished bluegrass and its deep roots. Get your tickets to experience these amazing acts: Punch Brothers, The Del McCoury Band, Rhiannon Giddens, Tommy Emmanuel, We Banjo 3, The Gibson Brothers, Rob Ickes and Trey Hensley, The Po' Ramblin' Boys, The East Nash Grass, Liam Purcell & Cane Mill Road, and the Kentucky Bluegrass AllStars.
MORE MUSIC
For live music fans, check out the melodious tunes of the Brasher's Lil' Nashville venue. Be sure to consult their event calendar and plan a trip to catch local, regional and national acts. No matter your musical tastes, whether rock, bluegrass or country, you'll find great entertainment. Join in the fun with dueling pianos each month or belt out your own refrains on open mic night!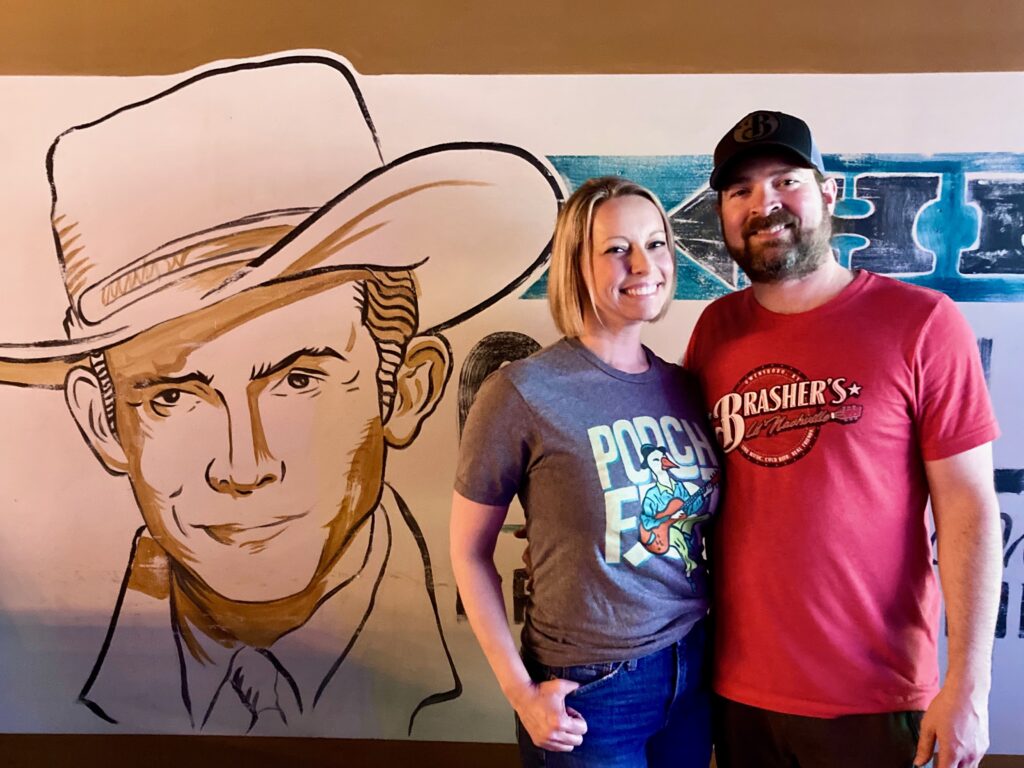 Mark your vacation planner for Porchfest on Griffith Avenue, known as the Dogwood and Azalia Trail. This fascinating music festival takes place in a gorgeous neighborhood; 34 musical acts staged on 12 residential porches. Streets are closed to traffic, filled with food trucks, happy people and good cheer. This year Porchfest is scheduled for June 11th from noon until 10PM.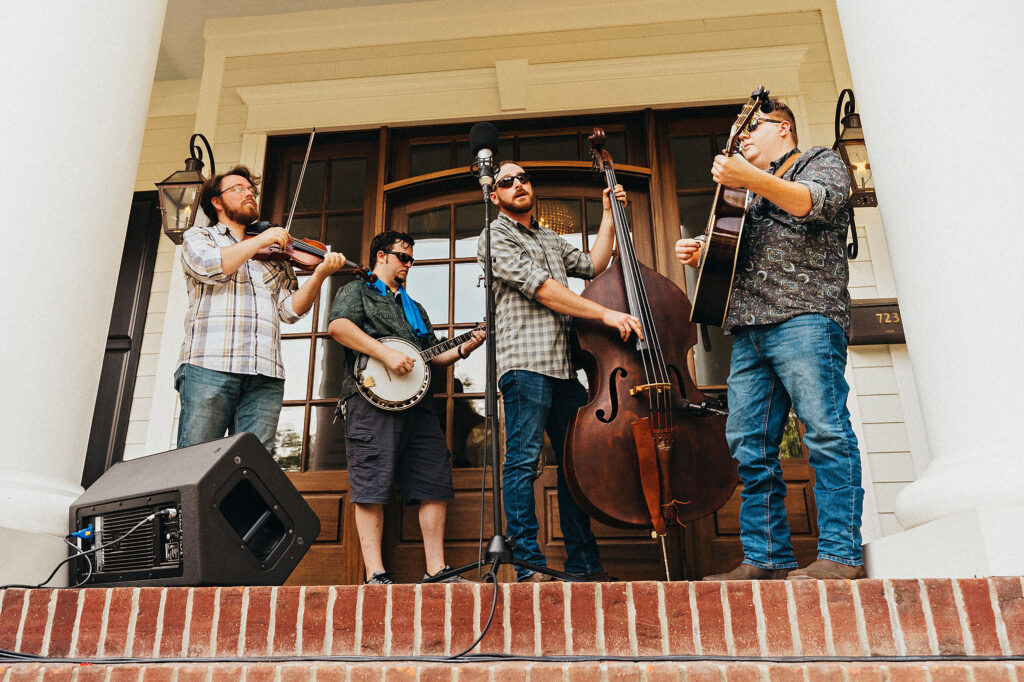 DOWNTOWN SHOPPING
From the museum we set out on foot to discover more of the downtown. We visited the cutest children's boutique, Lil Bit Sassy which was full of the most colorful and delightful clothing, gifts and accessories for the little ones. Also, be sure to stop by Byron & Barclay, a men and women's quality clothing boutique.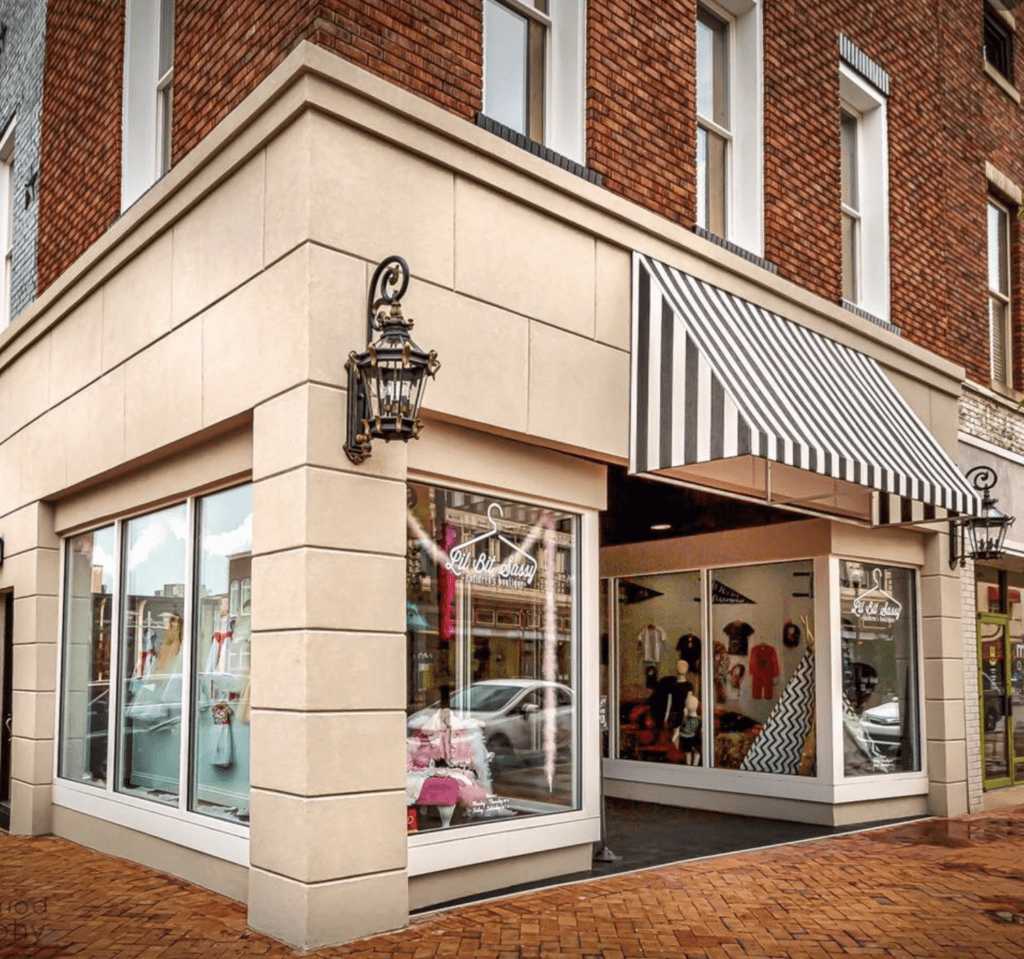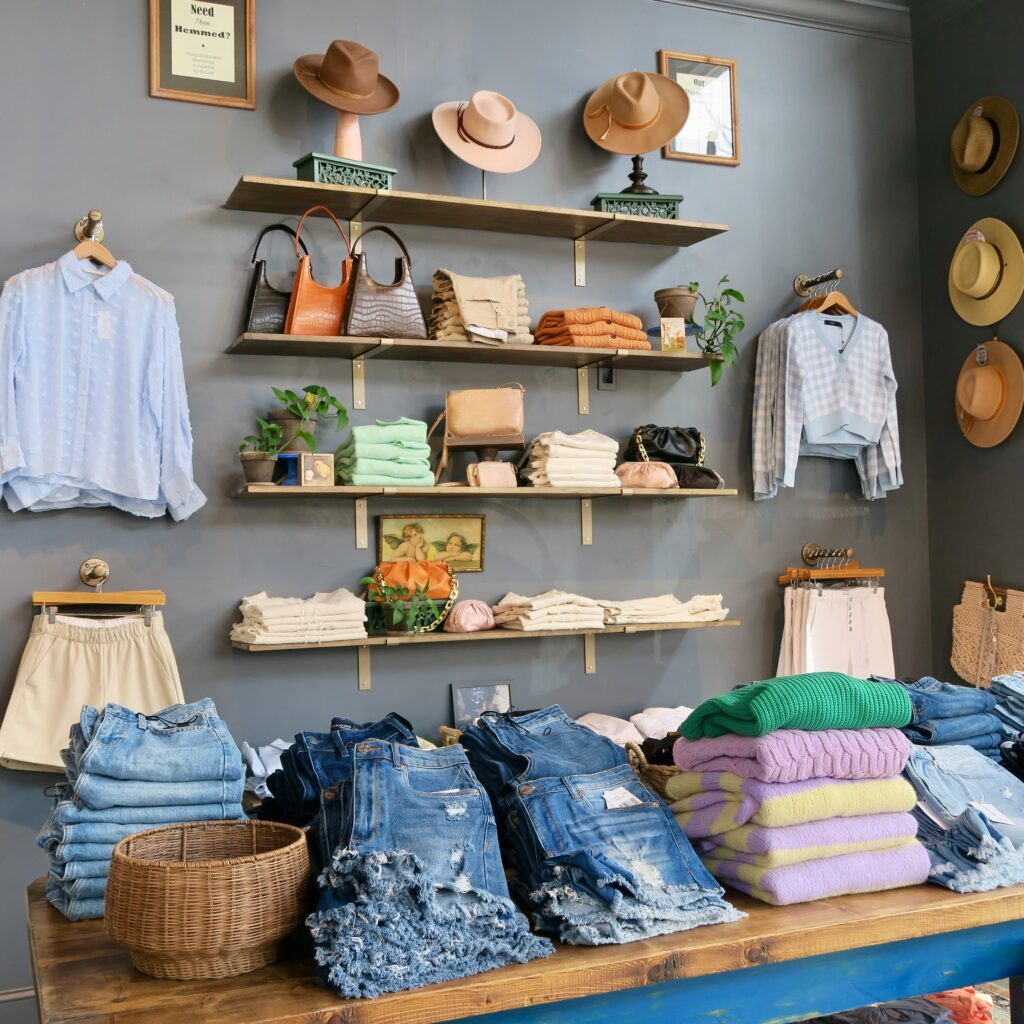 The streets of Owensboro are lined with terrific gift and home décor shops. Spend a little time in Simply Chic Home Accents which tenders plush pillows, warm scented candles, wall art and custom painted furniture. Get inspired with the beautiful home décor of Willow and Pine Market. Surround yourself in luxury with their specialty items for every room including grand French glassware, Italian dinnerware, Polish pottery and European linens.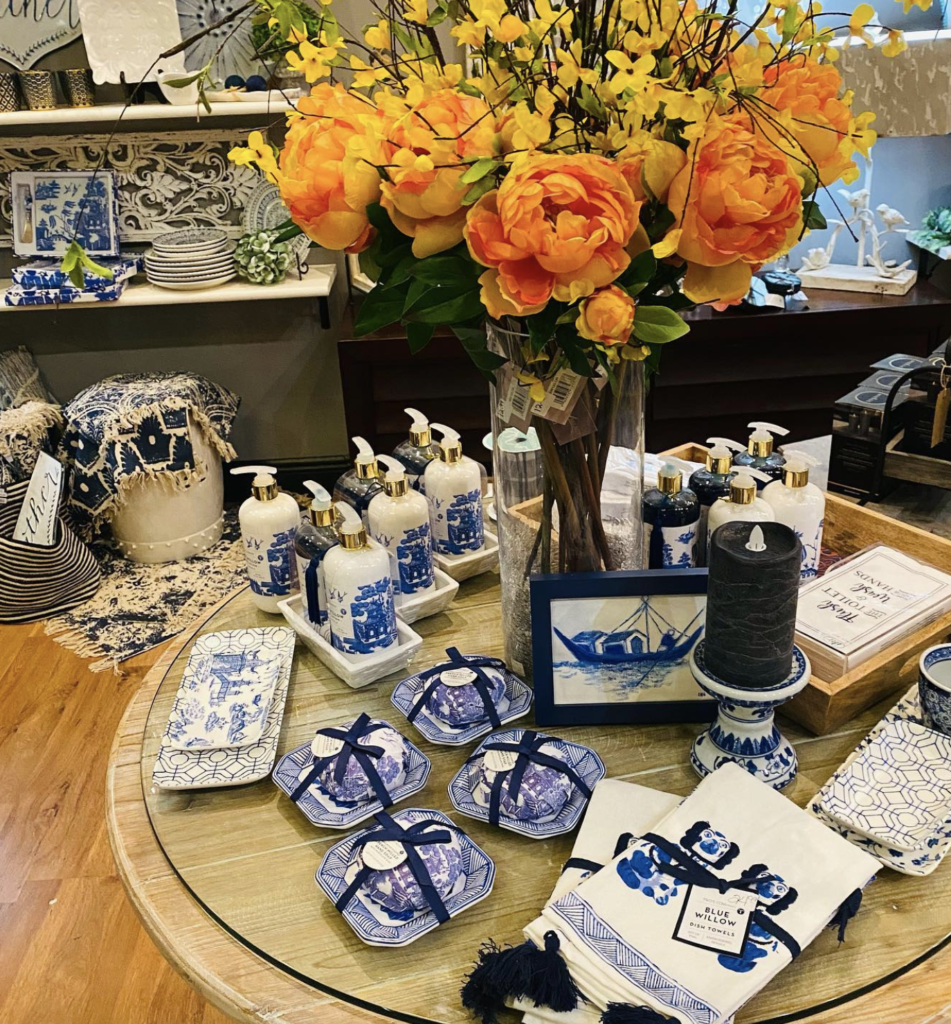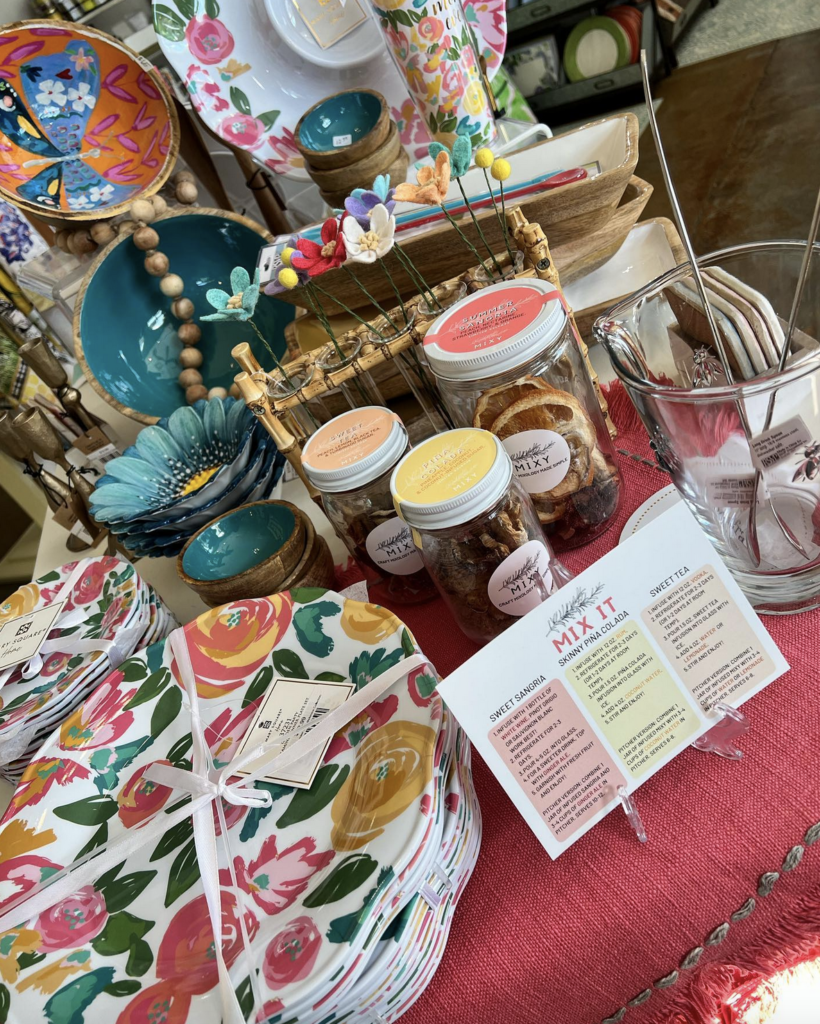 DOWNTOWN COFFEE
Get your caffeine fix at one of several, locally owned coffee shops. Housed in an historic building, a groovy vibe permeates the The Creme Coffee House. The staff specializes in smiling faces and serving rich, gourmet coffees, drinks, desserts, paninis and zesty soups, thus I found this little coffee stop delightful.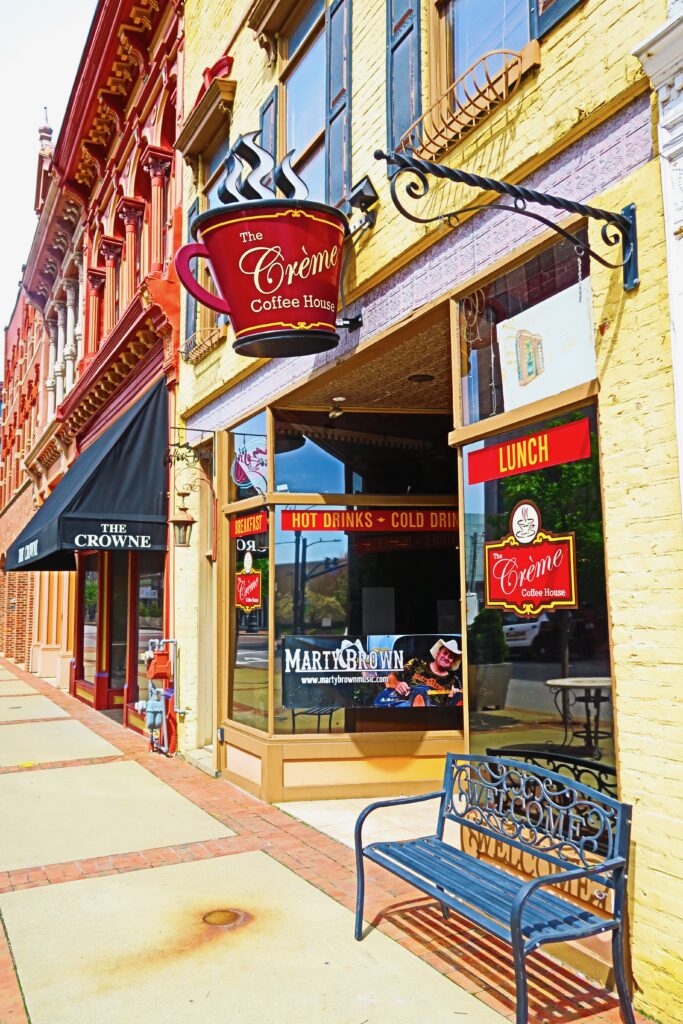 Gramps Coffee & Donuts extends choice coffee and fresh donuts just like the good ol' days. I suggest the tasty Sap Tapper donut with maple glaze or try a seasonal pastry for something a little different. Couple with an aromatic cup of coffee and you'll have yourself a great start to the day!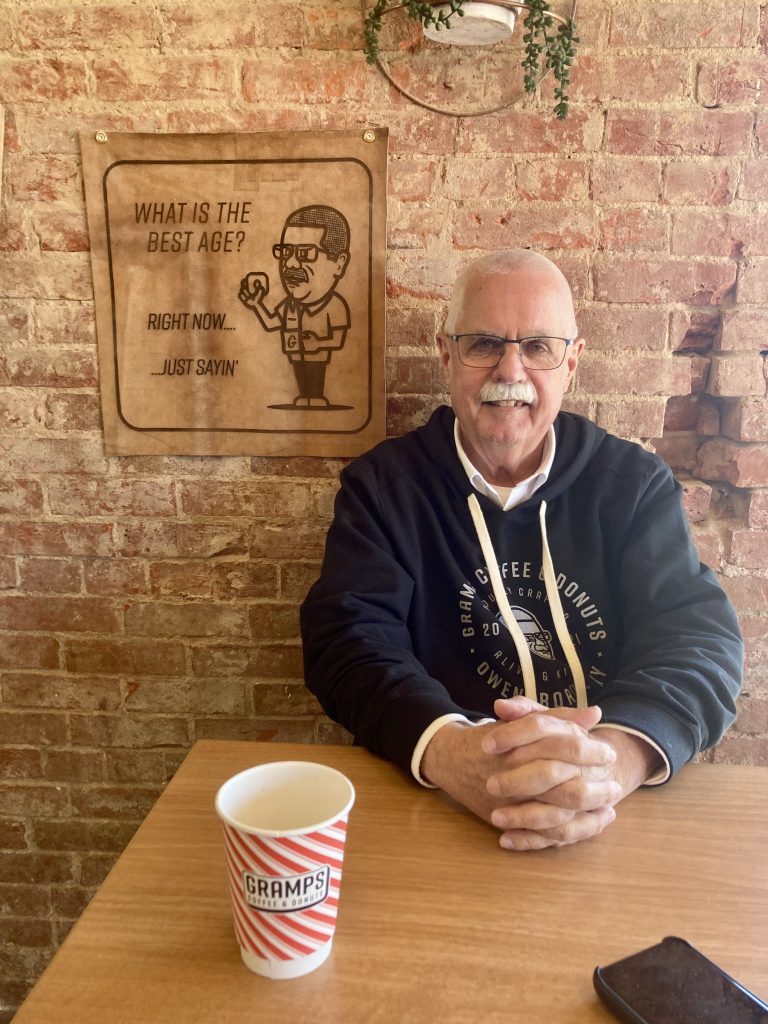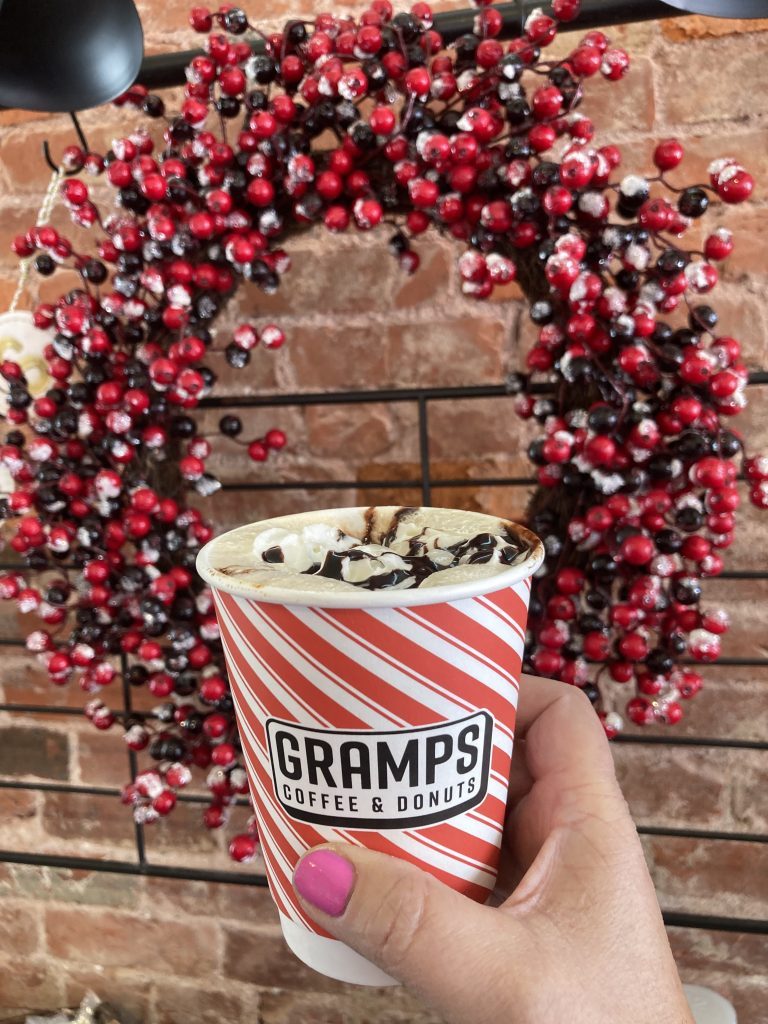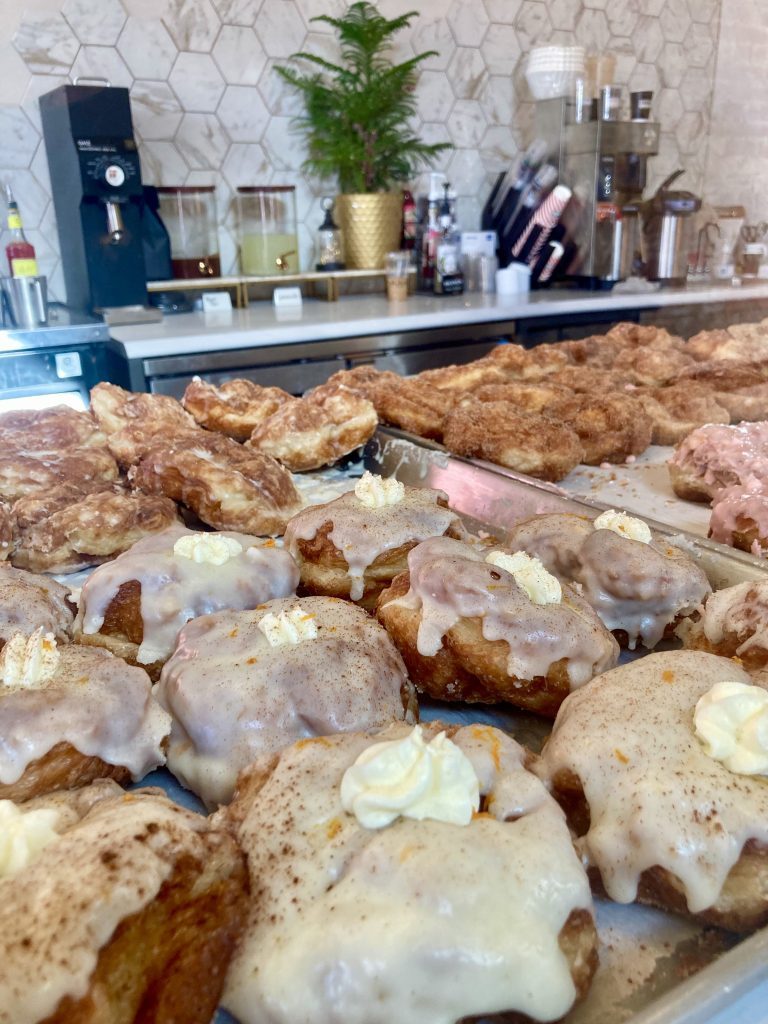 I felt as if I met a local celebrity when I found the actual "Gramps" having a cup of coffee when we visited. Y'all, these donuts are seriously amazing, they were light and fluffy like beignets. This family owned and run shop is not to be missed on your trip to Owensboro.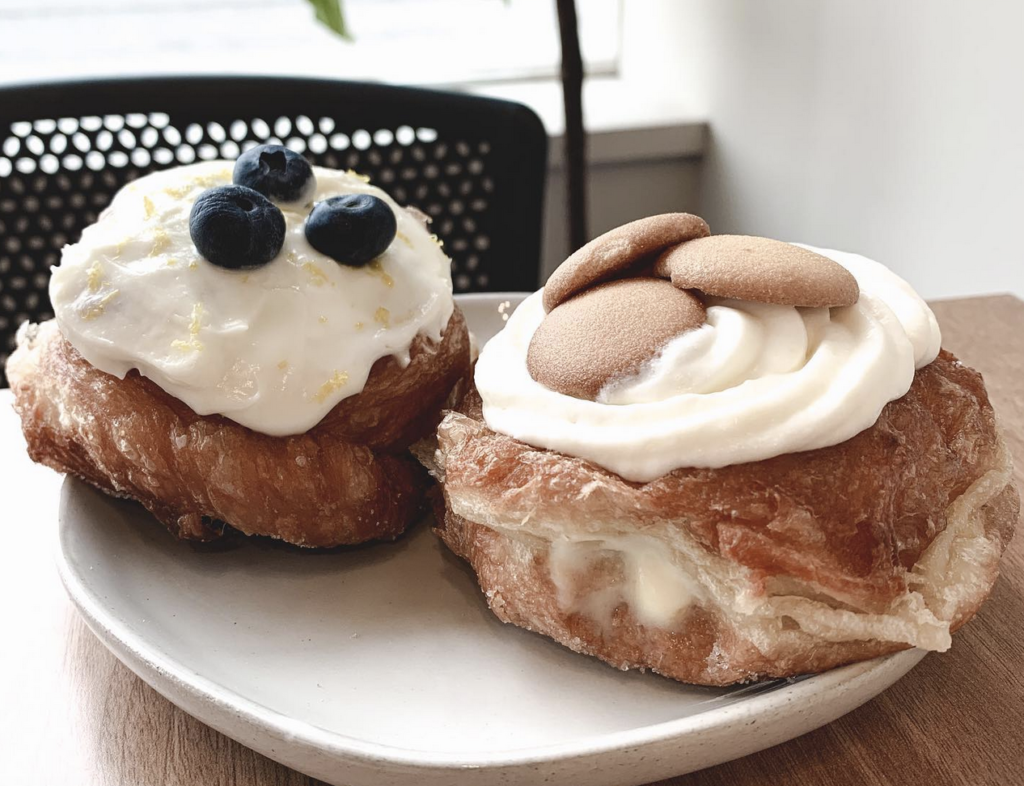 DOWNTOWN LUNCH OPTIONS
Great dining abounds in Owensboro. What is your preference?
For lunch I recommend City Walk of Owensboro for comfort food made from scratch. This locally owned mainstay will transport you back in time with historic photos and a nostalgic ambiance.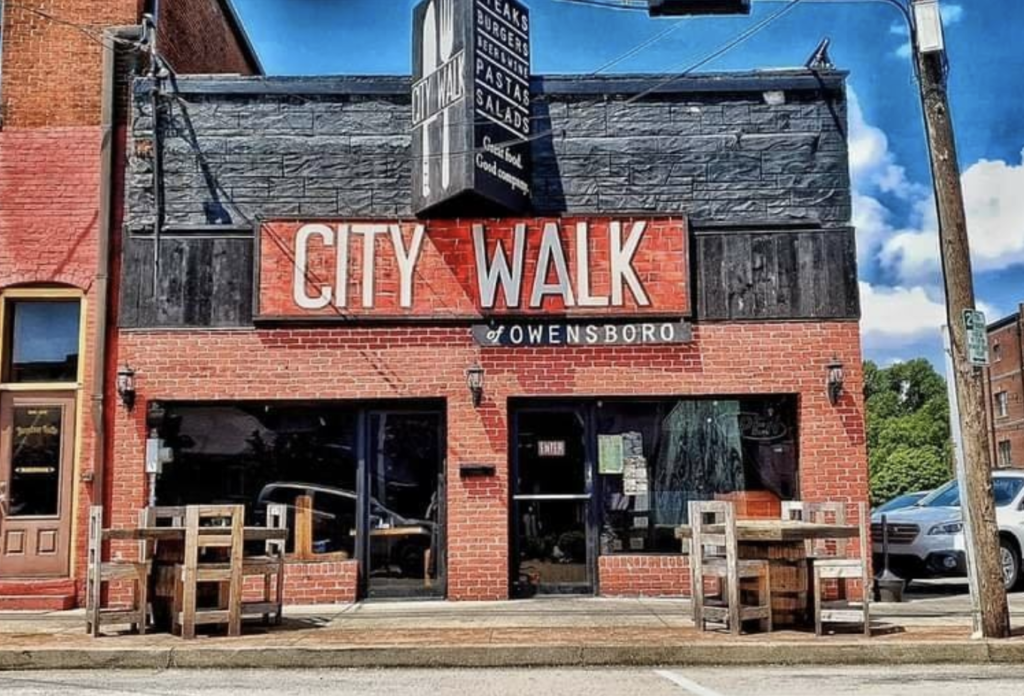 The Famous Bistro is an excellent choice for brunch, lunch or dinner. Their lunch menu is overflowing with scratch made grinders, wraps, salads, soups, pastas and specialty sandwiches. I'm a sucker for a Reuben all day long and theirs was perfection. Stuffed with all the traditional ingredients, I enjoyed every scrumptious bite! I was pleasantly surprised with their enticing Greek menu options including Moussaka, Spanakopita and Bifteki Gyro.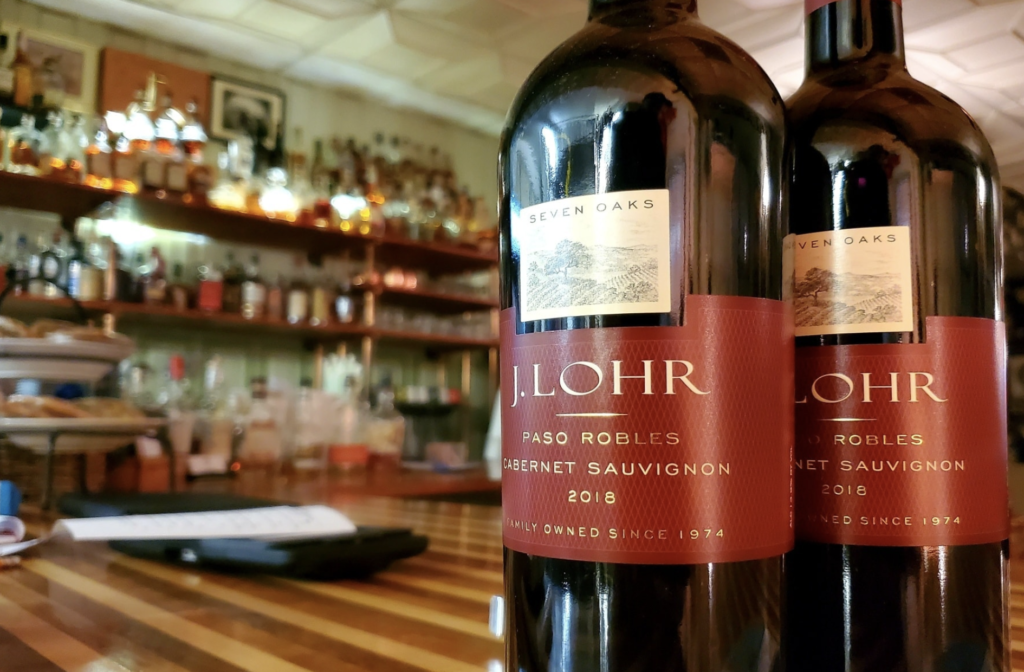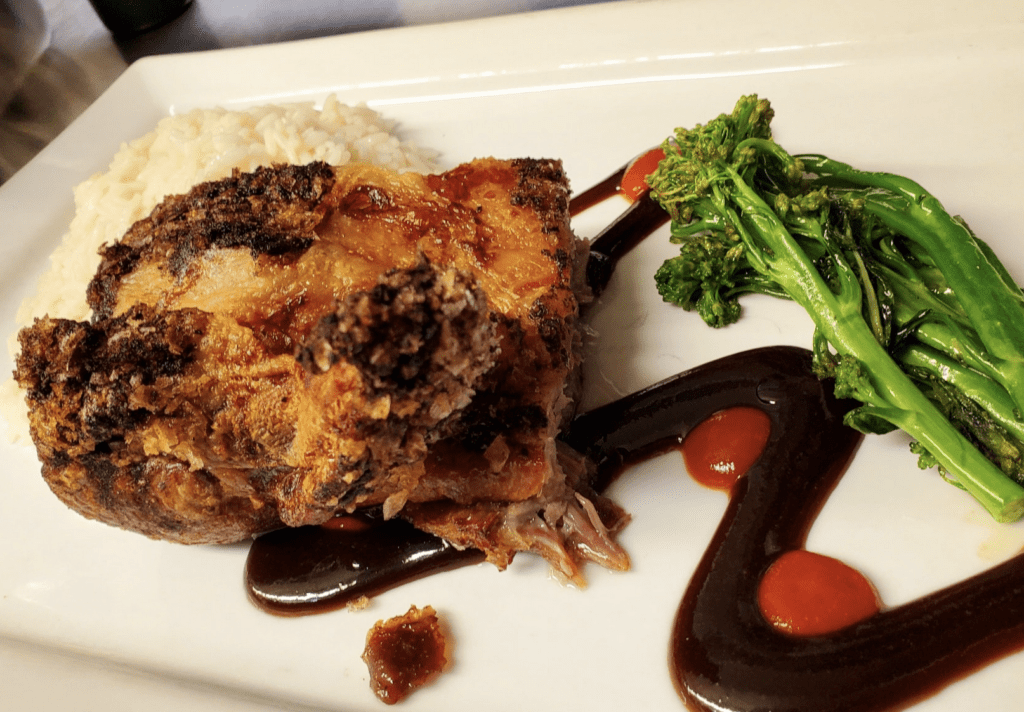 DOWNTOWN DINNER OPTIONS
I highly recommend visiting the Miller House for dinner. Erected in 1905 by Elmer and Lizzy Miller, this home was described as "a jewel of old Owensboro". Restored in 2007 after a devastating tornado, the home is designed with beveled glass windows, wooden mantels, stone hearths and an attractive combination of electric and gas light fixtures. The Miller House is best known for its Wall of Bourbon/Whiskey featuring upwards of 600+ selections of the potent spirits. As I mentioned, this town is known for bourbon and thus one of the top reasons to visit Owensboro, Kentucky.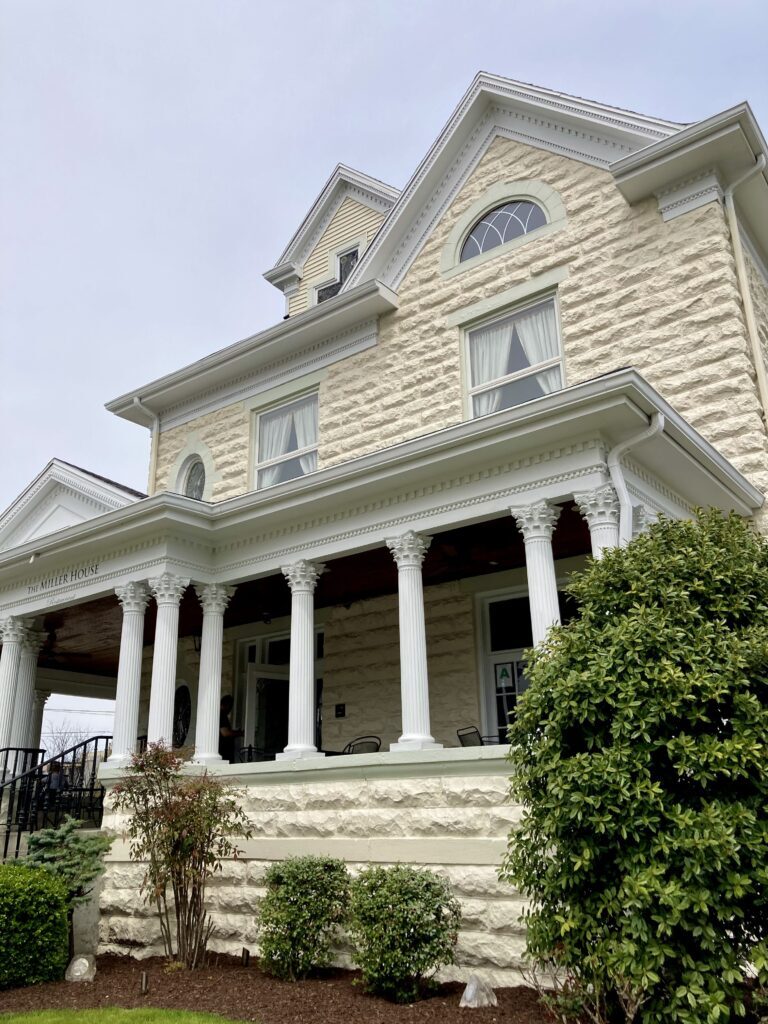 Miller House whips up delectable Pimento Cheese Grit Cakes for starters. I found it hard to choose because of the tempting entree options such as Southern Chicken Cordon Blue, Bourbon Glazed Pork Chop and Jumbo Lump Crab Cakes. These delicious dishes made narrowing down a dinner decision difficult, to say the least!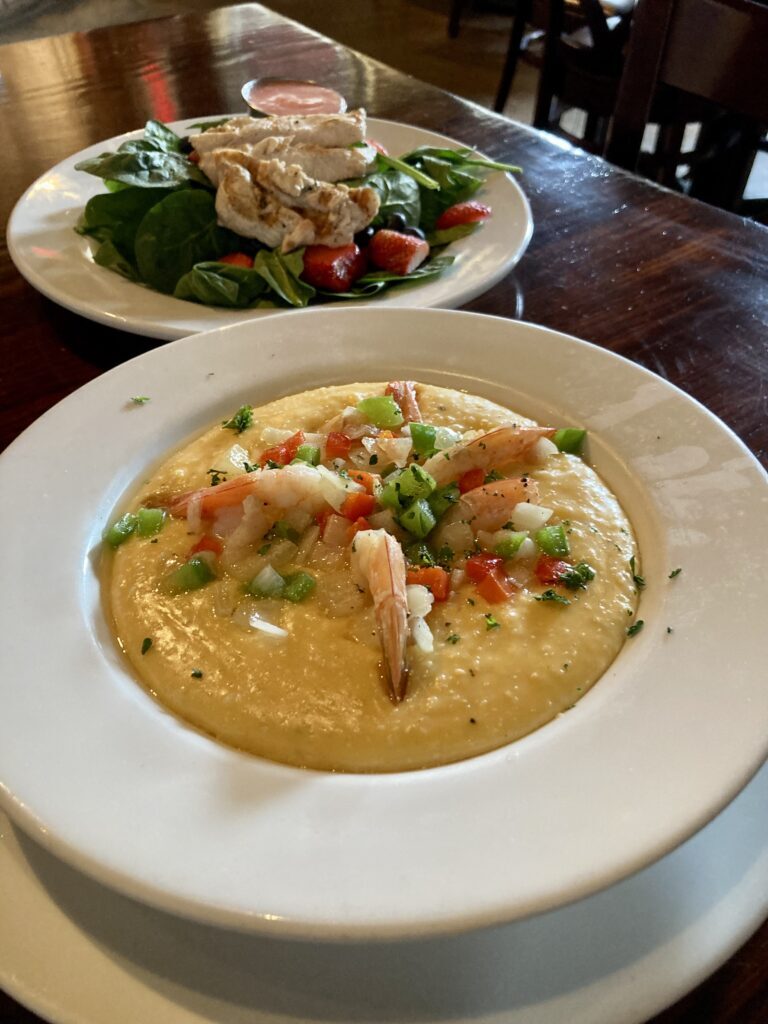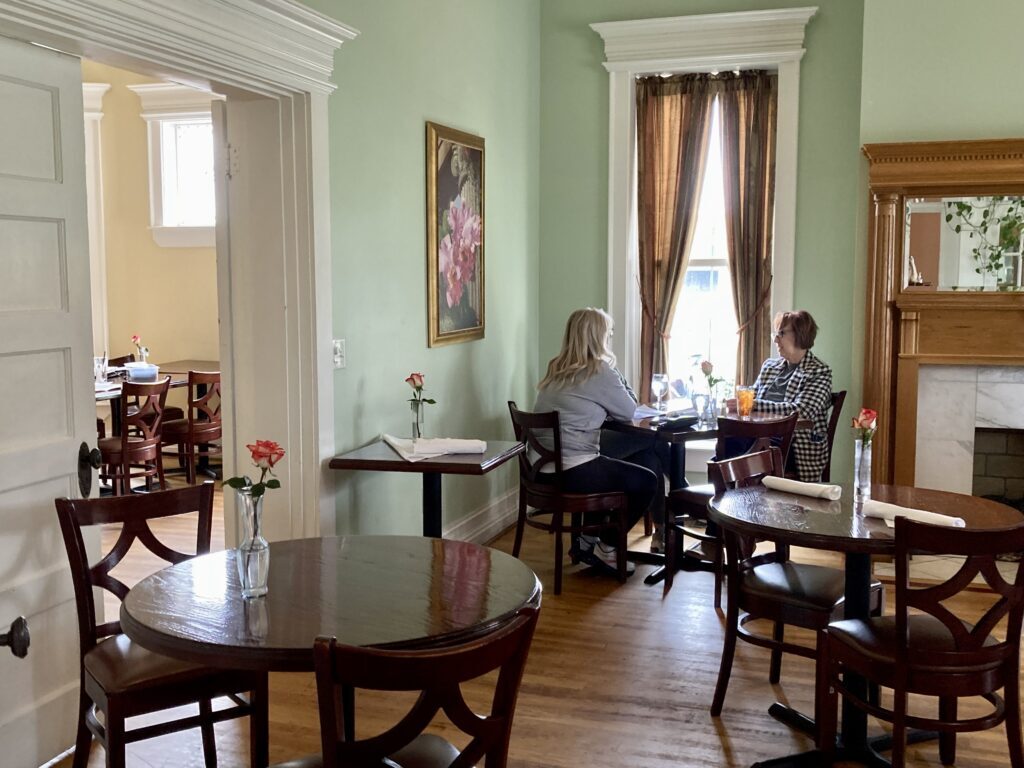 For a lovely dining experience with a river vista, I recommend making a reservation at Lure Seafood and Grille. Choose from fresh seafood, steaks, oysters, burgers, to name a few of the tantalizing options. Toast to good times with friends on the riverfront patio, quaffing craft cocktails and reveling in live music. Take a walk around to view modern lighting fixtures and walls lined with local artwork.
I selected the Drunken Sea Bass as my entrée because I love every savory ingredient. The sake-ginger-soy marinated Chilean Sea Bass was so flakey and delicious. It was served over miso pesto bamboo rice with a chili bok choy and jicama slaw. My friend was delighted with her choice of the Portuguese Scallop Stew, composed of seared scallops, sausage, beans and kale over creamy cheese grits.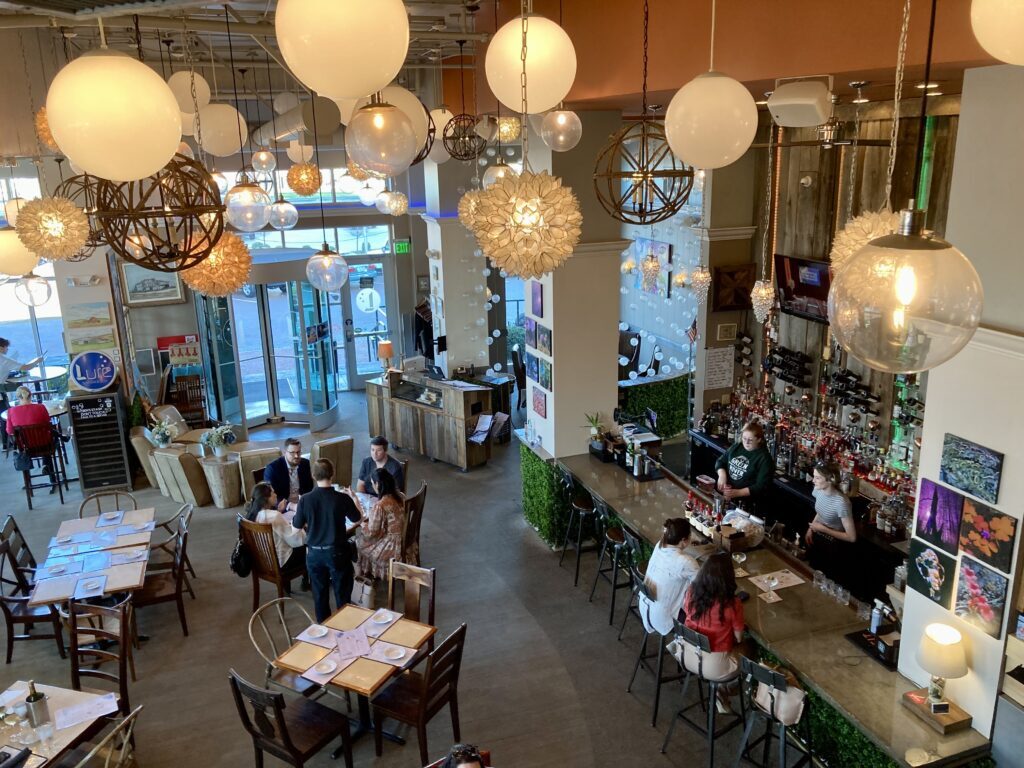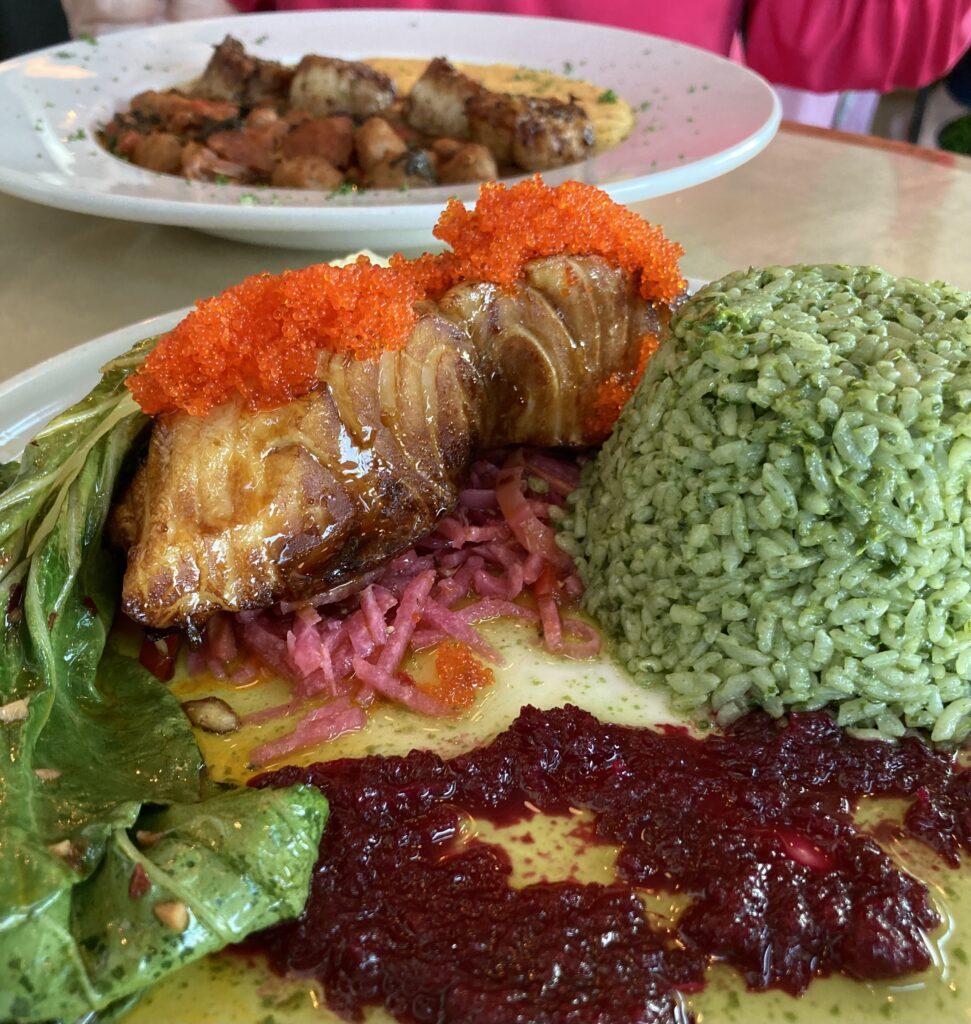 DOWNTOWN DRINK OPTIONS
Relax near the river on comfy couches, at the bar or on the patio at SIP Wine Room. Here patrons can taste their way through the extensive wine list. I love the wine station where you can taste by the ounce, half glass or full glass. Then take your favorite bottle home. In addition, they offer a wide assortment of bourbons and a rotating selection of craft beers.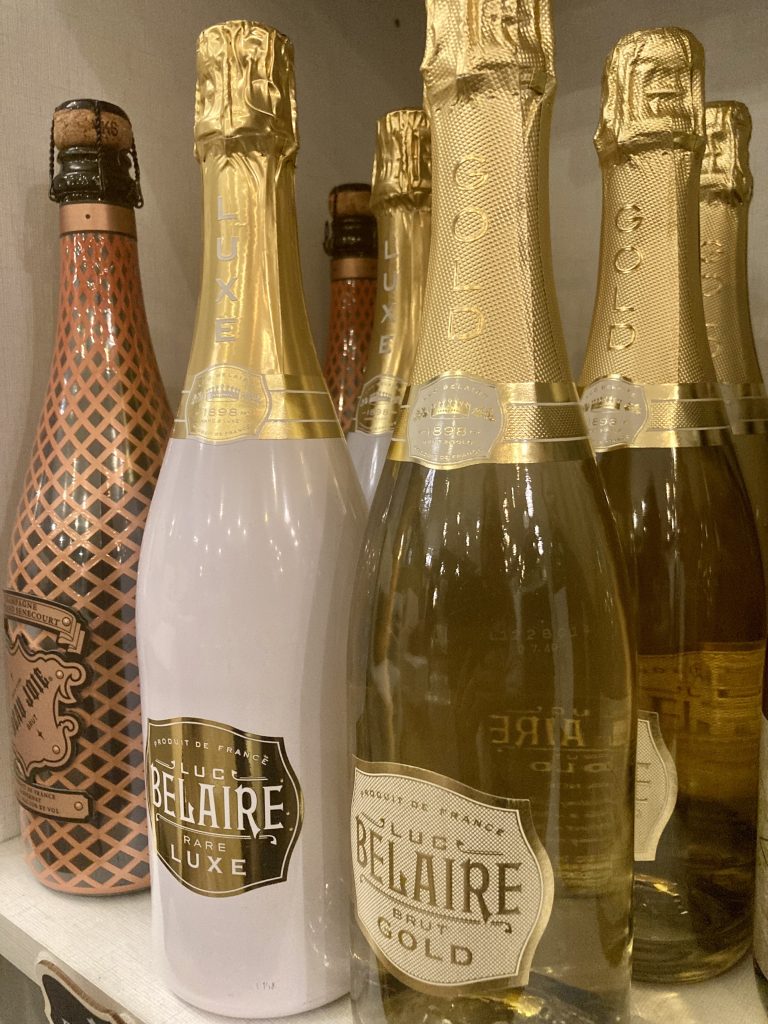 They offer gorgeous seating with a view of the river outside and very classy and comfy seating. A large selection of games to choose from mean fun with friends. I recommend ordering their charcuterie which is lovely and delicious. This little hide-away is great for a date, girl's night out or gathering with family and friends.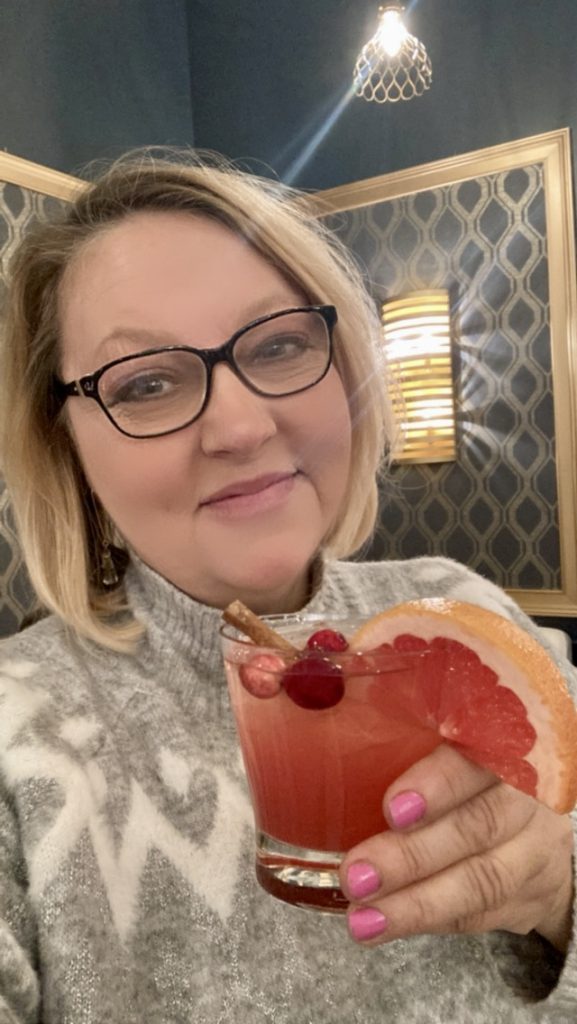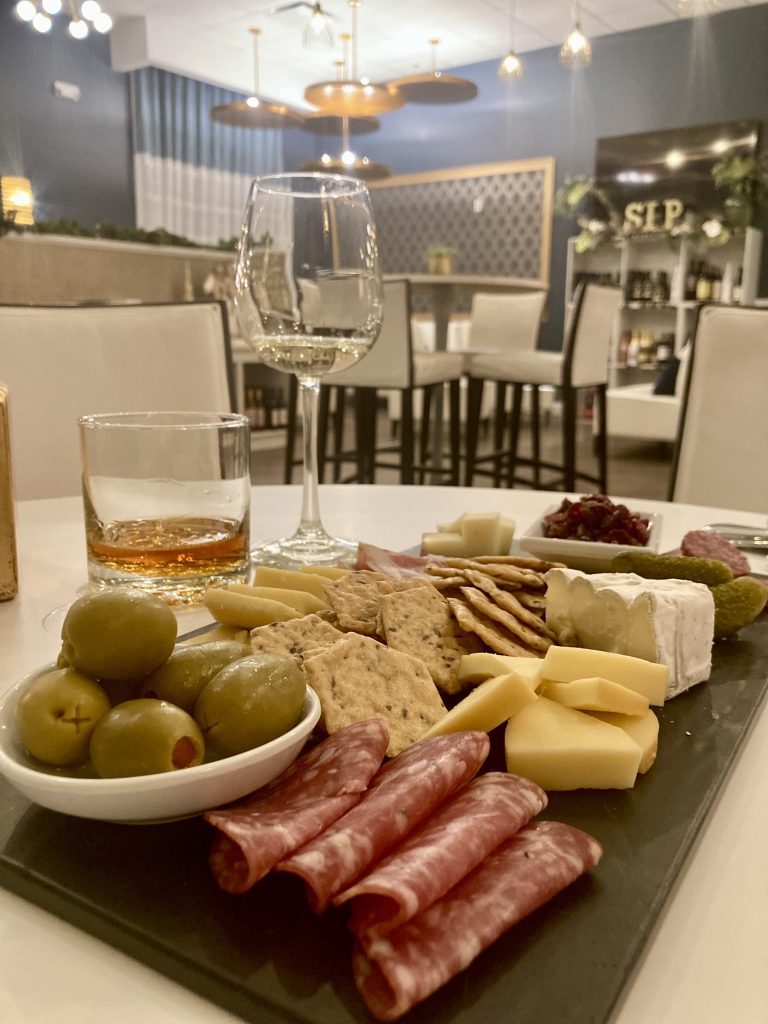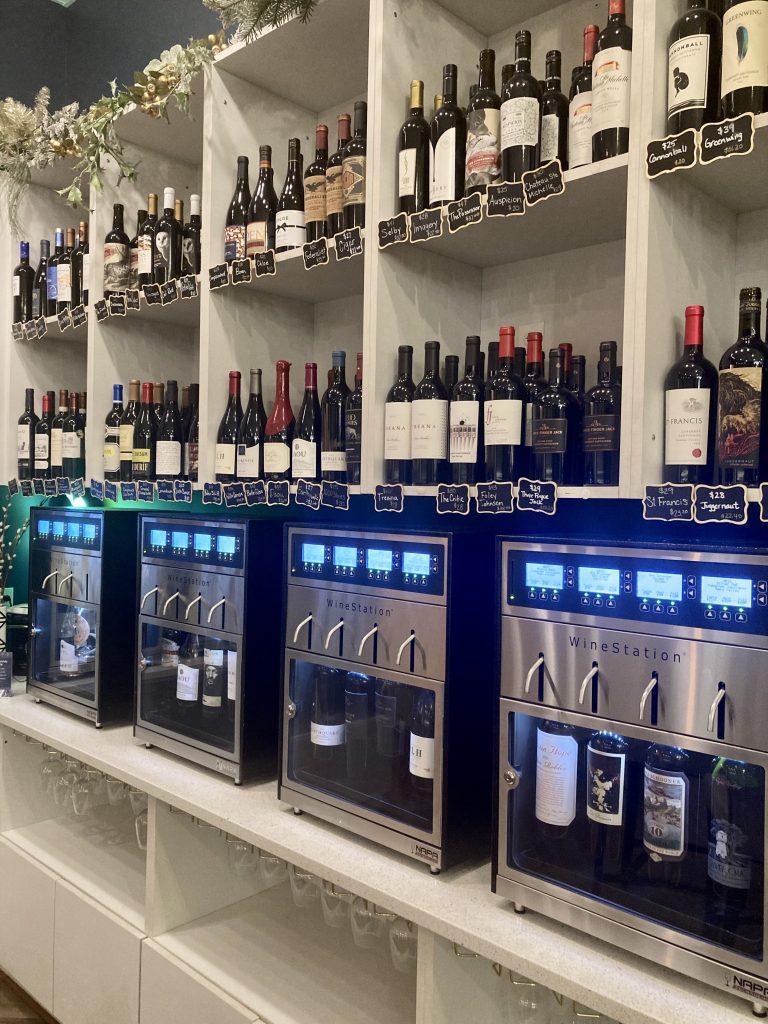 The Pub on Second offers a dizzying array of beers on tap. Whether you prefer pilsner, lager, IPA, hard seltzer, porter, cider or stout, you'll find some of the best at the Pub. This cozy spot boasts 100+ craft and domestic beers along with an expanding bourbon selection. Sample one of their marvelous signature cocktails or martinis! I had a blue margarita.
MURALS AND SCULPTURES
As part of Owensboro's downtown enhancement, fantastic murals and sculptures were created for the public's enjoyment. A stroll downtown and along the river brings many of these engaging projects into view.
MOSAIC MIRROR
I was thrilled to have met artist, Gary Bielefeld who was in the process of recreating a mosaic mirror image of Kentucky on the side of the Puckett Building downtown. The original was assembled by this same artist along with 35 volunteers in 1983 as part of a four-month project, thought to be the largest of its kind in the world.
Gary explained that the composition is an overall image that represents the different regions of Kentucky. How incredibly this mural shimmers as sunlight dances off the mosaic tiles. In the background, the Blue Bridge connecting Kentucky to Indiana over the Ohio River completes the scene. You've got to see this amazing artwork when you visit.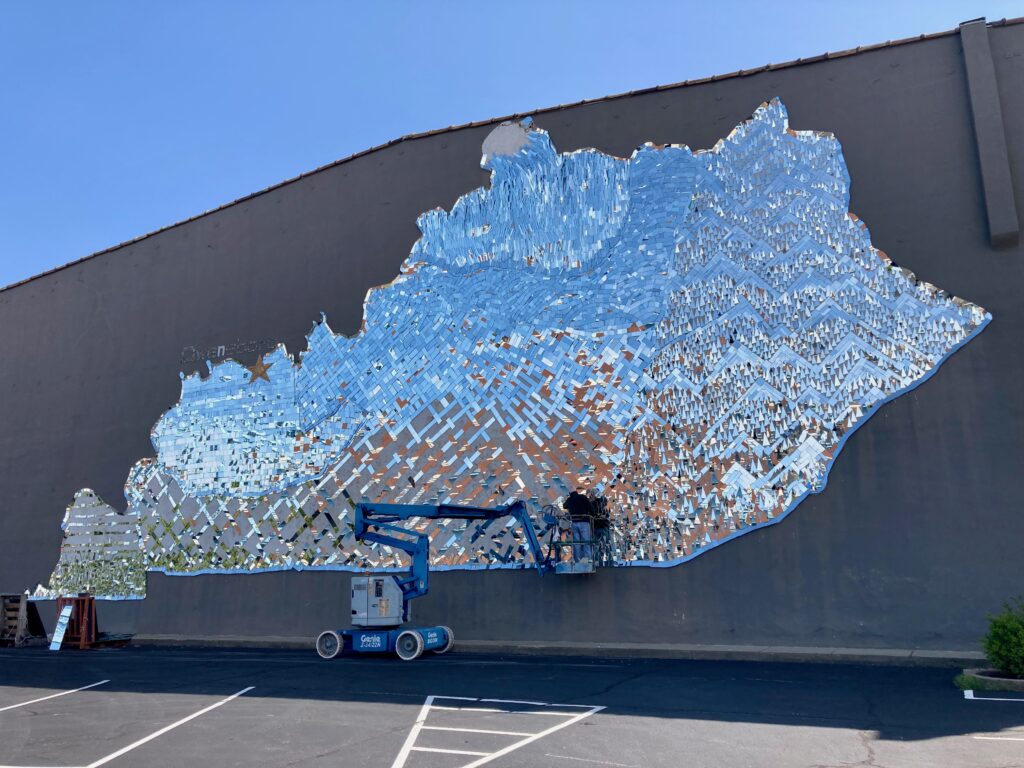 The best way to experience all of Owensboro's wonderful public art I recommend picking up a copy of The River Artes brochure which features 21 displays. The River Artes is designed to encourage cultural tourism and enhance the lives of the residents. The initiative features famous works of art created by the Lundeen Family, such as "Lincoln" by Mark Lundeen and "Nicky Hayden", "Hometown" by George Lundeen and "Beside Still Waters" by Owensboro's very own Bill Kolok.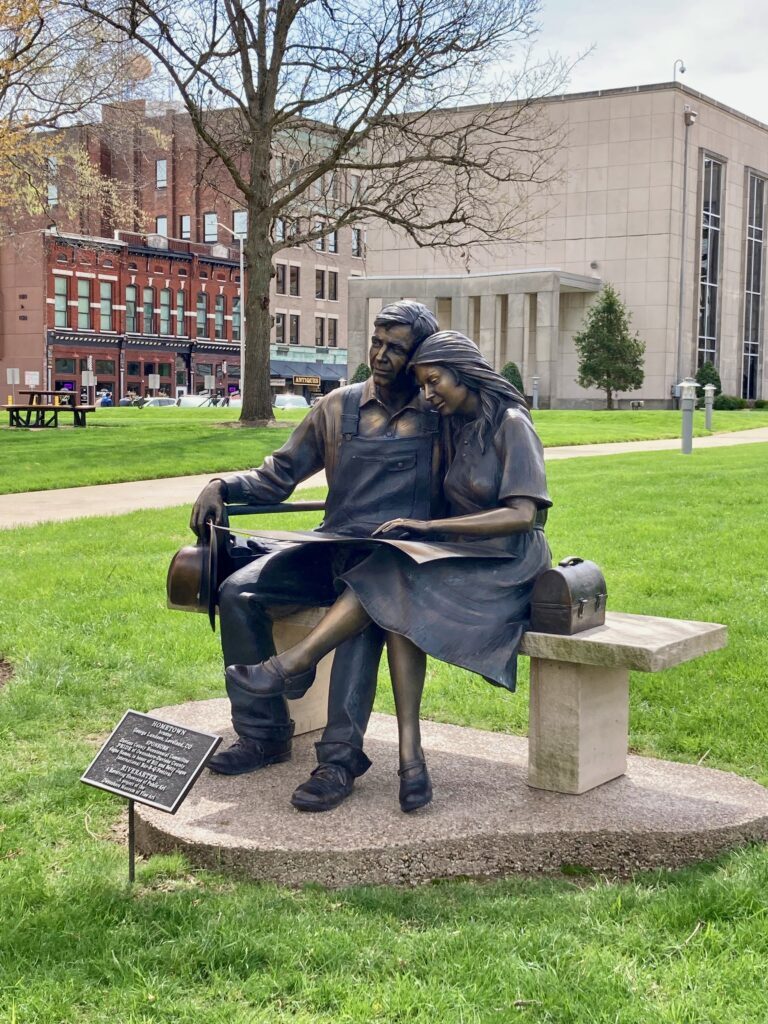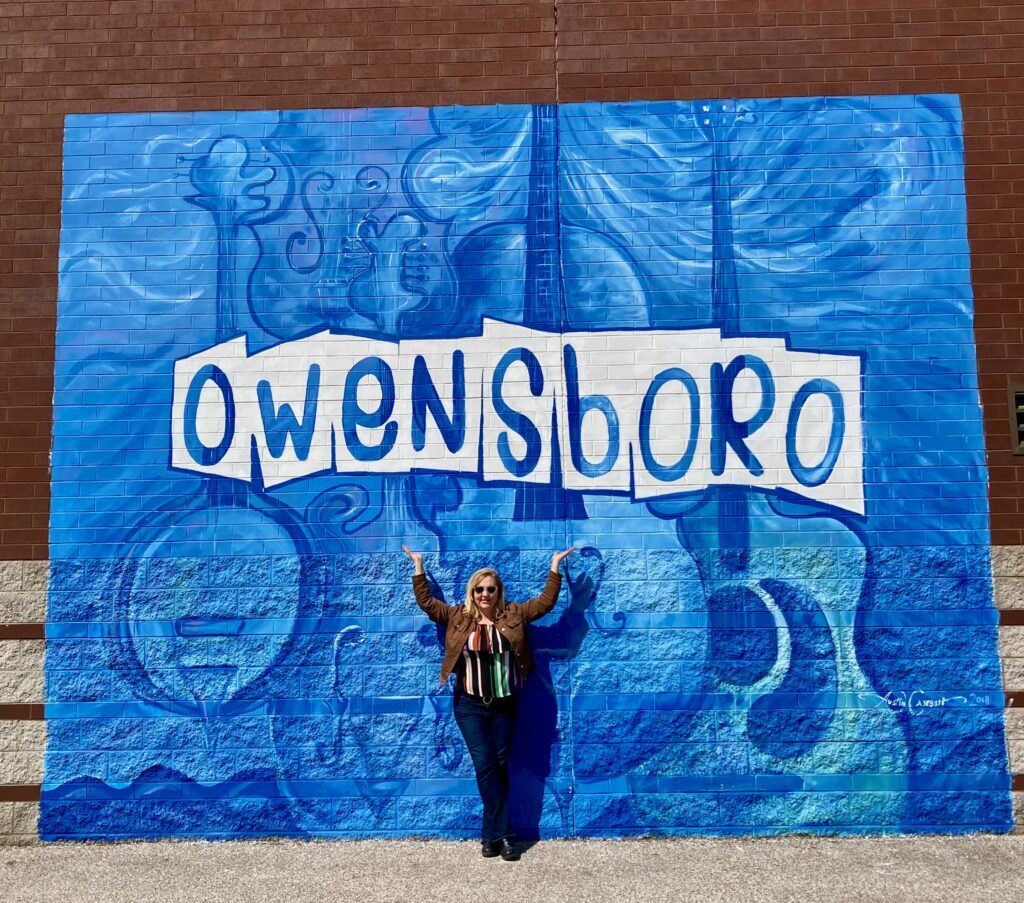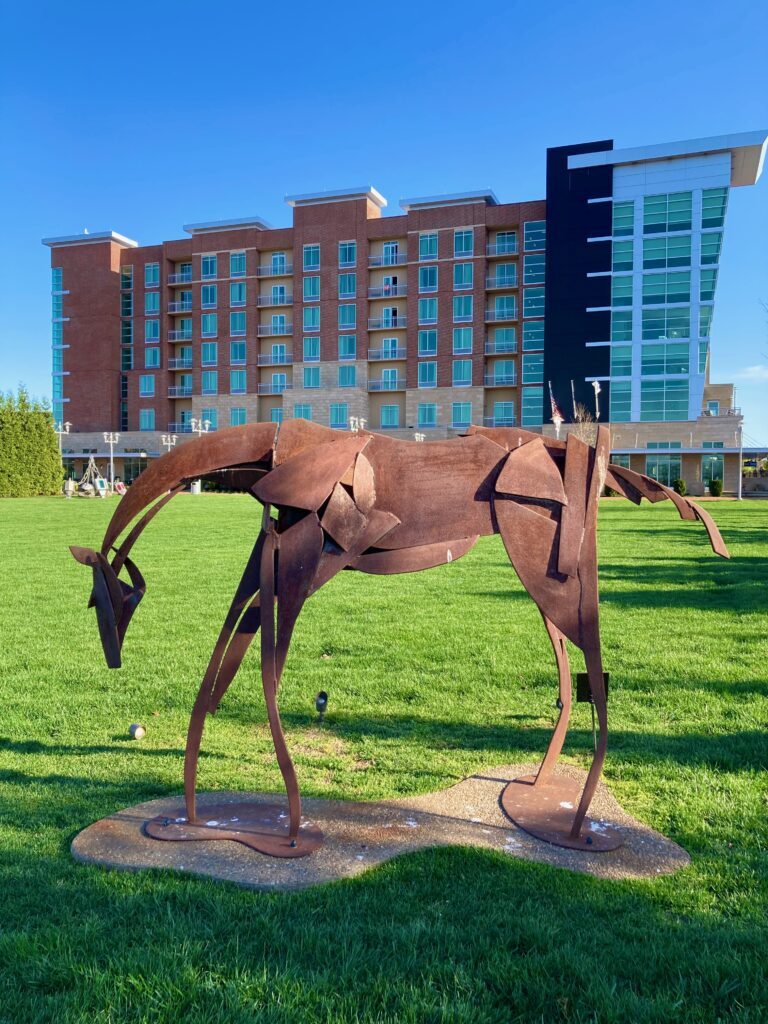 Owensboro Museum of Fine Art Director, Mary Bryan Hood and Director of Operations, Jason Hayden lead The River Artes V. Slated for 2022, the community will have the opportunity to choose a work of public art to be added to the collection.
STAY
Staying for a week or more? Get comfortable in one of these longer term rentals. We stayed in My Old Kentucky Home with queen bed, kitchen, bath and large living room. With crisp lines and cool colors, this space has been updated with modern amenities.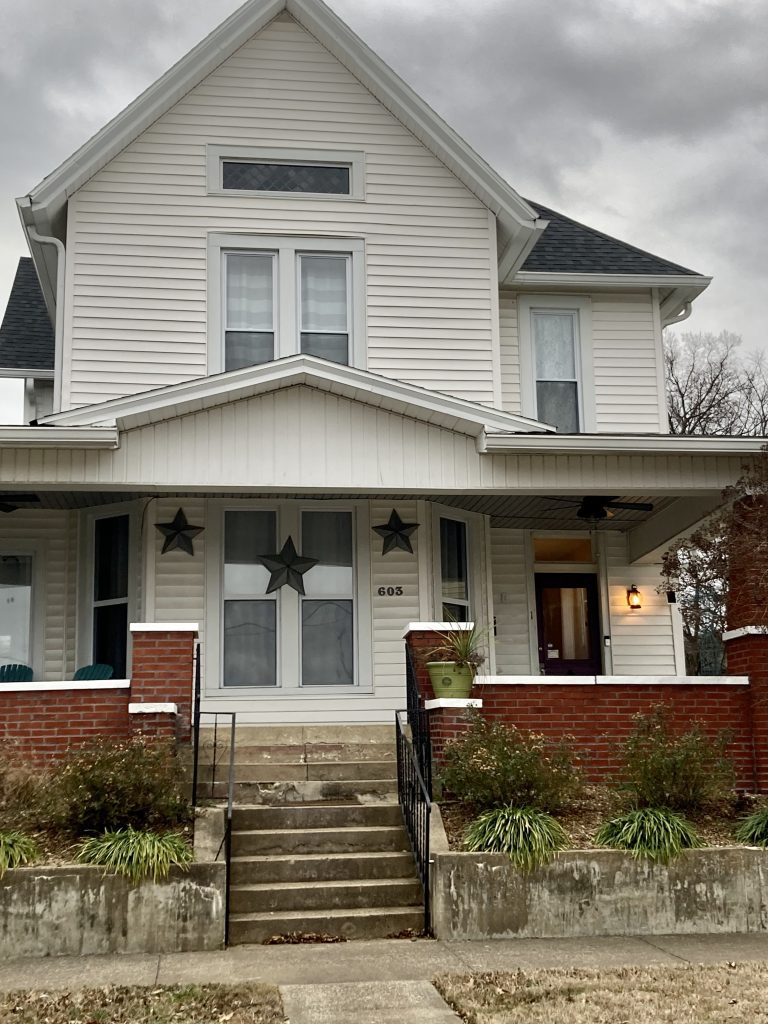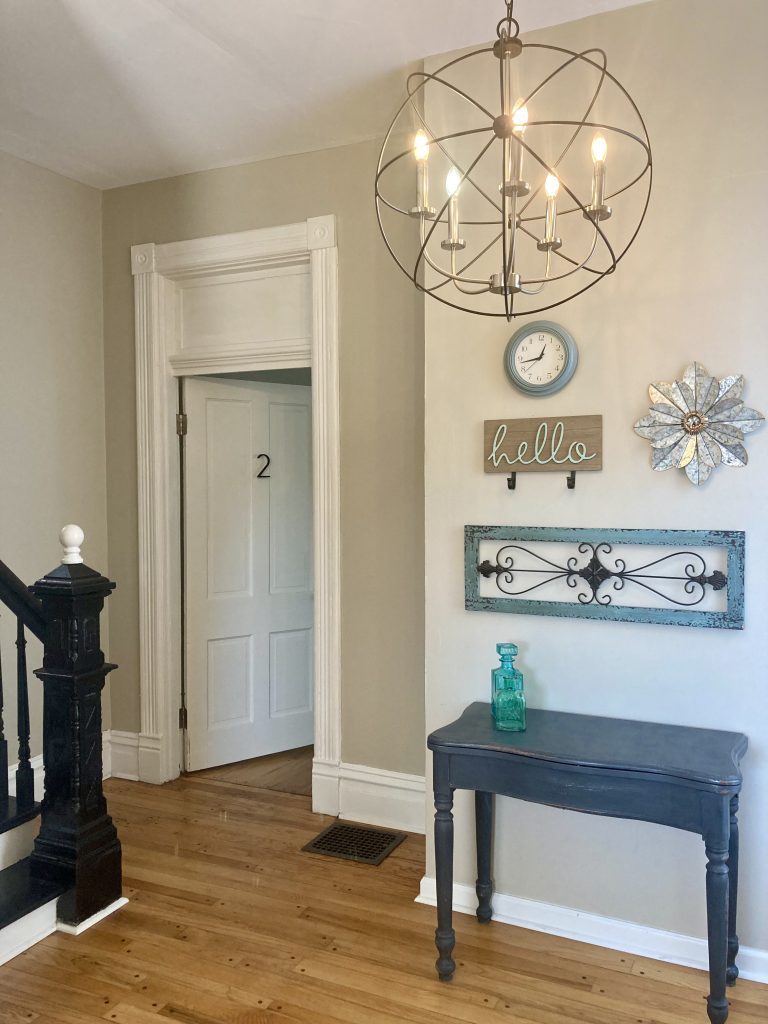 Creature comforts such as coffee maker, hairdryer, bath items, bottled water, wifi, smart TV and conveniences like easy parking, pass code door locks and good location make it a great place to stay.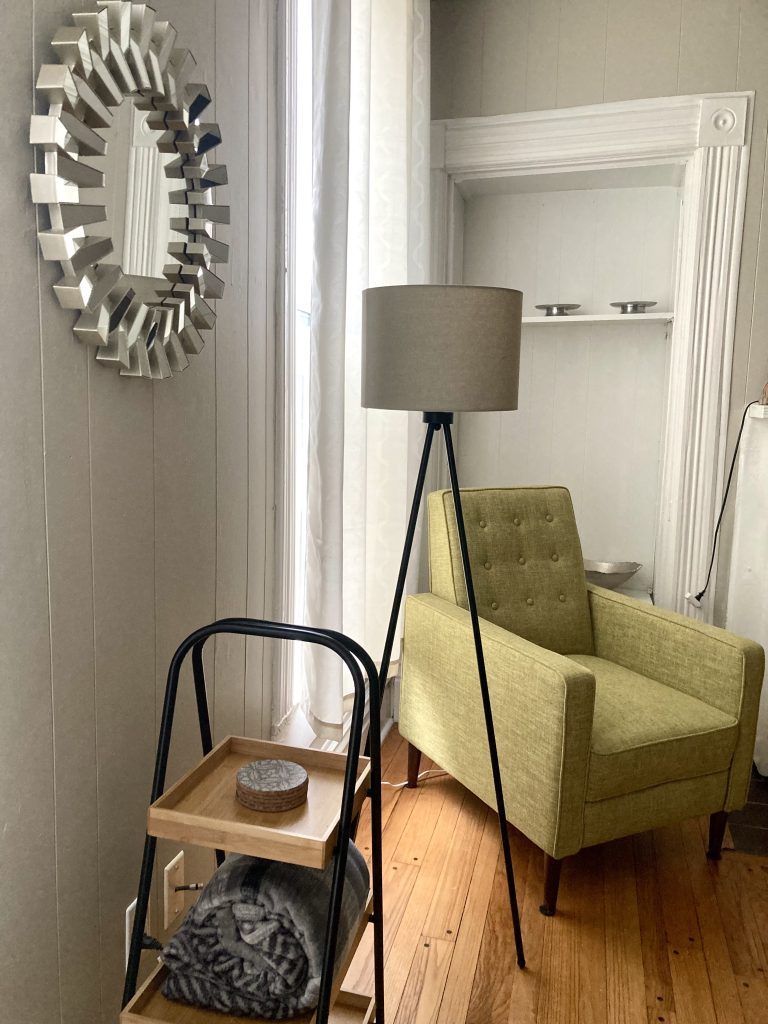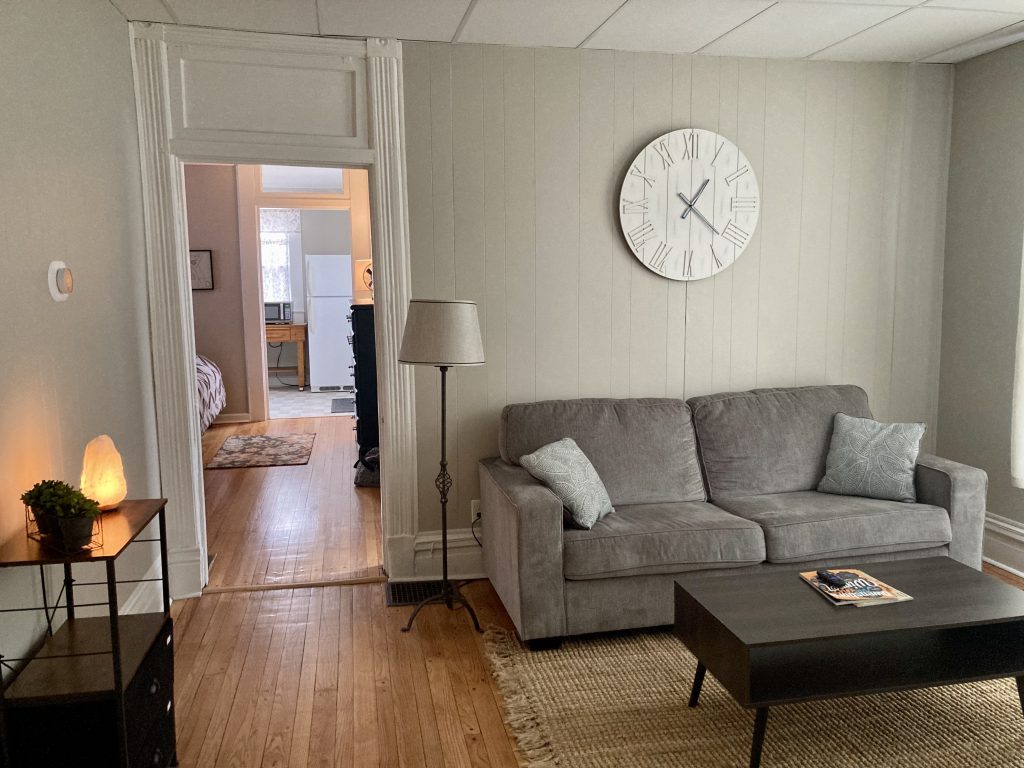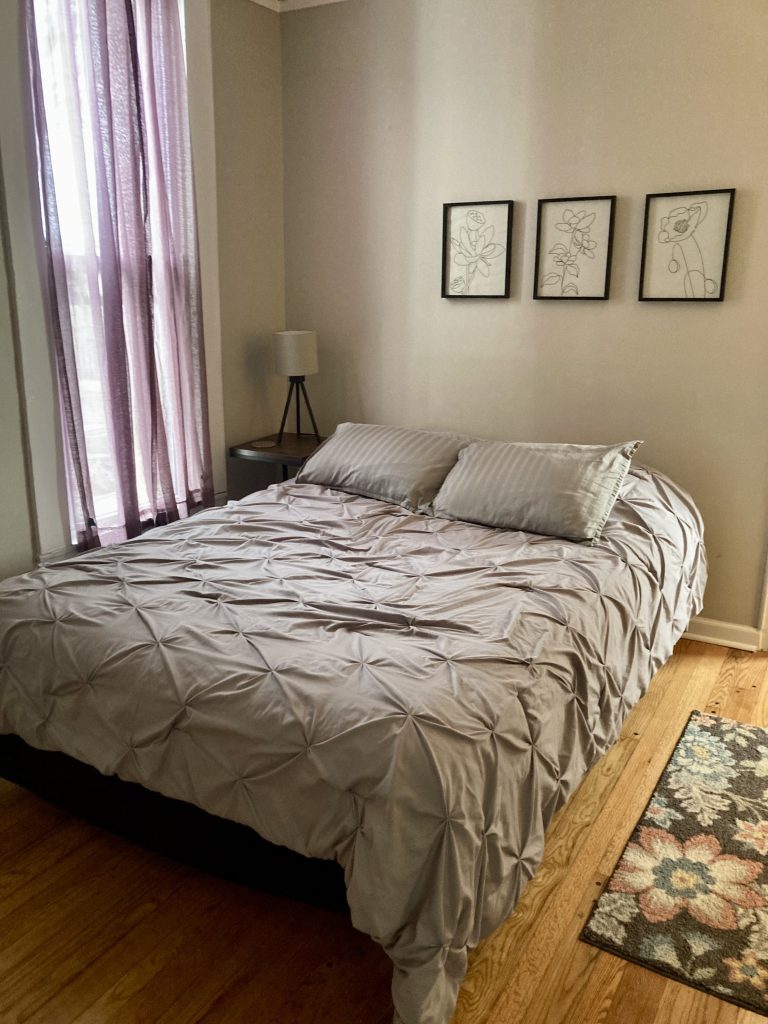 The house itself is very nice in a good neighborhood and was located only a 2-3 block walk to all of the fun action downtown. These spots are perfect for those working remotely for visiting for a longer period of time. They are affordable, clean and cozy.
BUT WAIT, THERE'S MORE!
Plan your trip by reading my Part Two blog offering more about reasons to visit Owensboro, Kentucky.
Want more on beautiful river towns with a great art scene? You might like to review my blog on Paducah, Kentucky.
I invite you to subscribe to my site to get the latest blogs delivered hot and fresh right to your inbox. Keep in touch on Facebook and Instagram for updates on great things happening around Kentucky!
To Owensboro from:
Lexington- 176 miles
Covington- 204 miles
Louisville- 107 miles
Harrodsburg- 169 miles
Bowling Green- 70 miles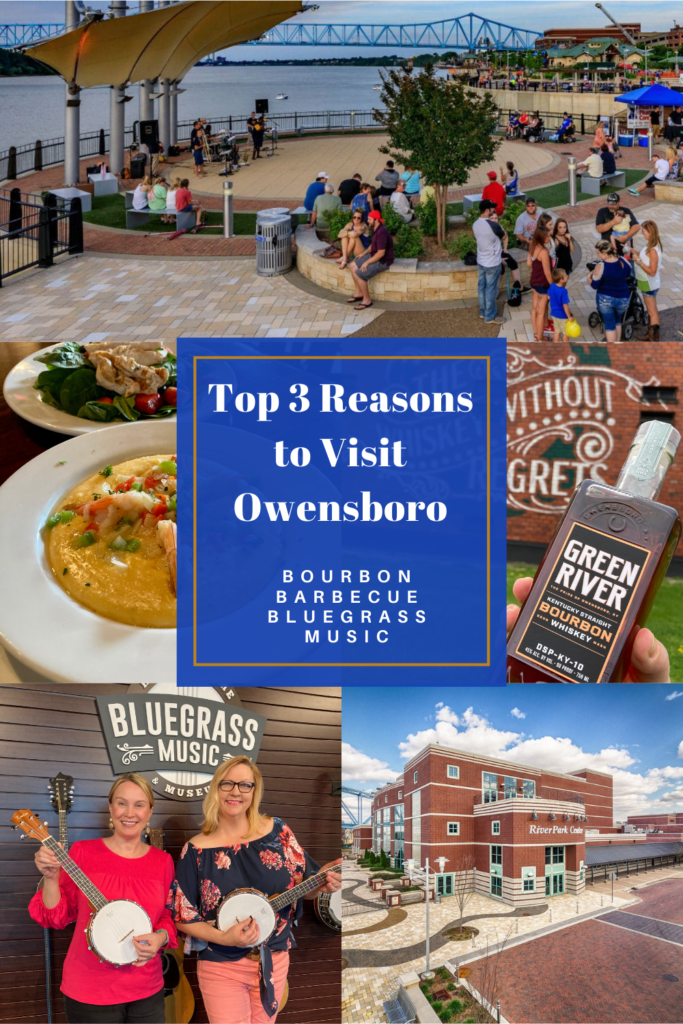 Are you into barbecue, bourbon and bluegrass music? Then Owensboro is the town for you! These are the 3 top reasons to visit Owensboro, Kentucky and there are so many more! RIVER WALK There's something about a river town that is extra special. I value townships that take an interest in the intrigue of their…